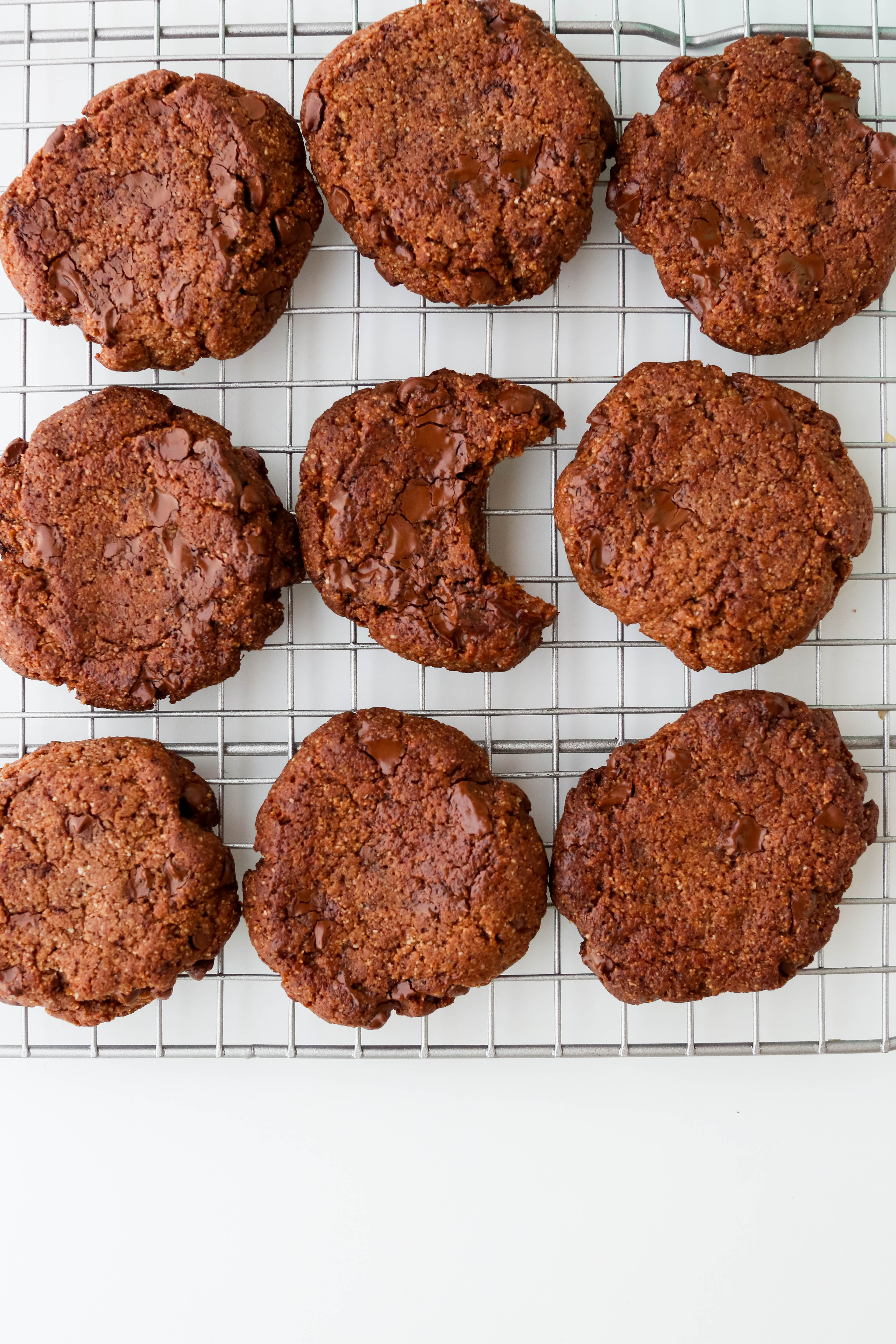 Following a ketogenic diet is often easier than most people think. The one downfall comes when you start having those chocolate cravings.
But the fact of the matter is, you can find a wide range of keto desserts out there with low carb counts. Keto brownies, keto chocolate chip cookies, keto cheesecake — pretty much any dessert you can think of has its keto counterpart.
The key to making low-carb chocolate cookies that taste great and won't kick you out of ketosis is finding the right ingredients. And this is true for any low-carb dessert.
In fact, the team here at Perfect Keto worked for months to perfect these already-made keto-friendly cookies. With just 4 grams of net carbs per serving and 4 cookies per convenient package, this is a sweet treat you'll want to keep around no matter what.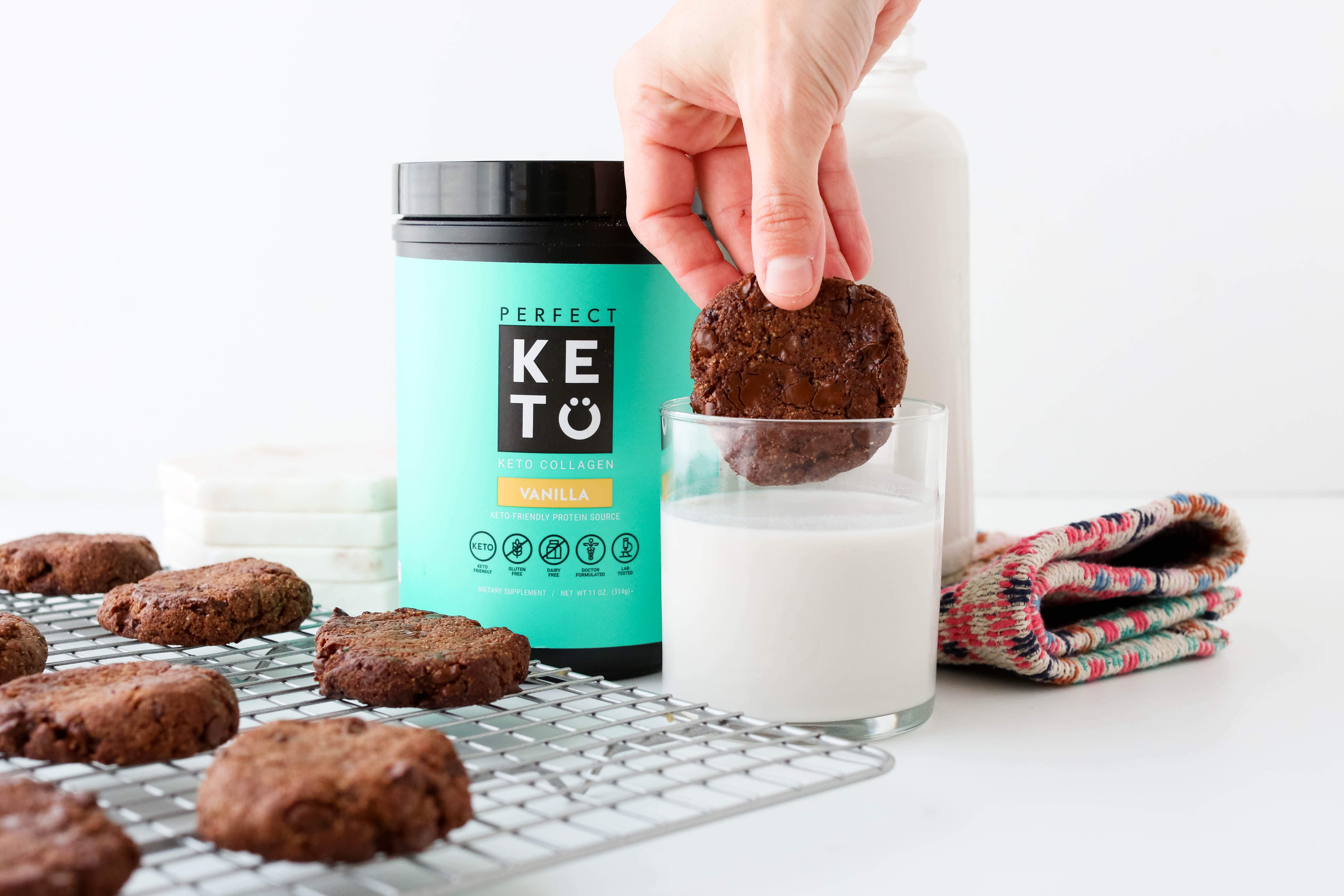 First, let's talk sweeteners. Two of the best keto-friendly sweeteners to use are stevia and monk fruit. These ingredients add that sweet flavor you're looking for, but won't kick you out of ketosis.
For some people, stevia leaves a bit of an after-taste. However, many people find that keto cookies with stevia actually taste really fantastic.
Another option for sweeteners is sugar alcohols. In general, sugar alcohols aren't the best choice because many of them can cause digestive disturbance. With that being said, erythritol is one sugar alcohol that not only keeps your blood sugar stable but also rarely has a negative impact on digestion.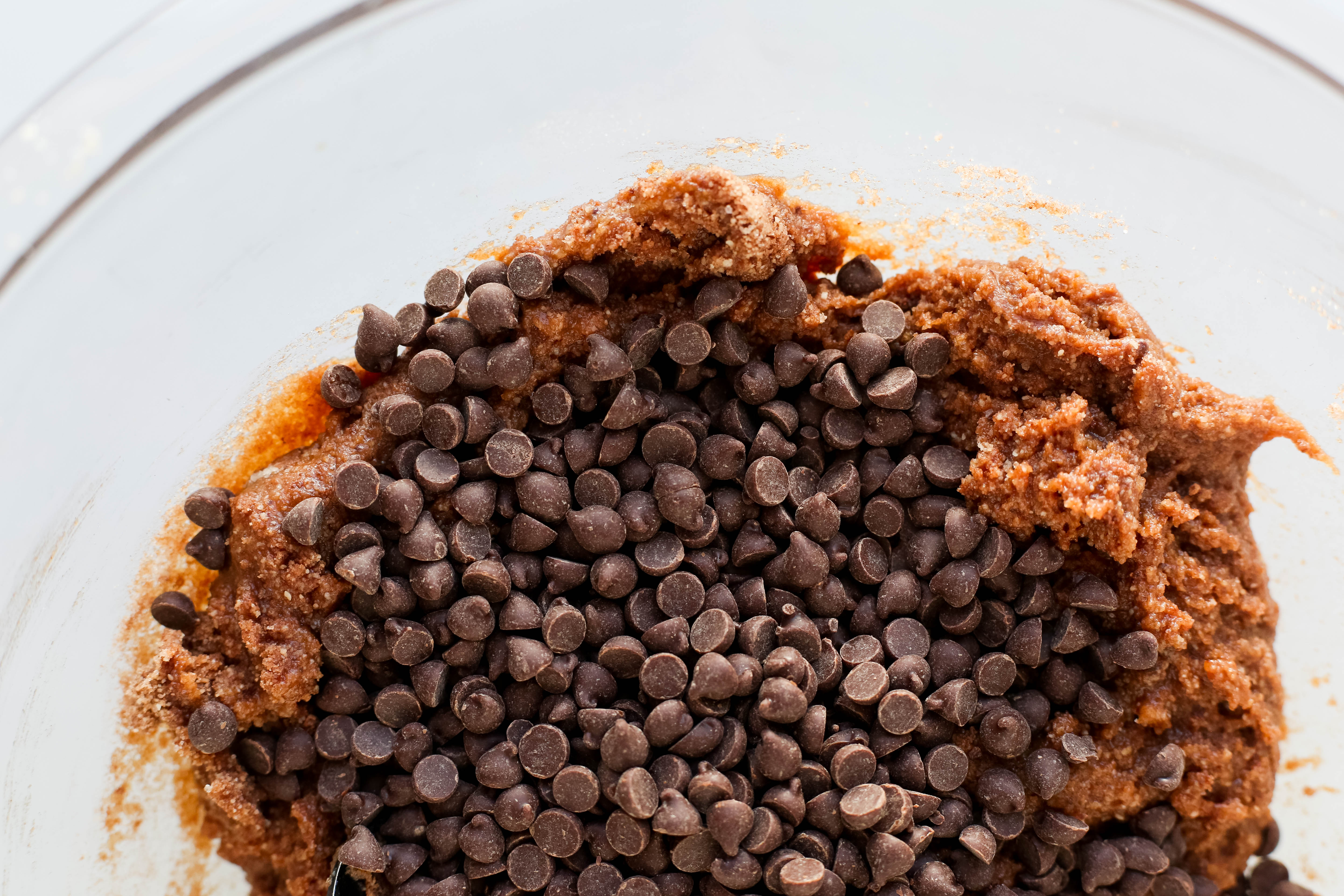 Once you've got your sweeteners nailed down, it's time to discuss low-carb flour alternatives. Gluten-free flours like almond flour and coconut flour make excellent stand-ins for all-purpose flour. These flour options contain a lot more fat and significantly fewer carbs than wheat flour.
It's always best to buy in bulk because these flours can be used in pretty much any low-carb dessert recipe and buying larger quantities typically gets you more bang for your buck.
And don't worry — if you're thinking that switching out your traditional wheat flour and sugar cookies for almond flour stevia cookies isn't going to hit the spot — just you wait.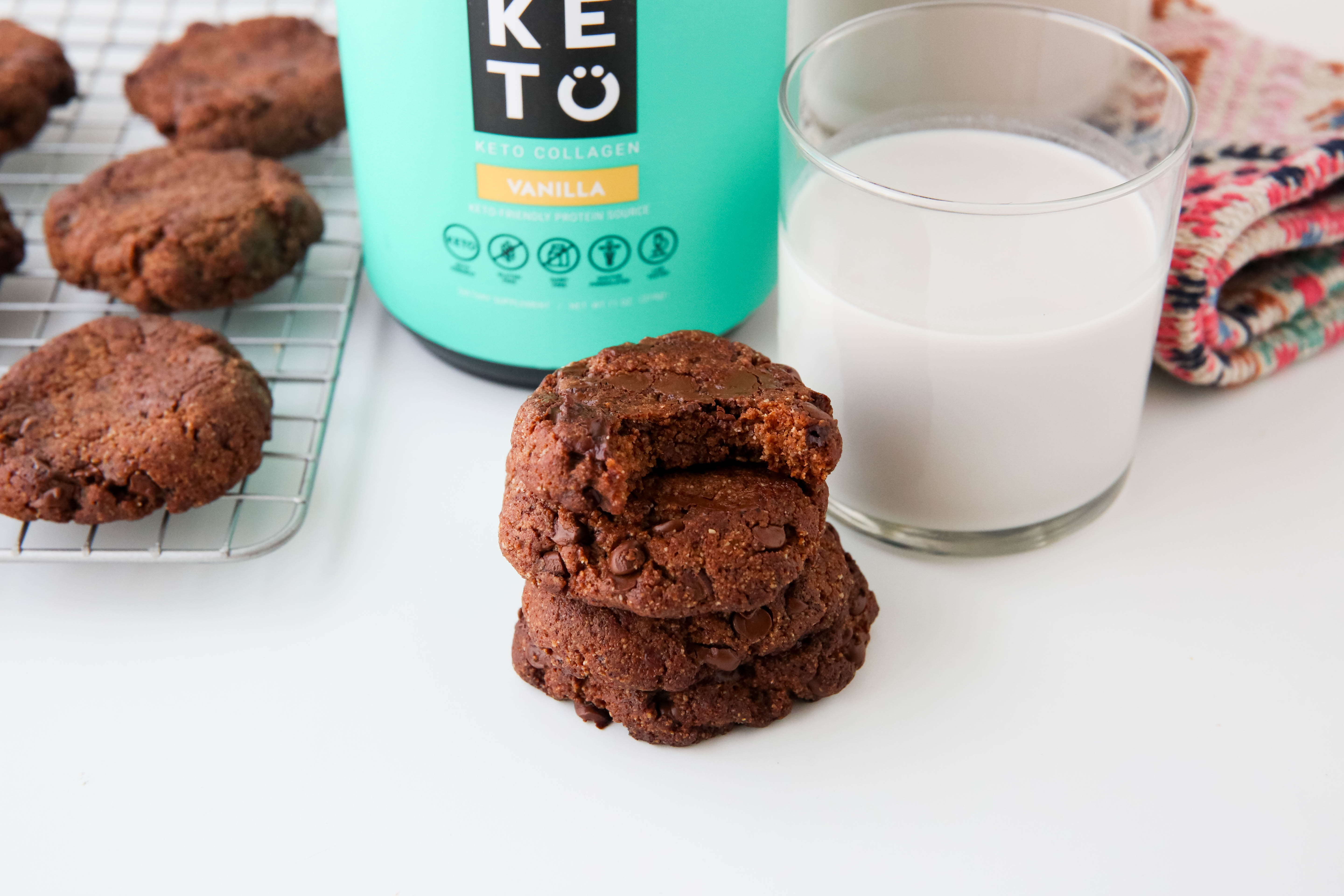 Extra Tips:
Make sure to buy chocolate chips that contain no sugar. Lily's brand is an excellent choice, and they even make chocolate chips specifically for the keto diet.
If you want to make this keto cookie recipe dairy-free, switch out the butter for coconut oil.
These sugar-free chocolate cookies are:
Sweet
Chocolatey
Chewy
Delicious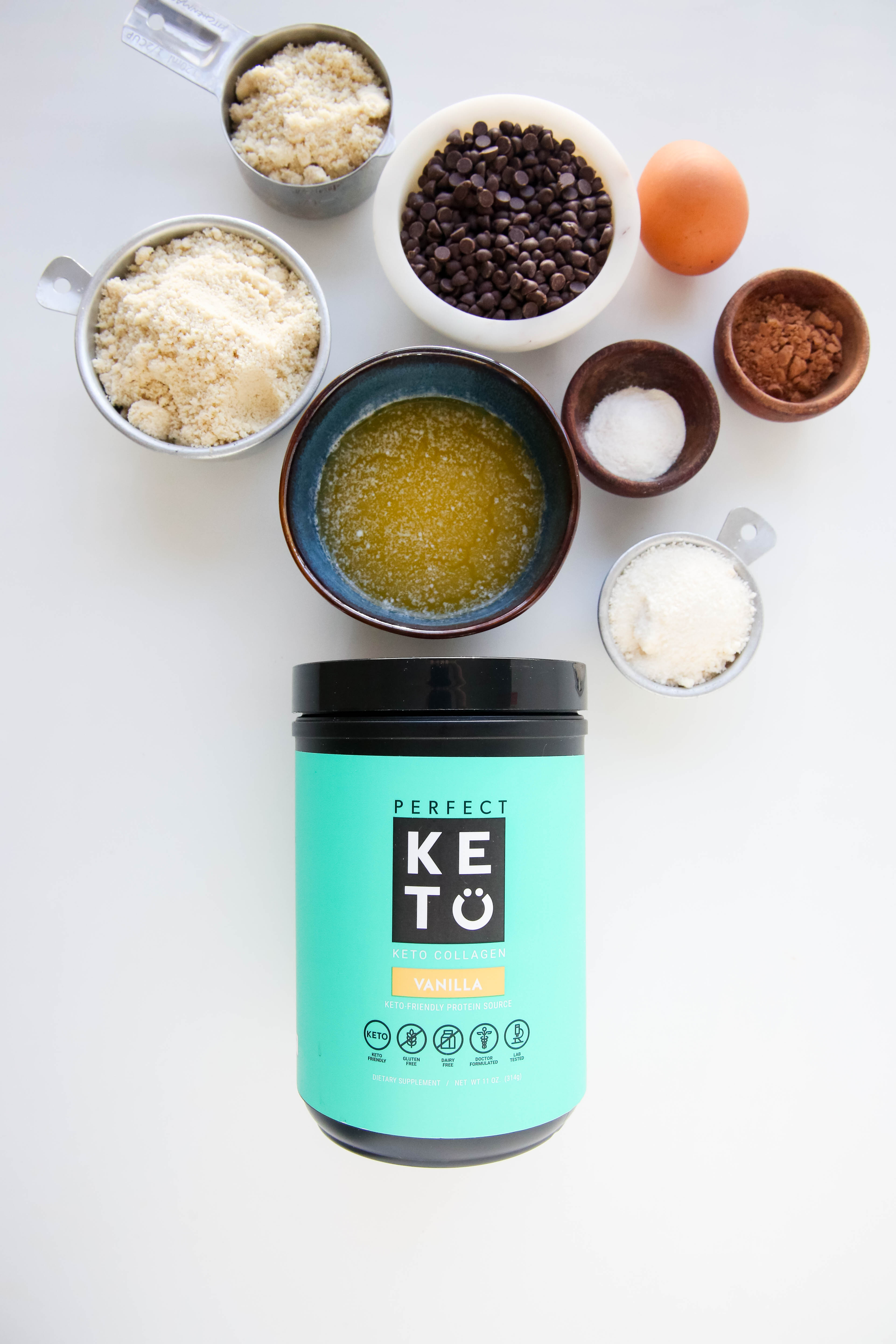 The main ingredients are:
Optional additional ingredients: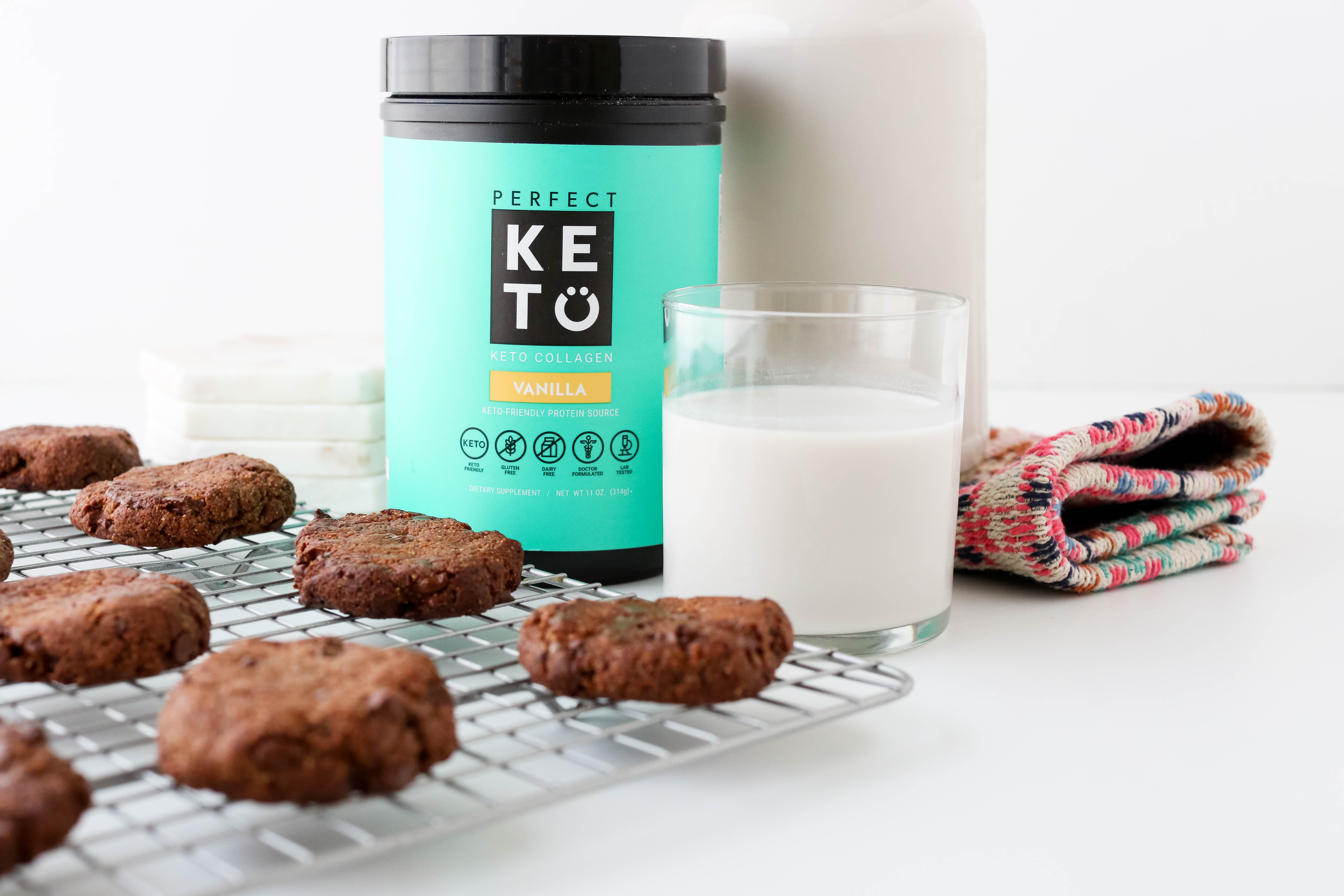 Health Benefits of This Double Chocolate Chip Cookie Recipe
Packed with Protein
Unlike traditional cookies, these chocolate chip cookies not only skip the carbs, but they're packed with protein— over 12 grams per cookie. That means you can rely on these cookies not just as an after-dinner treat, but as a snack before or after a workout — or even a light breakfast.
High-Quality Ingredients
Unlike most store-bought cookies, these homemade double chocolate chip cookies are made with only high-quality ingredients. Of course, they're devoid of gluten-containing ingredients like all-purpose flour, but they also skip artificial flavors, high glycemic sweeteners, and harmful preservatives.
What's more, ingredients like grass-fed butter offer the benefits of healthy fats like omega-3 fatty acids and conjugated linoleic acid(CLA)[*].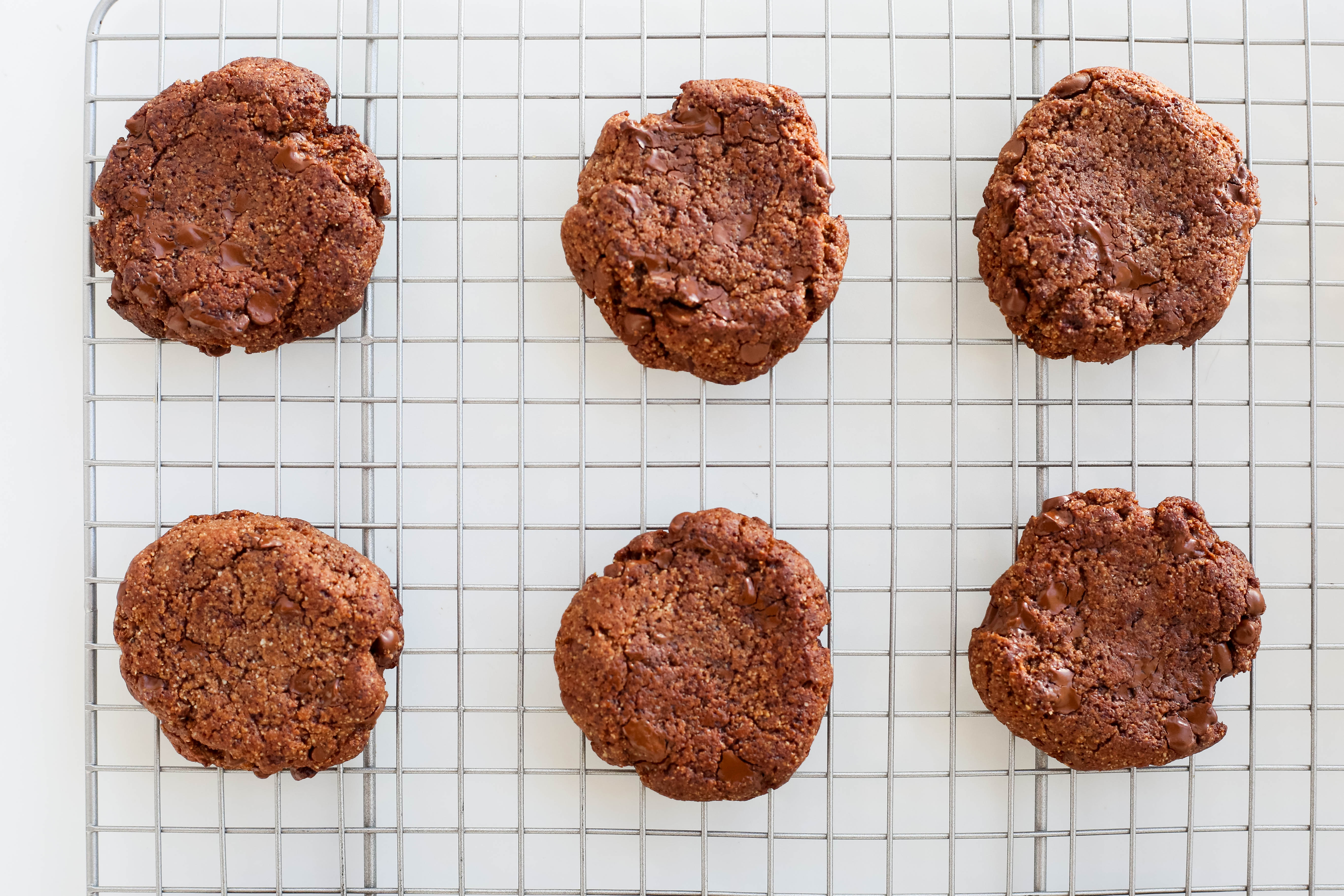 Keto Chocolate Cookies: Step by Step
Are you ready for some gluten-free, paleo-friendly, sugar-free cookies?
Begin by preheating your oven to 350 degrees.
In a large bowl, mix together the first six ingredients until well-combined.
In a small mixing bowl, mix together the grass-fed butter and egg.
Add the wet ingredients to the dry ingredients, mixing with a spatula to combine, then mix in the dark chocolate chips.
Using an ice cream scoop or cookie scoop, drop the cookie dough balls onto a cookie sheet lined with parchment paper and gently flatten the dough balls until they're about ¼ inch thick.
Let them cool to room temperature on a wire rack, and serve immediately or store in an airtight container.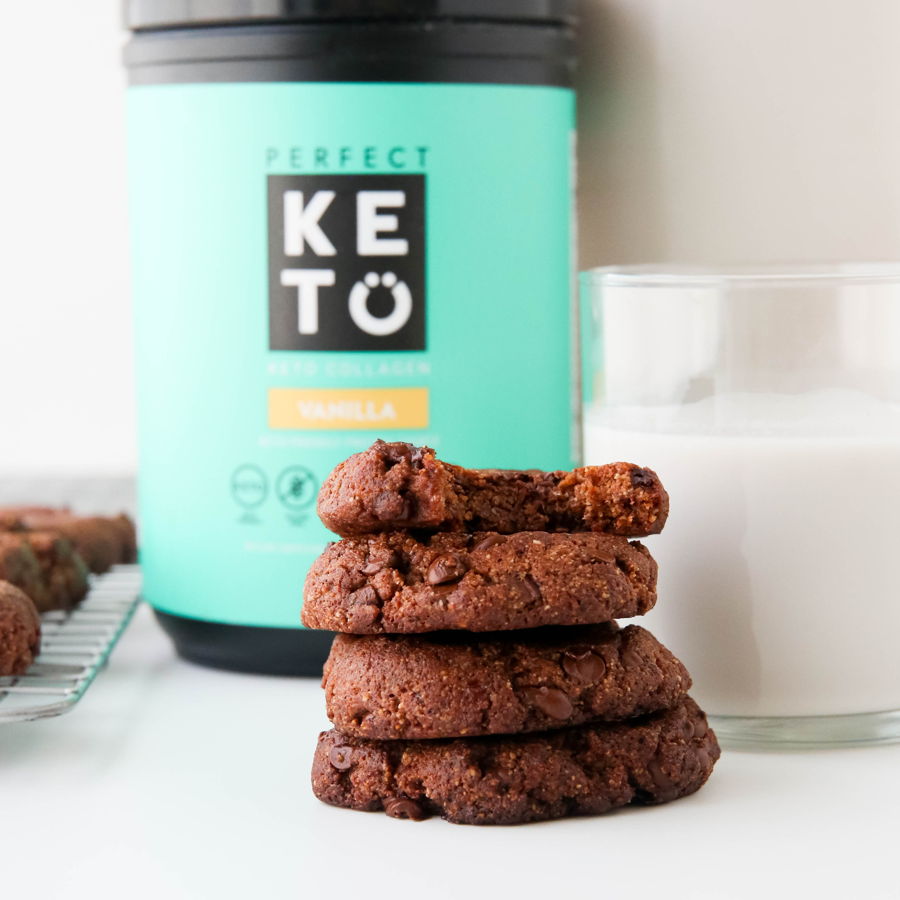 Print
Double Keto Chocolate Cookies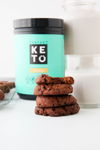 Can't get enough chocolate? Try this double chocolate chip cookie recipe to satisfy your sweet tooth and pack in all the chocolate you could ever want. Keto-style, of course.
Author:
Prep Time:

10 minutes

Total Time:

20 minutes

Yield:

15

cookies

1

x
Instructions
Preheat oven to 350

In a large bowl, mix together the first six ingredients until well-combined.

In a small bowl, mix together the butter and egg.

Add the wet ingredients to the dry ingredients, mixing to combine, then fold in the chocolate chips.

Using an ice cream scoop or spoon, drop the cookies onto a baking sheet lined with parchment paper and gently flatten them until they're about ¼ inch thick.

Bake for 10-12 minutes.
Nutrition
Serving Size:

1 cookies

Calories:

152.6

Fat:

15.9g

Carbohydrates:

7.1g (Net: 4.8g)

Fiber:

2.3g

Protein:

12.2g