on June 23, 2018
Do you have a traditional dish served on holidays, big gatherings, or even quiet afternoons that you cherish with loved ones? For some individuals, cinnamon rolls are the go-to dish to serve a big group of their closest friends and family. And it's no secret why.
Let's be real, have you ever heard someone make a complaint about their gooey, warm, sugary cinnamon roll? Maybe it was just too delicious?
Yeah, right.
However, when it comes to individuals following a low carb or ketogenic diet, the thought of not being able to indulge in a cinnamon roll every now and then may be harder than they thought. The last thing you want to do when starting a new diet is to feel like you're deprived of anything, let alone one of your all time favorite treats.
If you're one of those individuals, no need to worry! These keto cinnamon rolls are filled with healthy fats. They are the perfect solution to feeling satiated and full on all the glory that is cinnamon rolls without being kicked out of ketosis or going above your carb limit.
So what are these keto cinnamon rolls made of that make them keto friendly? For starters, the dough for these cinnamon rolls consists mainly of mozzarella cheese. Yep, you read that right. Cheese.
Why is mozzarella cheese the perfect dough base to use for these keto cinnamon rolls? Mozzarella is abundant in vitamins and minerals such as vitamin B2, vitamin B3, vitamin B7, vitamin A, vitamin D, vitamin E, zinc, phosphorus, calcium, and potassium.
However, cheese can't act alone in providing a solid base for the cinnamon roll dough. It needs another low carb flour substitute to help out — almond flour. Just like almonds, almond flour has several different health benefits, including its ability to improve heart health, lower blood sugar, lower cholesterol, and even provide a key energy source.
Worried you won't be able to indulge in your next family event knowing they'll have cinnamon rolls to help celebrate? Have no fear. Gather the ingredients and whip up a batch of these bad boys so you can be the one to really bring the doughy, delicious, cinnamon-stuffed party.
Print
Best Homemade Keto Cinnamon Rolls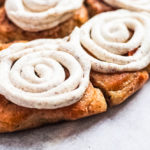 This new take on your favorite breakfast indulgence is a great low carb option, packed with all the healthy fats you need to start your day.
Author:
Prep Time:

10 minutes

Cook Time:

25 minutes

Total Time:

35 minutes

Yield:

12

Category:

Dessert

Cuisine:

American
Ingredients
1 1/2 cup shredded mozzarella cheese
3/4 cup almond flour
2 tbsp cream cheese
1 egg
1/2 tsp baking powder
2 tbsp water (cinnamon filling)
2 tbsp stevia (cinnamon filling)
2 tsp cinnamon (cinnamon filling)
2 tbsp cream cheese (frosting)
1 tbsp stevia (frosting)
Instructions
Preheat oven to 350 degrees

Melt the mozzarella and cream cheese in a microwave (1 1/2 minutes, stirring halfway through).

Stir in the egg.

Add the almond flour and baking powder.

Start to combine using a fork, then make ball of dough.

Divide the dough into 6 balls.

Form long rolls, then flatten, making the dough as thin as you can.

Prepare your filling by mixing water, sweetener, and cinnamon in a small bowl.

Spread the liquid filling over the flattened dough rolls.

Roll each into a bun and cut sideways in half to create 12 buns.

Place buns on a non-stick baking sheet or in a pie dish.

Place in oven and bake for 25 minutes.

While the rolls are in the oven, prepare the frosting — mix cream cheese and sweetener.

Spread over the warm rolls and serve.
Nutrition
Serving Size:

1 roll

Calories:

142

Fat:

10g

Carbohydrates:

Net Carbs: 4g

Fiber:

0.7g

Protein:

10g
Keywords: Keto Cinnamon Rolls