Jump to recipe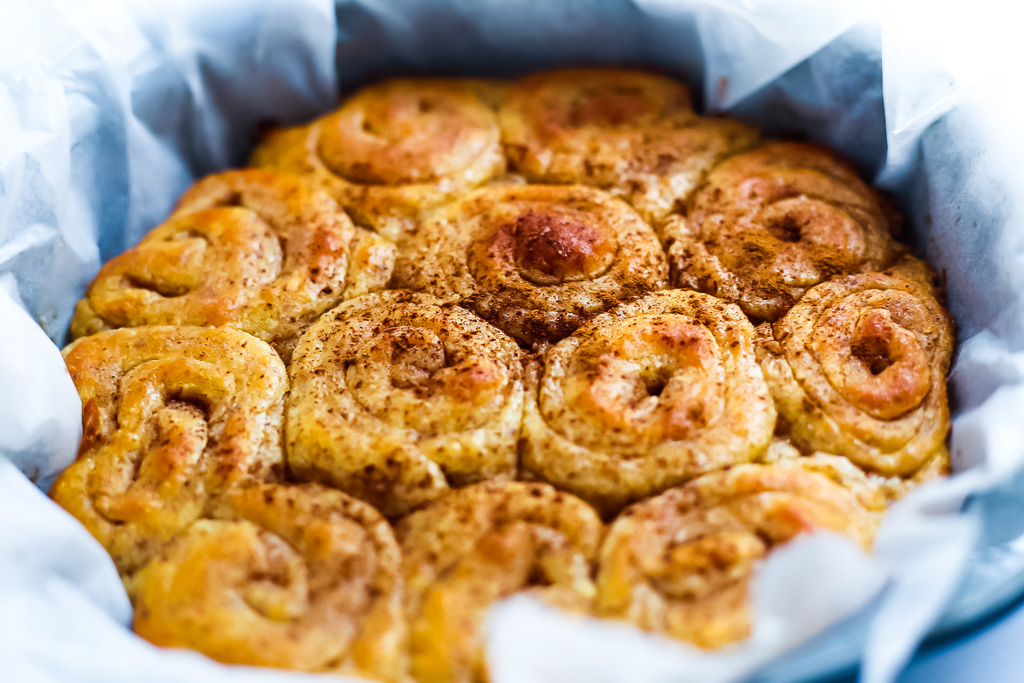 Do you have a traditional dish that you love to make on holidays, big gatherings, or even quiet afternoons? For some, cinnamon rolls are the go-to treat to serve a big group of friends and family. And it's no secret why. These sweet treats are comforting swirls of soft dough covered in cinnamon, sugar, and cream cheese icing. What's not to love?
But if you're following a low-carb or ketogenic diet, standard cinnamon rolls aren't quite on the meal plan. Not being able to indulge in a cinnamon roll every now and then may be harder than you thought. The last thing you want to do when starting a new diet is to feel like you're deprived of anything, let alone one of your all-time favorite treats.
Fortunately, if you're a cinnamon roll lover on the keto diet, no need to worry. These sugar-free keto cinnamon rolls are filled with healthy fats and use stevia as a sweetener.
They are the perfect solution to replace traditional cinnamon rolls without kicking you out of ketosis or going above your carb limit. Plus, they're quite easy to make.
What's Inside Keto Cinnamon Rolls?
What's in this low-carb recipe that makes these cinnamon rolls keto-friendly? For one, they have very few net carbs, they're wheat- and gluten-free, and they're high in good fats. Easy enough.
Mozzarella Cheese
This keto cinnamon roll recipe uses dough that consists mainly of mozzarella cheese. Yes, you read that right. Cheese. It's a recipe inspired by fathead dough, a popular mozzarella-based dough that's great for both sweet and savory bread-based treats, like pizza, dinner rolls, and more.
Mozzarella cheese is the perfect carb-free dough base to use for these keto cinnamon rolls because it's sticky and gooey, so it replaces the gluten in white flour. It helps create the wonderful texture you love in a good cinnamon roll.
Full-fat mozzarella also offers some health benefits — especially if you opt for the grass-fed kind. Contrary to the fat-phobic nutrition advice you're used to hearing, research shows that full-fat fermented dairy like cheese and yogurt has an anti-inflammatory effect that could be heart-protective, rather than damaging[*].
In fact, studies have shown that mozzarella may lower LDL cholesterol levels[*].
Upgrade to grass-fed, and you get even more benefits. Grass-fed dairy is rich in vitamin K2, omega 3 fatty acids, and CLA (conjugated linoleic acid), all of which offer heart health benefits[*][*][*].
CLA has also been shown to aid in body fat loss[*]. As far as macros go, mozzarella is a great fit for the keto diet. One cup of whole-milk mozzarella has 2.5 grams of carbs, 24 grams of protein, 25 grams of fat, and 336 calories[*].
However, cheese can't act alone in providing a solid base for the cinnamon roll dough. It needs another low-carb flour substitute to help out.
Almond Flour
Almond flour is a go-to ingredient for gluten-free bakers, and it also happens to be a perfect addition to a low-carb, keto diet. Just like almonds, almond flour has a rich nutrient profile. It's high in vitamin E, folate, choline, manganese, and magnesium[*].
Because of their rich magnesium content, almonds can assist with blood sugar control, which is essential on the keto diet[*][*].
For every 14 grams of fat found in almonds, 9 of those grams are monounsaturated fat, which research has found to be beneficial for heart health and cholesterol levels. The rich antioxidant profile of almonds also offers major cardiovascular benefits and, in one study, helped reduce belly fat[*][*][*][*][*].
Stevia and Keto-Friendly Sweeteners
This recipe for keto cinnamon rolls calls for stevia, a zero-carb, sugar-free sweetener derived from a very sweet herb. (Tip: You can grow stevia in your own herb garden.)
The white powder or liquid stevia you find at the grocery store is a refined version of the herb, and it's often used for baking and sweetening coffee. Just keep in mind that a little goes a long way — stevia is 250 to 300 times sweeter than regular table sugar[*].
While some people don't love the flavor of stevia, there a number of non-bitter brands available that cut the taste that many people complain about. If you're not a fan of stevia, there are a few other keto-friendly sweeteners that you can sub in for this recipe — but it won't be a one-to-one substitution.
Monk fruit, erythritol, and Swerve are a lot closer in sweetness to sugar, so you'll need to add a lot more to the recipe. One cup of these alternatives is about as sweet as two teaspoons of stevia.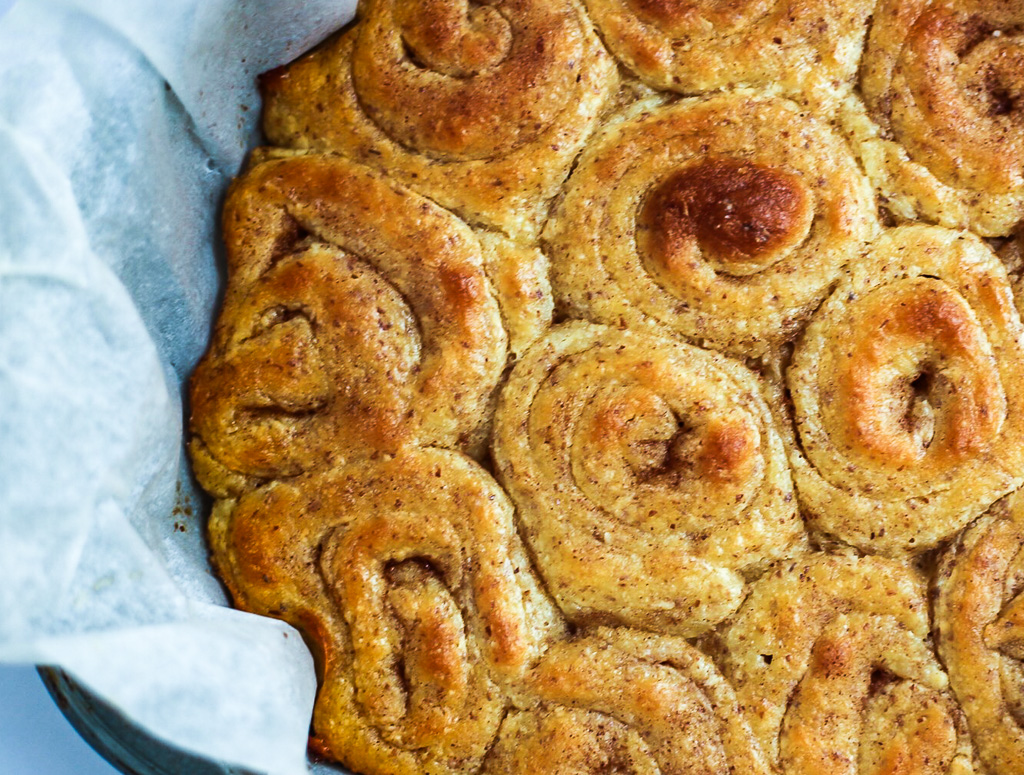 Cinnamon
Cinnamon isn't just the defining feature of the perfect cinnamon roll. It's also an amazing superfood full of antioxidants, beneficial nutrients, and well-documented anti-diabetic properties.
It can lower fasting blood sugar, slow down the digestion of carbohydrates (which reduces their effect on blood sugar), mimic insulin, and improve overall insulin sensitivity, both in diabetic and non-diabetic human subjects[*][*][*][*][*].
Of all herbs and spices, cinnamon ranks among the highest when it comes to beneficial antioxidant properties. Potent in polyphenols, lignans, and flavonoids, cinnamon is antimicrobial, anti-diabetic, and anti-inflammatory. It's been shown to have a positive effect on cardiovascular health markers, especially blood lipids[*][*]. Makes you want to use cinnamon on more than just dessert, doesn't it?
Indulge in Deliciousness
Worried you won't be able to indulge in your next family holiday feast or even a nice Sunday morning breakfast treat at home? Have no fear. Gather the ingredients and whip up a batch of these keto cinnamon rolls so you can indulge in sweet goodness without the guilt.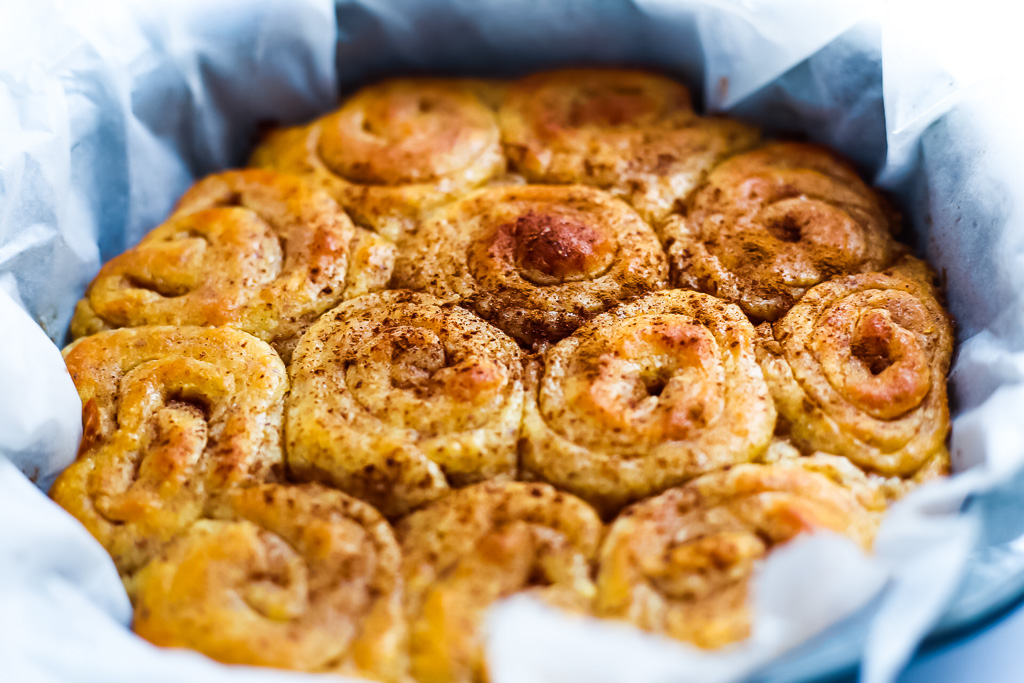 Print
Best Homemade Keto Cinnamon Rolls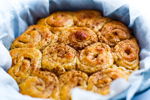 These easy low-carb cinnamon rolls are packed with healthy fats to offer a new take on your favorite breakfast and holiday indulgence. Enjoy these keto cream cheese icing-topped treats in the morning with a cup of keto coffee or as the best keto dessert you've ever had.
Author:
Prep Time:

10 minutes

Cook Time:

25 minutes

Total Time:

35 minutes

Yield:

12

1

x
Category:

Dessert

Cuisine:

American
Instructions
Preheat oven to 350°F.
Melt the mozzarella and cream cheese in a microwave (1 1/2 minutes, stirring halfway through).
Stir the egg into the cheese.
Add the almond flour and baking powder.
Combine using a fork until incorporated.
Make a ball of dough.
Divide the dough into 6 balls.
Form long rolls and place on a piece of parchment paper.
With a rolling pin, roll out the dough, making each layer of dough as thin as you can.
 Prepare your filling by mixing water, sweetener, and cinnamon in a small bowl.
 Spread the liquid filling over the flattened dough rolls.
 Roll each into a bun and cut sideways in half to create 12 buns.
 Place buns on a non-stick baking sheet or in a pie dish.
 Place in oven and bake for 25 minutes.
 While the rolls are in the oven, prepare the cream cheese frosting by mixing cream cheese and sweetener.
 Spread over the warm rolls and serve.
 Refrigerate leftovers.
Nutrition
Serving Size:

1 roll

Calories:

142

Fat:

10g

Carbohydrates:

Net Carbs: 4g

Fiber:

0.7g

Protein:

10g
Keywords: Keto Cinnamon Rolls