When it comes to keto, many people focus on the foods they have to give up. But what if we told you that keto is not a restrictive diet, but rather an opportunity to explore a whole new world of flavors and culinary creativity? With our collection of 45 keto recipes, you'll learn just how fun meals on keto can be. From energizing breakfasts to satisfying dinners, read on to discover delicious meals that don't come at the expense of your health.
Easy Keto Recipes for Breakfast
Start your day with one of these quick keto recipes perfect for a filling and nourishing breakfast.
Keto Sous Vide Egg Bites
Savor the richness of keto sous vide egg bites, a portable feast of fluffy eggs, smoky bacon, and tangy cheese. Enjoy them fresh or prepare ahead of time for a convenient, on-the-go keto breakfast with customizable ingredients.
Keto-friendly Cereal Recipe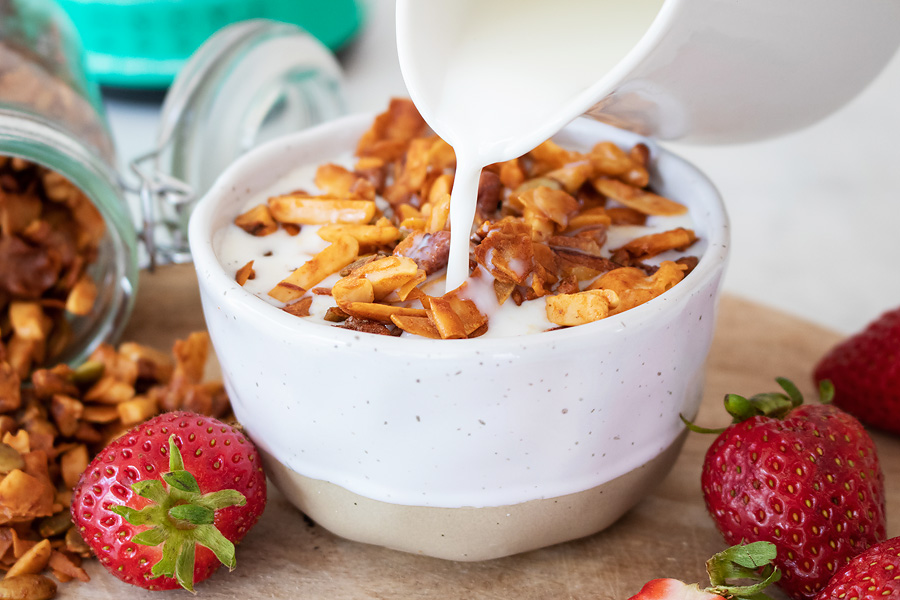 Welcome back the joy of breakfast with this keto cereal recipe. Filled with healthy fats and natural sweetness, this mix of chopped pecans, sliced almonds, pumpkin seeds, and coconut flakes finished with strawberry collagen provides a nourishing start to your day.
Creamy Keto Oatmeal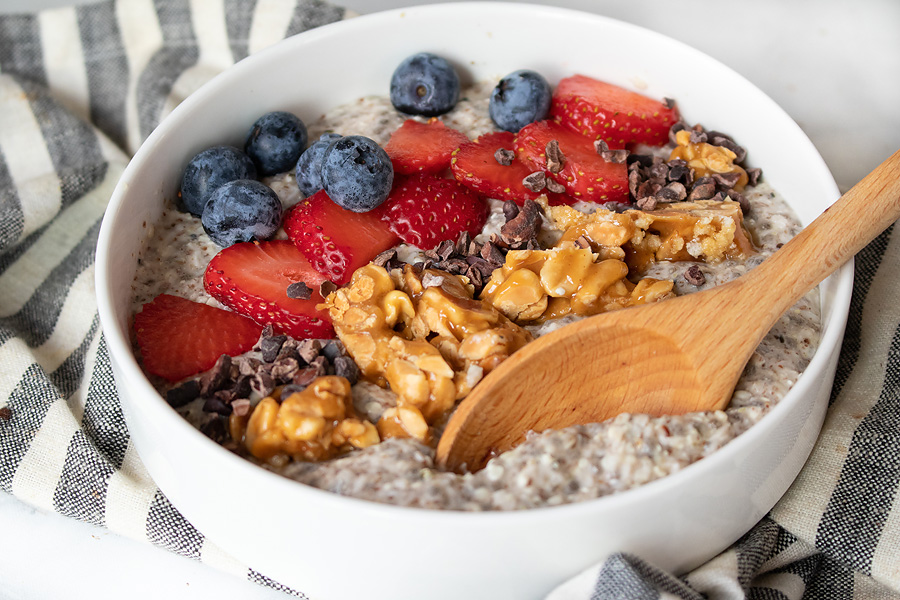 If you prefer a creamier option for breakfast, this creamy keto oatmeal provides a scrumptious and versatile solution. Loaded with the nutritional value of chia seeds, coconut flakes, hemp hearts, and flaxseed, this dish can be prepared either hot or cold. With endless topping options such as fruits, granola, or our Perfect Keto cereal every bowl becomes a unique, flavorful delight.
Keto Matcha Smoothie
This keto matcha smoothie is the perfect companion for busy mornings or a much-needed mid afternoon pick-me-up. Filled with ceremonial grade matcha green tea, ripe avocado, baby spinach, and hemp hearts, this smoothie doesn't just satiate your hunger but nourishes you from within. Added collagen and MCT oil powder support a healthy brain and immune system.
Flourless Almond Butter Pancakes
Made from almond butter, eggs, flax meal, and monk fruit, these are quick, tasty, and adaptable. Feel free to substitute with your preferred nut butter, convert into waffles, or freeze for later. No high-carb ingredients like flour, bananas, or applesauce – just five simple, healthy, keto-friendly ingredients.
Keto Blueberry Pancakes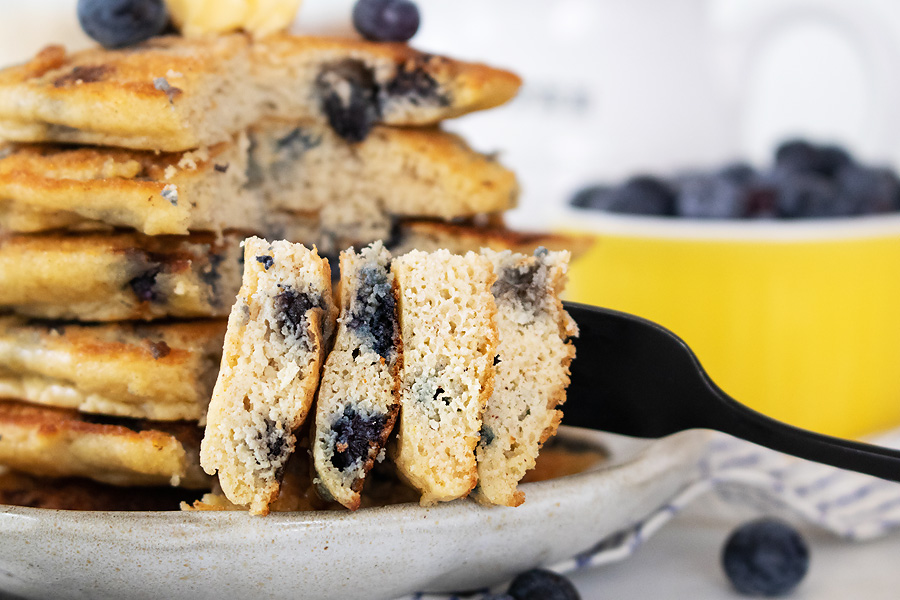 These pancakes are low-carb, high in fiber, and protein-packed due to their ingredients which includes almond flour, coconut flour, eggs, cream cheese, and blueberries. Enjoy them as is, or try with variations like flourless or with coconut flour. Top with monk fruit syrup, coconut butter, ghee, or whipped cream for a delightful breakfast treat. Store them in a sealed bag or container in the fridge for 4-5 days, or freeze for up to 30 days. Reheat in the microwave or toaster oven when ready to eat.
Instant Pot Hard Boiled Eggs
Eggs are the ideal keto breakfast due to their protein content that keeps you satiated for longer. Using an Instant Pot to hard-boil eggs simplifies the process. Just place eggs and water in the pot, cook on high pressure for 5 minutes, then cool in an ice bath. Enjoy perfectly boiled eggs, ready for a quick, healthy breakfast or as a component in other dishes.
Chaffle Sandwich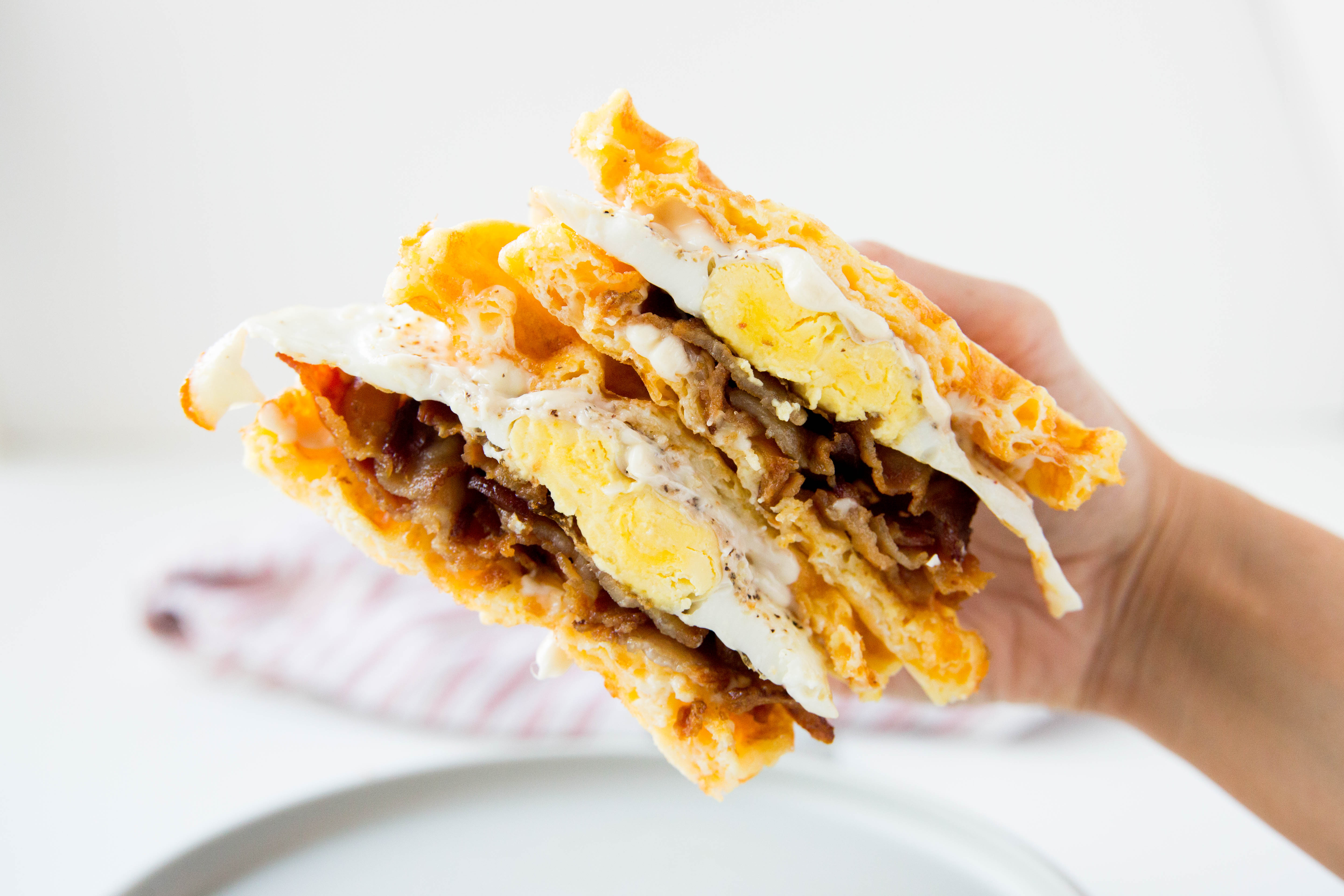 Try this chaffle sandwich, a low-carb delight with eggs, cheese, and crispy bacon, between two fresh, cheese waffles. Adding avocado lends extra fiber and heart-healthy unsaturated fats, boosting your satiety and nutrition. It is a truly delicious way to stay within your macros while enjoying three classic comfort foods.
Breakfast Keto Sausage Balls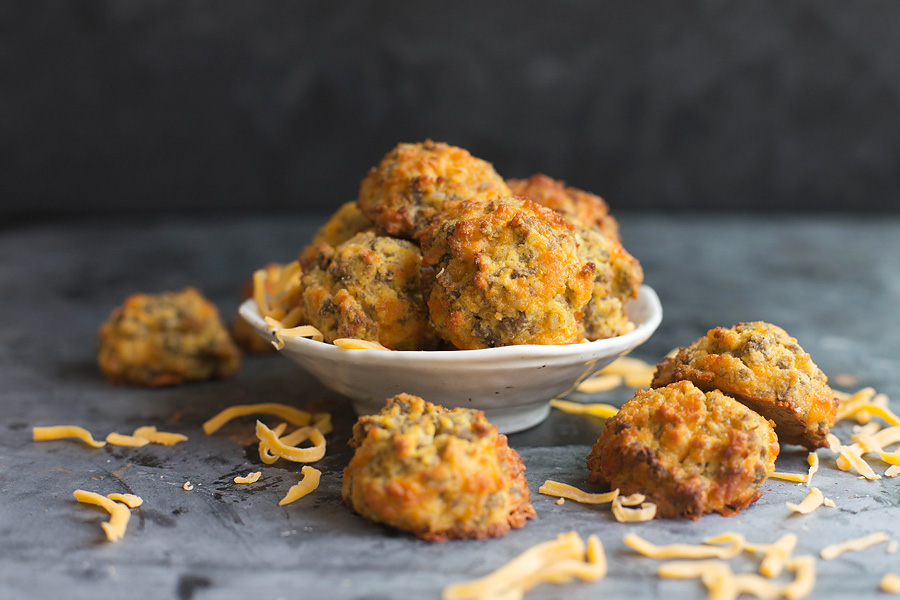 Keto sausage balls are a satisfying, protein-rich breakfast option perfect to break up the monotony of routine meals. They are simple, gluten-free and made with sausage, eggs, low-carb flour, and cheddar cheese. Great for meal prepping, these balls are also customizable with choices of cheese or additions like cream cheese for extra creaminess.
Breakfast Keto Quiche
This low-carb, crustless keto quiche, featuring eggs, vegetables, and a medley of cheeses including digestion-friendly goat cheese, offers a rich, creamy taste. In In addition to being ideal for meal prep, it's also versatile, allowing for dairy substitutes if required.
Waffles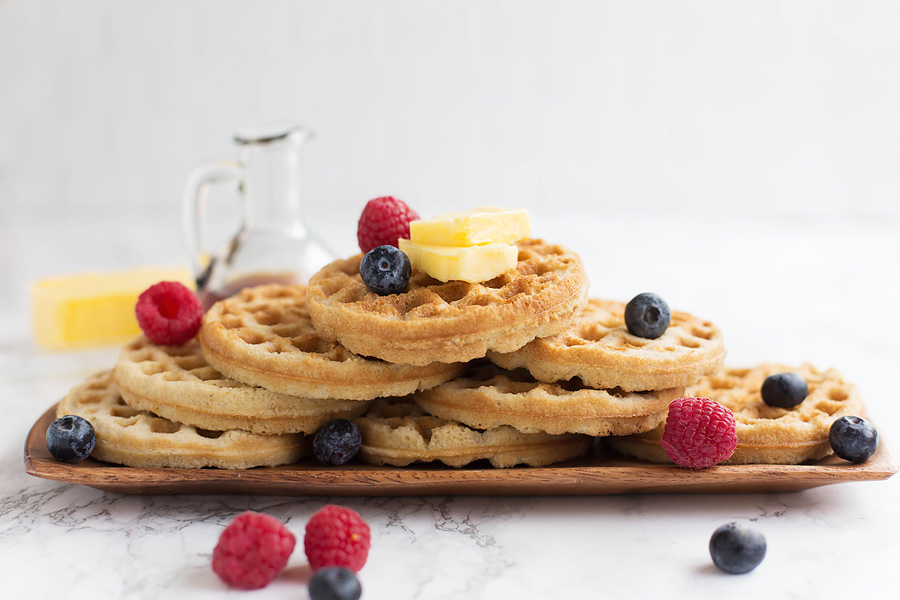 Combining almond and coconut flours, eggs, butter, and your choice of milk, our keto waffle recipe offers a low-carb, yet indulgent breakfast option without compromising on the classic maple flavor. The waffles, boasting a mere 2 grams of net carbs each, Are also sugar-free, grain-free, and gluten-free.
Bulletproof Coffee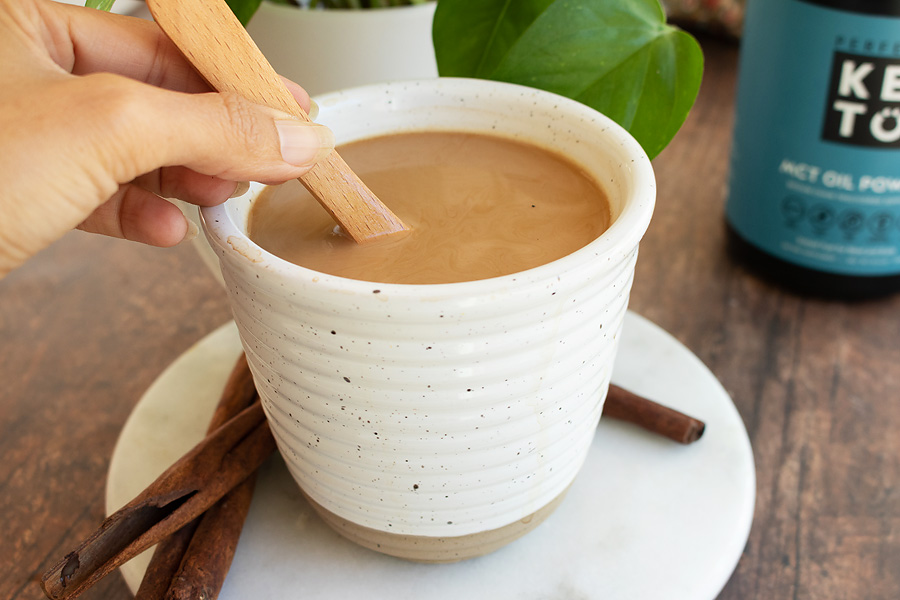 Any list of keto breakfast recipes would be incomplete without the mention of Bulletproof Coffee, a beloved staple in the community. This energy booster combines coffee, unsalted butter, and MCT oil, providing a creamy, satiating drink that not only energizes but also assists in maintaining ketosis. Our recipe also includes collagen to offer support to your nails, skin, and hair.
Chocolate Almond Smoothie Bowl
Satisfy your sweet tooth with a chocolate almond smoothie bowl, a keto-friendly treat packed with nutrients. Its creaminess and rich flavor will remind you of ice cream, but at just 5 net carbs per bowl, it's a guilt-free indulgence.
Lemon Poppy Seed Crunch Muffins
Indulge in the delightful tanginess of lemon poppy seed crunch muffins. These keto-friendly treats are made with almond flour, fresh lemon juice, and flax meal, providing a delicious breakfast option that won't kick you out of ketosis.
Easy Keto Recipes for Lunch
Below are some of our favorite keto lunch recipes. Some are already balanced meals but feel free to mix and match to your liking.
Cheesy Keto Chicken Fritters
These cheesy keto chicken fritters are a delightful option for lunch or dinner. Made with ground chicken, almond flour, mozzarella, and parmesan cheese, they are low carb and packed with flavor. For a lower calorie alternative, try air frying them.
Crispy Keto Air-Fried Tofu
This recipe will change the way you think about tofu. With proper pressing and arrowroot starch coating, you'll achieve the typical crispy texture you get from meats like chicken. Toss it in a savory sauce and serve with your favorite veggies. Store leftovers in the fridge for up to 4 days.
Keto Cauliflower Pizza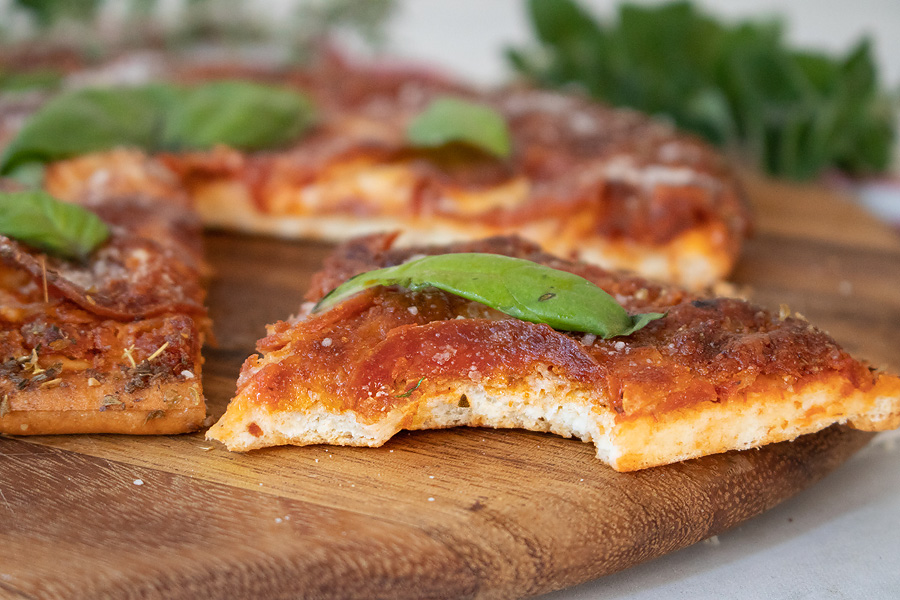 Give nostalgic flavors of pizza with keto twist with this recipe. Cauliflower pizza replaces the high-carb crust with a blend of almond flour and coconut flour which are much lower in carbs than ordinary flour. Top it with your favorite low-carb ingredients and enjoy a crispy, guilt-free pizza experience.
Shrimp Stir Fry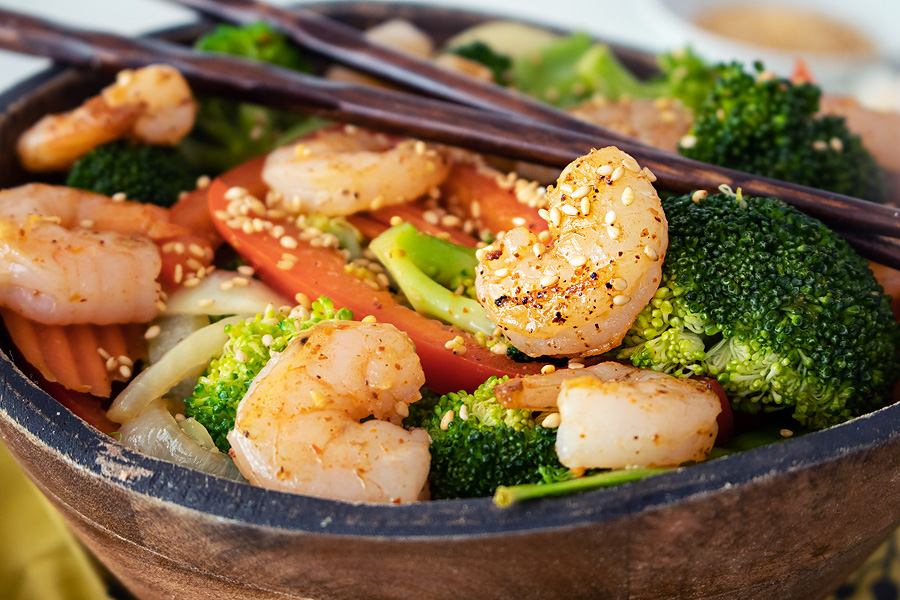 This shrimp stir fry is a nutritious and flavorful dish. Packed with protein-rich shrimp and a variety of vegetables, it's a low-carb option that doesn't skimp on taste. The combination of coconut aminos, ginger, and garlic adds depth to the dish, while sesame oil and rice wine vinegar bring Asian-inspired flavor home.
Lemon Pepper Chicken Wings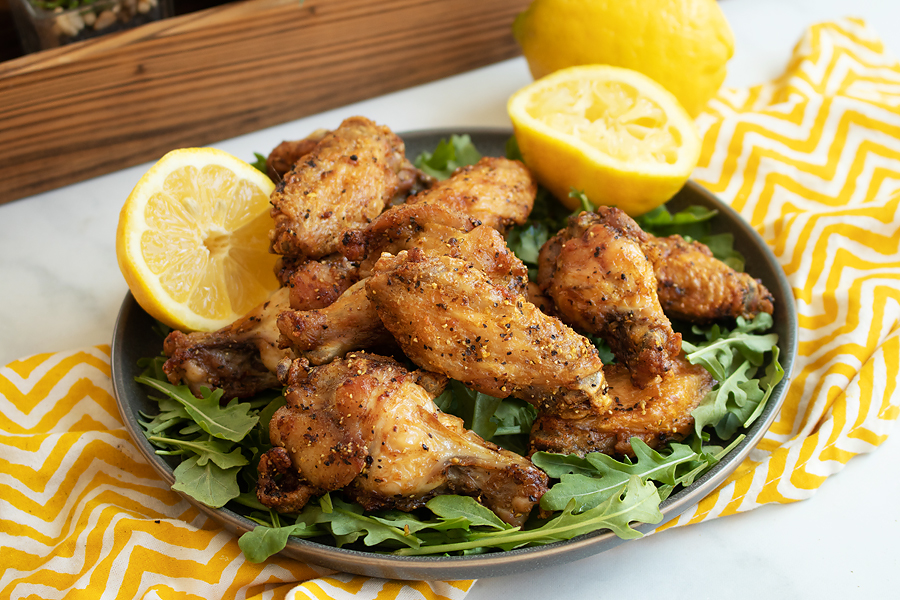 These Baked lemon pepper chicken wings taste just like the ones you'd find at a restaurant. With the perfect combination of tangy lemon and zesty pepper, they're incredibly flavorful. Using avocado oil ensures a high smoke point for crispy wings in addition to being lower in omega-6 fatty acids. Serve with fresh lemon wedges for an extra burst of citrusy goodness.
Deviled Eggs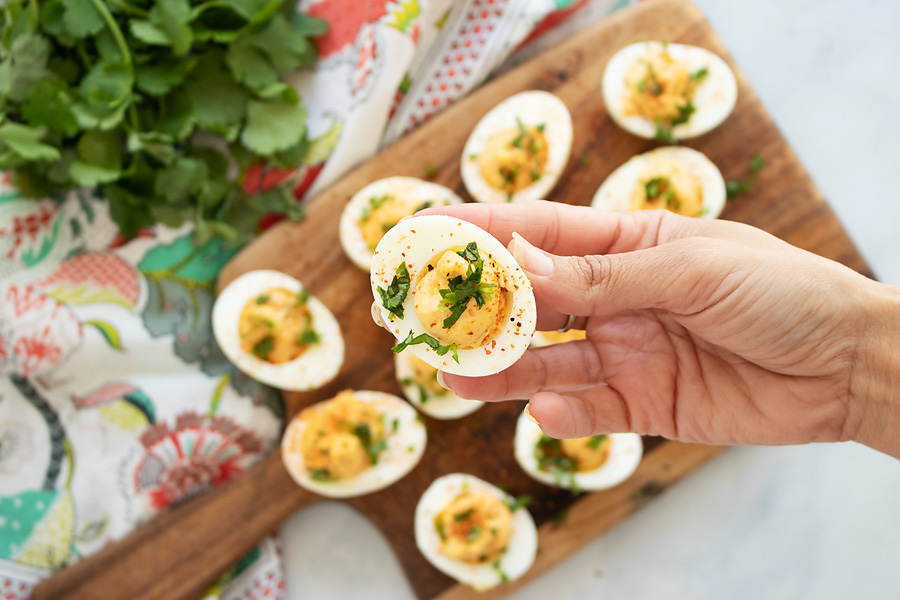 Spicy keto deviled eggs take regular eggs to a whole new level. They are savory, creamy, and packed with flavor, with an added kick of spice. Plus, eggs are an excellent source of protein, containing all the essential amino acids your body needs.
Keto-Friendly Cauliflower Fritters
By replacing starchy potatoes and all-purpose flour with cauliflower and almond flour, these fritters manage to be keto-friendly. They are crispy, comforting, and cheesy, making them a perfect appetizer or side dish. You can also customize them with additional toppings or ingredients like bacon or cilantro.
Keto Egg Roll In A Bowl
This quick keto egg roll in a bowl recipe is ready in just 15 minutes and contains only 3 net carbs per serving. Containing shredded rotisserie chicken, veggies, and flavorful seasonings, it's a delicious low-carb dinner option that can also be enjoyed as leftovers.
Keto Creamed Spinach
Meeting fiber needs can be challenging on a keto diet, but this keto creamed spinach recipe makes it easy without being boring. Packed with nutrients, it's a versatile side dish that can be enjoyed as a dip or served with protein. This recipe calls for frozen spinach because it is more cost-effective but feel free to use fresh if it is what you have on hand.
Spicy Ginger Salmon Buddha Bowl
If you don't know what a Buddha bowl is, it is simply a large bowl filled with a variety of nourishing ingredients, making it a wholesome and vibrant meal. This spicy ginger salmon Buddha bowl is a keto-friendly version that includes salmon filets, low glycemic vegetables, and a ginger marinade. Ginger root, a key ingredient, offers additional flavor on top of health benefits such as improving heart health, boosting digestion, and fighting brain disorders.
Prep-Ahead Cheesy Chicken Low-Carb Casserole
Preparing fresh lunches can be challenging for many people, but that won't be an issue with this Low-Carb Casserole Recipe solves that issue. You can make it a day ahead or even up to a month ahead and store in the freezer.
Zesty Chili Lime Taco Cups
Enjoy Taco Tuesdays without compromising your keto lifestyle with these flavorful and low-carb taco cups. Lettuce replaces traditional tortillas, providing the perfect low-carb vessel for all the delicious Mexican flavors.
Blackened Chicken
Next time, you are craving a barbeque inspired meal, try this blackened chicken recipe. Skip the store-bought seasoning mixes and opt for a homemade blend of herbs and spices that are perfect for a healthy and delicious dinner. Plus, it's paleo-friendly and gluten-free!
Chicken Cobb with Keto Peach Balsamic
Elevate your classic Cobb salad with a twist by adding a delicious keto peach balsamic dressing. This keto Cobb salad is packed with flavorful ingredients like chicken, avocado, bacon, and cherry tomatoes, all complemented by the not-too-sweet peach dressing that brings all the flavors together.
Instant Pot Spaghetti Squash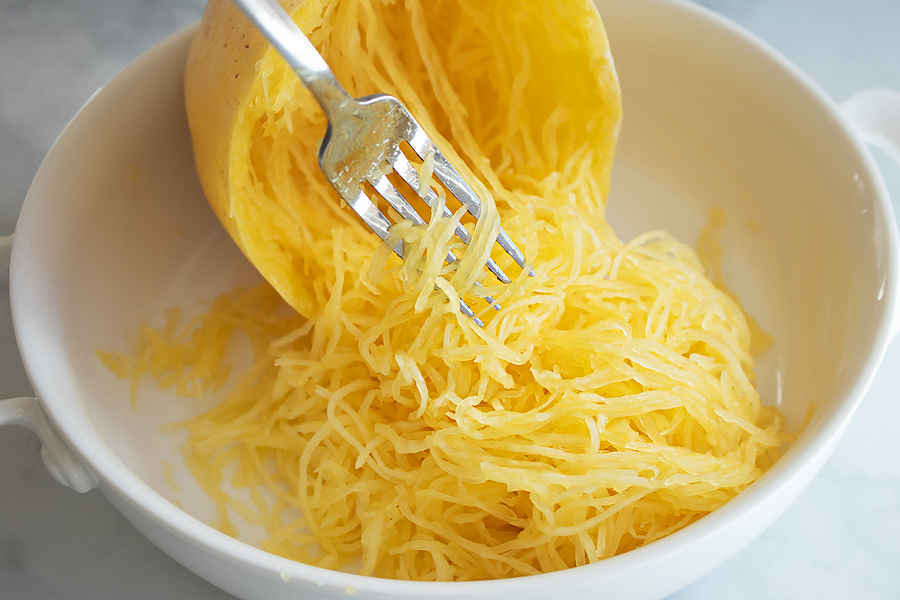 Spaghetti squash is a versatile and low-carb pasta alternative. Instead of spending time and effort in the oven, using an Instant Pot provides a quick and hassle-free method for perfectly cooked keto-friendly spaghetti squash in minutes.
Easy Keto Recipes for Dinner
For hearty nutritious dinners, try one of these recipes. While these require a bit more prep, they are truly worth the effort and many of them keep well in the refrigerator.
Instant Pot Keto Beef Sancocho
This Instant Pot Keto beef Sancocho recipe is a flavorful twist on the traditional Latin American dish. Made with low-carb vegetables and rich grass-fed beef, it's a delicious keto-friendly option for a hearty and satisfying meal.
Steak with Mushroom Gravy
Elevate your steak dinner with this indulgent but simple keto recipe. The tender steak is smothered in a savory mushroom gravy that adds depth and richness to every bite. Leftovers can be easily stored and reheated for next day's lunch.
Keto Instant Pot Meatballs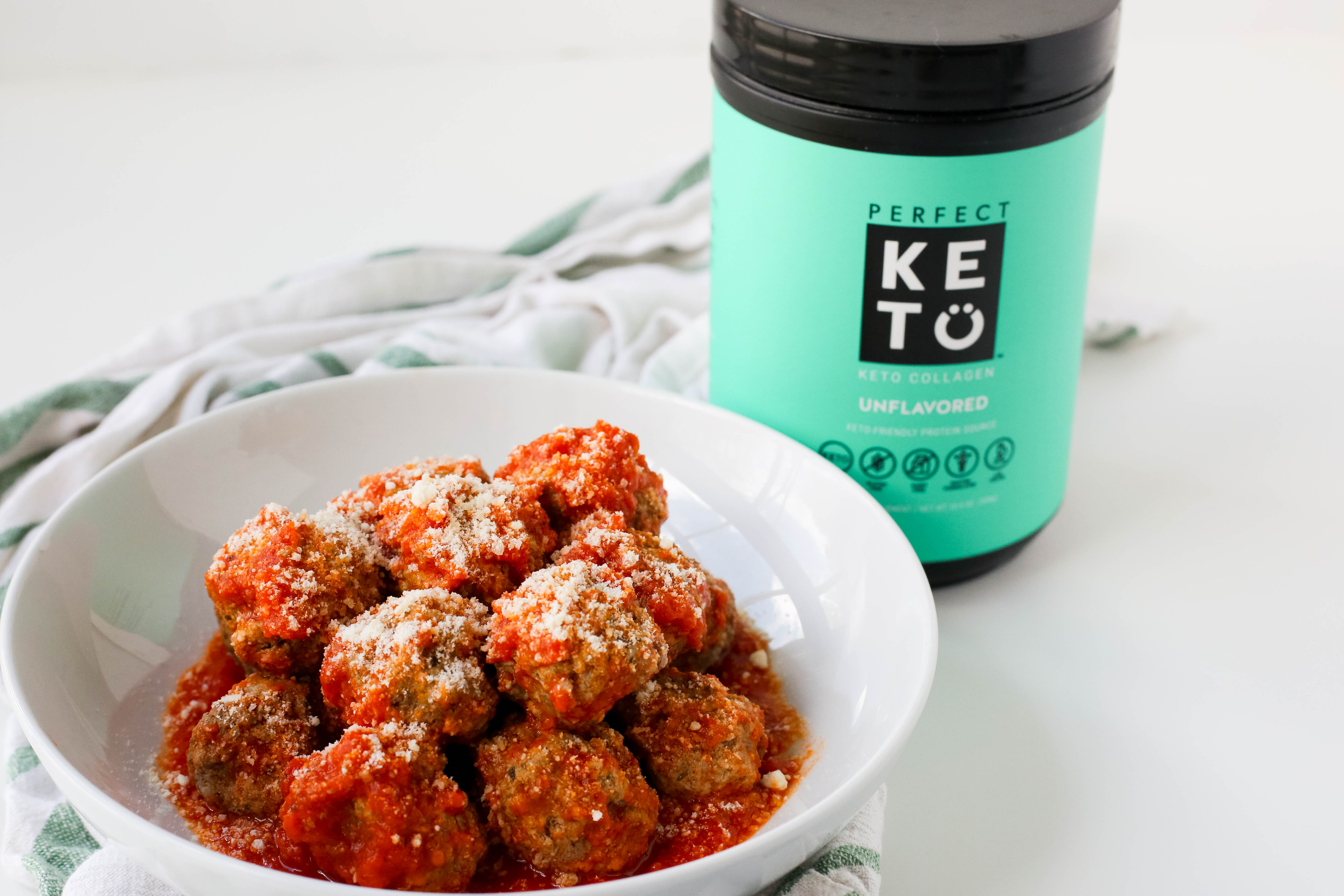 These keto meatballs are a flavorful and gluten-free twist on the classic Italian dish. Made with juicy grass-fed beef and almond flour, they're a satisfying and protein-rich option for a weeknight dinner.
Keto Parmesan Chicken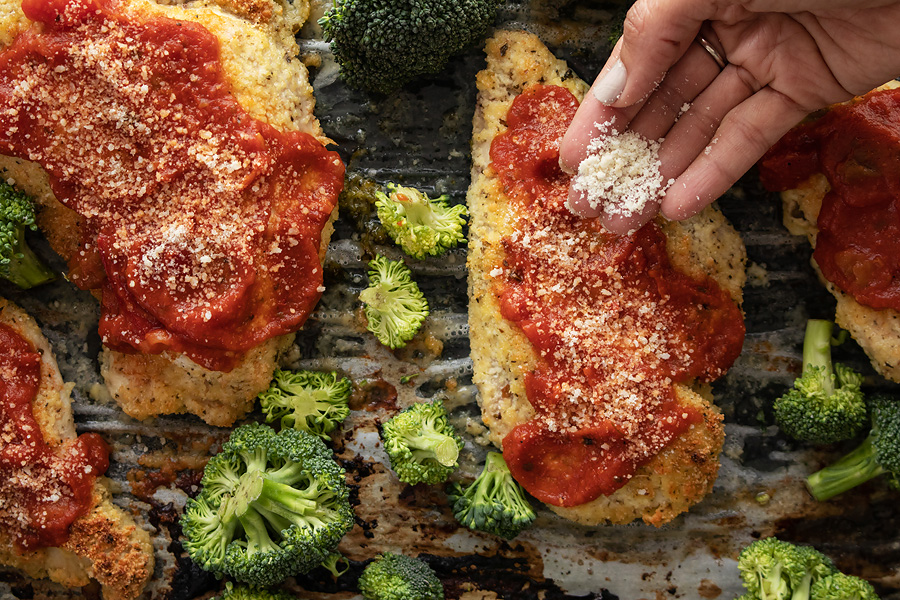 Whenever you feel like something cheesy, try this 30-Minute keto parmesan chicken recipe that is sure to please the whole family. Rich in protein and served with your choice of baked veggies, it's a truly satisfying and keto-friendly meal option.
Italian Turkey Casserole
This easy keto meal is meant for a group but you can make it for one and refrigerate the rest. To store leftovers, let it cool completely before transferring it to an airtight container and refrigerating for up to 4 days. To reheat, simply microwave individual portions or warm it in the oven at 350°F until heated through.
Spicy Low-Carb Keto Salmon Patties
Salmon is not only a delicious fish but also a great source of omega-3 fatty acids, which are essential for brain health, heart health, and reducing inflammation in the body. These low-carb keto salmon patties provide a tasty way to incorporate this nutritious fish into your diet while staying true to your ketogenic lifestyle.
Keto Beef Stew
Warm up with this hearty keto beef stew, packed with flavorful ingredients and easy to make in your Instant Pot or slow cooker. Serve it on its own or over cauliflower mash for a satisfying low-carb meal.
Keto Butter Chicken
Recreate everyone's favorite Indian dish, butter chicken, in a keto-friendly version. Swap rice for cauliflower rice and skip the naan for a low-carb twist on this delicious meal.
Spicy Italian Keto Stuffed Peppers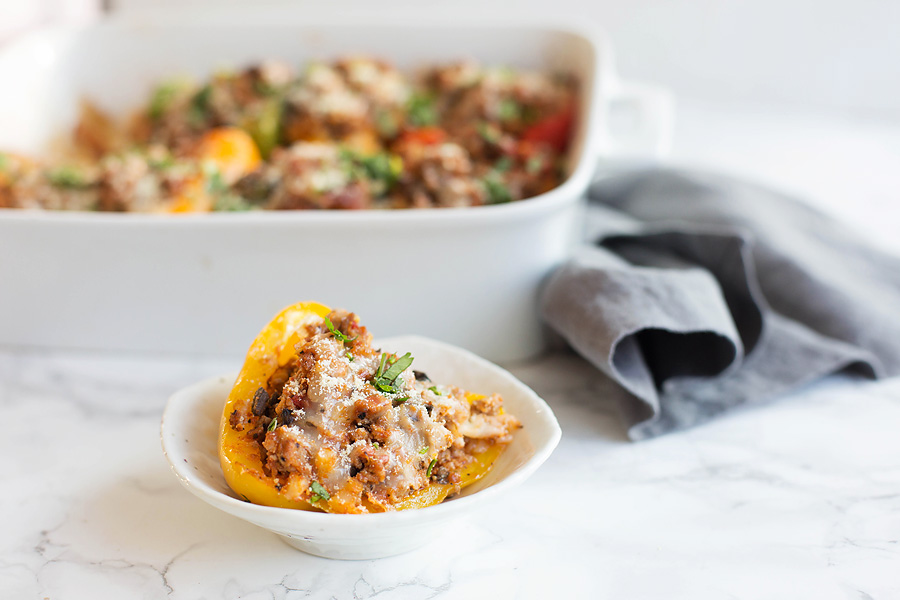 Keto stuffed peppers are a healthy and flavorful option for a low-carb meal. By substituting rice with cauliflower rice and incorporating a variety of vegetables, you can enjoy the deliciousness of stuffed peppers while keeping your carb intake in check.
Crispy Keto Chicken Tenders
By using almond flour instead of traditional flour, these keto-friendly chicken tenders are low in carbs and packed with flavor. It's a simple and satisfying meal that everyone can enjoy, keeping you on track with your ketogenic lifestyle.
Crispy Keto Bacon Wrapped Asparagus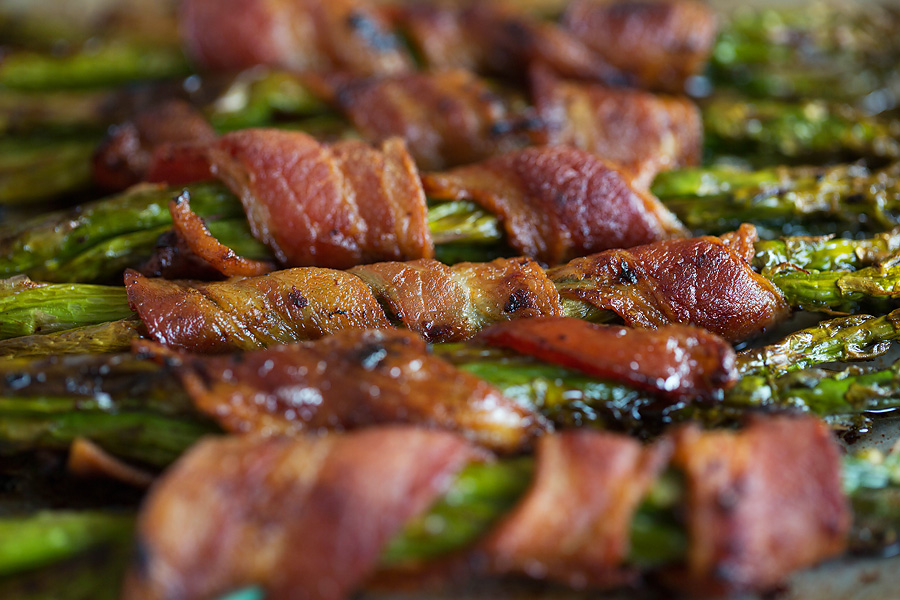 Bacon-wrapped asparagus offers a delicious solution for those who struggle to enjoy veggies. The savory bacon enhances the flavor of asparagus, making it more appealing and enjoyable.
Chicken and Veggie Shish Kabobs
These chicken and veggie shish kabobs offer a delightful twist on traditional grilling recipes, with a nod to the Mediterranean diet. They are packed with flavorful ingredients like chicken, bell peppers, and onions which makes them the perfect combination of savory, spicy, and sweet. Enjoy them with cauliflower rice or a refreshing salad for a complete and healthy meal.
Loaded Cauliflower Casserole Recipe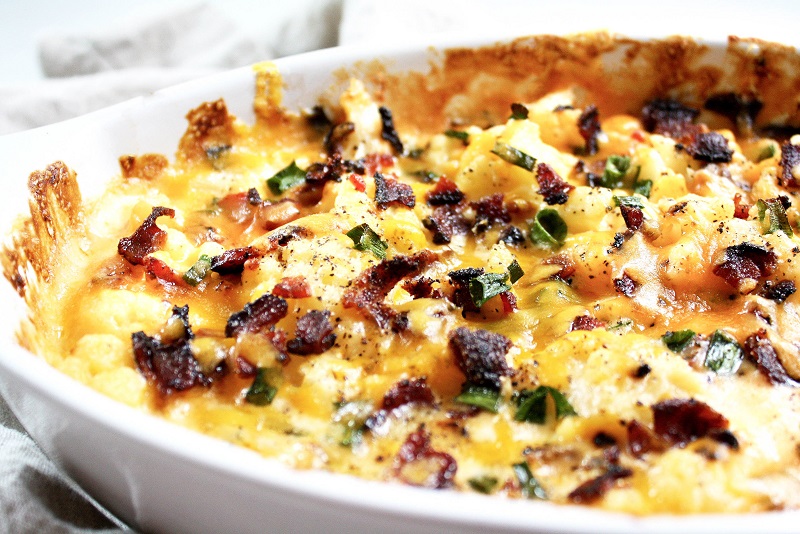 This cauliflower casserole is not only a delicious and filling keto dish, but it also offers numerous health benefits. Packed with veggies, it's a great way to incorporate more nutrients into your diet without sacrificing flavor.
Balsamic Chicken and Mushroom Skillet
The delightful combination of tender chicken, tangy balsamic vinegar, and savory mushrooms in this keto-friendly balsamic chickenand mushroom skillet will leave you craving for more. With its rich flavors and easy 30-minute preparation, this dish is perfect for a dinner that is just as delicious as it is nourishing.
Crispy Keto Fried Chicken
Enjoy the irresistible taste of crispy fried chicken while staying keto-friendly with this baked keto fried chicken recipe. It's low-carb, gluten-free, and uses a delicious keto-friendly breading that will satisfy your cravings without compromising your diet.
With these 45 delightful keto recipes, you can enjoy keto-friendly food that supports your health goals and indulges your taste buds. Whether you're a keto veteran or just starting your journey, let these recipes be your guide to a flavorful, wholesome, and enjoyable keto experience.