on September 23, 2018
Would a roundup of easy keto recipes feel like winning the lottery?
Probably not.
But knowing you don't have to be a whiz in the kitchen or spend a ton of money on one-off ingredients to nail a ketogenic diet may make it easier for you to start one — and that's pretty major.
After all, the health benefits of dining on a high fat, low carb diet like keto range from weight loss to better mental health and superhero-esque physical energy.
So whether it's your first time cooking keto recipes or you're a seasoned ketosis veteran, save this guide right now.
Because when you're on a serious time or budget crunch, this guide will gift you with:
Keto cooking may be intimidating because cooking in general can be a little scary. But with the recipes in this guide, you'll feel confident and ready to tackle your new healthy life by the end of the day.
So let's start with recipes you can make with only a handful of ingredients while you're still testing the keto waters.
Keto Recipes Using 5 Ingredients Or Less
You don't need a CVS-sized receipt of ingredients to make delicious keto meals and treats.
These next recipes prove you can make magic with fewer than five ingredients:
#1. Keto Bulletproof Coffee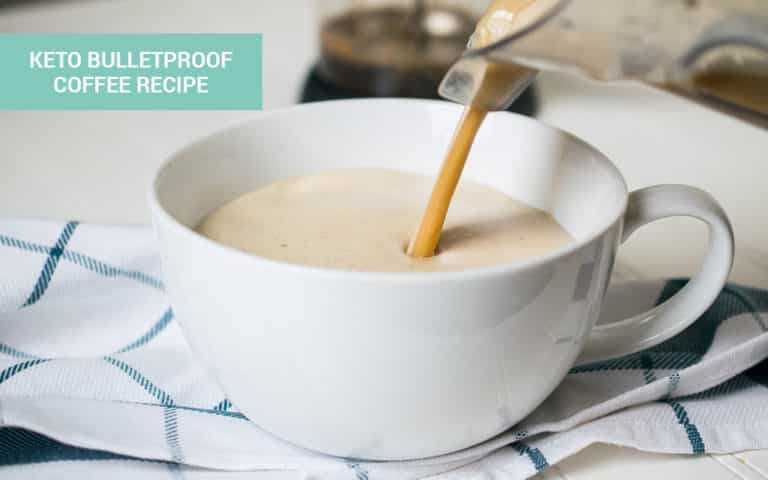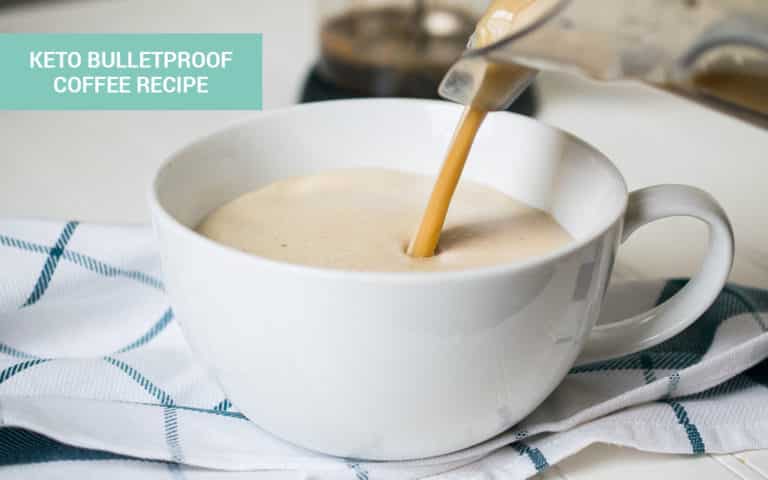 Every ketoer should have this keto bulletproof coffee recipe down pat.
It's a simple combination of just three ingredients: coffee, grass fed butter and MCT oil powder.
Simply mix all three in a blender to create the perfect frothy, energizing latte.
Then feel free to spice up your keto coffee with additions to make every cup unique, such as:
Cinnamon or pumpkin pie spice

Pure vanilla or almond extract

A pinch of Himalayan salt

Keto collagen protein

(choose a chocolate flavor for a mocha coffee!)

A scoop of

exogenous ketones

to get your bod in ketoland
For a total time of two minutes, you'll have energy to last well into your hectic day.
#2. Keto Brunch Spread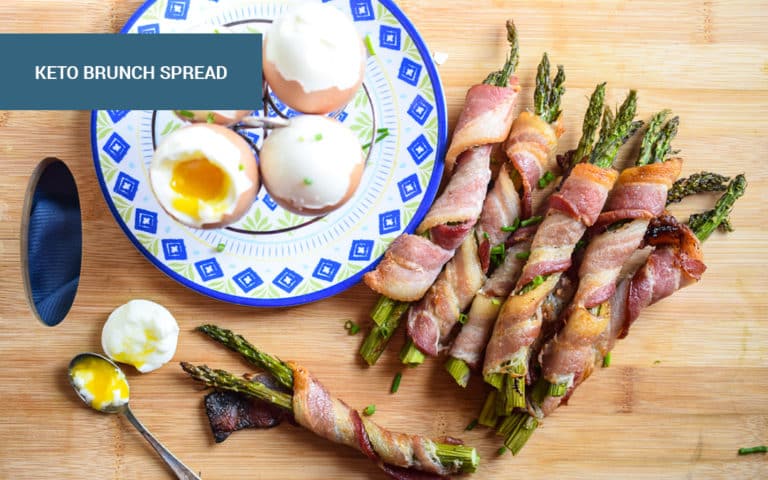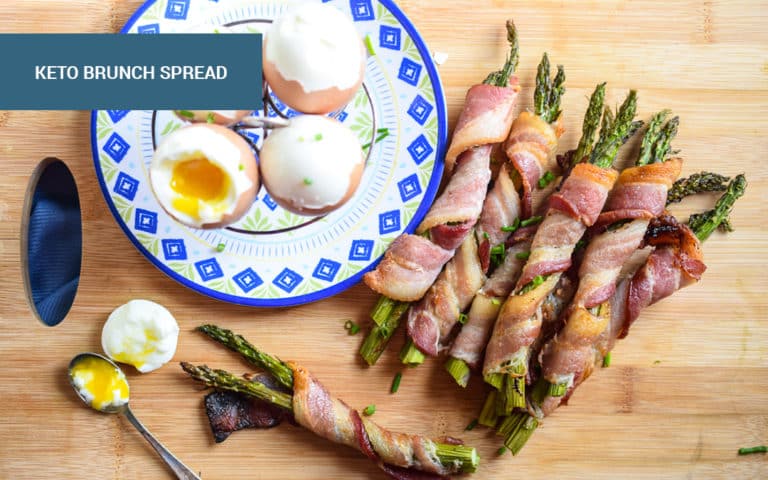 There are only three ingredients in this keto brunch spread recipe: eggs, asparagus and bacon, and yet it's fancy enough for brunch with company and easy enough for a weekend in with your boo.
#3. Perfect Keto Avocado Breakfast Bowl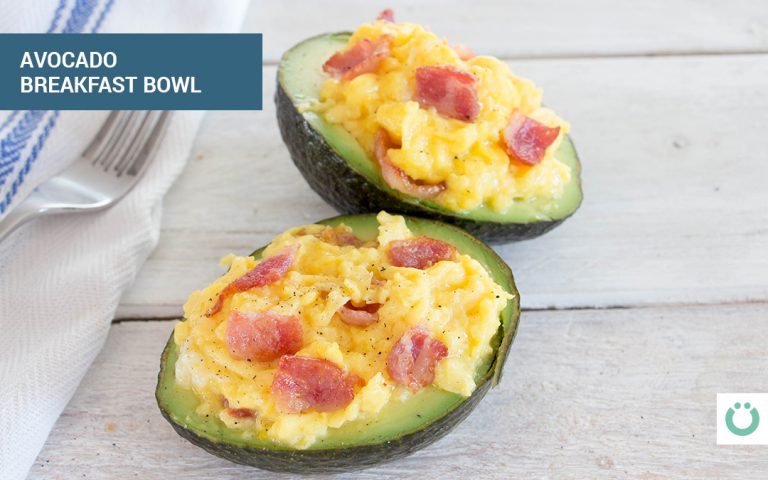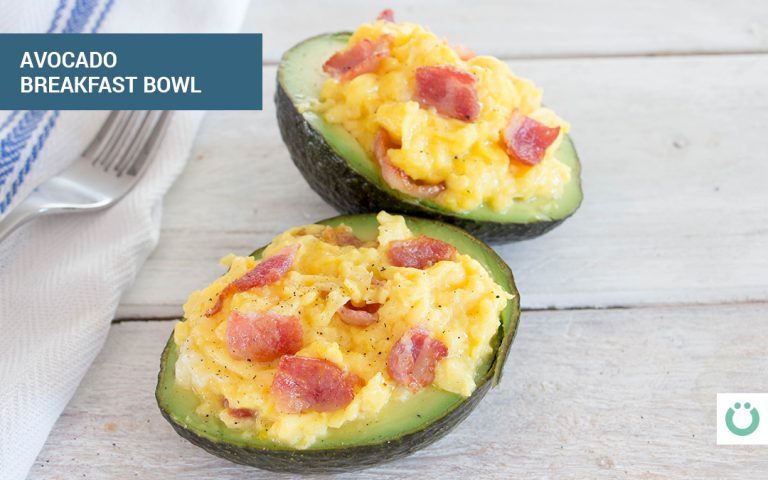 You probably already have all five ingredients needed to crush this keto avocado breakfast bowl recipe. And it's so easy and quick you can make it before you dash out the door for work or school in the AM.
Besides the protein found in the eggs and bacon, you'll find an average of 20g of fat per avocado and 9g of super healthy fiber, which are only a few reasons why avocado is a king on keto.
#4. Baked Pesto Chicken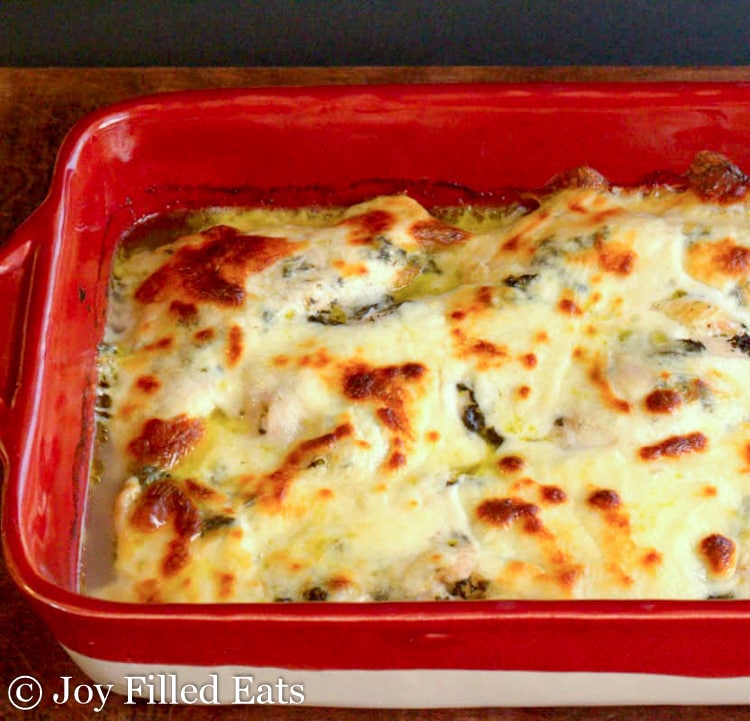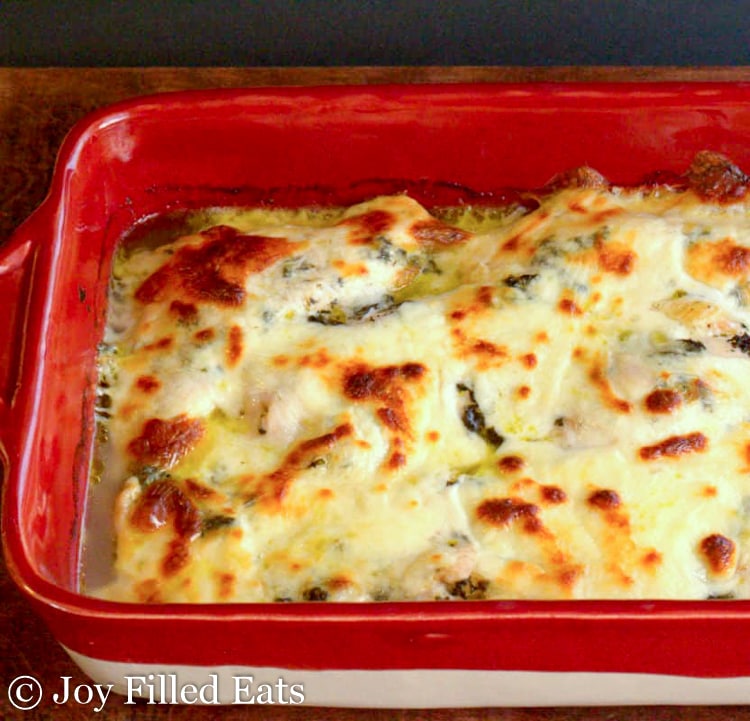 This baked pesto chicken recipe from Joy Filled Eats only requires a trip to the grocery store for chicken breasts, mozzarella and basil pesto. You can either make your pesto from scratch to control the carbs or find a premade low carb option at the store, depending on how much time you have.
#5. Spicy Keto Cheese Crisps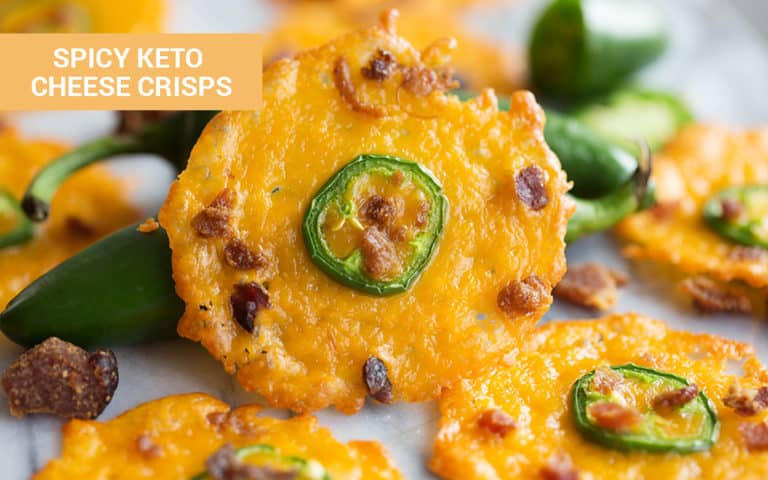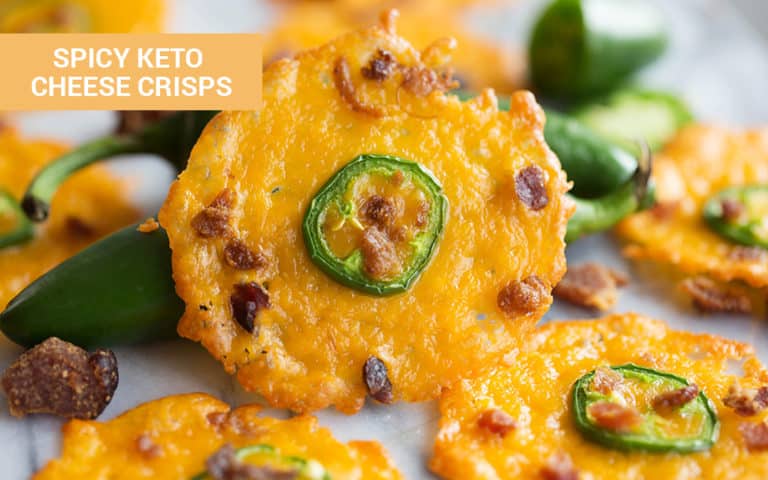 When you're prowling for snacks and avoiding chips, try whipping up a batch of spicy keto cheese crisps for the perfect carb-free bite.
Using just grass-fed cheddar cheese, jalapeno and crumbled bacon (i.e., three ingredients), these chips only take about 10 minutes to bake in the oven.
We know you'll be making more than one batch so time them right before your bingefest.
#6. Cloud Bread: 4-Ingredient, Low Carb Bread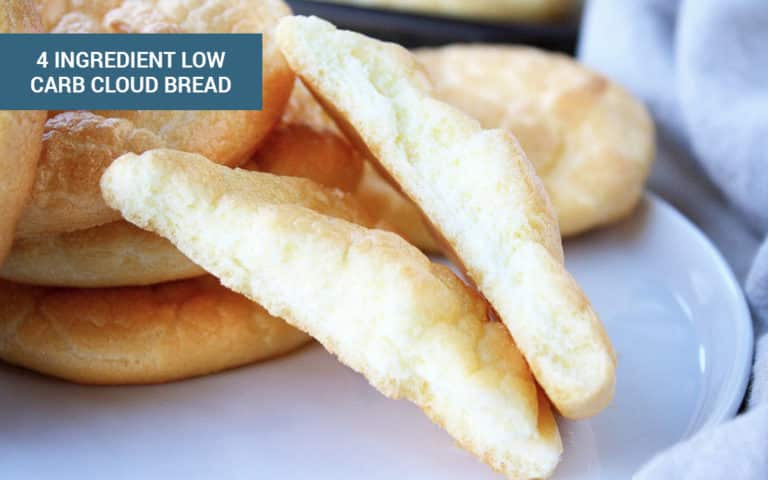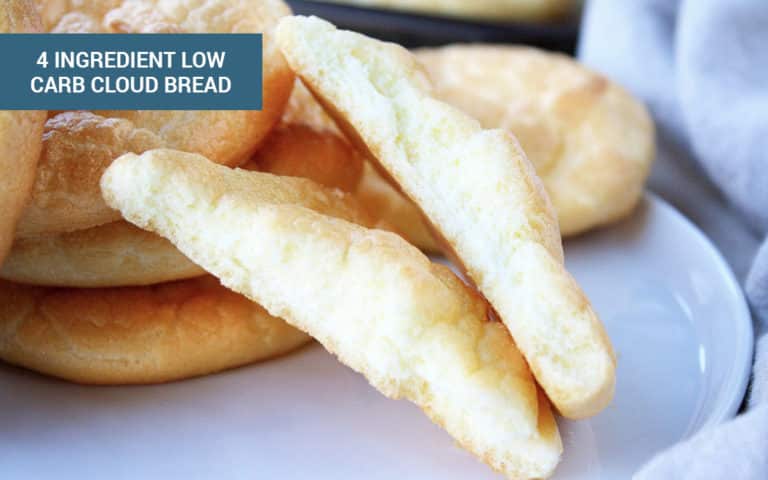 Did you know it only takes four ingredients to bring fluffy keto cloud bread into your life?
As long as you have eggs, cream cheese, salt and a bit of cream of tartar, you're in business.
Pro tip: You can usually find cream of tartar in the spice aisle at your local grocer, and it's not expensive.
But now let's talk about which keto recipes you can make using staples you probably already have on hand.
Quick and Easy Keto Recipes Using What's Already In Your Pantry
When you're low on time and there's a monsoon or blizzard outside, it's what's in your pantry that separates the keto newbies from the real keto MVPs.
That's why a well-stocked keto pantry is worth double the money you spend filling it.
These next recipes take advantage of your planning and they also don't take forever to cook either:
#7. Keto Oatmeal: 5-Minute Low Carb N'oats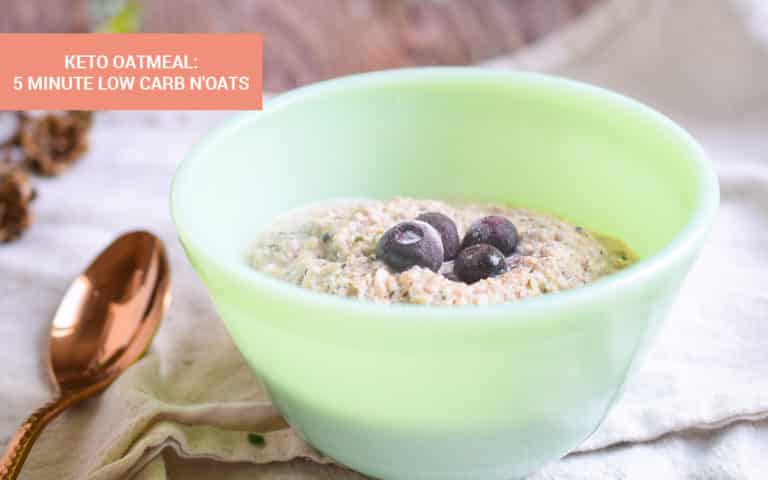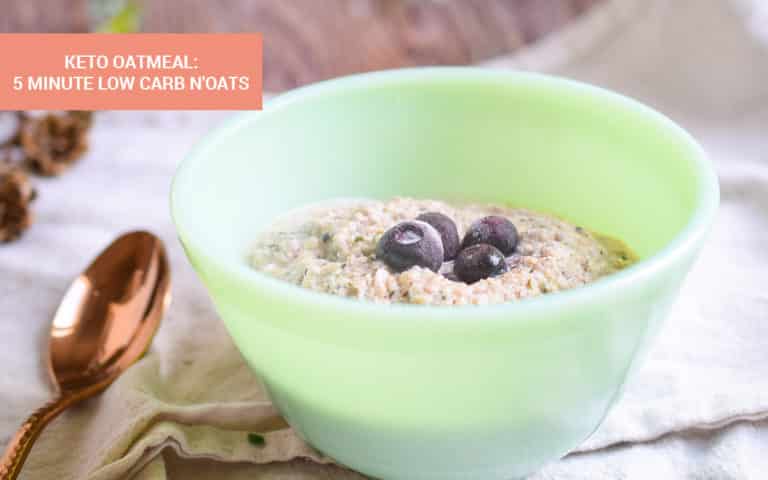 Never miss the squishy comfort of oatmeal on a chilly morning during ketosis.
This keto n'oatmeal recipe combines flax, hemp and chia seeds with coconut flakes, almond milk and a scoop of vanilla MCT oil powder.
These healthy seeds will boost your daily fiber — to the tune of 16g, or about half of your day's recommendation — for literally 1g of net carbs.
And the vanilla MCT oil powder will give you energy for hours in addition to adding delicious flavor.
What is MCT oil powder?
Medium-chain triglycerides, or MCTs as they're known, are your body's preferred source of energy. They're quickly metabolized into ketones, shuttling energy all over your body.
This means MCTs give you a clean, fast-acting source of energy to:
Power through your day without midday slumps or crashes

Provide better mental clarity

Aid in proper metabolic function

Improve cellular function
You may be used to liquid MCT oil, but MCT oil powder is easier to take with you on the go and has a better time mixing with other low carb powders like exogenous ketones, Keto Microgreens Powder and collagen protein.
But if you never liked oatmeal, this next recipe highlights the bacon and eggs you may be craving in the AM hours instead.
#8. Bacon, Egg & Cheese Breakfast Casserole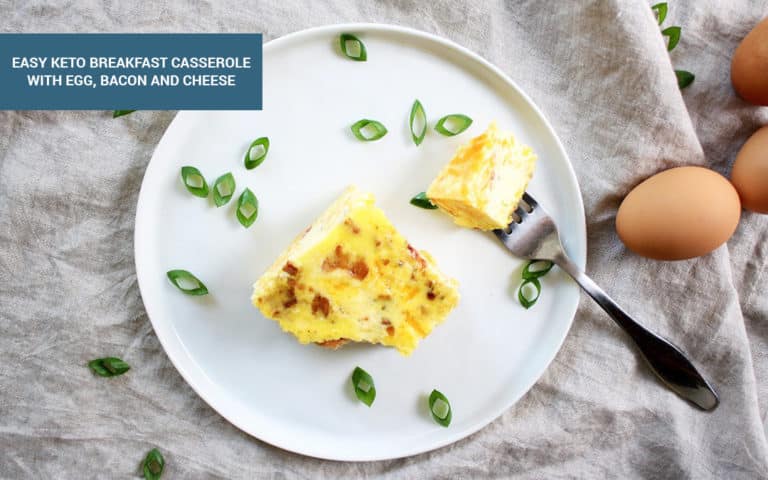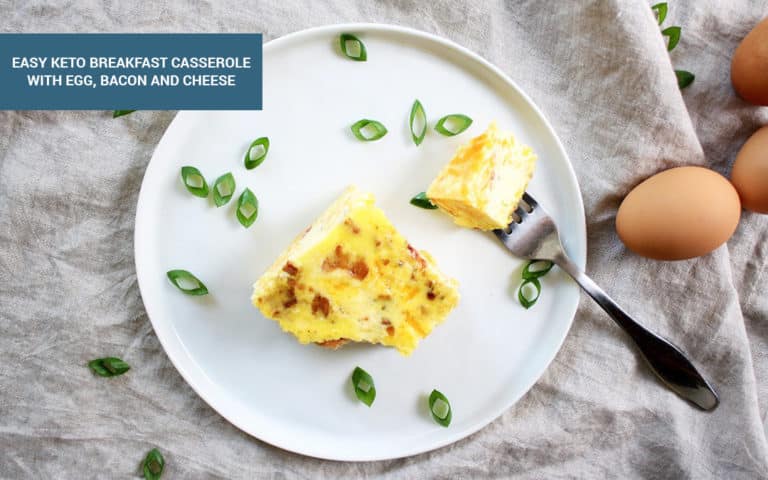 A well-stocked keto pantry also extends to your fridge.
You should always(!) have bacon, ham or sausage and eggs and cheese around when you're in or trying to reach ketosis because:
The ingredients are inexpensive and last a decent amount of time in your fridge

There are endless ways to prepare them together

All cooking methods are relatively fast and easy AF

They're packed with protein and good fat and super low in the carb department
This bacon, egg and cheese breakfast casserole takes those staples and then adds sour cream and whipping cream (two other items you should have on hand) and green onions for flavor.
The whole casserole has 43g of protein for just 2g of carbs and you'll have leftovers the next day. #WinWin.
You can always add keto-friendly veggies like broccoli and even more meats to your casserole to up your macros.
And if you're a self-professed meathead, prepare to drool over this next easy recipe.
#9. Meat-Lover Pizza Cups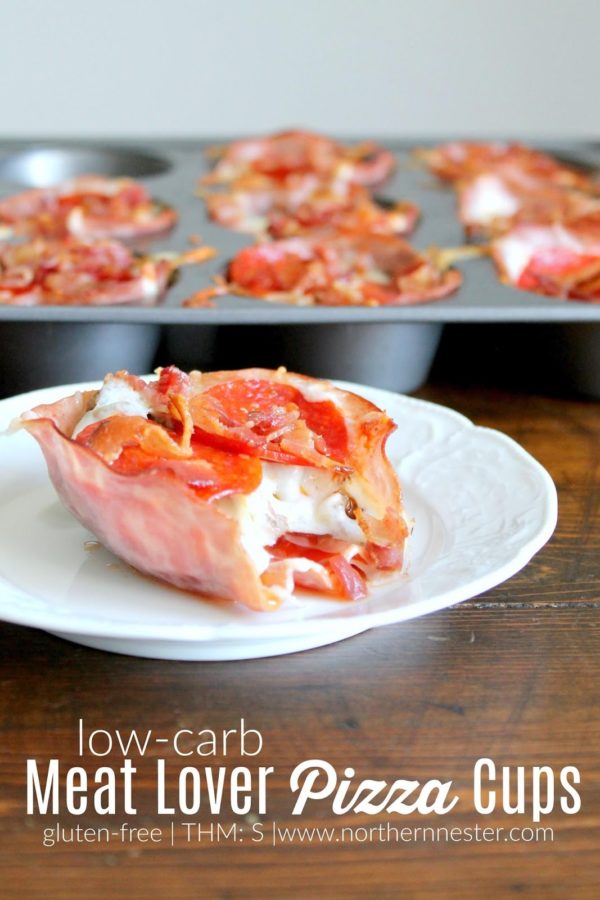 Being on keto means you probably have unfulfilled pizza cravings and a lot of meat in your fridge.
Luckily, this low carb meat lover pizza cup recipe from Northern Nester helps you silence those lurking pizza thoughts using said meat so you can stay in ketosis.
Using a ham slice as a cup for cheese and other meaty toppings, one serving is all the best parts of pizza sans the gross carbs.
After your keto "pizza" cups, you'll want to have one of these next keto cups on deck.
#10. Chocolatey Keto Nut Butter Cups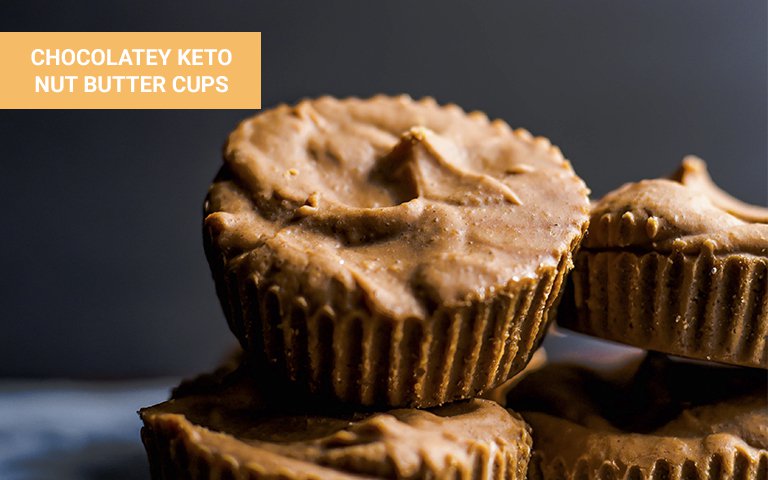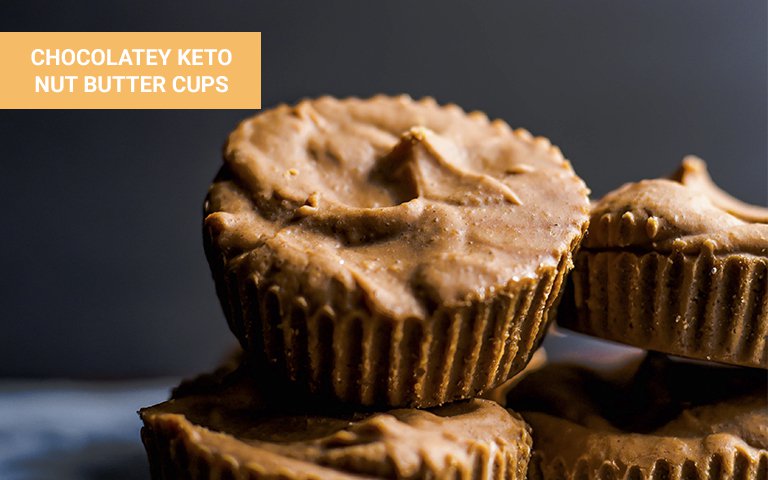 A chocolatey peanut butter cup you can make in the microwave with staples like butter, heavy cream, Perfect Keto Nut Butter and unsweetened chocolate?
Heck YES.
Perfect Keto Nut Butter is a creamy blend of macadamia nuts, cashews, coconut butter, MCT oil, and just a pinch of vanilla and sea salt — plus it has zero added sugars, chemicals, or preservatives.

Everyone wins with this keto chocolate peanut butter cup recipe.
But where you may stumble is the middle of the day.
Easy Keto Recipes for Lunch
What do you do when you only have 30 minutes to chow down and a small lunch cooler to fit it all in?
You can either find keto friendly meals at the drive thru or pack one of our best keto lunch recipes.
Since we hope you choose the homemade route, let these five choices finally take the struggle out of your keto lunch options:
#11. Easy Keto Chicken Salad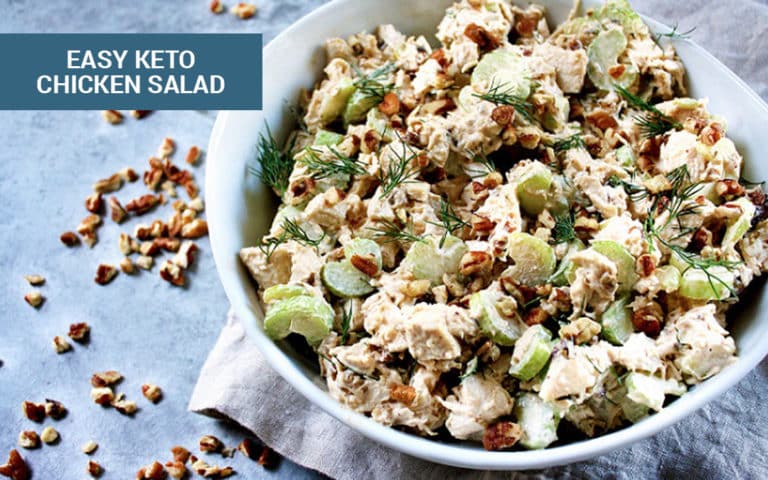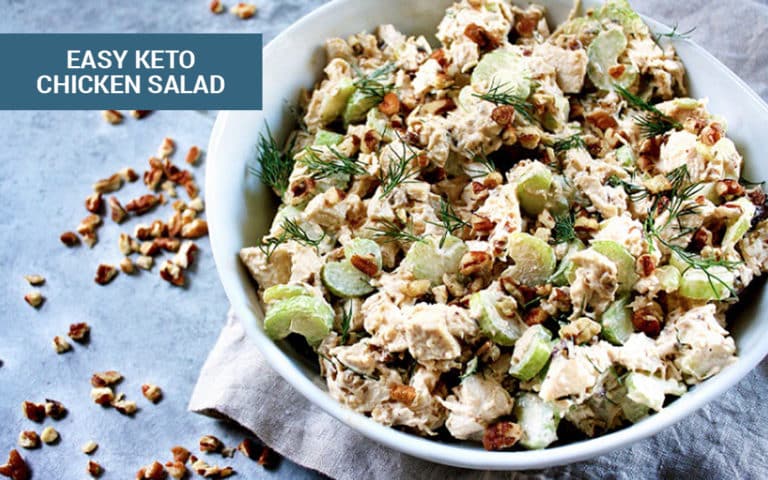 When you get in the habit of batch cooking all your keto meals for the week, you may find yourself with an excess of chicken. This easy keto chicken salad recipe is the answer to your leftover chicken's encore performance.
With just 1g of net carbs, 25g of protein and 19g of fat per serving, it will keep you satiated until dinner.
Psst! If you want to boost your fiber intake without adding carbs, try sprinkling in chia or hemp seeds too.
Make this next recipe and you'll have a keto burger that's better than anything you'll get at the drive-thru.
#12. Spinach-Mozzarella Stuffed Burgers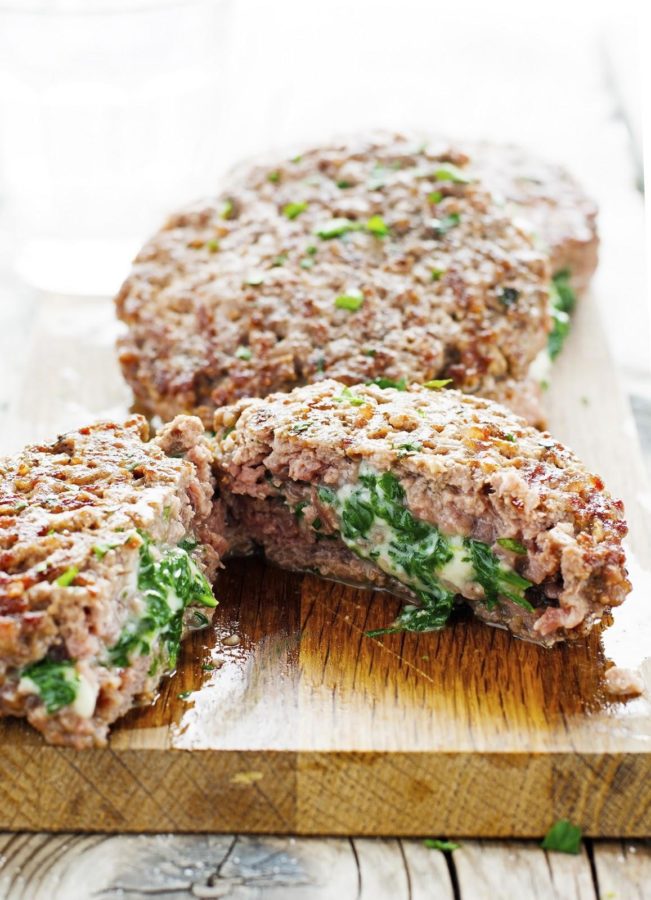 Bunless burgers are everything on keto because they're so easy and customizable.
So graduate from topping your burgers with cheese to stuffing them with this elevated yet simple spinach-mozzarella stuffed burgers recipe from The Iron You.
The spinach and mozzarella hiding in these burgers not only adds extra fat and vitamins, it also keeps your burger patties super juicy and flavorful.
One patty clocks in at 36g of protein, 29g of fat and just 1g of carbs. Pair it with a salad dressed with MCT Powder Garlic Dressing and you'll have the #BestLunchEver.
#13. Easy Keto Egg Salad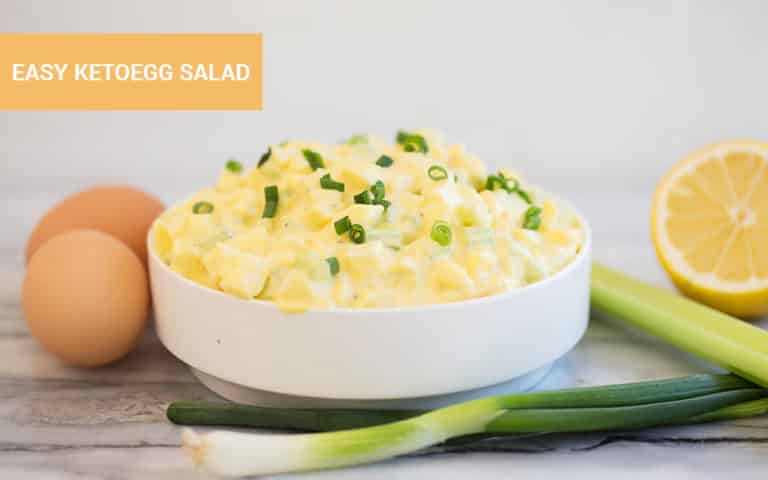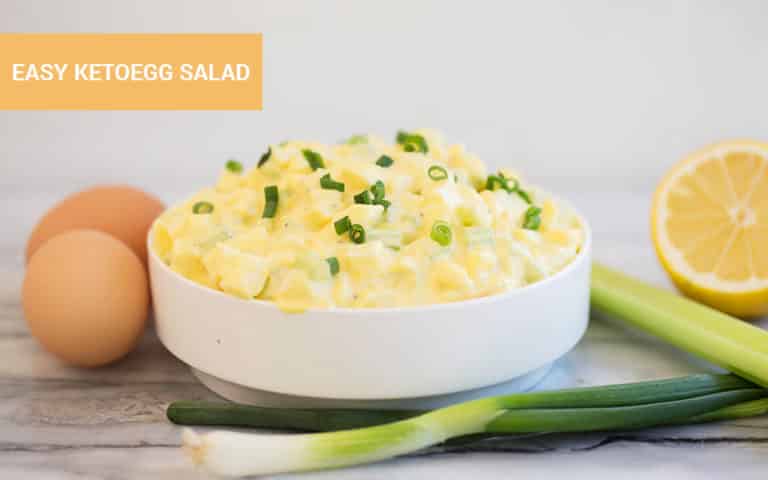 The easiest lunch for anyone on a ketogenic diet is based on another pantry staple: eggs.
With this easy keto egg salad recipe, just take hard-boiled eggs and mix them in a bowl with mayo, lemon juice, mustard, celery and green onions. Then season with salt and pepper as you like.
This recipe goes well on toasted keto bread, cloud bread or in romaine lettuce cups and will only set you back one carb per serving.
Resist all offers to trade your egg salad lunch for pudding packs.
#14. Easy Shrimp Avocado Salad with Tomatoes and Feta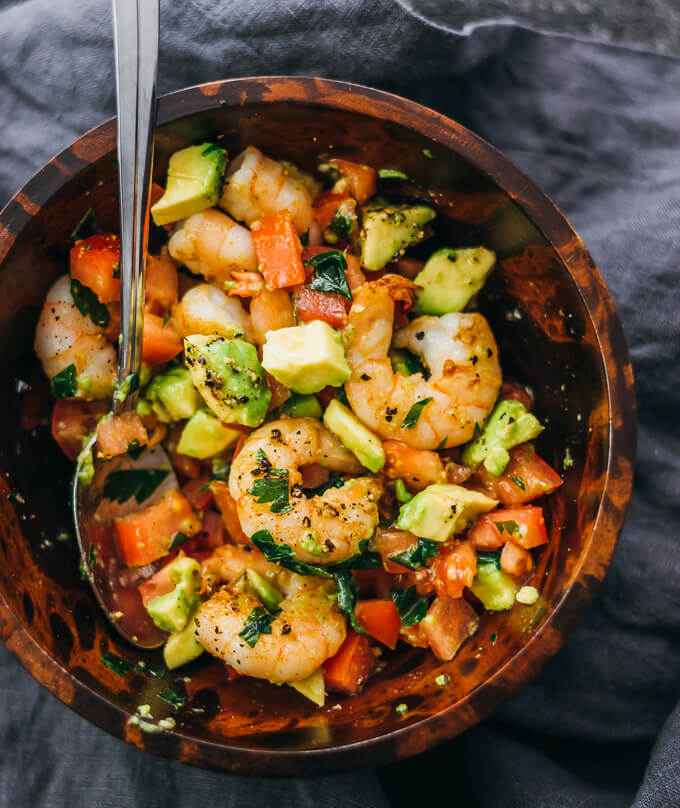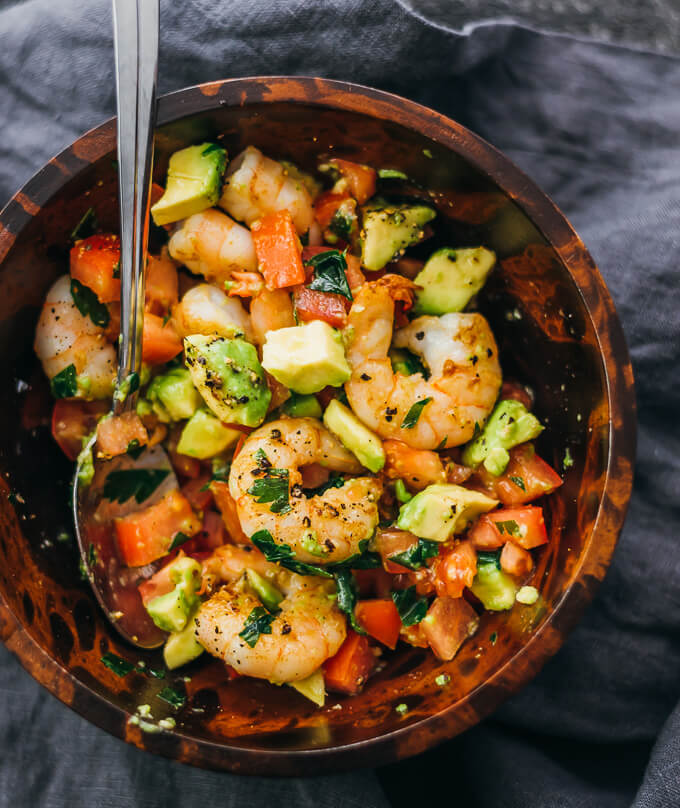 A quick midday lunch to keep you cool on a hot day, this easy shrimp avocado salad recipe from Savory Tooth is as yummy as it is healthy.
Simply mix shrimp, tomato, avocado and feta cheese with a homemade dressing of butter, cilantro, lemon juice and olive oil.
This flavorful bowl tallies in at 24g of protein, 33g of fat and 6g of carbs. You can use fewer tomatoes to cut a few more carbs, ps.
#15. Chicken Caesar Salad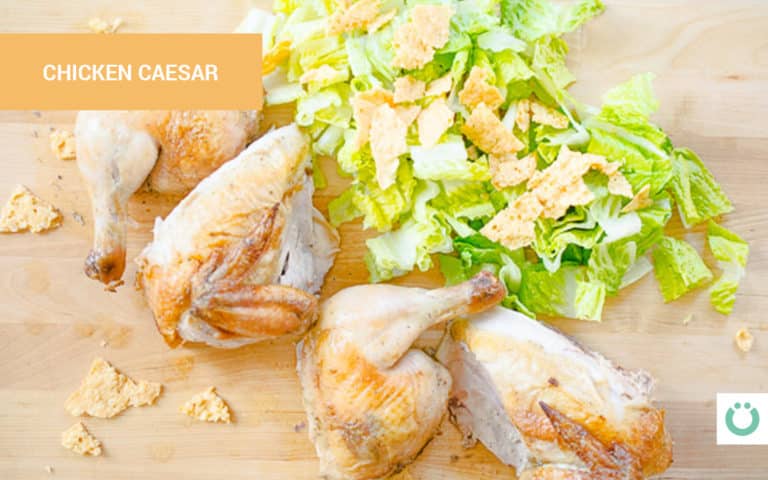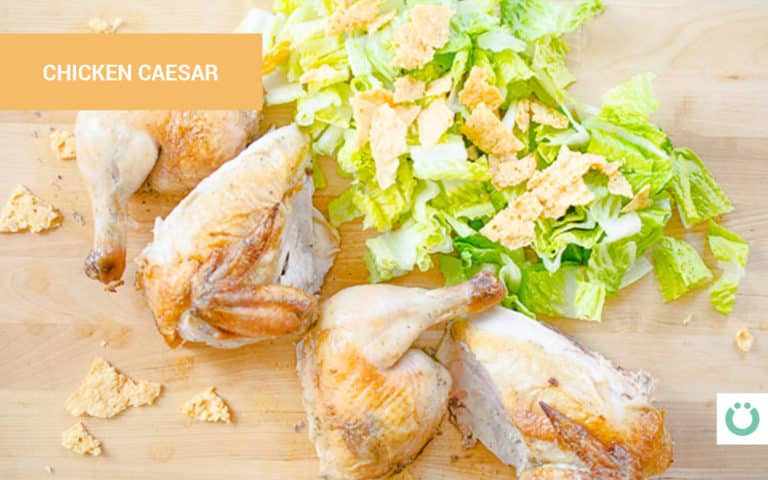 You may not know how easy it is to bring your own chicken Caesar salad to work instead of spending $10+ on one everyday at the cafe by your office.
With this keto chicken Caesar salad recipe you'll never fork over that kind of dough when it's so darn easy to DIY.
You also won't have to put in another full day in the kitchen to make keto dinner after your long day at work, as you'll see next.
Easy Keto Recipes You Can Make In 30 Minutes Or Less
What can you do with 30 minutes?
These easy keto recipes don't take much time and still deliver fantastic nutritional payoff:
#16. Cheesy, Low Carb Stuffed Mushrooms with Bacon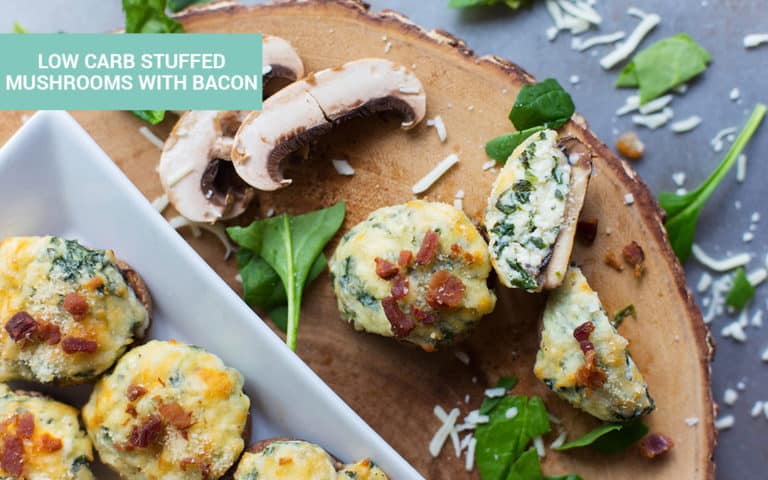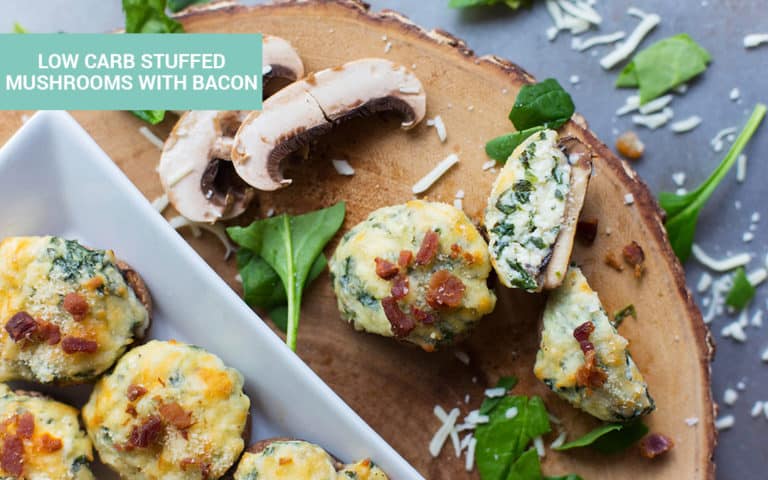 Whether bringing to a potluck or cooking on a weeknight, these tasty low carb stuffed mushrooms with bacon are only 1g of net carbs per baby bella cap. And they only take about 20 minutes from start to finish.
#17. Garlic Rosemary Pork Chops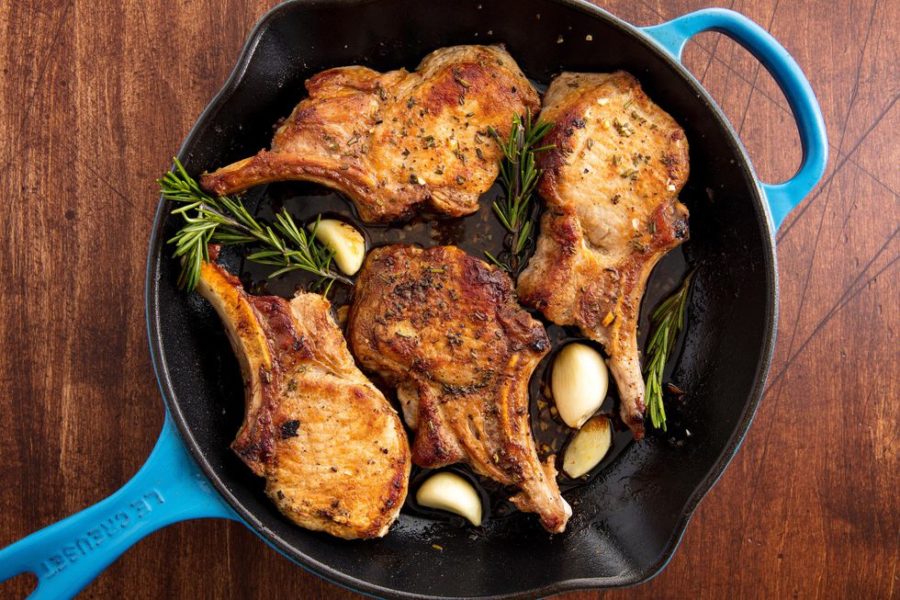 Think you can't have restaurant quality keto meals at home? This Delish recipe for garlic rosemary pork chops says otherwise.
To cook four chops, all you need is rosemary, garlic cloves, butter and olive oil. In less than 30 minutes of total cook time, this keto recipe will be on the table in a flash and on repeat at your house.
Hint: We recommend our creamy cauliflower mashed fauxtatoes recipe as a side with your pork chops.
#18. Avocado Shrimp Stacks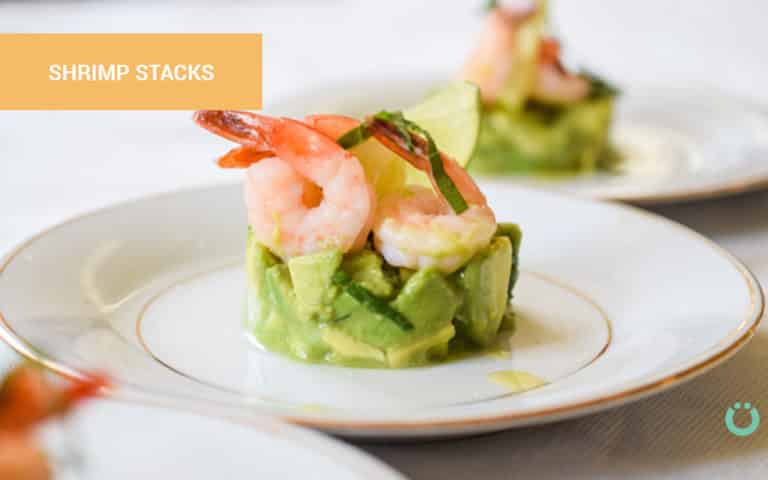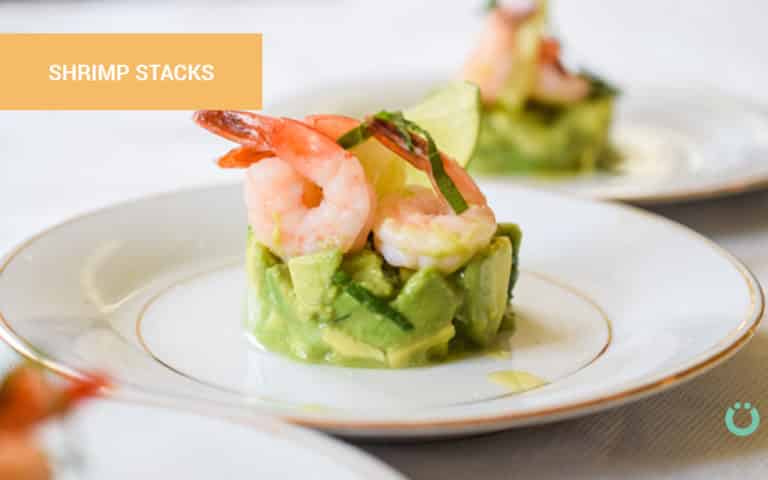 This keto avocado shrimp stack recipe not only takes a total of 15 minutes to make, it also only uses shrimp, avocado, lime and basil!
Sure to be a summertime staple, you'll always want to keep these four ingredients on hand for when you come back from the beach or need a refreshing nosh out by the pool.
#19. Bangin' Coconut-Lime Skirt Steak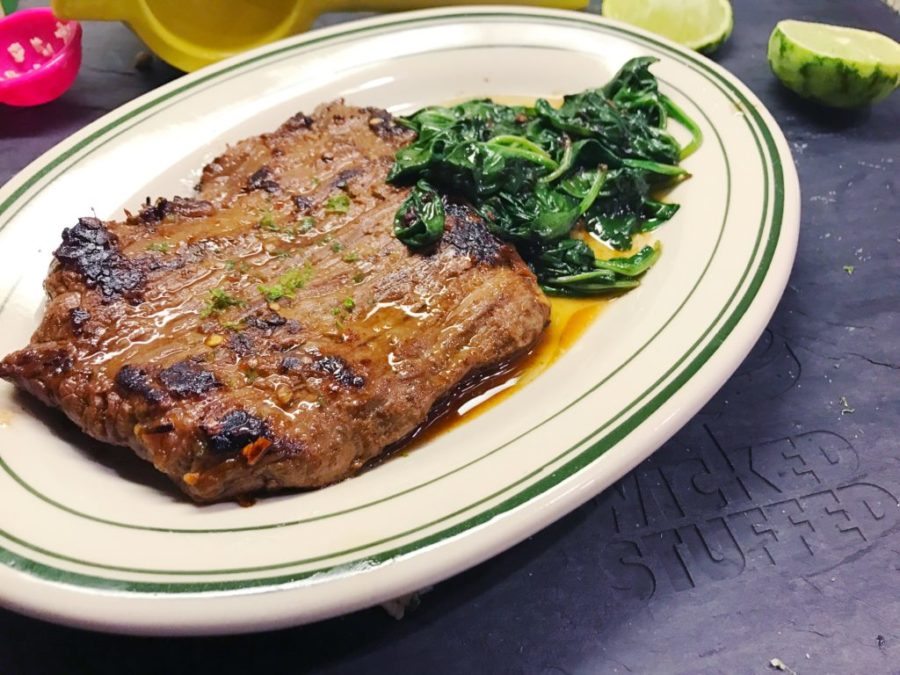 If you're tired of the same ol' steak for dinner (said no ketoer ever), you can take your meat in another direction with this Bangin' Coconut Lime Skirt Steak recipe from Wicked Stuffed.
Using lime juice, garlic, ginger and red pepper to dress up a grass-fed skirt steak, you'll have a flavorful twist on an affordable cut sure to satisfy all your tastebuds.
#20. Keto Jalapeno Poppers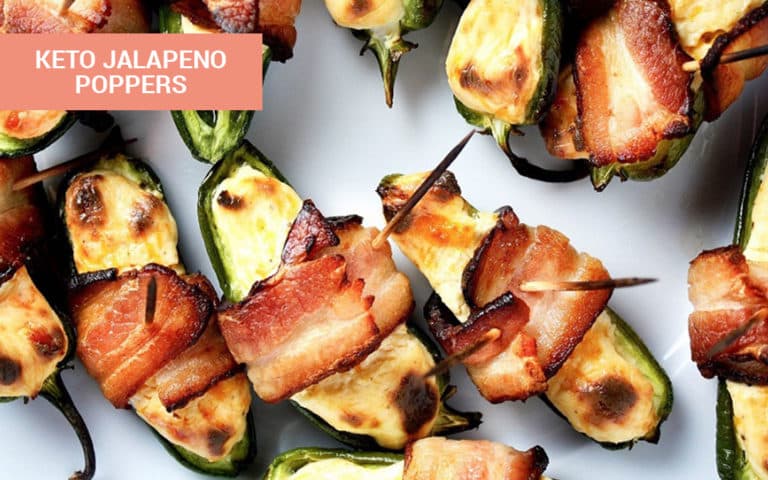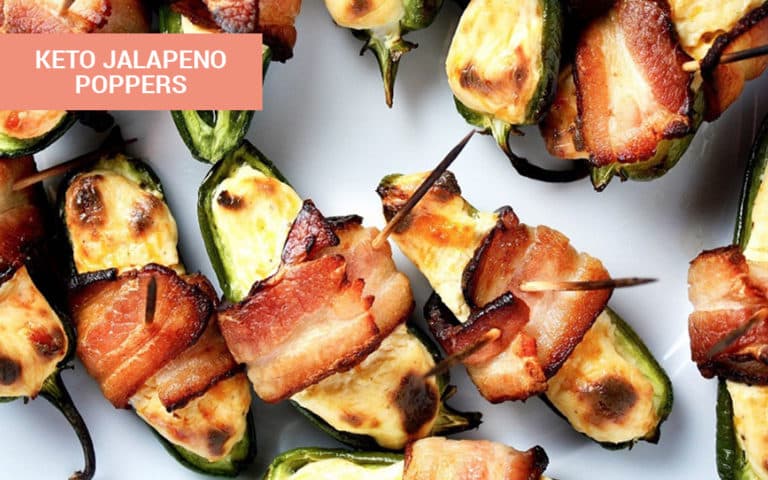 Need a potluck recipe or game day appetizer you can eat if no other keto options exist?
Try this easy keto jalapeno poppers recipe with a total cook time of about 30 minutes and everyone — keto or not — will be going back for seconds.
Though this recipe only calls for stuffing the peppers with cheese and wrapping them in bacon, you could boost it nutritionally by adding ground sausage, buffalo chicken or even spinach to the cheese mixture as well.
#21. 30-Minute Hearty Keto Chili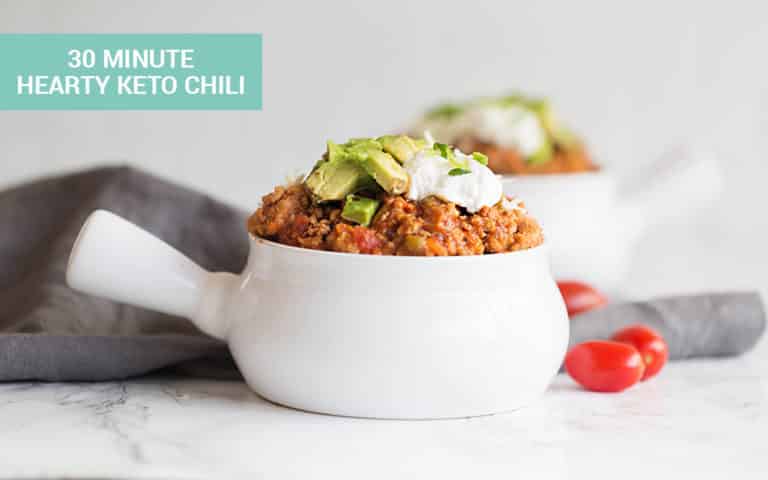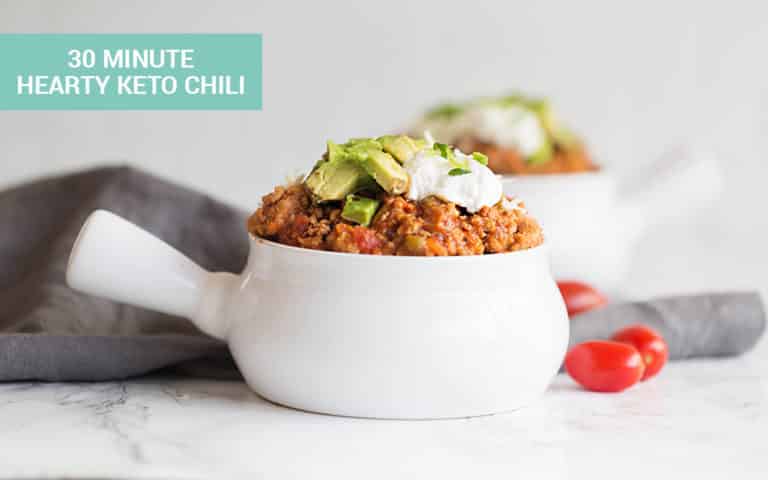 Another crowd favorite, this keto chili in under 30 minutes recipe is perfect for after work dinners when you'd rather chill than cook.
While your chili simmers away, you can prep all the keto safe additions to top it with, such as avocado, cilantro, green onions or whatever you're craving.
And then you can finish everything off with the fastest keto dessert recipe ever.
#22. Perfect Keto Collagen Mug Cake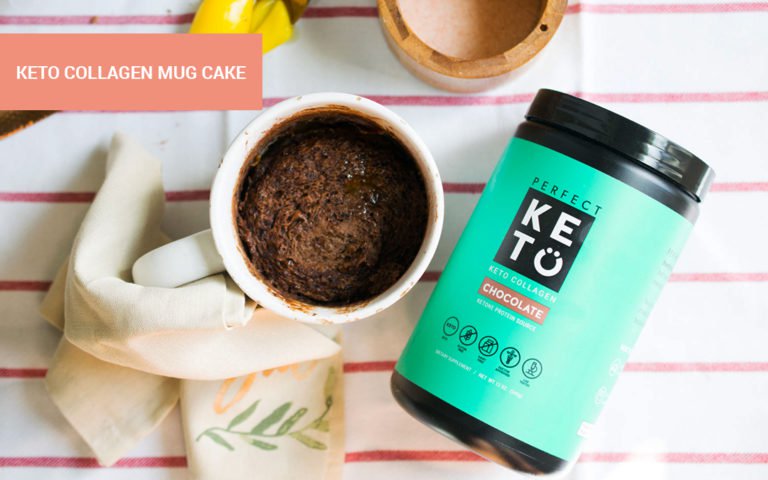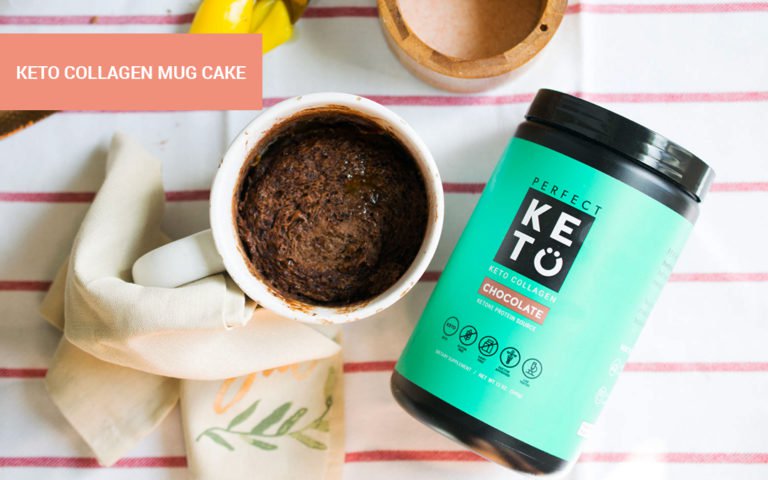 For anyone unfamiliar with the genius that is mug cakes, they're literally what their name implies: a cake you bake in a mug.
Why would anyone do this?
First, mug cakes are a single-serving of dessert. So if you're struggling with portion control on keto, there's no thinking necessary with one of these.
Second, all mug cakes can be baked in the microwave… and generally in less than two minutes.
So when you're talking fast and easy keto desserts, you need this keto collagen mug cake recipe yesterday.
Plus, this recipe — and the next five — are easy cooking 101 basics everyone from your kids to your cooking-challenged significant other can help out with.
Easy Keto Recipes Kids Can Help Cook (+ Eat)
Get those curious little hands in the kitchen to help prep your keto meals and they'll be more excited about eating healthier.
And if you have a SO who's not so great in the kitchen, these recipes will allow them to level up their skills the easy way while also giving you a hand:
#23. Sheet Pan Brussels Sprouts with Bacon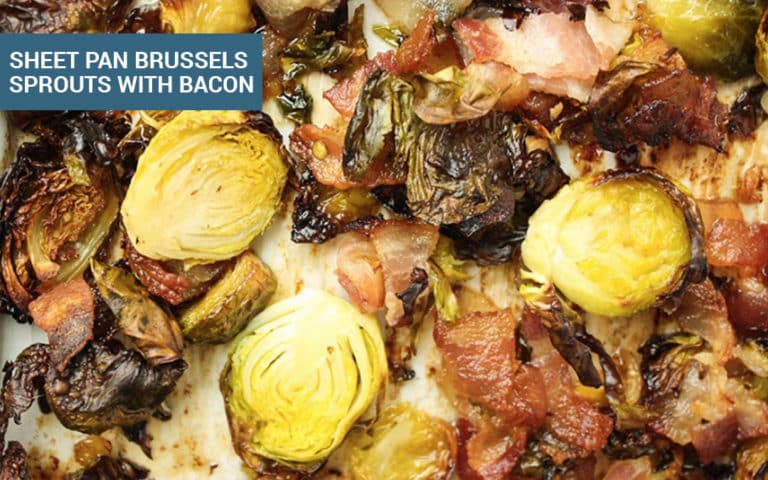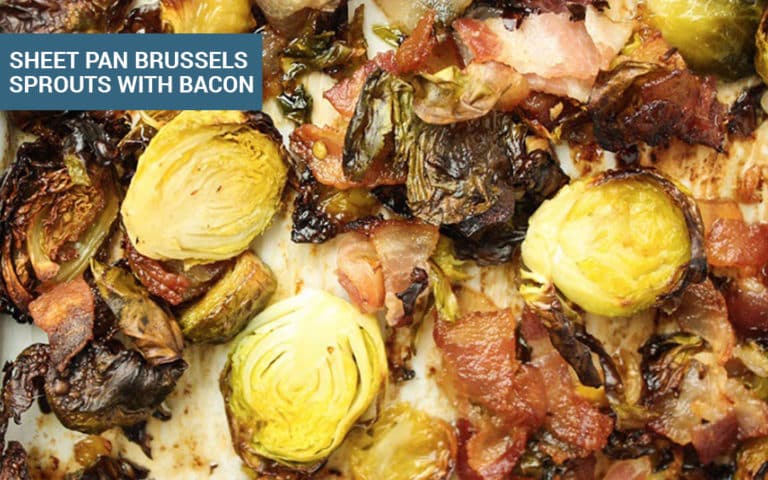 Do you know how to halve brussels sprouts and snip bacon into small bite-sized pieces? Do you think you could throw those small chunks of delicious on a pan, season them with salt and pepper and bake them in the oven for about 40 minutes?
Because if you can do all those things, you can nail this keto sheet pan brussels sprouts with bacon recipe. Just be warned this side dish may upstage any main course.
#24. Simple Keto Meatballs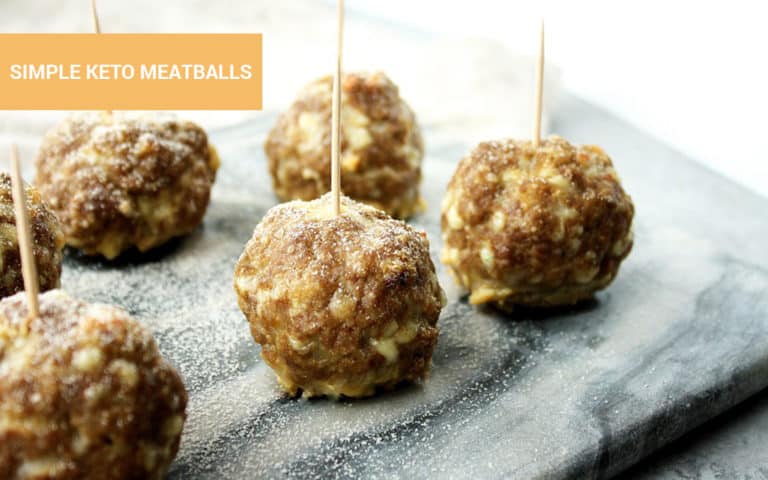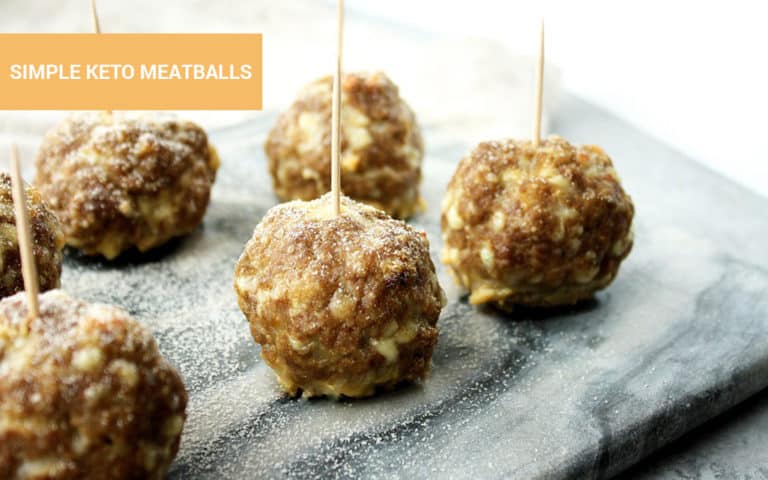 It's almost impossible to mess up meatballs.
Using this simple keto meatballs recipe, both little hands and inexperienced roommates can roll ground beef, mozzarella, parmesan cheese, egg and seasonings into small balls.
Then it's just 20 minutes of cook time before you get to chow down on your tasty spheric creations together.
#25. Creamy Keto Cauliflower Mac and Cheese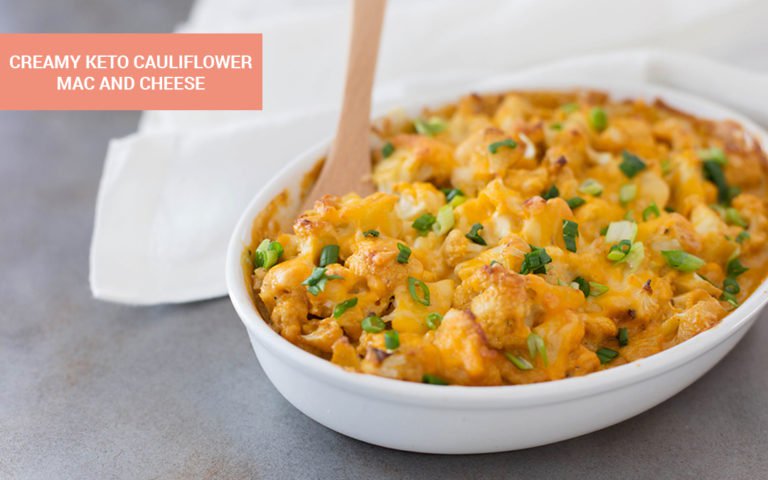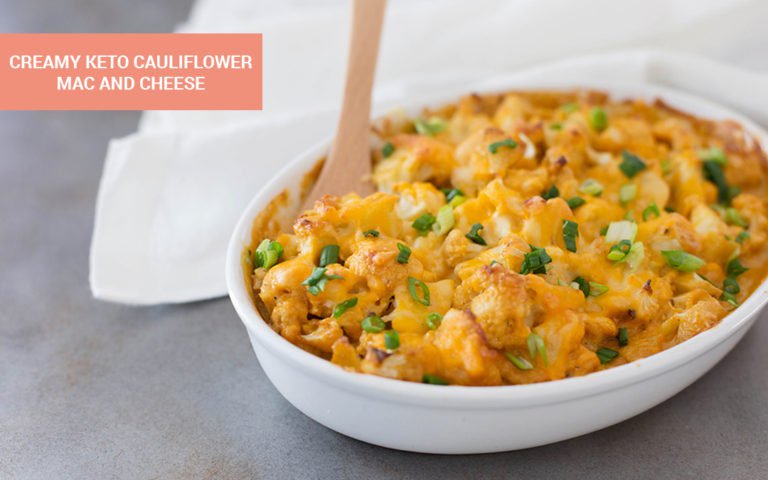 This super easy creamy keto cauliflower mac and cheese recipe takes just as much skill as the carby blue box version your kids (or pre-keto self) used to crave.
Either steam a fresh head of cauliflower as the recipe calls for or use a bag of microwavable cauliflower to save some time. Then top said cauliflower with delicious three-cheese sauce. YUM.
Bonus: You can always change up the cheeses to use whatever you have on hand and add protein like leftover chicken, sausage or bacon for a different flavor the second time you make it (and third and fourth…).
Now it's time to get those assistants to whip up a healthy snack or dessert.
#26. On-the-Go Keto Nut Butter Bars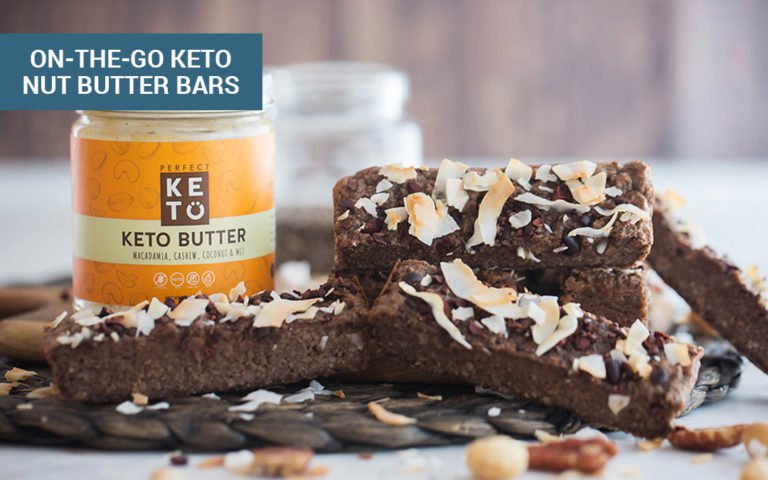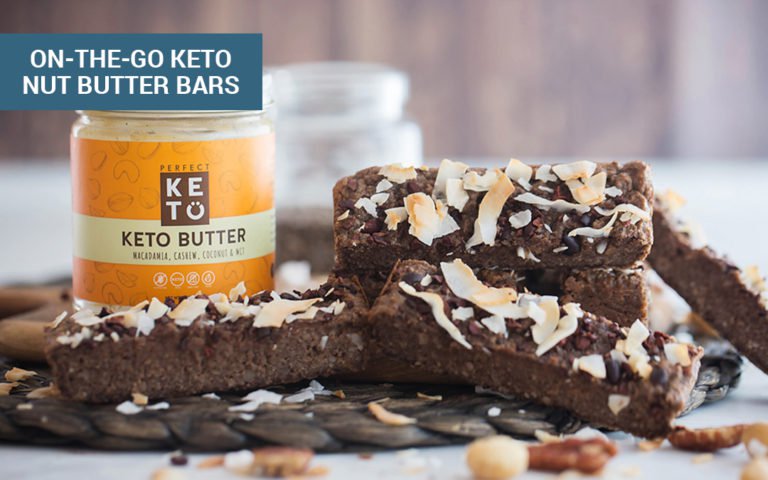 When you need a pick-me-up in the middle of your day, these on-the-go nut butter energy bars will be ultra satiating.
Bonus: They're also super easy to make.
All you and the kiddos have to do is add all the ingredients to a food processor or blender, pour the contents out into a prepared dish and bake for less than 20 minutes.
Cut these bad boys into bars, wrap them up and you'll have a quick snack to help you stay in ketosis and boost your energy levels thanks to uber healthy keto ingredients such as:
Coconut oil

Macadamia nuts

Pumpkin and chia seeds

Cacao nibs

Shredded coconut
This next recipe is perfect for game days and get-togethers (hint: because you get to spend more time having fun and less time cooking).
#27. Cheesy Keto Buffalo Chicken Dip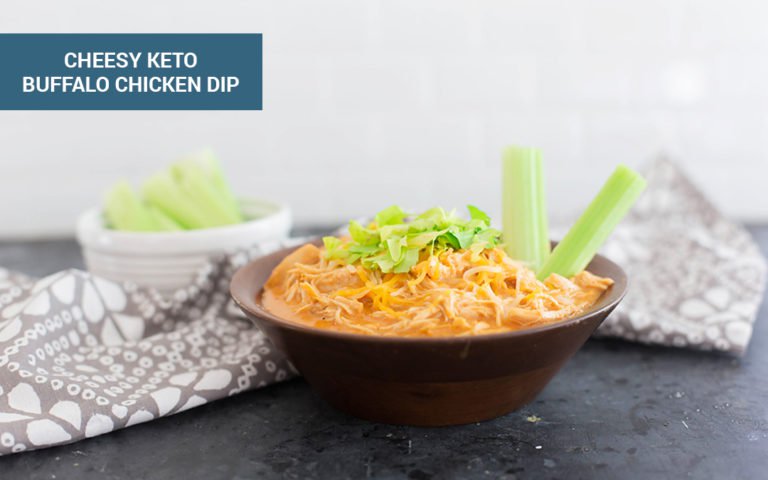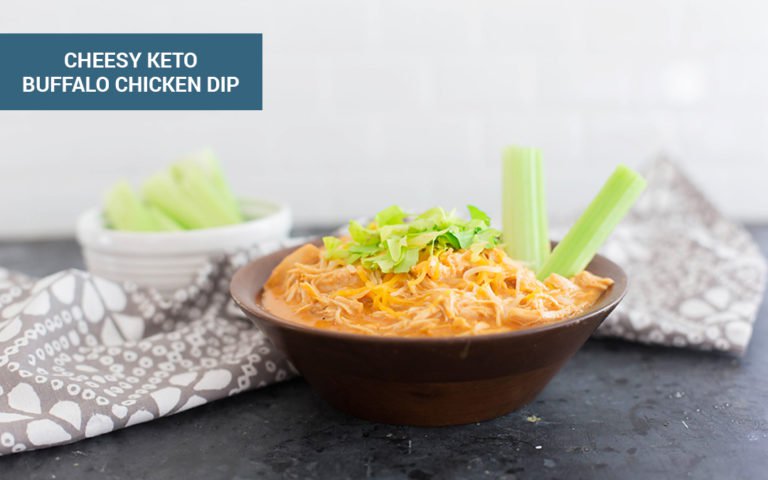 Why cook when you can let your slow cooker do all the hard work for you?
To make this cheesy keto buffalo chicken dip crowd fave, place chicken thighs in a slow cooker, coat with spices and buffalo sauce and hit cook. When it comes time to shred, get your kids to tear that chicken apart like little bears.
You can make this recipe without even being in a kitchen when you have an electric slow cooker, kind of like this final batch of keto recipes.
No Cooking Required: Recipes for Easy Keto Smoothies and Fat Bombs
There's literally nothing easier than dumping a bunch of healthy ingredients in a blender and hitting a button to whirr it all up when you're too groggy to make breakfast.
These 5 easy keto smoothie recipes are both fast (like, less than five minutes fast) and awesome for reaching or maintaining ketosis:
#28. Citrus Keto Green Smoothie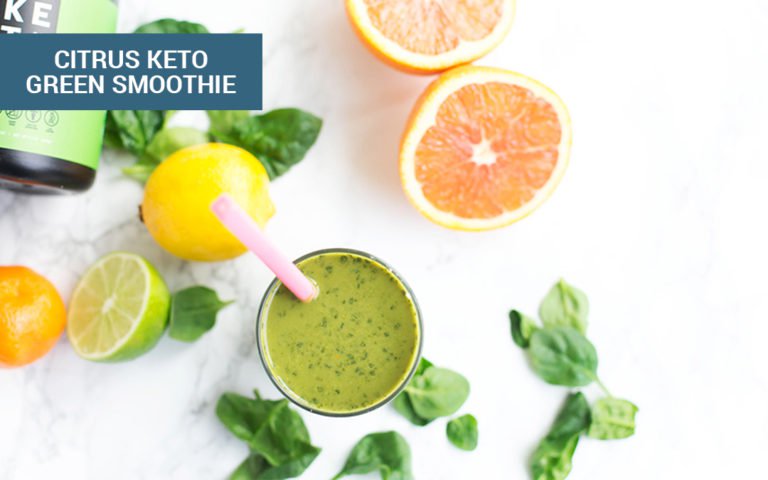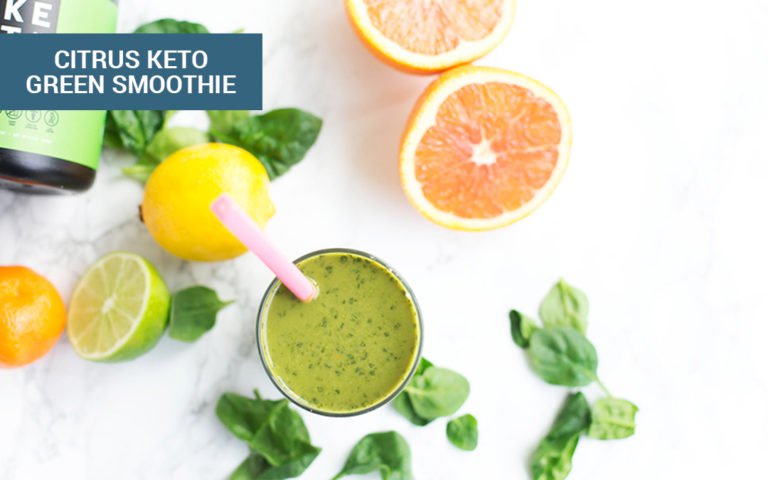 With a total time of two minutes max, this citrus keto green smoothie may be the fastest way to sneak in your vitamins since there's nutrition from 26 different organic fruits and vegetables and zero carbs.
Using the Perfect Keto Micronutrients Greens Powder and MCT oil, you'll not only get your regular dose of fruits and veggies while staying keto-friendly, you'll also get the added benefit of long-lasting energy from the MCTs.
#29. Micro Greens Matcha Smoothie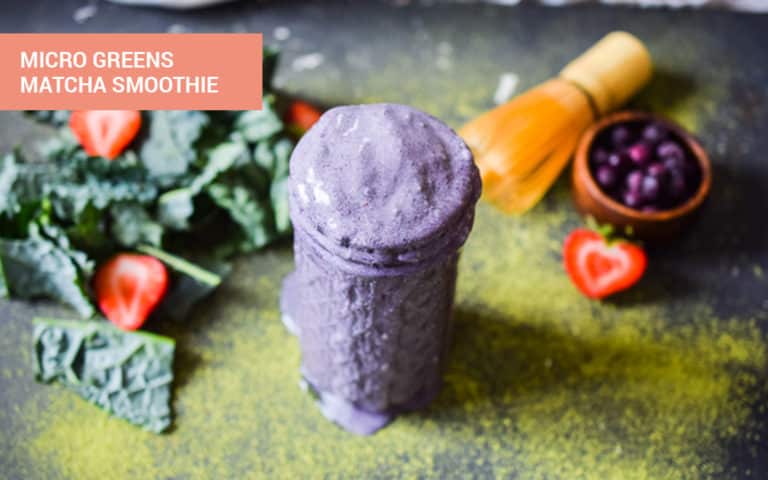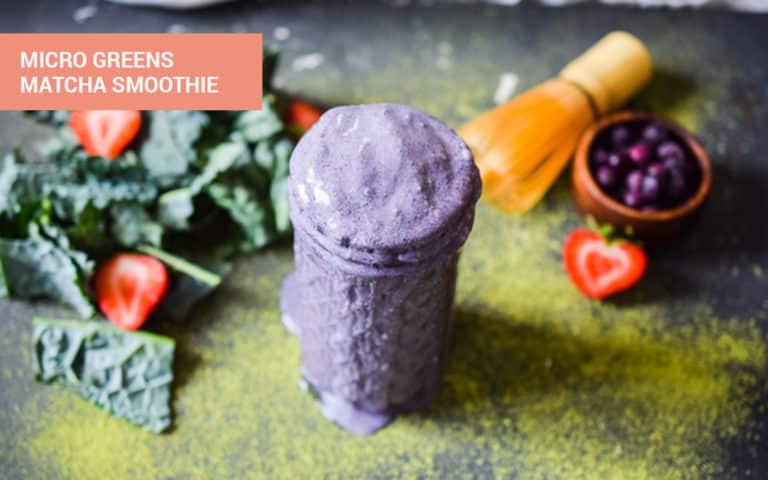 You can also sneak in your greens with this nutrient greens matcha smoothie recipe too.
The stunning color comes from frozen blueberries and contains:
Or you could combine MCT oil powder with the highest ceremonial-grade matcha powder in one with the Perfect Keto Matcha Latte MCT Oil Powder.
Matcha contains 137 times more antioxidants than traditional green tea. And when you combine it with MCT oil, you may notice extra energy and increased fat-burning, like this next recipe promises.
#30. Energizing Keto Smoothie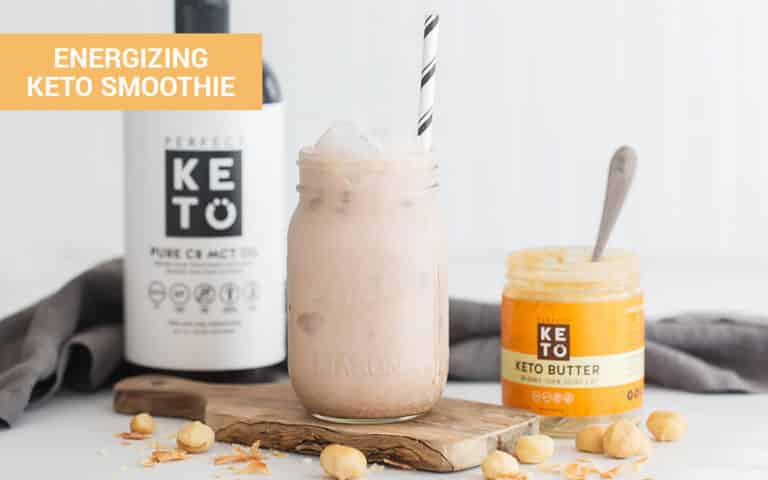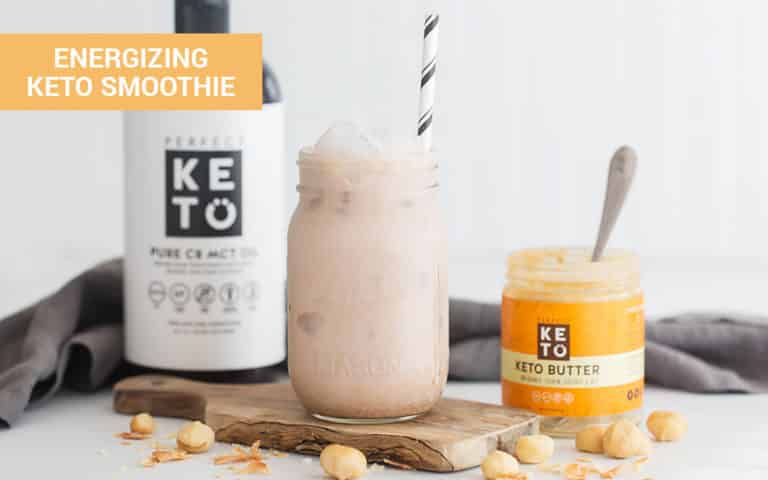 When you're in need of an energizing keto smoothie recipe, this one takes less than a minute to prepare and uses:
Unsweetened nut milk

Maca powder
Maca powder may be able to boost your energy, improve your sexual health and lead to better memory, mood and focus too.
And that jar of keto nut butter can also be used in this next recipe.
#31. Low Carb Acai Almond Butter Smoothie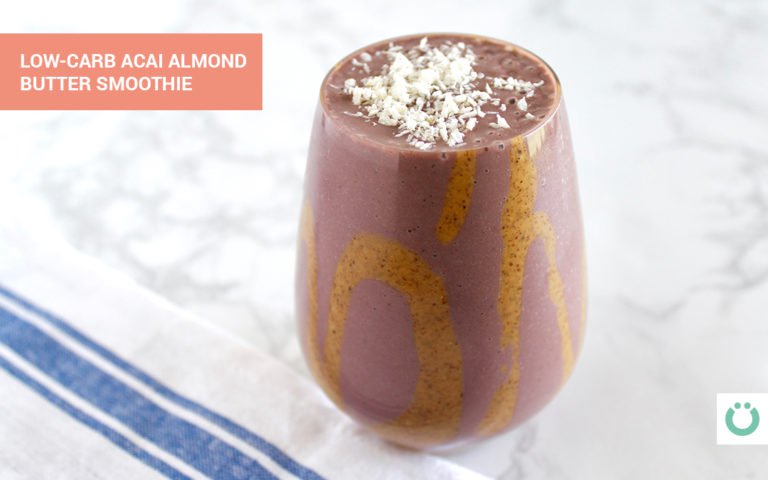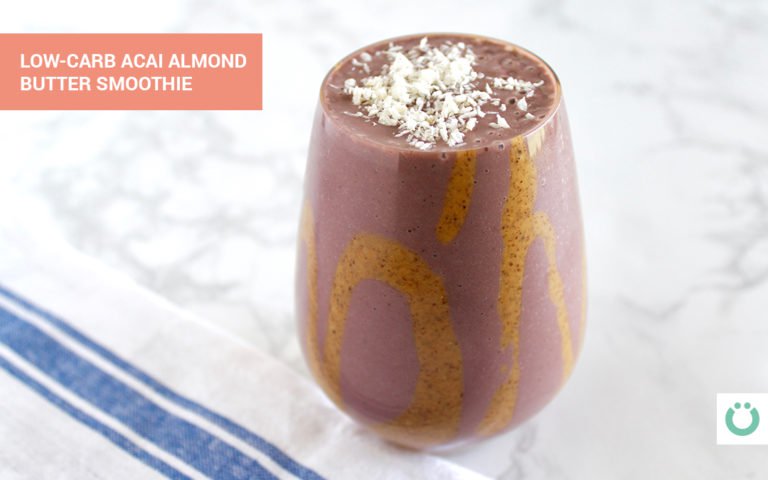 Need a keto smoothie to refuel after your workouts?
This low carb acai nut butter smoothie recipe is like drinking the healthiest peanut butter and jam sandwich — minus all the unhealthy carbs and inflammatory peanuts.
Check your market's freezer section for unsweetened acai puree packets.
Then add the puree to a blender with nut milk, coconut oil or MCT oil powder, avocado, nut butter, vanilla, collagen protein and your sweetener of choice to score 15g of protein per serving.
While this recipe makes a solid post-workout smoothie, the next is one you'll want when it's time to treat yo' self.
#32. Creamy Triple Chocolate Keto Shake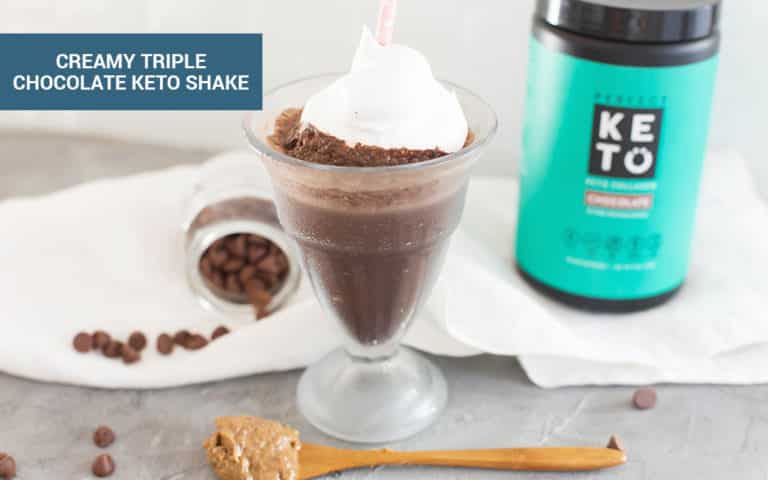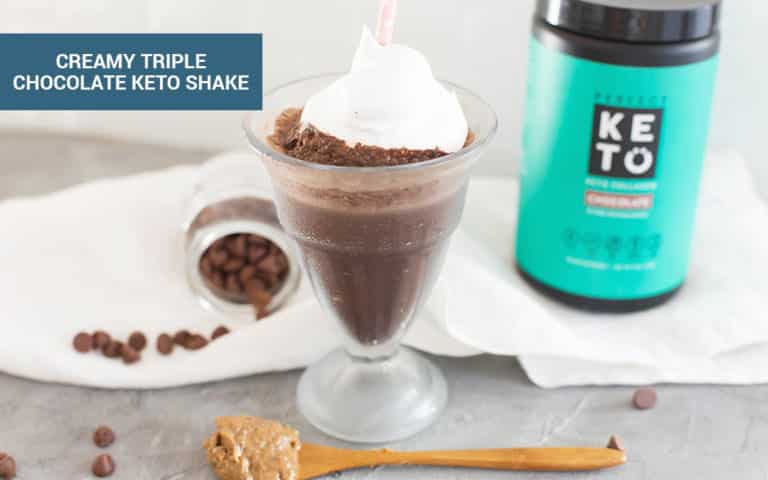 What do you call a healthy smoothie that only tastes like dessert?
This creamy triple chocolate keto shake.
This recipe combines chocolate keto collagen protein with chocolate-flavored MCT oil powder, nut milk and nut butter for energy and much-needed fat and protein.
Collagen protein specifically supports bone, joint and ligament health. So while it's working on strengthening your insides, you'll be radiating on the outside thanks to collagen's ability to also improve your skin, hair and nails too.
You can also use this next recipe when you're in need of an afternoon pick-me-up and you don't want another bulletproof coffee.
#33. Iced Matcha Latte with MCT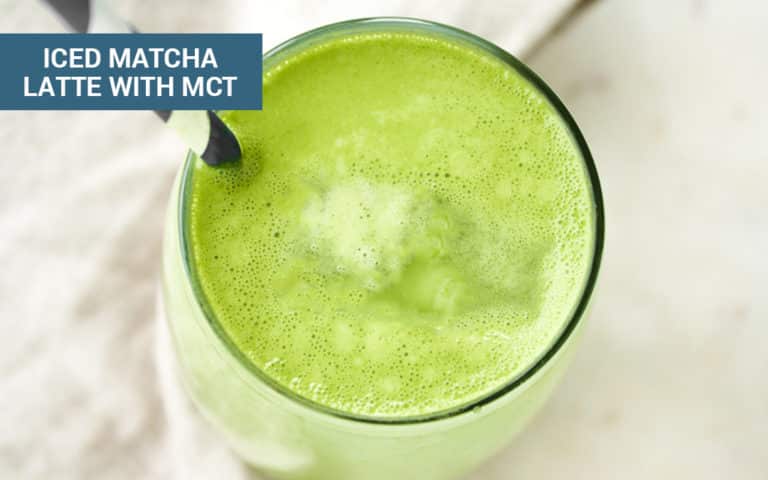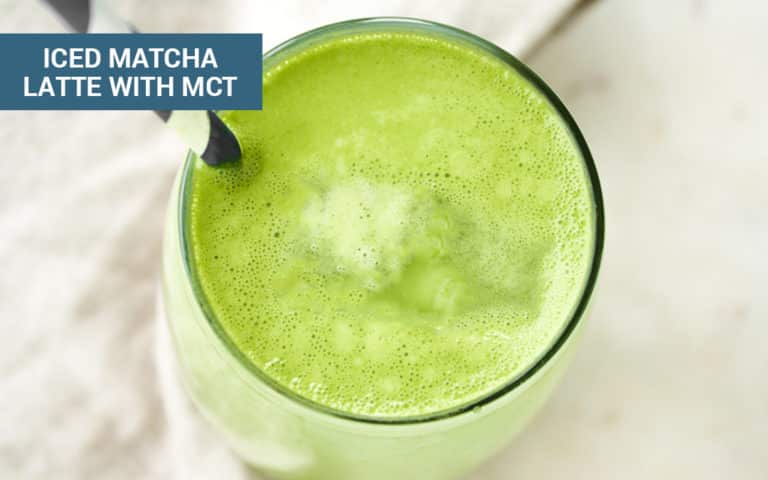 Though technically not a smoothie, this iced matcha latte with MCT recipe is just as easy to make and delivers all the same health benefits for your keto body.
With just three ingredients: almond milk, ice and Matcha MCT Oil Powder, simply add them to a blender and mix on high for 15–20 seconds to enjoy. You'll have 9.5g of fat for just one net carb.
Now if you're looking for easy keto snacks, these next fat bomb recipes will make you feel as if you've found buried treasure.
#34. Peaches and Cream Fat Bomb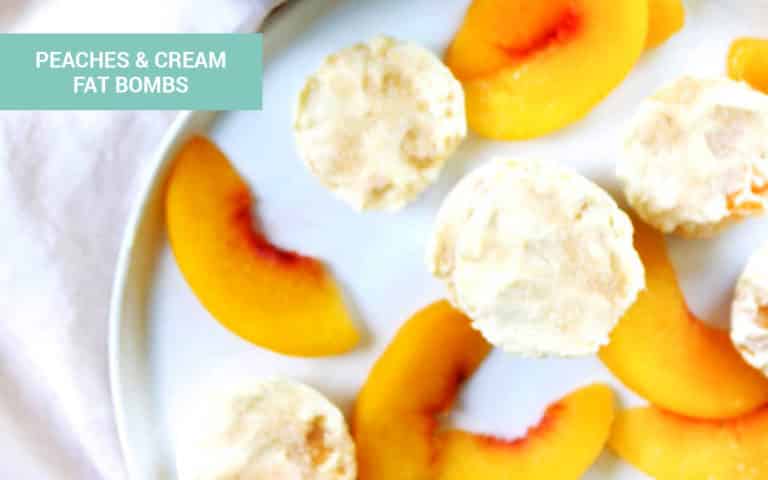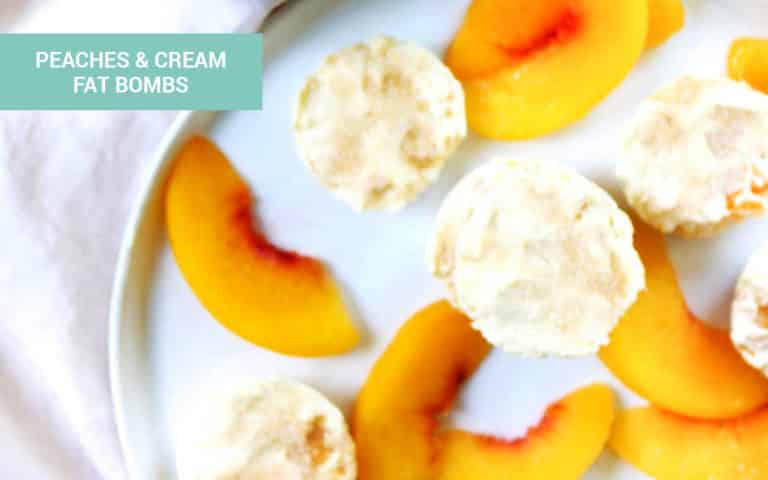 Fat bombs make the ultimate keto snack and these peaches and cream keto fat bombs are no exception.
Combine just five ingredients — butter, cream cheese, frozen peaches, exogenous ketones and sweetener — and you'll only feel as if you're cheating on keto because you're actually doing awesome by your body.
And that's thanks to the BHB found in exogenous ketones, which may help:
Put you into ketosis faster

Decrease your

dreaded keto flu

symptoms

Stabilize your blood sugar levels

Increase fat burning

Lower your anxiety and provide more serenity and focus
Though technically not the same shape as traditional fat bombs, this next snack packs all the same health benefits of one.
#35. Macadamia Nut Keto Fat Bomb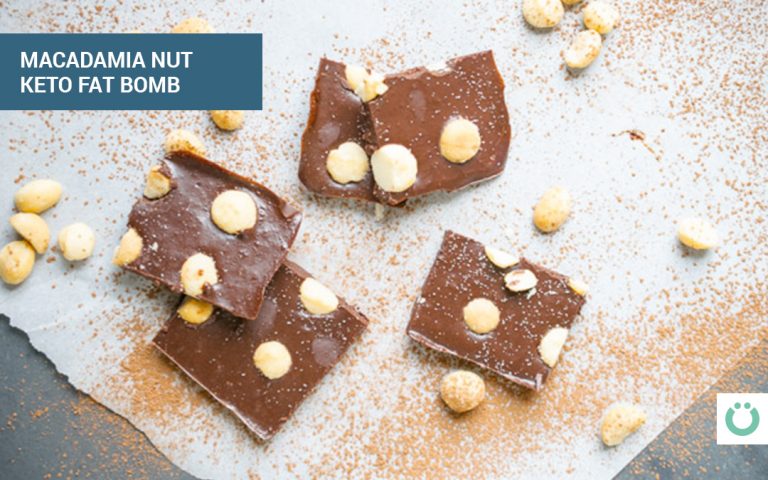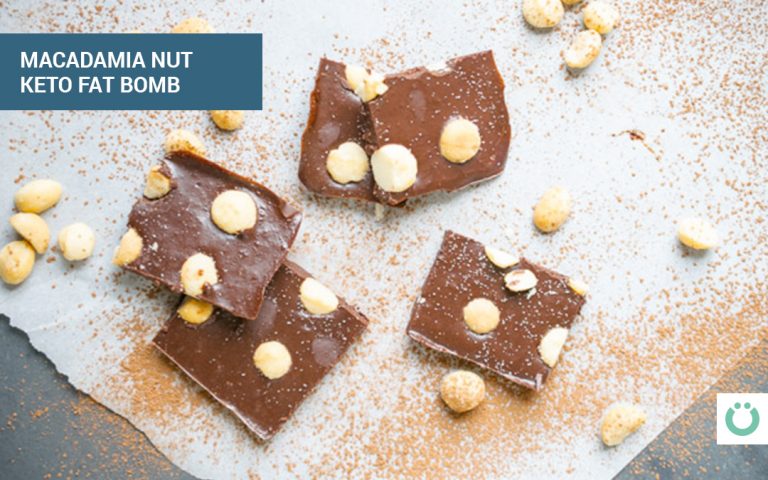 Six ingredients and 20 minutes in the freezer will deliver six squares of pure delicious to your tummy when you whip up this macadamia nut keto fat bomb recipe.
Each serving has 17g of fat and less than 1g of net carbs. And it makes every unhealthy candy bar cower in shame.
#36. Brain-Boosting Chocolate Coconut Fat Bombs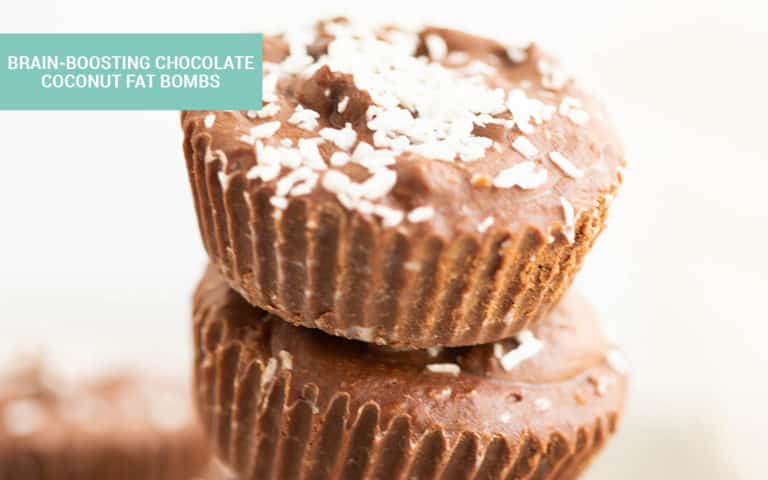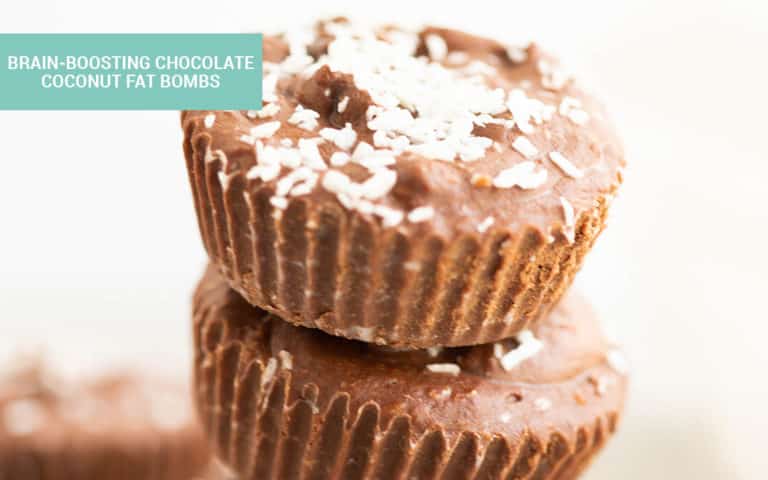 This chocolate coconut fat bomb does way more than satisfy your sweet tooth. It's also a boost for your brain.
In addition to the stevia-sweetened chocolate chips, coconut oil and shredded coconut, this chocolate coconut fat bomb recipe also calls for nootropics.
It's a supplement you can use to enhance memory and other mental functions.
The Perfect Keto Nootropics blend combines your brain's preferred fuel source with nutrients to support better brain health, including: exogenous ketones, MCTs, collagen protein, phosphatidylserine, ginkgo biloba, alpha lipoic acid, l-theanine, cat's claw, DHA and alpha GPC.
When people start taking nootropics, it's common for them to report feeling more alert and attentive while having more clarity and concentration.
You can use this killer fat bomb recipe to try nootropics for the first time.
And if you like these easy fat bomb recipes, you'll want to check out this guide of 52 keto fat bomb recipes next. You can literally make a new fat bomb every week for an entire year with the help of that guide.
Now Get Cookin', Good Lookin'
We told you a ketogenic diet doesn't require a bunch of strange ingredients, heaps of cash or a ton of time to get right.
These 36 easy keto recipes prove anyone can whip up ketogenic meals and snacks to reach or stay in ketosis without carb FOMO derailing your hard work.
So when you're ready to say sayonara to your extra pounds, check out this guide on everything you need to know to start a ketogenic diet next.