There are a lot of keto bread recipes out there. Likely more than you can count. However, keto cornbread is a little harder to come by.
Why is this? Well, mainly because you can't really use the main ingredient — corn.
However, with a little substitution and a trick to your senses this "no corn" keto cornbread recipe offers all the rich satisfaction of cornbread without any of the carbs.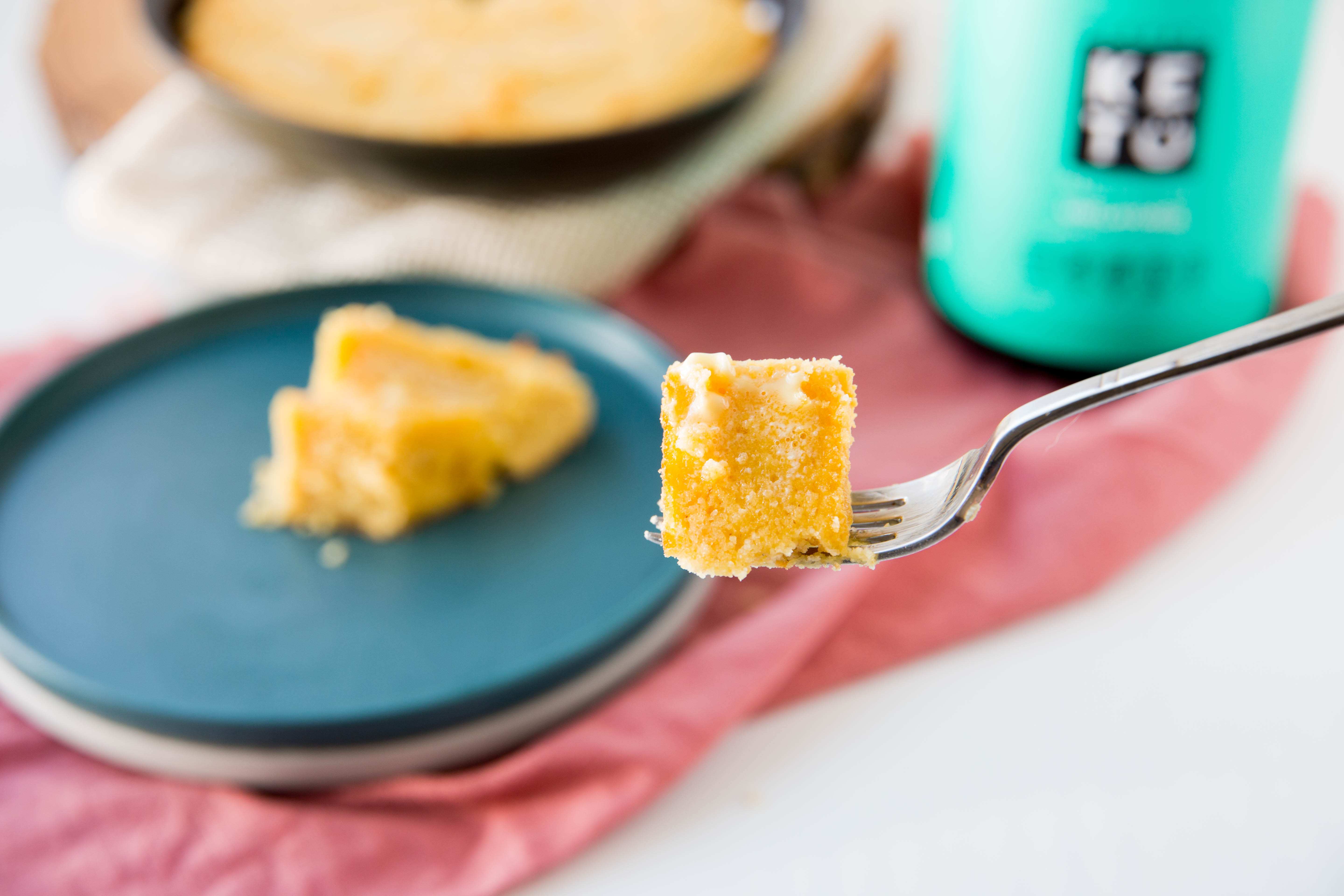 And if that wasn't good enough, it's also gluten-free.
You can jazz up this cornbread just like you would any other recipe, add some jalapenos, cheddar cheese, sugar-free sweetener, whatever your heart desires.
If you prefer to make cornbread muffins, you can just grab your muffin pan and follow the instructions just the same.
So get ready to bite into a warm, delicious, crumbly piece of cornbread.
This low-carb cornbread recipe is:
Warm
Comforting
Sweet
Satisfying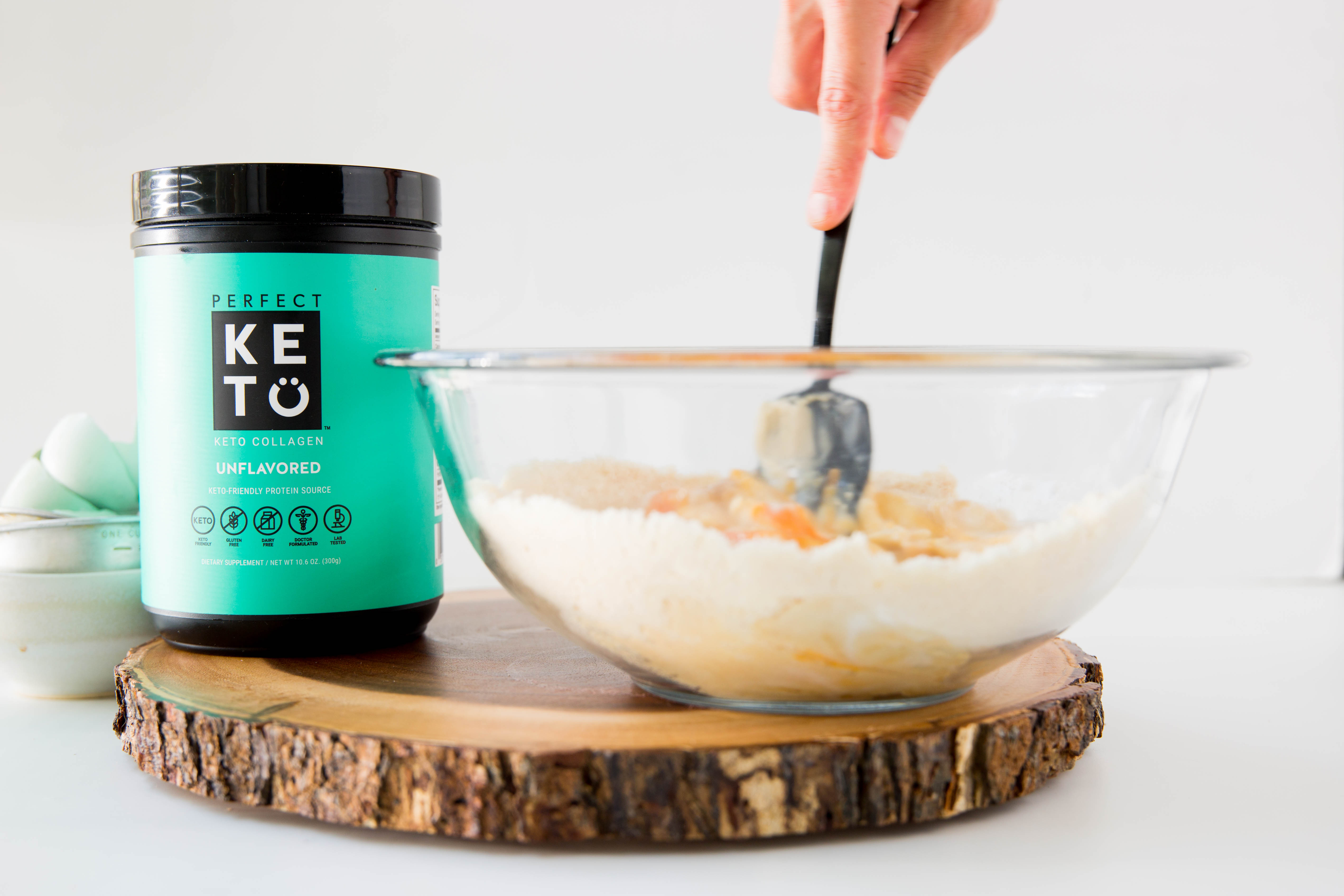 The main ingredients are:
Why Keto Cornbread?
#1: Enhances Muscle Growth
One of the main components of muscle tissue is the extracellular matrix, which contains the protein collagen. Collagen plays an essential role in the function and maintenance of healthy muscle tissue[*].
In fact, research shows that consuming collagen may help reverse age-related muscle decline in elderly people.
In one study, researchers gave 53 men with sarcopenia (degenerative loss of skeletal muscle) a collagen supplement after exercise. The aim of the study was to determine if the combination of resistance training followed by collagen supplementation would affect muscle loss.
The researchers found that collagen plus resistance training not only improved muscle mass, but it also increased muscle strength[*].
#2: Supports Brain Health
The health of your brain requires specific nutrients from your diet that many people don't even know about. From fat to vitamins, the overall functioning of your brain relies strongly on a foundation of nutrients that you get from food.
One of the most important brain-supportive nutrients is choline. This nutrient can be found in abundance in eggs (specifically the yolk) and plays a crucial role in the growth and development of your brain.
Some of the many vital duties of choline include; neurotransmitter synthesis, cell-membrane signaling, and lipid transport into and out of cells. Choline is also a crucial nutrient for memory development.
Choline is so important to brain health that it was officially recognized as an essential nutrient by the Institute of Medicine in 1998[*].
#3: Promotes Healthy Weight
Coconut oil is loaded with health benefits. From its medium-chain triglycerides to its immune-enhancing fatty acids, there isn't much that this oil can't do.
In one trial, a group of overweight women supplemented with either coconut oil or soybean oil for 12-weeks. They were instructed to follow a balanced hypocaloric diet and to walk for 50 minutes a day.
After the 12-weeks, the women consuming coconut oil showed lower LDL cholesterol and higher HDL cholesterol levels than the soybean oil group. And while both groups observed a reduced BMI, only the coconut oil group saw a reduction in waist circumference[*].
How to Make Keto Cornbread
Is there anything more comforting than a piece of warm cornbread with melted butter? This Thanksgiving classic often goes omitted from a keto kitchen, but not anymore.
Whether you prefer sweet cornbread or savory, this recipe is the ultimate cornbread replacement.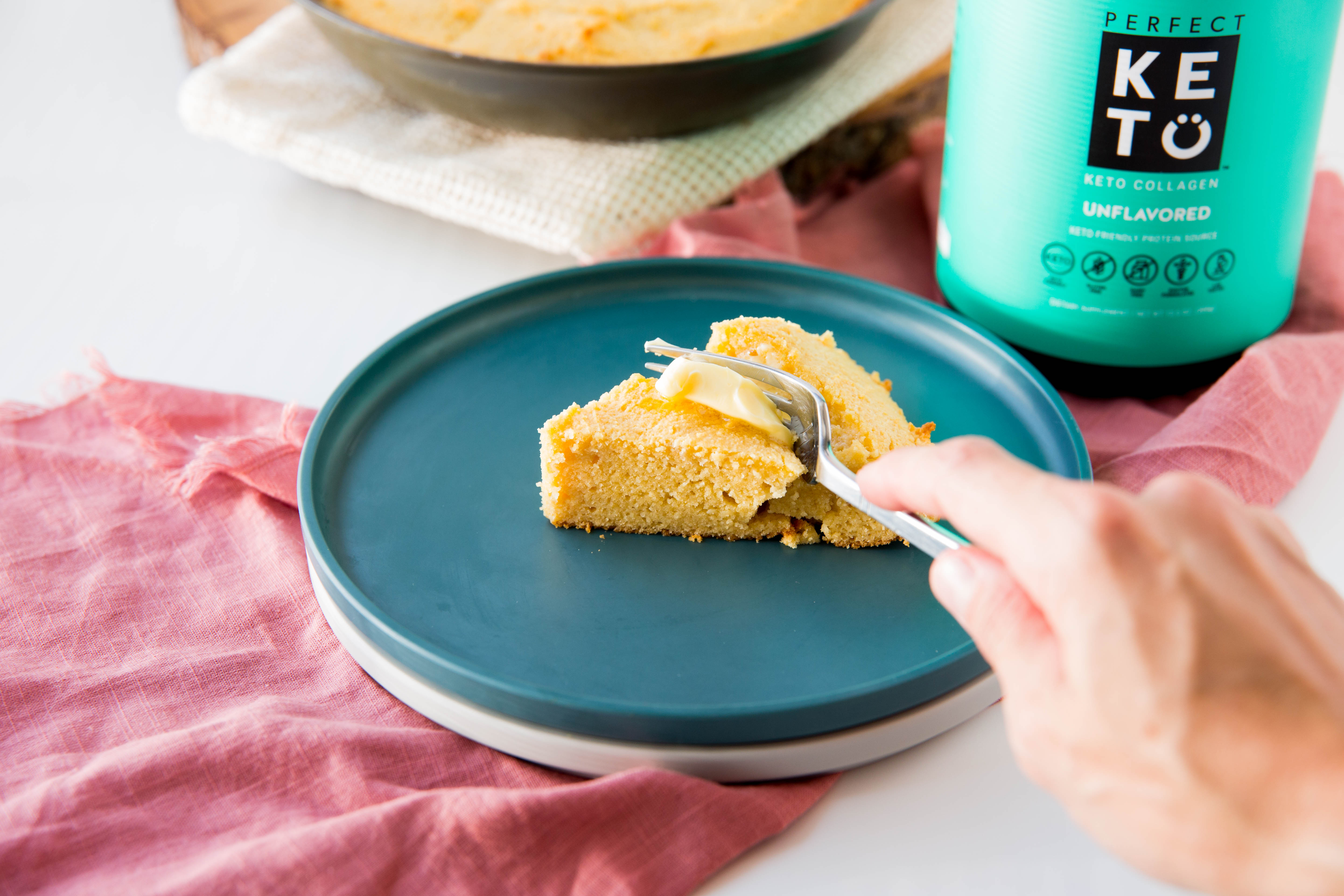 Print
How to Make Keto Cornbread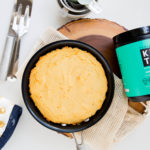 This delicious, crumbly, gluten-free, low-carb, keto cornbread recipe is so good you won't even miss the corn. Add some melted butter or cheddar cheese and enjoy.
Author:
Prep Time:

10 minutes

Total Time:

35 minutes

Yield:

8

-

10

slices

1

x
Instructions
Preheat oven to 350 F.

Grease a small-sized cast iron skillet or oven-friendly pan.

In a large bowl combine the dry ingredients.

In a small bowl combine the wet ingredients.

Pour the wet ingredients into the dry ingredients and mix to combine.

Pour into greased pan and bake for 25-30 or until golden brown. 

Allow to rest and serve topped with butter or our

coconut syrup

.
Notes
If the batter is too wet, add one or two tablespoons of almond flour.
Nutrition
Serving Size:

1 slice

Calories:

203.5

Fat:

17.4g

Carbohydrates:

6g (2.4g)

Fiber:

3.6g

Protein:

5.9g