When you start a keto diet, giving up some of your favorite high-carb dishes can be hard. And the warm, comforting, Italian classic lasagna might be one of them. The good news is that with a few simple tweaks in ingredients, you can easily enjoy a keto lasagna that will satisfy your comfort food cravings and not kick you out of ketosis.
Veggies make an excellent low-carb alternative to various grains. Rice can be substituted with cauliflower, spaghetti with spaghetti squash, and tortilla wraps with lettuce leaves.
Zucchini is another vegetable commonly used to replace high carbohydrate favorites, particularly pasta. With a simple spiralizer, a whole zucchini can be transformed into an entire plate of zoodles not unlike angel hair pasta.
Zucchini can also be cut into strips and layered with mozzarella cheese, ground beef, and pasta sauce to make a bubbly, meaty lasagna. You'll follow this exact process to bake a low-carb, keto lasagna suited for the whole family.
How Do You Make Low-Carb Lasagna?
When you examine your mother's classic Italian lasagne recipe, you'll notice only two ingredients need to be eliminated: lasagna sheets and flour. The flour is typically used in the ricotta cheese mixture, which is easily swapped for coconut flour in this particular recipe. All other ingredients such as the meat sauce and cheeses are keto-friendly.
There are several ways of swapping regular lasagna sheets with low-carb options:
Option 1: Bake Your Own Keto Lasagna Noodles
To replace the non-keto lasagna noodles, you'll need to find a low-carb alternative. Some keto lasagna recipes call for baked lasagna sheets made from a combination of cream cheese, parmesan cheese, and eggs. While this is a perfectly fine option, it certainly makes for a heavy dish.
If your stomach is dairy sensitive or can't take four different kinds of cheese packed into a single baking dish, making a keto lasagna with zucchini is a viable alternative.
Option 2: Replace Lasagna Sheets With Zucchini Noodles
Zucchini is a healthier alternative than adding more dairy to your lasagna. However, it's a tricky process. You will need to "sweat" the zucchini noodles to prevent your lasagna from becoming too soupy.
Zucchini is packed with water, which releases when baked in the oven. Slice the zucchini then sprinkle generously with sea salt. Place your salted zucchini on a paper towel for 30 minutes. You will be shocked at how much water is extracted. Once 30 minutes are up, gently wring the zucchini noodles with a paper towel one last time to extract any moisture.
Using eggplant instead of zucchini is also an option, but be aware that eggplant is a nightshade vegetable, along with tomatoes and potatoes. Studies have shown that people who suffer from chronic inflammation or auto-immune diseases might adversely react when eating nightshades. If that is the case, stick to zucchini and you'll be just fine[*].
What Makes Zucchini So Healthy? 
Zucchini is a common ingredient in keto recipes, most commonly in Italian cooking. Zucchini is naturally gluten-free, contains a low net carb count, and is extremely low in calories. That's why it's a great way to transform an otherwise gluttonous comfort food into a healthy, low-carb recipe.
If you check out the nutrition facts below, zucchini is the reason why this recipe stays within 12 grams of carbs per serving. Traditional lasagna, on the other hand, could contain up to 35 grams of carbs per slice[*].
Zucchini comes with roughly 5 net grams of carbohydrates, zero fat, and around 3 grams of protein per cup. It's packed with a number of vitamins and minerals, including vitamins A, B, C, and potassium[*].
These vitamins are vital in a number of roles such as maintaining the integrity of tissues and promoting cellular and vascular health. Research has shown that potassium deficiency may increase the risk of stroke and coronary heart disease[*][*][*][*].
Finally, using zucchini in lieu of high-carb pasta is a great way to "hide" vegetables. If you have a tough time convincing your partner or your kids to eat enough vegetables, this is a great way to sneak in an extra serving.
This particular recipe uses four entire zucchinis in a single lasagna. Since this recipe yields six servings, you will consume two-thirds of zucchini in one meal.
You'll also be pairing these nutritious veggies with some great saturated fats like lard or ghee, which will help your body to absorb the benefits of zucchini in the most efficient way possible[*].
Kitchen Tools You'll Need
Believe it or not, this keto lasagna is a fairly easy recipe that doesn't require any fancy kitchen tools. Below is a list of the basic equipment you'll need.
A casserole dish (the deeper the better — don't use a baking sheet or a sheet pan, as the tomato sauce and ricotta mixture will splatter everywhere).
A skillet
Foil
Two large bowls, one to mix your cheese mixture and one to mix your Italian seasoning.
For the ingredients, see below. All the ingredients should be easily found at your local grocery store.
Recipe Notes
For the marinara sauce, Perfect Keto typically uses Rao's. However, you can use any brand you wish, as long as it doesn't contain added sugar (be sure to double-check the ingredients label).
Now that you have a delicious and easy low-carb lasagna to add to your keto meal plan, be sure to check more ketogenic versions of your favorite recipes. Here are a few ideas that will make great low-carb dinner options.
Print
Low-Carb Keto Lasagna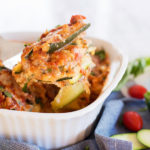 A fresh spin on an Italian classic, this low-carb zucchini keto lasagna provides all the flavor of traditional lasagna without the extra carbs.
Author:
Prep Time:

10 minutes

Cook Time:

45 minutes

Total Time:

55 minutes

Yield:

6

1

x
Category:

Dinner

Cuisine:

Italian
Scale
Ingredients
1 tablespoon

butter, ghee, coconut oil, or lard

1/2

lb spicy Italian sausage or sweet Italian sausage

15 oz

. ricotta cheese

2 tablespoons

coconut flour

1

medium-large whole egg

1 1/2 teaspoon

salt

1/2 teaspoon

pepper

1 teaspoon

garlic powder

1

large clove garlic (finely chopped)

1 1/2 cup

mozzarella cheese

1/3 cup

parmesan cheese

4

large zucchini's (sliced long ways to 1/4" pieces)

1 tablespoon

mixed Italian herb seasoning

1/4

to

1/2

tsp red pepper flakes (depending on how spicy you want this dish)

1/4 cup

basil
Instructions
Slice the zucchini and sprinkle generously with sea salt. Place your salted zucchini on a paper towel for 30 minutes. After 30 minutes, gently wring the zucchini noodles with a paper towel one last time to extract any moisture.

Heat 1 tablespoon of butter or fat of choice in a large skillet over medium-high heat. Crumble and brown Italian sausage. Remove from heat and let it cool.

Preheat oven to 375℉ and coat a 9×9 baking dish with cooking spray or butter. 

Add ricotta cheese, 1 cup of mozzarella cheese, 2 tablespoons of parmesan cheese, 1 egg, coconut flour, salt, garlic, garlic powder, and pepper to a small bowl and mix until smooth. Set aside. Add Italian seasoning and red pepper flakes to a jar of marinara, stir well. Set aside.

Add a layer of sliced zucchini to the bottom of the greased dish. Spread 1/4 cup of cheese mixture over the zucchini, sprinkle with 1/4 of the Italian sausage and then add a layer of sauce. Repeat process 3-4 times until ingredients are all gone, ending with a layer of sauce. Add remaining mozzarella cheese and sprinkle with the remaining parmesan cheese.

Cover with foil and bake for 30 minutes. Remove foil and bake for an additional 15 minutes until golden brown. Remove from oven and let sit for 5-10 minutes before serving. Sprinkle with fresh basil or oregano if desired.
Nutrition
Calories:

364

Fat:

21g

Carbohydrates:

12g

Protein:

32g