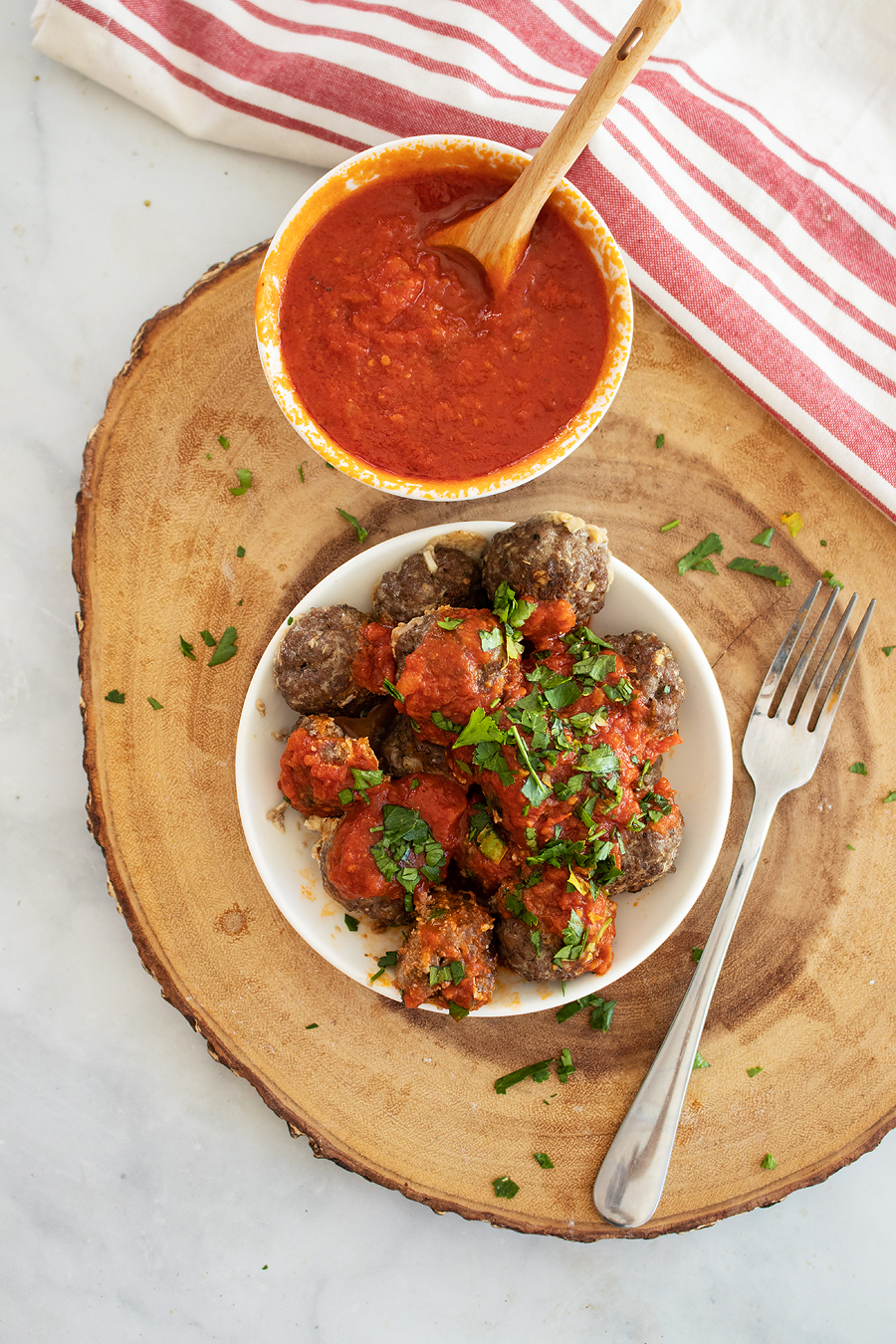 Since adopting the keto diet, you've probably been busy figuring out what you're going to eat now and how to keep it interesting. One of the most challenging parts of changing your diet is finding new versions of the meals you love so you don't feel like you're missing out on anything.
Making things as easy as possible  is key to staying on track with any lifestyle change. The meal prepping trend makes it a snap to keep keto-friendly foods on hand and helps you from wandering into the kitchen looking for something to eat.
Here's a meal prep hack: Select a few fundamental recipes, then swap out a few core ingredients in each of them to create a new recipe with minimal effort.
For example, if you pack the same salad for lunch each day, rotate between two or three salad dressings to keep your meals fresh and exciting.
You can apply the same tactic to keto meatballs.
With just five core ingredients and four steps to follow, this easy meatball recipe makes an excellent addition to your keto meal plan. Simply double the ingredients, then choose two or three sauces to round out your weekly meal prep.
Below, you'll learn how to make traditional meatballs that are keto-friendly and how to prepare this recipe in five different ways.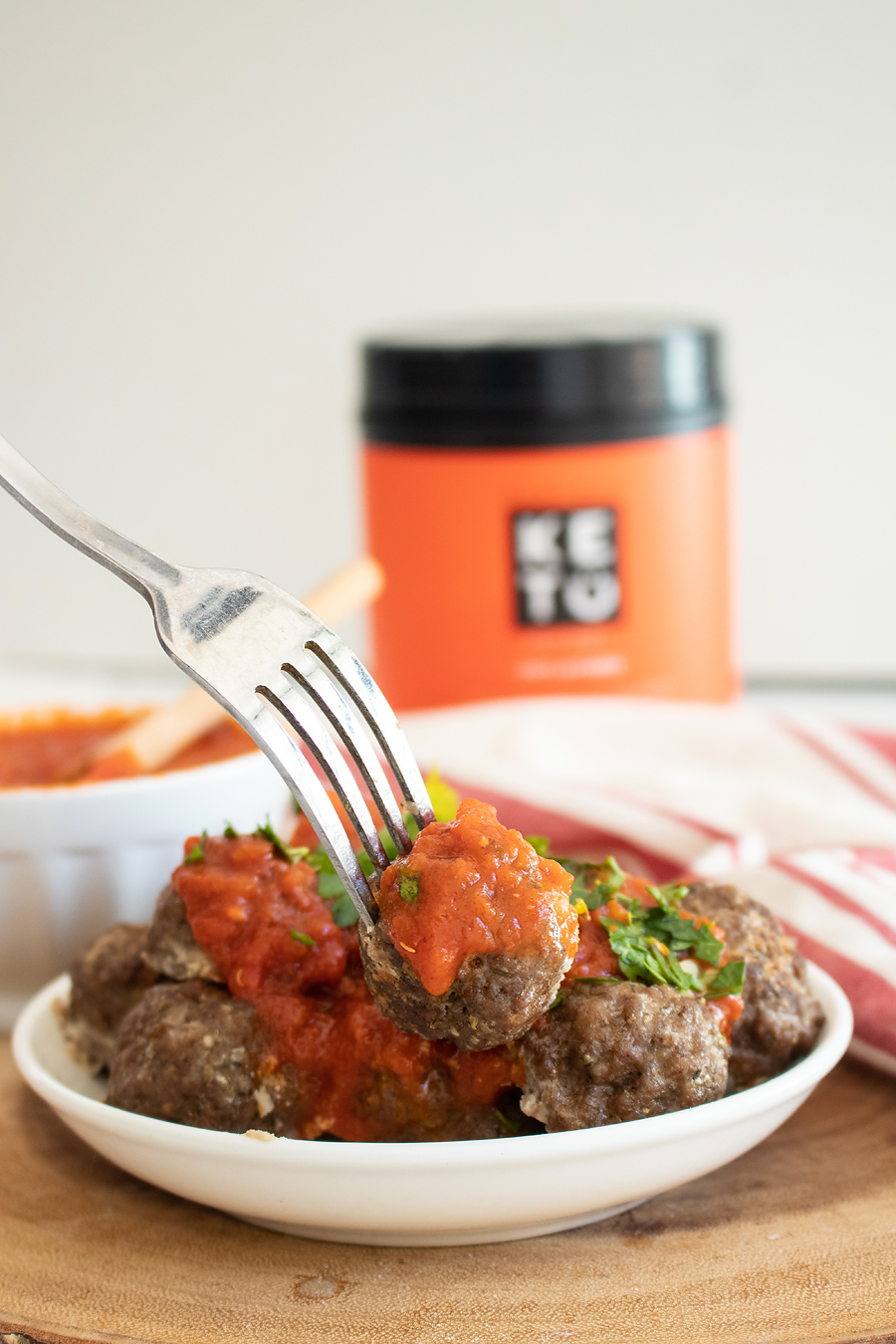 How to Make Keto Meatballs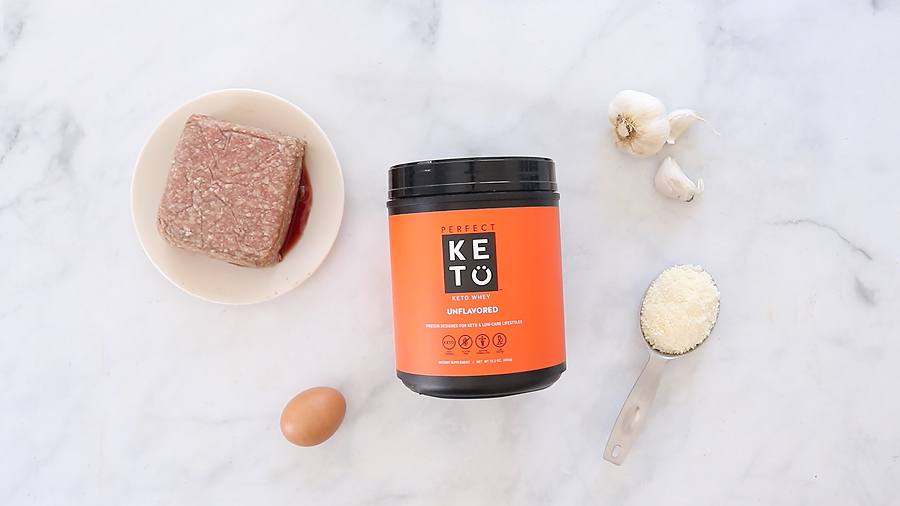 Most traditional meatball recipes combine some sort of ground meat (ground turkey, ground beef, ground pork, or Italian sausage) with bread crumbs, eggs, fresh parsley, and Italian seasoning.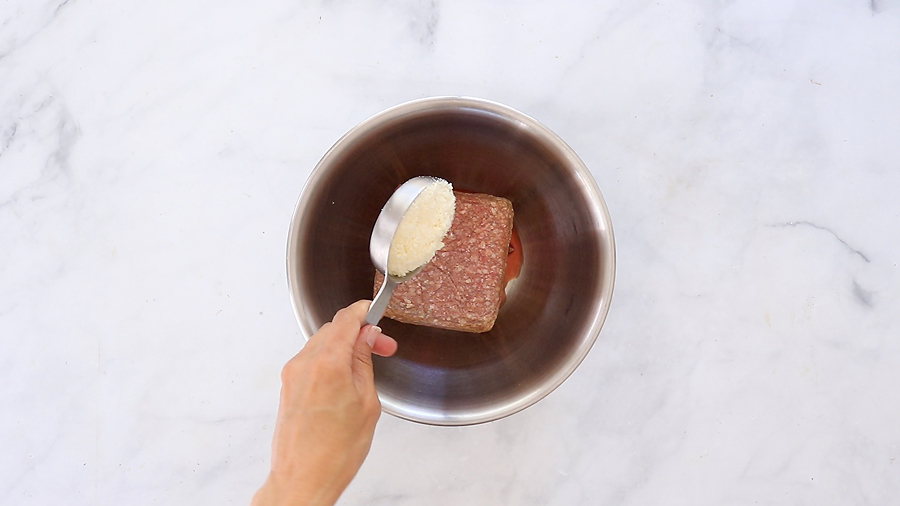 To make any meatball recipe keto, simply swap out the bread crumbs for a low-carb alternative. Typically, a gluten-free flour with a grainy texture works best, such as almond flour or almond meal.
This simple swap results in a low-carb meatball recipe packed with 12 grams of protein, 10 grams of fat, and less than one gram of net carbs into a single serving.
That said, you may notice that this recipe doesn't include any bread crumbs at all. These meatballs are juicy and tender from the addition of mozzarella and parmesan cheeses, which still limits the net carbs to less than one gram per meatball.
If you're using ground turkey and find your meatballs are too dry, try adding some almond meal or pork rinds as you would use bread crumbs. You can even add zucchini to meatballs to increase their moistness.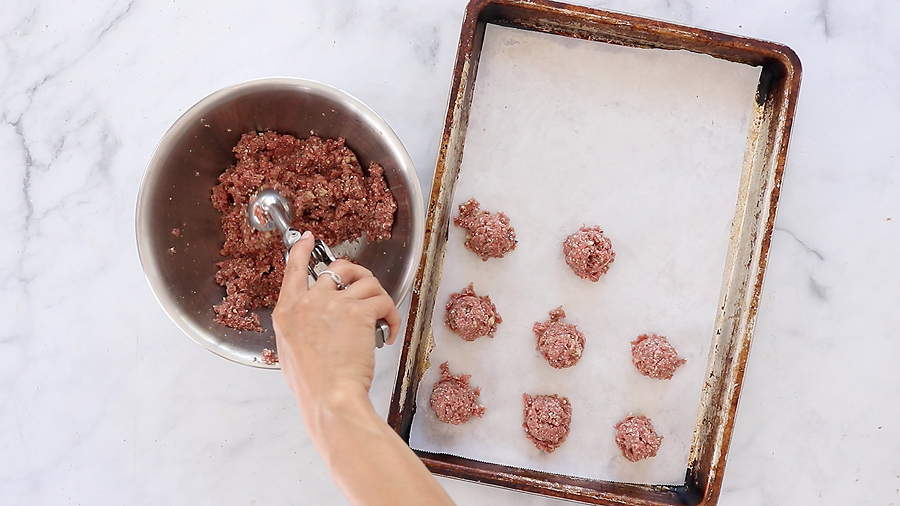 The recipe below doesn't require any fancy equipment. All you need is a large bowl to assemble your meat mixture and a baking sheet.
If you prefer meatballs with a bit more texture, consider searing them in a cast-iron skillet over medium heat, then transfer the entire skillet to a preheated oven.
Keto Meatballs, Five Different Ways
These keto meatballs aren't just delicious — they're also versatile. That's right. With just one meatball recipe, you can enjoy five different meals, all with completely different flavors. By preparing a variety of sauces, you can enjoy different flavors each weeknight, all with minimal effort.
Use Grass-Fed Beef for Your Keto Meatballs
The main ingredient in these keto meatballs is grass-fed ground beef. Why is it important to choose grass-fed beef over grain-fed beef? Here are three ways grass-fed beef supports your health.
#1: Grass-Fed Beef Is High in CLA
Grass-fed beef contains more CLA (conjugated linoleic acid) than conventional beef. CLA is a fatty acid associated with health benefits like healthy weight loss, insulin sensitivity, and, in even cancer prevention[*].
One in vitro study suggests that CLA may prevent tumor growth[*], while another study associated CLA intake with breast cancer prevention in post-menopausal women[*].
CLA also helps support healthy blood sugar levels. In a study on obese children researching the effect of healthy fats on insulin levels, CLA improved insulin sensitivity[*].
#2: Grass-Fed Beef Is Full of Vitamins and Antioxidants
Grass-fed beef contains more vitamins and minerals than grain-fed beef, particularly vitamins A and E. It also contains several antioxidants, including glutathione and superoxide dismutase[*]. Here's how these vitamins and antioxidants may benefit your health:
Vitamin A: Vitamin A has been shown to support the health of your vision, reproduction, and immune system.
Vitamin E: Vitamin E may act as an antioxidant in your body, preventing free radicals and supporting your immune system[*].
Glutathione: Glutathione may help build and repair muscle tissue and support your immune system[*].
Superoxide dismutase: This enzyme may break down potentially harmful molecules in cells that can damage tissues[*].
#3: Grass-Fed Beef Contains Ample Electrolytes
Many people experience the keto flu when first beginning their keto journey. There are a few reasons you might suffer from keto flu when you're just starting out. But the biggest culprit is depleted electrolytes.
Increasing electrolyte-rich foods during your fat-adaptation period can help ease the transition. Sodium, potassium, and magnesium are the three primary electrolytes and all are found in grass-fed meat.
As of 2016, grass-fed is no longer a term that is regulated by the USDA. So, how will you know you're getting a quality product? If grass-fed meat from your local market doesn't have the AGA (American Grassfed Association) seal of approval, a local farmer is your next safest bet.
Work These Easy Keto Meatballs Into Your Weekly Meal Plan
With a little patience and some planning, meal prep on the ketogenic diet doesn't have to be complicated. Stick to quick keto recipes you can prepare any night of the week. Not only will this help you stay on track with keto, but it'll lead you to some of the fastest dinners since many of your dishes are prepared ahead of time.
This meatball recipe can be prepared in five different ways, making it a no-brainer for your weekly meal prep. With less than a gram of carbohydrates per meatball, you'll keep your daily carb count low without sacrificing any of the flavors you've come to expect from a meatball.
As an added bonus, you'll find this meatball recipe also makes a delicious keto meatloaf when you're in the mood for old-fashioned comfort food. Simply drop it straight from the mixing bowl into your casserole dish and cook.
For more meal prep hacks, check out the Perfect Keto Essential Guide to Effortless Meal Prep.
Print
Simple Keto Meatballs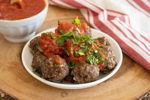 Take it back to basics with these keto meatballs. They're the perfect addition to your meal whether you're making them for yourself or hosting a dinner party.
Author:
Prep Time:

5 minutes

Cook Time:

20 minutes

Total Time:

25 minutes

Yield:

8

-

10

meatballs

1

x
Category:

Dinner

Cuisine:

European
Instructions
Preheat oven to 400 degrees. Line baking sheet with parchment paper.

In a mixing bowl, using hands, combine all ingredients and knead together until well-incorporated.

Form mixture into equal-sized meatballs and place on prepared baking sheet.

Bake for 18-20 minutes.

Allow to cool slightly and serve warm.
Nutrition
Serving Size:

1 meatball

Calories:

153

Fat:

10.9g

Carbohydrates:

0.9g (Net Carbs: 0.7g)

Protein:

12.2g