on October 31, 2018
Since starting the keto diet, you probably found yourself meal prepping more than in the past. After a few weeks, you could easily be at a loss for dinner ideas.
Here's a meal prep hack: Select a few fundamental recipes, then swap out a few core ingredients to create a "new" recipe with minimal effort. For example, if you pack the same salad for lunch each day, rotate between two or three salad dressing to keep your meals fresh and exciting.
The same tactic can be applied for the dish listed below.
With just five core ingredients and four steps to follow, this easy meatball recipe could become a weekly staple in your keto meal plan. Simply double the ingredients, then choose two or three sauces to round out your weekly meal prep.
Below, you'll learn how to make traditional meatballs keto-friendly and how to prepare this recipe five different ways.
How to Make Keto Meatballs
Most traditional meatball recipes combine some sort of ground meat (ground turkey, ground beef, or Italian sausage) with bread crumbs, eggs, fresh parsley, and Italian seasoning.
To make any meatball recipe keto, simply swap out the bread crumbs for a low carb alternative. Typically, a gluten-free flour with a grainy texture works best, such as almond flour or almond meal.
This one swap results in a low carb meatball recipe packed with 12 grams of protein, 10 grams of fat, and less than one gram of net carbs into a single serving.
The recipe below doesn't require any fancy equipment. All you need is a large bowl to assemble your meat mixture and a baking sheet. If you prefer meatballs with a bit more texture, consider searing them in a cast iron skillet over medium heat, then transferring the entire skillet to a preheated oven.
Keto Meatballs, Five Different Ways
Have you ever heard the saying, "Cook once; eat twice"? That's exactly what you'll do with the recipe listed below. With just one meatball recipe, you can enjoy five different meals. By preparing a variety of sauces like the ones listed below, you can enjoy different flavors each weeknight, all with minimal effort.
Use Grass-Fed Beef for Your Keto Meatballs
The main ingredient in these keto meatballs is grass-fed beef. Why is it important to choose grass-fed beef over grain-fed beef? Here are two ways grass-fed beef supports your health.
Grass-Fed Beef Is High in CLA
Grass-fed beef contains CLA (conjugated linoleic acids), a fatty acid present in meat and dairy products. Recent studies praise CLA for its various health benefits, including its ability to fight cancer, prevent tumor growth, and support healthy weight loss[*][*].
According to the National Public Health Institute in Finland, CLA blocked the growth of cancer in human studies. Another study showed CLA prevented the onset of breast cancer in women[*].
Studies also show CLA helps support healthy blood sugar levels. In a study researching the effect of healthy fats on insulin levels, CLA improved insulin sensitivity[*].
Grass-Fed Beef Is Full of Vitamins and Antioxidants
Grass-fed beef contains more vitamins and minerals than grain-fed beef, particularly vitamins A and E. It also contains several antioxidants, including glutathione and superoxide dismutase[*]. Here's how these vitamins and antioxidants benefit your health:
Work These Easy Keto Meatballs Into Your Weekly Meal Plan
With a little patience and a lot of planning, meal prep on the ketogenic diet doesn't have to be complicated. Stick to quick keto recipes you can prepare any night of the week. To make things even easier on yourself, swap out a few ingredients to make one fundamental recipe taste like two completely different meals.
This recipe can be prepared five different ways, making them the best meatballs for your weekly meal prep. Plus, with less than a gram of carbohydrates per meatball, you'll easily keep your daily carb count low.
For more meal prep hacks, check out the Perfect Keto Essential Guide to Effortless Meal Prep.
Print
Simple Keto Meatballs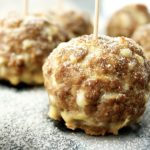 Take it back to basics with these keto meatballs. They're the perfect addition to your meal whether you're making them for yourself or hosting a dinner party!
Author:
Prep Time:

5 minutes

Cook Time:

20 minutes

Total Time:

25 minutes

Yield:

8-10 meatballs

Category:

Dinner

Cuisine:

European
Instructions
Preheat oven to 400 degrees. Line baking sheet with parchment paper.

In a mixing bowl, using hands, combine all ingredients and knead together until well-incorporated.

Form mixture into equal-sized meatballs and place on prepared baking sheet.

Bake for 18-20 minutes.

Allow to cool slightly and serve warm.
Nutrition
Serving Size:

1 meatball

Calories:

153

Fat:

10.9g

Carbohydrates:

0.9g (Net Carbs: 0.7g)

Protein:

12.2g