There's nothing better than a solid nachos recipe. Nachos aren't just popular because they taste amazing — they're also easy and quick to prepare. But what happens when you go keto? Is there such a thing as keto nachos?
After all, many of your go-to Mexican favorites featuring crunchy corn tortilla chips are off the table. And if you love nachos, you know how tough it can be to give up that familiar flavor and crunch.
Luckily, this keto recipe offers a low-carb chip alternative that's just as good as standard tortilla chips (if not better). These keto nachos are the ultimate low-carb quick dinner option for busy weeknights. They also make a great addition to your next game-day party or weekend get-together. With a 20-minute prep time, they're just as simple as their high-carb counterparts.
This low-carb recipe might even become a staple of your keto diet, with just 5.5 grams of net carbs and a whopping 83 grams of protein per plate.
These low-carb keto nachos are:
Savory
Salty
Satisfying
Gluten-free
The main ingredients for these keto nachos include:
Pork rinds
Ground beef
Avocado
Optional ingredients:
Chopped onion
Salsa
Bell peppers
Guacamole
Cilantro
Jalapenos
Your favorite low-carb veggies
Health Benefits of Keto Nachos
Nachos might not seem like your go-to health food, but when transformed into a keto recipe, you might be surprised at the potential health benefits. Not only does this low-carb version of a Mexican classic help regulate blood sugar, but it also boosts heart health.
Regulates Blood Sugar
You might be wondering if too much protein is a potential risk on the keto diet — a condition that is called gluconeogenesis. This is when your body turns your dietary protein into glucose in the absence of carbs.
The truth is gluconeogenesis is a critical bodily function and there's a reason your body has this process. In fact, the notion that too much protein can kick you out of ketosis or cause heart disease is based on bad science.
Protein has minimal effects on insulin levels, and fat has even less of an effect, suggesting that more protein and fat — and fewer carbs — are better for blood sugar regulation[*]. By regulating your blood sugar, you will likely feel a more sustained level of energy without the dips and spikes carbohydrates can cause.
Because these dips and spikes can affect your appetite and cravings, focusing on a low-carb diet contributes not only to blood sugar regulation but overall weight gain and loss.
Protein also reduces levels of ghrelin — your "hunger hormone." Ghrelin is the hormone that signals to your body you're ready for more food, while its counterpart, leptin, signals that you're full and satisfied[*].
It's likely more protein will actually help with sugar or carb cravings and blood sugar regulation. So go ahead and add more ground beef to your keto nachos.
Heart Healthy
A few foods in this keto nacho recipe can promote a healthy heart. Avocados and grass-fed beef are the most abundant on the list, but adding low-carb, keto-friendly veggies will also promote heart health.
Avocados
Avocados, whether you slice them up as a nacho topping or mash them into keto guacamole, are a powerhouse of healthy fats and nutrients.
Avocados are high in potassium, an essential mineral and electrolyte that plays an important role in cardiovascular health, hydration, and muscle health. Adequate potassium is linked to lower blood pressure levels, which means a lower risk of heart attacks and stroke[*].
Just 100 grams of avocado contains about 14% or your daily dose of potassium — higher even than bananas, a famously high-potassium (but high sugar) fruit[*].
Grass-Fed Beef
Conjugated linoleic acid (CLA) is a fatty acid found in high amounts in grass-fed and pastured meat and dairy products[*]. In fact, you'll get anywhere from 300-500% more CLA in grass-fed beef and dairy than non-grass-fed animals[*]. Aside from the ethical concerns, this nutritional benefit is a great reason to switch to grass-fed or pastured (similar to grass-fed with some differences) beef, dairy, pork, chicken, and eggs.
Higher levels of CLA are linked to a lower risk of heart disease in population-based studies, although this could have more to do with the high vitamin K2 content of grass-fed meat and dairy.
Grass-fed and pastured beef are also higher in vitamin K2 than their conventional counterparts. Vitamin K2 is a nutrient that helps shuttle calcium from your bloodstream into your bones where it belongs[*]. This helps keeps your bones strong and mineralized while protecting against artery calcification.
Pork Rinds: The Secret Ingredient to Low-Carb Keto Nachos
Nacho chips are the foundation of any nacho recipe. And without your usual tortilla chip option, you might be wondering how to replace them. The answer? Pork rinds. Pork rinds are made with pork skin and fat, resulting in a delicious, crunchy, salty chip.
If the idea of pork rinds turns you off, you can try a low-carb almond flour-based chip or a cheese chip. Cheese chips are made by melting hard cheese on parchment paper and baking it in the oven so it hardens into a crisp. Using these cheesy crisps in this recipe might take your cheese consumption over the top, but that's for you to decide.
Just beware if you're using a low-carb tortilla chip or almond flour-based chip, they are higher in carbs than cheese chips or pork rinds. You might have to watch your serving size more closely. Check out more of the best low-carb chip substitutes to ensure you stick within your macros.
You can also use the Perfect Keto calculator to help you calculate your exact carbs, protein, and fat intake.
Nachos aren't just popular because they taste amazing — they're also easy and quick to prepare. And now with this recipe you can make them and indulge without worrying about getting kicked out of ketosis. Try these keto nachos at your next group gathering. They're sure to become a party staple.
Print
Low-Carb Keto Nachos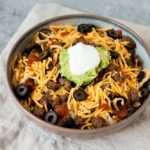 These low-carb keto nachos pack all the flavor of traditional nachos with a fraction of the carbs.
Author:
Prep Time:

10 minutes

Cook Time:

10 minutes

Total Time:

20 minutes

Yield:

1

serving

1

x
Scale
Ingredients
Optional additional ingredients:
Instructions
In a large pan over medium heat, brown the ground beef. Drain the excess grease, and stir in the spices.

In a large bowl, add pork rinds, beef, shredded cheddar, olives, avocado, sour cream, and salsa.

Optional: Place your pork rinds (or alternative chip) and cheese on a baking sheet, and melt the cheese before adding the rest of your ingredients.

Serve and enjoy.
Nutrition
Calories:

984

Fat:

65.5g

Carbohydrates:

13.9g (5.5g net)

Protein:

83.2g