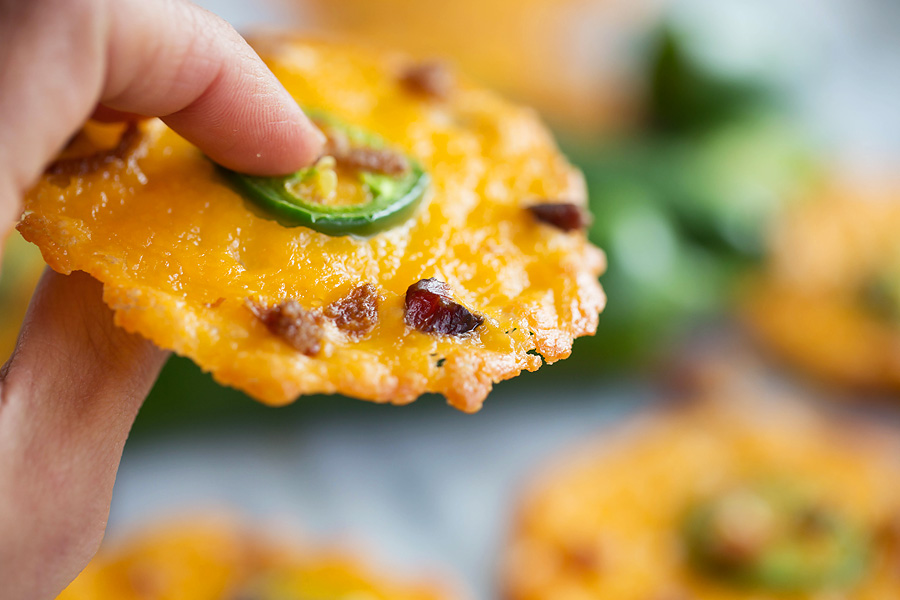 When you're following the keto diet, sometimes your snack options seem a bit limited. You waved a tearful goodbye to crunchy potato chips, pretzels, tortilla chips, and other favorite crunchy snacks, and suddenly you're at a loss about what to eat instead. That's where these zesty keto cheese chips come in.
No matter if you're looking for a quick treat or a crowd-friendly appetizer for your next gathering, know that there are plenty of low-carb options available.
Keep reading to learn how to make these tasty keto cheese chips that contain zero carbohydrates and plenty of healthy saturated fats. All you need is three ingredients and 10 minutes of your time to pull these "keto chips" together.
This keto recipe tastes like a low-carb Cheez-It, with a little extra kick. Now all you have to decide is this: How are you going to stop yourself from munching on these now and wait until the party?
How to Make the Best Keto Cheese Chips 
Surprisingly, these keto chips are pretty simple to make. All you need is three ingredients:
To prepare, start by preheating your oven to 425°F. Grab a large baking sheet or cookie sheet and line it with parchment paper.
Then, create a small mound of cheese for each "chip" you want to make. Place a jalapeno slice in the center of each mound, then sprinkle with bacon.
This low-carb recipe is ready in hardly any time at all, roughly 7-10 minutes. As your chips bake, the cheese will melt around the jalapeno and bacon bits, creating a thick, crispy chip. Once baked, allow to cool on a plate. You can store them in an airtight container lined with paper towels in the fridge.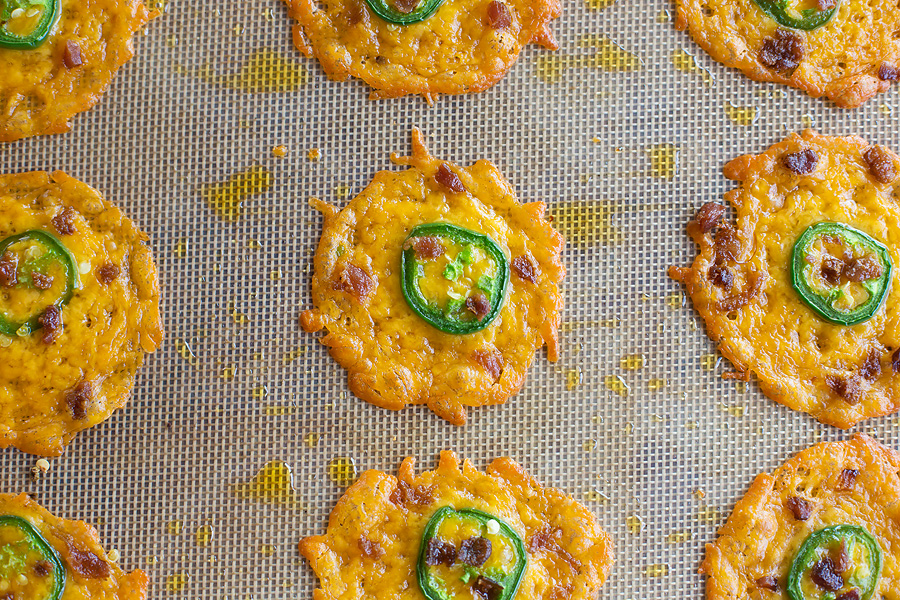 Recipe Ideas: How to Enjoy Your Cheddar Cheese Chips 
Now that you've baked your keto chips, you have a few decisions to make: How will you enjoy them?
This gluten-free recipe can be used in a variety of ways. Dip them in salsa or guacamole, eat them by the handful, or pair alongside your favorite lettuce wraps for a quick lunch option. Below are a few more recipe ideas to get you started.
Serve as an Appetizer at Your Next Gathering 
These keto chips are perfectly crisp, making them the perfect finger food at your next social gathering. Serve them with your favorite low-carb dip or spread, and if you're hurting for ideas, here are a few:
Use as a Substitute for Crackers 
You can use keto cheese chips as cracker substitutes as well. You can top them with (even more) cheese, enjoy with keto hummus or other spread, or crumble up and sprinkle atop a bowl of soup. Here are a few more recipe ideas to spark your culinary creativity:
Cheese plates: Create a cheese plate with charcuterie, olives, and various keto-approved spreads. Pair your low-carb cheese chips with a slice of salami and enjoy.
Soups: Just as you once added oyster crackers or Saltines to a bowl of soup, you can now use these keto cheese crisps. Try pairing with this keto chili or delicious broccoli cheddar soup.
Serve as a Low-Carb Side Dish 
Just as you would pair a bag of chips with your favorite panini at the corner deli, you can use these keto chips as a low-carb lunch side dish. Pair with one of these entrees to make a complete meal:
Lettuce wraps: Who says you need bread to make a sandwich? Lose the unwanted carbs and serve these crisps with a lettuce wrap. Hunting for recipe ideas? Try these chicken curry lettuce wraps to start.
Keto sandwiches: As you have learned, many times vegetables are used in lieu of bread on a low-carb diet. Pair your cheese chips with this bell pepper sandwich as a quick lunch option. 
Keto Cheese Chips FAQ 
Every time you make a recipe for the first time, there's bound to be a few questions. Hopefully, these tips and tricks answer any lingering questions concerning recipe variations, ingredient substitutions, and cooking hacks.
Can you substitute cheddar for another kind of cheese? Absolutely! You can use parmesan cheese or another hard Italian cheese such as asiago, manchego, mozzarella, or pecorino.
Will cheese slices work as well as shredded cheese? Yes, because the cheese melts into crisps within this recipe, it doesn't matter whether you used shredded cheese or cheese slices.
Can you eliminate the jalapenos in this recipe? Of course — if you're not a big fan of spicy foods, you can eliminate the jalapenos in the recipe. Instead, try seasoning with paprika, garlic powder, and a dash of sea salt for optimal flavor without the heat.
What is the carb count on these cheese crackers? Glad you asked. If you check out the nutrition facts below, you'll see there are zero net carbs in these crackers.
Your New Favorite Low-Carb Snack
These delicious cheddar chips fit perfectly into any ketogenic meal plan as long as you can tolerate dairy.
Enjoy them by the handful, as a party-pleasing appetizer, or use as a side dish at lunchtime. Although these chips contain just three ingredients, you can easily swap out a few ingredients to give them your own unique spin. Try adding a hint of seasoning, using different kinds of cheeses, or experimenting with various toppings.
Eat these spicy keto cheese crisps on their own or with your favorite keto-friendly dip. These salty, crispy, bites of heaven might just end up being the guest of honor at your next party.
Print
Spicy Keto Cheese Chips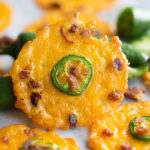 These spicy keto cheese crisps (made with bacon and jalapenos) are the perfect replacement for crackers and make for the best appetizer or anytime snack.
Author:
Prep Time:

5 minutes

Cook Time:

10 minutes

Total Time:

15 minutes

Yield:

12

crisps

1

x
Category:

Sides

Cuisine:

American
Instructions
Preheat oven to 425℉ and line a baking sheet with parchment paper or a silicone baking mat.

Add even heaped tablespoons of cheese to prepared baking sheet. Place one slice of jalapeno in the center of mound. Sprinkle with crumbled bacon.

Bake on high for 7-10 minutes until cheese is melted and edges are browned.

Remove from oven and let cool completely until crisp.
Nutrition
Serving Size:

1 crisp

Calories:

33

Fat:

3g

Carbohydrates:

0g

Protein:

2g
Keywords: spicy keto cheese chips