Pad thai, Thai curry, tom kha … Does Thai food have a place in your low-carb or keto diet?
Or will you need to give up your favorite dishes in order to reach and maintain ketosis?
The answer is a combination of both.
Check out the top 18 low-carb keto recipes in this Thai recipe roundup. All of which rival the tastes and textures of the traditional recipes you love.
You can enjoy all the unique and fragrant tastes of Thailand on a low-carb diet — from coconut milk and lemongrass to Thai-inspired cauliflower rice and curry.
Ditch your go-to Thai takeout and make a few of these keto recipes for sustained weight loss and mental clarity.
The Problem With Most Thai Food
High-carb noodles and rice are just the beginning when it comes to why you should ditch your old dishes for healthier, keto-friendly versions.
You'll also need to think about:
Hidden Carbs
From peanut butter to brown sugar, Thai sauces and condiments usually contain far too many carbs to be cool on keto.
For example, the team at Appetite for Energy learned a Thai beef salad at a traditional restaurant can contain as much as two tablespoons of sugar, more than anyone should be consuming in a meal[*].
Hidden Gluten and Soy
The use of soy sauce can also be problematic for some. Soy and gluten are both known to cause inflammation.
You can swap out soy sauce for coconut aminos or a gluten-free soy sauce known as tamari, but most restaurants and packaged Thai foods don't.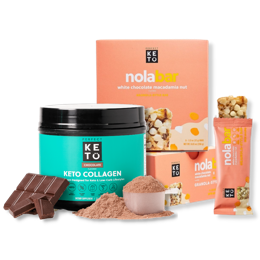 Browse our curated collection of fan-favorites and discover your new favorite snack or supplement.
Shop Best Sellers
Hidden Additives
Food additives like monosodium glutamate (MSG) may also lurk in your favorite dishes, making it no wonder why you crave them so much.
MSG is a Frankenstein ingredient food manufacturers concocted to make crummy foods taste better so you eat more of them (and thus buy more).
Additives like these switch off the receptors in your body that trigger when you're full. When this alarm never goes off, it's much easier to overeat (and almost impossible not to).
MSG also comes with a host of unwanted side effects such as bloating, dizziness, flushed skin, asthma flare-ups, headaches, and higher blood pressure[*].
Researchers even found enough evidence to prove MSG is connected to metabolic disorders, obesity, and problems associated with reproductive organs[*].
If this isn't enough to show takeout Thai options are anything but good for you, there's more.
Toxic Oils
Many restaurants and packaged Thai products can contain up to a full cup of harmful vegetable oils[*].
Despite their name, highly-processed vegetable oils are not healthy and should be avoided at all costs.
Problems associated with vegetable oils like soybean, canola, corn, and sunflower include[*]:
Weight gain
Inflammation
Increased risk of heart disease, diabetes, cancer, and liver disease
Impaired liver and heart function
Decreased fat metabolism
And don't think your favorite Thai restaurant's use of peanut oil is any better or saves this situation.
This oil, which comes from a legume and not a nut, has its own set of negative side effects since peanuts are connected to just as many problems, including:
The creation of free radicals at high heat, which causes oxidative stress and may lead to cancerous cells.
A high omega-6 profile, which throws off your omega-3 to omega-6 ratio, leading to inflammation.
Increased risk of developing obesity, cardiovascular disease, cancer, liver disease, and diabetes, just like the other terrible vegetable oils.
With plenty of reasons to avoid your old dishes, it's time to move on to the 18 keto-friendly Thai recipes up next.
18 Low-Carb Thai Recipes Healthier than Any Restaurant Dishes
Make one of these keto recipes when a craving for Thai food strikes and you won't feel like you're missing out just because you're following a keto diet.
Starting with soup, these four recipes are so filling you can enjoy them as your meal or pair a smaller portion of them with another new low-carb Thai recipe on this list:
#1: Restorative Keto Egg Drop Soup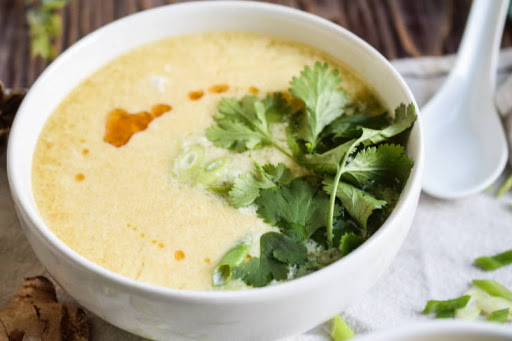 Though this restorative keto egg drop soup may look simple and unassuming, it's both healthy thanks to the bone broth and bursting with flavors of ginger, sesame oil, fish sauce, and green onions to remind you of the East.
Each serving comes in at 23g of protein, 17g of fat, and just 4g of net carbs, according to the nutrition facts, making it a filling option all on its own.
The next recipe uses full-fat coconut milk instead of bone broth for the soup base, and it's also a bit more visually appealing if you're having guests over.
#2: Thai Coconut Soup with Shrimp and Chicken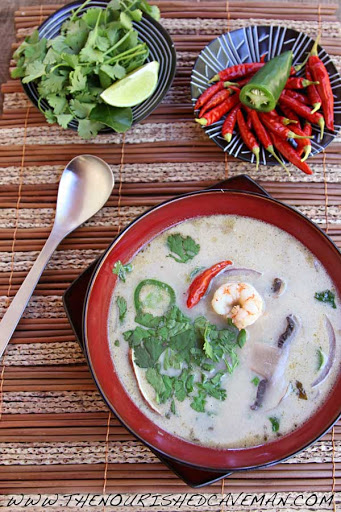 This Thai coconut soup with shrimp and chicken is almost identical in flavor and probably even better than what you're used to.
If you like a chunky soup that feels like you're eating a real meal, this one has loads of fresh, whole-food ingredients swimming around in the broth.
The next soup shares this hearty characteristic.
#3: Thai Coconut Curry Chicken Soup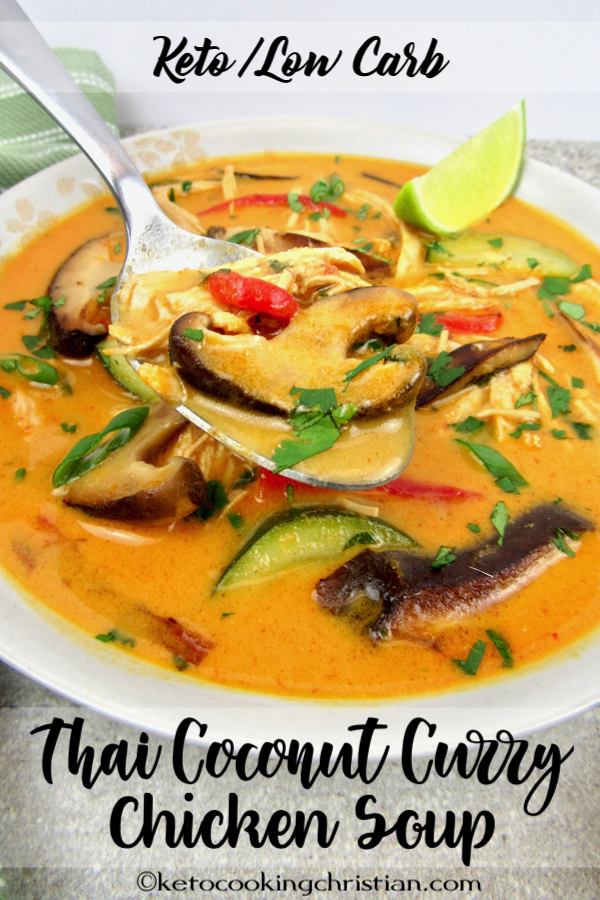 Red curry fans rejoice: this recipe captures the bright red-orange hue and flavor in just 30 minutes (including both prep time and cook time).
Make it anytime you're craving curry (but not the rice) and you'll have it ready to go faster than any takeout order would arrive.
If you have more time and want to crank up the spice, try this next low-carb Thai recipe.
#4: Thai Hot and Sour Shrimp Soup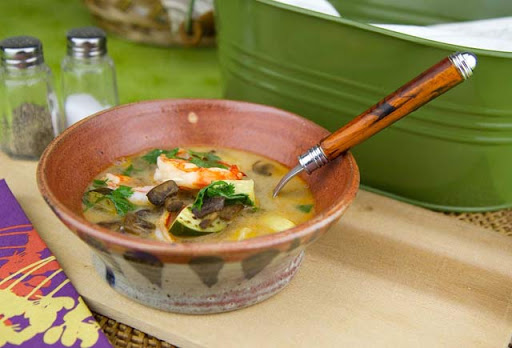 For a low-carb knockoff Tom Kha Gai, stash this recipe for a flavor-packed shrimp broth that's even better than the real thing.
The next low-carb Thai recipe also updates a traditional classic for people going low-carb.
#5: Quick Keto Egg Roll in a Bowl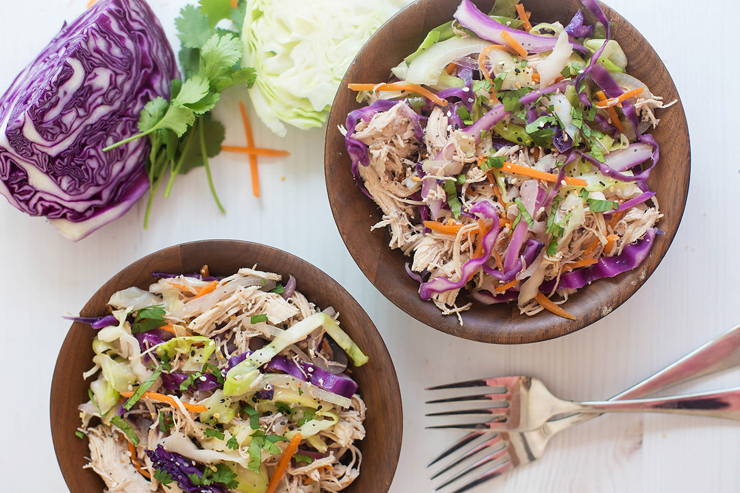 When you're craving spring rolls or egg rolls, ditch the shell and load up on the best part — the middle — with this quick keto egg roll in a bowl recipe.
You'll not only satisfy your craving but also sneak in way more vegetables than you would with a traditional version.
The next salad is similar at first glance but there are clear distinctions between the two, as you'll see.
#6: Low-Carb Thai Chicken Salad Bowl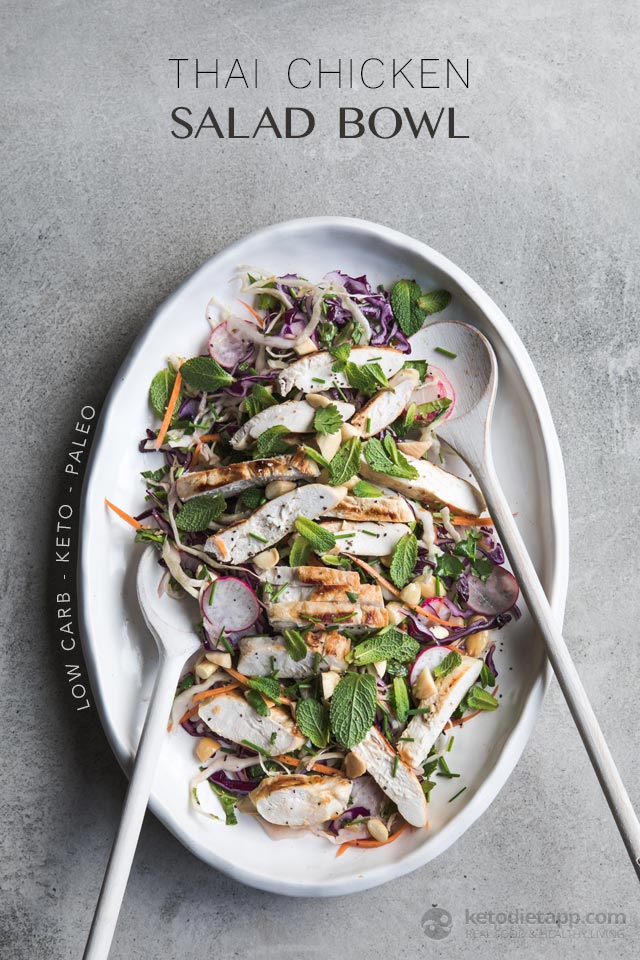 Skip the Thai salad at your local fast-food chain and spend just 25 minutes to make a few servings of this low-carb Thai chicken salad at once.
You'll have lunch for the next three days in the same amount of time you'd spend getting just one salad. Plus, you won't have to pick out the high-carb ingredients or forgo the dressing.
Enjoy this entire recipe without losing any of the essential components.
The next salad switches the protein from chicken to beef.
#7: The Best Ever Low-Carb Thai Beef Salad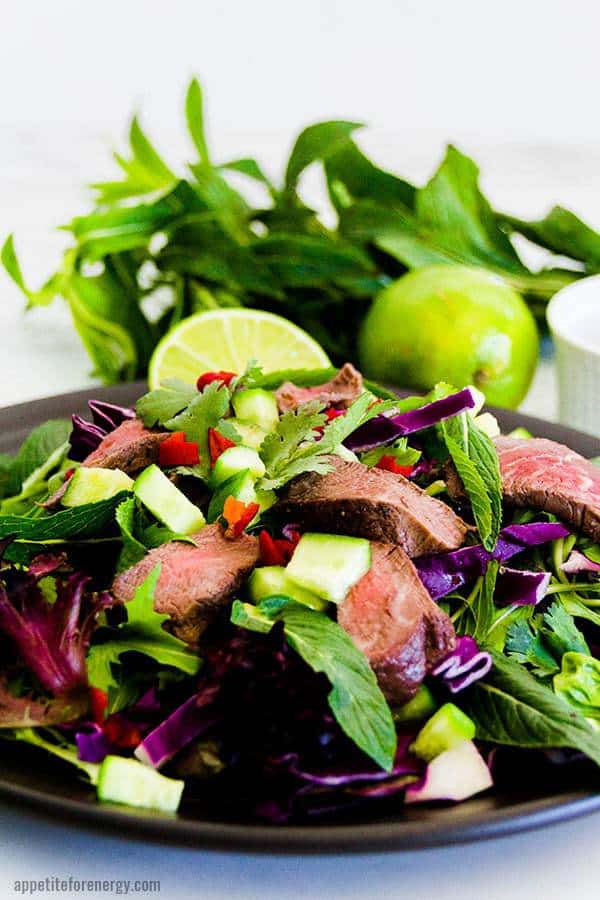 If salads don't keep you full, it could be that you're not adding enough protein and healthy fats to the ones you're eating, which is a common mistake.
The creators of this low-carb Thai beef salad will show you exactly what it takes to create a filling salad-as-a-meal.
This one will probably keep you fuller longer than other salads you've had before since it boasts a whopping 40g of protein and 32g of fat per serving.
Recipes and intel like this will certainly come in handy on your keto journey.
The next Thai recipe is unlike your typical lunch salad and even contains noodles.
#8: Thai Pork Salad with Kelp Noodles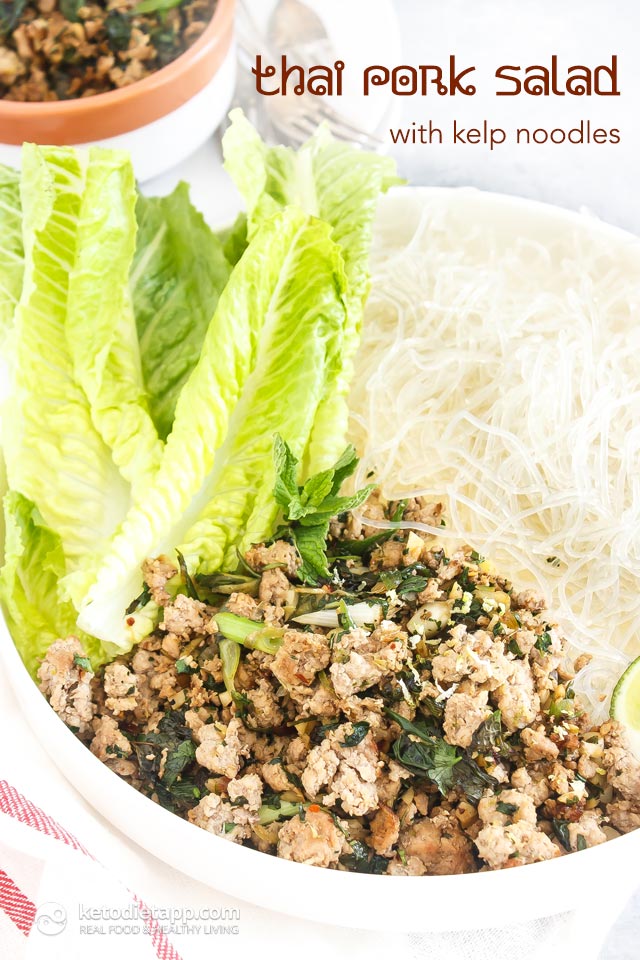 Kelp noodles, a great low-carb alternative for Asian noodle cravings, may not be the star in this Thai pork salad recipe but they certainly add to the awesome overall flavor.
For a light, spicy recipe that's still packed with protein and beautiful enough for your Instagram feed, this next recipe ticks all boxes.
#9: Spicy Ginger Salmon Buddha Bowl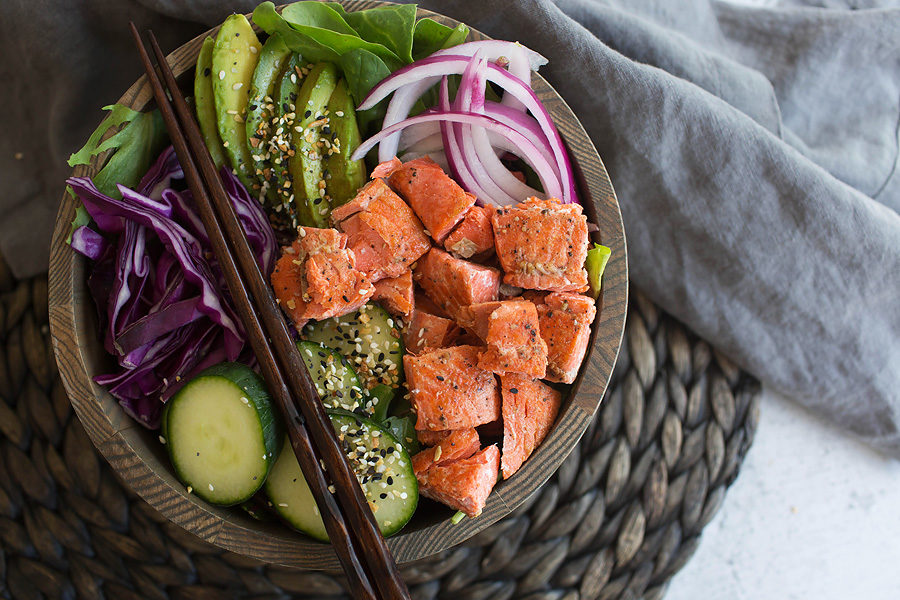 Big, chunky, filling ingredients with bright, bold colors fill up this spicy ginger salmon buddha bowl.
Savor this anytime you need an easy yet nourishing meal that resembles your favorite rice or noodle bowls of the East.
The next recipe makes a fantastic low-carb knockoff of a traditional poke bowl.
#10: Keto Poke with Ahi Tuna and Citrus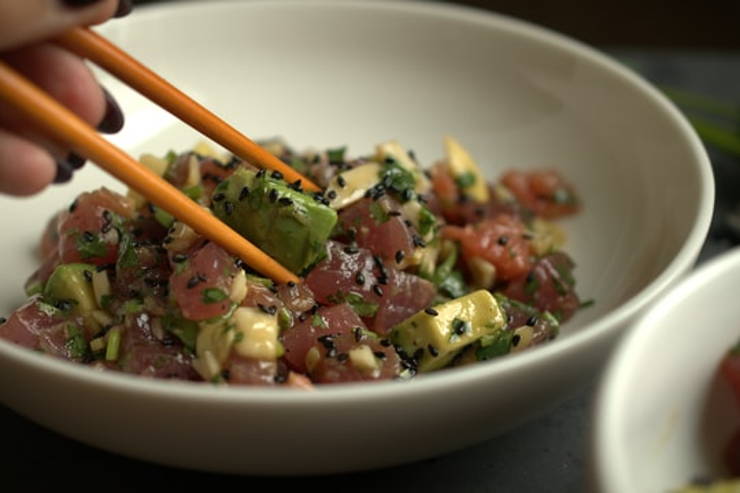 This keto poke with ahi tuna and citrus gives you the same flavors of a traditional poke but uses healthy grain-free coconut aminos over soy sauce.
It also cuts out the sugar, carbs, soy, and hidden preservatives you'd normally find in a poke bowl too.
Despite getting rid of the junk, you'll probably dig this version more since the whole-food ingredients are filling and bursting with real flavor, not sugar.
Reach for the following recipe when you're in the mood for fried rice but don't want to cheat on your ketogenic diet.
#11: Super Simple Chicken Cauliflower Fried Rice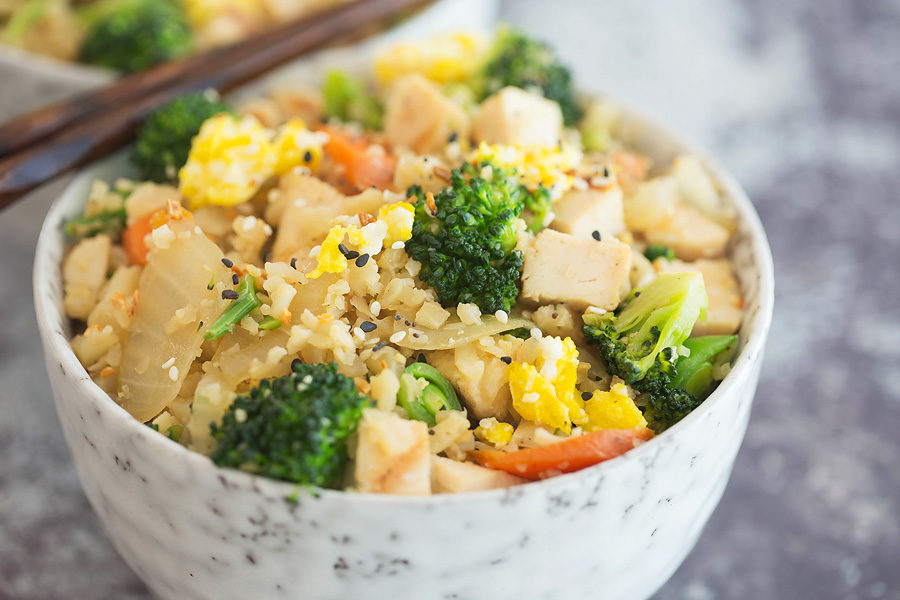 Traditional fried rice may be off-limits but this super simple low-carb version is all green lights ahead.
With riced cauliflower, chicken, low-carb veggies, and even traditional scrambled eggs, you'll score all the flavors of fried rice without the carbs, harmful vegetable oils, and other questionable ingredients in takeout.
The next recipe helps you do that with a shrimp version if you need a break from chicken.
#12: Shrimp Stir Fry with Baked Cauliflower Rice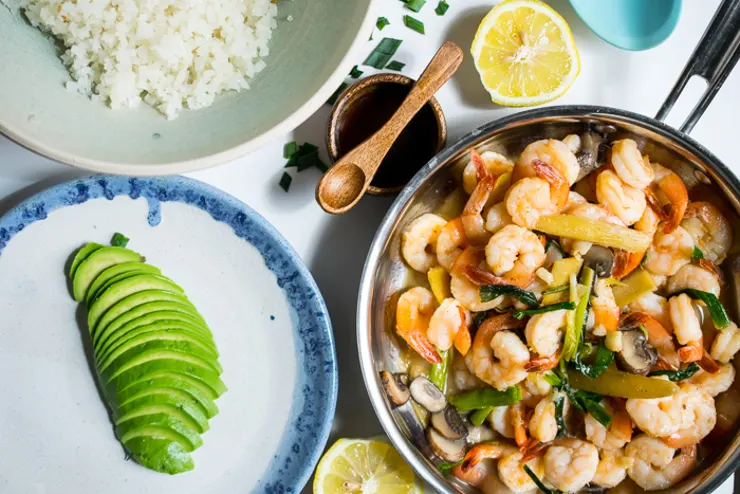 Stir-fry cravings don't have to go unfulfilled when you switch to a keto diet.
This high-fat recipe for shrimp sautéed in bacon fat and MCT oil makes the perfect swap for stir-fry cravings and can be ready in 30 minutes.
Though shrimp is an excellent low-calorie, high-protein option, you could swap it for chicken or beef if you're allergic.
A serving of this stir fry clocks in at just over 350 calories for 24.8g of healthy fats and 24.7g of protein, which restaurant options can't even come close to.
The next choice combines stir-fry with "noodles" and still manages to be low-carb.
#13: Simple Keto Stir-Fry with Cabbage Noodles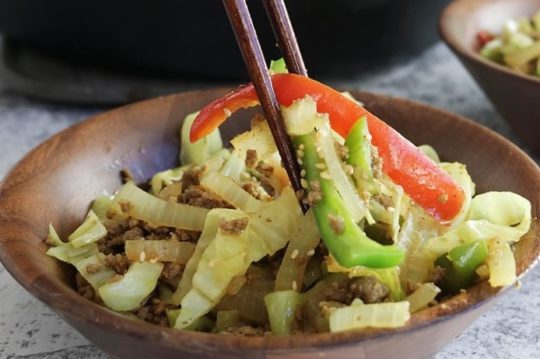 Kelp noodles aren't your only low-carb alternative to traditional rice noodles.
You can also try using strips of cabbage like this simple stir-fry recipe so cleverly does. In almost no time you'll have an easy noodle-less option that feels and tastes just like the real thing.
When most people hear mention of Thai food, images of Pad Thai noodles aren't too far behind. If this dish is your number one craving, there are plenty of ways to make it low-carb and just as tasty, as you'll see next.
#14: Keto Pad Thai (Three Ways)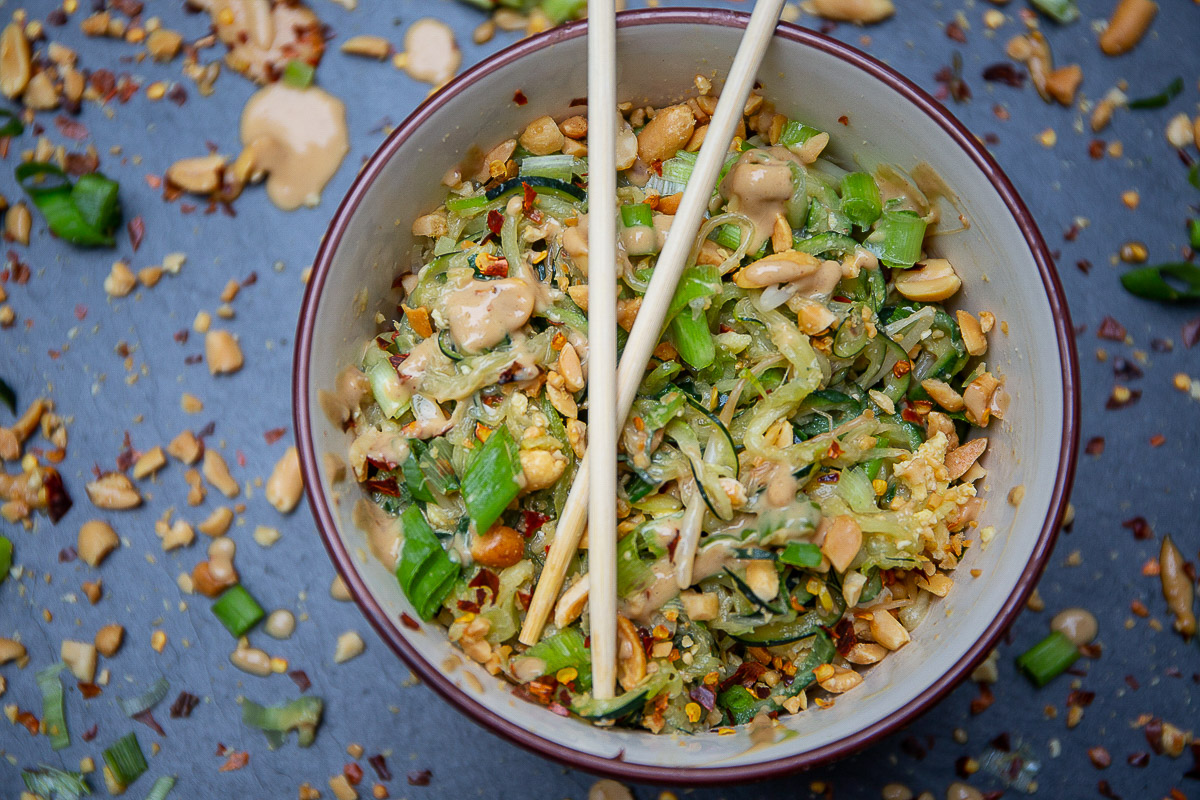 Pad Thai is one of the most famous Thai dishes around the world.
This almost-identical-to-the-real-thing keto chicken Pad Thai dish (pictured above) is not only a delight but it's also super easy to make.
While you could experiment with shirataki noodles, this recipe opts for spiralized zucchini noodles.
Then you'll cook your chicken, scramble your eggs, and set aside both while you create a low-carb peanut sauce with garlic, tamari, and red pepper flakes.
With 20 minutes of prep time and 10 minutes of cook time (for a grand total time of just 30 minutes), you can have your pre-keto takeout staple any night of the week.
Top with bean sprouts and a squirt of lime juice and you can even serve it to guests without them knowing it's part of your keto meal plan.
As alternatives to this dish, this keto pad Thai recipe also uses zucchini noodles for its base while this one calls for spaghetti squash instead.
Up next is a crave-worthy Thai curry dish you won't believe is keto-friendly.
#15: Red Coconut Thai Curry Pork With Cilantro Lime Cauliflower Rice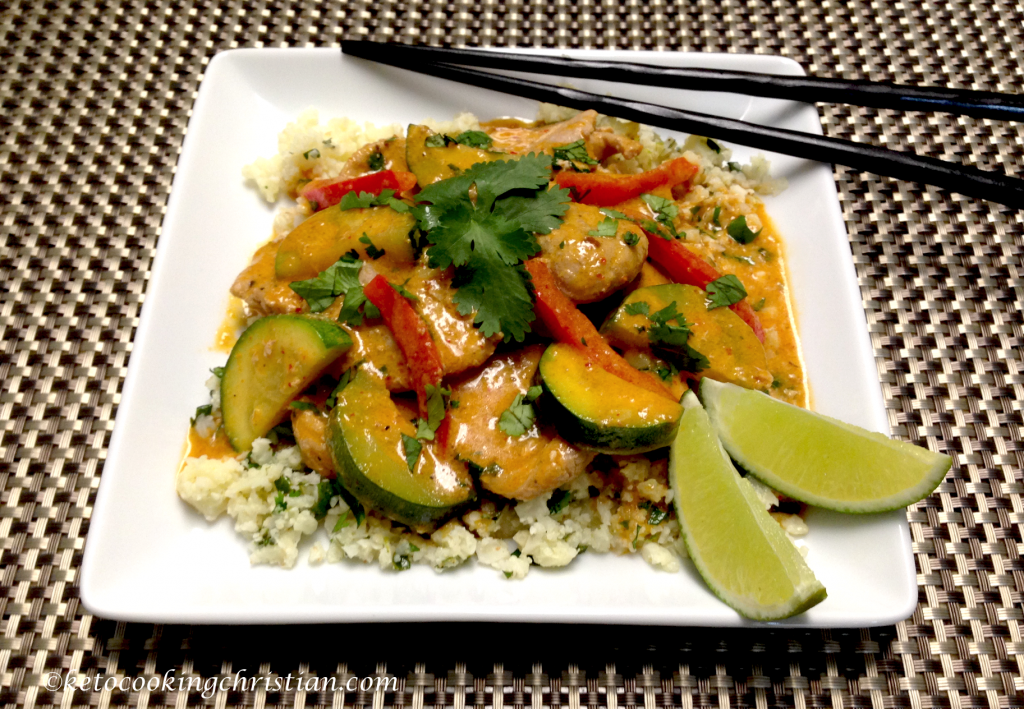 Thicker than the red curry soup from earlier, this red coconut Thai curry dish can be paired with cauliflower rice to taste just like the rice and curry you loved before starting your keto diet.
Follow this recipe the next time you want Thai curry and you'll have enough leftovers for three other servings.
And if you're a bigger fan of green curry, use this low-carb Thai curry paste recipe to swap out the flavors.
The next dish gives you a simpler way to capture your favorite Thai flavors.
#16: Easy Low-Carb Thai Chicken Skewers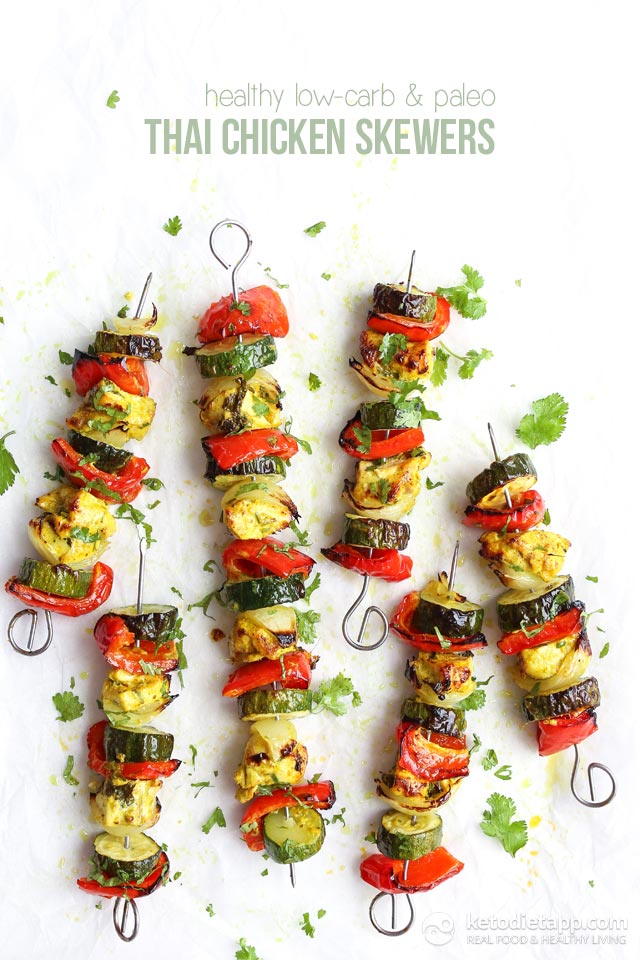 To change up the flavors of your next backyard cookout, or if you're just looking for an easier way to enjoy Thai food, try this low-carb chicken skewer recipe. It's simple, yummy, and visually stunning.
The next Thai dish is just as easy but doesn't require the extra time it takes to stack skewers.
#17: Easy Keto Thai Skillet Chicken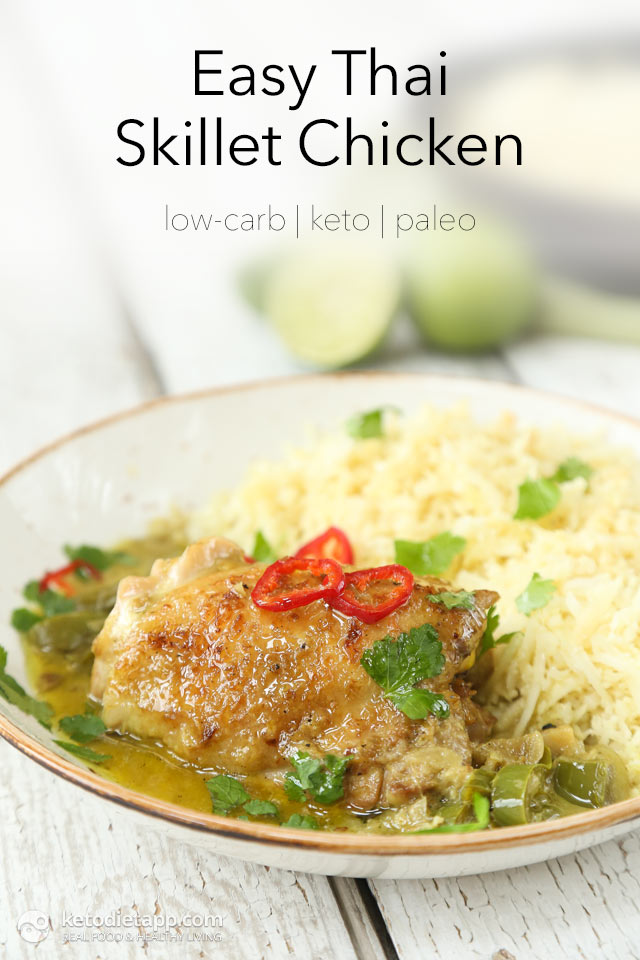 When you need a simple, one-pot meal that everyone will love and doesn't require too much effort, reach for this keto Thai skillet recipe.
It uses chicken thighs instead of chicken breasts for a bit more fat and flavor. In just 30 minutes time (including 20 minutes of prep time), you'll have a healthy, keto-friendly dish ready to go.
The final low-carb Thai recipe on this list could be considered an afternoon treat or be enjoyed post-meal for dessert.
#18: Keto Thai Iced Tea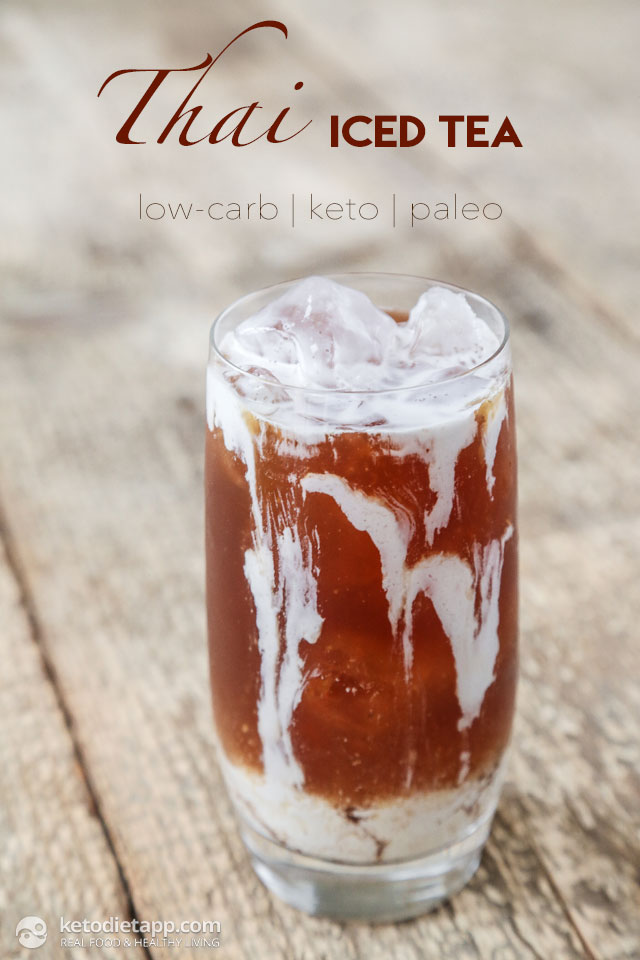 If you're familiar with Thai iced tea, you probably already know there's too much sugar in the recipe to be safe on a keto diet.
But while you can't have a traditional version without being kicked out of ketosis, the same may not happen with this low-carb, sugar-free alternative.
With just 2.4g of net carbs, according to the nutrition facts, you'll be able to weave this drink in anytime a craving strikes without having to forgo ketosis and cheat all your hard work.
And the same can be said about all the other recipes in this roundup.
Satisfy Your Thai Cravings While Staying Low-Carb Today
Now that you have more than 18 different ways to enjoy Thai food without cheating on your low-carb diet, you can skip the unhealthy takeout without feeling deprived.
Bookmark this page and come back anytime a craving strikes.
Do this and you'll have no trouble staying on a ketogenic diet and finding success.