After reading a few guides on what to track on a ketogenic diet, you finally downloaded MyFitnessPal, an app to log the nutritional values of all your feasts, fat bombs and keto-friendly snacks.
From there, you probably created an account and set up your macro goals to reflect your new keto targets (if not, do this ASAP).
Now all you need to do is start tracking your food intake. Sounds easy enough.
But then you go to check your total carbs at the end of the day and you almost drop your phone.
No, the problem isn't you or the way you logged your food. It's MyFitnessPal. It doesn't consider net carbs.
So the carb count you're seeing isn't subtracting your fiber intake, and it's technically giving you a false reading.
There's also one more problem:
It doesn't matter if you're a free or premium MyFitnessPal user; displaying daily net carbs is not a feature the app ever offers, according to customer support[*].
Before you decide to delete the app or continue to calculate things in your head, there's one handy workaround to save you time (and math brain freezes). I'll walk you through this quick five-step process in today's guide.
In less than a few minutes, you'll be able to set up your MyFitnessPal to reflect your actual net carbs each day and stop guessing.
MyFitnessPal Net Carbs: The Keto-Friendly Workaround
Before we start on this app-hacking journey, there's one caveat you need to know first: this tweak only works on the desktop version of MyFitnessPal.
This means you can log your food throughout the day on either your phone or your computer, but you'll only see net carbs on the desktop version.
Now, to do that, you'll need to run a script on your MyFitnessPal account.
Don't worry if you have zero experience with scripts or aren't the most tech-savvy person. I'll keep everything super simple.
Step 1: Install a Program to Run the Script
Your first step is to download an extension that can run this script on your MyFitnessPal settings.
For Chrome, Safari or Firefox users, download Tampermonkey to do this.
Once it's downloaded, add it to your web browser as an extension:

As a side note, if you're one of the few readers still using Internet Explorer, this fix won't work for you since the plugin is outdated.
Now that your extension is added, it's time to log in to MyFitnessPal.
Step 2: Double Check Your Settings in MyFitnessPal
Once you've signed in, click the 'Settings' link at the top.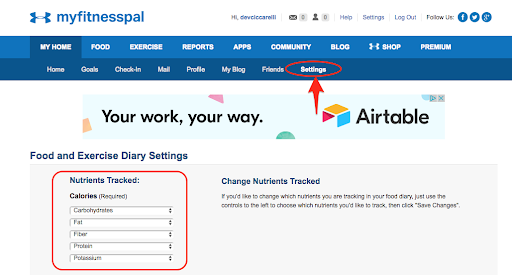 Right away you should see a list of the nutrients you're tracking.
This setting is another default that needs to be updated, especially for keto and this workaround specifically.
Your nutrient goals should mirror the ones you see in the image above.
So you'll need to track:
Carbohydrates

Fat

Fiber

Protein

Potassium
Use the drop down arrows to change these nutrients and then scroll down until you see 'Save Changes'. Click that green button to update your account.
Here's where things get technical — so stay with me. It's really easy, I promise.
Step 3: Download the Script
Next, download the script you're going to run on MFP, using the Tampermonkey program you installed in Step 1.
You can find that download link on this page: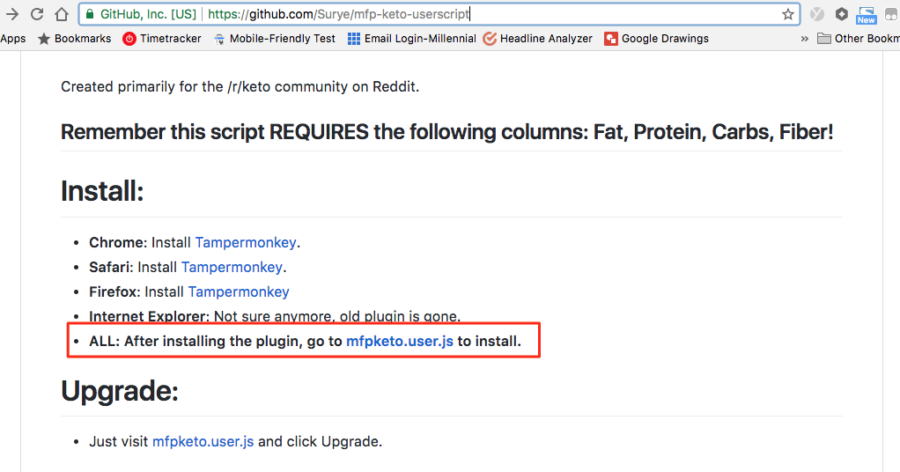 Once it's downloaded, don't be tempted to click it. For you rebel readers, I'll just tell you it's not really going to do anything even if you do click it.
If you happen to have Dreamweaver or a similar program installed, it's just going to open up the script code.
For everyone else and my non-technical friends, you don't need to do anything but drag and drop from here.
Step 4: Drag the Script into Tampermonkey
Next, you need to open Tampermonkey so you can drop the script file right in. Click the extension on your web browser and you'll see this:

Click the plus (+) sign to add the script file you downloaded and you'll see this next: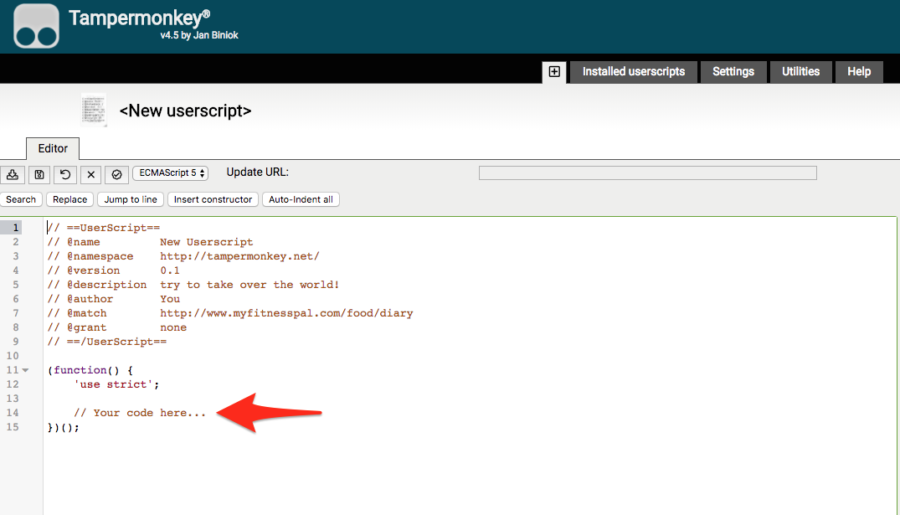 Where it says // Your code here…, drag the file you downloaded from GitHub right onto this line of code. If it downloaded as a .zip file, you'll have to unzip it and drag the file that ends in .user.js.
If you decided to play in Dreamweaver, just copy and paste the code into this space.
From here, you need to assign the URL that's going to use this script.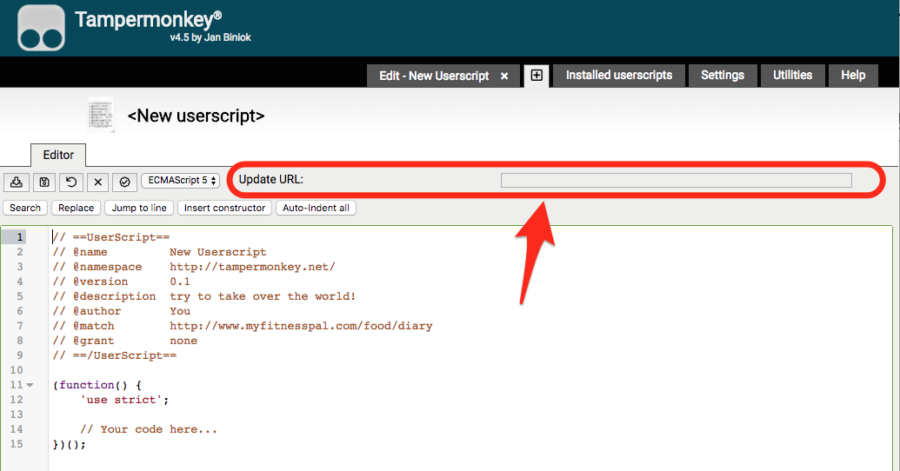 Copy and paste this URL into that box:
http://www.myfitnesspal.com/account/diary_settings
When you're done, it should look like this: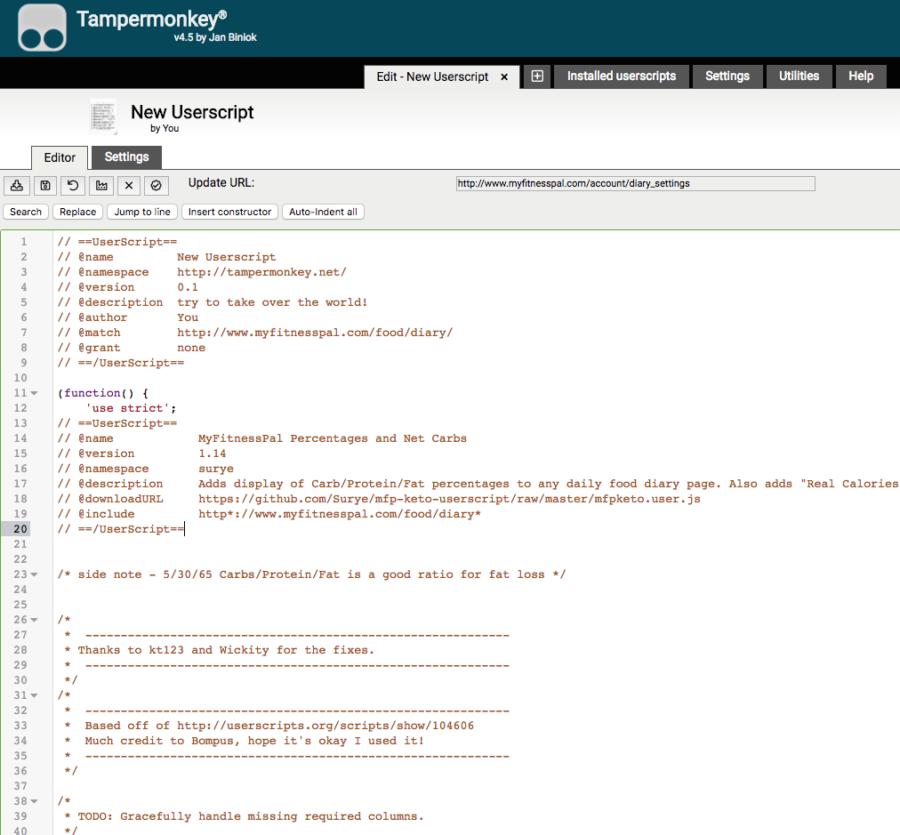 Click the floppy disk icon to save your hard work and you are finished, my keto friend.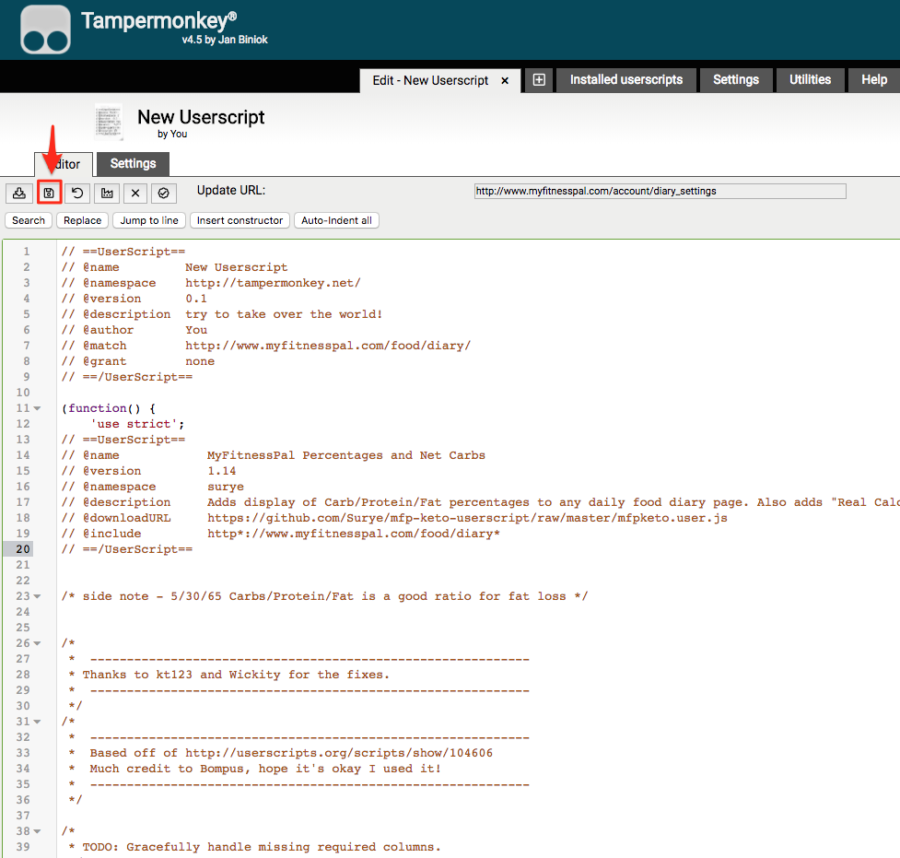 Not bad for someone without much coding experience, am I right?
Now before we bask in all the food-tracking hack glory, let's find out if it worked.
Step 5: Head Back to MyFitnessPal
Switch over to your MyFitnessPal tab to see if everything was installed correctly.
You'll know if that's the case if you see the Net Carbs column.
Before the update, the nutrient headers of your log looked like this: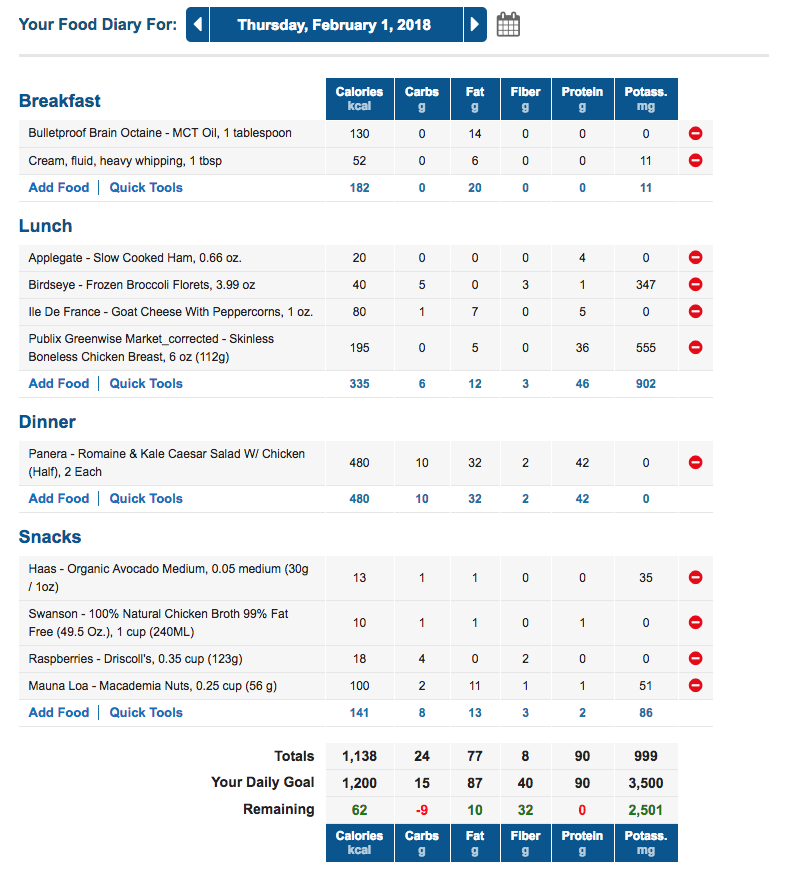 After the update, they should look like this: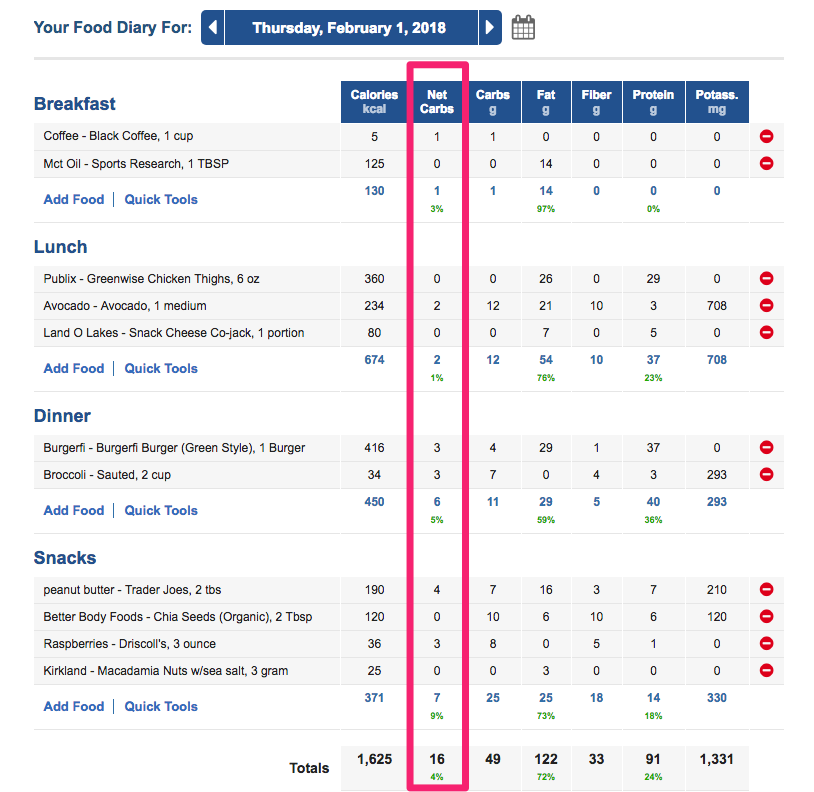 If you're not seeing this Net Carbs column, check out the troubleshooting section next.
What Happens if Net Carbs Still Aren't Showing?
There are a few areas you can check to see what could be causing the issue.
First, head over to Tampermonkey to double check that you:
Copied the entire script over

Put the script in the right place

Added the correct URL
This step also checks to make sure you saved your work.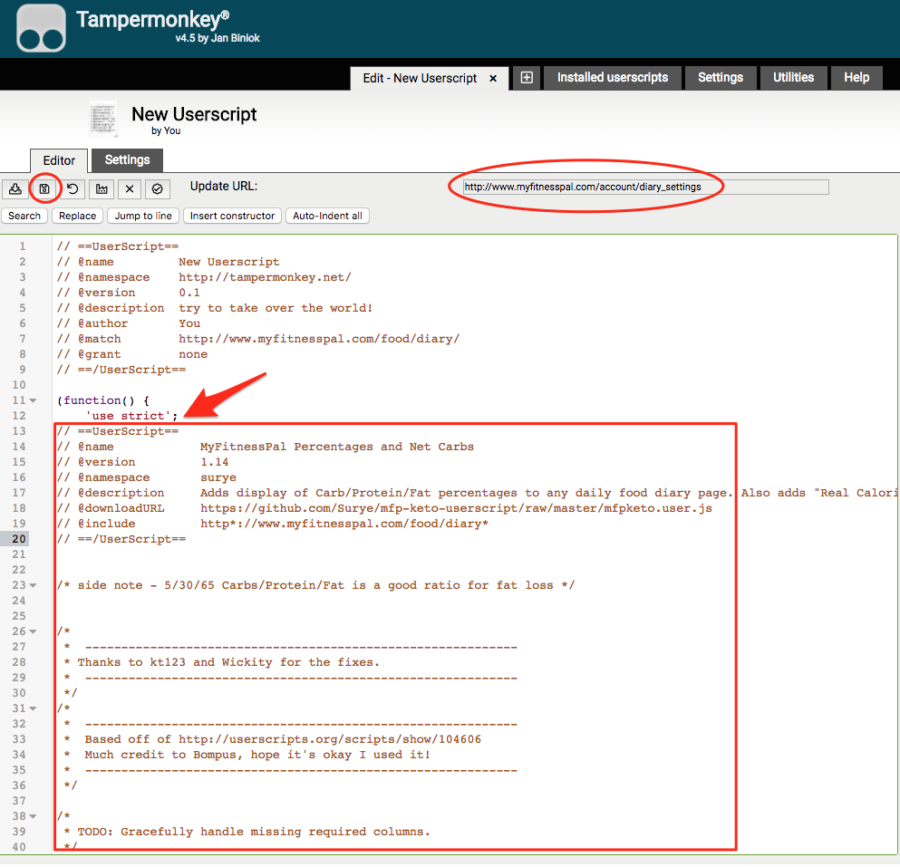 If that all looks good, your next step is to make sure you have the script and Tampermonkey enabled.
To do that, click this extension button again:

Once you do, you'll either see a sign that a new script is running: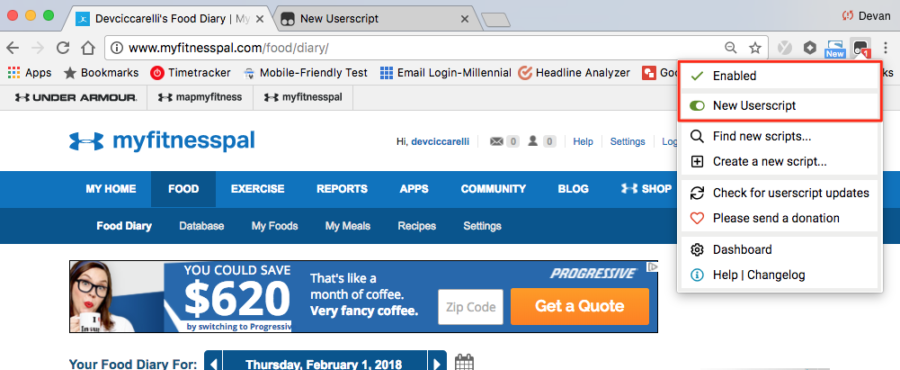 Or one that no scripts are running:

If you're in the first boat and you see green lights, you just need to refresh the page a few times and your update should kick in.
For those who aren't seeing any running scripts, head back over to 'Installed userscripts' in Tampermonkey to double check your work again (see first step of this section).
And if that doesn't do the trick, try starting over by creating a new script altogether:

The first time I tried this, my initial attempt only kicked in after the second one was enabled.
At that point, I just deleted the first one and only kept the second one running and I was good to go.
Now that you have the ability to track your net carbs in MyFitnessPal, there's no excuses not to.
Start Tracking Your Net Carbs in MyFitnessPal Today
To learn more about why you should be tracking your net carbs every day, check out this guide.
And if you're ready to use today's quick workaround, head over to Tampermonkey first and then download the script from GitHub next.
Follow the rest of the steps in this guide and you'll have an easier way to track net carbs when your craving for more macadamia nuts strikes.
Remember, tracking your macros is crucial if you want to find success with keto — and now that you have your net carbs accounted for, you'll be one step closer to getting into ketosis.