In the keto world, eggs are king when it comes to low-carb breakfast dishes. But sometimes you need ideas to mix up your scrambled egg routine. If you're wondering what to make for your next Sunday morning brunch, these crispy cauliflower fritters are a great low-carb and keto-friendly dish.
This recipe makes up to 12 fritters, making it perfect to feed a large group or to freeze and eat throughout the week.
They're also gluten-free, extremely versatile, and make for a great appetizer or side dish to your favorite grass-fed steak or sauteed low-carb veggies.
Instead of starchy potatoes and all-purpose flour, this recipe calls for cauliflower and almond flour — two keto pantry staples. Once you whip up this simple yet delicious dish, it'll soon become a favorite.
The main ingredients for this recipe are:
Almond flour
Cauliflower
Eggs
Cheese
This recipe is:
Crispy
Comforting
Low-Carb
Keto-Friendly
Cheesy
4 Health Benefits of Cauliflower Fritters
These cauliflower fritters are not only incredibly easy to prepare, but they also come packed with lots of flavor and numerous health benefits.
#1: Can Improve Energy Levels
When it comes to keto flour alternatives, almond flour takes the win. It's abundant in healthy fats, vitamins, and minerals such as vitamin B2, manganese, and copper[*].
Vitamin B2 plays a key role in numerous actions in your body, including energy production, creation of red blood cells, and optimal cellular functioning[*].
Manganese and copper work synergically to protect and promote bone health. The deficiency of these trace minerals has been shown to increase the risk of developing chronic diseases like osteoporosis and atherosclerosis[*][*][*][*].
#2: May Improve Blood Sugar
Cauliflower is probably the most versatile and loved low-carb veggie among keto followers.
From cauliflower rice to cauliflower pizza, or even a decadent and creamy mac and cheese, this widely available veggie not only is a fantastic substitute for some high-carb favorites, but it also offers an abundance of vitamin C and vitamin K[*].
These nutrients have been shown to have positive effects on lowering blood sugar levels, improving insulin resistance, and preventing metabolic syndrome[*][*][*].
Studies have shown that consuming almonds (or almond flour for that matter) can decrease insulin in the blood. Almond flour has a low glycemic index (GI), making it perfect not only for people trying to maintain ketosis, but for those struggling with diabetes as well[*].
#3: May Promote Heart Health
Almonds are one of the top foods to consume when it comes to supporting your cardiovascular system.
Almond flour is a monounsaturated fatty acid (MUFAs) powerhouse. Research on MUFAs has been shown that these compounds are crucial to maintain a strong heart by lowering LDL cholesterol levels in the blood[*].
The mighty cauliflower is also a great addition to your diet to help keep your heart pumping and working in an optimal state.
This veggie comes packed with an astonishing amount of potassium, which studies have shown can help lower blood pressure and reduce the risk of developing cardiovascular diseases[*].
#4: Can Help Support Cognitive Health
Even though eggs have a spotlight in low-carb diets, this food item has been controversial, especially since studies once linked eggs to raising cholesterol levels and heart disease[*].
However, eggs can be a vital part of a healthy diet. This food is rich in important nutrients including vitamin A, choline, and lutein.
Choline and lutein play an important role in the proper functioning of the brain, by supporting neurological functions. They help in the formation of neurotransmitters and the protection of the brain against neurodegenerative diseases, such as Alzheimer's and epilepsy[*][*][*].
Cauliflower Fritters: Recipe Options
These cauliflower fritters can be as simple or complex as you want.
The basic foundation of these low-carb fritters includes cauliflower, almond flour, eggs, and cheese, but you can add more keto-friendly ingredients or toppings.
For extra crispiness and fat content, saute some chopped bacon and use it as breadcrumbs on top of the fritters. If you prefer a touch of freshness, chop some cilantro leaves and sprinkle them over the dish.
Try adding a teaspoon of garlic powder or some chopped garlic for a flavorful and anti-inflammatory kick[*].
If you don't happen to have any almond flour in your pantry, using coconut flour can also be an option.
Keep in mind that this type of flour is denser, therefore the fritters may turn out heavier and slightly drier than if you'd have opted for almond flour. Using a one-to-four ratio and adding a bit more water than what the recipe calls for may help balance the heavier nature of the coconut flour.
When you follow the original recipe, each fritter will supply your body with a total of 78 calories, including 5 grams of protein, 5 grams of fat, and just 2 grams of net carbs.
Variety is key when it comes to any diet, including the keto lifestyle. Using a diversity of ingredients and different recipes is a way of keeping things interesting, fuel your body with all the nutrients it needs, and keep you on track with your health goals.
More Delicious Recipe Ideas 
If this recipe has inspired you to try breakfast dishes that go beyond basic omelets or scrambled eggs, check out these delicious eggless low-carb options:
And if you're looking for more keto-friendly cauliflower recipes, check out these amazing options:
Print
Easy Low-Carb Cauliflower Fritters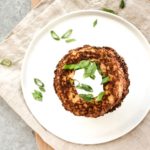 These easy low-carb cauliflower fritters have just 2 grams of net carbs and over 5 grams of fat and protein per serving. This quick recipe is not only delicious, but it will also keep you within your daily carb count.
Author:
Prep Time:

10 minutes

Cook Time:

40 minutes

Total Time:

50 minutes

Yield:

12

fritters

1

x
Category:

Breakfast

Cuisine:

Southern
Instructions
Pulse the cauliflower florets in a food processor until riced.
Transfer the cauliflower rice to a large mixing bowl and add the salt. Mix and set aside for 10 minutes.
Add the almond flour, cheddar, parmesan, and eggs to the bowl and mix until well-combined.
Add the avocado oil (or olive oil) to a frying pan, over low-medium heat.
Using a ¼ cup measuring cup, scoop the cauliflower mixture from the bowl and form into balls. Place the cauliflower ball onto a spatula and gently press down to form a patty.
Carefully slide the cauliflower patties from the spatula to the hot pan.
Cook for 3-4 minutes per side until golden brown, being careful to not flip too early.
Set cauliflower fritters on some paper towels to remove excess moisture.
Enjoy warm with a dollop of sour cream and chopped scallions or chives.
 Store in refrigerator. To reheat, bake for 10 minutes at 350°F.
Nutrition
Serving Size:

1 fritter

Calories:

78

Fat:

5.4g

Carbohydrates:

3.2g (Net Carbs: 2g)

Protein:

5g
Keywords: cauliflower fritters