Posted on October 28, 2018
Have you heard about KetoLogic?
If you've been researching keto-friendly protein bars and supplements, you may have come across their products.
While both KetoLogic and Perfect Keto strive to follow the ketogenic way of life, their approach and product lineups have noteworthy differences you'll want a head's up about.
That's why today's guide dives into the Perfect Keto vs. KetoLogic question to find out the truth about:
Before you can really see how Perfect Keto and KetoLogic compare and contrast, you should have a better idea of their core principles first.
The KetoLogic Backstory
Both Dave Asprey, founder of the Bulletproof Diet, and Dr. Anthony Gustin, creator of Perfect Keto, began their keto adventure with a quest to better their own health.
The KetoLogic story is a little different in this regard.
Instead of optimizing his own health, founder Mike McCandless was focused on improving his mother's health.
In 2011, McCandless's mother was diagnosed with a tumor in her lung.
He spent countless hours researching the best ways to help her when he came across Dom D'Agostino's work on ketogenic diets and the light bulb went off.
After trying it and witnessing its amazing benefits, McCandless made it his mission to help others follow a ketogenic diet for better health too.
Similar to Perfect Keto's style, the goal of KetoLogic's diet plan is switching your body from using carbs and sugar for energy to running off fat instead.
However, this is where the similarities end.
McCandless believes nutrition is too overwhelming for most people — and especially difficult for those trying to transition to a keto lifestyle.
Since McCandless wanted to create products to help people achieve ketosis one meal at a time, KetoLogic's product line focuses most of its attention on meal replacement products and nutrition.
While there are a few products that overlap between PK and KetoLogic, the Perfect Keto approach to keto is way different, as you'll see next.
Here's What You Need to Know About Perfect Keto
Dr. Anthony Gustin, a sports chiropractor, functional medicine provider and entrepreneur, founded Perfect Keto after questioning the BS diet and nutrition advice fed to him in his doctoral level nutrition classes.
After challenging the dietary norms, his research led him to discover the positive effects of the ketogenic diet.
By testing a keto diet on himself, Dr. Gustin optimized his health, lifted his mental fog, drastically reduced his body aches and saw a noticeable difference in his body composition.
And, just like McCandless, now his mission is to help other people do the same using a ketogenic diet.
But Dr. Gustin doesn't believe nutrition has to be complicated.
He created Perfect Keto, the world's #1 keto blog, with a focus on educating people about how a ketogenic diet works and all the benefits of being in ketosis.
The switches the emphasis from products you have to buy and eat to knowledge about which real foods you should be eating and avoiding on your own.
Even still, nutrition is just one component of getting your body right.
Dr. Gustin says you'll get the most out of life only when you optimize the four pillars of health:
Nutrition

Movement

Stress/Mental Wellbeing

Sleep/Rest
So with the Perfect Keto site covering the "how to's" of optimizing these areas of your health, Dr. Gustin expanded to create keto supplements and products to help you get there.
This is the main difference between the keto-focused product lineups offered by each brand.
The Main Difference Between Perfect Keto and KetoLogic
The short answer is: Perfect Keto helps you optimize your body to help you reach ketosis sooner and maintain it for longer periods of time.
KetoLogic is more about helping people adhere to keto by using meal replacements and other nutritional supplements.
To give you a better idea of the different approaches, here is KetoLogic's Keto 30 Challenge: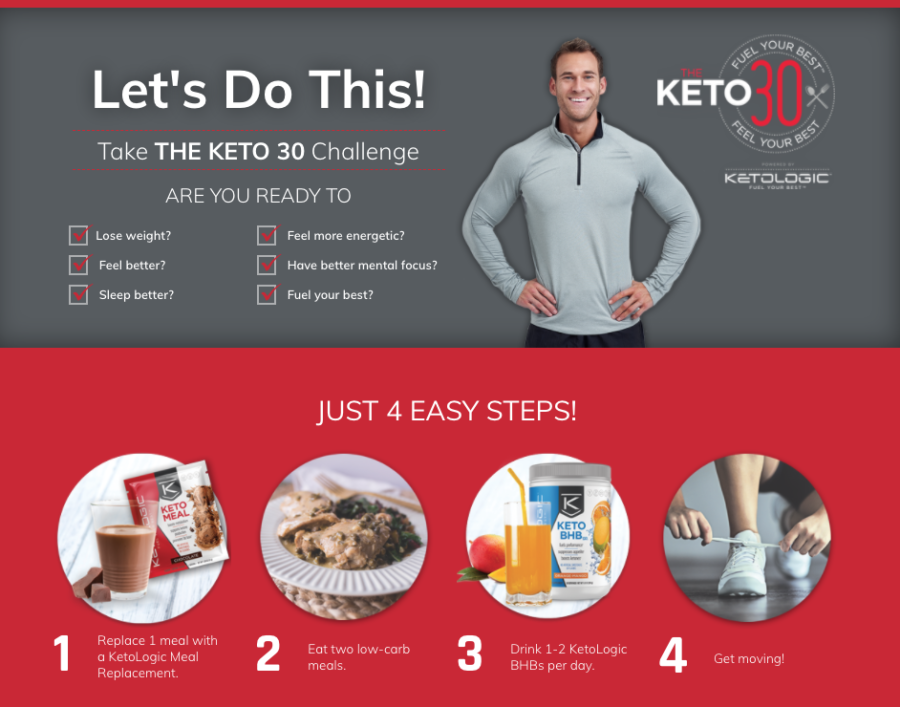 As you can see from the image above, this plan has dieters eating:
1 meal replacement shake

2 low carb meals

BHB powder 1-2 times per day
People are also instructed to increase their exercise on the KetoLogic plan.
Perfect Keto, on the other hand, doesn't rely on meal replacements.
The foundation of the keto diet is eating whole, unprocessed, real foods with as few carbs, sugars and additives as possible.
Meals are not to be replaced on keto, but upgraded to reflect these goals.
And with all the delicious keto recipes out there, using meal replacement shakes takes all the fun out of getting to eat more fat.
To help people maintain ketosis in the real world (i.e., where they'll be eating food grown on a farm instead of created in a lab), Perfect Keto offers products to help you:
Reach ketosis faster

Perform better mentally

Have more energy for your workouts

Meet your greens

and micronutrient intake
So while the goals may be different, there are two products that overlap between both brands. Their comparison is exactly what's in store next.
Perfect Keto vs KetoLogic Products
While these products aren't identical, they will work similarly for our purpose today to compare and contrast Perfect Keto products and KetoLogic's versions:
Both Brands Offer Powerful BHBs (But One Has 2x the Amount)
Beta Hydroxybutyrate, or BHB, is a powerful molecule that helps your body produce energy when glucose is depleted (like when you're ditching sugar).
Both Perfect Keto and KetoLogic make a BHB supplement to help people turn fat into fuel and increase their energy stores.
But their approach is slightly different.
Here's the nutrition facts for KetoLogic's unflavored BHB powder: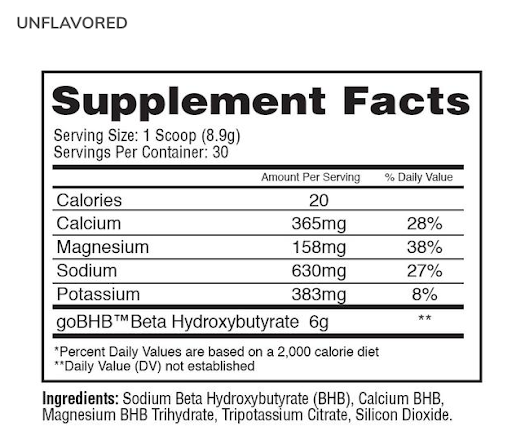 And this is Perfect Keto's Chocolate Sea Salt Exogenous Ketone Base: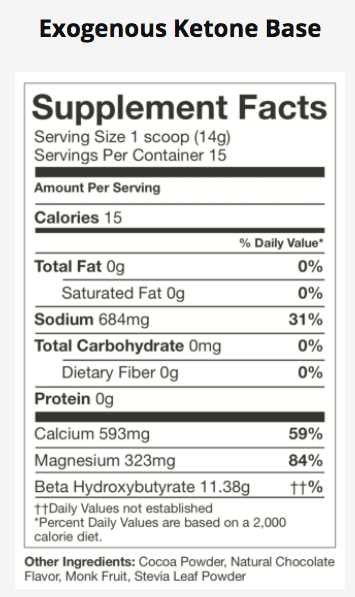 When comparing the two, you'll notice Perfect Keto's BHB count is 11.38g while KetoLogic's comes in at about half of that (6g).
You'll also find more essential minerals to keep away the dreaded keto flu in the PK option as compared to KL:
54mg more sodium

228mg more calcium

165mg more magnesium
KetoLogic's formula does have more potassium than Perfect Keto's (383mg compared to 0).
However, there's also another ingredient KetoLogic includes that PK doesn't: silicon dioxide.
You may not be familiar with this ingredient, but it's essentially an additive that prevents the powder from clumping.
Perfect Keto's products are free of chemical additives, preservatives and flavorings, and this one is no exception.
That's why you'll only find cocoa powder, natural chocolate flavor, monk fruit and stevia leaf powder in the PK exogenous ketone base.
Another staple of ketogenic diets is bulletproof coffee.
Let's see how these two tackle this one.
Perfect Keto vs KetoLogic: Keto-Friendly Coffee
Both brands understand a good keto-friendly cup of coffee can be the key to starting a productive and mentally-focused day.
So to help people achieve that, they each created a coffee product to provide both brain fuel and energy.
Here's how each version compares, starting with KetoLogic's Coffee Creamer: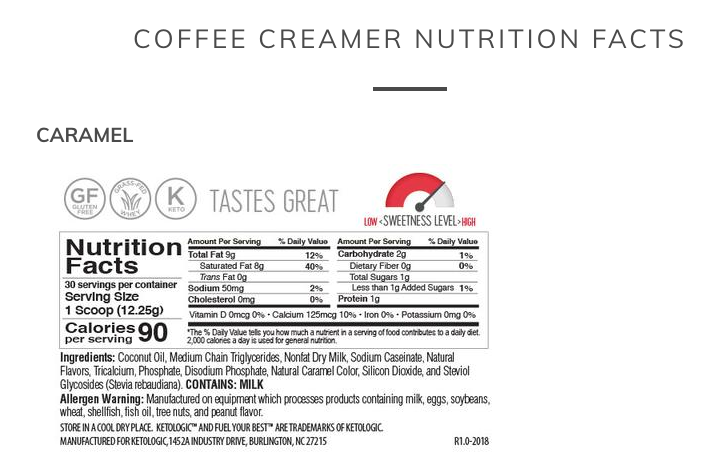 And here's Perfect Keto's Matcha Latte MCT Oil Powder: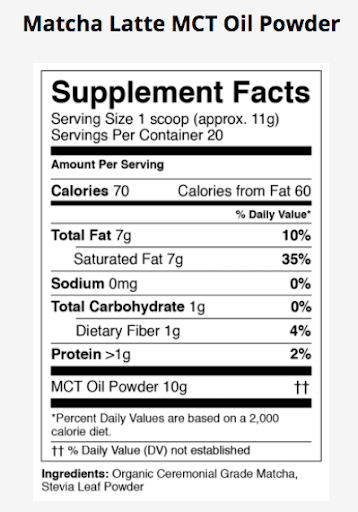 While they're not technically the same product, they're supposed to be used the same way and with the same intention (for increased energy).
You can see both brands include medium-chain triglycerides (MCTs), but KL doesn't list how many grams are in each serving. PK's is 10g per scoop if you're wondering.
The rest of the nutrition facts aren't too far off from each other: PK has 70 calories while KL has 90; and total fat for PK is 7g whereas KL delivers 9g.
Now check out the total carbs:
KetoLogic will set you back 2g, mainly from sugar and added sugar. There's just one carb in PerfectKeto's, which comes from fiber, so it nets itself out.
If you really want to start your day on the right keto foot, it should be with as little carbs (and sugar) as possible.
But that's not even the biggest difference with these two products.
It's actually in the ingredient list.
Take a look at KetoLogic's ingredient list one more time: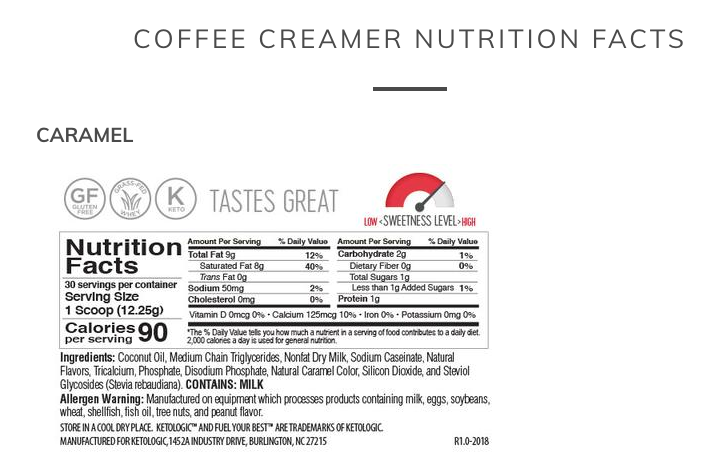 And here's Perfect Keto's again for reference: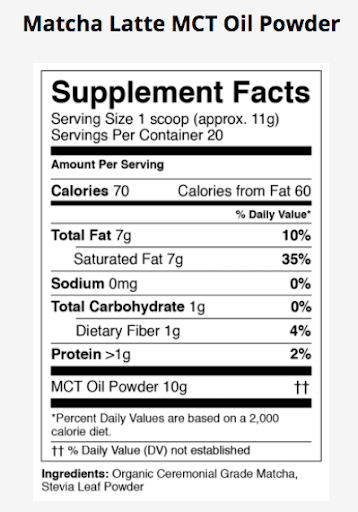 Notice anything different about these two labels?
KetoLogic has 5 times the amount of ingredients, most of which are just chemicals, such as:
Sodium caseinate

, a chemical version of casein which is one of the main ingredients that gives people allergic reactions to

dairy

[

*

].

Phosphate

, a flavor boosting additive which has been studied for its connection to increasing people's risk of cardiovascular events and even death[

*

]. This is not to be confused with natural phosphate found in foods.

Disodium Phosphate

is another food additive to help food taste better and it's one best avoided.

Silicon Dioxide

once again makes an appearance here. As a quick recap, this is an additive that prevents the powder from clumping.
Now when you compare those to Perfect Keto's two ingredient list of organic ceremonial grade matcha and stevia leaf powder, you can see the striking difference.
Both brands may be focused on helping people achieve the benefits of a ketogenic diet, yet they're going about it very differently.
You can trust there's no chemical flavors, additives or preservatives lurking behind the Perfect Keto label.
But in the end, it all comes down to which one is right for you.
Perfect Keto vs. KetoLogic: Finding the Right Fit
When you're just starting out with keto, products like KetoLogic seem like they'll be the quicker, easier route to meeting your weight loss and energy goals.
Bad news: this shortcut doesn't lead to the finish line. You may drop a few pounds and feel better, but you won't learn how to fuel your body correctly with real foods.
Perfect Keto is the total opposite.
You'll learn how to take control of your diet and recognize how certain foods affect your physical and mental health.
The addition of chemical-free supplements is supposed to optimize your efforts to get healthy, not do all the hard work for you.
So if you're ready to find out how to start a ketogenic diet for real, check out our ultimate guide on the topic.
And to see how Perfect Keto's products can help you on your keto adventure, visit this page next.