We all know and love them, but typical pancakes come with a big ole dose of carbs and lots and lots of sugar. If you're following a ketogenic diet, the last thing you want is to be served up a stack of pancakes that will kick you out of ketosis, leave you in 'full belly blackout' mode, and make your system lag. Insert these Pumpkin Spice Pancakes.
This humble, but mighty, breakfast will satisfy your sweet tooth while giving you a hefty dose of health benefits with each satiating bite. These Pumpkin Spice Pancakes will boost your energy levels, improve your skin and eye health, regulate your weight, all while being completely drool-worthy and delicious.
Bet your typical, non-keto pancake can't do that.
The main ingredients in this Pumpkin Spice Pancakes include:
Health Benefits of this Pumpkin Spice Pancakes are:
#1. Boosts energy levels
These Pumpkin spice pancakes are the perfect way to start your morning and will give you the energy you need to take on the day.
Almond Flour is low in carbs but high in healthy fats. Additionally Almond Flour is full of nutrients such as manganese, copper and riboflavin which have been shown to aid in your body's ability to generate and sustain energy levels [*].
Our Perfect Keto Collagen Salted Caramel is packed with MCTs (medium-chain triglycerides) that are your body's preferred source of energy. These MCTs are quickly converted into ketones that deliver sustained energy to your body and mind.
You can't have pancakes without butter. And by using Grass-fed butter you are infusing these pancakes with another source of might MCTs that provide energy to your body.
#2. Regulates your weight
These Pumpkin Spice Pancakes are sure to satisfy your appetite while also providing your body with nutrients that encourage a healthy waistline.
Through its abundance of healthy fats, fiber, and other nutrients Almond Flour can promote positive weight management throughout your body. Studies have shown that not only can almonds improve your cholesterol levels, aiding in weight management, but also can act as a low-carb substitute for other foods that can lead to a reduction in your waistline [*][*][*][*].
Pumpkin also acts as a forceful ingredient for your weight loss goals. Pumpkin is low in calories and high in water content which means it can help you feel full without adding extra weight. Additionally it's packed with fiber that aids in the digestive process and can lead to better gut health improving your weight management function [*].
Eggs are high in protein and a rich source of lutein, enabling them to aid in your weight loss goals. Research has shown how lutein can have a positive impact on your physical activity, aiding in your exercise and weight loss goals. Additionally, through their high protein content, eggs will keep you fuller for longer, helping to keep your appetite in check [*][*][*].
#3. Improves Skin and Eye Health
Not only will these pumpkin spice keto pancakes satisfy your tastebuds, but your eyes and skin will be thankful as well.
Pumpkin is loaded with nutrients that do wonders for your eyes and skin. For example, it's solid amounts of lutein, zeaxanthin, and beta-carotene have been shown to improve eye health and lower risks of cataracts and macular degeneration. Those nutrients in addition to strong levels of vitamin c, enable pumpkin to also provide nourishment to your skin, keeping it healthy and protecting it from harmful UV rays [*][*][*][*][*][*].
Similarly, eggs are jammed with lutein and zeaxanthin. These powerful nutrients are excellent for the health and strength of your eyes and skin.
Basically, what we're trying to tell you is there ain't no party like a keto pumpkin spice pancake party because a keto pumpkin spice pancake party don't stop… so let's get to the recipe.
Print
Fluffy Salted Caramel Pumpkin Spice Pancakes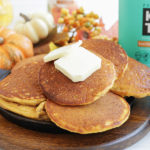 These gluten free pumpkin spice pancakes are the perfect weekday or weekend morning treat. They're filling, easy to make, and so very tasty.
Author:
Total Time:

15 minutes

Yield:

8

pancakes

1

x
Instructions
Add all ingredients to a large bowl. Whisk well until smooth. Let sit for 2-3 minutes.

Heat a large skillet and grease with non stick spray or extra butter. Divide and pour batter onto pan. Cook for 2-3 minutes until golden brown on each side.

Serve up these low carb pumpkin pancakes with our rich and creamy Pumpkin Spice Mocha

for the ultimate breakfast.
Nutrition
Serving Size:

1 pancake

Calories:

211

Fat:

18g

Carbohydrates:

5g

Fiber:

3g

Protein:

9g
Keywords: pumpkin spice pancakes