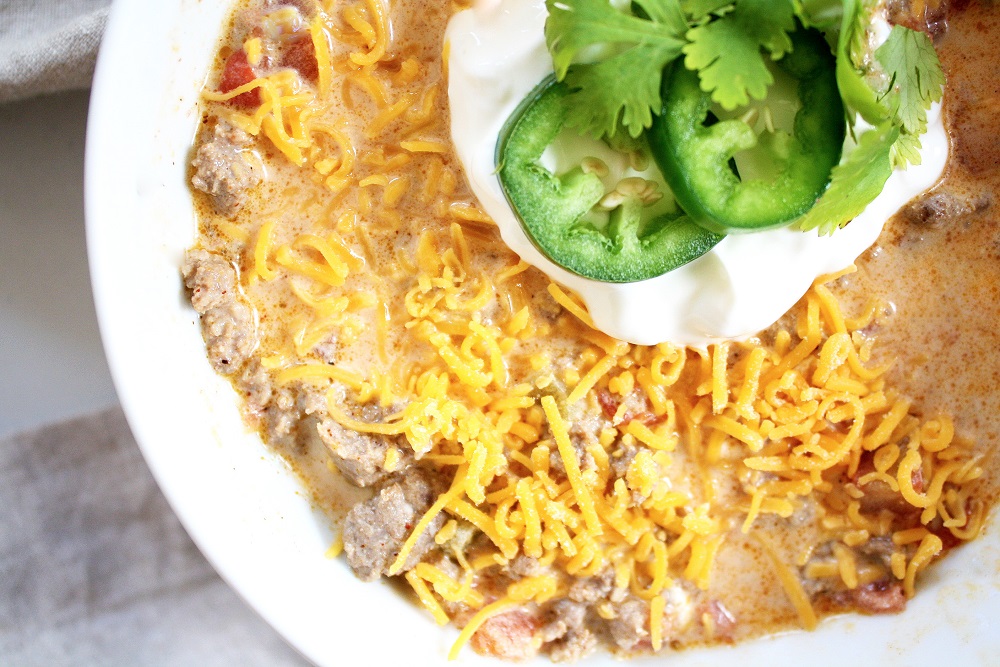 When it comes to eating healthy, your slow cooker is one of the best tools you've got — and probably underusing — in your kitchen. Slow cooking is one of the healthiest ways to cook meat because it locks in the nutrients and requires no deep frying. It brings out flavors and tenderizes the meat so well it won't matter what type of cut you throw in — and this low-carb taco soup recipe is no exception.
Ground beef is easy to work with in general, but this keto recipe keeps it flavorful and easy, sealing in the good stuff throughout the cooking process. It features delicious and nutritious ingredients that will satisfy the whole family. They won't even realize that they're chowing down on such a healthy feast.
Comforting, crowd-pleasing keto taco soup is perfect for colder weather, busy days and nights at home, or whenever your family or friends request it. (And after they try this dish, they will most certainly ask for it again.)
Your New Old Favorite: The Slow Cooker
You probably bought your slow-cooker when you rented your first apartment. Or maybe you received it as a wedding gift. Either way, chances are it's been collecting dust at the back of your cabinet for a while, waiting for the one time a year you make chili. This recipe will have you dusting off that slow cooker and putting it to good use from here on out.
There's a world of easy slow cooker recipes out there waiting to be discovered. With your slow cooker you can create easy, hearty, keto recipes, casseroles, stews, soups, and even dry-rubbed ribs with all the nutrients and flavors locked in.
Skip the stovetop and save yourself some time in the kitchen by exploring the possibilities. Your keto diet and your slow cooker might just become best buddies.
Get Spicy Health Benefits With This Keto Taco Soup
Keto taco soup is particularly tasty thanks to its abundance of spices. The homemade taco seasoning in this recipe includes chili powder, red pepper flakes, oregano, paprika, and cumin. All of these spices benefit your health in various ways.
Here are some of the health benefits of the spices in this keto taco soup.
Peppers
Chili powder, red pepper flakes, and paprika are each derived from various peppers. Chili powder is generally made from a variety of ground hot chili peppers, most often ancho, cayenne, jalapeño, and pasilla chilis. From there, spice makers usually add in other seasonings like black pepper, oregano, cumin, and garlic.
Red pepper flakes can also be made from a variety of peppers. Most often, it's made from dried red cayenne, but it can also be made from dried jalapeño peppers. The peppers are either sun-dried or dried in a low-heat oven and then crushed.
Paprika is the least spicy of these because it's made out of red bell peppers, which are sweet and not at all spicy.
Capsaicin
Peppers of all kinds (except bell peppers) contain some amount of capsaicin. Capsaicin is the ingredient that makes peppers hot, and it has a laundry list of amazing health benefits.
It's known for its ability to boost metabolism, reduce appetite, and lower blood pressure [*][*][*][*]. This can potentially help with weight loss, although your body can build up a tolerance over time.
That being said, if you've started the keto diet to lose weight, it wouldn't be a bad idea to load up on peppers (if you can handle the spice) to help further your efforts.
One study found that the combination of capsaicin (in the form of cayenne pepper) and MCT oil added to breakfast yielded a 51% greater calorie burn than the control group[*].
Furthermore, capsaicin has also been studied for its effects on healthy digestion and immune function. Cayenne pepper specifically was the subject of a study that showed it boosted immunity in the stomach against infections and promoted the production of digestive fluids to help deliver enzymes that break down food[*].
Other research shows that peppers containing capsaicin may help with pain relief when used topically (in the form of a cream), improve psoriasis, and even reduce the risk of prostate, pancreatic, and skin cancer[*][*][*].
Vitamins and Minerals
Even if bell peppers don't offer the plethora of capsaicin's health benefits, they have their own trove of micronutrients to offer. Red bell peppers are very high in vitamin C, A, B6, E, K1, folate, and potassium[*].
In fact, one small, raw, red bell pepper is just 23 calories with 3.1 net carbs. It also has 158% of the recommended daily value for vitamin C. That's more than an orange!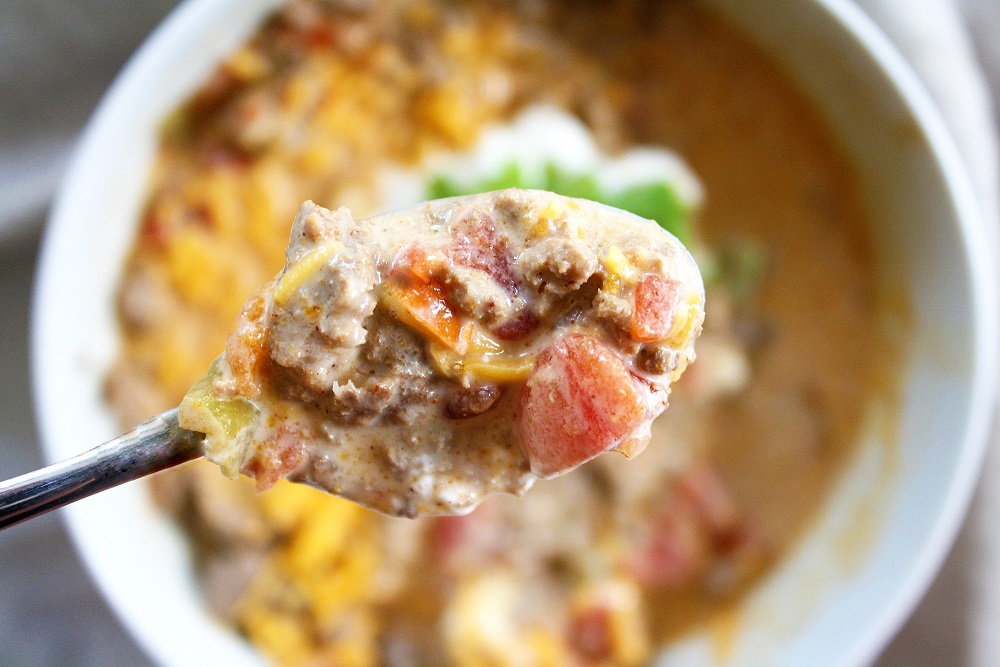 The Famous Tomato Debate: Raw vs. Cooked
Tomatoes are the major veggie — sorry, fruit — source of lycopene, the antioxidant linked to heart health and reduced risk of heart disease and cancer. Fun fact: Lycopene content increases when tomatoes are cooked.
Boxed or BPA-free canned tomatoes are not only easier to use in a recipe like this one for keto taco soup, but they're also packed with more lycopene than raw tomatoes. It's one of the few areas where getting the pre-cooked option offers a bigger nutritional benefit.
In one study, tomatoes were cooked for 2, 15, and 30 minutes. Vitamin C went down by 10%, 15%, and 29%, respectively, and beneficial trans-lycopene content went up by 54%, 171%, and 164%, respectively[*].
So, this means you'd still want to incorporate raw tomatoes into your diet to obtain adequate vitamin C intake — or leave it to the red bell peppers. But, in terms of receiving the antioxidant benefits from lycopene, it's a good idea to cook your tomatoes.
Print
Slow Cooker Keto Taco Soup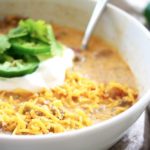 One of the best kitchen tools is a slow cooker or Crock Pot. This yummy and hearty keto taco soup is flavorful and has all the nutrients locked in for a hearty, low-carb meal.
Author:
Prep Time:

15 minutes

Cook Time:

4 hours 15 minutes

Total Time:

4 hours 30 minutes

Yield:

8

1

x
Category:

Dinner

Cuisine:

American
Scale
Ingredients
Optional toppings for garnish
1/4

red bell pepper, diced

⅓ cup

sour cream

2 tbsp

fresh cilantro

1

medium jalapeño, thinly sliced
sliced avocado
Instructions
In a large pan over medium heat, saute ground beef until fully browned. Once cooked, drain the grease.
In the slow cooker, add beef, spices, cream cheese, and diced tomatoes with green chilis. Stir to combine.
Once combined, pour in beef broth and heavy cream. Stir well.
Set slow cooker to low for 4 hours.
Serve in bowls and top with desired garnishes.
Notes
The red pepper flakes, dried oregano, paprika and cumin can be replaced by 2 teaspoons of taco seasoning if you're in a pinch.
Nutrition
Serving Size:

1 cup

Calories:

398

Fat:

29g

Carbohydrates:

7.5g (Net: 6.9g)

Protein:

28.5