If you're just starting your keto diet journey, this keto cheeseburger casserole will easily become one of your favorite go-to dishes.
From cauliflower "mac and cheese" to chicken and zucchini keto casseroles, casseroles are incredibly easy to prepare and are a great way to make sure picky eaters are consuming their veggies in a delish and non-fussy way.
While traditional cheeseburger casseroles normally contain high-carb ingredients such as pasta, this keto cheeseburger casserole version is the ultimate low-carb main dish. It's ready in under an hour and is a keto-friendly main course that everyone will enjoy.
This low-carb recipe has all the taste of your favorite burger, with just a fraction of its net carbs. You'll be getting an entire family-size meal in just one casserole dish.
If you're feeling adventurous and want to amp up the fat content, you can turn it into a bacon cheeseburger casserole by adding keto-friendly bacon pieces on top.
Casseroles are traditional American comfort food, and cheeseburgers are an all-time favorite, so you really can't go wrong with this one.
This keto cheeseburger casserole is:
Cheesy
Filling
Garlicky
Tasty
The main ingredients are:
Garlic
Grass-fed ground beef
Eggs
Optional ingredients:
Low-sugar ketchup
Jalapeno peppers (for a spicy twist)
4 Health Benefits of This Keto Cheeseburger Casserole Recipe
The main goal of the keto diet is to keep your body running at its optimal state and in a state of ketosis. This recipe is packed with health benefits while keeping your daily carb values in check.
Here are some of the health benefits of the ingredients in this delicious casserole.
#1: Can Support Heart Health
The benefits of garlic seem to be endless. This powerful natural ingredient can deliver a wide array of benefits, some of which can positively impact heart health. Consuming garlic in generous amounts may help prevent heart disease, reversing some of the markers associated with coronary conditions[*].
Studies show that garlic can help reduce blood pressure and stabilize your blood lipids which, when out of balance, can ultimately contribute to atherosclerotic plaques — a leading factor in heart disease and stroke[*][*][*][*].
This recipe calls for black pepper, and even though this spice doesn't usually get much credit for its health benefits, research has shown that black pepper contains antioxidants that may benefit your heart. This pungent seasoning may also help to protect you against type 2 diabetes[*].
Although you'll be using only a small amount of black pepper in this recipe, you can add black pepper to almost any savory meal you cook.
#2: May Boost Your Defenses Against Cancer
Buying grass-fed beef is essential to ensure the nutrient-density of your meal. When compared to regular beef, grass-fed beef is higher in several nutrients, including CLA (conjugated linoleic acid)[*].
CLA is best known for its role in sustainable weight loss. However, according to some research, it has also shown great potential in protecting against certain types of cancer[*].
In one study, researchers found an inverse association between the risk of breast cancer in women and their dietary and serum CLA content[*].
Garlic has also been shown to support your immune defenses.
It contains powerful antibacterial properties and sulfur compounds that may reduce the risk of stomach, colon, pancreas, and breast cancers, to name a few. The National Cancer Institute has officially recognized garlic's impact on strengthening the immune system[*][*][*][*].
#3: Great Source of Antioxidants
There is a reason why garlic is a staple in many cooking traditions around the world. Garlic is not only extremely flavorful, but it's also particularly rich in antioxidants. In addition to reducing oxidative stress in your cardiovascular system, the antioxidants present in garlic may also help prevent cognitive diseases like Alzheimer's and dementia[*].
The lutein and zeaxanthin in eggs deliver antioxidant support to your eyes and are well-researched for their role in protecting you from diseases like macular degeneration and cataracts[*][*][*].
#4: Can Promote Bone Health
The combination of cream cheese, heavy cream, and cheddar can turn this recipe into a powerhouse of benefits when it comes to your bone health.
Dairy is a great source of calcium. Dairy intake is one of the best ways to keep your calcium levels healthy since it's easily absorbed by the body[*].
Studies have shown that regular consumption of milk derivatives throughout life is likely beneficial to skeletal health and may even help decrease waist circumference and fat mass[*].
Researchers have also found that a peptide found in egg yolk can be an effective, natural alternative in the management of osteoporosis[*].
Keto Recipes That Will Make Your Low-Carb Diet Easy
This cheeseburger casserole will quickly become one of your favorite recipes. It goes perfectly with a side salad, and if you're really feeling the cheeseburger vibe, throw some diced tomatoes and sliced dill pickles on top.
Your keto meal plan should be as varied as possible. This will not only to fulfill all your body's nutritional requirements, but it will also ensure you won't get easily bored and end up reaching out for some high-carb options — which can be quite common when following a low-calorie diet.
If you're looking for keto inspiration or new recipes to include on your low-carb meal plan, check out these yummy keto-friendly choices that will help you stay in ketosis and remain well under your net carb allowance:
If casseroles are your thing, here are some other keto-inspired ideas:
Print
Keto Cheeseburger Casserole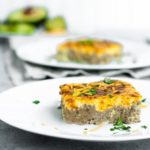 This low-carb keto cheeseburger casserole is the perfect addition to your weekly meal plan. You can even prep it ahead of time for a simple, hassle-free meal for your busy week.
Author:
Prep Time:

20 minutes

Cook Time:

20 minutes

Total Time:

40 minutes

Yield:

12

pieces

1

x
Instructions
Preheat oven to 375°F.

Grease your casserole dish, and set it aside. 

Place a large pan or large skillet onto your stove at medium-high heat. 

Drizzle in some olive oil, add the garlic and saute it until it becomes fragrant, which usually takes a couple of minutes. 

Add the grass-fed ground beef and cook until brown. Drain the excess liquid and grease. 

Mix in the cream cheese, salt, and pepper. Once you've combined those ingredients into your pan, stir them until the cream cheese has fully melted, and transfer the mixture to your greased baking dish. 

Grab a medium bowl, add the eggs, heavy whipping cream, mustard, and 1 cup of shredded cheddar cheese. 

Use an electric mixer and mix it on medium-high until it's thoroughly combined, then pour the egg mixture on top of the beef mixture that's already in your casserole dish. Top it off with the remaining shredded cheddar cheese.  

Place the casserole dish into the oven, baking until the edges are golden brown, which will take about 15-18 minutes. Once the sides are nice and golden, broil the casserole for 2 minutes then remove it from the oven, allowing it to cool for a few minutes.
Nutrition
Serving Size:

1 piece

Calories:

234

Fat:

14.8g

Carbohydrates:

1.4g

Protein:

22.4g
Keywords: Cheeseburger Casserole