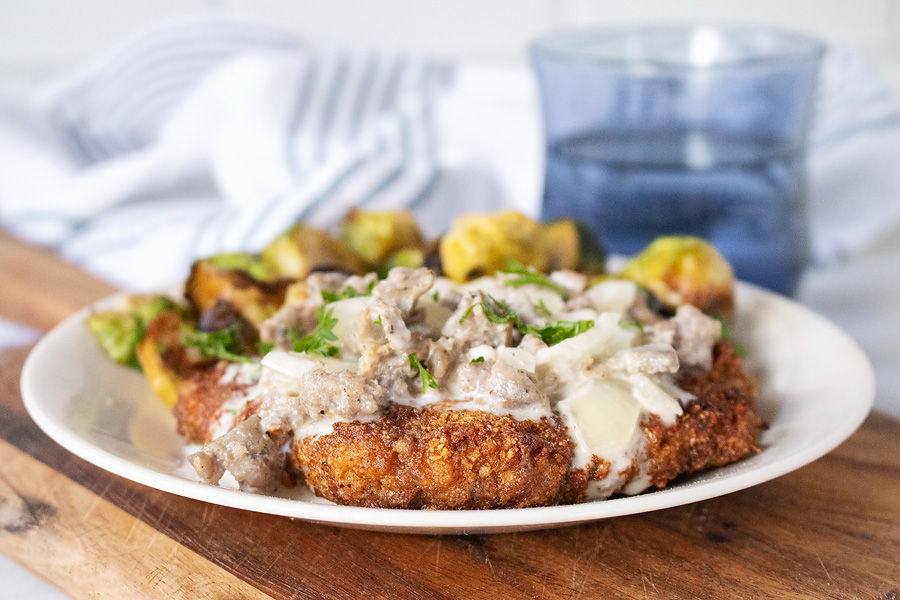 The first time I visited extended family in Texas when I was a small child, I remember my aunt suggesting we try some real southern comfort food. Coming from California, it's safe to say that you won't find many flavors and dishes traditionally made in the south very easily here. The only thing I did know was that as soon as I stepped into that restaurant, I was met with the most delicious aromas and walking by each table filled with food my eyes got wider and wider.
Everything looked so rich and flavorful. One dish in particular did catch my attention though. It was golden brown, looked like crispy fried chicken, and was smothered in a creamy white sauce. When I was asked what I wanted to order, I immediately pointed to that dish at a nearby table. The waitress said are you sure?  That's a big chicken fried steak for a little girl but, great choice and it's our speciality! When the food arrived, I couldn't wait to dive in. It was everything I imagined and more! I think I surprised everyone when I almost cleaned my plate.
Sadly, that was the first and last time I was able to enjoy the amazing dish for many many years because it's just not something you find done properly on the west coast. Recently though I had an overwhelming craving for it and figured it was time to try and make it myself! Now you may be thinking there is no way that chicken fried steak can be eaten on a low carb diet right?  You will be pleased to know that not only can it be eaten, you can feel really good about it! This is actually the perfect dish for ketogenic eaters. Grass fed beef loaded with nutrients, healthy fats to keep you fueled, and all of the rich flavor your heart desires. Not only did this bring me back to my childhood, but it was every bit as good as I remembered it! The best part is the entire family devoured it as well and has now become a regular request for dinner.
Keto Chicken Fried Steak Ingredients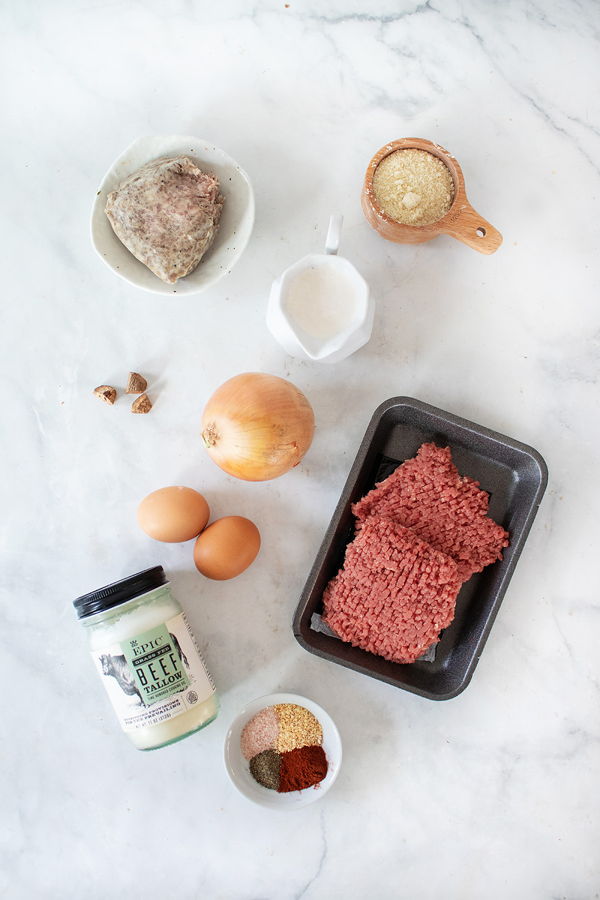 For Chicken Fried Steak
Cube Steak- grass fed and pre-tenderized
Eggs- large, whole eggs
Heavy Cream- either heavy cream or heavy whipping cream
Flour- a mixture of almond flour and a bit of tapioca starch or arrowroot flour
Seasoning- a mixture of paprika, onion powder, garlic powder, salt, paprika, and black pepper
Beef Tallow- animal fats are great for frying and can withstand the high, constant heat
For Creamy Sausage Gravy
Sausage- breakfast sausage usually seasoning with a mixture of sage, marjoram, and cloves
Heavy Cream- either heavy cream or heavy whipping cream
Nutmeg-  a little goes a long way with nutmeg, but ground nutmeg will add a great layer of special flavor to the gravy
How to Make Keto Chicken Fried Steak
Prepare Steak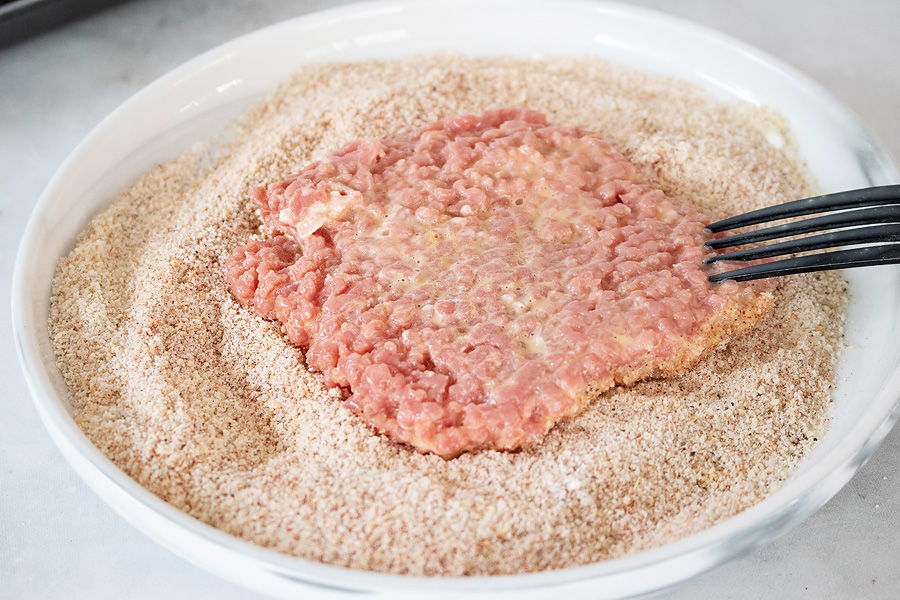 Make breaded coating by adding eggs and heavy cream to one shallow dish and dry ingredients to another shallow dish. Dredge steaks in wet mixture, then in dry.  Shake off any excess.
Fry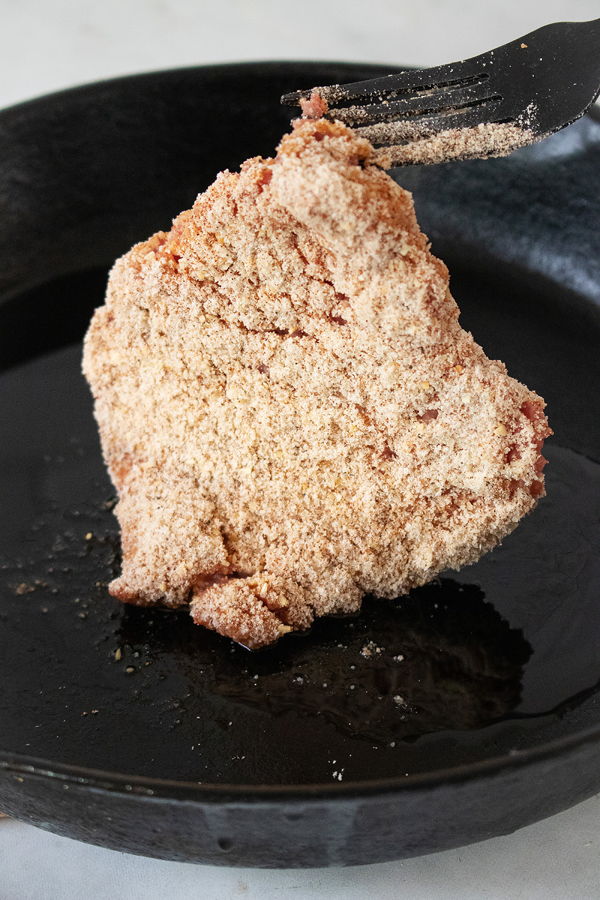 Once the beef tallow is completed melted and the pan is very hot, add steaks. Resist the urge to move the steaks around and flip them. Wait until the bottom is golden brown and crispy. Turn steak over and cook on remaining side.
How to Make Creamy Sausage Gravy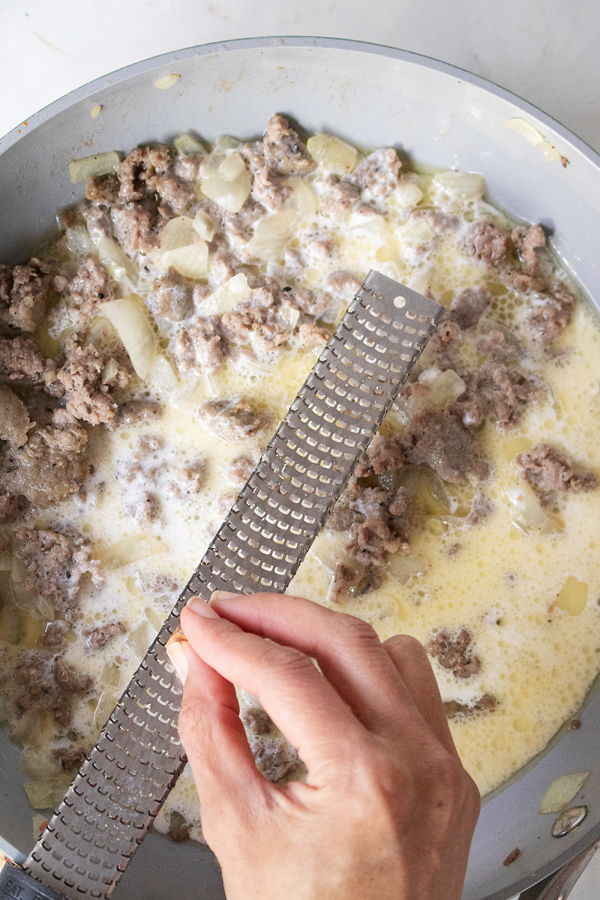 Cook sausage, onion, and garlic in a large pan. Add heavy cream, spices, and simmer until thickened. bgy
Keto Chicken Fried Steak FAQs
What type of oil should I use when frying?
The best fat to use in cooking and frying is animal based fats because they have a high smoking point and will not oxidize the same as other oils. Avoid soybean oil, vegetable oil, peanut, canola, and safflower oil. You can read more about oils to avoid in this Perfect Keto article.
How do I store this keto fried steak recipe?
Leftover steaks can be stored in an airtight container in the fridge for up to 3 days. To reheat, preheat oven to 400°F. Bake for 20 minutes until coating is crispy and meat is heated through.
What to serve with keto fried steak?
How do I get a crispy coating on chicken fried steak?
The key to a great crispy coating is making sure the meat is very dry before you dredge it in the wet and dry mixtures. Use paper towels to pat the steaks dry. Often times the moisture creates steam during the cooking process which separates the breading from the meat. Also be sure to completely dredge the steaks in the wet mixture so the dry mixture adheres well.
How many carbs in chicken fried steak without gravy?
This low carb chicken fried steak recipe has 7g total carbs, 2g fiber, and 5g net carbs.
Can I fry keto chicken fried steak in air fryer?
Yes!!! Preheat air fryer to 370°F.  Once heated to temperature, add steak and lightly coat with cooking spray. Cook on each side for 12-15 minutes.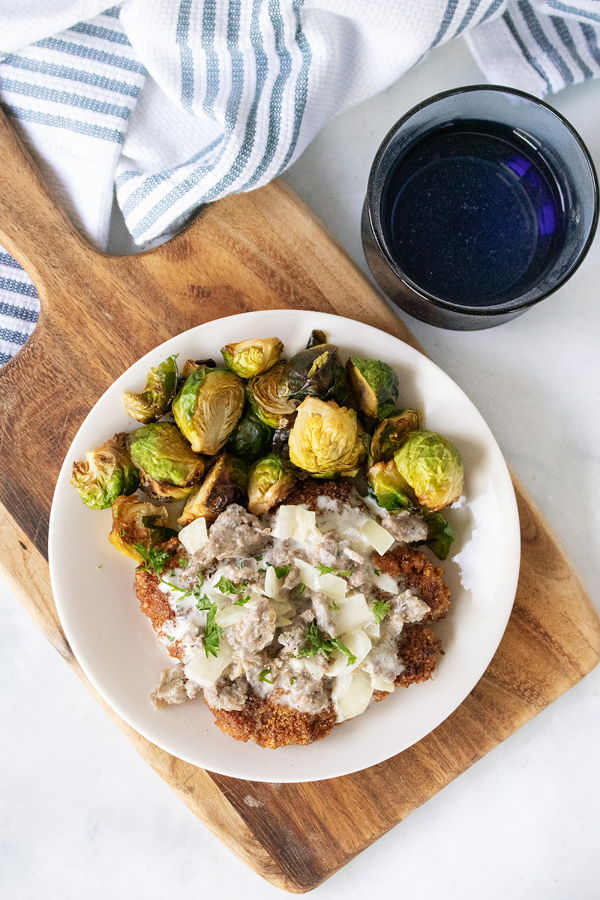 Print
Keto Chicken Fried Steak with Sausage Gravy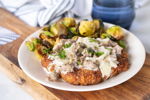 This chicken fried steak with sausage gravy is the ultimate in homemade comfort food! Seasoned batter, pan fried to golden perfection, with a rich gravy, and the best part is this recipe can be enjoyed on your keto diet. Get ready to indulge in this classic comfort food!
Author:
Prep Time:

5 minutes

Cook Time:

25 minutes

Total Time:

30 minutes

Yield:

6

servings

1

x
Scale
Ingredients
Steak:
1

pound cube steak (¼" thick)

2

egg

1/4 cup

heavy cream 

3/4 cup

almond flour

2 tablespoons

tapioca starch

1 teaspoon

onion powder

1 teaspoon

onion powder

1 teaspoon

paprika

1 teaspoon

salt

1/2 teaspoon

pepper

2 tablespoons

avocado oil

1/4 cup

beef tallow
Sausage Gravy:
1

pound breakfast sausage

1

small onion (finely diced)

2

cloves garlic

1

–

1/4

cup heavy cream

1/2 teaspoon

salt

1/4 teaspoon

pepper

Pinch nutmeg
Instructions
In a shallow dish combine eggs and heavy cream.  Whisk to combine.

In a separate shallow dish, add almond flour, tapioca starch, onion powder, paprika, salt, and pepper.  Whisk to combine.

Add avocado oil and beef tallow to a large cast iron skillet set over medium-high heat.

Dip each steak in the egg/cream mixture to coat both sides, then add to the dry mixture and coat both sides.  Shake off any excess flour.

Gently place each steak into cast iron skillet.  Fry until golden brown on both sides.  Remove from the pan and set on a wire rack.

To make gravy, add onions and garlic to a large pan and cook until fragrant.  Add sausage and cook until browned.

Add heavy cream, salt, pepper, paprika, and nutmeg.  Stir and let simmer for 5-7 minutes until thickened.

Pour over steaks to serve.
Nutrition
Serving Size:

1 cup

Calories:

295

Fat:

25g

Carbohydrates:

6g

Fiber:

1g

Protein:

14g
Keywords: keto chicken fried steak