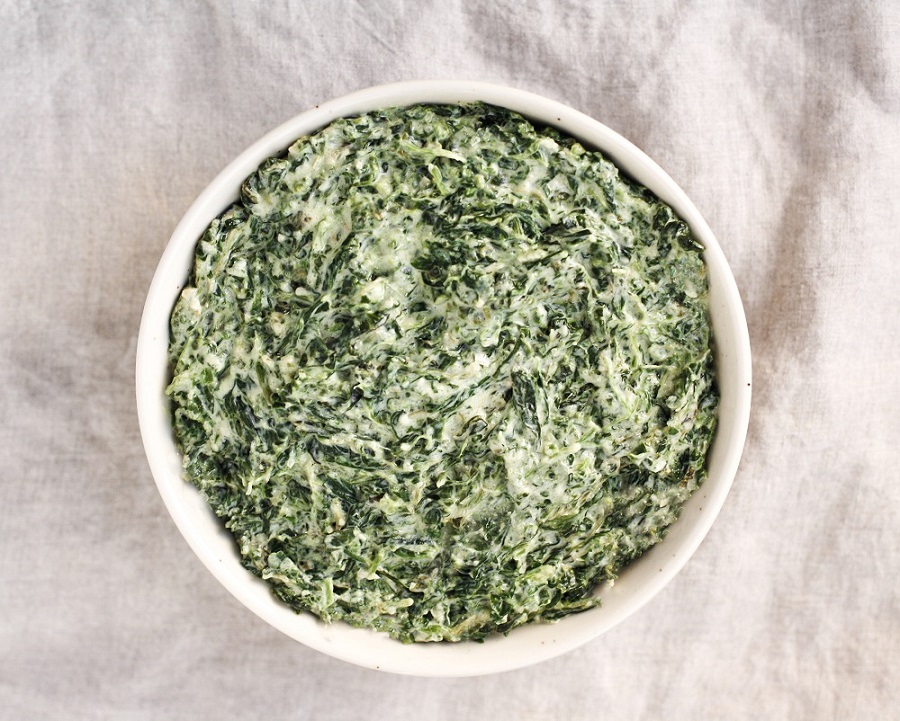 Whether you're looking for an appetizer to bring to a party or you're having a quiet night at home, this keto creamed spinach is the perfect side dish. Not only can it be a small dip, but you can make it into a larger casserole to serve with protein for your next dinner.
Gluten-free and paleo, this keto creamed spinach is one of the easiest low-carb recipes to make. Don't be surprised if you want to add this delectable keto side to your regular meal rotation.
How to Make Easy Keto Creamed Spinach
What makes this keto creamed spinach the perfect dish to add to any meal? For starters, its main ingredients pack some serious nutritional punch, not to mention quite filling. Some of the key components of this recipe include:
Spinach Nutrients 
Although spinach is sometimes overlooked when it comes to greens, it's one of the most nutrient-packed foods you can eat.
Nutrition Info
Just one cup of spinach contains[*]:
145 mg of vitamin K
141 mg of vitamin A
58 mg of folate
24 mg of magnesium
30 mg of calcium
167 mg of potassium
All of these nutrients are included while weighing in at just seven calories with the macronutrients of one gram of protein and one gram of fiber per cup.
All of these factors are important to consider when looking for low-carb or ketogenic recipes. This creamed spinach yields a total of about 5 net carbs and 35 grams of fat, making it an amazing low-carb alternative to potatoes or pasta in classical dishes.
Amino Acids in Spinach
In spinach, you also get 18 amino acids, including:
Serine
Alanine
Aspartic acid
Glutamic acid
Glycine
Proline
Cystine
Phenylalanine
Tyrosine
Valine
Arginine
Histidine
Tryptophan
Threonine
Isoleucine
Leucine
Lysine
Methionine
With all of these healthy fats and good flavor, you'll never feel like you're depriving yourself of your favorite foods. Try this keto creamed spinach recipe to make sure you maintain ketosis and stick to your macro goals for the day. You can also use the Perfect Keto calculator to help you stay on track.
Health Benefits of Spinach
There are plenty of health benefits when it comes to spinach. It's a powerhouse vegetable that rejuvenates your body with nutrients you need, particularly on a keto diet.
Spinach is loaded with antioxidants that can fight aging, cancer, and diabetes[*][*]. This is because free radicals are natural byproducts of metabolism. But antioxidants — like those found in spinach — fight oxidative stress and the damage it can cause[*].
Spinach also has MGDG and SQDG, which have been linked to slowing down cancer growth. In fact, eating spinach has been linked to reduced risk for prostate and breast cancers[*][*].
Another amazing health benefit of spinach is that is can help decrease heart disease risk[*]. It can boost heart health by lowering blood pressure[*].
With these health benefits, spinach should definitely be on your keto meal plan.
Keto Creamed Spinach With Low-Carb Chips
One way to enjoy this creamed spinach recipe is as a dip. Instead of potato chips, try one of these low-carb chip substitutes:
Radish chips
Cucumber chips
Can You Use Fresh Spinach? 
This recipe uses frozen spinach because it cuts down on food waste. Frozen spinach can stay in your freezer for up to 3 months. But fresh spinach begins to wilt in the refrigerator after a few days.
If you know you'll have time to prepare this dish, you can certainly use fresh baby spinach instead.
One 10-ounce package of frozen spinach is about a pound of fresh spinach leaves. The spinach cooks down a lot. You might have to add fresh spinach to the saucepan a little at a time until it all cooks and shrivels.
Creamed Spinach Recipe Ideas
Along with its nutritional value, the great news about this keto creamed spinach is how versatile it is. Here are a couple of ideas to mix it up.
Add Pureed Cauliflower
If you want to add a bit more fiber and veggies to this dish, throw in some pureed cauliflower. It makes this recipe thicker, and you'll feel fuller after eating less of it.
Here's how to add cauliflower to creamed spinach:
Boil 2 cups of cauliflower florets until they are fork-tender.
Drain.
Put the florets in a food processor.
Pulse until they are completely chopped.
Add the puree to the creamed spinach.
Add Mozzarella
This recipe uses heavy cream, cream cheese, and grass-fed butter. Cheese, butter, and cream are all good sources of calcium and vitamin D[*].
Something else that will make it even creamier is using mozzarella. Throw in about a cup of shredded mozzarella cheese with all the other ingredients and let it melt. You won't believe how much this elevates the recipe in taste and texture.
Best Spices to Use for Low-Carb Creamed Spinach
This recipe calls for minced garlic, salt, and black pepper as the main spices. But you can add the below seasonings for an extra hit of flavor.
How to Make Keto Spinach in the Slow Cooker
You can also make this recipe in a slow cooker using either frozen or fresh spinach. Both work perfectly.
Since the spinach and cheese all cook so quickly, this isn't a recipe you can let cook all day long. It only needs a few hours. If you have a slow cooker with a timer, you can set it to turn on a few hours before you are ready to eat.
Here's how to make keto creamed spinach in the slow cooker.
Add all the ingredients to the slow cooker.
Stir them together to combine them.
Cook on low for 3-5 hours or on high for 1-3 hours.
How to Make Keto Creamed Spinach Casserole
Another option is to bake this spinach dish in the oven. This is a good option if you need to keep it warm before dinner. The directions are basically the same. You still have to melt all the ingredients together on the stove.
The only difference is that after you cook it on the stove, put it in a greased casserole dish. Then, bake the creamed spinach in the oven at 300°F for about 20 minutes. Keep an eye on it so the cheese doesn't burn.
Are you ready? Here's the printable recipe card. This is going to be one of your favorite keto recipes ever.
Print
Deliciously Perfect Keto Creamed Spinach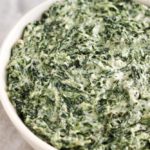 This creamed spinach using cream cheese, grass-fed butter, garlic, and spinach is a great low-carb alternative to regular potato or pasta sides.
Author:
Prep Time:

10 minutes

Cook Time:

10 minutes

Total Time:

20 minutes

Yield:

4

servings

1

x
Category:

Sides

Cuisine:

Italian
Instructions
In a medium pan, over medium heat, saute 3 tbsp butter and minced garlic until fragrant, about 2 minutes. Add spinach and allow to cook for about 5 minutes.

In a small pot, over medium heat, melt together remaining 1 tbsp butter, cream cheese, parmesan cheese, heavy whipping cream, salt, and pepper.

Pour cream sauce over spinach and mix together.

Serve immediately.
Nutrition
Calories:

367

Fat:

35.6g

Carbohydrates:

9.8g (Net Carbs: 5.6g)

Protein:

10.4g
Keywords: Perfect Keto Creamed Spinach