Low-carb breakfasts can get tired if you've been on the ketogenic diet for a while. You probably thought you've made eggs every way you could possibly make them. But if you haven't tried these keto egg muffins, you're missing out on one of the best ways to spice up your egg game. 
This recipe is gluten-free, grain-free, low-carb, and super versatile. It's the perfect healthy breakfast for the keto or paleo diet with very few net carbs per serving.
This breakfast recipe is also a quick and easy keto option to fit into your on-the-go lifestyle. It's perfect for reheating on your workday mornings or even a quick afternoon snack. 
There's no meal prep required for the whole week when you make these savory breakfast muffins ahead of time. Just a quick 30-second reheat in the microwave gets you these yummy treats. Make them fresh for a Sunday brunch alongside your keto coffee or other keto breakfast sides, and you have breakfast all week long.
What's In Keto Egg Muffins?
The ingredients in these keto egg muffins are not only delicious, but they're also nutritious. Starting your day with healthy fats, a good dose of protein, and lots of low-carb veggies is a great way to ensure that you're getting everything you need to stay healthy on the keto diet. 
Many of the ingredients in this recipe are collagen boosting foods. Collagen is a key ingredient for most of the tissue in your body and has many health benefits. 
Think of collagen as the glue that holds your body together. It's the human body's most abundant protein, present in muscle tissue, skin, bones, tendons, ligaments, and fingernails. Your body can make it, but it's also helpful to consume it in the foods you eat every day[*]. 
You may have noticed anti-aging skin care products featuring collagen as an ingredient in their topical products. That's because collagen is a key component in the skin that keeps it supple and smooth. It also helps prevent sagging skin and signs of aging. 
The problem with those products is that collagen can't actually be absorbed that way. The proteins are too big to fit through the skin matrix. The best way to get collagen into your skin is to eat the ingredients necessary to make it in your daily diet. Your body synthesizes collagen from the foods you eat. 
Eating collagen-rich foods (like bone broth) and foods rich in the building blocks of collagen (namely vitamin C) is an effective way to boost collagen production in your body[*]. These egg cups can help get you there with their delicious ingredients.
The main ingredients in these keto egg muffins include:
Eggs

Spinach

Bell pepper

Onion

Mushrooms

Sausage
Eggs: The Star of the Show
Eggs are an excellent source of protein, but they also help keep skin and joints healthy because they contain lutein and zeaxanthin. They're also choline-rich, which means they assist in liver and brain development. Your body produces choline, but it's also important to consume this micronutrient in your diet[*]. 
Other important micronutrients that eggs contain include zinc, selenium, retinol, and tocopherols[*]. Each of these nutrients is also an antioxidant that is underrepresented in the standard American diet. 
Antioxidants are important protective nutrients that neutralize free radicals in your body to ward off disease-causing oxidative stress and inflammation. Both of these are linked to chronic diseases like heart disease, obesity, and Alzheimer's, and even many cancers[*][*].
Eggs are among the most reliable source of fat and protein on the keto diet. They're also a good source of healthy cholesterol. Contrary to what many assume about cholesterol, dietary cholesterol doesn't create heart disease. No need to focus on egg whites; just eat the whole egg, yolk and all. In fact, the yolk is where most of the nutrients reside. 
Cholesterol is a critical ingredient in the creation of sex hormones in the human body. Your body needs cholesterol for important functions, so you don't have to avoid it entirely[*]. 
Eggs are easy to cook, transportable, and carb-free. But it's definitely possible to get bored eating the same egg dishes. These muffin cups give you a new way to enjoy this trusty part of the keto diet.
Vegetables: The Supporting Cast
The great thing about these egg cups is that you can mix and match the veggies and spices each time you make them. Use whatever's in your fridge or be deliberate about switching up the veggies in your keto egg muffins each time. 
The standard recipe below features nutrient-dense veggies that will give you an array of vitamins and minerals to help you through your day. (And they'll help you make collagen too.)
Spinach:

This leafy green contains vitamins A and K, as well as folate. It has anti-inflammatory and antioxidant abilities and is easily one of the most nutrient-dense plants you can add to a multitude of keto recipes[

*

][

*

].

Bell peppers and onions

: Both contain vitamin B6. Studies have shown that vitamin B6, when taken or eaten with foods rich in folate (like spinach), reduce total homocysteine levels. High levels of homocysteine are linked to inflammation and the development of heart disease[

*

]. 
If you're looking to mix up this recipe after you try it with the ingredients above, you have tons of options. Swap the spinach for kale to increase your manganese, vitamin A, and vitamin K intake. 
Swap green bell peppers for orange or red bell pepper to increase your vitamin C intake, or add some kick with a chopped jalapeño or red pepper. If you want to skip nightshades altogether, drop the peppers and onions and add garlic powder or roasted garlic and chopped zucchini. 
The opportunities to add vegetables into these yummy keto egg cups are endless. 
Now that you know more about why the ingredients are so beneficial for your health, let's get to the recipe.
Pro tip: Batch cook these on a Sunday for an even quicker morning fix in your meal plan.

Print
Quick and Easy Keto Egg Muffins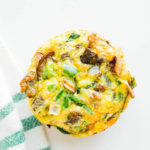 Looking for a quick and easy keto breakfast option when you're on the go? Try these egg muffins that are sure to satisfy your brekkie needs.
Author:
Total Time:

30 minutes

Yield:

9

egg muffins

1

x
Scale
Ingredients
6

eggs, whisked

½ cup

breakfast sausage, cooked

¼

red onion, chopped

2 cups

spinach, chopped

½

green bell pepper, chopped

½ cup

mushrooms, chopped

½ teaspoon

turmeric

1

scoop

Perfect Keto MCT Oil Powder
Instructions
Preheat oven to 350℉ and grease a muffin pan and set aside.

In a medium-sized mixing bowl, add all of the ingredients except avocado, stirring together until well combined.

Grease a muffin pan with coconut oil and gently pour in the egg mixture evenly into each cup.

Bake for 20-25 minutes, or until golden brown.

Allow to cool slightly and then enjoy.
Nutrition
Serving Size:

1 egg muffins

Calories:

58

Fat:

4g

Carbohydrates:

1.5g

Protein:

4.3g
Keywords: keto egg muffins