This recipe for keto stuffed mushrooms is sure to be a popular appetizer for your next gathering. Not only is it extremely flavorful, but it's also amazingly easy to prepare.
These low-carb stuffed mushrooms contain protein, healthy fats, and very few carbs, so you can enjoy this hearty, filling, and simple dish without worry.
These little morsels pack 6 grams of fat, 6 grams of protein, and just 1 net carb per mushroom. Each one weighs in at 178 calories, so feel free to add a few extra to your party plate.
With just 5 minutes of prep time and another 20 minutes in the oven, these are an easy, zero-stress appetizer for a party. Bookmark this recipe now and add it to the top of your menu for your next gathering.
How to Make Keto Stuffed Mushrooms 
These low-carb stuffed mushrooms require no cooking skills. All you need is a few basic ingredients (many of which you'll already have in your cupboards and fridge), a baking sheet, large skillet, and a mixing bowl to get started.
Some of the ingredients in this keto recipe are:
To kick things off, preheat your oven to 350°F. Then, light a large skillet on the stovetop over medium heat. Add the bacon, and cook until nice and crispy.
After your bacon is completely cooked, crumble it into pieces. Combine the bacon fat from your skillet, along with most of the crumbled bacon and the remaining ingredients (except the mushrooms), into a bowl.
Remove the mushroom stems from the cap, and fill each mushroom cap with your spinach and cheese mixture.
Next, place your mushrooms onto a baking sheet.
Pro tip: You may want to cover your baking sheet with a strip of aluminum foil or drizzle it with olive oil.
Place the remaining crumbled bacon on top of each mushroom, and place into the oven. Bake for 18 minutes, or until bubbly, and voila.
Recipe Notes for This Low-Carb Mushroom Recipe
This recipe is fairly straightforward, but if it's your first time making stuffed mushrooms you may have a few questions. Follow these tips and tricks to set yourself up for success.
What kind of mushrooms should be used? Bella mushrooms are suggested, but any other mushrooms that have a hollow cap (like portobello mushrooms or white button mushroom) can be used.
Are these stuffed mushrooms gluten-free? Yes, since coconut flour is used in place of breadcrumbs, this recipe is gluten-free. Pro tip: If you want the taste and texture of breadcrumbs, try these low-carb breadcrumb alternatives.
Can the cheese be substituted in this recipe? Yes, feel free to use a variety of cheeses, such as parmesan cheese or cheddar cheese instead of mozzarella. However, you should keep the cream cheese as it helps provide a creamy texture to the recipe.
How can these low-carb mushrooms be made extra crispy? If you like your mushrooms extra crispy, place your mushrooms under the broiler for 1-2 minutes after they've cooked for 18 minutes in the oven.
How many carbs are in this recipe? If you check out the nutritional information below, you'll see this keto recipe contains just 1 gram of net carbs per mushroom.
Can these mushrooms be saved for later? Absolutely. If you have leftovers, store in an airtight container in the fridge. Your mushrooms should keep for up to one week, and can easily be reheated in the microwave, regular oven, or toaster oven.
What Makes Keto Stuffed Mushrooms Healthy?
There are plenty of health benefits associated with mushrooms — beyond keeping your carb count low. Mushrooms have long been used to replicate a meaty texture in most vegetarian and vegan dishes — you can read more about being veggie on the keto diet.
What's even better is that mushrooms contain such a vast array of nutritional and health benefits including boosting immunity, protecting your heart, and improving energy levels.
#1: They Can Boost Your Immune System  
Mushrooms are a rich source of antioxidants and help fight free radicals in the body[*]. Certain types of mushrooms have also been shown to increase the production of B vitamins, which can help boost the immune system[*]. A healthy immune system, in turn, helps strengthen your body's defenses against viruses, toxins, and even inflammation.
#2: They Can Keep Your Heart Healthy
Many types of mushrooms contain compounds that can help lower LDL (bad cholesterol) and prevent the arteries from hardening[*]. Mushrooms also help fight plaque buildup in the heart which helps to maintain blood pressure and improve circulation[*].
#3: They Can Help Give You Energy
Mushrooms are rich in vitamin B which helps helps support the adrenal glands. The nutrients found in your favorite fungi also help boost neurotransmitters in the brain, reduce stress, and can even help lower cortisol levels to keep your mood levels high[*].
Keto Stuffed Mushrooms Are a Crowd-Pleasing Appetizer 
The next time you're throwing a gathering or need a dish to bring to an event, give these cheesy, low-carb stuffed mushrooms a try. All of your friends will soon be coming back for seconds and asking you for the recipe.
Made with bella mushrooms, bacon, spinach, two kinds of cheese, and coconut flour, this low-carb recipe is filled with fat and protein, while being low in carbohydrates. No wonder they're a great addition to any keto meal plan.
Serve them at your next tailgate, movie night, or game night with friends.
Looking for more party-pleasing, low-carb appetizers? Be sure to check out this list of 43 healthy keto appetizers, or this roundup of 46 healthy snack ideas.
Be sure to check out the side dish recipe collection on this website for more ideas on how to serve a crowd.
Print
Easy, Cheesy, Keto Stuffed Mushrooms With Bacon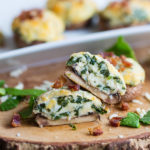 This recipe for low-carb stuffed mushrooms is a quick and easy crowd-pleasing appetizer or side dish that will have your guests running back for more.
Author:
Prep Time:

5 minutes

Cook Time:

20 minutes

Total Time:

25 minutes

Yield:

14

stuffed mushrooms

1

x
Category:

Breakfast

Cuisine:

American
Instructions
Preheat oven to 350°F.
Light a large skillet on the stovetop over medium heat. Add bacon to the skillet, and cook until browned and crispy. Remove the bacon from the pan and crumble into small pieces. Set the bacon aside, and reserve the bacon fat.
In a large bowl, combine your bacon fat, spinach, garlic, cream cheese, egg, coconut flour, mozzarella, salt, and pepper. Add 3/4 of the crumbled bacon, saving the rest for the topping.
Fill each mushroom cap with the spinach and cheese mixture and place in a shallow baking dish. Sprinkle the remaining crumbled bacon on top.
Bake 18-20 minutes until golden brown and bubbly. Serve warm.
Nutrition
Serving Size:

1 stuffed mushroom

Calories:

178

Fat:

6g

Carbohydrates:

Net Carbs: 1g

Protein:

6g
Keywords: low carb stuffed mushrooms