Spice up your boring keto breakfasts and fuel your mornings with this nutrient-dense keto granola that will change your life.  If you have been missing something crunchy in your ketogenic meal plan, look no further.  This low carb breakfast favorite is a breeze to make, great for batch cooking, and will also satisfy your sweet tooth.

Some of the ingredients in this recipe are:
Nuts
Sunflower seeds
Liquid egg whites
One of the reasons why this granola is able to stay low in net carbs is the use of nuts and seeds.  Both of these ingredients not only provide protein and healthy fats, but also fiber.  Fiber is extremely important on any diet, especially on a ketogenic diet. It helps keep bowels moving properly through the digestive process, helps control blood pressure, and can even aid in weight loss and weight management.
Why is fiber important?
#1 Digestion- foods rich in fiber will increase the size and weight of stools, making them easier to pass.  Fiber also absorbs water in loose stools so it can be helpful for those suffering from diarrhea and symptoms of IBS.  It also helps feed good bugs located in the gut, which helps diversify the microbiome and lower inflammation that has been linked to obesity and chronic health problems.
#2 Heart Health- soluble fiber can help lower the risk of heart disease because of its ability to soak up extra "bad" cholesterol and shuttle it out before it clogs up the arteries.  This will help reduce blood pressure and inflammation in the body.
#3 Weight Loss- since fiber adds bulk to foods, it can help people feel more satiated and full.  This helps reduce the amount of overall food that a person eats. It is also beneficial for those who have issues with insulin regulation, because soluble fiber will help slow the rate that carbohydrates are broken down and absorbed in the body.
In addition to the fiber, healthy fats, and fiber in this granola, it is also a wonderful thing to make for batch cooking and meal prep.  Once the nuts and seeds are broken down in a food processor, it's just as simple as combining all of the other ingredients together and baking it off.  This granola can be used to top desserts, pancakes, waffles, ice cream, yogurt, smoothies, or any other meal that needs an extra punch of flavor and crunch.
Print
Crunchy "Cinnamon Toast" Keto Granola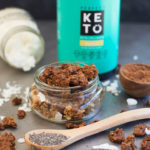 Make a huge batch of this cinnamony keto granola that's packed with nutrients, flavor, and a crispy texture so you can start every day with a perfect breakfast.
Author:
Prep Time:

10 minutes

Cook Time:

40 minutes

Total Time:

50 minutes

Yield:

3 cups

1

x
Category:

Breakfast

Cuisine:

French
Instructions
Preheat oven to 325 degrees and line a baking sheet with parchment paper.

Add nuts and sunflower seeds to a food processor and pulse until you have a course crumble. Add nuts/seeds and remaining ingredients to a large bowl. Mix very well. Adjust sweetener and seasoning if desired.

Pour onto prepared baking sheet and spread evenly to approximately 1/4″ thick. Bake for 20 minutes, flip over, and bake an additional 20 minutes. Granola should break apart and be crunchy. If the center is still moist, turn oven OFF and leave pan inside. Check crispness after 10 minutes. Remove from oven, let cool, and break into desired pieces.
Nutrition
Serving Size:

1/2 cup

Calories:

351

Fat:

34g

Carbohydrates:

Net Carbs: 3g

Protein:

8g
Keywords: cinnamon toast keto granola