Are you craving pizza? Are you tired of your cauliflower pizza crust breaking apart? If you're just starting the keto diet, you should know there are plenty of low-carb substitutes for your former-favorite foods. And this coconut flour pizza crust is one of them.
Coconut flour is a great low-carb substitute for regular white flour. You can use it in all your favorite recipes, including desserts, tortillas, and of course, pizza crust. In this recipe, you'll combine coconut flour with eggs, Italian seasoning, and a variety of cheeses to create the perfect pizza crust.
Whether you're planning a movie night in with Amazon Prime or whipping up a pie for the big game, this pizza crust will hit the spot. Top it with a sugar-free pizza sauce and your favorite low-carb toppings and you're ready for a mealtime win.
How to Make a Coconut Flour Pizza Crust 
This easy pizza crust is fairly simple to prepare, requiring just 10 minutes of prep and 20 minutes in the oven. To start, you'll line a pizza pan with wax paper, or grease it generously with coconut oil or olive oil.
Next, start combining your ingredients. Add your coconut flour to a large bowl, using a sifter to work out any clumps, as sometimes happens with coconut flour. Add your parmesan cheese, oil, flax seeds, eggs, seasonings, and baking soda, mixing together with a hand mixer. Finally, add your mozzarella cheese and cream cheese, then mix again.
Spread your pizza dough onto the parchment paper, and shape into your desired shape. Bake for roughly 20 minutes, or until the edges start to brown. If you like your crust extra crispy, leave it in the oven for a few extra minutes. If you like a softer crust, it may only need 18 minutes in the oven.
If you have any leftovers (good luck with that!) you can wrap your pizza in foil or in an airtight container. It should keep up to a week in the fridge.
Recipe Notes: FAQs for Coconut Flour Pizza Crust Recipe
This recipe is pretty straightforward. But if it's your first time making a grain-free, gluten-free pizza crust, you may have a few questions. These tips and tricks will help set you up for success.
Can coconut flour be swapped out for almond flour? Unfortunately, no. Paleo, gluten-free, and grain-free baking is very different than "regular" baking. While you could easily substitute whole wheat flour for all-purpose flour, the same cannot be said for grain-free flours. The chemical makeup of almond and coconut flour are completely different, and therefore cannot be substituted.
Should the pizza crust be flipped halfway through baking? No. Flipping your pizza crust — whether with a spatula or large, stainless pizza peel — will cause your crust to break.
Can Italian seasoning be made from scratch? Sure! Try this savory Italian blend made from thyme, oregano, basil, sage, and garlic powder.
What kind of pizza toppings fit within a keto meal plan? Nearly all of your favorite toppings can work within the keto diet, you just need to be conscious of labels. While certain veggies, like olives, green peppers, mushrooms, and onions are naturally low in carbs, you need to be weary of pepperoni, sausage, and other meats. Be sure to choose brands that are sugar-free.
Do you recommend a specific brand of tomato sauce? Rao's is a trusted, low-carb brand that is available in most stores. Otherwise, you can use this homemade, low-carb recipe.
Do you have any other low-carb pizza recipes? Absolutely. Check out this recipe for a fathead pizza crust, and this recipe for a dairy-free cauliflower pizza crust.
What is the carb count for a slice of pizza? If you check out the nutrition facts below, you'll see this recipe contains less than 4 grams of total carbohydrates, and just 1.8 grams of net carbs.
Health Benefits of Coconut Flour 
Coconut flour is more than just a great low-carb alternative to white flour. In fact, when it comes to coconut flour, a quarter of a cup comes to a total of only 120 calories.
These calories include 6 grams of net carbs, 10 grams of fiber, 4 grams of fat, and 4 grams of protein. Since it's high in fiber, coconut flour improves the health of your digestive system as well as helps rid the body of any unwanted toxins[*][*].
Along with improving the health of your digestive system, coconut flour also supports healthy blood sugar levels. This is due to its low glycemic index, which means consuming coconut flour does not cause a spike in insulin levels as much as high-carb foods, like all-purpose flour[*].
Those with diabetes would especially benefit from this low-carb flour as it's important to consume foods with low glycemic impact[*].
Enjoy This Low-Carb Pizza Crust on Your Next Pizza Night
With less than 2 grams of net carbs per slice, this coconut flour pizza crust is the perfect go-to option for a keto pizza crust. It offers you 9 grams of protein and nearly 13 grams of healthy fats, enough to ensure you maintain ketosis while keeping you satiated and filled.
The next time you don't know what to make for dinner, try this coconut flour pizza crust and watch it become your go-to dish. Add your favorite pizza toppings, including pizza sauce, pepperoni, sausage, green peppers, mushrooms, and onions. You might want to avoid creating a Hawaiian-style pizza (due to the high-carb count of pineapple), but hey — pineapple was never meant to go on pizza anyway.
Looking for more incredible pizza recipes? Be sure to try this fathead crust recipe and this recipe for cauliflower crust. Try whipping up all three and let everyone know which crust was your favorite in the comments below. Whatever you decide, you now know there's no reason you can't enjoy indulging in pizza while going keto.
Print
Coconut Flour Pizza Crust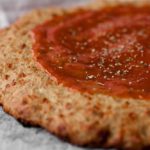 This coconut flour pizza crust is a satiating, keto-friendly treat sure to satisfy your pizza cravings.
Author:
Prep Time:

10 minutes

Cook Time:

20 minutes

Total Time:

30 minutes

Category:

Dinner

Cuisine:

Neapolitan
Instructions
Preheat oven to 400℉ and line a baking sheet with parchment paper. Liberally spray your parchment paper with nonstick cooking spray, coconut oil, or olive oil.

In a large mixing bowl, add coconut flour, parmesan cheese, avocado oil, flax seeds, eggs, Italian seasoning, cream of tartar, and baking soda. 

Mix the bowl ingredients with an electric mixer until fully blended.

Add shredded mozzarella and cream cheese to your mixing bowl. Mix with electric mixer until well-combined.

Spread mixture into an even layer onto a prepared baking sheet. Shape into pizza dough.

Bake dough for 18–20 minutes, or until the edges are lightly golden brown.
Nutrition
Calories:

161

Fat:

12.8g

Carbohydrates:

3.4g (Net Carbs: 1.8g)

Protein:

9g
Keywords: coconut flour pizza crust