Chili is a classic recipe that's perfect for a cold winter day as well as a family summer cookout. You can pair with burgers and hotdogs, or enjoy a bowl with a dollop of sour cream and chopped green onion. 
But is chili low-carb and keto friendly?
Yes and no. There is no shortage of chili recipes out there. A quick search for chili recipes netted 201,000,000 results. But not all of those are going to make the keto cut.
Low-carb and keto chili recipes are something else entirely. Even savory dishes like chili can contain sugar from ketchup and tomatoes, and tons of beans that are packed with carbohydrates. Even some spice mixes come with fillers that can increase the carb count of your meal.
So, what if your favorite chili recipe is high-carb? Not to worry, there are three major ways to make any chili recipe low-carb, gluten-free, and delicious. Even without the beans.
3 Surprising Ways to Make Your Chili Low-Carb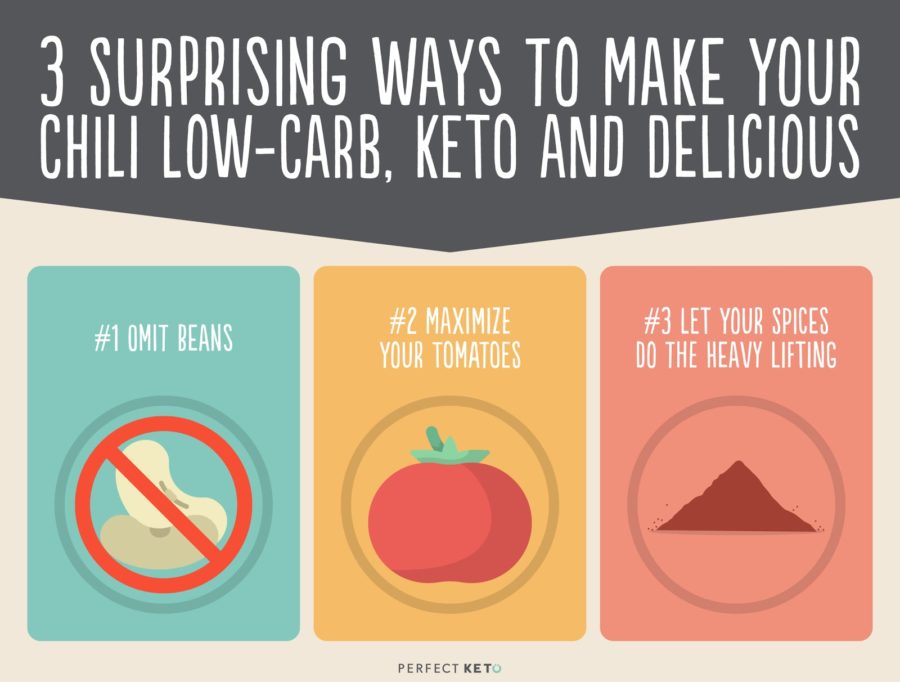 #1 Omit Beans
This is going to sound counterintuitive to all things chili, but one of the changes that come with the keto lifestyle is giving up beans. Leave the magical fruit on the shelves and try something different.
To keep that textural component of beans while keeping your net carbs in check, you can add keto friendly nuts like pecans, macadamia nuts, walnuts, hazelnuts or cashews. This gives you the chili bean texture you love with healthy fats, protein, dietary fiber, and more.
Adding low-carb, flavor-rich ingredients like green peppers, jalapenos, green chilis and/or bell peppers also help meet your texture cravings. Plus the heat of the peppers helps you keep your serving size in check and your sinuses clear.  
#2 Maximize Your Tomatoes
Relying too heavily on tomatoes to make your chili can wreck your flavor and ruin your carb count. Switch to tomato paste instead of diced tomatoes to keep your total carbs under control. Tomato paste is condensed tomatoes with more flavor and fewer carbs. 
You can also try a white chili recipe,like the one included below, that doesn't contain tomatoes. Instead, it has creamy, delicious coconut milk, which is found in many keto recipes because of its high-fat, low-carb profile.
#3 Let Your Spices Do the Heavy Lifting
We've all been subjected to eating bland chili that was actually a couple of cans of beans, ground meat, and a can of diced tomatoes. No more.
Whether you're making vegan, chicken, turkey or beef chili, make sure to include spices that pack both flavor and nutrition. Real spices — not artificial flavors — offer a lot of health benefits and help you cut back on filler ingredients like beans.
Chili powder, cumin, coriander, paprika, red pepper, and garlic powder are all great chili additions. For those looking to take their chili game to the next level try adding turmeric, cinnamon, or chipotle chili powder to your recipe.
Spices can give you a nutritional boost to reach your daily values for key nutrients like iron, magnesium, and more. Let your secret ingredients be health and flavor-boosting spices.
Skip Store-Bought Chili and Make Your Own
You'll be hard pressed to find a low-carb, ketogenic chili on store shelves. In addition to typically being loaded with carbs, salt, and toxic food additives, store-bought chili comes with some other caveats.
Most store-bought chili isn't made with high-quality, grass-fed or pastured meat.

Many massed-produced chili contains canned tomatoes, which can contain traces of toxic BPA from the lining of the can.
There are several other ingredients that may be low-quality, including the spices used.
Skip the store-bought versions and make your own at home. Below, you'll find three incredible recipes — all with different flavor profiles. Get some BPA-free freezer storage containers and set aside part of each batch for days you don't have time to cook.
And if you're purchasing beef broth, chicken broth, or even vegetable broth, read the ingredient labels very closely. Make sure that it doesn't contain any added sugar or other unnecessary thickeners or additives. 
Read on for some of the best keto chili recipes on the planet — perfect for a comforting winter meal or a summer cookout.
Low-Carb, Ketogenic Chili Recipes You'll Love
There's no reason to give up chili just because you're low-carb. Get your favorite ground meat and spices ready and prepare to be blown away by these incredible keto recipes.
Low-Carb Turkey Chili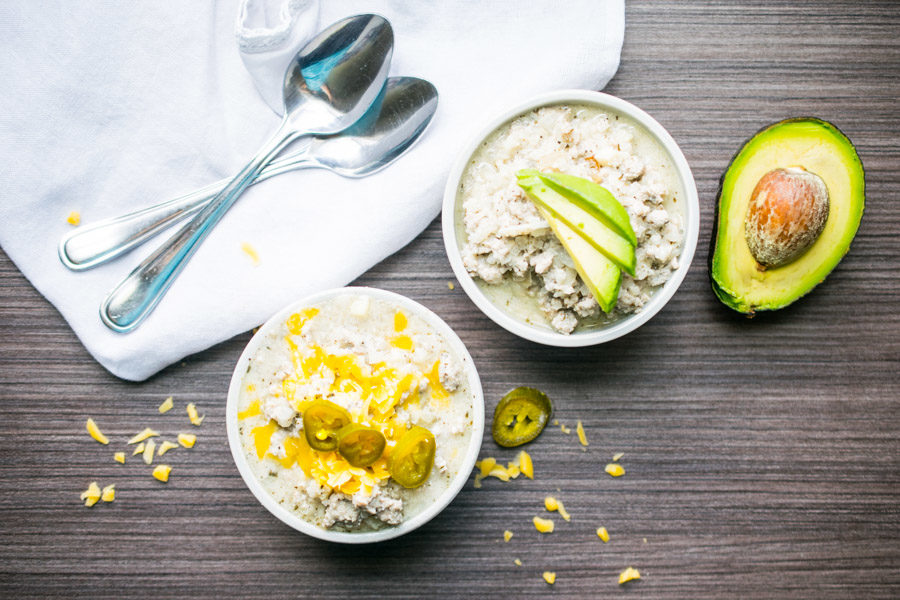 Have you ever had white chili? If not, you're missing out. White isn't based on tomatoes and chili powder like red chili. Instead, this no bean chili recipe features ground turkey and the creamy richness of coconut milk.
Click HERE to get the recipe.
30-Minute Heart Keto Chili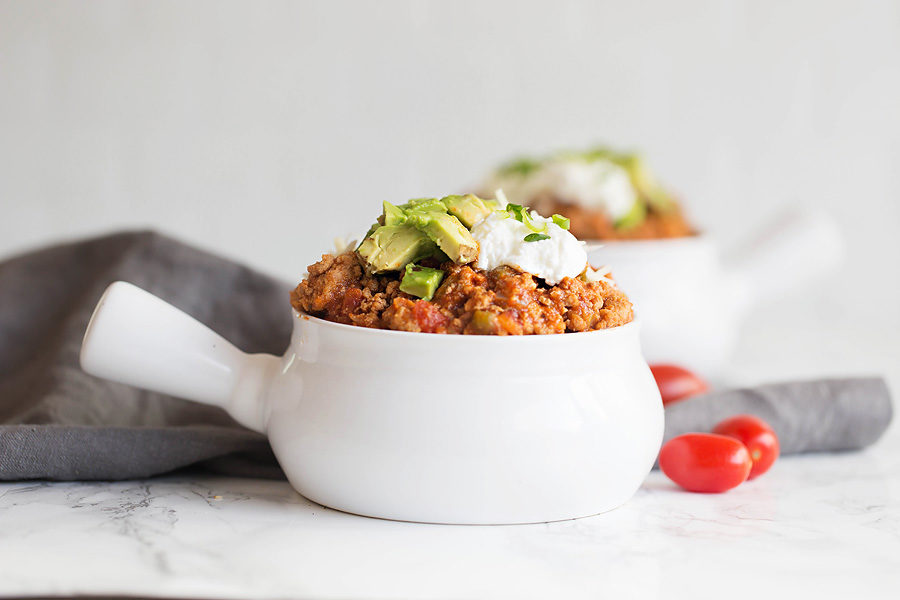 This recipe is the perfect hack for getting that tomato-y goodness you crave in a chili while keeping it low carb and keto. Plus all the ingredients in this chili recipe are great for your heart health, blood sugar, and waistline. We'll go so far as to say it may be the best chili you've ever had. Try the recipe and let us know what you think.
Click HERE to get the recipe.
Keto Low-Carb Chili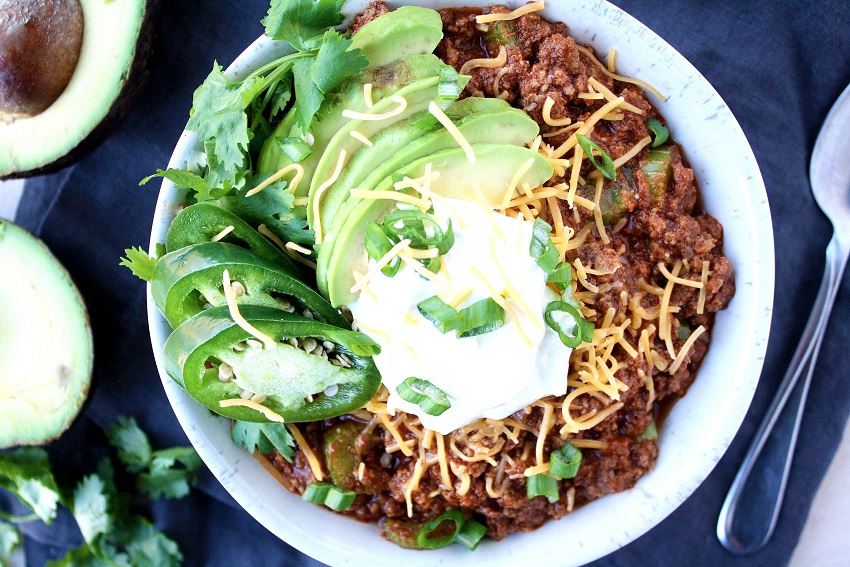 This chili recipe is both low-carb and ketogenic. Even better, it's ridiculously delicious.
Like all chili, it's even better the next day, because the flavors have a chance to mingle. Top with organic sour cream, a bit of cheese and avocado and enjoy.
Click HERE to get the recipe.
The Takeaway: Make Tasty Low-Carb Chili At Home
Now you can feel confident making the best chili ever while maintaining your ketogenic lifestyle.
And you can even use the tips in this article when you're ordering from your favorite restaurant. Just make sure your chili is bean-free and low in sugar.
Do you have a favorite low-carb, keto-friendly chili recipe? Post your favorite chili flavors in the comments below!