If you just started the keto diet, you might be craving your favorite, glutenous snack foods. When you cut out carbs, you wave a sorrowful goodbye to pretzels, potato chips and crackers — the crunchy, salty snacks that are oh-so-addicting.
Until now.
Just like keto desserts, keto pizza and keto mashed potatoes, there is a low carb alternative for your favorite snack foods. If you miss the satisfying crunch of cheese and crackers, you're going to love this recipe for jalapeño parmesan crisps.
Part jalapeño popper, part cheese crisp, these low carb snacks are the perfect keto-friendly recipe to satisfy your crunch cravings. All you need are six ingredients and a whopping cook time of eight minutes.
Not only are these crisps an easy recipe to make, they contain just .02 grams of total carbohydrates. Plus, they're gluten-free, making them the perfect snack to cook for your next group get-together or family movie night in. There's one main problem though — you'll have to share!
Keep scrolling past the recipe to learn more about the nutritional benefits of this snack!
Print
Jalapeño Parmesan Crisps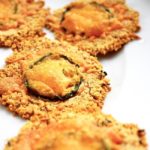 These jalapeño parmesan crisps offer an addictive crunch and salty-spicy kick that will satisfy your snack craving while keeping you in ketosis!
Author:
Prep Time:

5 minutes

Total Time:

20 minutes

Yield:

10

-

12

crisps

1

x
Category:

Sides

Cuisine:

Mexican
Instructions
Preheat oven to 425 degrees and line a baking sheet with parchment paper.

Thinly slice jalapeño. Bake sliced jalapeño for 5 minutes.

Remove jalapeños from oven, set aside, and allow to cool.

Whisk together spices and Parmesan.

Pour 1 tbsp of spice and Parmesan mixture into piles and flatten to small circles.

Place sliced jalapeño on top of Parmesan and spice mixture. On top of jalapeño, sprinkle cheddar cheese.

Bake for 8 minutes.

Allow to cool and enjoy the crispy goodness!
Nutrition
Calories:

30

Fat:

2.3

Carbohydrates:

0.2

Protein:

2.5
Keywords: jalapeno parmesan crisps
A Low Carb Snack With Hidden Nutrients
If you take a look at the nutrition facts below, you'll probably wonder, "How can a crunchy snack contain less than a gram of carbs?"
The only ingredients in this recipe — other than cheese and jalapeños — are seasonings. Red pepper flakes, oregano and pink salt have no hidden carbs, but they do have hidden nutrients.
Pink Salt
Pink salt gets its color from the minerals it contains: magnesium, potassium and calcium. These three minerals do wonders for your body. Magnesium is essential for a wide variety of bodily functions, including regulating muscle and nerve function, blood sugar levels and blood pressure[*]. Potassium is an electrolyte that helps build protein and muscle and maintain body growth[*].
Although it looks different than table salt, pink salt is still sodium. The body needs the sodium in pink salt to contract muscles, maintain fluid balances to prevent dehydration and prevent low blood pressure[*].
Oregano and Red Pepper Flakes
While oil of oregano gets all the hype, the dried version of this herb carries quite a few benefits. Oregano is filled with antioxidants. Actually, it has four times more antioxidants than blueberries, 12 times that of oranges and 42 times that of apples. One antioxidant, carvacrol, is shown to have anti-inflammatory properties[*].
Finally, if you have heard that spicy food can help facilitate weight loss, listen up. In one study, red pepper flakes were shown to work as an appetite suppressant[*]. This could be extremely beneficial if you're following keto for weight loss.
Healthy Jalapeño Poppers (No, Really)
The combination of grated parmesan cheese and jalapeños give these cheese crisps the distinct flavor of jalapeño poppers. They also pack surprising health advantages.
Jalapeños are rich in capsaicin — a compound that may help prevent cancer, fight viruses and bacteria like strep, and aid in metabolic function[*]. It might also promote heart health, helping to lower blood pressure, cholesterol and the formation of blood clots[*]. Finally, when applied topically, capsaicin can help lower pain and prevent arthritis.
The grated cheese also has its perks. Keto-friendly dairy contains high amounts of saturated fats, helping you dive deeper into ketosis. While the total fat in this recipe may seem low (there's just 2.3 grams per serving, or 4% daily value), remember that this recipe is intended as a quick snack — not an entree. With just 30 calories per serving, these parmesan crisps would work well within most diets, not just keto.
How to Select Your Jalapeños
Before you visit the store, let's do a quick recap on how to select jalapeños.
Here's how to know how much heat your peppers could punch:
The older, the hotter — ripened, red jalapeños are hotter and also sweeter than green ones.
White "stretch marks" — those lines or flecks you see on the skin of peppers – indicate how much stress the pepper went through before it reached your table. The more stress, the hotter it is.
If you want hot, hot, hot jalapeños, choose red ones with lots of white lines.
If you want milder jalapeños, go for ones with very few white lines.
To take the heat down a notch, remove the seeds and inner ribs. Use gloves and don't touch your mouth or eyes. To rekindle the inferno, sprinkle them back in once you're done cooking your peppers.
How to Bake Parmesan Crisps
These easy parmesan crisps take very little equipment or time to prepare. All you need is a baking sheet, parchment paper and the ingredients listed below. It takes less than ten minutes in the oven to get these crisps perfectly golden brown, resulting in a satisfying crunch.
If you have any leftovers, simply store them in an airtight container. They're a great grab-and-go snack, and much healthier than any cheese chips you'd buy at the grocery store.