Is your sweet tooth on the hunt for keto desserts?
Whether you're new to keto and transitioning or you've been in ketosis for months, cravings for decadent desserts can be mission impossible to ignore.
The good news is you don't have to ghost desserts just because you're following a low carb keto diet.
With these 35 keto dessert recipes, you can satisfy any sweet craving without ruining your chances of reaching and maintaining ketosis
Here's a sneak peek at the recipes in this guide so you can jump around or work your way through from start to finish:
Before you drool all over these delish recipes, you have to know what you're doing when it comes to low carb desserts or you might ruin all your hard work.
Ground Rules for Enjoying Keto Desserts
You can have your cake and eat it too on keto.
And that goes for all types of desserts; from carrot cake to no-bake cookies and even keto cookie dough recipes.
Keto desserts can be totally original creations, like fat bombs, or they can be made by substituting low carb ingredients for traditional, high-carb baking staples.
And just like you can't live on traditional desserts, keto desserts also require the following of a few guidelines, such as:
#1: Learn The Basics Of Ingredient Hacking
On a keto diet, all purpose flour can be swapped for almond or coconut flour and stevia-sweetened chocolate chips can be used in place of those made with real sugar, for example, to lower net carbs.
Though these make slightly different versions of your favorites, it also means you don't have to feel deprived of the sweets you loved before starting your low carb diet.
#2: Portion Control Is Everything
Just because these desserts are keto-friendly, doesn't mean it's a free for all.
Eat dessert all day and night and you'll not only see unwanted pounds creep back, you may also tip your carb limit over the max when you double or triple your serving. And that's a recipe for getting kicked out of ketosis.
Stick to single-serve keto dessert recipes if you struggle with this problem initially.
And if it's just you and a significant other, you can split these recipes so you're not as tempted to finish the whole dessert on your own.
#3: Always Choose Homemade Over Premade
With the rise of the keto diet and other sugar-avoiding eating plans like it, not-so-healthy low-carb snacks, desserts and bars have been vying for space on grocery shelves.
But these store-bought versions are often loaded with artificial ingredients, flavors and preservatives.
Even if you find a dessert branded "low-carb," "keto-approved," or "low in net carbs," these can never be fully-trusted. With added binders and strange flours, you'll more than likely find hidden carbs or chemical sugar alternatives in the ingredients list.
By making your own, you not only control the ingredients, but also the quality of those ingredients.
Now that you know how to safely partake in these keto dessert recipes, it's time to treat yo' self.
Since I started off by mentioning how you can have your cake on keto, it's only fair to begin with these recipes first.
7 Irresistible Cake Recipes
These keto cake recipes include both single-serving mug cakes and those you can make for a crowd:
#1: Single-Serve Nut Butter Cake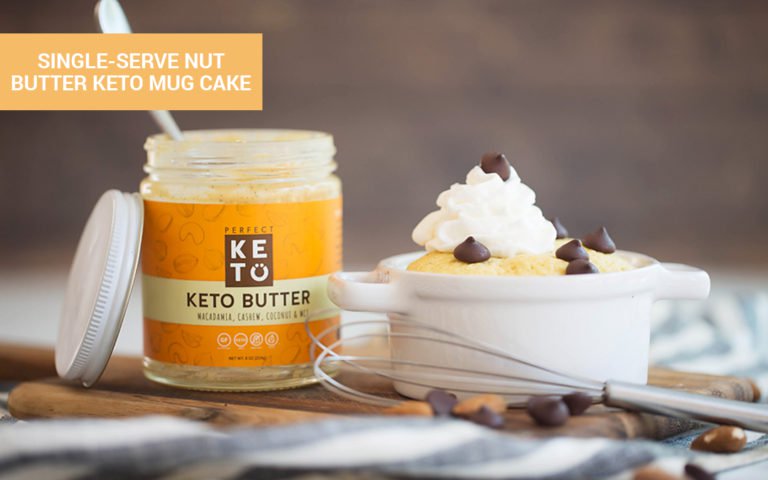 When you need guilt-free cake time, this single-serving nut butter cake recipe is the one to reach for because it's also (gasp!) good for you.
For only 4g of net carbs and 272 calories, you'll get a healthy dose of MCTs, which turn into a bioavailable source of energy (read: fast-acting).
And that's not the only benefit with this cake.
Thanks to the stellar ingredients inside, you may also score health benefits like improved brain and skin health and a decrease in blood pressure.
The next single-serve cake recipe also packs a health boost.
#2: Keto Collagen Mug Cake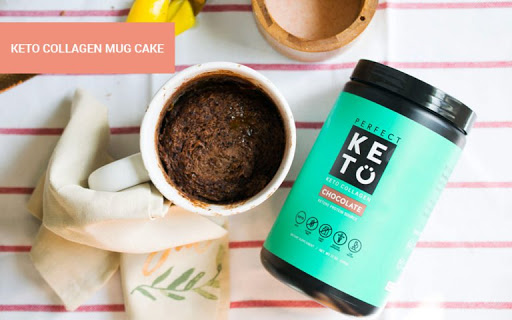 This keto collagen mug cake has everything you'd want in a cake and then some.
It's a mix of rich, dark chocolate cake flavor with a hint of nut butter.
Check out the ingredients and you'll see it's also bursting with collagen protein, which can help:
Support and strengthen your bones, joints and ligaments
Improve your gut lining and connective tissues
Give your skin a natural boost
Plus, the collagen in this recipe is also loaded with the same energy-boosting MCTs I mentioned earlier so you'll have long-lasting focus instead of a sugar crash when you're done.
And if you don't have collagen or nut butter on hand yet, try making this next cake recipe instead.
#3: 2-Minute Chocolate Keto Mug Cake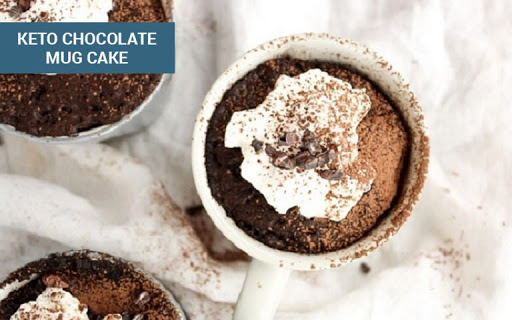 Most chocolate cakes are over your low carb limits.
But this two minute chocolate mug cake uses ingredients you probably already have in your pantry to satisfy this craving in less than 7g of net carbs.
And since you're making it with healthy ingredients in a single-serve portion, you won't have to test your willpower or be tempted by leftovers.
This next spicy, sweet indulgence makes getting through pumpkin spice season so much easier.
#4: Pumpkin Spice Mug Cake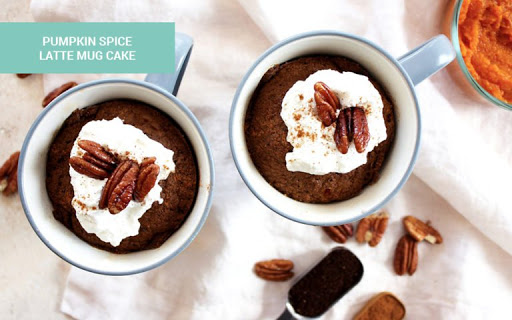 As summer winds down, many brands start pumping out pumpkin-flavored everything to welcome the beginning of fall.
And 99% of these pumpkin spice options are off-limits on keto.
With the exception of this pumpkin spice latte mug cake, of course.
So when you're craving a pumpkin spice latte or pumpkin pie, this recipe will deliver those warm flavors and keep you in ketosis.
You also won't find any fake "pumpkin" flavors in this recipe either.
It uses real pumpkin, which touts amazing health benefits, such as:
Reduced risks of cancer
Asthma protection
Anti-aging properties
Heart disease and diabetes prevention
A boost in energy
More good news about this recipe: you don't have to wait for the official pumpkin season to start to have this keto mug cake in your tummy.
For more mug cake recipes, be sure to check out this guide when you're done here.
Now what about those times you invite your crew over and you don't want to microwave tons of little mugs for dessert?
Try one of these keto cake recipes sure to please a crowd.
#5: Ultra-Moist Vanilla Keto Pound Cake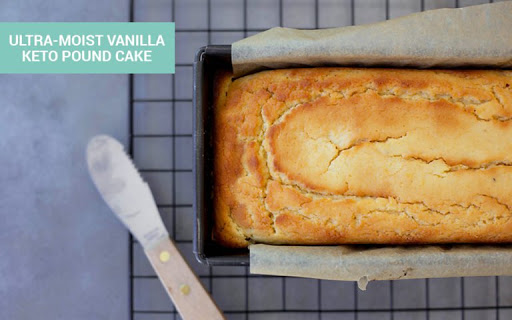 If you're like me and hate buying a pot or pan to use only for one recipe, this keto pound cake has your name on it.
With just one loaf pan you can make this pound cake recipe, the best keto bread, meatloaf and even hold your no-churn keto ice cream in the freezer.
Talk about a hardworking kitchen staple.
This low-carb, suped up vanilla pound cake recipe also does double duty: while it will feed you and 11 of your friends, it also contains collagen protein.
While your guests may not thank you for the glowing skin collagen creates, they also won't know this cake is low-carb either.
Whip this up an hour before your guests arrive and your whole house will smell inviting.
The same may happen when you serve your guests this extra special keto cake too.
#6: Chocolate Keto Birthday Cake with Vanilla Buttercream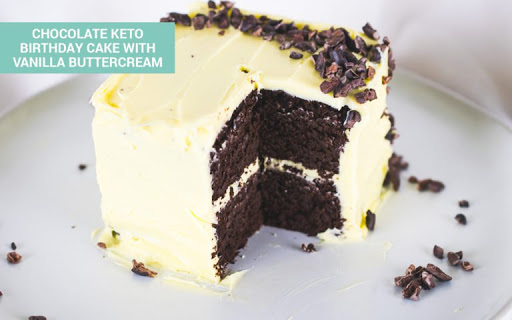 Traditional birthday cakes are bound to give you and your guests unwanted gas and a sugar crash more likely to make them ready for a nap instead of partying.
So treat everyone to a keto chocolate birthday cake worth celebrating.
This one won't leave them uncomfortable or ravenous for more and it only has 5g of net carbs per serving.
For a more sophisticated cake option, you'll want to try your hand at this keto-friendly cheesecake recipe next.
#7: Decadent Low Carb Keto Cheesecake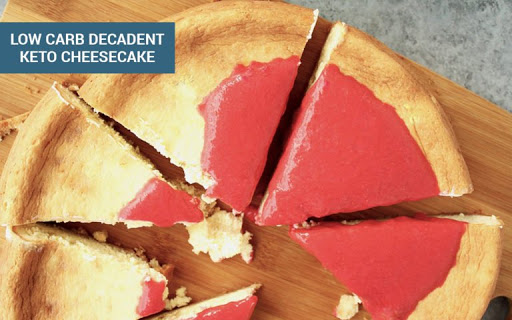 If you're looking for a crave-worthy low-carb cheesecake recipe that's also safe to nosh on a keto diet, look no further.
With a buttery almond flour crust that's naturally gluten-free and a smooth cream cheese filling, you'll forget this cheesecake is even low-carb.
And that means your non-keto friends will adore it all the same.
Since it makes so many servings and looks so pretty, it's a perfect recipe for parties.
And if you really want to win host or hostess of the year, think about stashing these keto chocolates up next in a to-go bag for your guests.
5 Keto Chocolate Recipes to Please Your Inner Chocolate Addict
Finding keto chocolate options can be a bit of a pain.
As you sift through stacks of sugar-free bars and chocolate truffles, you may only find one or two — if any — that won't blow your carb or sugar macros.
And that tiny selection sure is pricey.
Fortunately, making your own sugar-free chocolate is not only easy and makes more financial sense, you'll also be able control the ingredients.
Which includes giving your chocolate an extra nutritional boost like these first two recipes have:
#1: Healthy Homemade Keto Chocolate Bar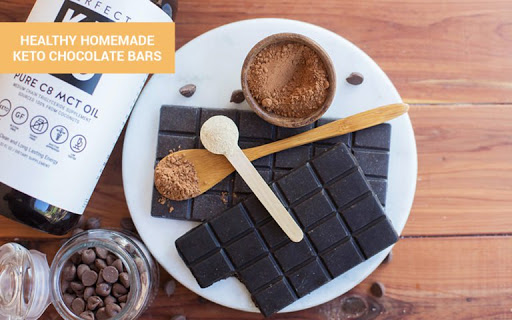 In this keto chocolate bar recipe, you'll find 2 tablespoons of liquid MCT oil, which is a powerful energy source that can support:
Healthy metabolic function and digestion
Proper hormonal function
Improved physical activity
Two other health-boosting ingredients in this recipe include cacao butter and maca powder, which give you a powerful antioxidant combination that may help your body better adapt to stressors.
Plus, you'll have 24 pieces of keto chocolate to portion out for snacks or share with your low carb amigos.
If you're looking for a no-bake chocolate bar recipe, the Perfect Keto Mallow Munch bars fits the bill.
Our crunchy Perfect Keto Mallow Munch bars are an easy, versatile treat for any season or occasion. Crunchy, filling, and delicious, but with 9 grams of protein, only 90 calories, and 2 grams of net carbs, so you don't have to miss out on the fun!
#2: Perfect Keto Mallow Munch Bars
Perfect Keto Mallow Munch bars are a lot like rice crispie treats, except they're appropriate for low-carb and keto diets.
Instead of using rice and sugar (which unfortunately aren't keto-friendly), we made these with dairy protein crisps and keto sweeteners, resulting in 9 grams of protein, 90 calories, and only 2 grams of net carbs per serving.
They're available in Marshmallow, Chocolate, and Peanut Butter flavors. You can eat Mallow Munch bars straight from the package, drizzle them with nut butter, or even incorporate them into your own crunchy keto recipe ideas if you're feeling creative!
#3: Coconut Chocolate Collagen Bars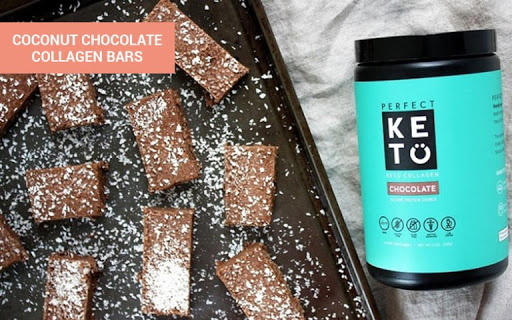 For a lighter Almond Joy-type candy bar sans junk and heavy in the health benefits department, these coconut collagen bars are the answer.
Rather than using liquid MCT oil, this recipe calls for MCT in powder form and a scoop of collagen protein.
This sugar-free chocolate bar also:
Only requires 6 ingredients
Makes 18 mini-bars, which are bigger than most chocolate truffles
Contains 2.7g of net carbs for 202 calories
Don't wait for Halloween to try this recipe or the next one on this list.
#4: Ooey Gooey Keto Almond Flour Brownies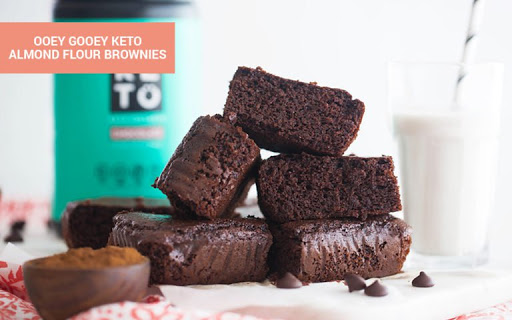 Need another reason to use your collagen powder?
Or do you just want a low-carb keto-friendly brownie recipe that actually tastes good?
Because this ooey gooey keto almond flour recipe takes less than 23 minutes to make, serves 16 and tastes better than any brownies you're used to eating.
Plus, each brownie only clocks in at 112 calories and 2g of net carbs.
I dare you to find a store-bought option that can even come close to these stats.
And if you're willing to spare a few more carbs from your daily budget, the peppermint brownies up next are so worth it.
#5: Keto Brownies with Peppermint Crunch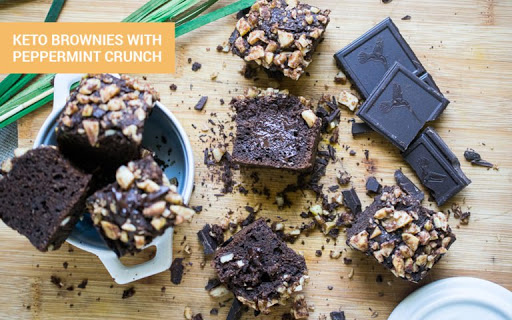 Missing all things mint chocolate chip in your keto life?
Not anymore with this tasty peppermint keto brownie to the rescue.
Just a word of caution: This recipe is a bit more decadent than the first brownie, so you'll need to plan ahead to work these 205 calories and 6g of net carbs into your macro budget.
The same advice should be followed with this next set of keto dessert recipes.
6 Fat Bombs For Instant Energy
As I touched on in this guide, fat bombs are a great way to sneak a healthy dose of fats in your diet, score a steady flow of energy and stay satiated between meals.
But keto fat bombs can also be the ideal dessert — provided you don't inhale too many or eat them too close to bedtime.
Prepare for these six fat bombs to rock your world:
#1: Keto Mocha Fat Bombs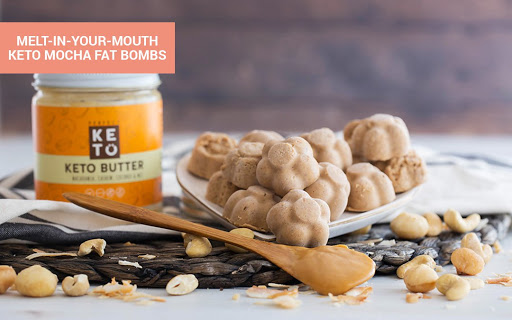 Skip the afternoon pick-me-up trip to your local coffee shop and pop one of these keto mocha fat bombs in your mouth for a boost of caffeine and energy.
With a few simple ingredients, including our Perfect Keto nut butter, you'll have a decadent treat you can make ahead of time and have ready all week.
These fat bombs may also help your gut health, improve your fat-burning potential and strengthen your bones thanks again to the MCTs found in this recipe.
For true mocha fans, check out this fat bomb recipe too.
And if you're the more the type to stare longingly at your office's vending machine, this next recipe was made for you.
#2: Easy Peasy Keto Butter Coconut Bites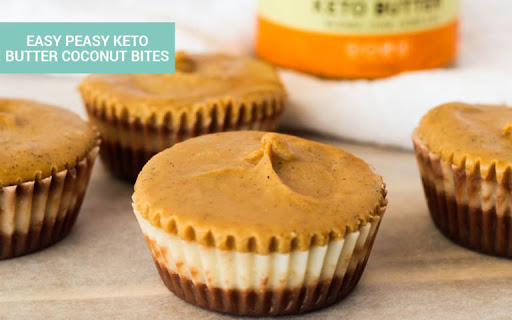 Using collagen, our Perfect Keto nut butter, coconut oil and coconut butter, you can easily whip up these keto-friendly chocolate peanut butter cup replacements.
Make a batch ahead of time and you'll be ready anytime your craving strikes.
And you'll never give those sugar-packed Reese's in the vending machine a second glance ever again.
If you think a chocolate peanut butter cup should also give your brain a dose of rocket fuel, this next fat bomb recipe agrees.
#3: Brain-Boosting Chocolate Coconut Fat Bomb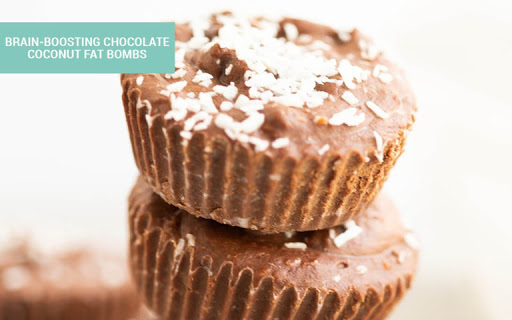 At first glance, this chocolate coconut fat bomb recipe looks almost identical to the others on this list, except for one big difference:
The scoop of Perfect Keto Nootropics.
This powerful combination of exogenous ketones, MCTs and grass-fed collagen will help you power through grueling cognitive work tasks with steady, even energy levels.
And thanks to the popable, portable nature of fat bombs, this on-demand, keto-approved brain-boost can happen anywhere you are.
For an almost identical-to-the-real-thing Reese's flavor, you can't skip this next recipe either:
#4: Chocolatey Keto Nut Butter Cups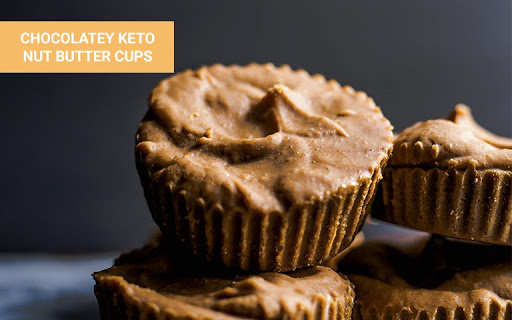 Chocolate peanut butter cup addict?
These chocolatey keto nut butter cups taste so close to the peanut butter ones you're used to but they're also hiding a major upgrade: there's no peanut butter.
Peanut butter is inflammatory so you should stay away from it and instead stick to nut butters made from macadamia or hazelnuts.
This recipe has MCTs, coconut butter, and other healthy ingredients to keep you feeling energized all day so they're a great treat to pack for work.
For more low-carb nut butter cup options, try this keto peanut butter cup fat bomb recipe using rich, raw cacao, or this one that eliminates the chocolate altogether and adds a touch of sea salt for a different flavor profile.
Okay, if you're thinking that's enough peanut butter cup recipes, I hear ya.
Our final two fat bomb recipes are out of the ordinary.
#5: Tropical Coconut Key Lime Pie Fat Bombs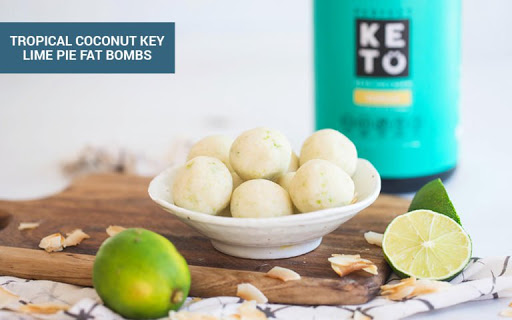 If you can't escape to a tropical island, you can at least transport your taste buds to one.
With these coconut key lime pie fat bombs, you'll have the same tart flavor of a nice slice of paradise pie without having to spend more than 1g of net carbs and 114 calories to get it.
You'll also dig these added health benefits too:
Increased collagen production
Natural heartburn and acid reflux reduction
Powerful antioxidants which may protect you during flu season
If you're not feeling the lime and coconut vibe of these fat bombs, this last fat bomb recipe screams sweater weather.
#6: Pumpkin Spice Fat Bombs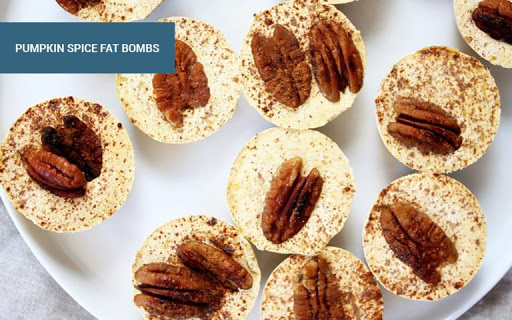 These pumpkin spice fat bombs capture the fall flavors of pumpkin and cinnamon in just one bite.
And these little guys go the distance.
Because when cream cheese and pumpkin puree mix with the slow-digesting fats found in the coconut oil and pecans in this recipe, you'll feel ultra satiated.
Pecans also contain the micronutrient manganese which also helps with weight loss.
Plus, each fat bomb only clocks in at 78 calories and less than 1g of net carbs, so this is a nice low-carb dessert option to have on hand.
Even better, one recipe yields 24 fat bombs so you'll be stocked for almost all of pumpkin season.
For a complete list of fat bombs to span a year on keto, check out this guide later.
While fat bombs may be one of the easiest desserts to prep ahead of time, when life gets in the way of your good intentions these quick and easy low-carb desserts have your back.
4 Keto Dessert Recipes for When You're Short On Time
We've all been in this predicament: you want dessert, but you don't really have the time or energy to make it.
These keto dessert recipes can all be yours in less than five minutes:
#1: Creamy Dreamy PB&J Smoothie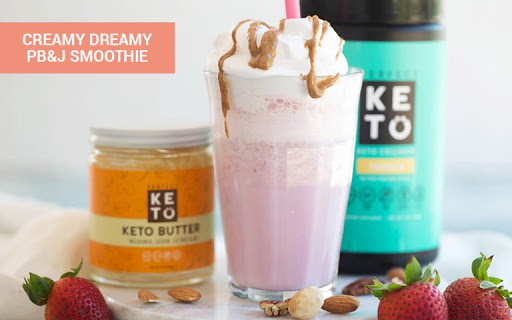 Does a small part of you miss peanut butter and jelly sandwiches?
Instead of wasting the carbs on the real thing and forgoing ketosis, enjoy this dreamy pb&j smoothie and you'll stay on track without ignoring your craving.
With only 5g of net carbs and 15g of protein, this smoothie was made for more than afterschool snack time.
This smoothie also sends you off with a healthy serving of collagen peptides to support your skin's health, combat ultra violet radiation and improve both skin tone and elasticity.
You can't say that about your old pb&j sammies.
The next low-carb dessert recipe also shares a similar collagen twist on an old classic.
#2: Keto Collagen Chocolate Shake (Two Ways)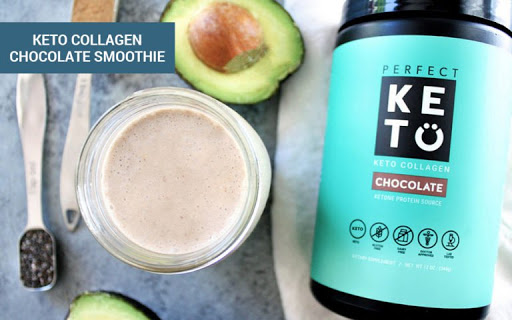 If you want to feel like a kid again by indulging in a chocolate milkshake without giving yourself a stomach ache, take the smarter route with this keto collagen shake.
Beyond the skin perks I keep highlighting, collagen's also known for these health benefits:
Soft tissue repair
Increased energy
Improved digestion
Detoxification
To take this recipe a step further, try this triple chocolate shake recipe for dessert too.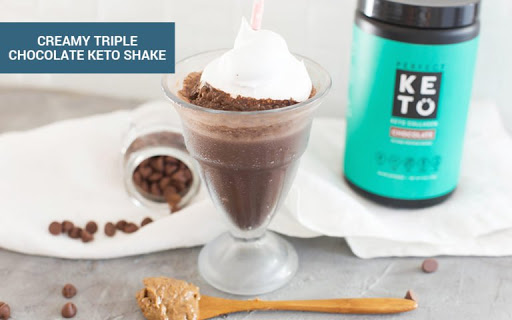 Not only does it have the same scoop of collagen, it's also loaded with MCTs to maintain your high energy levels instead of cause a blood sugar spike and subsequent crash.
The next smoothie happens to be #TeamVanilla and also brings its own set of health perks to the dessert party.
#3: Creamy Vanilla Chai Protein Shake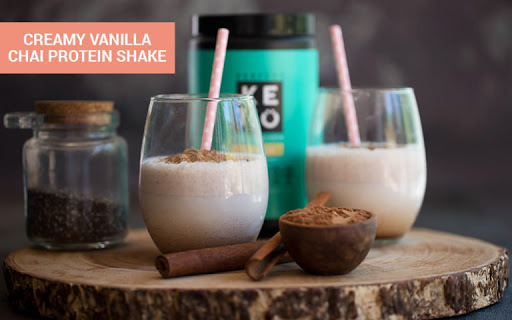 Chai isn't just the perfect alternative to the pumpkin spice craze.
It's also a powerful spice blend bursting with anti-inflammatory properties and antioxidants to help fight free radicals and the environmental damage your cells encounter each day.
The ginger in this creamy vanilla chai protein shake also acts as a great natural digestive aid, which may be perfect for those times when you want something light on your stomach but also something filling.
This last recipe is also a perfect solution for that.
#4: On-the-Go Keto Nut Butter Bars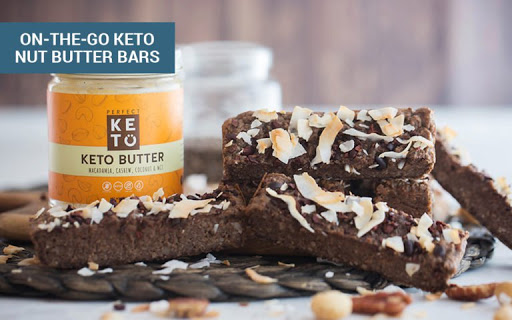 Instead of wasting your time trying to decipher which protein bars are really safe on a keto diet, it's far easier (and tastier) to just make your own.
And thanks to this on-the-go-keto nut butter bar, you won't have to waste time falling into a Pinterest rabbit hole searching for a decent recipe.
This one is aces in the flavor and nutrition categories and only takes 20 minutes of your time to make. #Keeper
Our next set of recipes will definitely cause your taste buds to do a double take.
5 Decadent Keto Desserts that Only Feel Like Cheating
One of the perks of choosing a high-fat diet like keto is getting to experiment with silky, fat-rich desserts like mousse, pudding and (yes!) cinnamon rolls.
Check out these unashamedly decadent keto dessert recipes next:
#1: Heavenly Keto Butter Mousse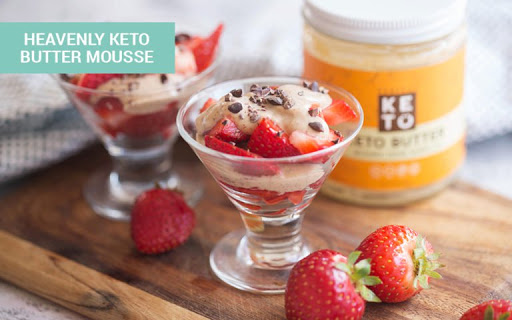 This keto nut butter mousse recipe is unlike any other.
Despite its light and airy texture, it's loaded with incredible health benefits, such as:
Helping you reach and maintain ketosis
Heart and brain protection
Reduced inflammation
Antibacterial perks
Plus, it only takes 10 minutes to make so you can even whip it up after a long and stressful day without too much effort.
Despite feeling like you're cheating, there's only 167 calories and 1g of net carb per quarter cup serving in this low-carb dessert.
The next recipe is best if you prefer your mousse in the chocolate family.
#2: Perfect Keto Chocolate Mousse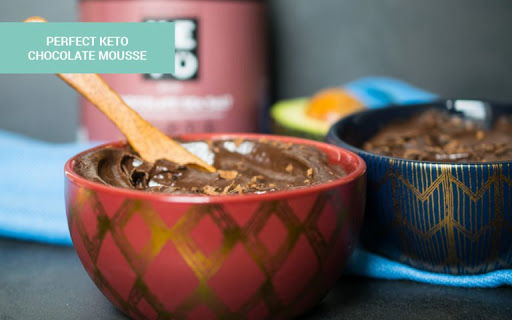 Our Perfect Keto chocolate mousse also takes just 10 minutes to make and contains an awesome mix of both collagen and exogenous ketones.
What do you need to know about exogenous ketones?
Basically, exogenous ketones can help you reach and maintain ketosis. They can also:
Help supercharge cognitive function
Combat inflammation and oxidative stress
Prevent cancer and help fight it
Improve insulin sensitivity
Offer protective benefits for your heart
Aid in fat loss
Improve your workouts
Exogenous ketones and collagen aren't the only health stars in this decadent mousse.
Our very own recipe creator Cristina Curp also snuck in avocados, cauliflower and blueberries — but you'd never know from taste alone.
These three flavors hide well under the chocolatey blanket of goodness so if you're having trouble meeting your micronutrient needs, try adding this mousse to up your vitamins and minerals.
For a pudding version that's also just as satisfying and adds more fiber to your diet, this next recipe will become your go-to.
#3: Chocolate Keto Chia Pudding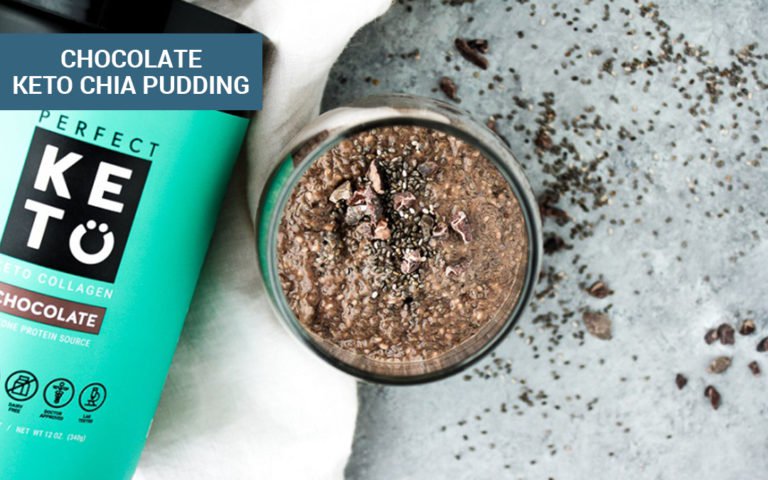 This chocolate keto chia pudding recipe has a smaller ingredient list than the last one and uses the same collagen found in the chocolate mousse recipe.
But with the addition of chia seeds, you'll feel fuller longer thanks to their high fiber content. You'll also help:
Restore balance to your insulin levels
Lower blood pressure thanks to the same Omega-3s found in healthy fats like salmon
Combat inflammation
You can see chia seed pudding is no ordinary pudding you get out of a box.
And this next one takes pudding flavors you know to new heights.
#4: Matcha Chia Seed Pudding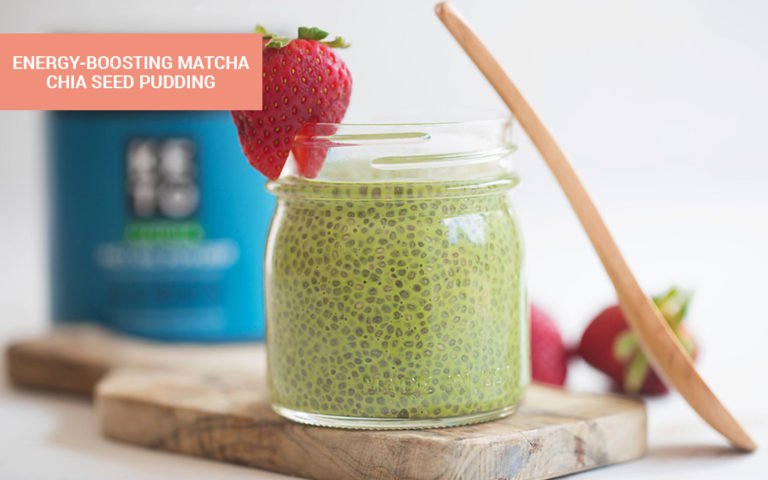 Matcha can help improve energy levels, strengthen your immunity and detoxify your body. It's also packed with enzymes and antioxidants that can help combat oxidative stress.
So jump on the matcha craze with this matcha chia pudding recipe.
It can be an energizing snack to kick off your first meal of the day or you can have it post-lunch to keep your energy levels high and tummy full until dinner time.
Our final decadent keto dessert may not be one you ever thought you'd get to have on a ketogenic diet.
#5: Best Homemade Keto Cinnamon Rolls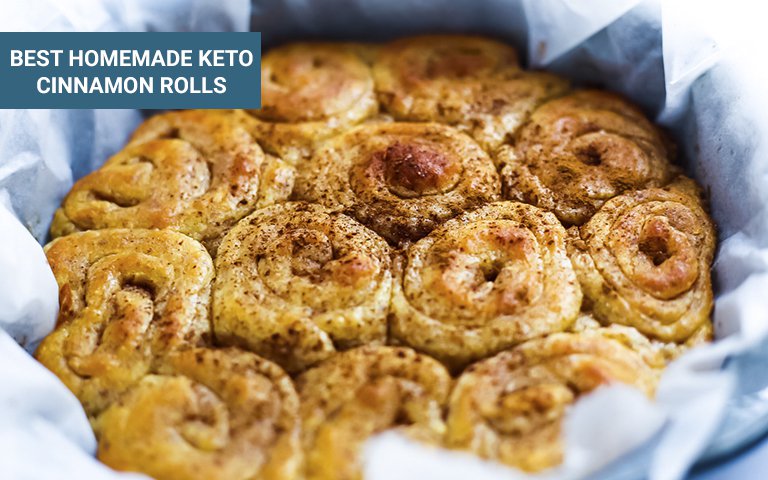 You don't have to hide the fact that every so often you crave a cinnamon roll on keto.
This doesn't mean you've failed or that a keto diet isn't for you; it just means you have to work smarter around these cravings.
Try this keto cinnamon roll recipe and you'll savor the same warm flavors without the sugar and excess carbs. Each roll comes in at 142 calories and 4g of net carbs.
And no, that doesn't mean you should double your portion and have two rolls just because they may fit your macros.
Rather, this is just a perfect way to treat yo' self without ruining your ketosis goals.
What's the secret ingredient I alluded to earlier?
Check out the recipe and keep an open mind. This is one of those recipes you can't knock until you try it.
But before you head off into cinnamon roll bliss, we have a few more low-carb desserts to cover.
And you won't want to bounce without a few keto cookie recipes in your back pocket.
3 Keto-Friendly Cookies to Make All Cookie Monsters Happy
Healthy cookies are another tricky treat to find in grocery stores, especially when going low-carb.
These three keto cookie recipes will save you from this hassle and quiet your inner cookie monster at the same time:
#1: Chewy Coconut Flour Cookies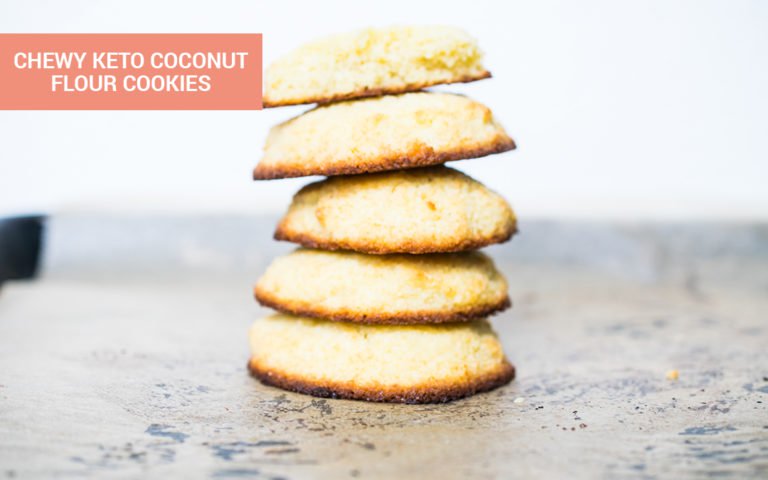 Chewy, soft-baked coconut cookies in less than 30 minutes from start to finish?
And they're low carb with less than 1g of net carbs?
Yes, it's true.
This keto coconut flour cookie recipe also uses MCT oil (in powder form) so you'll actually feel better after this cookie binge than others in your past.
That's because MCTs help your cells and metabolism, two things most cookies can't do.
The next batch of cookies is just as healthy and delicious.
#2: Buttery Coconut Vanilla Keto Cookies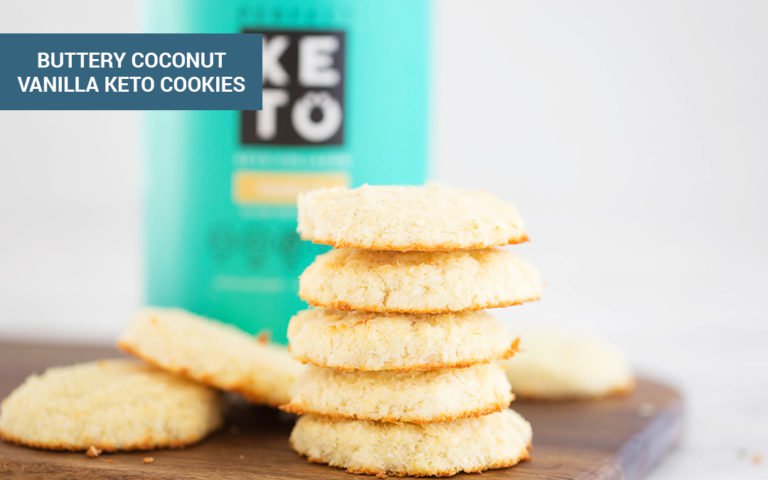 These low-carb cookies most resemble those buttery sugar cookies you're used to.
But, just like the previous keto recipe, the ending is far different than the old version thanks to the elimination of all the sugar and carbs.
Instead of using MCTs, you'll find our Perfect Keto collagen in this recipe to support healthy skin and digestion.
You'll be giving your body a nice health upgrade with these cookies instead of feeling deprived without them on a keto diet.
For a spicier low-carb option that works well for holidays and sharing with your friends, family and coworkers, you have to try this last cookie recipe.
#3: Low-Carb Gingersnap Cookies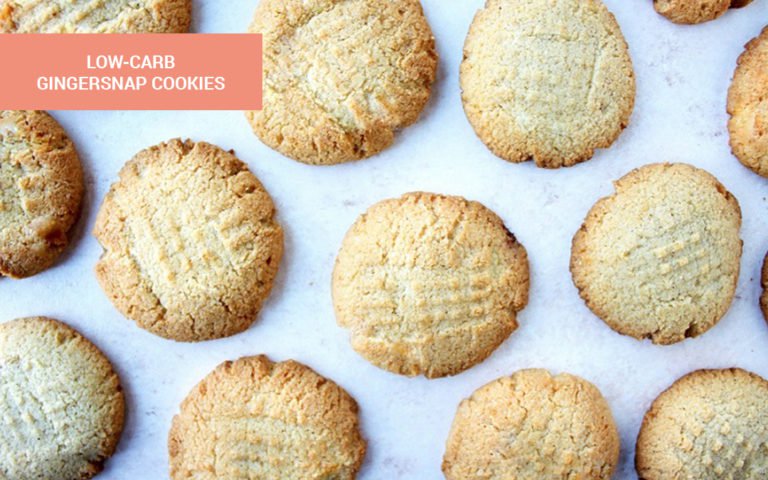 These low-carb gingersnap cookies use almond-flour, which is naturally gluten-free, to replace overly-processed white flour.
You get the same great cookie texture you love and all these added health advantages thanks to this swap:
Help maintaining a healthy weight
Improved energy levels
Regulated blood sugar levels
So when you show up with these cookies for your holiday dessert swap, you'll at least be doing everyone a favor nutrition-wise.
And if the party is at your house, you can also whip up a batch of ice cream to go with dessert by using one of these keto recipes next.
4 Homemade Low-Carb Ice Cream Recipes (Some Are Even No-Churn)
You don't need a fancy ice cream maker to create these yummy low-carb ice creams.
And since most can be done with as little as 10 minutes of prep time, it's easy to indulge in your own fresh, healthy batch.
These keto ice cream recipes also give you a chance to hide powerful superfoods inside your chilly sweet treat, as you'll see next:
#1: Keto Superfood Nice Cream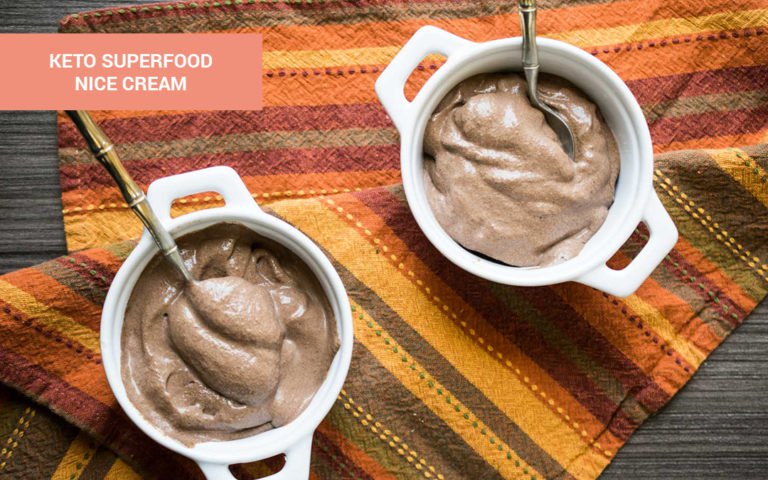 When the nice cream phase hit your Instagram feed, you were probably disappointed to learn most recipes start with a keto unfriendly banana base.
The good news is you can easily swap that high-carb ingredient out for a better, low-carb superfood instead: cauliflower.
Cauliflower, just like avocado in keto avocado brownies, is almost unrecognizable in both taste and texture in this keto superfood nice cream recipe.
So not only does it virtually disappear, you're also getting extra fiber and vitamins in this dessert because of it.
Give this recipe a try, and the next one, and you'll never shell out your hard-earned money on Halo Top or other expensive, lower-carb ice creams ever again.
#2: Chocolate No-Churn Keto Ice Cream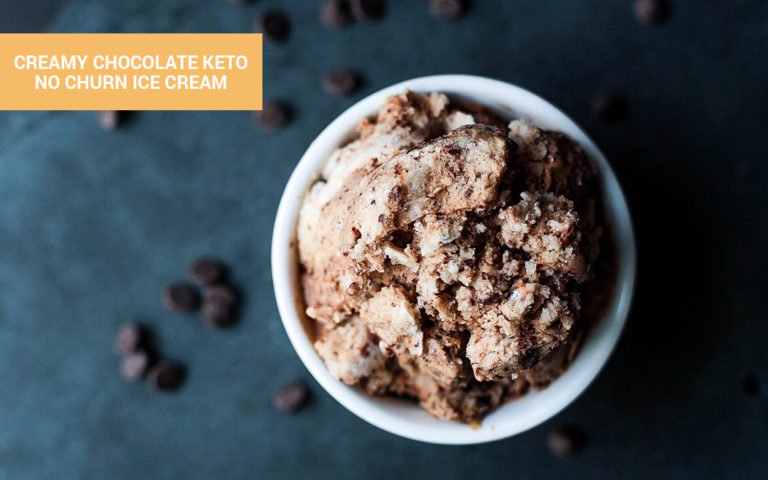 If you don't have a blender or don't feel like getting yours dirty, you can skip it altogether when you make this chocolate no-churn keto ice cream recipe.
Simply mix all the ingredients together and pour it into your trusty, multi-use loaf pan to set and freeze.
Our next recipe comes together using this exact same process, but it's for all you #TeamVanilla fans.
#3: Easy No-Churn Vanilla Keto Ice Cream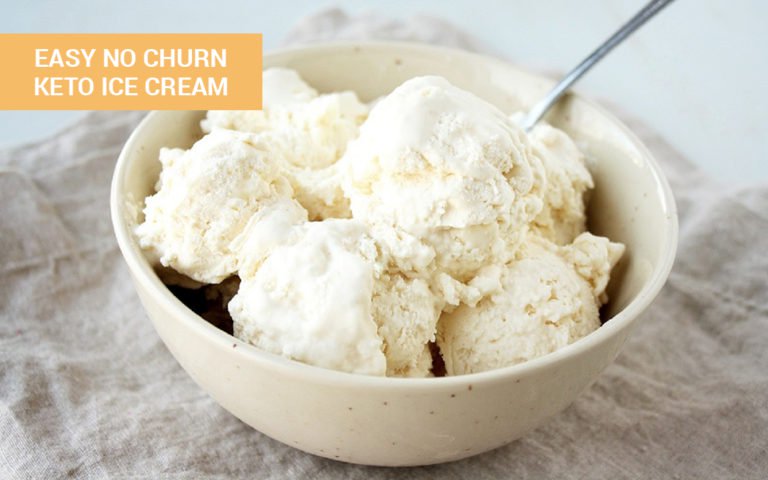 Using this easy no-churn vanilla keto ice cream recipe, you can have your frozen treat ready in less than five minutes of prep time and using only three ingredients you may already have on hand.
And if you're willing to spare a few extra minutes of prep (just five more minutes), you can even upgrade to a low-carb version of this popular ice cream flavor as this next recipe proves.
#4: Chocolate Mint Keto Ice Cream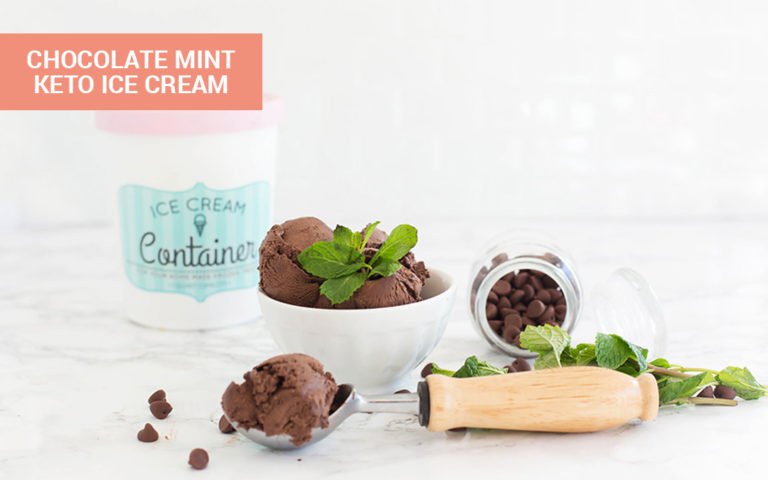 In this chocolate mint keto ice cream recipe that tastes just like the high-carb versions you're used to, you'll find the same organic coconut cream base used in the previous two recipes.
This healthy foundation can:
Help improve cholesterol
Keep blood vessels circulating properly
Regulate insulin levels
Improve digestion
Chocolate mint keto ice cream is delightful on its own or used to top any of the brownie recipes on this list of low-carb desserts.
But you can also top your low-carb ice cream with:
*Bonus* 2 Keto Dessert Toppings Everyone in the Family Will Love
As my special treat for making it this far, here are two low-carb toppings to pair with almost every keto dessert recipe on this list:
#1: Irresistible Nut Butter Keto Fluff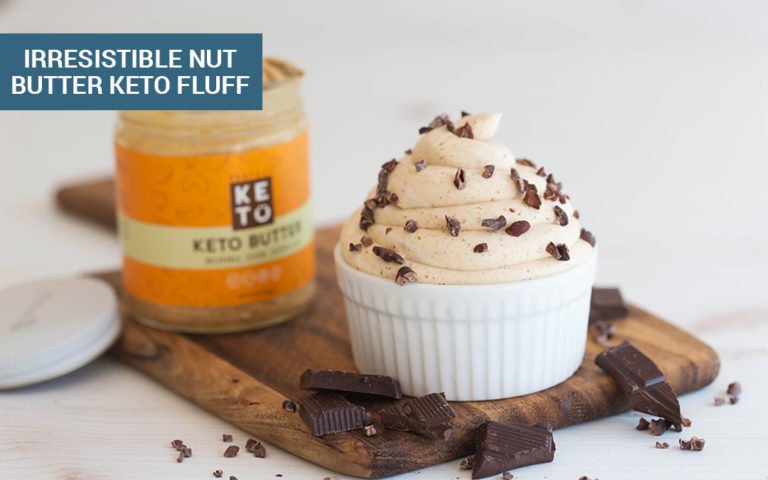 You probably already know the real Fluff you loved as a kid is nothing more than whipped chemicals and sugar.
But did you know there's a healthier low-carb version available?
This nut butter keto fluff is the hero your desserts need — and you can even scoop out a bit and savor it on its own.
Since it's only made with healthy ingredients that will actually fill you up, it works well either way.
And for a lighter dessert topping option, try this:
#2: Thick & Rich Keto Whipped Topping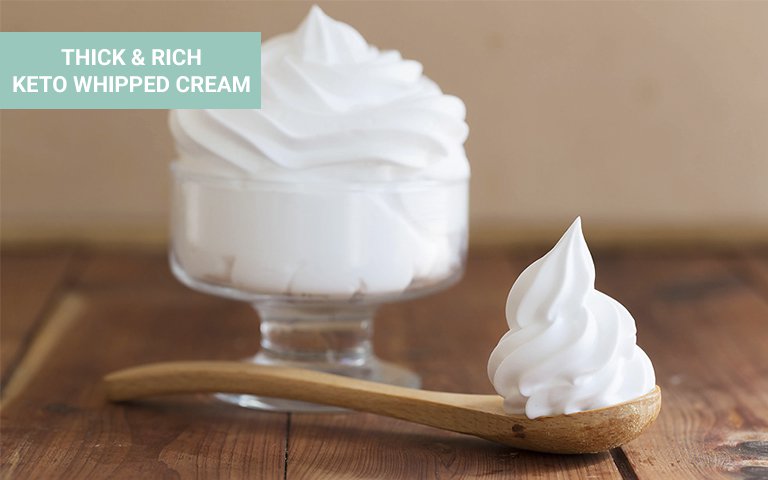 Store-bought whipped creams in the spray can or frozen tub are filled with tons of additives, chemicals and horrible-for-you ingredients.
But it doesn't have to be that way.
Homemade whipped cream is easy to make and doesn't require any fake or suspect ingredients.
In just five minutes of prep time, you'll have this thick keto-safe whipped cream  ready to go.
And it holds up on its own instead of disappearing within seconds like the chemical options do.
You know what will actually disappear with the help of all these keto dessert recipes?
Your muffin top, dad bod, excess body fat and low energy levels.
So Which Keto Desserts Are You Trying Today?
With 35 low carb desserts to choose from, you'll be able to satisfy any sweet cravings trying to veer you off the path to ketosis.
And since each of these recipes is keto friendly and nutritionally-backed by healthy ingredients, you can do so guilt-free anytime you like.
So which ones are you going to make first?
Bookmark, share or pin this page so you can always refer back to these recipes in a flash and you'll be able to stick to keto without feeling dessert-deprived.
Cheers to having your cake and other desserts on keto without losing your fat-burning edge!