What's more comforting than the smell of homemade apple pie baking in your kitchen? That nostalgic smell is hard to beat. When you're following a low-carb or keto diet, fitting a slice of pie into your daily life might seem impossible. Lucky for you, this keto pie crust recipe is about to change that.
Have no fear, your dessert-less days just got a little bit sweeter. This easy low-carb pie crust is made up of (only four) all-natural ingredients including coconut flour, almond flour, eggs, and butter. Seems simple enough, right?
Below, you'll learn how to make a low-carb pie crust, which fillings to use, and why this particular recipe is completely keto and gluten-free. With only 1.5 grams of net carbs per slice, you're sure to come back eager for seconds.
Health Benefits of Baking With Almond Flour and Coconut Flour 
How can a pie crust possibly come with a low carb count? The secret is all in the flour.
Alternative Flours Contain Less Carbs and More Fiber 
Most "regular" pie crust recipes are made with white flour or wheat flour. This means a whopping 95 grams of carbs per cup, or almost triple your percent daily values for carbs on the keto diet[*].
If you do a side-by-side comparison of the nutrition facts of enriched white flour to either almond flour or coconut flour, the differences are remarkable. One quarter cup of almond flour contains 14 grams of fat, 6 grams of protein, and only 6 grams of carbohydrates with 3 grams of fiber[*]. Meanwhile, a quarter cup of coconut flour contains only 4 grams of net carbs[*].
Now, you might be thinking, "That's not a fair comparison. You're comparing one cup of white flour to a fourth cup of coconut flour!" But there's something else to consider.
In keto and paleo baking, you'll use far less coconut or almond flour than you ever would white flour. For example, while you might use 2 1/2 cups of white flour in a regular pie crust, this low-carb pie calls for just 1/3 cup of coconut flour and 3/4 cup almond flour.
Coconut and Almond Flour Come With Health Benefits 
Besides helping you maintain a ketogenic state, there are many reasons you may want to opt for almond or coconut flour instead of a grain flour containing an abundant amount of carbs.
With almond flour, you're receiving many of the same benefits you would otherwise get from consuming raw almonds. The same goes for coconut flour, which is simply ground up coconut meat.
Almond flour has been shown to improve heart health, improve cognitive function, improve skin health, help control blood sugar levels, improve nutrient absorption, improve digestion, and even help aid against inflammation[*][*][*].
However, this flour isn't the only low-carb alternative sure to provide you with an abundant amount of health benefits. Coconut flour helps aid in metabolic function, improves digestive system function, and helps maintain healthy blood sugar levels[*]][*].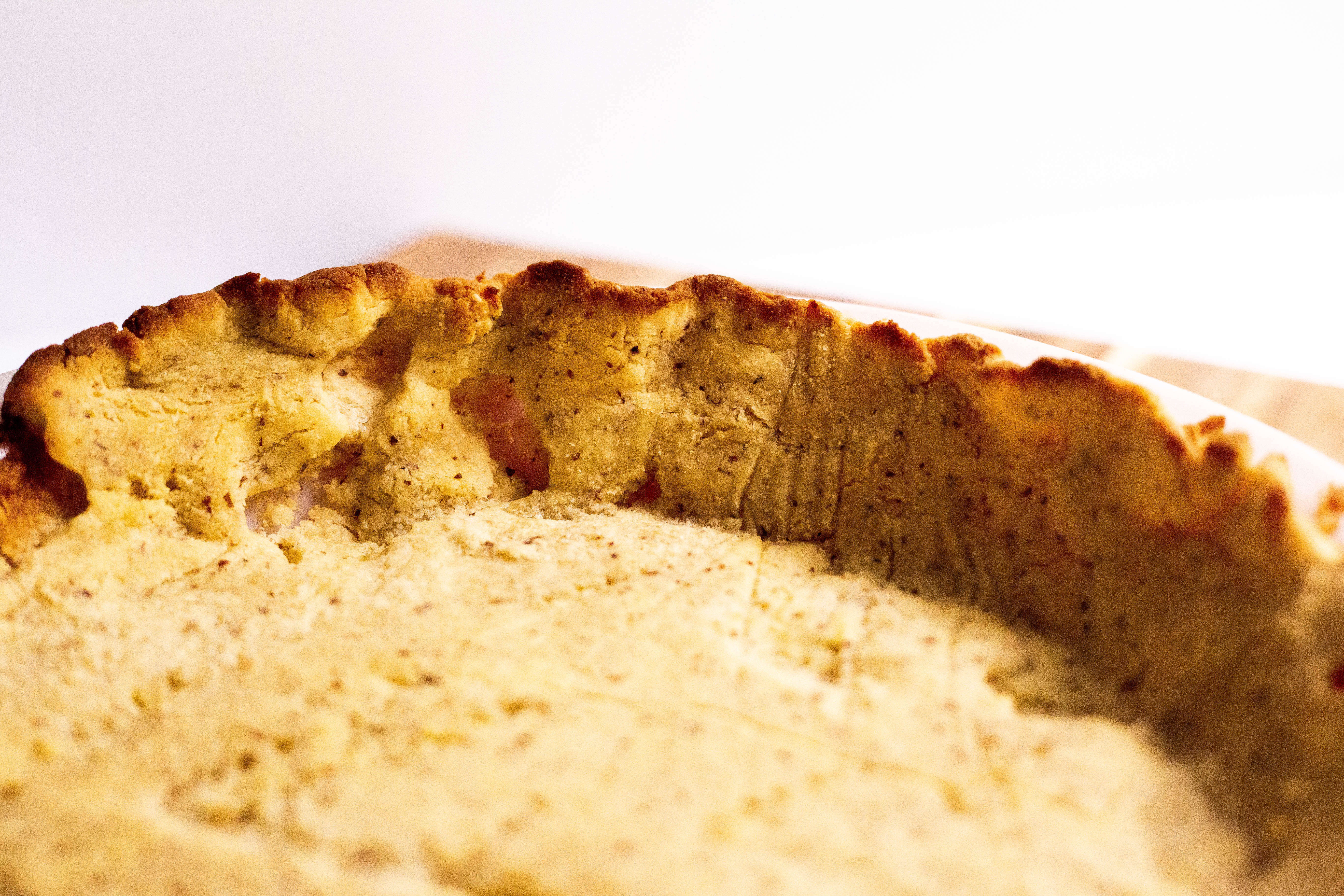 How to Prepare Your Grain-Free Pie Crust
To make your almond flour pie crust, you'll need almond flour, coconut flour, large eggs, and cold butter. You will also need a hand mixer or food processor and a pie plate.
Once you pre-bake your crust, you can use a number of keto recipes as the filling. Here are a few ideas to get you started.
Low-Carb Recipes to Fill Your Pie Crust 
You can use this delicious, flaky crust to make a sweet or savory pie, depending on your tastes. Whether you're hosting a holiday dinner, preparing a weekend brunch, or making a pie just for fun, these recipes should get you started.
Low-carb pumpkin pie: Whether it's your turn to host Thanksgiving dinner or you're just excited it's finally fall, this keto pumpkin pie, made with monk fruit sweetener, is the perfect festive treat.
Keto quiche: Hosting a low-carb brunch this weekend? Pour the ingredients for this keto frittata into your almond flour crust, making a savory breakfast quiche.
Low-carb cheesecake: Is cheesecake one of your all-time favorite desserts? Use this keto cheesecake recipe, made with cream cheese and heavy whipping cream, to make a delectable low-carb treat.
Chicken pot pie: Craving a bit of comfort food? Try this chicken pot pie recipe, which pairs perfectly with your coconut flour pie crust. Simply double the recipe below to make your crumbly top crust.
Pecan pie: Can't resist a slice of pecan pie? Try this recipe (or, if you don't want all the extra work, try these easy pecan pie fudge bombs).
Fruit pies: You can easily whip up your favorite sweet pie filling with a blend of low-carb fruit and a sugar-free sweetener, like erythritol, Swerve, monk fruit, or stevia.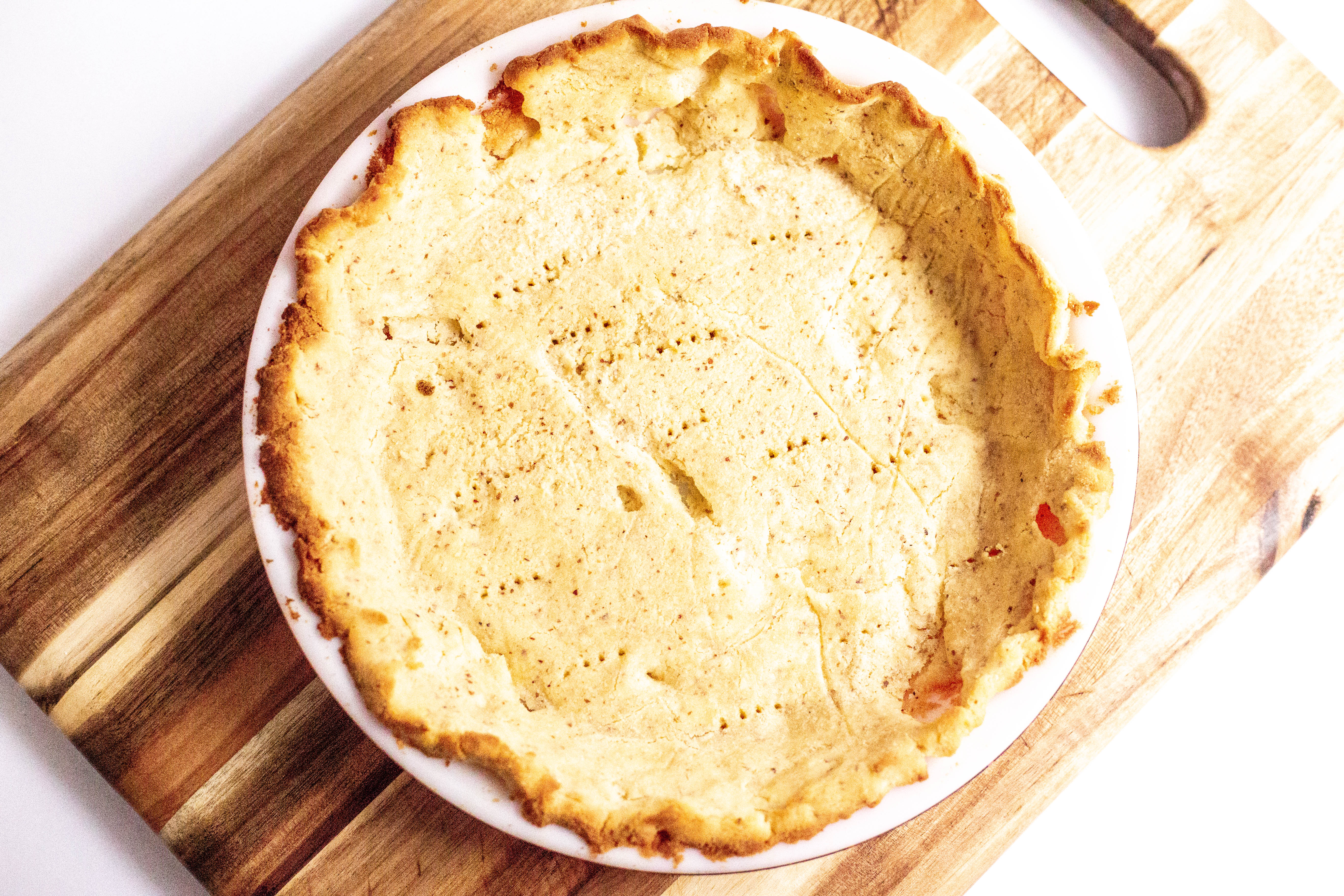 Recipe Notes: Keto Pie Crust FAQs
If it's your first time making a grain-free pie crust, you might have a few questions. Hopefully these tips and tricks will set you up for success.
Can this recipe be made dairy-free? Yes. Simply skip the butter, and use coconut oil instead.
What size pie plan does this recipe call for? This recipe calls for a U.S. customary 9-inch pie pan.
Can this crust be used in both sweet and savory recipes? Yes, although you might want to add 1 tsp salt to the crust for your savory recipes.
How do you prevent the pie crust from burning? If you like an extra golden brown crust, you can extend the cooking time by five minutes. To prevent it from burning, cover the sides of your crust with tin foil.
Where can you buy almond and coconut flour? By now, most big box stores carry alternative flours. Otherwise, you can order it on Amazon.
What is xanthan gum, and should it be added to the crust? Xanthan gum helps add a little extra "stretch" to keto and gluten-free recipes. Typically, it helps give baked goods a doughy consistency, making it work well in biscuits and pizza crusts, not pie crusts.
Enjoy This Low-Carb Keto Pie Crust for a Sweet Slice 
Along with having a short list of ingredients, this keto pie crust is also the perfect crust for any keto dessert, considering it's only one and a half grams of net carbs per serving.
Print
Flaky Keto Pie Crust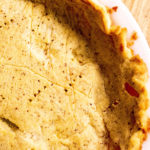 Running out of ideas for a keto-friendly dessert? Try this pie crust in a number of different low-carb recipes to satiate your sweet tooth.
Author:
Prep Time:

15 minutes

Total Time:

1 hour and 10 minutes

Yield:

12

slices

1

x
Instructions
In a large bowl, combine the almond flour and coconut flour.

Cut the butter into small squares and add it to the dry ingredients. Press the butter into the flour using two forks until it's mixed as best you can.

In a separate bowl, beat the eggs with a hand mixer on high and then pour it into the flour to mix.

Blend by hand until you get a dough-like consistency.

Ball it together with your hands and wrap it tightly with cling wrap. Store in the fridge or freezer for about an hour.

After about an hour, preheat the oven to 350℉.

Roll the dough between two pieces of parchment paper.

Carefully transfer the flattened dough to a pie-shaped baking pan.

Poke dough with fork randomly to perforate crust.

 Bake for 10-15 minutes or until edges become brown.
Nutrition
Serving Size:

1 slice

Calories:

122

Fat:

10.4g

Carbohydrates:

3.4g (Net Carbs: 1.5g)

Fiber:

1.9g

Protein:

3.4g