These perfectly chewy keto bagels aren't just easy to make, they're only 5 ingredients total, plus a couple of optional add-ons for flavor and nutrition. That makes then gluten-free, keto-friendly, easy, and comforting.
Because if there's one thing you're probably missing on your healthy keto diet, it's comfort food. And bread. Bagels aren't your standard keto breakfast option, but with this keto bagel recipe, you can once again enjoy bagels on a low-carb diet.
And if you're looking for the bagel chew, you're in the right place. This recipe is not only keto-friendly, but it's gluten-free and paleo as well. Sorry vegans — it does contain cheese.
These low-carb bagels are:
Chewy
Comforting
Delicious
Satisfying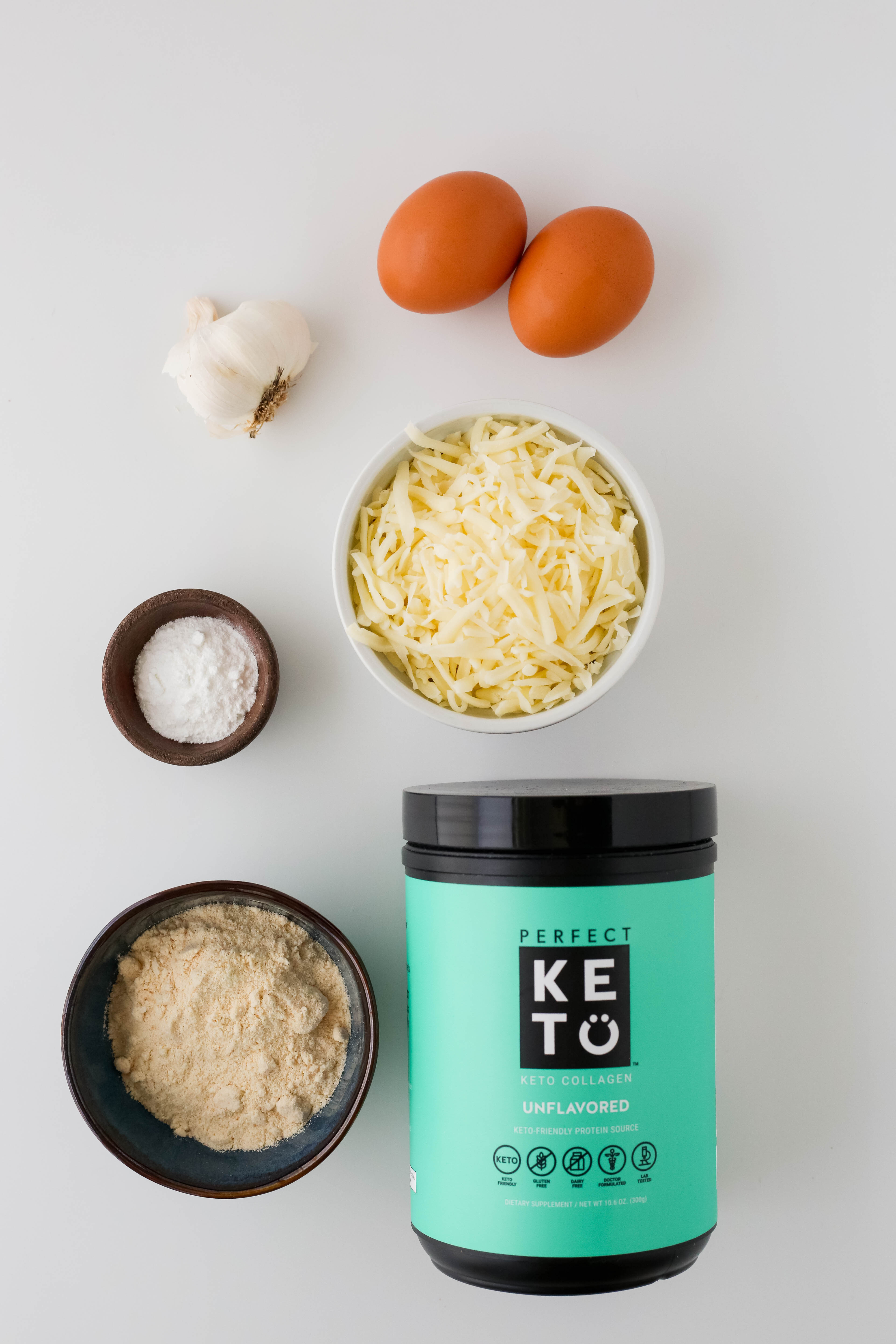 The main ingredients are:
Optional additional ingredients
Sesame seeds
Everything seasoning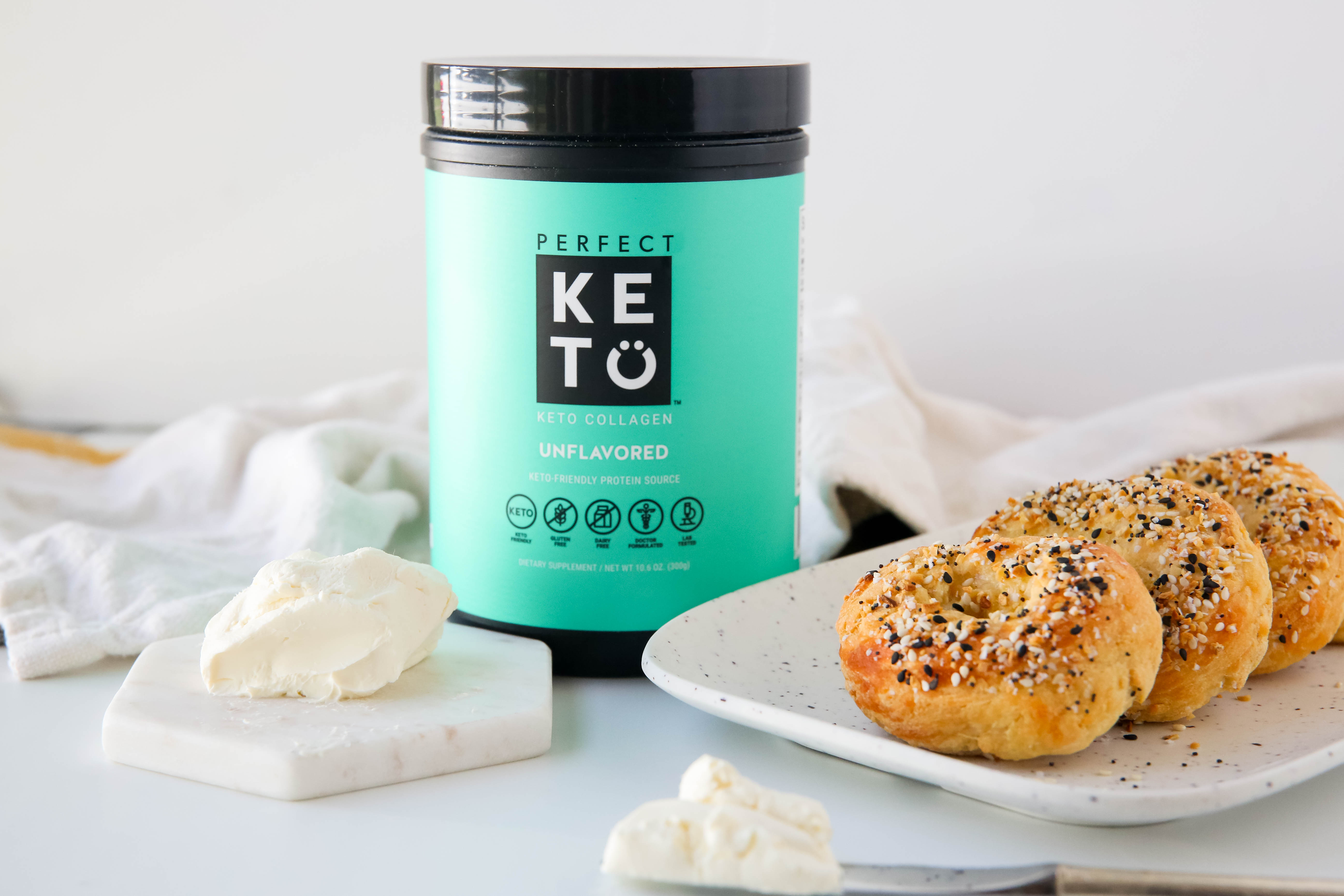 The Secret to The Best Keto, Gluten-Free Bagels
Like the famous Fat Head Pizza Dough, these bagels use the chew-factor of mozzarella cheese to give it the correct texture. The coconut flour, along with the cheese and eggs give it the perfect chew.
And while a lot of keto bread recipes are dry and have a strange texture that's nothing like the original, you're going to have a hard time eating just one of these. But the best part about these bagels is the versatility.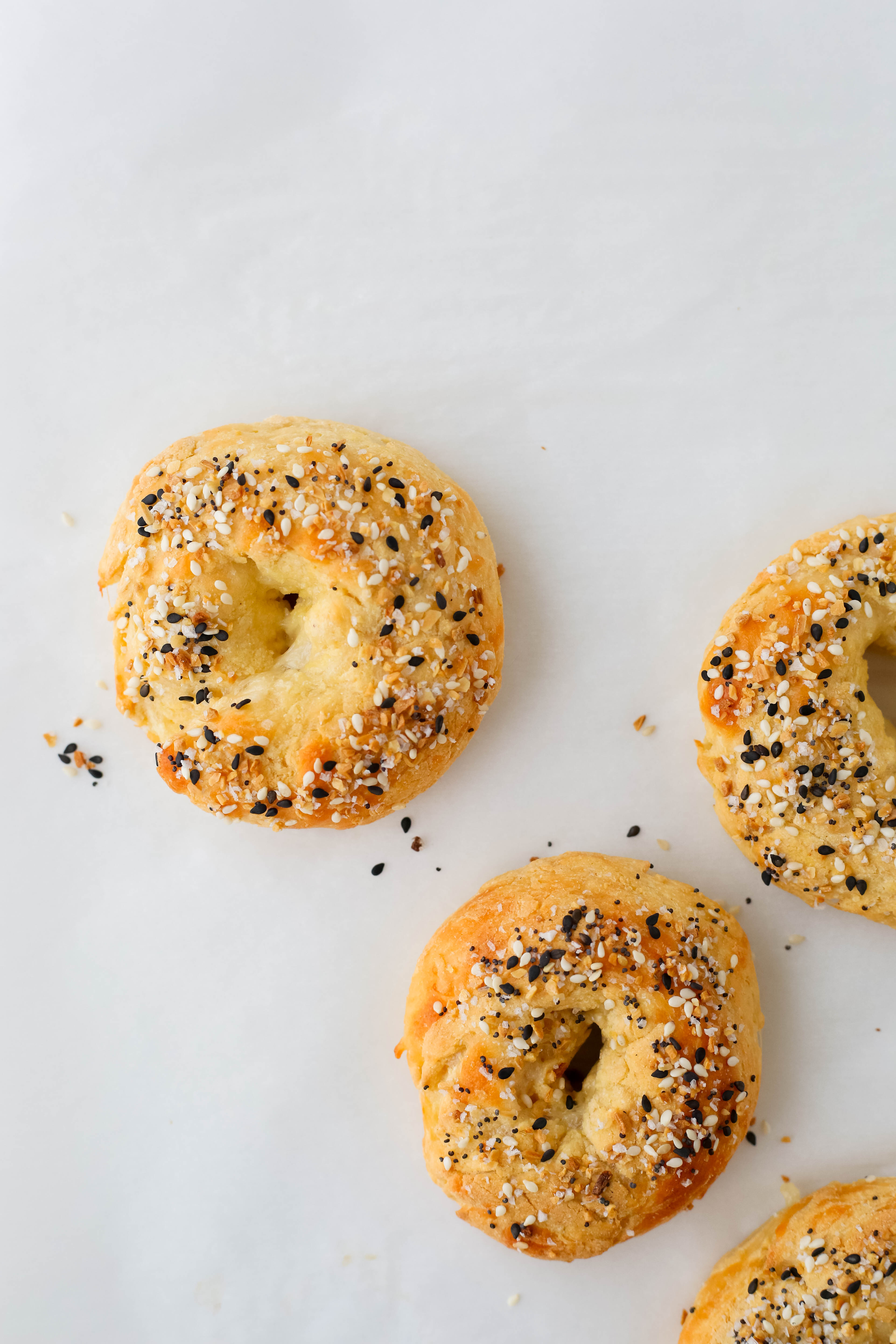 Toppings For Your Keto Bagels
This recipe calls for garlic, but you can easily mix and match your toppings for a whole new keto bagel experience every time. Keto-friendly toppings include:
Sesame seeds
Poppy seeds
Flaxseeds
Trader Joe's everything bagel seasoning
More grated cheese, like parmesan
For a sweeter bagel option, you can mix a little monk fruit and cinnamon together or add it straight to the dough.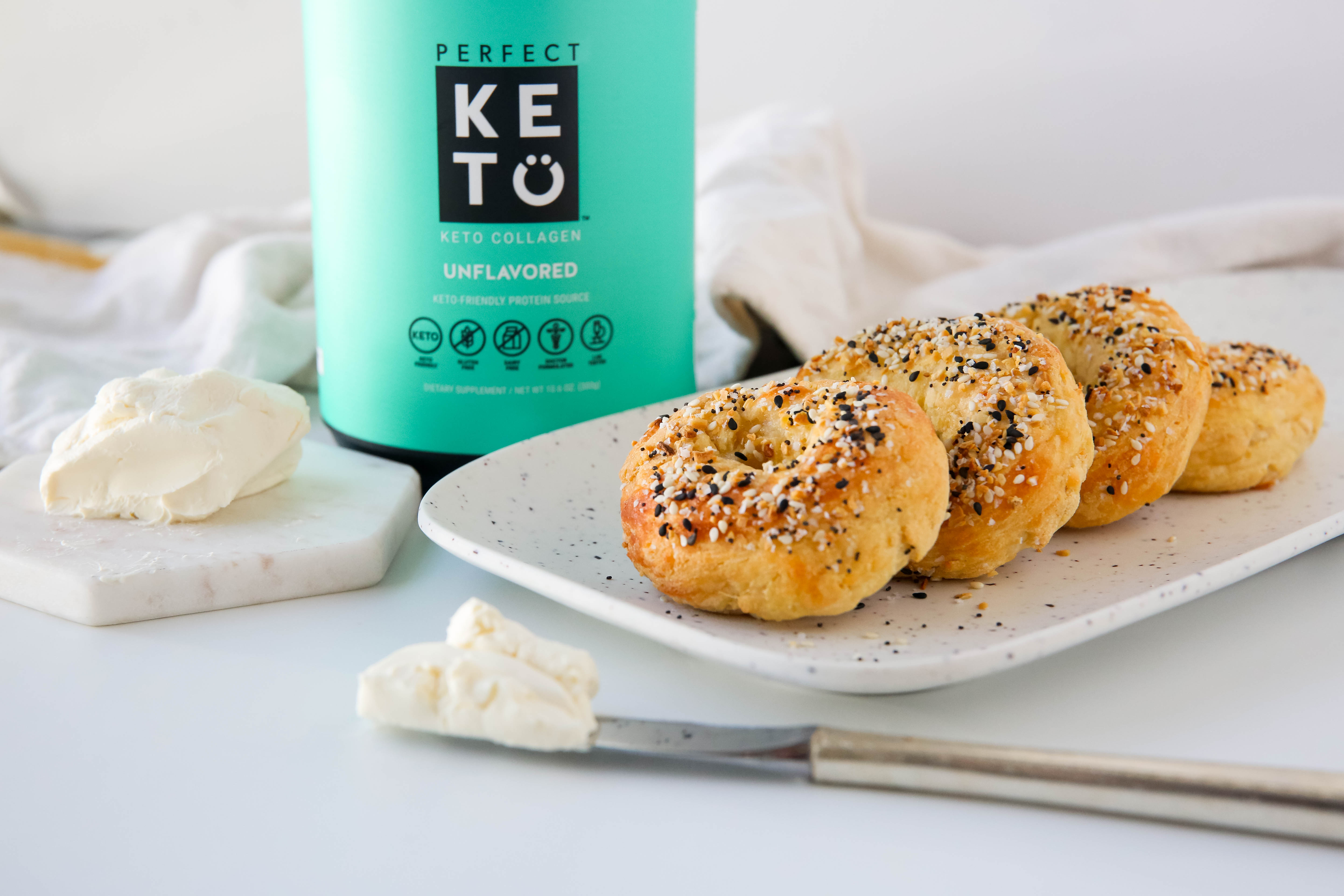 Working With Keto Bagel Dough
Because of the cheese and eggs, this dough can get a little sticky, making it difficult to work with. Like fathead dough, there are a couple of easy ways to work with this:
Chill your dough for a few minutes before working it with your hands
Coat your hands in olive oil so the dough slides off more easily.
Avoid overheating the dough, which makes it stickier and can begin to pre-cook the eggs.
Use a stand mixer or food processor.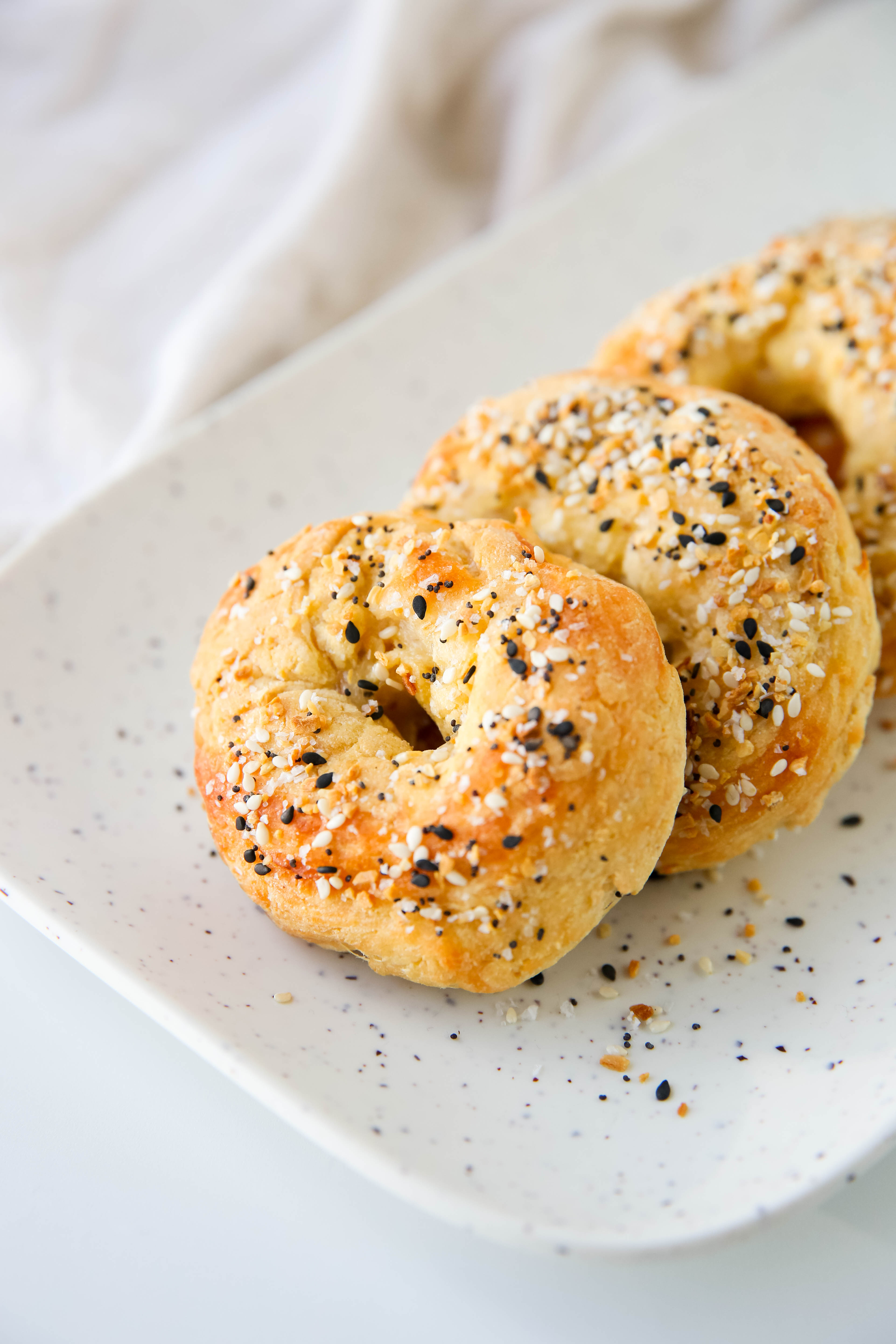 How to Make Keto Bagels
Are you ready to make some low-carb keto bagels? This is one of the best low-carb bagel recipes you'll find, and it only takes 25 minutes to prepare, so let's get started.
Begin by preheating your oven to 350 degrees F and line a baking sheet with parchment paper to set aside.
In a large bowl, mix together your coconut flour, collagen, baking powder, and xanthan gum.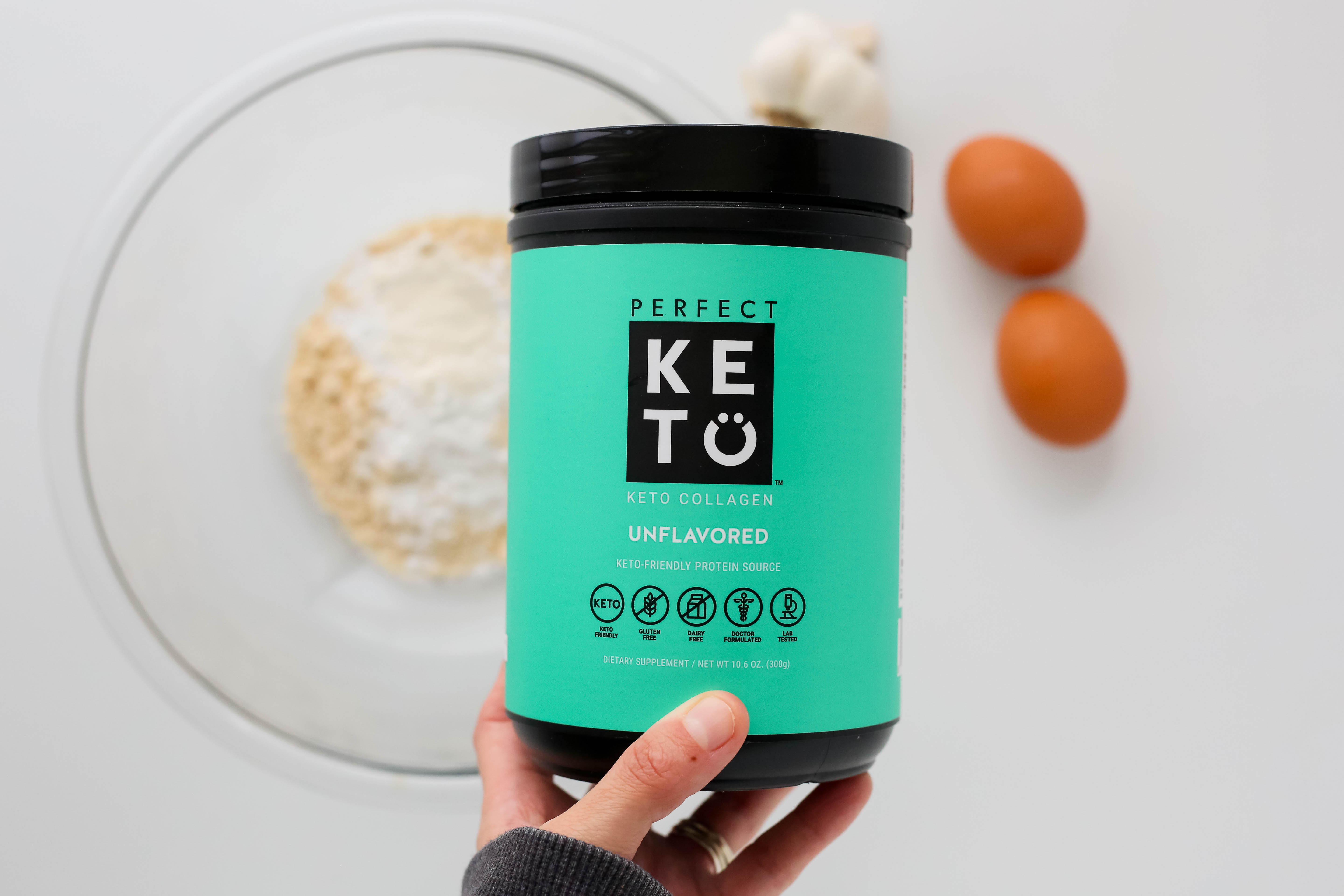 In a medium bowl, add your cheese and then microwave until it becomes liquidy, then add the coconut flour mixture to the cheese and then stir well.
Next, add your eggs to the cheese mixture and continue to stir until everything is well-combined (you can also use a food processor if you have one).
Using your hands, knead out the dough and separate it into eight equal parts.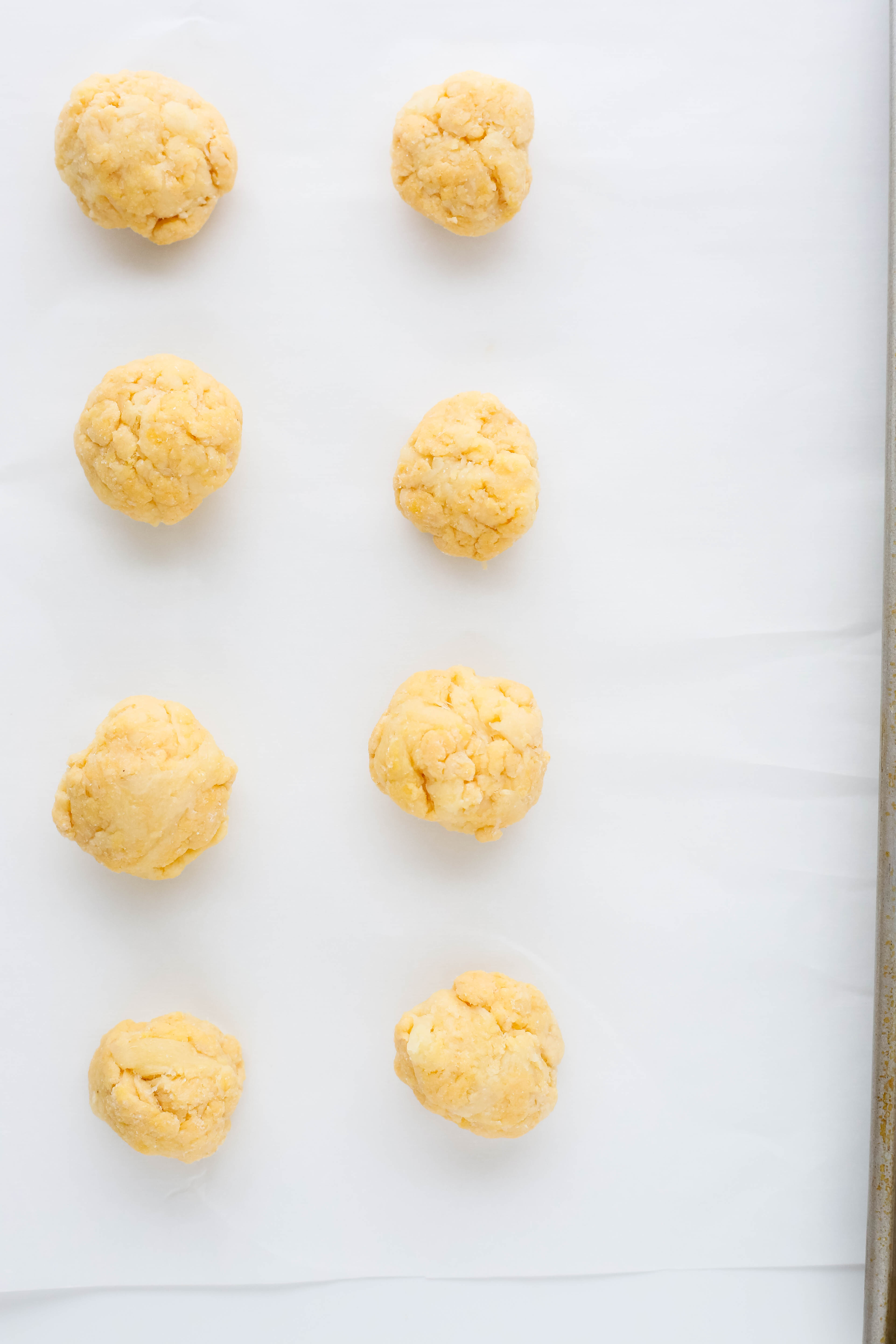 Roll each portion into a long log, and then form a bagel shape. If you want to replicate an English muffin, just skip the log part and make eight round balls slightly flattened.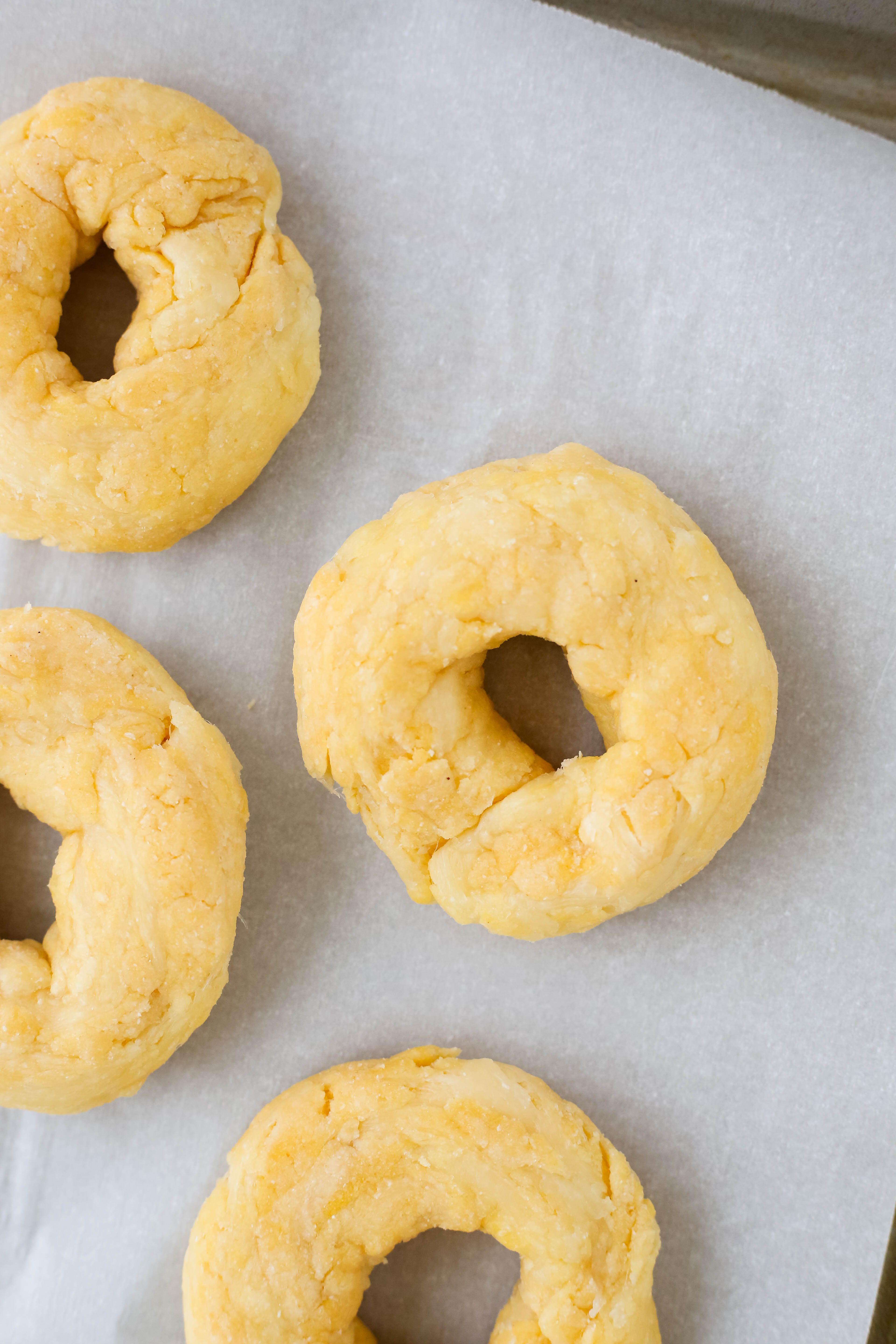 Keep them plain or add seasoning to make everything bagels, and bake for 15 minutes, or until the bagels are golden brown.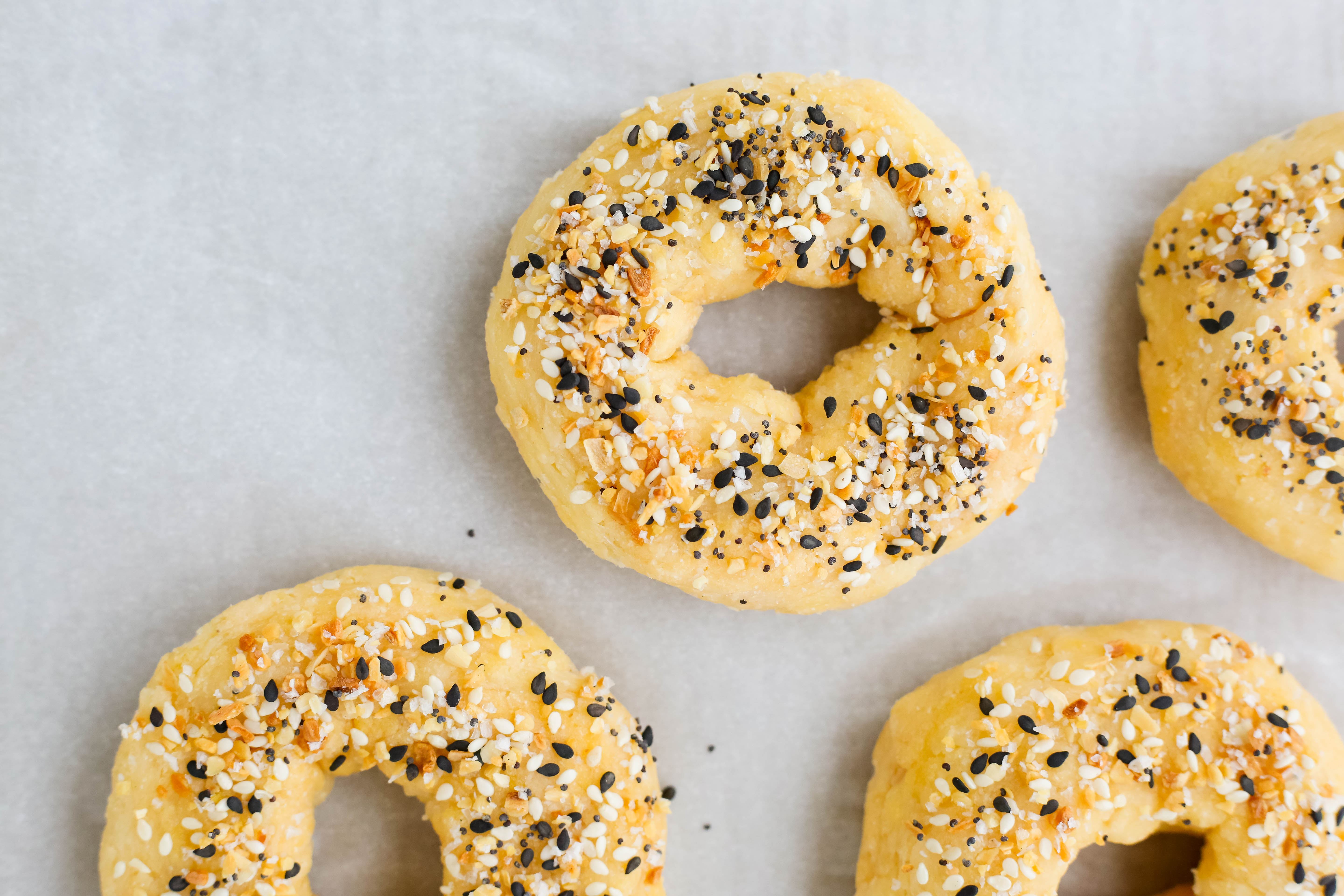 Serve with some eggs, sliced avocado, or cream cheese. Cut your bagels in half and throw them in the toaster if you want them extra crispy.
If this is your first time making this recipe, check your bagels after about 10-12 minutes as cooking times vary with different ovens.
And if you're excited about these keto bagels, you're going to love some of our other popular keto bread recipes: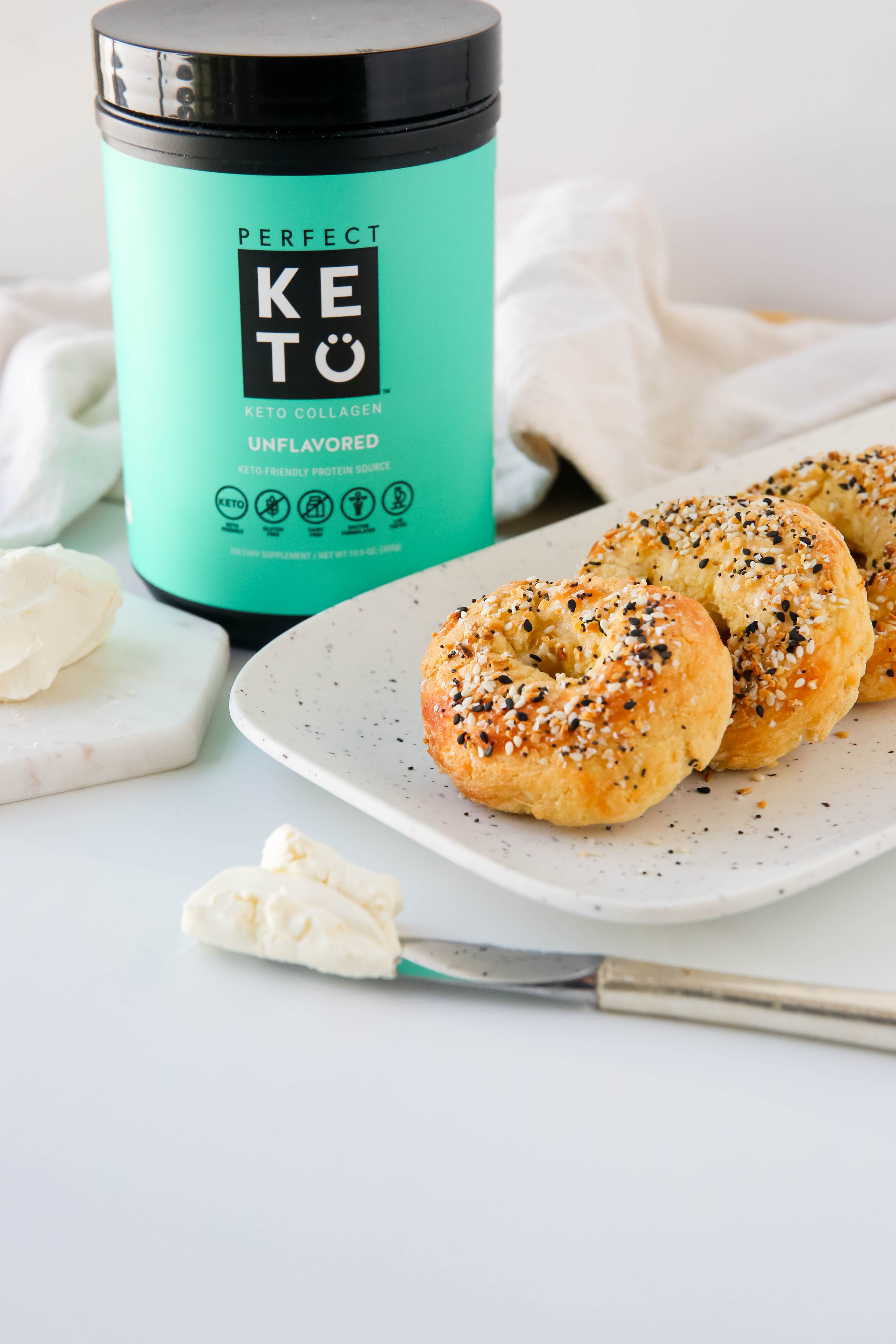 Keto Bagels Cooking Tips
When it comes to keto bagel dough, you might run into a couple of challenges. But they're nothing you can't work with. Here are a few common problems with keto bagel baking and how to fix them:
Your Bagels Are Raw Inside
First thing's first, there's cheese in these bagels. So, the consistency will change as they cool. If they seem a little soft or sticky inside, wait until they're cooled to cut into them.
If they're still too gooey on the inside, but brown on the outside, your oven may run a little hotter than our test oven. Lower the temperature a bit and cook for longer. To save your half-cooked bagels, cover them with tin foil and bake for an additional 5-10 minutes.
Your Bagels Aren't Rising
First, check that your ingredients are super fresh — especially your baking powder. If that doesn't seem to be the problem, you can try shaping your bagels in different ways, giving them plenty of room to rise and spread in every direction.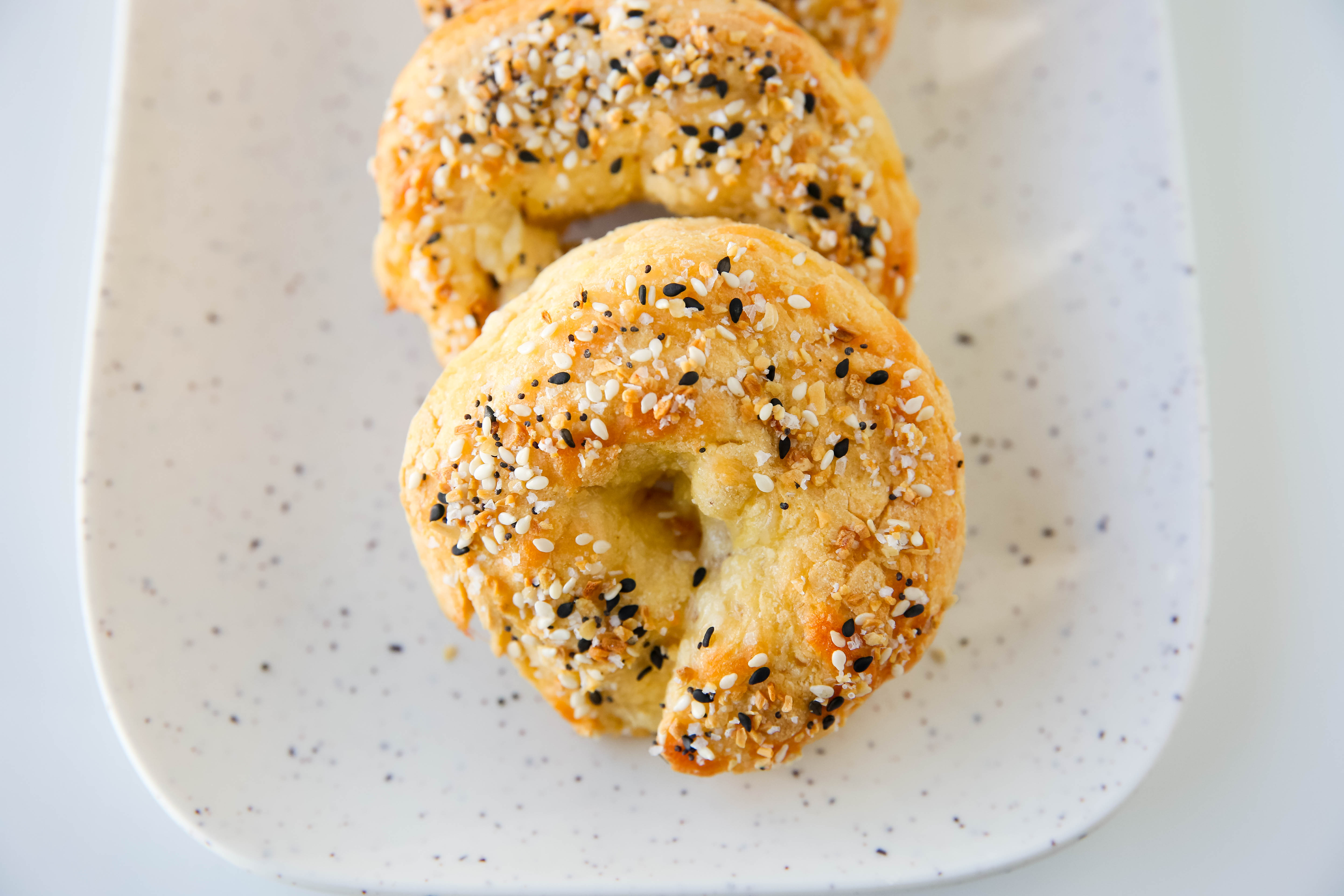 Health Benefits of Keto Bagels
Chewy Goodness, Minus the Carbs and Gluten
There's something incredibly satisfying about biting into a chewy bagel. The problem is, all that chewiness is usually coming from gluten. Not to mention the fact that a typical bagel contains around 55 grams of carbs[*].
These keto bagels are not only gluten-free, but they have a carb count of only 2.9 grams. And what about that chew? Don't worry; mozzarella cheese makes an excellent replacement for wheat gluten in the chew department.
Protein-Rich Carb Alternative
This bagel recipe not only cuts the carbs, but it replaces them with extra protein. At over 13 grams of protein per serving, these keto bagels could take the place of other high-protein breakfast options like eggs or sausages.
And if you really want to up your protein intake, use your keto bagel to make a breakfast sandwich, throw some bacon and cheddar on there too, live it up.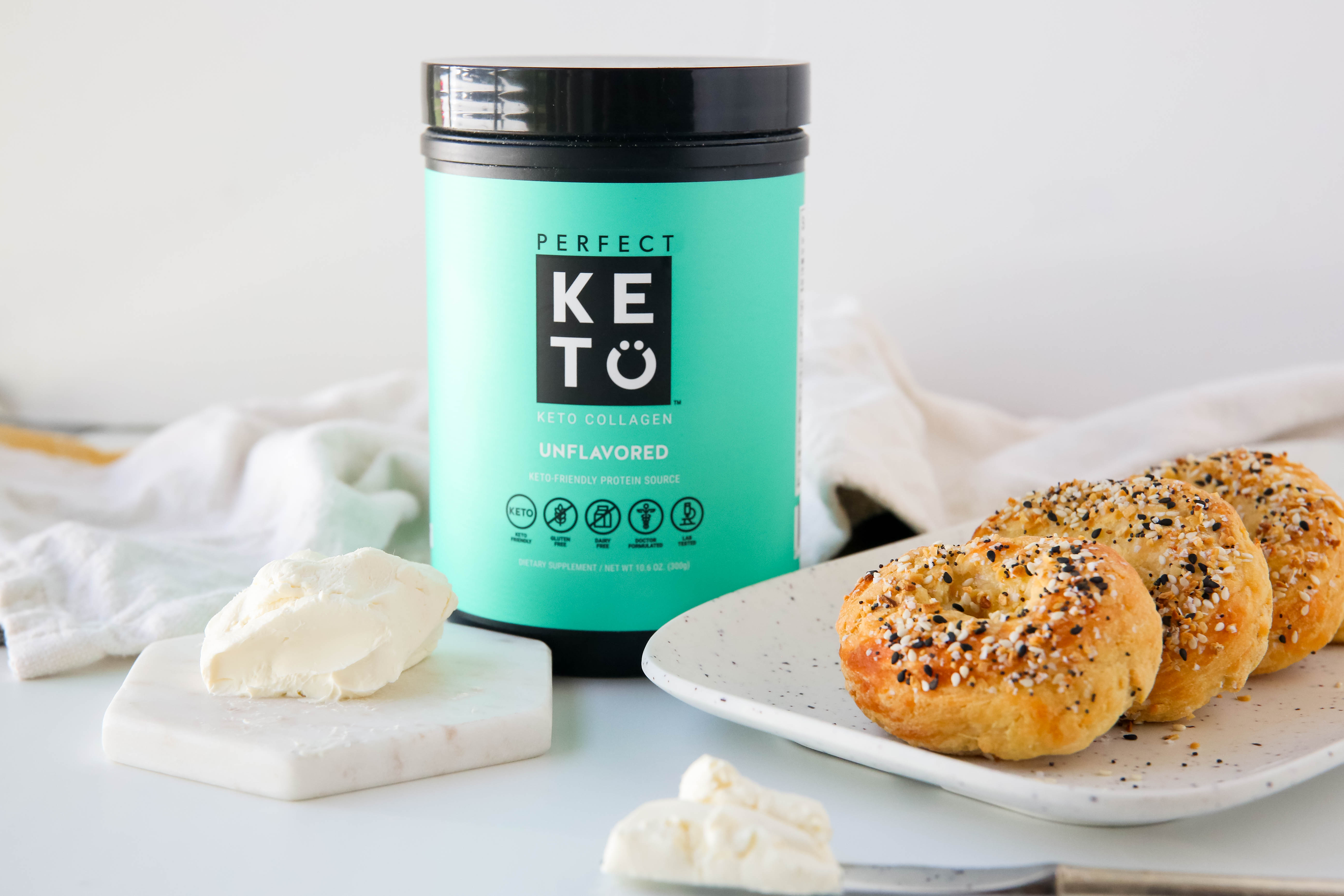 Print
Keto Bagels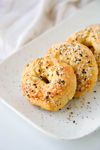 Everyone loves a little bagel with cream cheese from time to time. This keto-friendly bagel recipe is crispy, chewy, and most importantly — delicious.
Author:
Total Time:

25 minutes

Yield:

8

bagels

1

x
Instructions
Preheat oven to 350 F. and line a baking sheet with parchment paper and set aside

In a large bowl, mix together the first four ingredients.

In a large bowl, melt the cheese in the microwave until it becomes liquidy.

Add coconut flour mixture to the cheese, and stir. Then add the eggs, and continue stirring until mixture is combined.

Use your hands to knead the dough, then separate it into four equal parts.

Separate each ¼ equally, giving you eight equal parts.

Roll each portion into a long log, and then pinch the ends together forming a circle.

Keep them plain or add seasoning to make everything bagels, and bake for 15 minutes, or until the bagels are golden brown.
Nutrition
Serving Size:

1 bagel

Calories:

200

Fat:

12.8g

Carbohydrates:

5.5g (Net: 2.9g)

Fiber:

2.6g

Protein:

13.4g