There's almost nothing better than a big batch of healthy fats on a ketogenic diet, so it's no surprise this keto guacamole will become a go-to favorite in your meal plan.
Easy to make and certain to be a crowd pleaser, this delicious dip requires just a handful of ingredients. Not only is this gluten-free guacamole rich in flavor, but it also packs quite a punch with a long list of health benefits.
Keto Guacamole Ingredients
This keto guacamole recipe calls for fresh ingredients. Here's a quick rundown of what you'll need to make it:
Avocados
Lime juice
Cilantro
Onion
Diced tomatoes
Jalapeno
The main star in this recipe is, of course, avocados. Many would argue that this fruit is one of the healthiest foods on the planet — and science agrees. Avocados are rich in vitamins, minerals, monounsaturated fatty acids, fiber, and antioxidants[*].
6 Health Benefits of Avocados
There are many health benefits to eating avocados. They are linked to heart health, improved digestion, antioxidants, and so much more. Here are just six research-backed benefits of avocados.
#1. Improves Heart Health
Concerned about heart disease? Then you should be eating more avocados.
Due to their fatty acid composition, avocados are excellent for heart health. The monounsaturated fat content helps to balance blood lipids and can help prevent hardening of the arteries. Avocados can also help increase HDL or "good cholesterol"[*].
#2. Improves Digestion
One of the main components to good digestion is fiber. One serving of an avocado has close to 5 grams of soluble fiber, which can help with a number of functions including balancing gut bacteria, pulling out toxins from your body, nourish the lining in your gut, and improving bowel movements[*].
#3. Rich in Antioxidants
Avocados are rich in phytochemicals and antioxidants[*]. These antioxidants have a plethora of health benefits.
They fight common signs of aging including wrinkles and sagging skin, which helps your skin appear youthful longer[*].
These antioxidants can also help reduce the risk of cancer.  In fact, one study showed that phytochemicals extracted from avocados can inhibit the growth of precancerous and cancerous cells and even cause the death of cancer cells[*].
#4. Eye Health
The antioxidants in avocados are also linked to protecting your eyes from the damage caused by free radicals, including age-related macular degeneration (AMD)[*].
Avocados have another nutrient that's good for your eyes — vitamin A. Studies show consuming a diet high in vitamin A can lower your risk for age-related cataracts[*].
Plus, eating avocados helps your body absorb more beta-carotene, which helps reduce oxidative stress that your eyes go through every day[*]. Eyes are already made up of beta-carotene and need to replenish the supply, which avocados help them to do.
#5. Lower Risk of Depression
Avocados are high in another nutrient, folate, which is linked to lower risks of depression. This is because folate prevents the buildup of homocysteine, which impairs circulation and delivery of nutrients to the brain[*].
Low folate levels are also linked to poorer antidepressant response to medications prescribed to treat depression, such as serotonin reuptake inhibitors[*].
#6. Chronic Disease Protection
Finally, avocados are high in monounsaturated fats. These fats can help lower inflammation and protect against chronic diseases and strokes[*]. Plus, the high fiber in avocados may play a part in preventing diseases such as diabetes and obesity[*][*].
More Keto Diet Avocado Ideas
Avocados are easily accessible at any market and they're an extremely versatile food. In addition to this keto guacamole recipe, here are some more ways to enjoy this fruit.
Salad topping: Add sliced avocado on top of your favorite garden salad
Breakfast casseroles: Add some healthy fats to your breakfast casserole
Dinner: Use avocados in savory meals like these lemon chicken avocado boats
Smoothies: Add avocado to smoothies for amazing creaminess and nutrients
Desserts: Make sugar-free avocado brownies — you won't even know they're in there
How to Pick a Ripe Avocado
For the best taste and texture in this keto guacamole recipe (or any other recipe), you'll want to use a perfectly ripe avocado.
But how can you tell if an avocado is ripe?
You can tell an avocado is ripe by the color and the feel. The darker the avocado is on the outside, the more ready it is to eat.
However, the most accurate way to tell if an avocado is ready to eat is by applying gentle pressure. If it yields to slight pressure, it's ripe. If it is too firm, it will need a day or two on the countertop. If it's really soft, then it's overripe.
You can ripen avocados on the counter. Most of the time, just leaving them out will let them ripen naturally in about a day or two. But you can speed up the process by placing the avocados in a brown paper bag.
Keto Guacamole: Cilantro Substitute Ideas
While this recipe calls for cilantro, fresh cilantro is an ingredient you either love or think tastes like soap. If you don't like cilantro, you can simply omit it from this recipe.
If you still want a little herbal flavor and color, you can add some fresh parsley instead. Just keep in mind you might want to add a little more lemon juice and salt if you use parsley instead of cilantro since parsley has a milder flavor.
How to Serve Low-Carb Guacamole
While tortilla chips are the classic pairing for guacamole, they have too many carbs to work on a keto diet. Instead, try making your own low-carb tortilla alternatives.
You can certainly just eat this guac with a spoon for lunch — it tastes that good. But if you want to step up the experience, here are some other ways to enjoy this keto guacamole.
Low-carb chips: Dip into your guacamole with crispy eggplant chips. You can also use pork rinds as your dipping tool (or even crumble them in your guac!)
Raw veggies: Spread the guacamole on top of raw veggie slices, like carrot sticks or cucumber slices
Keto tacos: Add a dollop of guac on keto tacos for a delicious Taco Tuesday
Taco salad: Spoon your guacamole on top of low-carb taco salad
This is going to be one of your favorite keto recipes because it's so tasty and versatile. This nutritious, colorful, and filling keto guacamole recipe is sure to become a party favorite and weeknight staple that even non-keto followers will love. So go ahead — enjoy and reap all the benefits that avocados have to offer.
Print
Chunky Keto Guacamole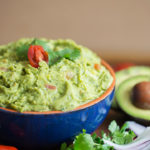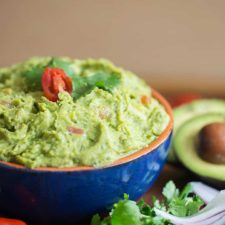 This chunky keto guacamole is zesty, tangy, and can be made in less than five minutes. It's the only guacamole recipe you'll ever need.
Author:
Prep Time:

5 minutes

Cook Time:

N/A

Total Time:

5 minutes

Yield:

1 1/2 cups

1

x
Category:

Sides

Cuisine:

Mexican
Instructions
Add all ingredients to a large bowl.
Stir and mash well to combine.
Adjust seasoning if desired.
Nutrition
Serving Size:

1/4 cup

Calories:

125

Fat:

11g

Carbohydrates:

Net Carbs: 2g

Protein:

2g