Get ready to spice up your daily egg routine and take breakfast to a whole new level with this crustless keto quiche. Not only is it easy to make, but it's great for meal prep and will help fuel you until lunchtime.
Traditional quiches are typically filled with carbohydrates that can kick you out of ketosis, but this crustless (read: low-carb) version is just as rich and delicious. Another bonus to making low-carb quiche is that it refrigerates and reheats remarkably well, so it makes a convenient option for meal prep at the beginning of the week.
Main Ingredients
This is a versatile recipe that you can change to suit your tastes. These are the main ingredients in the quiche:
Eggs
Vegetables
Goat Cheese
Parmesan Cheese
Mozzarella Cheese
Milk of Choice
Low Net Carbs
The ingredients in this keto quiche are naturally low in carbs. Since it doesn't have a pie crust, there are a lot of carbs you're already cutting out. This means it's also naturally gluten-free.
Goat Cheese
The goat cheese in this recipe offers a deeper flavor profile and makes it even creamier. Another benefit to using goat cheese in this keto quiche? You can cut back on other dairy ingredients.
Many people don't realize they have a sensitivity to dairy products like cow's milk and cheese. If you suspect you're lactose intolerant and do not properly digest milk proteins, goat cheese could be a great option for you to try.
Some will say it has a very strong flavor when eaten on its own, but incorporating it in smaller amounts in recipes like this is a good way to enjoy it.
Keep in mind that this recipe is not completely free of cow dairy. It has mozzarella and parmesan cheese as well as heavy cream. So if you're lactose intolerant or have a dairy sensitivity, replace those ingredients with non-dairy alternatives. There are several options for non-dairy cheeses, mostly made from nuts.
Just be sure to read the ingredients list and avoid any non-dairy cheeses that rely on soy and a bunch of chemical fillers or binders.
Dairy-Free Substitutes
This recipe uses two different types of cheese and heavy cream. Here are some dairy-free replacements if you need them:
Benefits of Goat Cheese
These are the three primary benefits of goat cheese:
Can improve digestion
May reduce inflammation
Rich in nutrients
#1: Helps Digestion
Many kinds of cheese contain probiotics that help improve your gut microbiome. And a healthy microbiome helps boost immunity and reduce inflammation[*][*]. Probiotics found in cheese help feed your gut a variety of bacteria which can help improve digestion, increase the number of nutrients you absorb, and help fight infection[*].
#2: Fewer Allergens
One of the problems with cow's milk is it contains common allergens such as lactose and A1 casein[*]. Goat milk mostly contains A2 casein which means it will be more gentle on your stomach and will not produce the same inflammatory response as cow's milk[*].
However, you still need to discuss any possible milk allergies with your doctor. Some people with milk allergies could still have a reaction from goat's milk and goat cheese[*].
#3: Rich in Calcium, Vitamins, and Minerals
Most people think that cow's milk is the best source of calcium. However, goat's milk contains more of this specific mineral[*].
Calcium is vital because it helps build and maintain strong bones, keeps your heart, muscles, and nerves working properly, and can even help protect you from cardiovascular disease[*].
In addition to calcium, goat cheese is also rich in vitamin A, riboflavin, copper, and phosphorus, which your body uses for a wide variety of processes[*].
It has a texture and taste that many people love. It's rich, tangy, and full of flavor. Goat cheese is just as easy to incorporate into recipes and it may surprise you just how much you enjoy it.
How to Make Keto Quiche in Advance
One of the best things about this recipe is that you can make it ahead of time. If you like freezer meals, then this is the perfect recipe for you.
Just follow the recipe and after it bakes, let it cool completely. Then, cover it and store it in the freezer. It will stay good in the freezer for about three months.
You can also keep it in the refrigerator for up to a week.
Part of a Keto Brunch
This is a wonderful breakfast recipe because it doesn't taste like diet food. It's light and flavorful all at the same time.
This quiche is also the perfect addition for weekend brunch with friends — cut it into small squares and serve as mini quiches. Just use a smaller quiche pan and then everyone can enjoy their own little personal quiche.
Here are some more things you can serve at a brunch that will keep your body in ketosis:
More Cheese Options
This quiche tastes great as is, but it's easy to change up and personalize to your tastes. Since most full-fat dairy products are keto-friendly, feel free to add different types of cheese to your quiche.
Try adding cheddar cheese or even some swiss cheese for a little extra bite.
Total Cook Time
The total time for this entire recipe is about one hour.
This includes the 10-15 minutes of prep time and 45 minutes of cooking time.
Buy pre-chopped veggies to save yourself even more time if you need.
Best Vegetables for Keto Quiche
Veggies are important on the keto diet. They're packed with important nutrients and provide a low-carb source of fiber on a keto diet.
This recipe uses asparagus, mushrooms, and onions. If you want other low-carb vegetables, try adding some of these too:
Zucchini
Peppers
Squash
Spinach
Difference Between Quiche Lorraine and Frittata
What's the difference between a classic quiche lorraine and a frittata? Quiche typically has a flaky crust and the traditional quiche lorraine born out of 19th century France is composed of pie crust, eggs, cream, cheese, bacon, and spices.
A frittata, however, usually doesn't have a crust and you can cook it on a stovetop, much like an omelet.
This recipe is baked like a quiche but doesn't have a crust, like a frittata. It's a fantastic twist on both styles but still completely unique.
How to Make Low-Carb Pie Crust With Almond Flour
The best way to avoid hidden carbs and allergens is to make a crustless quiche. But another keto-friendly option is to make a pie crust with almond flour.
You can find a low-carb pie crust recipe here on Perfect Keto. It uses a combination of almond flour and coconut flour and butter. The result is a flaky crust that tastes like an indulgent treat.
Print
Savory Crustless Breakfast Keto Quiche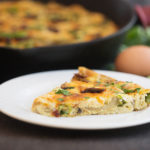 Step up your daily egg routine and take breakfast to a tasty new level with this crust-free keto quiche.
Author:
Total Time:

50 minutes

Yield:

8

slices

1

x
Scale
Ingredients
6

large whole eggs

1/2 cup

heavy cream

1/2 cup

unsweetened milk of choice

3 tablespoons

coconut flour

1/4 cup

parmesan cheese

3/4 teaspoons

salt

1/4 teaspoon

pepper

2 tablespoons

olive oil

1

small onion (sliced thin)

8 oz

mushrooms (sliced thin)

1 cup

asparagus (chopped into small pieces)

1/4 cup

sundried tomatoes (sliced thin)

1/2 cup

goat cheese

1 cup

mozzarella cheese
Instructions
Preheat oven to 350°F and grease a pie dish with butter.

Combine eggs, heavy cream, coconut milk, salt, pepper, parmesan cheese, and coconut flour in a large bowl. Mix well until smooth. Set aside.

Heat a large skillet under medium heat. Add olive oil, onions, mushrooms, sun dried tomatoes and asparagus. Cook for 3-4 minutes until slightly tender. Remove from heat and let cool.

Stir vegetables and goat cheese into egg mixture. Pour contents into prepared baking dish. Top with mozzarella cheese.

Bake for 40-45 minutes until the top is golden brown.
Nutrition
Serving Size:

1 slice

Calories:

214

Fat:

16g

Carbohydrates:

Net Carbs: 4g

Protein:

12g