Whether you're planning a tailgate, Super Bowl party or just need a few hors d'oeuvres to pass around, thinking of a keto-friendly dish can be frustrating. All appetizers seem to be rolled in crescent dough, plated atop a cracker or dipped into with tortilla chips. This can make social gatherings stressful rather than enjoyable.
Until now.
This smoked salmon pate is loaded with healthy fats, packed with protein and best yet, spread across something other than crostini. In this particular recipe, you'll use cucumber slices as your base, smearing your salmon pate on top.
It's light, refreshing and provides you with 40 grams of fat and 18 grams of protein. Plus, it's incredibly easy to prepare. All you need is a food processor, a medium bowl, seven ingredients and a little prep time.
Print
Smoked Salmon Pate with Cucumber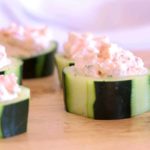 This salmon pate with cucumber is the perfect keto-friendly appetizer to bring to your next party. Get the recipe plus tips on assembling easy keto apps.
Author:
Prep Time:

15 minutes

Cook Time:

15 minutes

Total Time:

30 minutes

Yield:

12 cups

1

x
Category:

Seafood

Cuisine:

American
Scale
Ingredients
4.5 oz

of smoked salmon

5.5 oz

cream cheese

1/4 cup

of heavy cream

1 Tbsp

lemon juice

1 Tbsp

fresh chives

2

Cucumbers
Instructions
Begin by using a vegetable peeler or small knife to cut strips down the skin of the cucumbers, and then slice the cucumbers into 2 inch slices.

Use a melon baller or a teaspoon, scoop out the flesh in the middle of the cucumber, leaving a small layer at the bottom of each cucumber cup.

Next, grab your food processor and add in ¾ of the smoked salmon, the cream cheese, heavy cream, lemon juice, salt, pepper and chives. Blitz everything for a couple of minutes, until the

pâté is smooth.

Then, chop up the remaining ¼ of the smoked salmon into small pieces and add to the pâté. This gives the pâté a little extra texture.




Finally, fill each cucumber cup with a dollop of salmon pâté and serve! Alternatively, you can store them in an airtight container in the refrigerator for up to 2 days.
Nutrition
Serving Size:

6 cups

Calories:

450

Sugar:

4

Fat:

40

Carbohydrates:

5

Fiber:

1

Protein:

18
Keywords: smoked salmon pate cucumber
Ready to dig in? First, take a look at how you can prepare low carb small plates — ones that won't kick you out of ketosis.
How to Prepare a Healthy Keto Appetizer Like Salmon Pate
Not sure how to layer together a ketogenic appetizer? Follow these tips.
Swap Out the Tortilla Chips and Assorted Crackers for a Vegetable
Pro tip: When in doubt, prepare a dip.
You already love hummus, guacamole and spinach artichoke dip. To make them keto, cross pita and tortilla chips off your shopping list, swapping in raw vegetables instead. Not only does this cut down on carbs, it adds a healthy dose of dietary fiber, vitamins and minerals to your recipe.
Keto-Friendly Chip Replacements for Your Favorite Dips
Guacamole: Slice up a few red bell peppers and dip them in guacamole. Red peppers are a good source of vitamin A, vitamin C, potassium and vitamin B6[*].
Hummus: Grab a few tomatoes and baby carrot sticks at the store for your hummus. A cup of cherry tomatoes will only run you 28 calories, versus over 130 calories in standard pita chips [*][*].
Spinach artichoke dip: If you can't separate yourself from the snack aisle, make a homemade version. These homemade low carb crackers with flaxseed contain just 8 grams of total carbohydrates and over 25 grams of fat.
For this particular recipe, you use a melon baller to scoop out the inside of each cucumber slice. The remaining cucumber acts as a small bowl (or "swoops" tortilla chips), perfect for adding in your smoked salmon pate.
Use Healthy Fats
Unfortunately, many appetizers come with unhealthy (and unnecessary) ingredients. Processed vegetable oils, fried foods and processed goods make many fan-favorite recipes a poor choice on keto — or any low calorie diet, for that matter. Instead, try these healthy swaps:
Make your own mayo: Mayo (or aioli) is a common ingredient in spreads, dips and finger foods, but one look at the nutrition facts of store-bought mayo might horrify you. Instead, choose this homemade version, made with four ingredients: One egg, vinegar, salt and olive oil.
Choose keto-friendly dairy: If you can tolerate it, choose grass-fed, organic dairy products for your recipes. These products have a higher percentage of CLA and omega-3 fatty acids than regular dairy.
In this recipe, you'll use full-fat cream cheese. When combined with the smoked salmon, this is where the majority of fat in this salmon pate recipe comes from.
Focus on Protein
There are hundreds of great recipes out there — you just need to weed through those focused on carbs, narrowing in on those centered on protein. Here are a few ideas for high-protein, low carb dishes you can bring to your next event:
Deviled eggs: Deviled eggs are one of the easiest recipes to make, needing only eggs, (homemade!) mayo, salt and freshly ground black pepper, vinegar and mustard. Plus, a single egg contains over 6 grams of protein and zero carbs[*].
Smoked whitefish salad: By swapping out red salmon for another smoked fish, you can make a similar recipe to that listed below. Simply sprinkle on a little fresh dill for garnish, give it a squeeze of lemon juice and then serve.
Meatballs: Remember this — almost any dish can be transformed into a party appetizer with the use of toothpicks. Whip up a batch of these keto meatballs (which contain less than 1 gram total carbohydrates), stab them with a toothpick and you have yourself a party platter.
Health Benefits of Fatty Fish: Salmon
Fatty fish, like salmon, have numerous health benefits. When selecting fish at the store, be sure to select wild-caught salmon whenever possible. Wild salmon are raised in their natural habitat, while farmed salmon are fed commercial feed. This has posed some health concerns, including elevated levels of dioxins (herbicides) that may pose cancer risks[*].
Here are a few ways wild-caught salmon can boost your health:
Improves heart health: In some studies, individuals who consumed fish, like red salmon, once a week had a 15% decreased risk in developing fatal cardiovascular disease[*].
Gives you energy: Half a filet of salmon contains 83% of your daily allowance of B12 and 58% for B6[*]. B vitamins give your body energy, help form red blood cells and prevent anemia[*].
Helps improve cognitive health: Fatty fish, like salmon, contain two particular types of omega-3 fatty acids, eicosapentaenoic acid (EPA) and docosahexaenoic acid (DHA). DHA has been shown to help improve brain development and function[*].
Social gatherings don't have to be a stressor on a ketogenic diet. By following these tips, you can stay in ketosis and fill your body with nutrient-dense foods. Simply remember to:
Use low carb options (like raw vegetables instead of chips and crackers) when preparing dips and spreads.
Watch the ingredients closely, making your own mayo and using full-fat dairy when necessary.
Prepare a protein-dense dish, such as meatballs, deviled eggs or the smoked salmon pate you see here.
Use ingredients that benefit you, rather than harm you, like the wild-caught smoked salmon used in this recipe.
Alright — now it's time to dig in to your salmon pate.