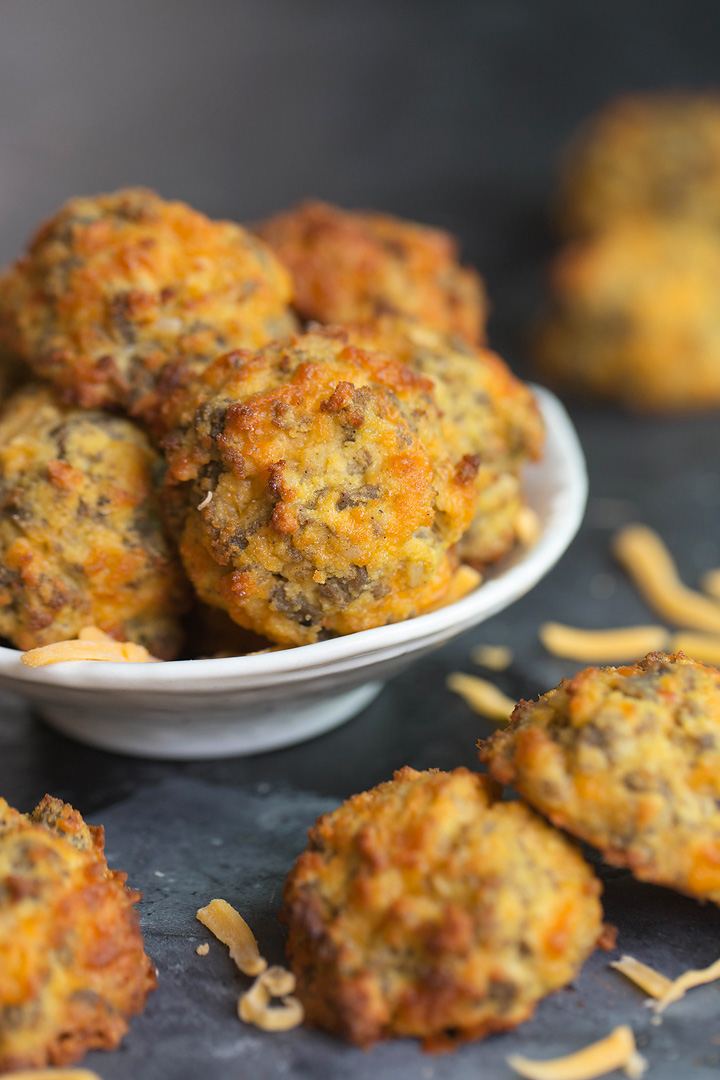 Oftentimes on a keto diet, it's easy to fall into an eating pattern with the same meals day after day.  This ongoing repetitiveness can lead to boredom with food, which can be a major reason why people revert back to old (and unhealthy) eating habits.
The key to healthy eating is to keep things fresh and new.
Using simple and delicious recipes like these keto sausage balls can help break up those dull weekday breakfasts and save you time worrying about what you're going to eat.
This easy recipe for savory breakfast keto sausage balls is the perfect accompaniment — or even the main star — for your next morning meal, midday snack, or dinner. After all, breakfast for dinner is one way to mix things up, right?
Gluten-Free and Easy to Make
If you're used to the classic sausage ball recipe made with Bisquick and you're craving those comforting, familiar flavors, this recipe will not disappoint. With a few smart substitutions, you'll be able to recreate the same delicious dish, minus the carbs.
This keto recipe is gluten-free and makes for the perfect portable breakfast that will leave you feeling satisfied thanks to the high protein and healthy fat content. It's also a wonderful option for batch cooking and meal prep.
Just make a batch at the beginning of your next work week and you'll be able to enjoy hassle-free breakfasts.
The recipe requires just a few spices and a handful of ingredients that you probably already have in your pantry and fridge.
The main ingredients are:
Italian sausage, pork sausage, or turkey sausage
Eggs
Meal Prep
Batch cooking and meal prep can often help keep you on track and prevent any dietary slip-ups. Not only that, the ingredients used in this recipe are incredibly easy to find and readily accessible at any regular grocery store.
If you're thinking about batch cooking and meal prep, it's always a good idea to come up with a plan ahead of time. Take a few minutes on Saturday morning (or your next day off) and think about what flavors you might be craving.
Do you want something sweet? Do you prefer salty and savory dishes? Browse through keto-friendly recipes for ideas and inspiration, then come up with a meal plan you can easily tackle.
Once you have a few ideas in mind, print out your recipes, write your shopping list, and grab whatever you need from the store. Then, on Sunday (or whatever day works for you), take a couple of hours to prepare a few low-carb dishes for the week.
Why Meal Prep Is a Good Idea
Saves time: Preparing meals and ingredients ahead of time will take away the hassle out of decision making. You can rest assured that at least one of your meals for the day will be ready to go when you are. In approximately the same amount of time it would take to prepare one meal for yourself, you could have 5-7 meals prepped.
Saves money: Having at least one of your meals prepared each week will prevent you from having to buy food elsewhere on the go. One high-quality and nutritious meal can easily run well over $10. That amount on its own may not seem like much, but over the course of weeks, months, and years, that number can add up rather quickly.
Ensures quality: When you prepare your own food and meals, you know exactly what the ingredients are. There is no chance of any hidden carbs, overdoing protein, or eating anything that might cause an issue with staying in ketosis. You can also check the keto calculator to make sure your macros are in check.
Recipe Notes
The next time you find yourself bored with the same ketogenic breakfast, give these savory keto sausage balls a try. You can reheat them and they'll still taste just as good as when they came fresh out of the oven.
They're great paired with scrambled eggs, mixed greens, or even plain spinach. Throw them into your next meal prep routine and you'll see how easily they will become one of your favorite dishes on your keto meal plan.
You can also mix things up and substitute regular cheddar cheese with sharp cheddar cheese or grated parmesan cheese.
For some extra creaminess, add a dash of cream cheese to increase the fat content. If you want to give them that fluffy, airy texture, adding one teaspoon of baking powder will do the trick.
This recipe can also be modified to make the most delicious meatballs. All you have to do is swap the sausage for ground turkey or ground pork. Consider checking out this article to learn how to make simple keto meatballs.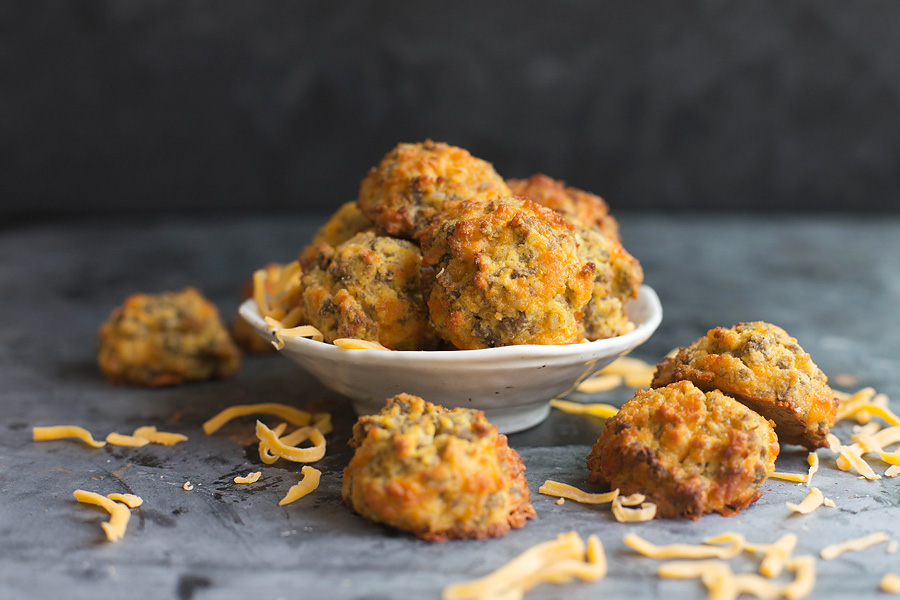 Keto Sausage Balls: A Great Low-Carb Keto Recipe
Keeping your meals interesting and diverse is one of the most important things when following any diet, especially keto.
Boredom can easily make you reach for high-carb snacks or high-sugar treats just for the sake of eating something different. Making sure your meal plan is as varied as possible is key.
These keto sausage balls are fulfilling, yummy, packed with flavor, and won't ruin your daily net carbs allowance. They're also incredibly versatile –you can prepare them for a warm, tasty breakfast, as an appetizer to kick-start a meal, or even as a weeknight dinner classic that everyone will look forward to.
If you're looking for more delicious low-carb recipes to spice up your week, have a look at these ideas:
For more keto-friendly easy breakfast inspiration, check out these options:
Print
Savory Breakfast Keto Sausage Balls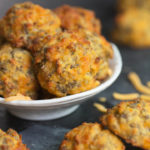 These low-carb sausage balls are incredibly easy to prepare and make for a great keto appetizer.  Try them for your next keto-friendly breakfast or for an evening with friends and family.
Author:
Prep Time:

5 minutes

Cook Time:

15 minutes

Total Time:

20 minutes

Yield:

28

balls

1

x
Category:

Breakfast

Cuisine:

Southern
Instructions
Preheat the oven to 375°F and line a baking sheet with parchment paper. 

Brown the sausage meat in a large pan on medium heat. Let it cool.

Add all dry ingredients to a small mixing bowl, mix well, and set aside.

Add the eggs to a large bowl or stand mixer, fitted with a paddle attachment. Beat the eggs on high for 1 minute until light and fluffy. Drizzle in melted butter. Turn mixer to low, and slowly add dry ingredients to wet ingredients.

Stir in cooked ground meat and cheddar cheese (or cheese of choice). Mix well until evenly distributed.

Using a small cookie scoop, divide and portion sausage balls and place onto the prepared baking sheet. 

Cook for 15-18 minutes until golden brown.
Nutrition
Serving Size:

1 ball

Calories:

80

Fat:

6g

Carbohydrates:

Net Carbs: 1g

Protein:

6g
Keywords: breakfast keto sausage balls