One thing many people miss on a ketogenic diet is yogurt. Most yogurts purchased at the grocery store, even plain Greek yogurt, contain too many carbs and added ingredients that will kick you out of ketosis. Fortunately, there are now alternatives to traditional milk made with reduced carbs. In the recipe below, you'll use Carb Master milk, which can be found at many large chain grocers.
With just 33 calories, 6 grams of protein and 1 gram of total carbs, this keto yogurt is suitable for any low carb diet.
How to Make Keto Yogurt
Many keto yogurt recipes are made with dairy alternatives. You might find recipes that use almond milk, coconut milk or coconut cream.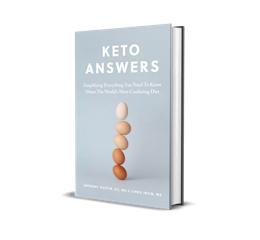 Keto Answers Book
Have a conversation with a leading keto doctor and keto researcher at your fingertips so you can feel better and keto with confidence.
Buy Now
While this particular recipe uses dairy, you can easily substitute one of the above alternatives to make your yogurt dairy-free. Simply follow the same fermentation process, combining the probiotic capsules and guar gum with your milk or heavy cream of choice. You could also choose to make your own almond milk (or other nut milk) by soaking almonds overnight and straining with a cheesecloth.
The three ingredients in this recipe are:
Kroger brand Carb Master milk or lower carb milk of your choice
Probiotic capsule
Guar gum
This milk yogurt contains just 1 gram of net carbs, giving you a little wiggle room when it comes to carbohydrates. If you are craving additional sweetness, you can choose to sweeten your low carb yogurt with a keto-friendly sweetener, like stevia or monk fruit. You could also top with fresh fruit like blueberries or raspberries, avoiding high-carb fruits. Or, make a yogurt parfait with chia seeds and keto yogurt topped with homemade whipped cream, made with heavy whipping cream or coconut cream.
Health Benefits of Yogurt
Yogurt is a nutritious food to incorporate into a variety of diets, keto or not. It is loaded with essential protein, vitamins and minerals, helps improve gut health and boosts immunity.
Yogurt Is Loaded With Vitamins and Minerals  
Yogurt contains calcium, vitamins B and D, and other minerals. Calcium isn't just essential for healthy teeth and bones. Calcium is an essential nutrient your body needs. According to the USDA, you should consume around 1,100-1,200 milligrams each day[*]. Calcium also helps your blood clot, promotes muscle contraction and helps your heart pump blood[*].
Yogurt also contains B and D vitamins. Vitamin B helps protect against heart disease, provides energy and supports the adrenal glands. Vitamin D helps build strong bones and prevents various cancers, heart disease, weight gain, depression and diabetes[*].
Dairy also contains minerals such as phosphorus, magnesium and potassium which are necessary in many biological processes such as regulation of blood pressure and metabolism.
Yogurt Promotes Gut Health
Yogurt is a fermented food, and therefore contains live bacteria essential in balancing gut health. The bacteria found in fermented foods can help balance gut bacteria, helping populations of good bacteria thrive and crowd out bad gut bacteria[*].
When you have too much bad bacteria in your gut, you'll usually suffer from uncomfortable digestive issues and other irritating symptoms such as bloating, constipation, candida overgrowth and bladder infections. To combat these unwanted side effects, rebalancing your gut bacteria levels is necessary so that you have a healthy mix of good and bad bacteria.
You can do that by eating fermented foods, like yogurt, which contain probiotics. The probiotics found within yogurt are widely known to help improve digestive health and symptoms of irritable bowel syndrome.
Yogurt Is a Rich Source of Protein
Protein is a building block in your body. It helps support metabolism, controls appetite, and is needed for the regulation and function of many organs and tissues in your body. On a ketogenic diet, you should aim to consume roughly 20% of your total calories from protein.
If you can tolerate dairy, yogurt is an excellent source of protein for vegetarians on keto. The recipe below contains 6 grams of protein, the same as one egg.
A Final Note on Dairy
If you can't find Carb Master milk at your local grocery store, you can easily substitute another dairy option. When selecting an alternative source for your keto yogurt, remember that keto dairy should be organic, grass fed and high-fat. Avoid 1% and 2% dairy products, which are typically loaded with carbohydrates. Instead, select raw milk, heavy cream or heavy whipping cream.
Enjoy Keto-Friendly Yogurt
The next time you need to change up your keto breakfast ideas, give this recipe a try. It's so simple to make and is also extremely versatile. Easily change the creamy, tangy flavor by adding different extracts, spices like cinnamon or a few berries blended in. Make one large batch and divide them into different flavors, serve on its own, or top your favorite keto pancakes with it.
Print
Tangy, Homemade Keto Yogurt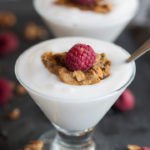 A simple and easy recipe for the creamiest batch of keto yogurt that does not require any appliances like a Crock-Pot or Instant Pot.
Author:
Prep Time:

10 minutes

Cook Time:

12 hours+

Total Time:

12 hours+

Yield:

8 cup

s

1

x
Category:

Dessert

Cuisine:

European
Scale
Ingredients
2 cup

s Kroger Carb Master milk

1 teaspoon

guar gum

2

probiotic capsules
Instructions
Pour milk into a saucepan, stir in guar gum and begin to slowly heat the milk until it begins to boil. Reduce heat and simmer for 5-6 minutes.

Remove from heat and let cool to 108 degrees F. Transfer to large glass jar. Stir in contents in probiotic capsules into milk mixture (discard gelatin caps) using a sterilized spoon.

Cover jar with cheesecloth. Leave in a warm spot in your kitchen (not hot), for 12 hours. Stir and taste contents. If you would like it tangier, leave it out for an additional 6-12 hours. Stir well and store in the fridge when desired tanginess is achieved. Add keto friendly sweetener if desired to taste.
Nutrition
Serving Size:

1/4 cup

Calories:

33

Fat:

2g

Carbohydrates:

Net Carbs: 1g

Protein:

6g
Keywords: homemade keto yogurt