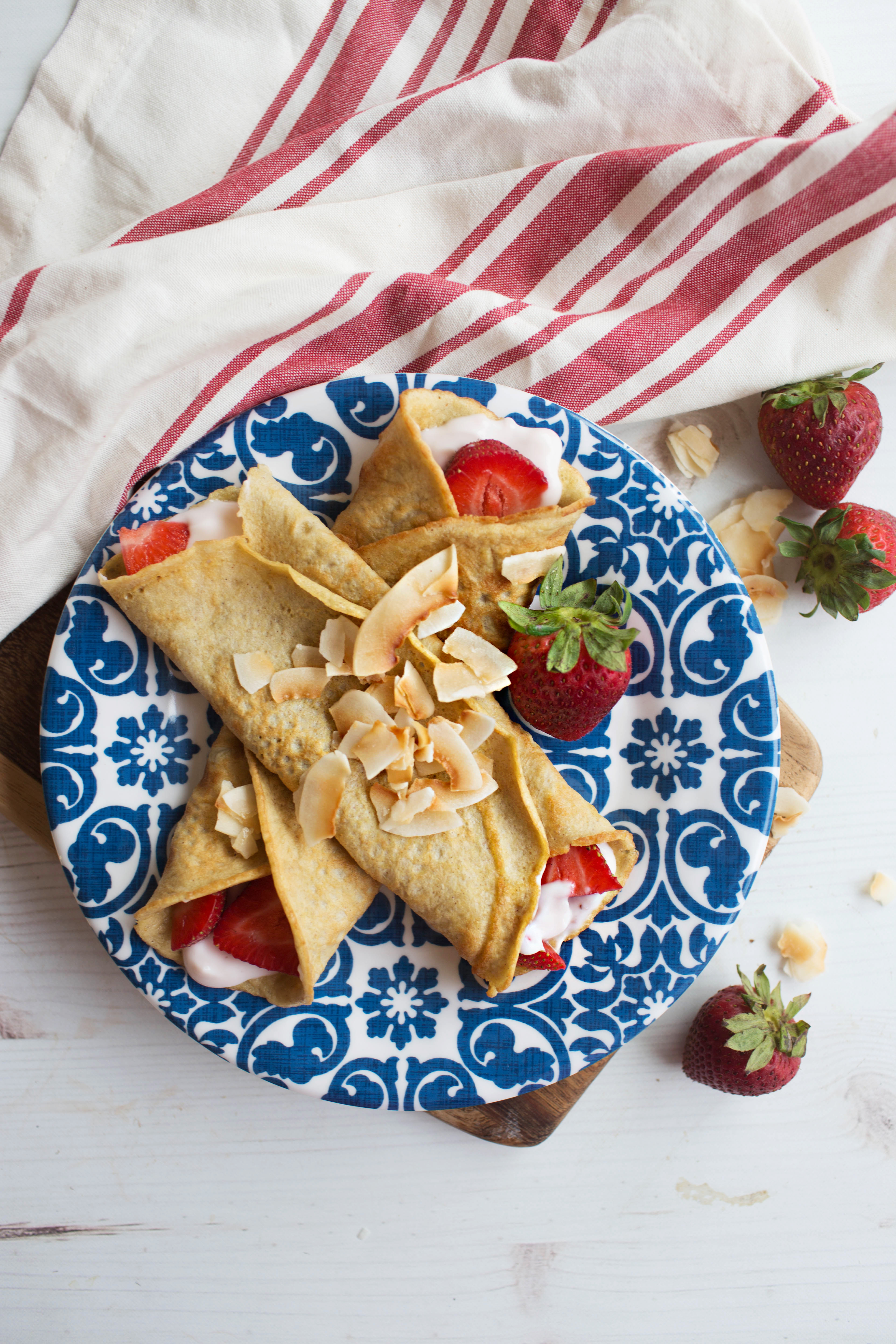 If you're just taking the first steps into your ketogenic lifestyle, you may find it hard to believe that things like keto crepes, gooey brownies, crispy waffles, and blueberry pancakes can be part of your regular keto meal plan.
The great news is that many of your favorite high-carb dishes can be easily converted into keto-friendly versions simply by swapping a couple of ingredients.
This low-carb crepe recipe is a great example of a keto-friendly alternative to popular and regular high-carb crepes. It's extremely versatile (you can make them sweet or savory), easy (it won't take you more than 15 minutes), and perfect for breakfast while on a low-carb diet.
Enjoy a sweet crepe with a few raspberries and a drizzle of coconut butter, or a savory crepe filled with scrambled eggs and low-carb vegetables. Your fillings or toppings can be as simple or as elaborate as you like.
The main ingredients in these keto crepes include:
While traditional wheat flour crepes have too many carbs and will easily kick you out of ketosis, these keto crepes are low-carb,  gluten-free, and a healthy option as they're made with almond flour. With a prep time of only 15 minutes, they'll easily become one of your household favorites.
5 Health Benefits of Almond Flour
Adding keto crepes to your meal plan isn't just fun for your taste buds — their ingredients are also good for your health. Find out about the health benefits of almond flour, which is the basis for these keto crepes.
#1. Can Improve Heart Health
Almonds are a great source of monounsaturated fat. This type of healthy fat can help to balance and maintain cholesterol levels, by keeping blood vessels functioning optimally. This popular snack is also packed with vitamin E and other antioxidants, which are fundamental for reducing oxidative stress in your cells[*][*].
#2. It's a Natural Energy Booster
One of the best reasons to include almonds in a keto diet or any healthy lifestyle is because they contain a great combination of macronutrients, vitamins, and minerals. The synergy of these compounds can provide your body with sustained energy[*][*].
The healthy fats in nuts and nut flours will also keep you satiated and full for longer periods of time, helping you to deal with cravings and avoid blood sugar spikes[*].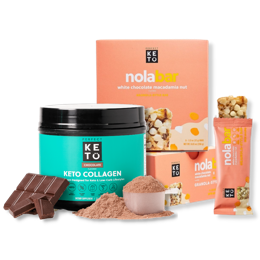 Browse our curated collection of fan-favorites and discover your new favorite snack or supplement.
Shop Best Sellers
#3. It's Nutrient-Rich
When you opt for almond flour instead of wheat or grain flour, you're providing your body with a dose of healthy fats. While 100 grams of regular white flour contains just 1 gram of fat, the same amount of almond flour contains a staggering 12 grams[*][*].
This substitute of grain flour is also packed with important minerals such as magnesium, potassium, and calcium. These nutrients are vital for bone formation and density, and help you keep a healthy skeletal structure[*][*][*].
One cup of almond flour also delivers 24 grams of protein, 14 grams of dietary fiber, and only 10 grams of net carbs[*].
#4. May Protect Against Cancer
Studies have shown that the regular consumption of almonds and its derivatives can help reduce the risk of developing certain types of diseases, such as colon cancer.
This is due to the abundance of antioxidants and fiber in this tree nut, which helps in the fight against free radicals, reducing DNA damage, decreasing inflammation, and strengthening the immune system[*][*].
#5. Can Promote Healthy Digestion
According to the FDA, most Americans don't consume the recommended daily value (25 grams) of dietary fiber. This micronutrient deficiency is now being considered a "public health concern"[*].
Fiber is vital for the proper function of your gastrointestinal tract. It helps keep your microflora balanced and healthy, and aids your bowel movement, assisting your body's natural detoxification system[*].
Adding almonds and almond flour — both rich in fiber — to your diet is an easy and simple way of upping your dietary fiber intake, aiding your body to work at its optimal state.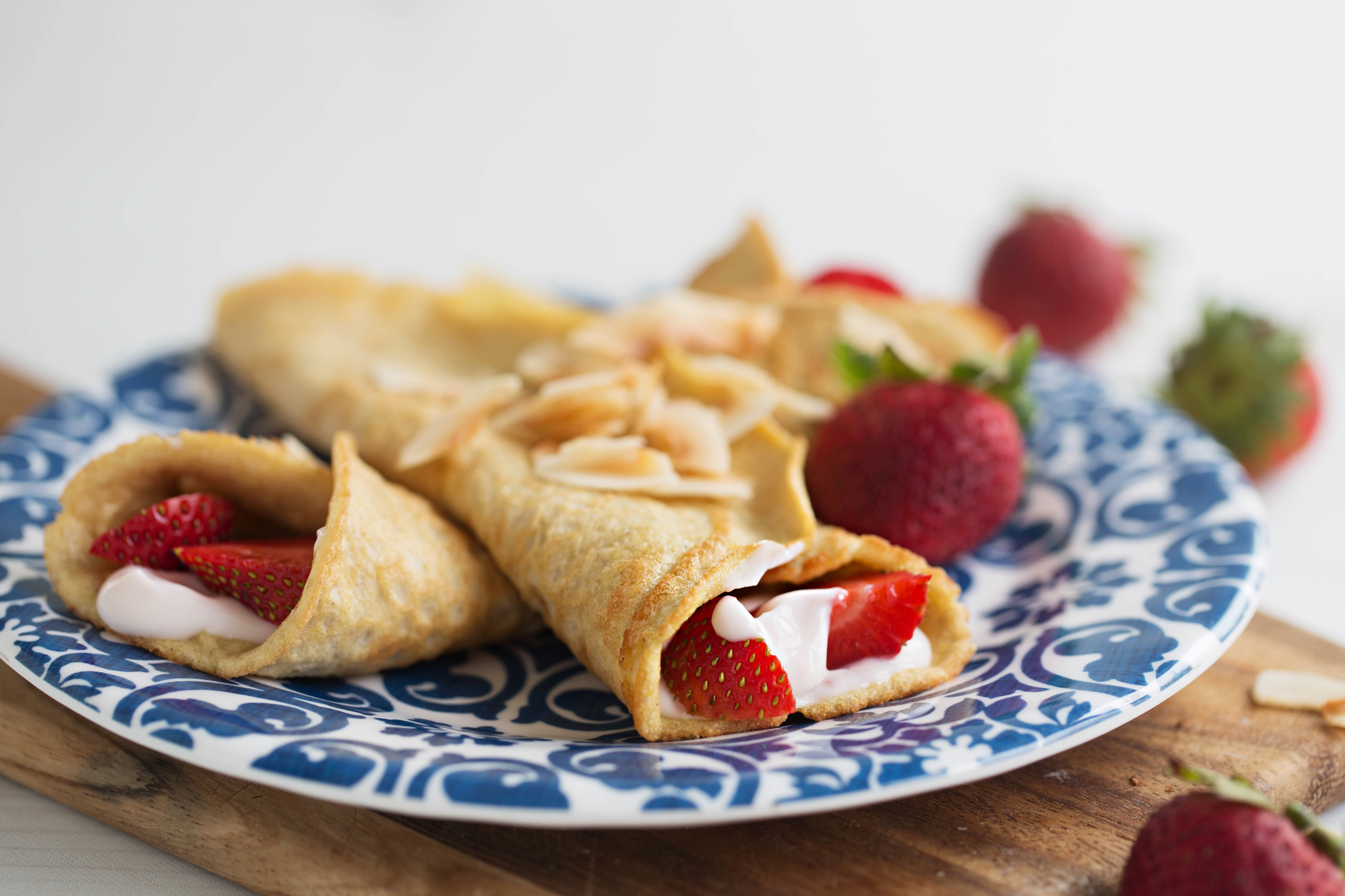 Keto Crepes and Other Great Low-Carb Breakfast Ideas
With just 1 gram of net carbs per serving size, these keto crepes are a win-win for your meal planning. They're delicious, crispy, and you won't have to worry about carb count or being kicked out of ketosis.
They're keto-friendly, nutrient-dense, and will fuel your body with amazing benefits. The next time you want something fun for breakfast, make a big batch of these simple keto crepes. You may even feel like you're having dessert for breakfast.
Whether you're a keto newbie or a veteran, finding keto inspiration in the kitchen can be hard sometimes, especially when it comes to breakfast. Most keto cookbooks out there rely a lot on eggs as your main morning meal, which makes it easy to get tired of them very quickly.
If you're dreaming about delicious muffins, decadent pancakes, or the comforting flavors of french toast, check below for keto-friendly versions of these dishes.
These keto recipes use low-carb and sugar-free alternatives that will keep you well within your allowed daily carb values. Plus, they're so tasty you won't even miss the original high-carb versions you used to eat.
Keto Crepe Recipe Options 
If you feel stevia or other natural sweeteners are too strong for you, or if you just don't like their taste, consider adding keto-friendly vanilla extract for a subtle sweet flavor.
If you want to increase the fiber content in this recipe, adding some psyllium husk will do the trick. This natural fiber compound has been shown to be highly beneficial in the management of type 2 diabetes, and it will help to keep your bowel healthy and functioning properly[*].
For a dairy-free version of these crepes, swap the butter or ghee for coconut oil. Also, if you don't happen to have almond milk in your pantry, check out this guide on other plant-based milks and how to easily make them at home.
Print
The Best Almond Flour Keto Crepes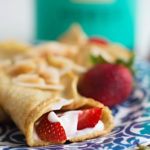 This low-carb recipe is a simple and fuss-free keto-friendly breakfast option. These almond flour crepes are grain-free, eggy, and crispy. They can be served with your favorite sweet or savory fillings or toppings.
Author:
Total Time:

15 minutes

Yield:

6

crepes

1

x
Instructions
Add eggs and milk to a stand mixer, large bowl, or blender. Whip for 1 minute until they're light and fluffy. Slowly sprinkle in almond flour and salt. Set aside.

Preheat a non-stick pan or crepe pan and coat with a little butter, coconut oil, or nonstick spray. Place over low to medium heat. 

Pour 1/4 cup of crepe batter into the pan and gently swirl to an even circle shape. Cook for 1-2 minutes until golden brown. Flip (using a spatula) and cook for an additional minute. Total cooking time will depend on how large and thick you make your crepe.

Prepare a sweet filling with whipped heavy cream and berries, or make a savory crepe with whipped cream cheese, sour cream, eggs, veggies, etc.

Serve and enjoy.
Notes
Nutritional facts are for crepes only and do not account for fillings or toppings you choose.
Nutrition
Serving Size:

1 crepe

Calories:

100

Fat:

8g

Carbohydrates:

3g

Fiber:

2g

Protein:

5g
Keywords: keto crepes, low-carb crepes