Most standard trail mixes are filled with dried cherries, cranberries, and pumpkin seeds. Maybe they get really crazy and add in some chocolate chips.
But Perfect Keto Trail Mix isn't just a bunch of dried fruit. And this trail mix chocolate bark isn't your standard bark recipe.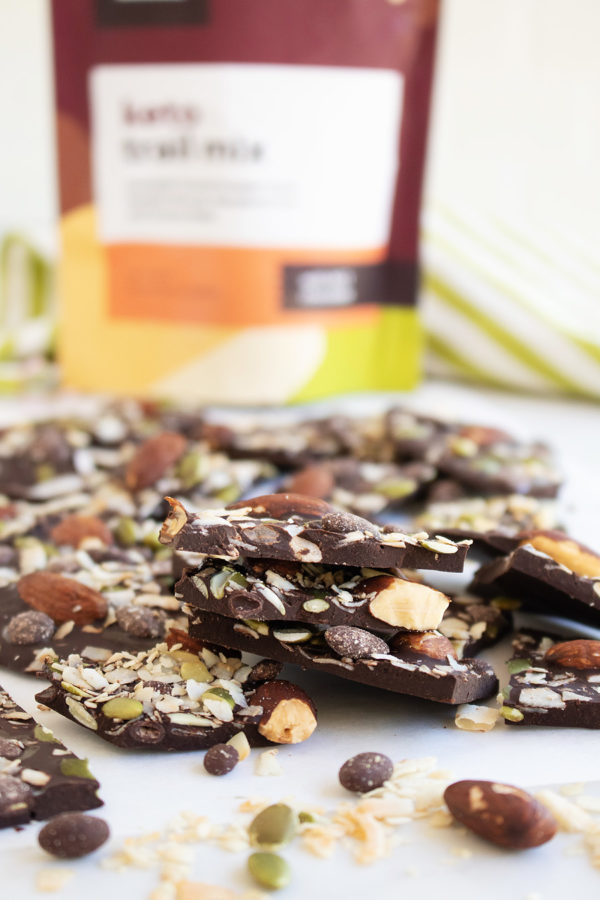 Whether you're looking for a sweet snack or a full-on dessert, this gluten-free, dairy-free bark fits the bill.
This dark chocolate trail mix bark is:
Sweet
Flavorful
Delicious
Satisfying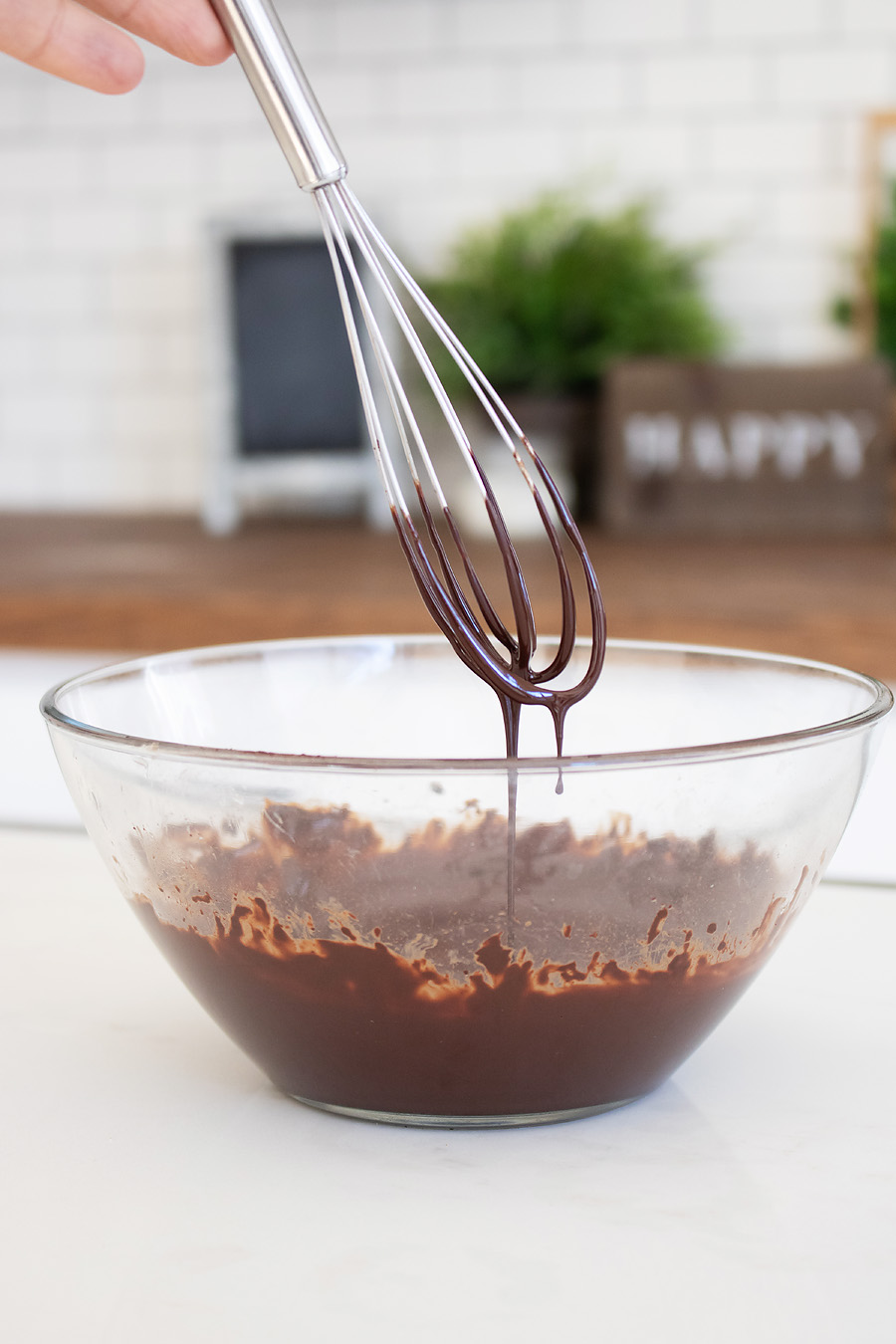 The main ingredients are:
Optional additional ingredients: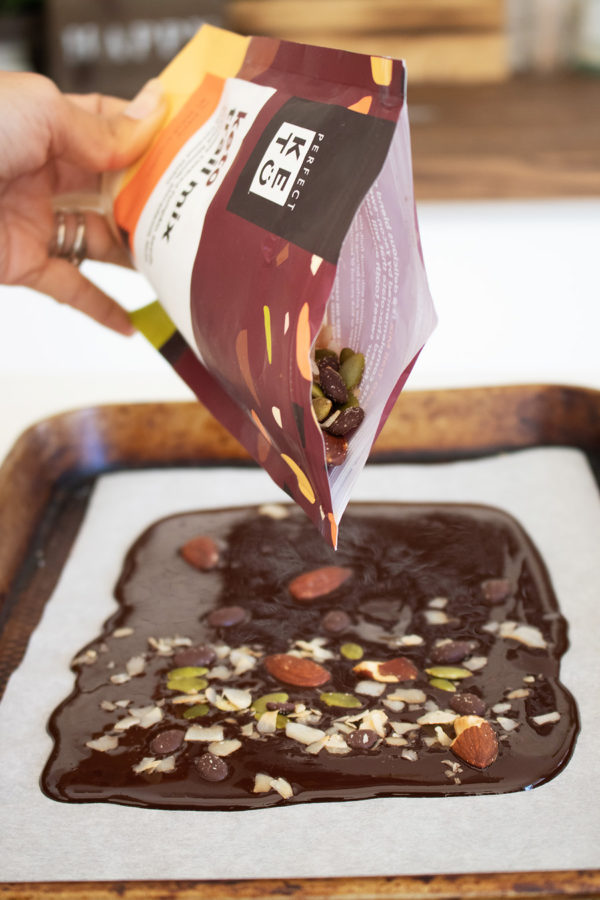 3 Health Benefits of Trail Mix Chocolate Bark
#1: Supports Heart Health
Heart disease is the leading cause of death in the United States and worldwide.
Among other lifestyle factors, your diet can have a significant impact on the health of your heart. Eating nutrient-dense foods is one of the best ways to protect your heart and other vital organs.
Antioxidant compounds found in plant foods are particularly helpful when it comes to keeping your heart healthy. And chocolate happens to be rich in antioxidants that show promise in relation to heart disease.
In fact, the plant compounds in chocolate have been shown to reduce blood pressure, improve vascular function, and reduce blood clotting. All of which can contribute to heart disease[*].
#2: Enhances Immunity
The fatty acids in coconut oil are tailored-made to support your immune system, making it a fantastic immune-enhancing food.
About 50% of coconut oil is made up of lauric acid, which has both antifungal and antimicrobial benefits[*]. One of the issues around antifungal prescription medication is the emergence of antimicrobial resistance.
It seems that some microbes are getting smarter, and the standard medications are no longer working their magic.
In one study, researchers tested both coconut oil and Fluconazole (an antifungal medication) against different species of candida.
The researchers found that while Fluconazole was effective some of the time, coconut oil was effective 100% against the candida[*].
#3: Assists Fat Burning
If your goal is weight loss, this trail mix bark makes an excellent pre or post-workout snack.
Using monk fruit in place of sugar not only helps to keep your blood sugar stable, but it may also have some unique fat-burning qualities.
In an in vitro study, monk fruit was able to inhibit the growth of fat cells. It appears to act on gene expression and suppresses two stages of the fat cell growth cycle. By inhibiting the ability of fat cells to grow, monk fruit may be able to inhibit your body from fat accumulation[*].
Trail Mix Chocolate Bark
No one's going to argue that trail mix makes a great snack, but turning that trail mix into dark chocolate bark makes a delicious dessert.
This chocolate bark recipe works with any of your favorite trail mix combos. However, the Perfect Keto Trail Mix makes the perfect topping.
It wouldn't be hard to devour the entire recipe in one sitting, but if you have extra, be sure to store it in an airtight container for later.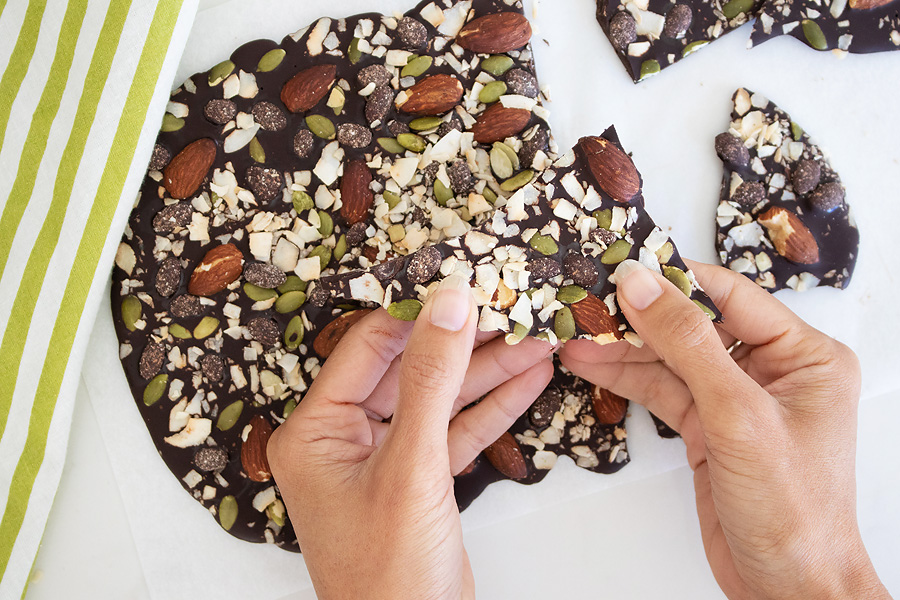 Print
Trail Mix Chocolate Bark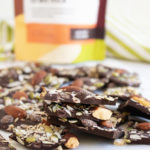 This trail mix chocolate bark recipe is the perfect combo of nuts and chocolate. It's a gluten-free treat made with cacao, trail mix, and coconut oil.
Author:
Prep Time:

5 minutes

Cook Time:

20 minutes (setting time)

Total Time:

25 minutes

Yield:

8 ounces

1

x
Instructions
Add 1 cup of water to a small pot and set over low-medium heat. Chop cacao on a cutting board and add chopped cacao and coconut oil into a glass bowl and place on top of pot creating a double boiler.

Heat for 4-5 minutes until cacao is smooth and melted.  Remove from heat and stir in monk fruit. Mix until dissolved.

Line a baking sheet with parchment paper.  Pour chocolate onto lined baking sheet and spread to ¼" thickness.

Sprinkle Perfect Keto Trail Mix on top of chocolate in a single, even layer.

Place in fridge for 20 minutes or freezer for 10 minutes to harden.  Remove from fridge and break bark into small pieces.
Nutrition
Serving Size:

½ ounce

Calories:

130

Fat:

14g

Carbohydrates:

8g (4g net)

Fiber:

4g

Protein:

3g
Keywords: trail mix chocolate bark