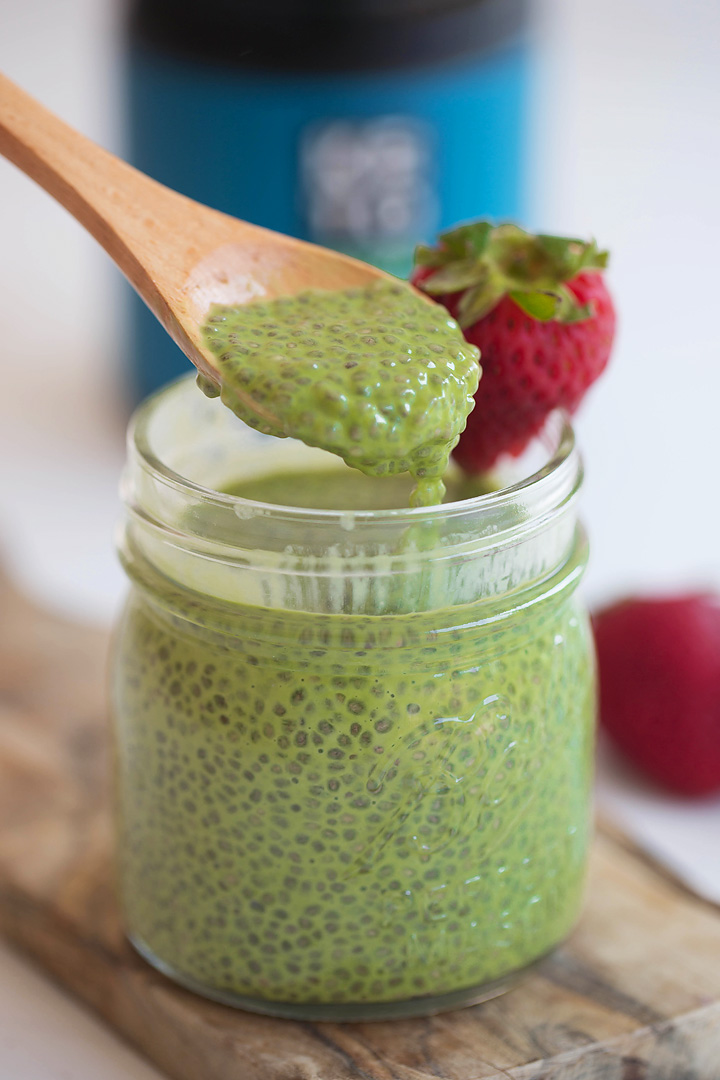 Matcha green tea and breakfast come together in perfect harmony with this delicious matcha chia seed pudding.  It is so easy to put together and entirely foolproof. All it takes is 3 simple ingredients, a jar, and a spoon.  It really doesn't get more straightforward than this. Not only that, you will also fall in love with the unique texture, sophisticated flavor, and most of all, just how energized you'll feel after a single serving.
The Main Ingredients in This Include:
Unsweetened milk of choice
Chia seeds may be small in size, but they pack a huge nutritional punch.  They are a great source of fiber (which help keep your net carbs low), they contain antioxidants, and they can help even boost your energy and metabolism.  Not only will you be getting energy from these tiny seeds, the matcha green tea powder in this pudding will pack an even bigger burst of clean energy, as well as provide other amazing nutritional benefits.
Benefits of Matcha Green Tea:
#1: Caffeine & L-Theanine
Green tea is widely known as a great natural source of caffeine, but matcha works a bit differently than your standard cup of coffee.  Matcha also contains something called L-theanine, an amino acid that works with caffeine to produce a distinct type of energy, without the jitters or increased blood pressure.  It has been shown to enhance your cognition, improve alertness, boost memory, and reduce fatigue.
#2: Antioxidants
Matcha green tea is also loaded with antioxidants and enzymes which are responsible for fighting against negative oxidative stress.  This helps improve the youthfulness of our skin and protects us against disease. Matcha also contains a specific type of antioxidant called catechins.  This is most widely known for its cancer-fighting properties.
#3: Chlorophyll
That rich green color in matcha green tea comes from chlorophyll.  This is a wonderful detoxifier which helps your body remove toxins, heavy metals, and harmful chemicals.  Matcha is actually protectively grown in the shade, which allows for a substantially richer chlorophyll compared to other green teas.
If you have been on the hunt for an easy on-the-go breakfast or even the perfect afternoon pick me up, this matcha chia seed pudding will fit the bill.  And if you are pressed for time during the week, go ahead and prepare a larger batch of this.  It can be stored in the fridge and ready anytime you need a boost of energy.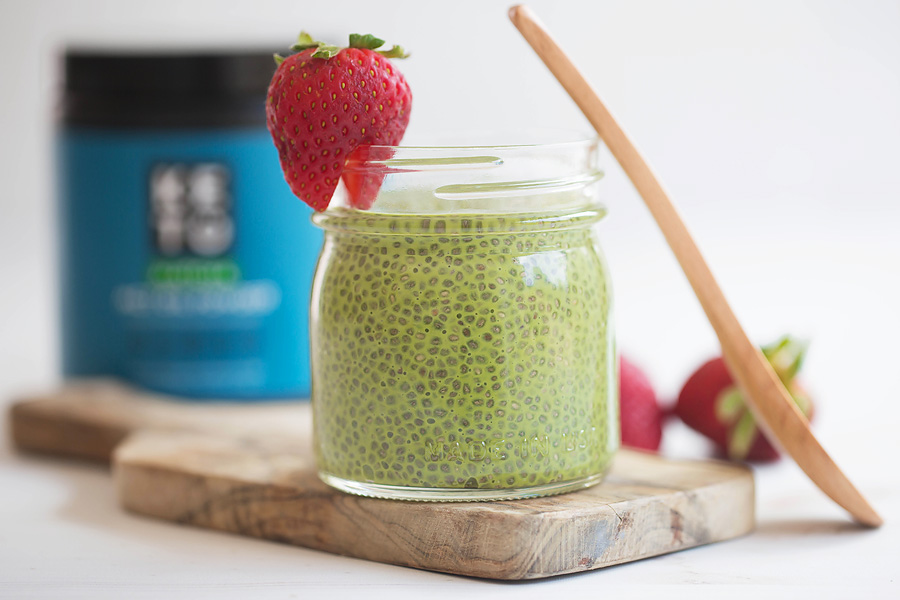 Print
Energy-Boosting Matcha Chia Seed Pudding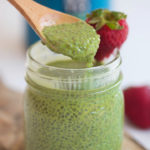 Change up your boring breakfast routine and energize your morning with this quick and easy (and low carb!) matcha chia seed pudding.
Author:
Prep Time:

2 hours

Cook Time:

N/A

Total Time:

2 hours

Yield:

1/2 cup

1

x
Category:

Dessert

Cuisine:

European
Instructions
Add milk, chia seeds, and matcha powder to a small jar or bowl.

Stir well until powder is dissolved. Add sweetener to taste.

Place in fridge and let sit for 3-4 hours or preferably overnight. Stir and serve.
Nutrition
Serving Size:

1/2 cup

Calories:

275

Fat:

18g

Carbohydrates:

Net Carbs: 1g

Protein:

11g
Keywords: matcha chia seed puddinG