Looking for easy and delicious keto diet snacks to add to your meal plan but don't know where to start?
Look no further than this luscious and flavorful keto recipe that combines the freshness of peaches with the creaminess of butter and cream cheese. More importantly, it's free of added sugars.
This recipe is also an excellent alternative to fat bombs that often include cashews, pecans, or macadamia nuts, which aren't suited for those with nut allergies. (And since you're looking for keto diet snacks, don't miss this simple three-ingredient fat bomb recipe that will become a fast favorite.)
When you want a taste of summer, these peaches and cream fat bombs are a creative way to get your peach exogenous ketones and satisfy your snack cravings. Even family and friends who aren't on the ketogenic diet will love these creamy, low-carb frozen treats.
Benefits of Peaches
Peaches are not only juicy, but they're also packed with nutrients, including an assortment of vitamins and minerals that are crucial for good health. Here are some of the health benefits of this sweet stone fruit:
19% daily recommended value of vitamin C in one large peach, which is well-known for boosting immune function[*][*]
Low in saturated fat and cholesterol
Polyphenols in peaches protect against obesity and heart disease in rats[*]
Decent source of micronutrients like vitamins A, C, potassium, and choline[*]
Source of beta-carotene that converts to vitamin A, which is essential for strong eyesight[*]
Abundant in potassium to help digestion, regulate heart rate, and lower blood pressure[*]
Contains magnesium, which helps reduce stress and anxiety and relaxes the nervous system[*]
Has phenolic compounds containing anti-inflammatory and anti-obesity properties which help fight metabolic syndromes and contribute to weight loss[*][*]
Packed with antioxidants known for their anti-inflammatory and anti-aging properties[*]
Recipe Ingredient Breakdown
The keto diet is known for reducing your cravings and keeping you full for longer periods of time. However, when you're dealing with long, busy days, it can be difficult not to reach for convenient (and ubiquitous) high-carb snacks.
That's why having a keto meal plan is so important to succeeding — when you know what to buy and how to keep your fridge stocked with keto-friendly foods, you'll be less likely to reach for those items that will kick you out of ketosis.
Plus, as you continue to build your arsenal of recipes, it'll make your life much easier and your diet more exciting.
Before you get started in the kitchen to make these peaches and cream fat bombs, you may as well get a little background on why these keto diet snacks are actually good for you. Here's a quick breakdown of all the good stuff that's inside this simple recipe.
Peaches
There's a reason why peaches are the third most popular fruit grown in America. Incredibly juicy, sweet, and refreshing, this fuzzy summer fruit not only tastes great, but it has plenty of health benefits. But are peaches good for a low-carb diet?
An average size peach contains[*]:
15 grams of total carbs
 2 grams of fiber
 13 grams of sugar
As you can see, a single peach contains 13 grams of net carbs, which is a bit more than you're going to want to blow on a single piece of fruit. However, in moderation — and as part of a healthy keto recipe — a few bites of peaches are just fine.Learn all about fruits and ketosis in this essential guide to keto-friendly fruit.
For more keto diet snacks made with peach, don't miss these mouthwatering options:
Low-Carb Peach Cream Cheese Danish
Peach Scones With Peach Coconut Drizzle
Butter
Butter needs no introduction in the keto world. This ketogenic diet staple is loved by keto diet followers for being a high-fat food that adds a creamy consistency to any dish.
Just like olive oil and coconut oil, butter is one of the main cooking options in a keto diet and is considered a healthy fat. When added to veggies in your keto meals, it boosts the absorption of fat-soluble vitamins from these foods.
But not all butters are created equal. When making these peaches and cream fat bombs, make sure you're using grass-fed butter. Read more about why grass-fed butter is the best keto option.
Cream Cheese
Cream cheese is not only a great source of protein on keto, but it also delivers a substantial amount of vitamin A[*].
A study conducted by the University of Florence has shown eating protein- and calcium-rich parmesan cheese may help boost bone health[*].
Cream cheese has fewer calories than cheddar cheese and more vitamin A than mozzarella[*][*].
An excellent addition to both sweet and savory dishes, it's no wonder cream cheese is one of the most used ingredients in low-carb snacks and paleo recipes.
Here are a few delicious keto diet snacks you can make with cream cheese:
4 Ingredient Cream Cheese Pancakes
The Best Pumpkin Cream Cheese Muffins
Monk Fruit
Monk fruit hails from Southeast Asia and has been used in the region for centuries. However, it's only in more recent decades that Western cultures have recognized this powerful fruit.
A healthy alternative to sugar and low-carb sweeteners like xylitol, monk fruit is a zero-carb sweetener. That means it has no sugars, which is ideal for a keto diet. Incredibly, despite having zero sugar, it's still 250 times sweeter than sugar.
Monk fruit has been used for years in Traditional Chinese Medicine to relieve sore throats and reduce phlegm, and a 2011 study demonstrated that this sweet-tasting fruit has anti-inflammatory properties and may help keep blood sugar stable[*].
Check out this article about monk fruit and prepare to be amazed by this zero-calorie sweetener.
More Keto Diet Snacks
Along with these refreshing peaches and cream fat bombs, there are plenty of other easy-to-make (and flavorful) recipes.
If you have a sweet tooth, you can't miss with these:
Sugar-Free Keto Avocado Brownie Recipe
"Peanut Butter" Fat Bombs With Macadamia Butter
Low-Carb Keto Chocolate Smoothie With Collagen
When you're craving something savory, these keto diet snacks hit the spot:
The Best Keto Avocado Deviled Eggs
Print
Perfect Keto Peaches and Cream Fat Bombs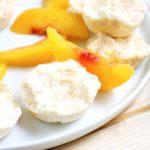 Cool down from the summer heat with these Perfect Keto Peaches and Cream Fat Bombs. Or simply enjoy them whenever you're in the mood for sweet and creamy keto diet snacks.
Author:
Prep Time:

10 minutes

Cook Time:

0 minutes

Total Time:

10 minutes

Yield:

24

1

x
Category:

Dessert

Cuisine:

American
Instructions
In a medium-sized bowl with a hand mixer, mix the butter, cream cheese, peaches, Peach Ketone Base, and 3 tbsp monk fruit sweetener until well-combined.
Scoop mixture into a silicone mold. Top each fat bomb with remaining monk fruit sweetener.
Place mold in the freezer and freeze for 4 hours.
Once frozen, remove fat bombs from silicone mold and enjoy.
Nutrition
Calories:

43

Fat:

4.2

Carbohydrates:

1 (0.9 net)

Protein:

0.5