You probably thought that breakfast foods like peach scones were off-limits on the keto diet. Think again! Whether you're looking for a sweet after-dinner treat or a low-carb breakfast scone to pair with your morning coffee, this peach scone recipe has you covered.
You could even skip that large bowl of ice cream after dinner and opt for a delicious peach scone instead.
Most pastry options are off limits on a low-carb diet — but not these peach gems.
By replacing your all-purpose flour with almond flour and sugary peaches with Perfect Keto Peach Exogenous Ketone Base, you'll stay in ketosis and get a sweet treat. You'll have a hard time finding scones with a net carb count of three grams at your local coffee shop.
These keto peach scones are:
Gooey
Comforting
Delicious
Spicy
Gluten-free
Low-carb
The main ingredients are:
3 Health of Benefits of Peach Scones
#1: Anti-Inflammatory
Inflammation is at the root of most chronic diseases, from autoimmune disease to diabetes and even depression. Whether developed through poor diet, lifestyle, stress, or environmental factors, one thing is clear — too much inflammation can drain you and make you sick.
Luckily, there are diet and lifestyle changes that can help lessen inflammation quickly. Getting into ketosis is one of them.
Ketones — specifically the ketone beta-hydroxybutyrate (BHB) — have anti-inflammatory effects that may be able to lower inflammation in your brain and body.
One way researchers have seen this work is in the brains of rats. When researchers induced a depressive state in rats and then administered BHB, the ketones lowered brain inflammation and had an antidepressant effect[*].
#2: Naturally Occurring MCTs
Among the many benefits of coconuts is their impressive fat profile. Coconuts are one of the best natural sources of medium chain triglycerides (MCTs), a type of fat that takes a unique pathway in your body.
Unlike long-chain fatty acids, MCTs are much more readily absorbed. Most fat needs to travel through your lymphatic system before it can be sent to your liver and broken down for fuel. MCTs can be sent directly to your liver, where they're quickly converted into usable energy.
More energy and less fat storage mean that MCTs can support weight loss.
#3: Health Benefit
Almonds make a fantastic low-carb snack and are a wonderful addition to any healthy diet. Switching out all-purpose flour for a nut flour like almond meal won't just save your blood sugar, it comes with some health benefits as well — especially when it comes to your heart.
Eating a diet rich in almonds can increase your beneficial (HDL) cholesterol, lower your LDL cholesterol, balance your blood sugar, and lower your blood pressure. In addition, people who add almonds to their diet show greater weight loss and overall better improvement in cardiovascular disease risk factors[*].
Peach Scones with Peach Coconut Drizzle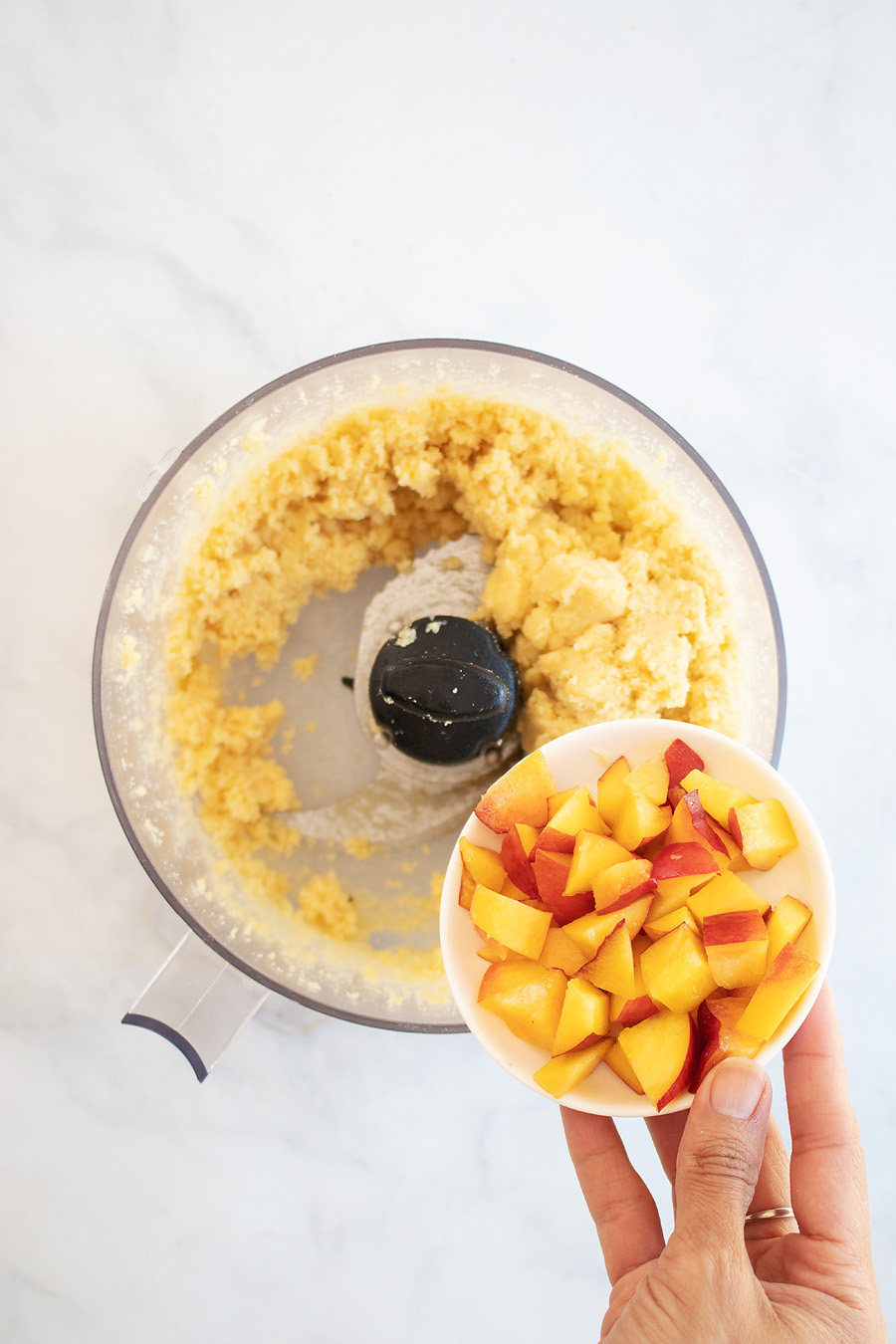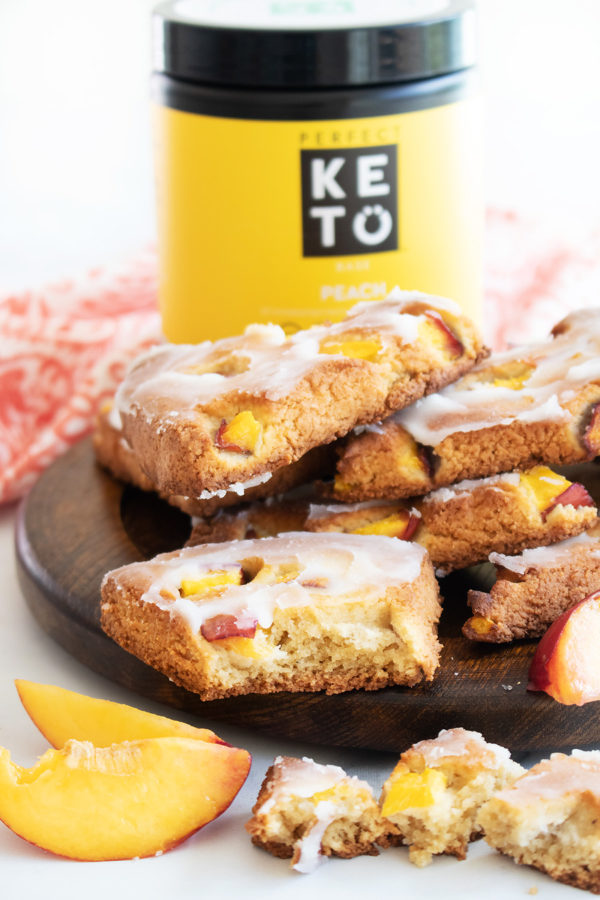 You don't see a lot of fresh peach recipes on the keto diet, mainly because peaches can be a bit high on the carb count.
However, these scones add just 1/2 cup of diced peaches and keep the net carbs down to only three grams per serving. And yes, that includes the delicious coconut drizzle.
Craving even more flavor? You can add one teaspoon vanilla extract to your coconut butter for a little extra pop.
For a ton of flavor and only 3 grams of net carbs per serving, preheat your oven to 350°F and line a baking sheet with parchment paper.
Mix your dry ingredients — almond flour, coconut flour, sweetener of choice, baking powder, baking soda, and salt to a large mixer. Pulse to combine.
Next, come the wet ingredients — slowly add in heavy cream, egg, vanilla extract, and cold, unsalted butter. Pulse until the batter comes together without overmixing. Gently stir in your peaches by hand.
Scoop dough onto your baking sheet about one fourth a cup at a time. It should make about eight even mounds, but you'll have to shape the dough into scone shapes yourself.
Bake for 35-40 minutes or until golden brown.
For your glaze, add melted coconut butter or coconut manna and Perfect Keto Peach Base to a small bowl. Whisk until smooth and drizzler liberally over your gluten-free scones.
This scones recipe would also taste amazing with a cream cheese frosting. Simply mix equal parts cream cheese and unsalted butter with a scoop of Peach Ketones for a delicious peach cream cheese topping you won't regret.
Print
Peach Scones with Peach Coconut Drizzle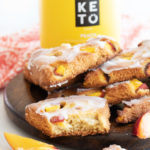 Author:
Total Time:

45 minutes

Yield:

8

scones

1

x
Instructions
Preheat oven to 350 degrees and line a baking sheet with parchment paper

Add almond flour, coconut flour, sweetener, baking powder, baking soda, and salt to a large food processor. Pulse a couple of times to combine.

Slowly add in heavy cream, egg, vanilla extract, and cold butter. Pulse until dough comes together without over mixing. Gently stir in peaches.

Scoop dough out onto baking sheet using a ¼ measuring cup. Make 8 even mounds and form into scone shapes. Give 2-inches between scones to bake evenly.

Bake for 35-40 minutes until golden brown and bake through.

Add melted coconut butter and Perfect Keto Base to a small bowl. Whisk well until smooth. Drizzle over scones.
Nutrition
Serving Size:

1 scone

Calories:

226

Fat:

20 grams

Carbohydrates:

7 grams (3 grams)

Fiber:

4 grams

Protein:

8 grams