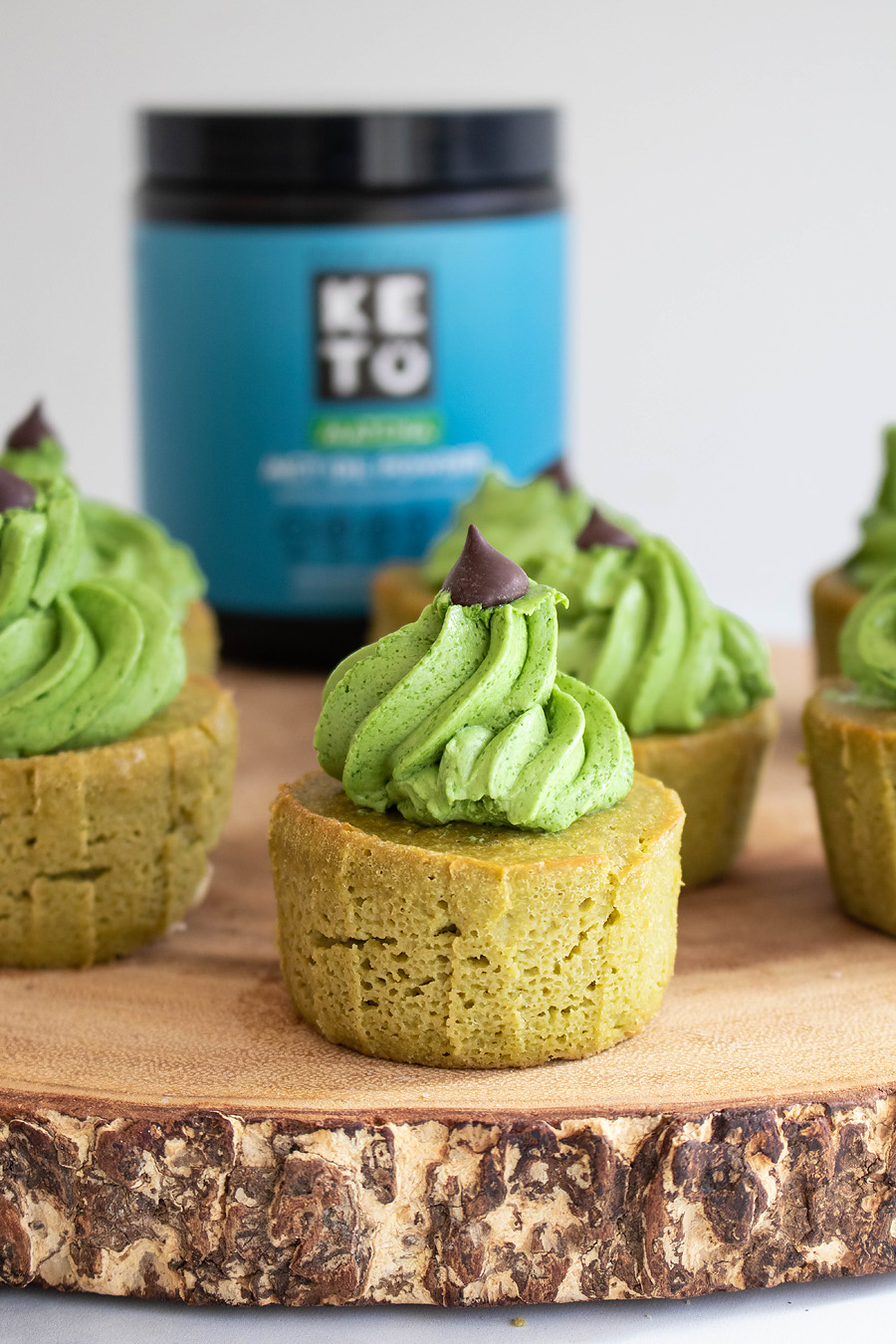 You know the creamy, satisfying flavor of matcha green tea lattes, but there are more ways to use that antioxidant-packed powder than just beverages. Matcha cupcakes, for instance.
While most cupcakes and desserts are made with sugar, all-purpose flour or cake flour, and other blood sugar-spiking ingredients — you won't find ingredients like that in these delicious desserts.
With coconut flour, almond flour, and Perfect Keto Matcha Tea Latte MCT Oil Powder as your ingredient base, you can enjoy these matcha cupcakes guilt-free and often.
Not familiar with matcha green tea powder? Well, you're about to be. Part of Japanese tradition since the 12th century, this finely-ground tea has widely-studied health benefits that include antioxidant activity, heart protection, and immunity boosting.
These matcha cupcakes are:
Warm
Satisfying
Delicious
Flavorful
The main ingredients are:
3 Health Benefits of Matcha Cupcakes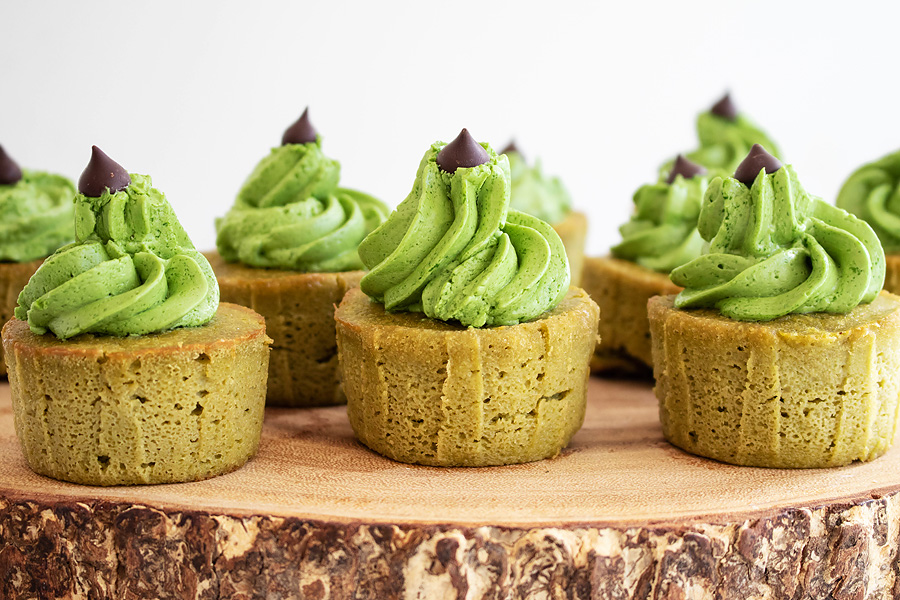 1: Immune Building
Maintaining a healthy diet is one of the most important things you can do to support your immune system.
When your body is under attack by a virus, bacteria, or other foreign invaders, you pull from your nutrient stores to fight back and kill off whatever is causing you to feel unwell.
Although chicken soup tends to be the go-to when you're not feeling great, there's no reason to skip these matcha cupcakes.
Matcha green tea, monk fruit, and even vanilla contain an array of immune-boosting antioxidants[*][*][*].
The catechins in matcha powder, a group of compounds with antioxidant activity, have been shown to reduce free radical damage and enhance antioxidant activity in mice[*].
Coconut flour and the MCTs (medium chain triglycerides) in the Perfect Keto Matcha Powder are two more immune boosting ingredients.
Coconut is a powerhouse food when it comes to immune health. And MCTs from coconut include antibacterial, antifungal, antiviral, antiparasitic, and immunostimulant properties[*].
MCTs are not only antioxidant-rich, but they also have anti-inflammatory properties[*]. Inflammation is often correlated with low immunity, so keeping inflammation down is imperative for strong immunity[*].
2: Supports Weight Loss
Trying to shed some extra weight?
Keeping your insulin levels low is one of the most valuable things you can do when trying to drop some extra pounds.
These cupcakes are sugar-free and loaded with healthy fats, which will keep your blood sugar stable and your sweet tooth satisfied.
Green tea is also known for its potential role in weight loss.
When researchers did a review of 11 different studies, they determined that the catechins in green tea not only help people lose weight, but they also helped them maintain that weight loss[*].
Green tea extract may also enhance your body's fat burning during exercise.
One study found that ingesting green tea extract before a workout resulted in a 17% increase in fat oxidation compared to those who were given a placebo[*].
Similarly, MCTs can also boost energy expenditure and decrease body fat — especially around your abdomen[*].
Some research also suggests that consuming MCTs will reduce your food intake, although the exact mechanism for this is still unknown[*].
3: Boosts Brain Health
MCTs have a unique ability to boost brain function when glucose is low, or your brain cells aren't responding well to it, as is the case in diabetes and Alzheimer's disease[*][*].
In the case of diabetes, MCTs provide an alternative fuel option for brain cells that may no longer be responding to glucose.
MCTs have been found to improve brain function in people with diabetes without causing hyperglycemia (too much glucose) — which can be very damaging[*].
This is important even if you don't have diabetes, given the ease with which your body can convert MCTs to brain fuel.
In the case of Alzheimer's, research suggests that some people's brains experience localized insulin resistance, which leads to brain cell dysfunction and cell death.
When a group of Alzheimer's patients with memory impairment was given MCTs, they showed a significant improvement in memory due to an increase in ketones produced by the MCTs[*].
Eggs are one of the most fantastic brain foods out there. They have a perfect balance of fat and protein and are packed with brain-supportive nutrients.
Choline, an essential nutrient found in eggs, is used to build the membranes of your cells and is a precursor to the neurotransmitter acetylcholine.
With the help of choline, your brain sends signals to the rest of your body, making brain-body communication possible[*].
Lutein, a carotenoid that gives egg yolks their bright yellow/orange color, is another emerging nutrient in the brain health scene.
Lutein is well-known for its beneficial role in eye health, but recent research shows that lutein may also play an imperative role in cognitive function.
Carotenoids are essential phytonutrients that act as antioxidants[*]. When a group of scientists studied infants brains, they found that lutein is the most abundant carotenoid in the brain, accounting for 59% of the total carotenoids[*].
In another study scientists linked lutein concentration to IQ, finding that the higher the lutein concentration is in your brain, the higher your IQ tends to be[*].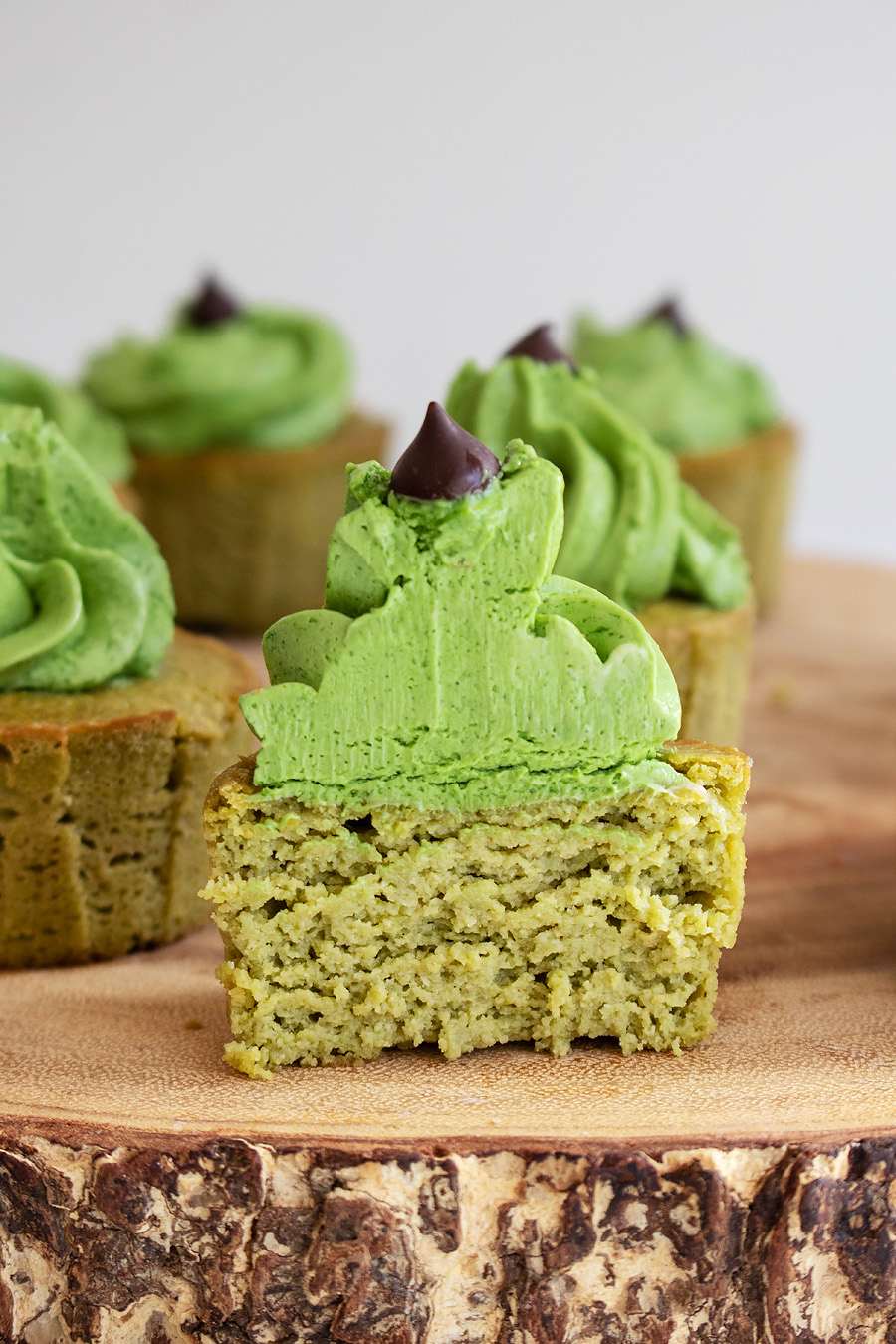 Simple Matcha Cupcakes
These matcha cupcakes are a fan favorite when it comes to low-carb baking. Try the recipe as it is, or if you want to mix it up, you can grab some cream cheese and whip up some cream cheese frosting.

Print
Simple Matcha Cupcakes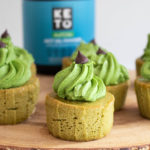 With zero cake flour or all-purpose flour or sugar, these keto matcha cupcakes contain all of the nutrients from Japanese matcha green tea, with none of the carbs.
Author:
Total Time:

25 minutes

Yield:

12

cupcakes

1

x
Scale
Ingredients
For The Cupcakes:
For The Frosting:
Instructions
Preheat oven to 350°F and line a cupcake or muffin pan with paper cupcake liners or coat with nonstick spray/butter.

Add dry ingredients to a large bowl or standing mixer and mix lightly.

Add wet ingredients and mix on high with an electric mixer until batter is smooth.

Divide and pour batter into prepared pan.  

Bake for 18-20 minutes until a toothpick comes out clean when poked through the center of each cupcake.  

Remove from oven and let cool to room temperature on a wire rack.

To make the frosting, add butter, powdered sweetener, matcha powder, and vanilla extract to a standing mixer or large bowl. Beat on high until light and fluffy. Add heavy cream and beat for an additional 1-2 minutes.

When cupcakes are cooled, frost cupcakes and top with a sliced strawberry or sugar-free chocolate chip if desired.
Nutrition
Serving Size:

1 cupcake

Calories:

213

Fat:

21g

Carbohydrates:

4g (2g net)

Fiber:

2g

Protein:

3g
Keywords: matcha cupcakes