Yes, even fat-adapted keto lovers get a sweet tooth now and then. And these low-carb keto chocolate cheesecake bites are the perfect quick recipe to whip up when you're short on time. Creamy, decadent, and with no bake time, every cheesecake bite has only 3 grams of net carbs and zero added sugar.
Plus, they're sugar-free, gluten-free, versatile, and quick to prep. The perfect keto dessert to bring to any party.
A Quick And Easy No-Bake Recipe
Sometimes your sweet tooth kicks in when you're totally unprepared. You think of baking a chocolate cake or whipping up a batch of keto cinnamon rolls, but you don't want to wait.
That's a perfect time for this amazing recipe. These no-bake treats are ready in minutes and come ready in low-carb serving sizes.
Not only will these fill you up on delicious fat, but you'll also avoid the hefty dose of sugar that comes with most normal treats.
Even small amounts of sugar can wreak havoc on your gut lining, mess with your blood glucose levels, and trigger the energy highs and lows that come with it.
Instead, opt for no-sugar, high-fat desserts that fill you up in just a few bites and have a super low carb count.
Not only are these cheesecake bites completely satiating but they'll help support muscle growth and stable blood sugar more than any other sweet treat.
These perfect keto chocolate cheesecake bites are:
Chocolatey
Creamy
Decadent
Quick and easy
Satisfying
The main ingredients in these low-carb Chocolate Cheesecake Bites include:
Optional variations for the cream cheese mixture: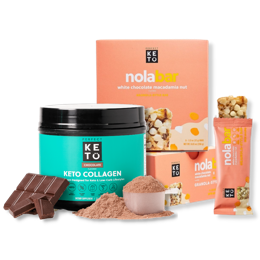 Browse our curated collection of fan-favorites and discover your new favorite snack or supplement.
Shop Best Sellers
Fat And Nuts Help Support Satiety And Brain Health
It may seem impossible that a dessert is good for you, but the ingredients in these fat bombs can help support your brain, connective tissue, and your gut lining. Let's dig in.
#1. Nuts And Cacao Support Brain Function
Ditch inflammatory peanut butter for better nuts like hazelnuts.
Hazelnuts are jam-packed with essential nutrients like folate, thiamine, fatty acids, manganese, and vitamin E.
Studies show that the nutrients in hazelnuts can strengthen your nerves, support brain health, and improve memory and anxiety symptoms[*][*][*][*].
Cacao contains powerful flavonoids that support neurotransmitter production. This can improve your mood by stimulating feelings of bliss, euphoria and even increase your focus [*][*].
Perfect Keto Nut Butter and Perfect Keto Collagen Chocolate not only contain nuts and cocoa, respectively; they also contain powerful fatty acids called MCTs or medium chain triglycerides. MCTs are known for converting into energy quickly, increasing your mental clarity and focus.
#2. Collagen And Magnesium For Better Skin
It's always a good idea to get more collagen powder. Collagen peptides contain amino acids that help repair connective tissue and promote collagen production. That means better skin, hair, nails, and joints with every scoop of powder[*].
Collagen protein, plus the magnesium in cacao support muscle synthesis. And magnesium is also known to support nerve function[*].
#3. Chocolate For Stronger Digestion
Chocolate is being studied for its positive effects on the gut microbiome. Studies show an increase in the good gut bugs Bifidobacteria and Lactobacilli and a decrease in less favorable bacteria[*].
The same study also showed lower inflammatory markers and triglycerides in patients who consumed a lot of high-quality chocolate.
Cacao also delivers a solid dose of polyphenols which may support healthy blood pressure, insulin resistance, and heart function[*].
Coconut flour is rich in dietary fiber, which aids in healthy digestive function and encourages microbiome diversity.
If you're on the keto diet or you're keto-curious, this is a dessert you can really embrace. With skin-supporting collagen and gut-supporting cacao; plus plenty of healthy fats from organic, grass-fed cream cheese and Perfect Keto Nut Butter, you'll satisfy your sweet tooth and stay healthy.
The best part? Five minutes of prep and zero cook time. It's basically all the best parts of a cake — the cheesecake filling — with none of the baking.
Pass this one along to all your keto friends.
Print
Creamy Chocolate Hazelnut Cheesecake Bites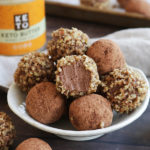 These low-carb keto chocolate cheesecake bites are the perfect sweet snack for keto dieters and low-carb aficionados alike. With only 3 net carbs and zero added sugar, these no-bake treats will make you the life of any party.
Author:
Total Time:

5 mins+ setting time

Yield:

12

Keto Cheesecake Bites

1

x
Instructions
Add all ingredients (EXCEPT ground hazelnuts) to a large food processor.

With a hand mixer, blend on high until mixture comes together and forms a solid dough.

Portion and roll into small balls.

Roll in extra cacao powder or chopped hazelnuts if desired.

Chill to harden. Allow to sit out at room temperature for a few minutes before serving.
Nutrition
Serving Size:

1 cheesecake bite

Calories:

191

Fat:

11g

Carbohydrates:

3g

Fiber:

1g

Protein:

3g
Keywords: keto chocolate cheesecake bites