Every holiday — from Christmas to Easter — offers temptations from baked goods to sugar-laden candy. That's why it's important to stock your house with sugar-free, keto options. You'll avoid the temptation and satisfy any cravings you might have for crunchy, chocolatey keto almond bark.
This super simple low-carb, dark chocolate almond joy bark is perfect for the keto diet but is also suitable for a Paleo diet or anyone avoiding grains, refined sugar, and dairy.
Time to ditch the candy bars and add this sugar-free chocolate keto bark to your low-carb, or no-sugar diet.
This completely addictive keto chocolate bark is:
Chocolatey
Crunchy
A bit salty
Gluten-free and grain-free
Vegan
Dairy-free
The main ingredients in this Keto Bark include:
Optional additions:
Health Benefits of Keto Bark Ingredients
#1. Nutrients That Support Muscle and Bone Health
Candy bars and chocolate treats may get a bad rap, but that's because of their sugar content — not the chocolate. Cacao is rich in essential minerals, including magnesium, which is critical to muscle and nerve function[*].
Almonds are also high in magnesium and phosphorus, which help support bone health[*].
Macadamia nuts are also important for bone health, with a good amount of the mineral manganese. Manganese may help increase bone strength and integrity[*].
Another nut great for bone health is the mighty macadamia nut. These nuts are rich in manganese which has been shown to increase strength and prevent bone disease [*].
Plus, MCTs (medium chain triglycerides) from coconut oil and Perfect Keto Nut Butter may enhance exercise endurance, in addition to being a great companion for fat loss and energy production[*]
#2. Nutrients For Brain Health
MCTs are unique fatty acids that bypass the normal digestive process and go straight to your liver where they're converted into ketones. If you're on a low-carb ketogenic diet, this is great news.
That's because ketones are your body's preferred energy source. It's why people on a ketogenic diet have more energy and better mental clarity.
Higher ketone levels may also impact your brain as you age — when your brain is more susceptible to age-related cognitive decline and diseases like Alzheimer's[*][*]. Will keto bark alone protect your brain? Obviously not, but it's a good idea to incorporate MCTs into your diet when you can.
Cacao may have neuroprotective effects and is generally considered good for brain health because it's so high in polyphenols[*]. That may be one of the reasons people love chocolate — it's even been shown to boost your mood.
Almonds are high in B2 or riboflavin, which you need for tissue growth. B2 also helps your body break down nutrients from your food for energy production. Almonds are also rich in fiber and protein, two nutrients you need for proper digestive function (fiber) and overall tissue repair and maintenance (protein).
One fatty acid, in particular, helps protect your brain: palmitoleic acid. Palmitoleic acid is an omega–7 fatty acid — incredibly rare, but incredibly healthy.
Palmitoleic acid has been shown to be a major component of myelin, the fatty, protective coating around your neurons. This protects your long-term brain health, fending off neurodegenerative diseases and mental disorders[*].
Macadamia nuts are also rich in copper and thiamin, both of which have been shown to support brain function. You need copper to efficiently absorb and utilize iron, which in turn helps get oxygen to your brain[*].
#3. Improves Heart Health
Besides improving your mood, real cacao can also support heart health with powerful antioxidants called polyphenols. Polyphenols may protect against many chronic conditions from cancer to diabetes to cardiovascular issues like high blood pressure and heart disease[*][*].
Coconut oil is also linked to heart health, lowering LDL or "bad" cholesterol and increasing HDL or "good" cholesterol levels[*][*].
Almonds are another food studied in depth for their heart-healthy benefits. They're loaded with vital nutrients like vitamin E, saturated fats, and antioxidants. All of which support heart health and circulation. Getting plenty of almonds may improve blood pressure, strengthen your arteries, and help prevent cardiovascular disease[*][*][*][*].
Macadamia nuts are also related to cholesterol regulation and less inflammation. They may also help protect against heart disease [*][*][*].
Yes, it's just a keto chocolate bark recipe, but why not get some nutrients while you enjoy a sweet treat?
This recipe is great for anyone following a low-carb diet or keto diet. It'll only take one batch of this vegan keto chocolate bark for you to get hooked. A keto bark so good, you'll want to make it on repeat all year long. 
Print
Almond Joy Keto Bark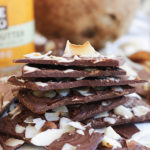 This low-carb almond joy keto bark is the perfect Paleo/keto sugar-free treat with just 2 net carbs per serving.
Author:
Total Time:

10 minutes + setting time

Yield:

20

pieces

1

x
Instructions
Add coconut oil, cacao powder, sea salt, nut butter, and liquid stevia to a small pot and set over low heat or in a double boiler.

Whisk and cook until ingredients are smooth and well combined.

Adjust sweetness to desired taste. Remove

melted chocolate mixture

from heat and let cool for 5 minutes.

Line a large baking sheet with parchment paper. Pour mixture from the pot into a thin layer. Top with nuts and coconut. Add an extra pinch of flaked salt if desired.

Place bark in fridge or freezer to harden. Remove and break into small pieces. Store in the fridge or freezer — bark may melt a bit at

room temperature

.

Enjoy with a cup of

Perfect Keto Boosted Coffee

.
Notes
Feel free to add optional ingredients like coconut flakes or drizzle with more Perfect Keto Nut Butter, which rivals inflammatory peanut butter for taste and texture.
Nutrition
Serving Size:

1 piece

Calories:

100

Fat:

10g

Carbohydrates:

2g

Fiber:

1g

Protein:

1g
Keywords: keto bark recipe
READ NEXT: Want more keto recipes? Get tons of healthy fats from this Perfect Keto Boosted Coffee Recipe