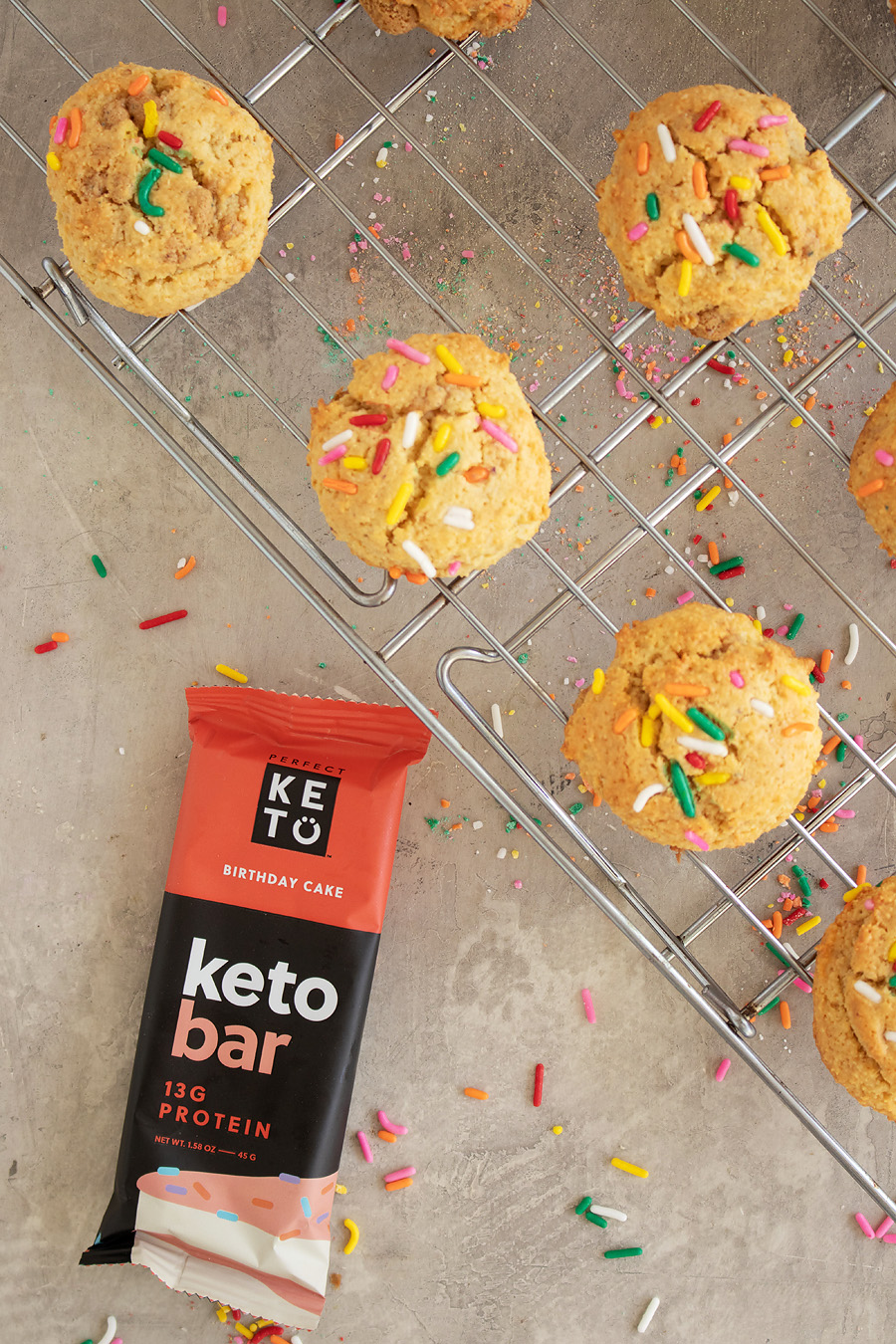 Let's reminisce for a moment about memories from desserts past — specifically, cakes and cookies.
There's something about a box of cake mix that brings you back to your childhood. Whether it was a birthday, a holiday, or any other celebration, the Betty Crocker or Pillsbury yellow cake mix, chocolate cake mix, (or if you were really fancy the red velvet cake mix) always made an appearance.
But let's be honest– the best part of making a cake is the cake batter.
And what about cookies?
Chocolate chip keto cookies, peanut butter cookies, vanilla frosting cookies, lemon cookies, the list could go on.
While the past is in the past, it doesn't mean we have to leave all the good memories behind. This cake mix cookie recipe offers the best of both worlds — the flavor of cake batter in a cookie.
It's a sugar-free recipe, that skips the all-purpose flour (yes, it's gluten-free), and rings in at only one net carb per cookie.
So next time you're having a craving for some funfetti cake mix pull up this recipe instead, you won't be disappointed.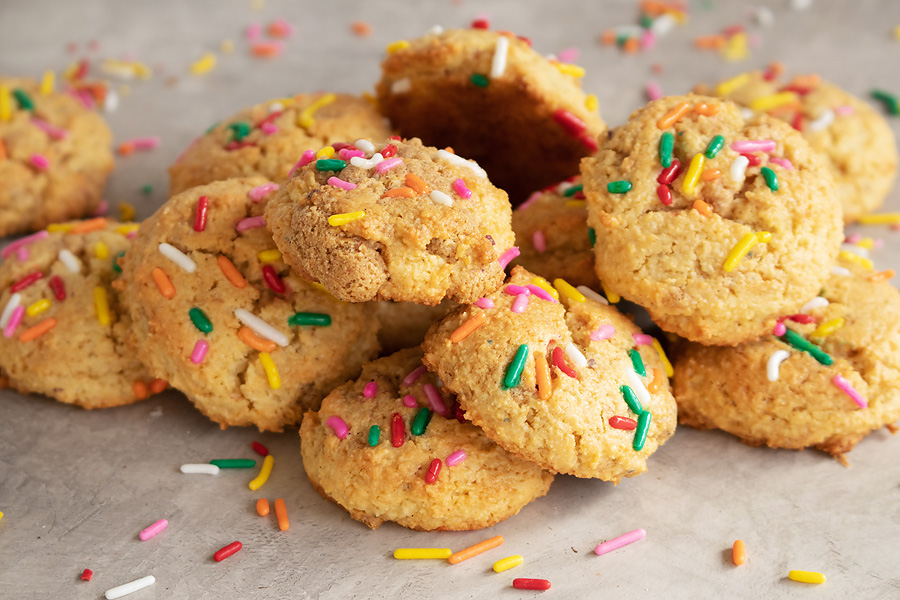 These cake mix cookies are:
Soft
Chewy
Gooey
Satisfying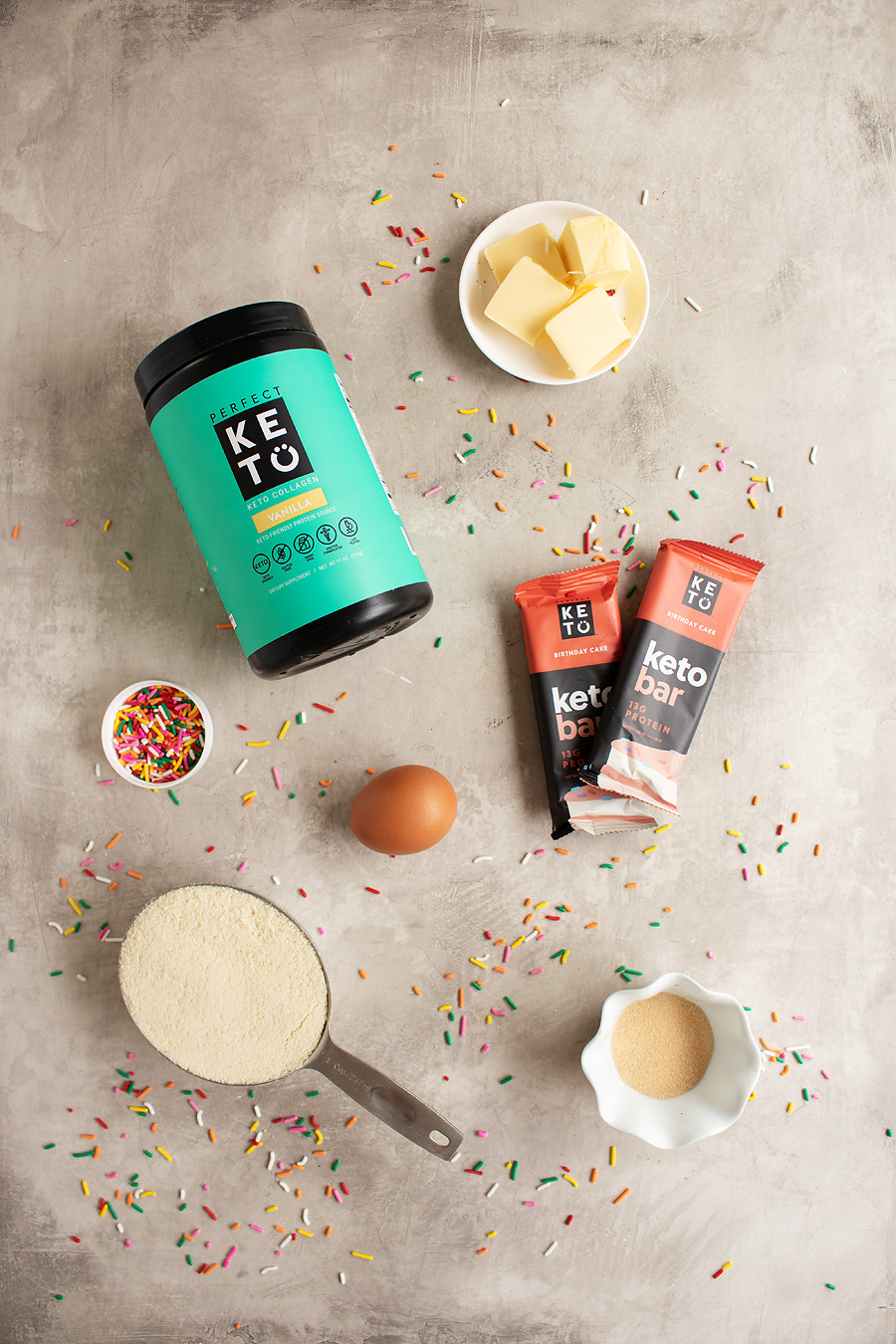 The main ingredients are:
Optional additional ingredients
Health Benefits of This Cake Batter Cookie Recipe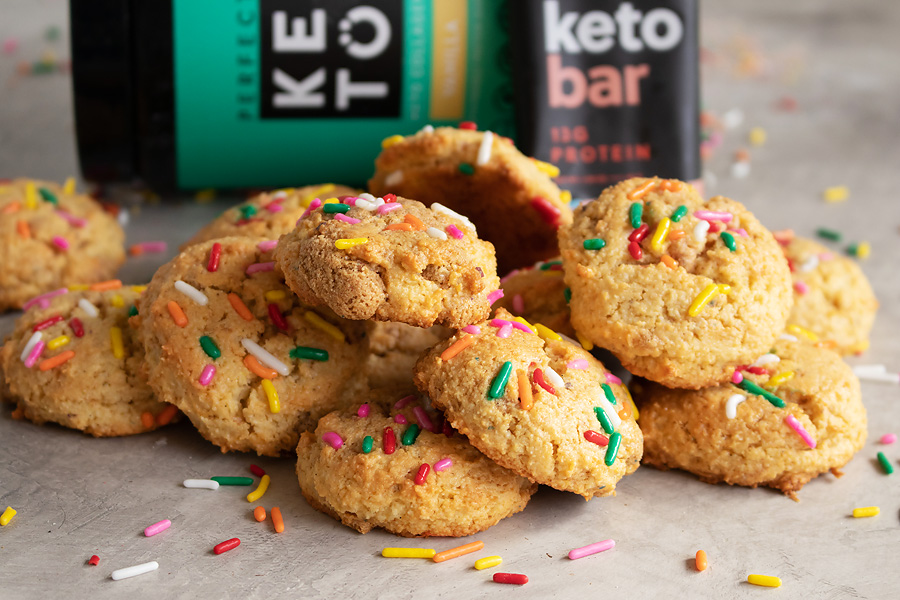 Unlike traditional cookies, these cake batter cookies offer a host of health benefits that you would never expect from a dessert.
For instance, where store-bought cookies will likely be packed with sugar and refined grains, these cookies are naturally devoid of sugar and are made with nut-based flours and collagen.
Avoids Processed Grains
Almond flour offers a fantastic source of vitamin E, which is a fat-soluble vitamin that your body uses to protect the membranes of your cells from oxidation. In other words, it helps to keep your cells intact by acting as an antioxidant[*].
Meanwhile, collagen (the most abundant protein in your body), can support the health of your skin and joints by supporting the extracellular matrix of your skin and connective tissue[*][*]. That's a pretty stark difference from what processed wheat flour does in your body.
Keeps Your Blood Sugar Stable
It wouldn't be a keto dessert if it didn't keep your blood sugar stable, but this benefit is worth mentioning.
Unstable blood sugar can cause hypo or hyperglycemia and eventually may lead to diabetes[*]. Even if you aren't keto, if you have a sweet tooth, these cake batter cookies may be just what you need to satisfy your cravings without altering your blood sugar.
By replacing sugar with monk fruit, and white flour with almond flour, these cookies become a guilt-free treat instead of a potential health threat.
Cake Batter Cookies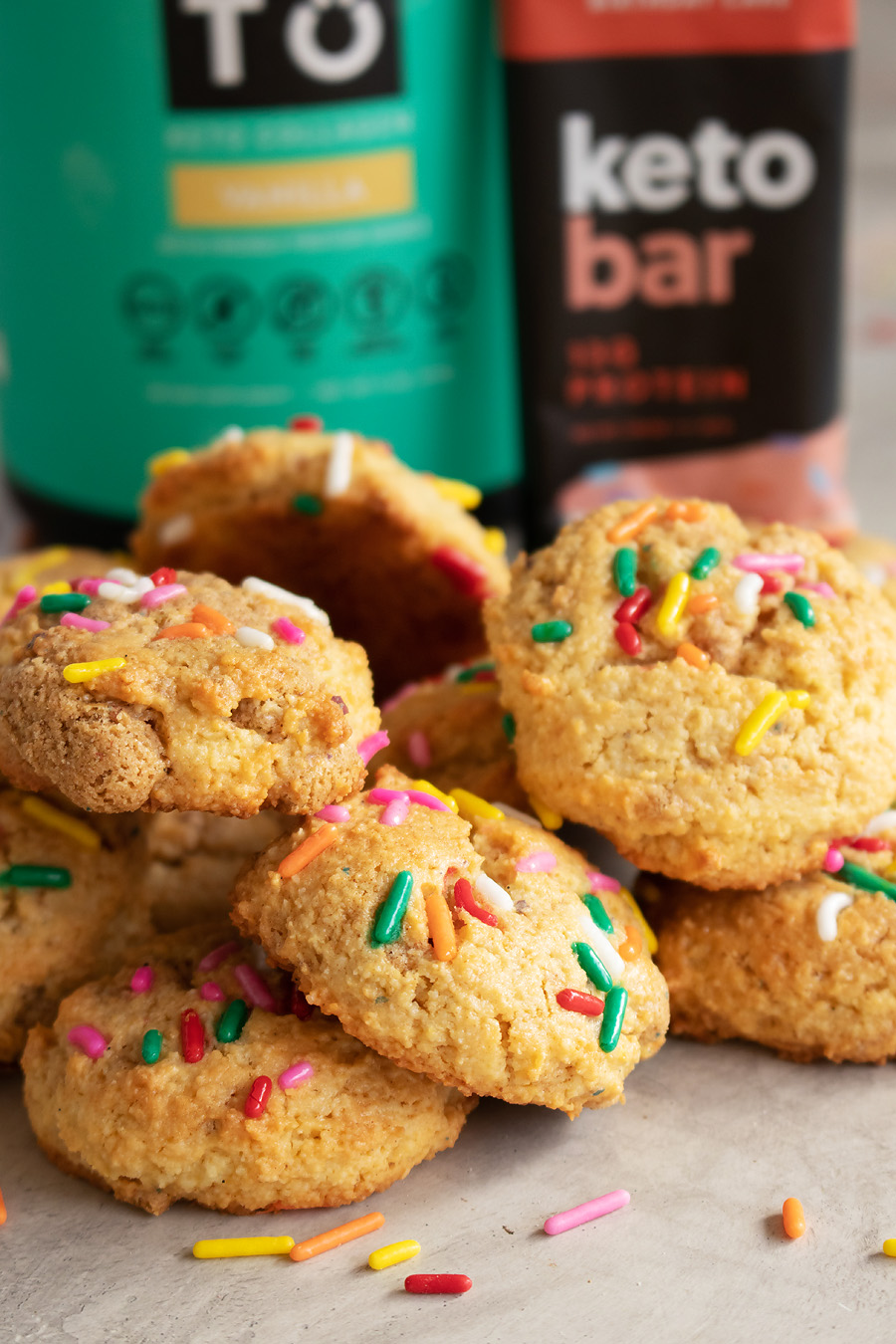 Begin by preheating your oven to 350 degrees and line a cookie sheet with parchment paper.
In a small bowl, add your dry ingredients; almond flour, collagen, salt, and baking soda. Whisk to combine, and then set the bowl aside.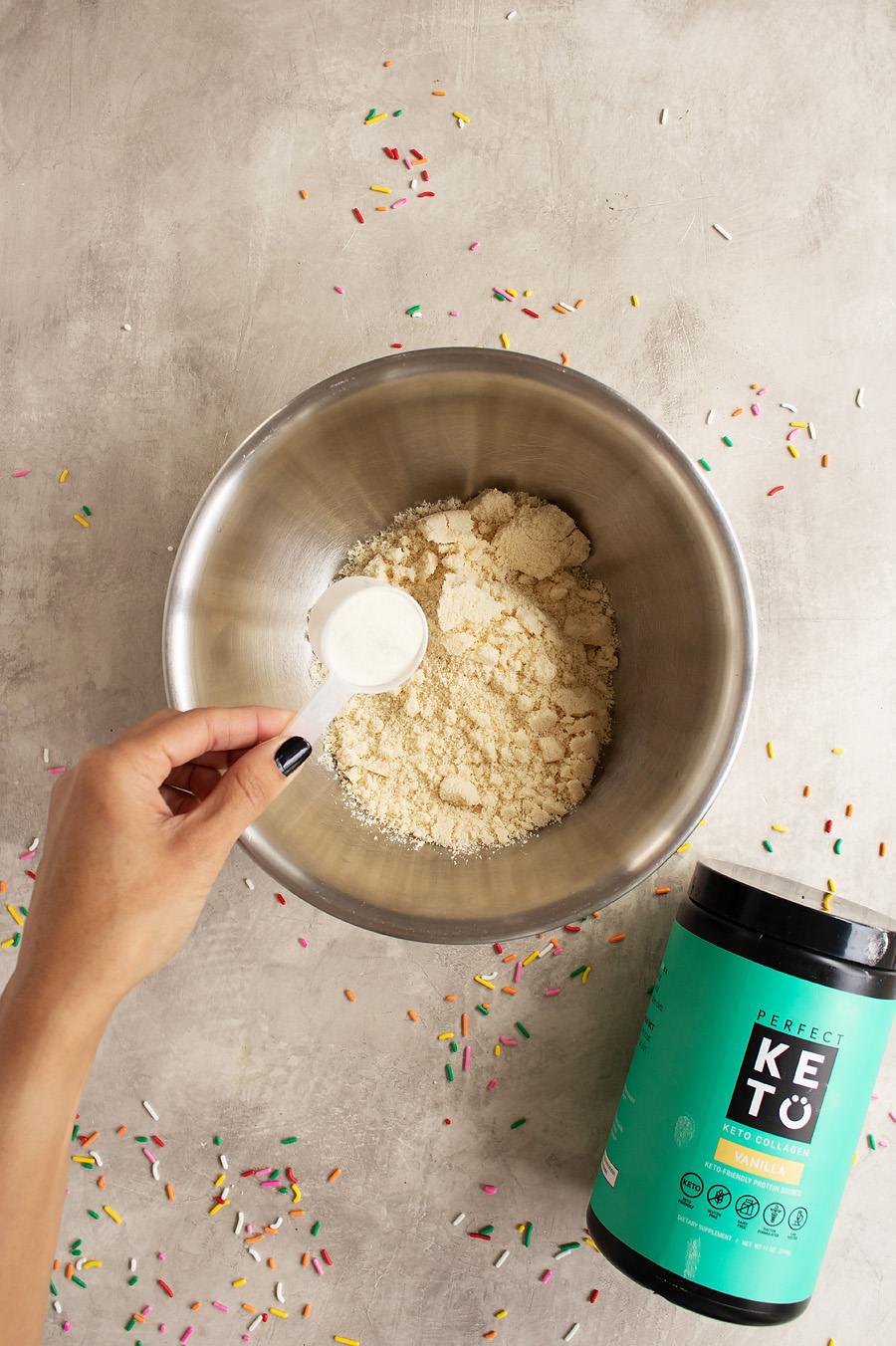 In a large bowl, food processor, or stand mixer cream the butter and sweetener together. Mix on high for one to two minutes, until light and fluffy. You can use any keto-friendly sweetener like stevia, monk fruit, or erythritol.
Add the vanilla extract, butter extract, and egg to the large bowl. Then, with the mixer on low, add in your dry ingredients. Mix just until well combined and a dough forms.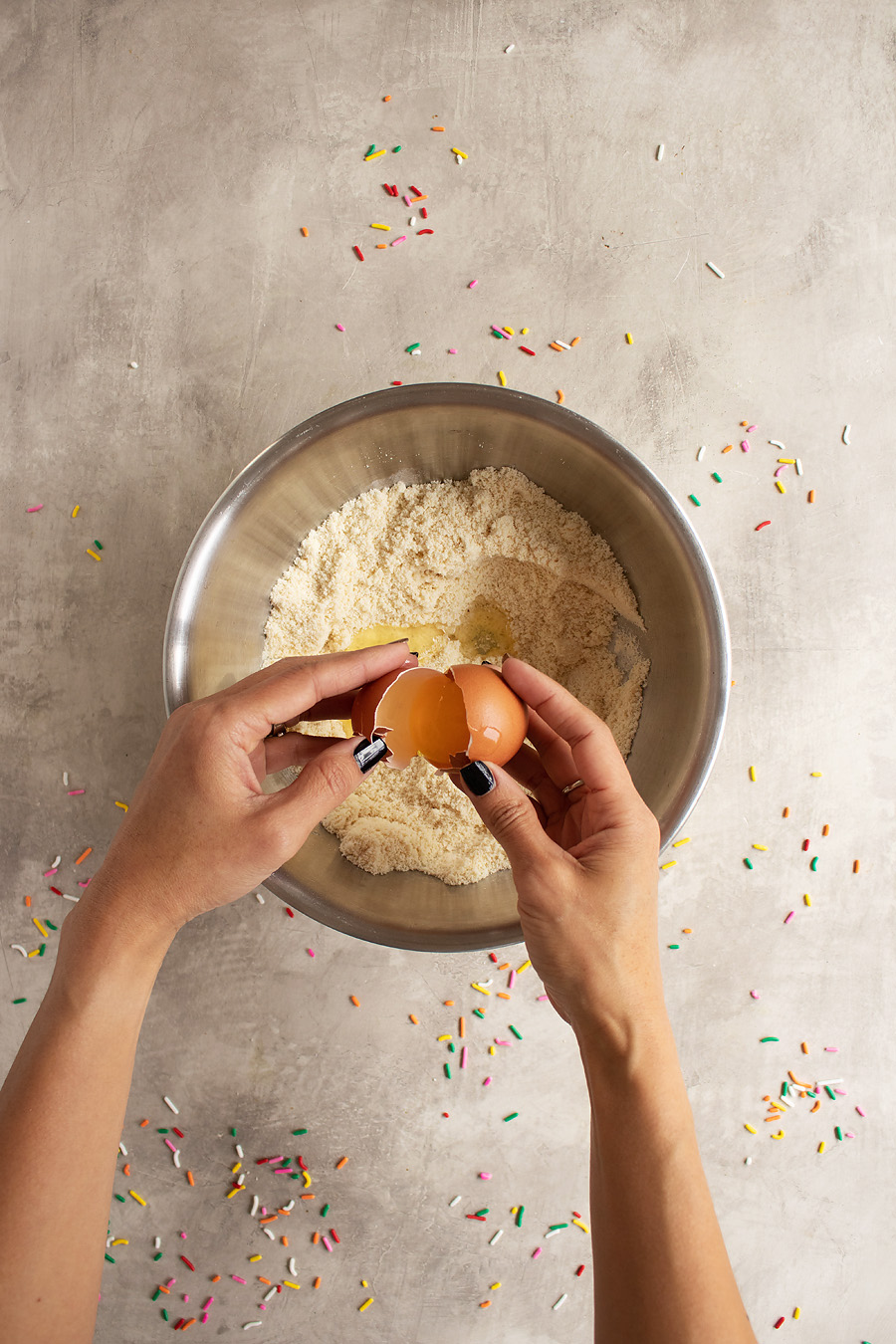 Next, chop up Perfect Keto bars and stir them into the cookie dough along with the sprinkles.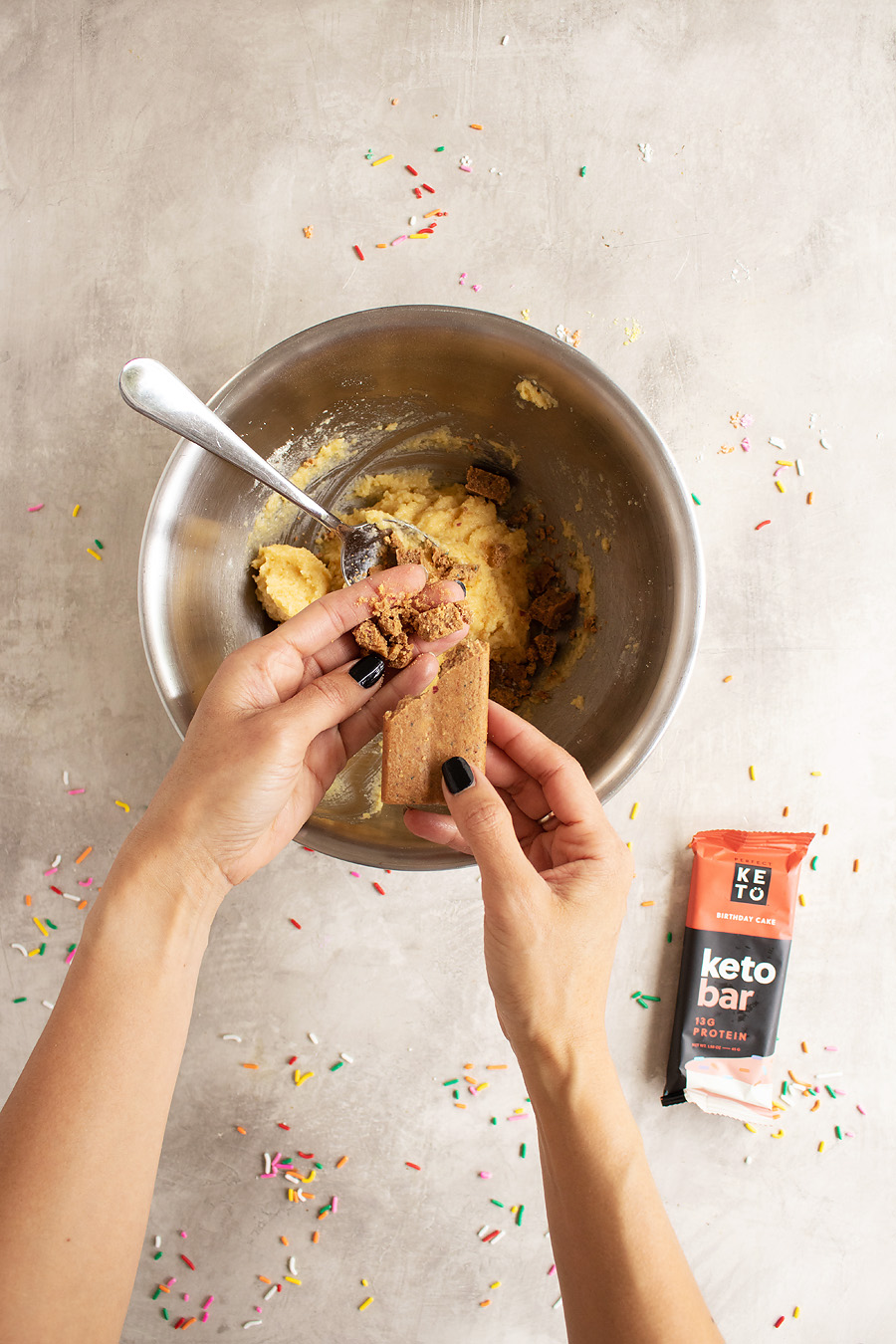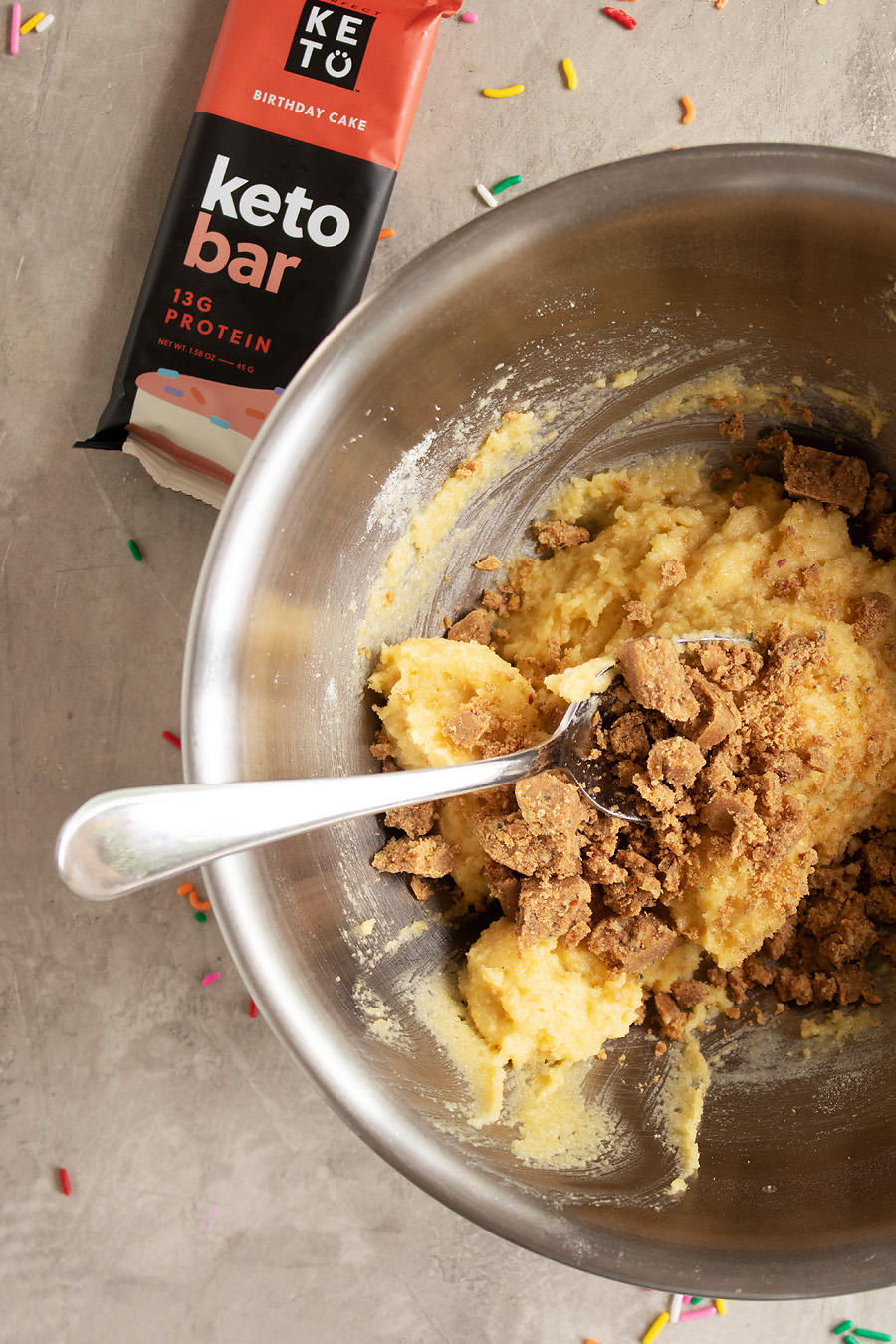 Divide and scoop the cookie dough onto your baking sheet, and press down lightly to flatten.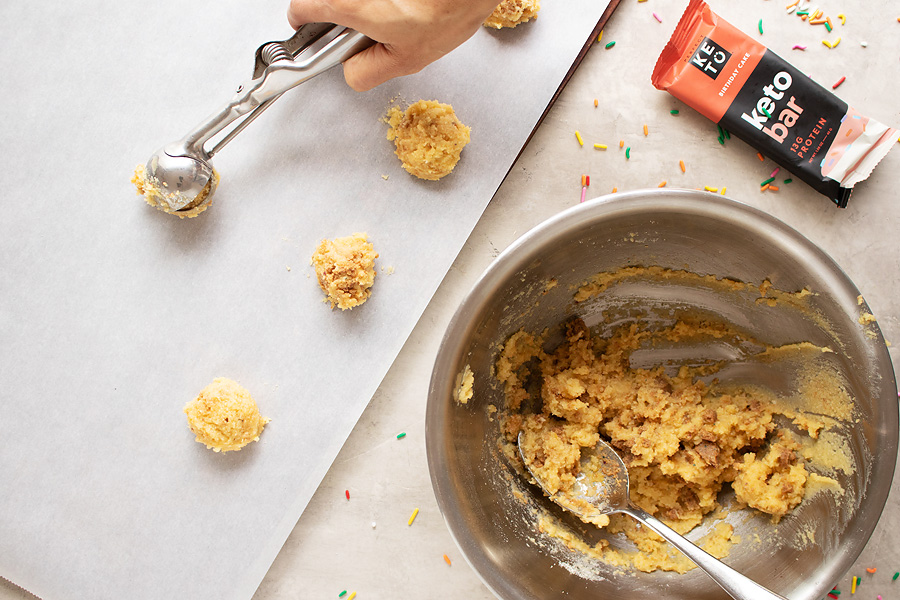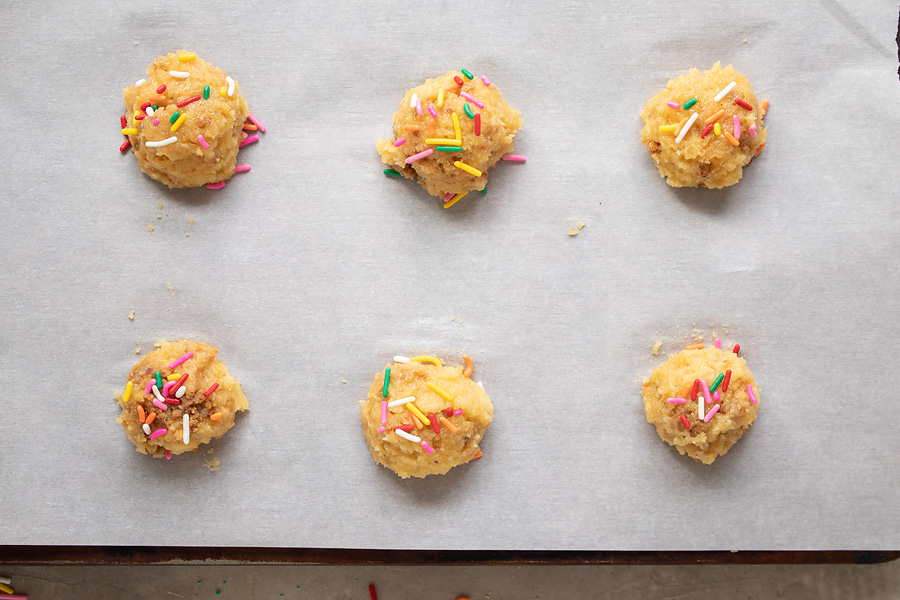 Finally, bake cookies for 10 to 12 minutes until they're golden brown on the edges.
Take the sheet out of the oven and let the cookies cool on a cooling rack until they reach room temperature.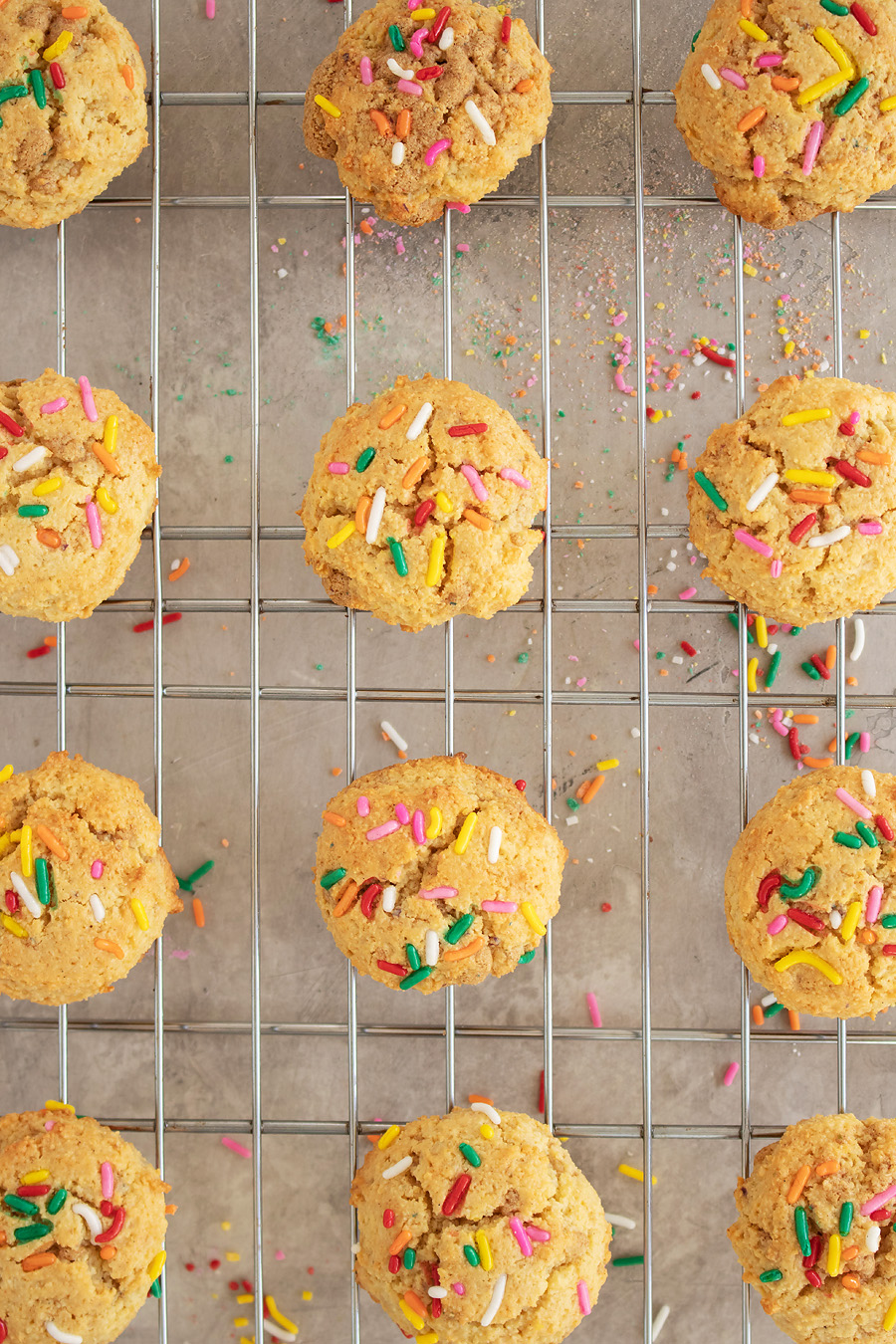 Enjoy immediately or store in an airtight container.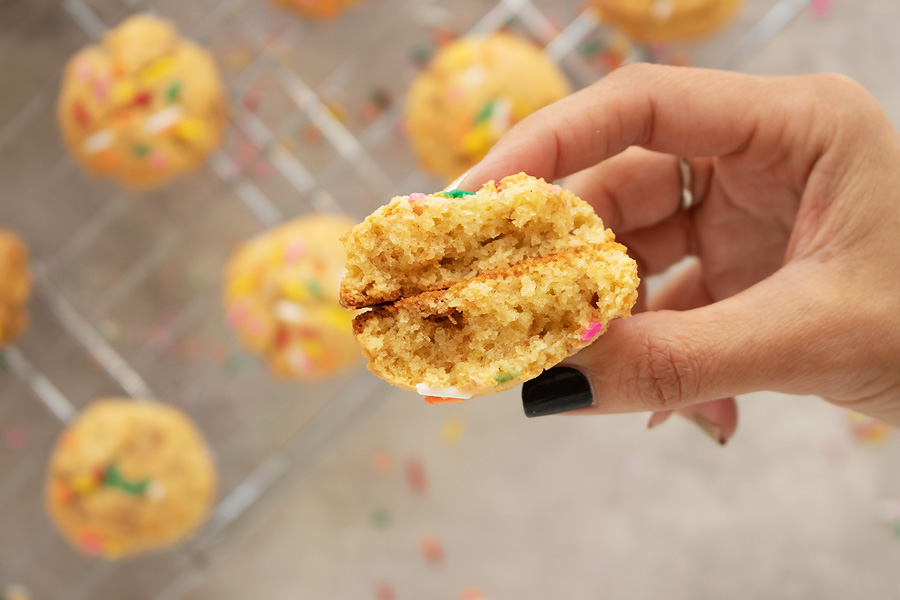 Recipe Notes:
Add some mix-ins to your cookie dough like sugar-free chocolate chips and pecans.
Print
Cake Batter Cookies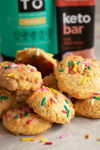 This cake batter cookie recipe is gluten-free, sugar-free, low-carb, chewy, gooey, and delicious. It's like funfetti cake mix met your favorite cookie.
Author:
Total Time:

20 minutes

Yield:

12

cookies

1

x
Instructions
Preheat oven to 350°F and line a baking sheet with parchment paper. Set aside. 

Add flour, collagen, salt, and baking soda to a small bowl. Whisk and set aside.

Cream butter and sweetener together in a mixing bowl, stand mixer, or food processor. Mix on high for 1-2 minutes until light and fluffy. 

Add vanilla, butter extract, and egg. 

With the mixer on low, add flour/collagen mixture. Mix just until well combined and dough forms. Stir in chopped Perfect Keto bar and sprinkles.

Divide and scoop dough onto a prepared baking sheet.  Press down slightly to flatten. Bake for 10-12 minutes until golden brown on the edges.
Nutrition
Serving Size:

1 cookie

Calories:

102

Fat:

9g

Carbohydrates:

3g (Net; 1g)

Fiber:

2g

Protein:

4g