Cobb salads are an American classic that usually include chopped greens, tomato, bacon, boiled eggs, and roasted or baked chicken breast. Other common ingredients include avocado, blue cheese, and a light vinaigrette.
Unfortunately, not all salads aren't created equal. Many cobb salads contain added sugar — usually in the form of sweet balsamic vinaigrette or other high-sugar salad dressings.
This fresh take on a classic cobb adds in a flavorful surprise with a peach salad dressing.
But the secret ingredient isn't peaches. It's peach-flavored exogenous ketones.
Exogenous ketones are a sugar-free, gluten-free ketone supplement that help boost your energy and may even help your body get into or stay in ketosis.
This salad recipe is a perfect combination of sweet and savory, with flavorful chicken breast, cherry tomatoes, avocado, and bacon, all combined in a perfectly not-too-sweet peach dressing.
This chicken cobb salad with keto peach dressing is
Flavorful
Filling
Satisfying
Delicious
The main ingredients are:
Organic chicken breast
Eggs
Optional additional ingredients
Romaine lettuce
Cherry tomatoes
3 Health Benefits of Loaded Cobb Salad with Peach Balsamic Dressing
#1: Rich In Monounsaturated Fats
There are several different kinds of fat. And in order to stay healthy, you need a little bit of all of them.
However, monounsaturated fatty acids — like those found in avocado and olive oil — aren't quite as easy to get in your diet as saturated fats or omega-6 fatty acids.
While having a mix of all different types of fat is essential for optimal health, it can be tricky to get in the less abundant varieties like monounsaturated fat and omega-3s.
Luckily, this delicious salad contains both olive oil and avocados. And both are excellent sources of omega-9 monounsaturated fatty acids. More specifically, they're high in oleic acid which has anti-inflammatory properties and may decrease levels of c-reactive protein (an inflammatory marker) in your body[*].
Consuming monounsaturated fats like oleic acid correlates with reduced risk for heart disease, stroke, and all-cause mortality[*].
#2: Boosts Brain Health
It's no coincidence that once you become keto-adapted and your blood ketone levels increase, your brain suddenly turns on.
Ketones are a fantastic fuel source for your brain, providing up to 70% of your brain's energy needs more efficiently than glucose[*].
They also enhance a compound called brain-derived neurotrophic factor (BDNF). BDNF plays a critical role in brain health by stimulating nerve production and protecting your nervous tissue from oxidative stress.
This could be especially helpful for people suffering from an age-related neurodegenerative disease like Parkinson's or Alzheimer's[*].
#3: Packed with High-Quality Protein
What makes something a "high quality" protein source?
Well, there is no FDA regulated definition, but it's commonly agreed that if a source of protein contains all of the essential amino acids in a significant proportion, it's a high-quality protein.
This is also referred to as a "complete protein."
The essential amino acids are compounds that your body can't make on its own. That means you have to acquire them through food. Chicken breast checks out as a complete protein, with an impressive amino acid content and a delicious taste[*][*].
Choose pastured chicken for an even more impressive micronutrients profile, with no added hormones.
Chicken Salad with Peach Balsamic Dressing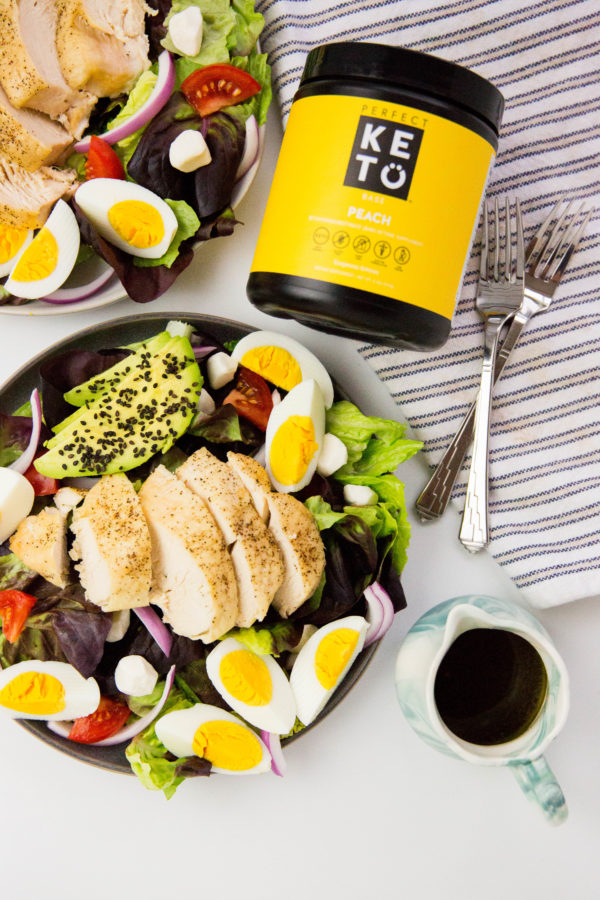 The best part of a keto-friendly salad is the abundance of protein and fat. No more low-fat salads with tofu and tasteless salad dressings.
In fact, this peach vinegarette is the star of this loaded chicken salad, with high-oleic olive oil, balsamic vinegar for a burst of flavor, and Peach Exogenous Ketones for flavor and energy.
The balsamic vinaigrette is so delicious you may even want to make an extra batch to store for later. It works beautifully on Greek salad, a summer salad with tomatoes and goat cheese, or even a Caesar salad with a peach twist.
The prep time and cook time might seem like a lot for a salad. But if you prep your chicken ahead of time, you're looking at a prep time of about 10 minutes max.
So if you're hungry grab yourself a couple of large bowls and start prepping your ingredients, it's salad time.
Print
Chicken Salad with Peach Balsamic Dressing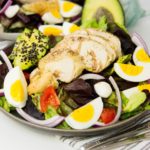 A peach twist on an American classic: a large bowl of chicken cobb salad with peach balsamic vinaigrette, baked chicken breast, blue cheese,  romaine lettuce, and more.
Author:
Total Time:

35 minutes

Yield:

2

1

x
Scale
Ingredients
1

organic skinless chicken breast

3

pastured hard-boiled eggs, sliced

2 cups

romaine

2 cups

butter lettuce

½

avocado

¼ cup

red onion, sliced

¼ cup

mozzarella balls

2

–

3

tomatoes

Optional (black sesame seeds)
Dressing:
Instructions
Preheat the oven to 375 F.

On a baking sheet lined with parchment paper, add the chicken breast and sprinkle with salt and pepper.

Bake for 25-30 minutes, or until chicken reaches an internal temp of 165 F.

On two plates, equally distribute the lettuces, red onion, tomatoes, mozzarella balls, eggs, and chicken.

Sprinkle optional sesame seeds.

In a small bowl, mix together the contents of the dressing and pour the dressing over the salad.

Serve and enjoy!
Nutrition
Serving Size:

1

Calories:

573

Fat:

31.6g

Carbohydrates:

11.5g (6.5g net)

Fiber:

5g

Protein:

61g
Keywords: chicken cobb peach balsamic