Your keto breakfast routine just made a new friend.
This delicious smoothie bowl recipe is not only dairy-free and gluten-free, but it's a keto dieters answer to the always tempting acai bowl.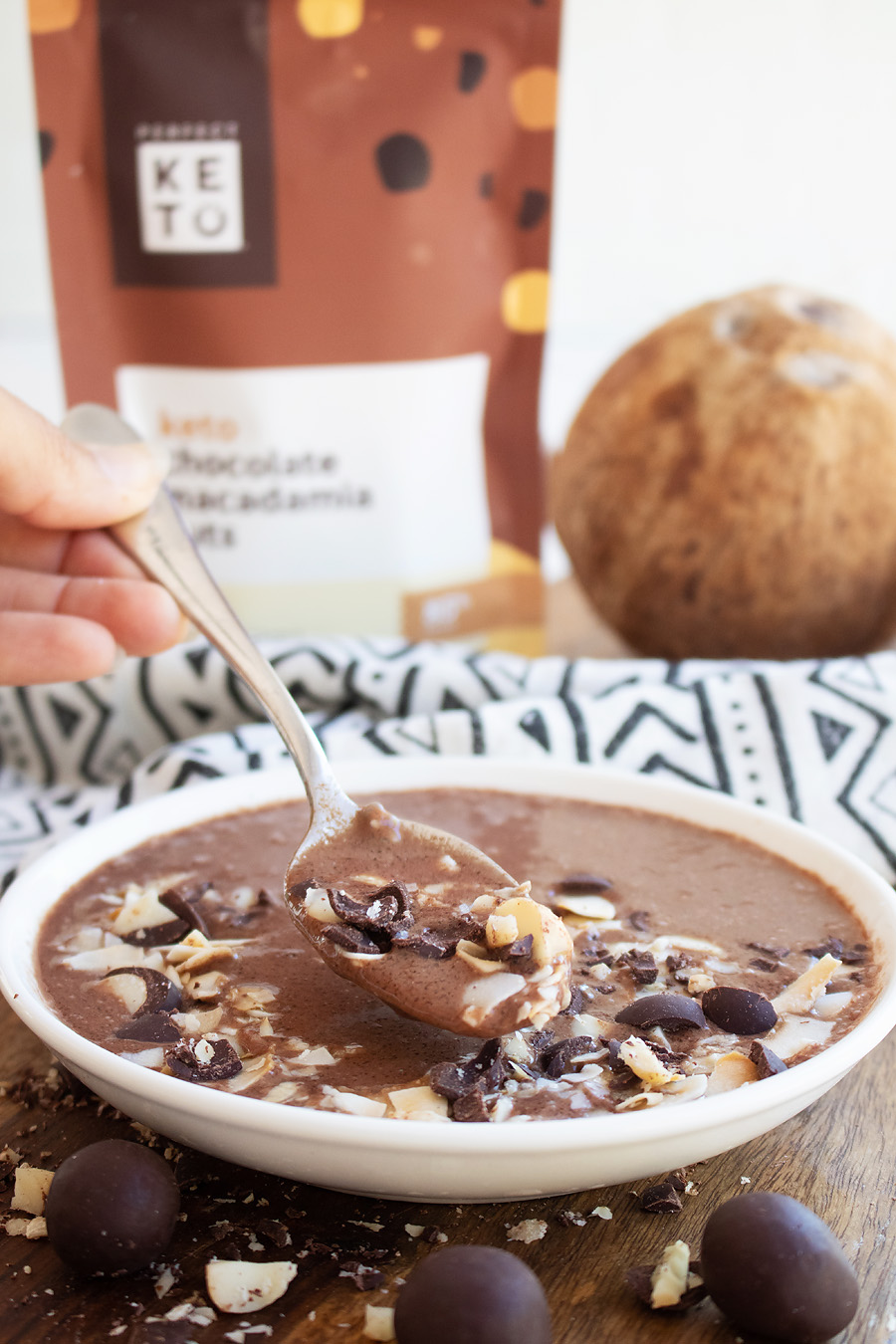 Sprinkled with grain-free toppings like shredded coconut and macadamia nuts, you won't even miss the granola and banana slices.
You can even add your own favorite toppings like hemp seeds, chia seeds, or almond butter.
This smoothie bowl recipe is:
Sweet
Satisfying
Delicious
Comforting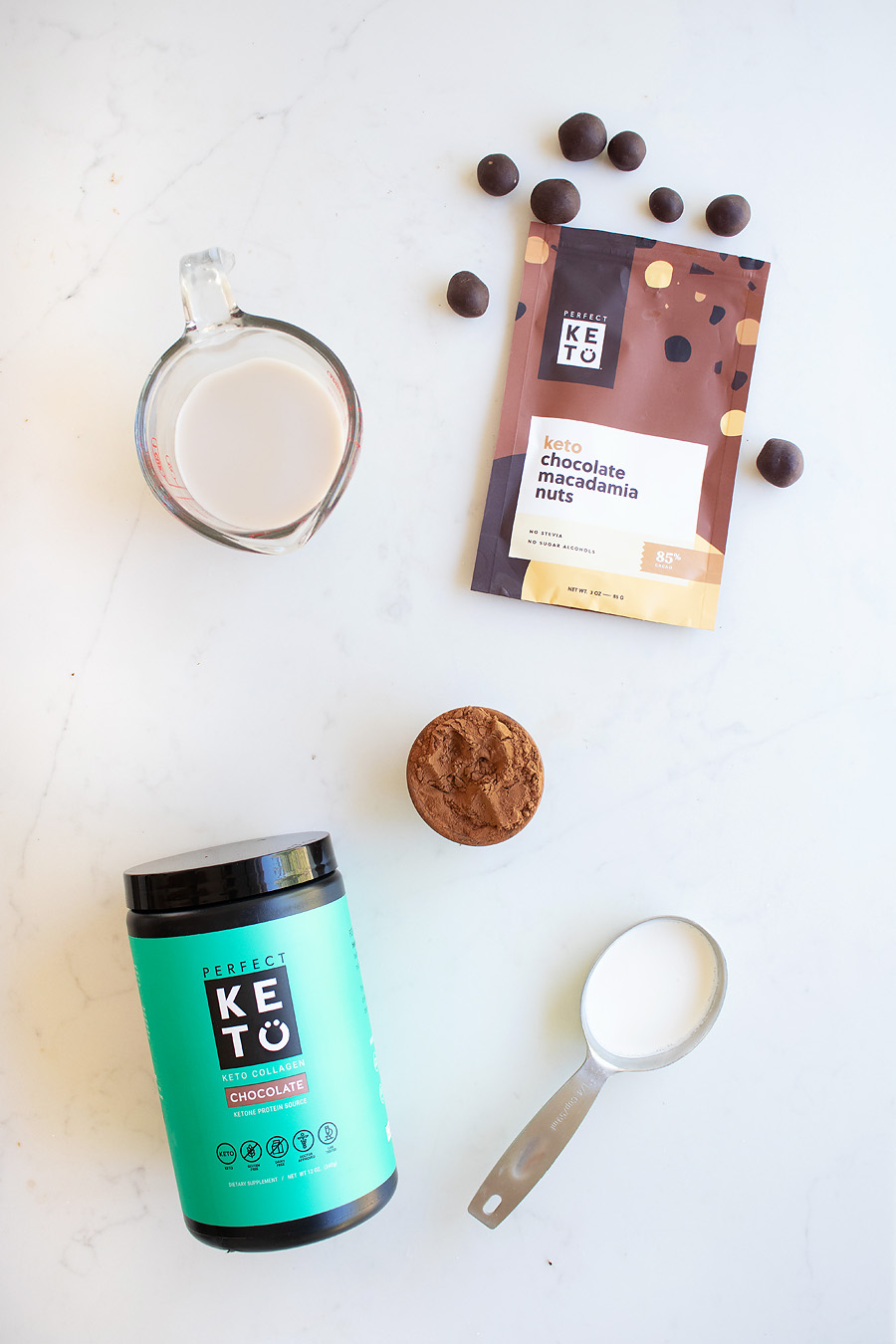 The main ingredients are:
Optional additional ingredients:

3 Health Benefits of This Choco Nut Smoothie
#1: Improves Skin Health
No organ in your body exemplifies the statement "you are what you eat" more than your skin. Your skin is not only your largest organ, but it's also one of the only ones you can actually see every day.
It follows then that eating a healthy diet should lead to healthy-looking skin.
And when it comes to skin-supportive nutrients, you'll be hard-pressed to find anything that works as well as collagen. This vital nutrient makes up a large part of your extracellular matrix, which supports the health and youthful look of your skin.
In fact, research shows that women in their 30's to 50's taking collagen supplements have higher skin elasticity levels than those who aren't supplementing[*].
Lucky for you, this smoothie bowl comes packed with delicious chocolate-flavored collagen.
#2: Rich In Monounsaturated Fat
Macadamia nuts are a rich source of monounsaturated fats, also known as omega-9 fatty acids.
You likely know that getting enough omega-3 fatty acids in your diet is essential for a healthy inflammatory response. However, omega-9's may have their own role to play when it comes to inflammation.
Research shows that omega-9's, and specifically oleic acid (which makes up the bulk of the fat profile in macadamia nuts), have beneficial effects in inflammatory-related diseases. These fatty acids can activate immune pathways, which in turn, settle down your inflammatory response[*].
Some studies even support the consumption of monounsaturated fats to improve insulin sensitivity — a key aspect of diabetes[*].
#3: Supports Heart Health
With heart disease being the leading cause of death worldwide, it's always a good idea to make sure your lifestyle choices are supportive to this vital organ[*].
Antioxidants are one of the most heart-supportive nutrient groups in nature. They function in your body to combat oxidative stress, halting one of the primary steps in the progression of heart disease.
And what does all of this have to do with a chocolate smoothie bowl? Chocolate happens to not only be rich in antioxidants, but specifically, antioxidants that support heart health.
The antioxidants found in chocolate, called polyphenols, are associated with reduced risk of cardiovascular disease — including both stroke and coronary heart disease. Research suggests that these compounds can assist in the reduction of blood pressure and blot clots, and also improve the function of your heart vessels.
In addition, polyphenols have an anti-inflammatory effect which can further support the health of your heart[*].
Choco Nut Smoothie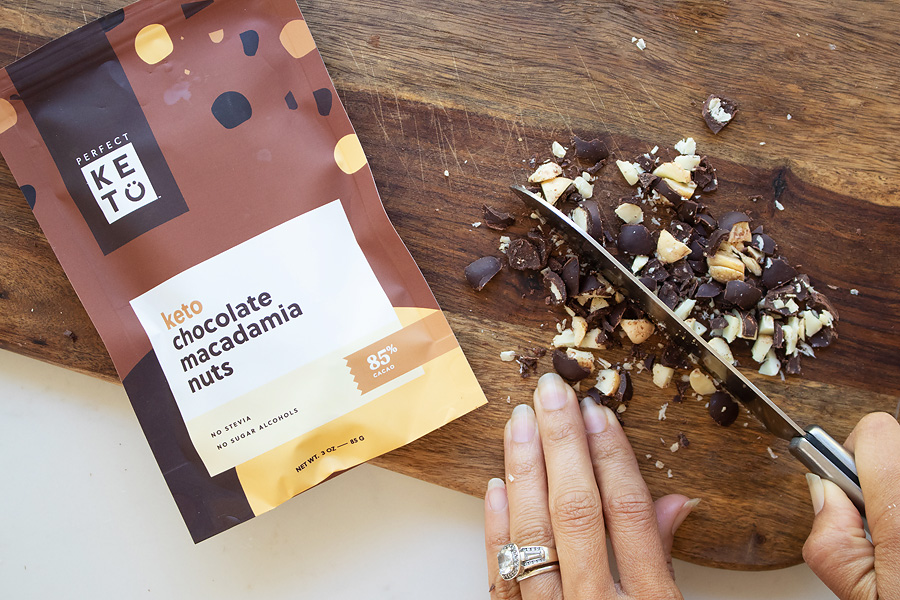 Smoothies are a fantastic on-the-go option for breakfast, but sometimes you want to sit down and really enjoy your creation.
By pouring your smoothie into a bowl and adding a topping or two, you take an on-the-go meal and make it a sit-down delight.
You can even treat this smoothie bowl as a replacement for ice cream. Got some unsweetened chocolate chips? Now your smoothie is a delicious dessert.

Print
Choco Nut Smoothie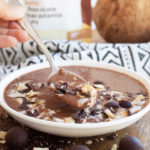 Keto chocolate smoothie bowl? Skip the granola and the banana slices. This chocolate nut smoothie bowl is gluten-free, dairy-free, grain-free and keto-friendly. 
Author:
Prep Time:

5 minutes

Total Time:

5 minutes

Yield:

1

smoothie bowl

1

x
Instructions
Add unsweetened milk, coconut milk, collagen, shredded coconut, cacao powder, and a handful of ice to a high-speed blender.  Mix on high until smooth. 

Pour smoothie into a bowl and top with Perfect Keto Chocolate Covered Macadamia Nuts
Nutrition
Serving Size:

1 smoothie bowl

Calories:

326

Fat:

27g

Carbohydrates:

9g (4g net)

Fiber:

5g

Protein:

13g
Keywords: chocolate nut smoothie bowl