The buckeye candy is famous in Ohio as a rich, peanut butter chocolate treat made in the image of the buckeye tree nut. But the traditional Midwestern candy won't do you any favors if you're trying to stick to a keto diet.
They're packed with sugar and processed ingredients, which can lead to blood sugar spikes and inflammation.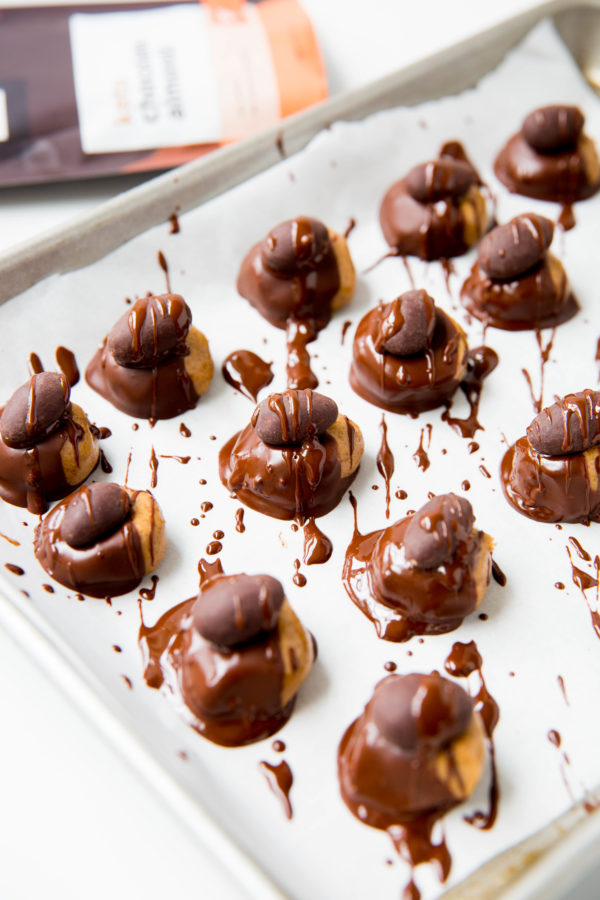 But if you're craving some candy or love the classic chocolate-nut combination, this dessert recipe is for you. These ketogenic buckeyes are also a great alternative to fat bombs. They're gluten-free, dairy-free, paleo, and no-bake, making them a simple dessert you can make on the busiest weeknight.
They're delicious right out of the freezer, but be sure to refrigerate them if you want to save some for later.
These dark chocolate buckeyes are:
Sweet
Satisfying
Chewy
Delicious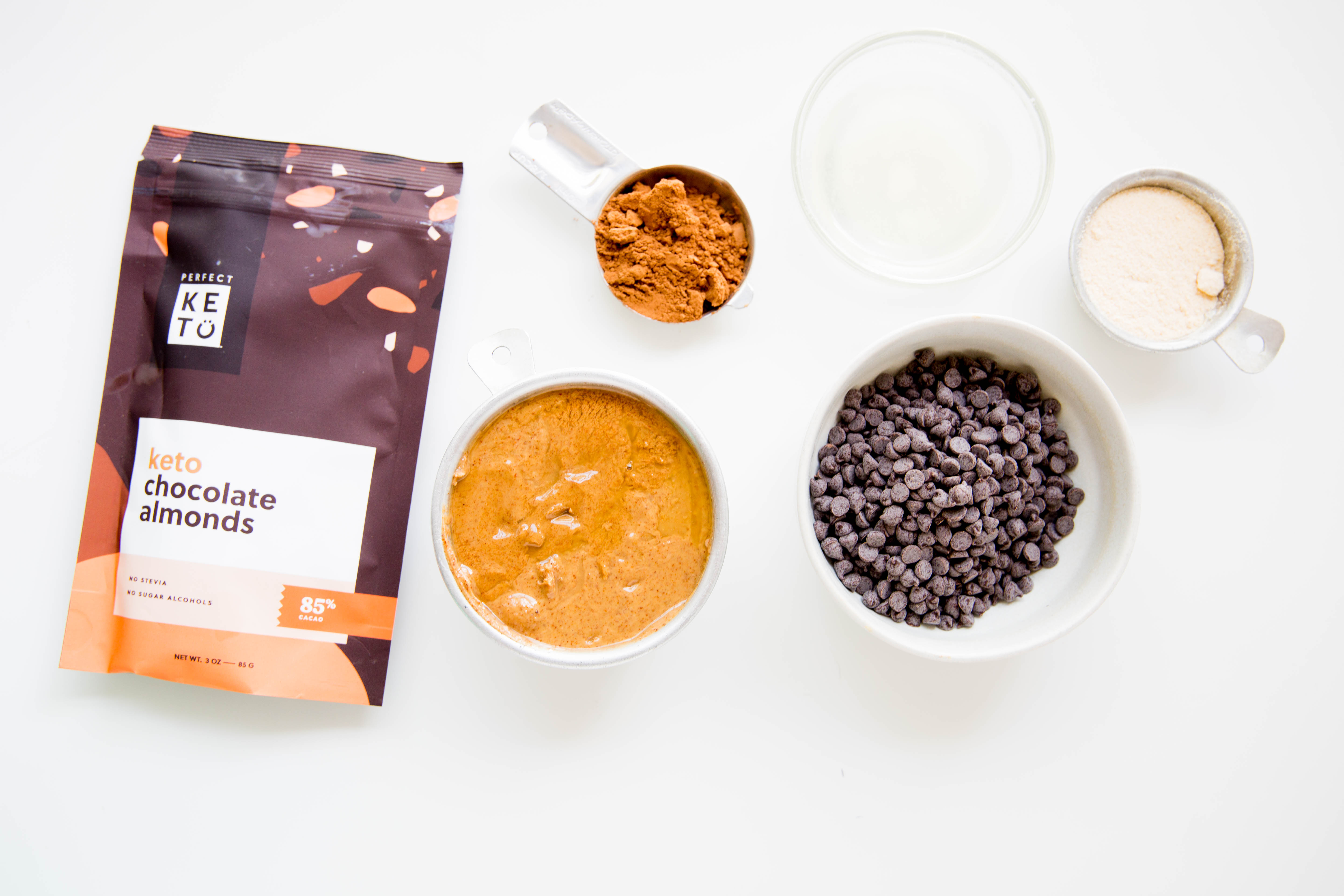 The main ingredients are:
Sugar-free chocolate chips

3 Health Benefits of This Buckeyes Recipe
#1: Supports Heart Health
Cholesterol has gotten an unfair reputation in the past. Deemed the primary culprit for heart disease, many people shunned it all together and opted for low-fat versions of foods where they could find them.
But those days are over, and we now have a much more solid understanding of cholesterol's role in your body. However, an excess of LDL cholesterol that's been oxidized still may present a threat to heart health.
Cholesterol on its own— no big deal. Cholesterol oxidized, however, becomes more active and may contribute to plaques that can form on the inside of your arteries.
But mother nature has a way of working everything out, and one of the best ways to balance your cholesterol is through diet.
Almonds are a rich source of nutrients and may contribute to lowering your LDL cholesterol. In an intervention study, a group of volunteers were put on a diet with 20% of their calories coming from almonds.
After a 16-week period, the volunteers showed a significant reduction in LDL cholesterol, as well as a significant decrease in insulin[*].
#2: Enhances Brain Health
The antioxidants found in chocolate may support the health and function of your brain. Flavanols, a class of phytonutrients, happen to be particularly rich in cocoa. The antioxidant and anti-inflammatory properties of flavanols are well established in heart health and may extend to your brain.
Research shows that when you eat foods rich in flavanols, they tend to accumulate in regions of the brain known for learning and memory. Here, they seem to enhance neuroprotection and the growth of new brain cells. They also appear to assist in blood flow to the brain, allowing for more nutrient uptake in your neuronal cells.
Animal models show that prolonged intake of flavonoids has a protective effect and may help combat, healthy aging, dementia, and stroke[*].
#3: Builds Immunity
Your bodies immune system is incredibly complex and sophisticated. It takes a lot of organization and the proper nutrients to make sure everything goes smoothly.
Coconut oil happens to be an immune-boosting food, with specific fatty acids that can enhance the protective mechanisms of your immune system against bacteria.
Research shows that administration of fatty acids from coconut oil can help to fight off both staph infections as well as candida (a common yeast). In fact, one study even found coconut oil to be more potent against candida than the pharmaceutical antimicrobial Fluconazole[*][*].
Keto Buckeyes
If you're looking for a low-carb chocolate treat, these buckeyes fit the bill. Unlike your typical treat, these keto snacks are like a cookie and a chocolate candy all in one.
The combination of chocolate-covered almonds, unsweetened chocolate chips, almond butter, and coconut flour make for a rich and satisfying dessert.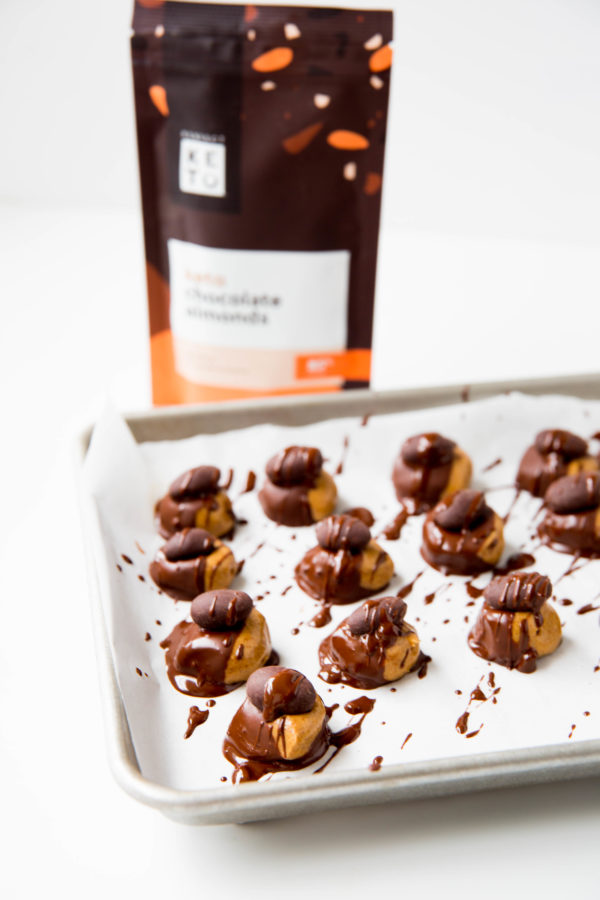 Print
Keto Buckeyes: Chocolate Nut Candies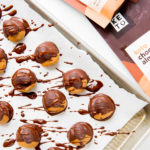 This no-bake keto buckeye recipe is gluten-free, dairy-free, sugar-free, low-carb, and paleo. They're an excellent addition to your ketogenic meal plan.
Author:
Prep Time:

10 minutes

Cook Time:

10 minutes (setting time)

Total Time:

20 minutes

Yield:

18

buckeyes

1

x
Instructions
Place the almonds in a small bowl and set aside.

In a medium bowl, add the almond butter and coconut flour, mixing until well combined.

Line a baking sheet with parchment paper (or wax paper) and roll the almond butter mixture into 18 balls and place them on the lined baking sheet. 

Freeze while you melt the chocolate.

In a small pot over medium-low heat, add the chocolate chips, coconut oil, and optional cacao powder.

Add the melted chocolate to a small bowl

Remove the nut butter balls from the freezer, and, using a toothpick, pierce the balls, dip them in chocolate, and place them back on the baking sheet.

Add one almond on top of each ball.

Use the remaining chocolate to drizzle over the top, if desired.

Freeze for 10 minutes.
Nutrition
Calories:

88.7

Fat:

7.3g

Carbohydrates:

4g (1.9g net)

Fiber:

2.1g

Protein:

2.75g
Keywords: Keto Buckeye Recipe