Step aside peanut butter cups — there's a new (macadamia) butter cup in town. One that's loaded with key nutrients, low in sugar, and sure to fit your keto goals.
Oh, and it's not even made with peanut butter at all, but with keto-friendly macadamia butter.
These Keto Butter Coconut Bites have only four ingredients and require no baking whatsoever.
Unlike many of the peanut butter cups you see online or on the shelves of your grocery store, these tasty bites contain 26 grams of fat, 3 grams of protein and less than one gram of net carbs per bite. Pretty crazy, right?
The main ingredients in these Keto Butter Coconut Bites include:
Perfect Keto Nut Butter isn't just any ordinary nut butter. Its main ingredients include macadamia nuts, cashews, coconut butter, and MCTs.
MCTs (medium chain triglycerides) are a type of fatty acids that are rapidly absorbed and metabolized for energy in your body, which makes them a quick and clean fuel source.
Consuming MCT oil is a great way to get healthy fats and energy without worrying about storing that fat.
Another ingredient you may not see used as often is coconut butter (which shouldn't be mistaken for coconut oil).
The main difference between coconut butter and coconut oil is the butter is made of the white meat of the coconut, while oil is extracted from the coconut meat.
Not only is it creamy and rich, it also packs some serious health benefits.
Thanks to its abundance of lauric acid, coconut butter can:
Boost your immune system
Destroy harmful bacteria
Improve your metabolism
Keep you satiated
Coconut butter also provides some key minerals such as calcium and magnesium.
These Keto Butter Coconut Bites are rich, creamy, and packed with all the ingredients you need to keep you fueled and energized throughout your day.
With only four ingredients and no baking necessary, you can whip these tasty treats up in no time.
Pro tip: triple (or quadruple) the recipe to ensure proper snackage throughout your busy week!
Print
Easy Peasy Keto Butter Coconut Bites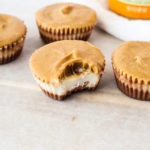 Author:
Total Time:

90 minutes

Yield:

6

servings

1

x
Instructions
Melt coconut oil

Mix coconut oil and Perfect Keto chocolate collagen in a bowl

Divide the liquid evenly between six muffin tins and freeze for ten minutes

Take tray out of freezer, spoon softened coconut butter evenly over base and freeze again for another ten minutes

Take tray out of freezer and spoon Perfect Keto Keto Butter evenly on each frozen coconut bite

Freeze again for at least an hour
Nutrition
Serving Size:

1

Fat:

26g

Carbohydrates:

Net Carbs: 0.8g

Protein:

3g