Cheesecake is one keto dessert that nearly everyone loves. But if you're looking for a peanut butter cheesecake recipe, look again.
Peanut butter is keto-friendly, but many peanut butters come with added sugar and inflammatory oils. There are plenty of other nut butters that aren't just better for you — they taste better, too.
Perfect Keto Nut Butter contains macadamia nuts, cashews, MCT oil, coconut butter, vanilla, and sea salt. It's packed with healthy fats, creamy and slightly sweet — without the sweetener.
Paired with cream cheese, eggs, and some keto sweetener like monk fruit or stevia, and you've got the cream cheese filling of your dreams.
In fact, this delicious and filling keto cheesecake is packed with high-quality ingredients you can feel good about. And unlike many cheesecakes out there, it's gluten-free and has a low carb-count as well.
With just a 15 minute prep time and six minute cook time, this is a keto dessert you can even whip up on the fly.
This low-carb cheesecake is:
Rich
Creamy
Satisfying
Flavorful
The main ingredients in this cheesecake recipe are:
Optional additional ingredients:
3 Health Benefits of This Keto Nut Butter Swirl Cheesecake
#1: Rich In Nutritious Nuts
With a nut butter that contains a combination of nuts (macadamia, cashew, coconut) plus almond flour for the crust, this delicious cheesecake is very nut-forward.
And with all the health benefits that nuts offer, a nutty cheesecake makes this dessert recipe both nutritious and delicious.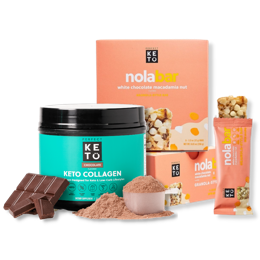 Browse our curated collection of fan-favorites and discover your new favorite snack or supplement.
Shop Best Sellers
Nuts not only serve as an incredibly satiating ingredient, but they may also increase your bodies antioxidant defenses. Giving people with metabolic syndrome a diet rich in nuts may protect them from DNA damage due to oxidative stress[*].
In addition, when subjects with diabetes are given a diet rich in nuts they experience higher levels of monounsaturated fat (MUFA) in their blood serum. This increase in MUFA content is inversely related with risk factors for cardiovascular disease[*].
#2: Antioxidants To Support Eye Health
Have you ever wondered what makes your egg yolks that bright beautiful golden color? Well, wonder no more — its a carotenoid compound called lutein.
Lutein is an antioxidant that's found in both egg yolks and marigolds providing that characteristic yellow tint.
As an antioxidant, lutein has an affinity for your eyes, specifically, the retina of your eye. It protects your eyes from oxidative damage caused by blue light and other degenerative processes[*].
As you get older, you may begin to experience age-related eye issues like cataracts and age-related macular degeneration (AMD).
The American Optometric Association recognizes lutein, along with another carotenoid found in eggs called zeaxanthin, as potential preventative nutrients against both cataracts and AMD[*].
#3: Balances Blood Sugar
When you're following a keto diet keeping your blood sugar stable is essential. However, keto or not, blood sugar management is a cornerstone of optimal health no matter what diet you follow.
If you want to stick with keto for the long-haul, satisfying dessert recipes that won't throw your blood sugar into chaos are an absolute must. We all have a sweet tooth now and then, but there's no need to dip out of ketosis about it.
High-fat foods can help balance your blood glucose and lower your insulin response. With 6 grams of net carbs balanced by 41 grams of fat, your blood sugar won't be going anywhere after indulging in this cheesecake[*].
Keto Cheesecake With Nut Butter Swirl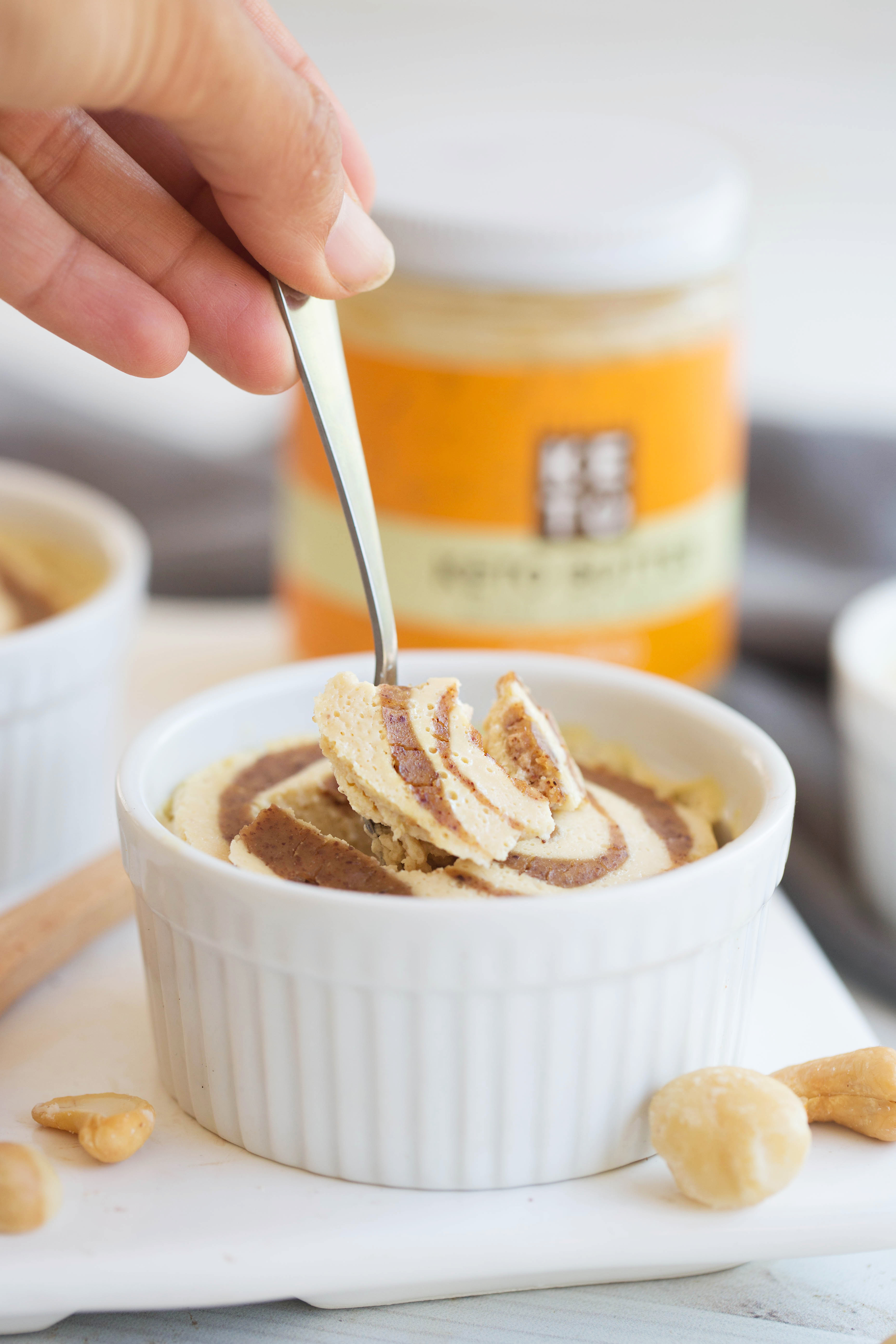 Ready for some rich and delicious keto cheesecake with silky nut butter swirl?
You'll begin by preparing the crust. Gather your almond flour, cinnamon, and sweetener of choice. Keto-friendly sweeteners include monk fruit and stevia.
In a small saucepan melt your grass-fed butter.
Combine all crust ingredients in a small bowl until they're well combined, and then press the crust into the bottom of four small ramekins.
In a large bowl, add the cream cheese, and beat with an electric mixture until it's light and fluffy.
Then add in your sweetener of choice (stevia or monk fruit work great), eggs, and vanilla extract.
Beat all ingredients until well combined, then divide the cream cheese mixture into four ramekins.
Open your jar of Perfect Keto Nut Butter and gently drizzle it on top of your cheesecakes. If you want an even more creamy peanut butter flavor, you can combine the nut butter with your other ingredients into the cheesecake.
Add one cup of water to the bottom of your instant pot and layer the ramekins with your trey or trivet. Set your instant pot to "steam" mode, and allow to cook for six minutes.
After six minutes, allow your cooker to naturally release the pressure. Carefully remove the ramekins and allow them to cool to room temperature. You can then move them to the refrigerator to cool down further.
That makes a total time of about 20 minutes, from start to finish. Not bad for homemade keto and low-carb recipe.
For a chocolate peanut butter taste, add some dark chocolate chips. And for the crowning glory, whip up some heavy cream with monk fruit and vanilla extract for a delicious keto whipping cream.
Print
Keto Cheesecake With Nut Butter Swirl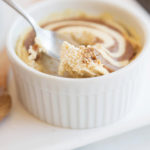 Instant Pot keto cheesecake with nut butter swirl is a sugar-free keto dessert with cream cheese, almond flour, and keto-friendly nut butter. This low-carb "peanut butter cheesecake" won't disappoint.
Author:
Prep Time:

15 minutes

Cook Time:

6 minutes

Total Time:

21 minutes

Yield:

4

mini cheesecake

1

x
Scale
Ingredients
For the crust:
For the filling:
Instructions
For the crust, combine almond flour, butter, cinnamon, and granulated sweetener in a small bowl until well combined.

Press into bottoms of 4- small ramekins or silicone molds.

For the cheesecake, beat cream cheese with an electric mixer until light and fluffy. Add remaining ingredients, eggs last. Beat just until combined and smooth.

Divide and pour onto crusts.  

Drizzle/swirl Perfect Keto nut butter onto tops of cheesecake. Stir into cheesecake batter if desired.

Place 1 cup of water in the bottom of your Instant Pot. Layer ramekins with tray or trivet.

Set to "steam," and adjust the time to 6 minutes.

When the timer goes off, let the cooker naturally release the pressure. Carefully remove ramekins and let cool to room temperature, then chill in the fridge.
Nutrition
Serving Size:

1 mini cheesecake

Calories:

426 kcal

Fat:

41g

Carbohydrates:

9g

Fiber:

3g

Protein:

9g
Keywords: Keto Nut Butter Cheesecake