Whether you've been following a keto diet for a while or you're just starting out, you know how important a good low-carb bread recipe is. And while most keto bread recipes involve baking sheets and mixing bowls, this easy recipe simply requires a mug and a microwave.
This easy keto mug bread is perfect for busy mornings or evenings when you don't want to spend a ton of time in the kitchen.
Replace your English muffin or bagel with this simple microwave bread for an alternative to those high-carb breakfast classics.
Use coconut oil or butter and some mozzarella cheese to make a mouthwatering grilled cheese sandwich.
Or, if you're more of an avocado toast type of person, just pop it in the toaster and add some cream cheese, olive oil, avocado, and a pinch of salt.
If those options don't get you excited, how about an eggy breakfast sandwich with some cheese and bacon?
This gluten-free, easy keto bread is so versatile you'll never run out of ideas.
This low-carb mug bread is:
Soft
Comforting
Delicious
Satisfying
The main ingredients are:
Optional additional ingredients
3 Health Benefits of This Keto Protein Mug Bread
#1: High-Quality Protein
The protein in this keto bread recipe comes from high-quality sources like whey and eggs.
What makes a protein high quality?
The ratio of amino acids, the bioavailability (the ability for your body to use the amino acids), and the digestibility. Eggs happen to be the gold standard when it comes to quality proteins.
A measurement of protein quality, called the biological value, measures how well your body absorbs and uses the amino acids contained in a protein. For our friend the egg, it gets a score of 100% biological value.
That means that 100% of the protein in the egg can be utilized by your body. Pretty impressive[*].
#2: Promotes Heart Health
One of the big players in the progression of heart disease is cholesterol.
On its own, cholesterol isn't so bad. But when it becomes oxidized, it can create havoc for your blood vessels and hearts. And of course, we're talking about LDL cholesterol, not HDL.
Flax seeds contain a good amount of fiber, which helps pull excess cholesterol out of your body. When a group of postmenopausal women were given flaxseeds for a period of three months, they experienced lowered total cholesterol and LDL levels.
The researchers concluded that flaxseed consumption may reduce the risk of cardiovascular disease[*].
In another study, researchers gave a group of people with high cholesterol flax seeds for three months and then measured their cardiovascular disease risks. The group given flax showed improved cholesterol levels, along with decreased blood pressure and lowered BMI[*].
#3: Balances Blood Sugar
This keto mug bread is undoubtedly going to keep your blood sugar more balanced than any typical carb-heavy bread. The macronutrient profile alone with 12 grams of protein and only two net carbs is evidence of its blood sugar stabilizing qualities.
But there's a secret ingredient in this mug bread that provides an extra boost to your blood sugar regulating efforts. And that's whey.
Whey protein can help keep your blood sugar stable by enhancing the effects of insulin. As your insulin increases, any blood sugar that's hanging around will be shuttled into your cells[*].
In addition, whey can help slow the emptying of your stomach, further halting the amount of nutrients absorbed at one time[*].
Keto Protein Mug Bread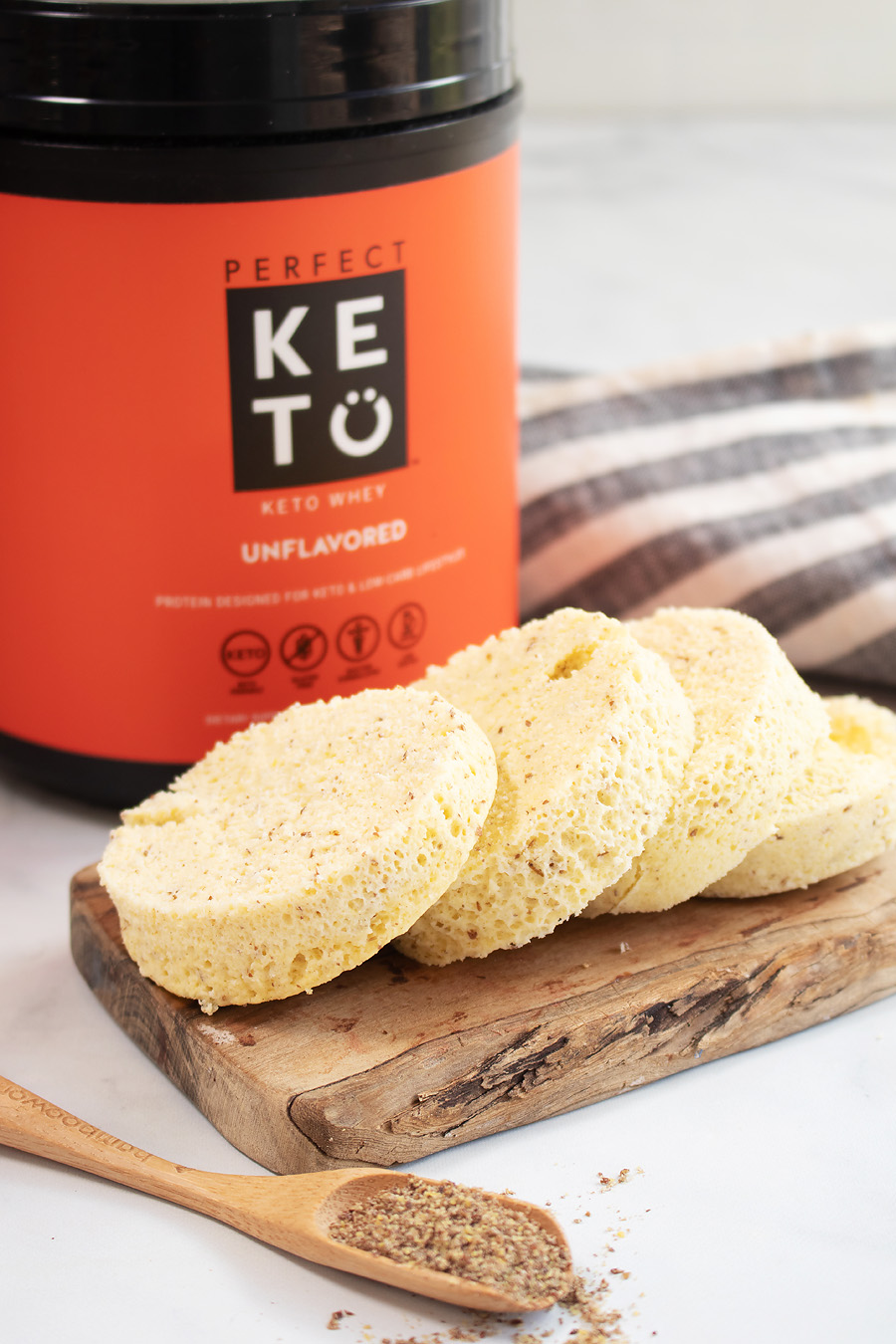 Mug bread is an excellent option when you're on the go but need a quick meal. And let's be real, trying to find keto, low carb options when you're in a rush can be overwhelming and sometimes frustrating.
With this bread ready to go in just two minutes, you can leave your worries behind.
So grab your microwave safe mug, a few simple ingredients, and get on with your day!
Print
Keto Protein Mug Bread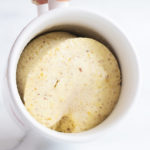 Looking for an easy keto bread recipe? This keto mug bread is a great gluten-free alternative to bagels, English muffins, grilled cheese bread, and more.
Author:
Prep Time:

2 minutes

Cook Time:

3 minutes

Total Time:

5 minutes

Yield:

2

slices

1

x
Instructions
Whisk all ingredients in a small bowl and let sit for 2 minutes.

Grease the edges and bottom of a large microwave-safe mug with non stick spray or butter.

Pour batter into mug and microwave for 2 minutes.

Carefully remove mug from the microwave and slide bread out.  Slice and toast if desired.
Nutrition
Serving Size:

1 slice

Calories:

160

Fat:

11g

Carbohydrates:

4g (2g)

Fiber:

2g

Protein:

12g
Keywords: Keto Protein Mug Bread