A good fat bomb recipe can make all the difference when you're following a ketogenic diet and your sweet tooth decides to make an appearance.
Fat bombs won't just satisfy sweet cravings, they'll also fill you up quickly, which is exactly what you want — especially when you're transitioning into keto.
With temptations like chocolate chip cookies, peanut butter cups, and ice cream — you'll want to arm yourself with low-carb recipes like this one.
These high-fat treats are not only low in net carbs and rich in healthy fats, but they're also dairy-free and gluten-free — rare when it comes to keto recipes. Plus, their caramel flavor and chunks of delicious sea salt will have you coming back for more — and supporting your weight loss goals on the ketogenic diet.
These sugar-free keto fat bombs are:
Rich
Satisfying
Sweet
Flavorful
The main ingredients are:
Optional additional ingredients:
3 Health Benefits of Salted Caramel Nut Butter Fat Bombs
#1: May Protect Against Metabolic Syndrome
Metabolic syndrome is a group of conditions that increase your risk of heart disease, stroke, and type 2 diabetes. These conditions often result from poor diet and lifestyle habits and include high blood pressure, high blood sugar, excess abdominal fat, and high triglycerides.
These fat bombs are loaded with almonds and macadamia nuts, which may have a profound effect on your risk for metabolic syndrome.
One study looked at how nuts can affect the risk of metabolic syndrome by giving participants either a standard Mediterranean diet or a Mediterranean diet plus nuts.
The results showed that adding more nuts to a traditional Mediterranean diet significantly reduced the risk of metabolic disease[*].
Nut consumption may also improve LDL cholesterol and triglycerides[*]. And another trial showed that nut consumption was associated with a lower risk of hypertension[*].
#2: Supports A Healthy Gut
Keeping your gut happy is a crucial part of maintaining good health as you age.
The fact of the matter is — sugar and processed foods hurt your gut lining while other foods like collagen and fiber may enhance gut health.
Collagen is an integral part of your connective tissue — a matrix of tissue around your muscles, and bones. It's also a crucial component of your gut lining.
Getting enough of the amino acids found in collagen powder may help heal leaky gut syndrome or inflammatory bowel disease[*].
A healthy gut lining means you're only absorbing what your body recognizes as nutrients. And a strong gut lining means that your food stays where it's supposed to be, instead of letting undigested food molecules into your bloodstream[*].
MCTs, or medium-chain triglycerides, also promote healthy gut bacteria and may improve intestinal permeability (AKA leaky gut)[*].
#3: Boosts Immunity
MCTs may also boost immunity, due to their antimicrobial and antifungal properties[*][*].
One study looked at the effect of coconut oil on candida, a persistent fungal infection that affects around 46,000 people each year in the United States[*].
Many people use a pharmaceutical antifungal called fluconazole to treat candida. However, candida can quickly become resistant to this and other antifungal drugs— which renders them useless.
The study found that coconut oil was effective in fighting candida, compared with the pharmaceutical alternative. Even the researchers agreed that you should use coconut oil as part of dealing with a drug-resistant candida infection[*].
Another immunity-boosting ingredient in these keto fat bombs comes from the macadamia nuts found in the Perfect Keto Nut Butter.
Macadamia nuts are a rich source of oleic acid, an omega-9 fatty acid. And adding more oleic acid-rich foods to your diet may help reduce inflammation. The idea is that oleic acid activates different immune pathways, and may enhance the strength of your immune system[*].
Salted Caramel Nut Butter Fat Bombs
This no-bake fat bomb recipe is the perfect keto dessert to shut down your sweet tooth. With all the nutty creaminess of peanut butter and the satisfying sweet-salty combination, you'll want to keep a batch of these in your freezer.
Next time you're craving a keto-friendly treat, look no further than this convenient, keto, low-carb masterpiece.
Print
Salted Caramel Nut Butter Fat Bombs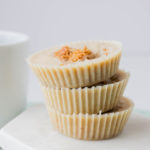 Salted caramel nut butter fat bombs are the keto-friendly answer to your sweet tooth. These fat bombs are low-carb, high-fat, sugar-free, gluten-free, and dairy-free.
Author:
Prep Time:

10 minutes

Total Time:

40 minutes

Yield:

12

fat bombs

1

x
Instructions
Melt together the nut butter, coconut butter, and coconut oil over medium-low heat.

Remove from heat and add the MCT Oil Powder.

In a lined muffin pan, evenly pour your batter into the liners (the batter will be on the thinner side).

Top with crunched up salted caramel keto bars.

Freeze for 30 minutes.
Nutrition
Calories:

248

Fat:

24g

Carbohydrates:

5.4g (2.4g net)

Fiber:

3g

Protein:

1.75g
Keywords: Salted Caramel Fat Bombs