Breakfast | Lunch | Dinner | Dessert
What separates the best keto recipes from healthy recipes for weight loss?
The goal of a ketogenic diet is to get your body into the state of nutritional ketosis, which means it will burn fat instead of carbs as its primary fuel.
To do this, you'll need to consume fewer daily carbs, increase your intake of healthy fats, and eat enough protein to support your body's critical tasks and functions.
If weight loss is your goal, you'll also need to be mindful of creating a calorie deficit.
Your body burns a base number of calories each day just to keep you alive. While eating more calories than you burn may lead to weight gain, undereating may cause hunger pangs and mood swings.
These healthy recipes for weight loss are lower in calories and high in satiating protein and filling fats. This magic combo ensures you're torching calories, entering/staying in ketosis, and never starving.
Keep reading to see what's on the menu for breakfast, lunch, dinner, and even dessert.
Breakfast
Whether you're breaking your fast or fueling up pre-or post-workout, these healthy recipes will kick off the day's fat-burning right:
1. Bulletproof Coffee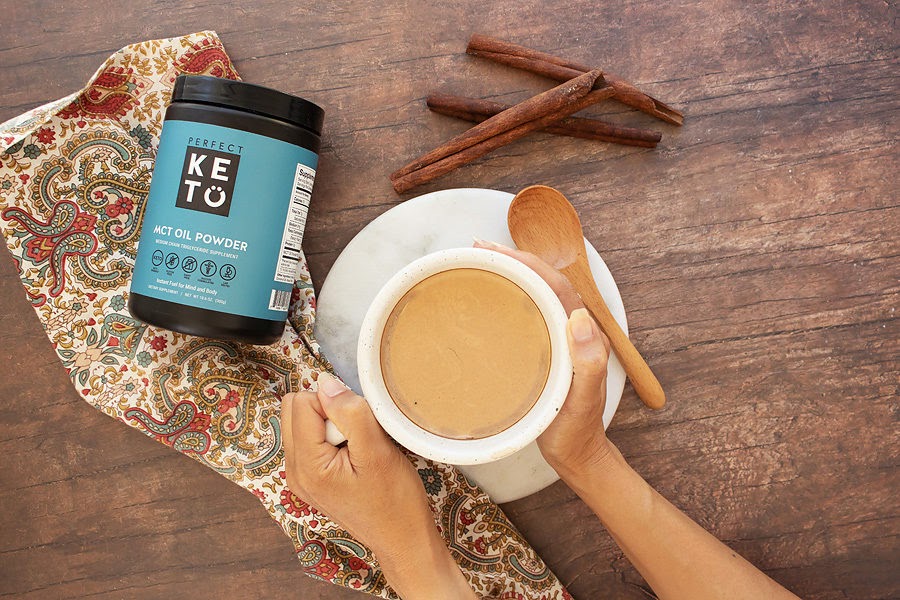 Keto bulletproof coffee is considered the breakfast of champions for people who want to lose weight. You start with metabolism-boosting black coffee. Then you score 31 grams of healthy, satiating fats from grass-fed butter or coconut oil.
With the addition of MCT oil or powder, you'll capture an extra boost of energy and mental clarity. It will also help you cruise through intermittent fasting.
2. High-Protein Latte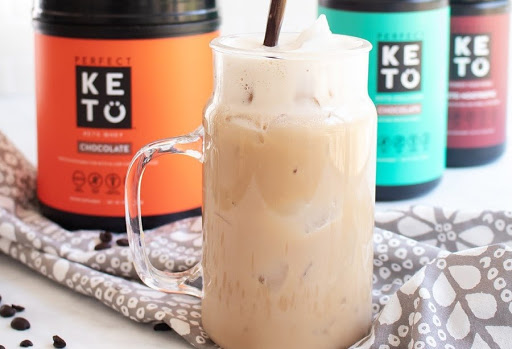 Take your bulletproof coffee to the next level by turning it into a boosted protein latte. While the former may be ideal for people fasting, this recipe helps you tone up while you shed pounds.
That's because the specific amino acids in whey protein called branched-chain amino acids (BCAAs) stimulate muscle building[*]. Adding more muscle to your frame helps you look more toned and fit and also helps your body torch more calories at rest than fat.
3. Keto Protein Shakes and Breakfast Smoothies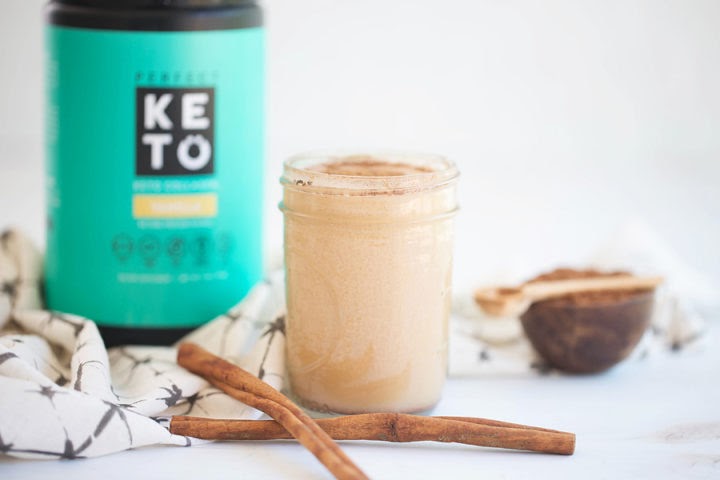 Smoothies and protein shakes are a lifesaver when you only have a few minutes to spare. They're easy to make, super filling, and ultra-customizable for keto macros, so you'll never get bored.
The best weight loss smoothies include protein (such as whey protein or collagen peptides), healthy fats (from avocado, coconut oil, or nut butter), and fiber (from chia seeds, hemp seeds, avocado, or berries).
So add these keto protein shakes and smoothies to your weekly rotation:
4. High Protein, Low-Carb Muffins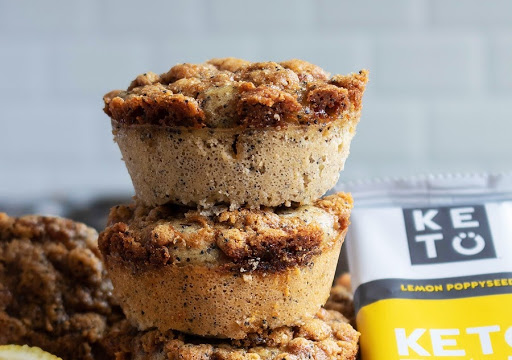 If you're used to grabbing a muffin when you rush out the door, high-protein, low-carb muffins make an excellent replacement.
Subbing almond or coconut flour for traditional flours slashes the carb count. And adding whey protein helps you curb cravings, stay full for hours, and increase lean muscle mass[*][*]. These are all ideal for weight loss.
Try baking up a batch of keto muffins like these:
5. Sugar-Free, Gluten-Free Keto Chocolate Donuts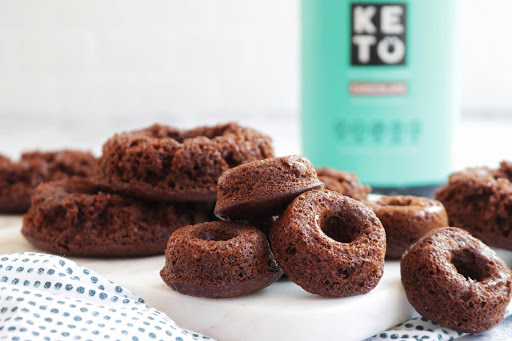 If you're trying to break out of the habit of picking up a donut on your morning coffee run, these gluten-free keto chocolate donuts have you covered.
You can batch cook half a dozen in just 20 minutes with ingredients you probably already have in your pantry (like cocoa powder and grass-fed butter). The best news? Each donut contains seven grams of protein for just two net carbs and 97 calories.
6. Keto Cinnamon Twists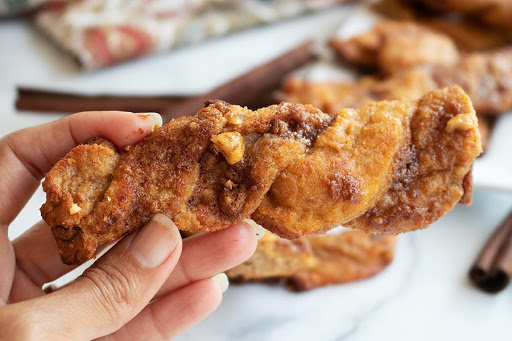 These cinnamon roll twists make the perfect accompaniment for your keto coffee or a fancy keto brunch spread. A batch only takes 25 minutes to make, and the smell of cinnamon will fill your home and make you drool. You can also sub in apple pie spice to mimic the flavors of an apple fritter.
One large twist packs 17 grams of satiating protein and 22 grams of filling fats — much healthier than your standard cinnamon roll.
7. Savory Breakfast Keto Sausage Balls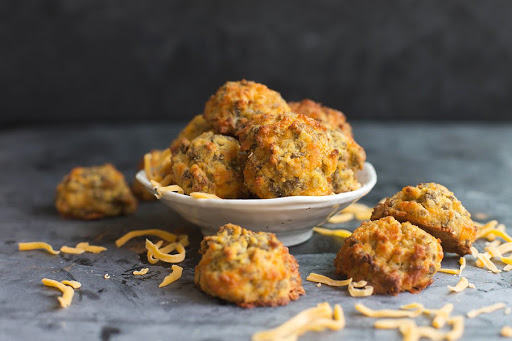 If you prefer a savory on-the-go breakfast, you won't be disappointed by these keto sausage balls. You can easily make 28 bite-sized balls in 20 minutes and have them ready to go for your busiest mornings.
One sausage ball adds six grams of protein, six grams of fat, and just one net carb to your day, which makes them similar to the macros you'll find in one egg. Pair them together for a match made in breakfast heaven.
8. Quiche, Frittata, and Breakfast Casseroles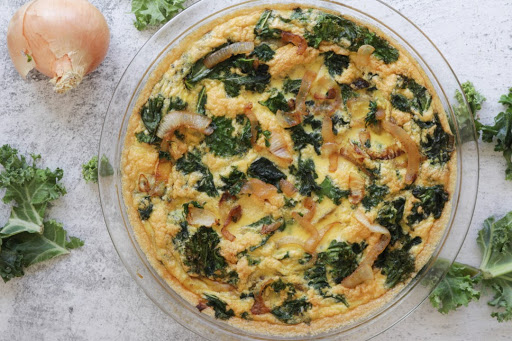 Prepping a breakfast casserole, quiche, or frittata gives you plenty of protein-rich, savory servings to power up each day of your week. They're also incredibly easy to make, lower in calories and carbs and customizable for all dietary preferences.
Every weight loss meal plan needs recipes like these:
9. Keto Pancakes and Waffles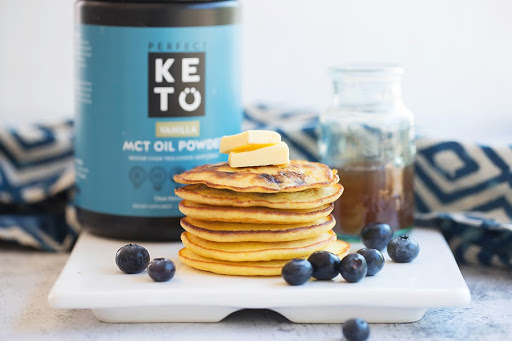 You don't have to give pancakes and waffles the cold shoulder on keto — you just have to make the right kind. Whip up a batch with whey protein, coconut or almond flour, eggs, and your choice of low-carb toppings, and every day can feel like a cheat day.
Try out these fluffy, comforting recipes:
Don't forget to top your pancakes and waffles with coconut pancake syrup or homemade keto whipped cream!
10. Tangy, Homemade Keto Yogurt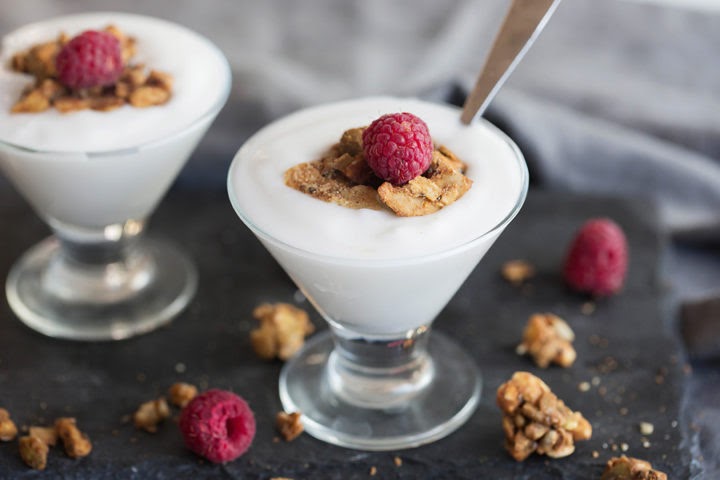 What if you're craving a keto breakfast without eggs, but you're not into pancakes, waffles, or pastries? This recipe for homemade keto yogurt has your name on it.
While most Greek yogurts at the store are bursting with carbs and sugar (that will definitely kick you out of ketosis), a serving of our version has six grams of protein, 33 calories, and just one net carb.
Enjoy it on its own with your favorite nuts and seeds, create a cafe-inspired yogurt parfait with keto-friendly granola, or use it as the base for a smoothie bowl.
Lunch
There's no reason to hit up the drive-through when you can create and bring healthy, cheap keto meals for lunch. These five all-star recipes will make it much easier to reach your weight loss goals:
1. 4 Ingredient Low-Carb Cloud Bread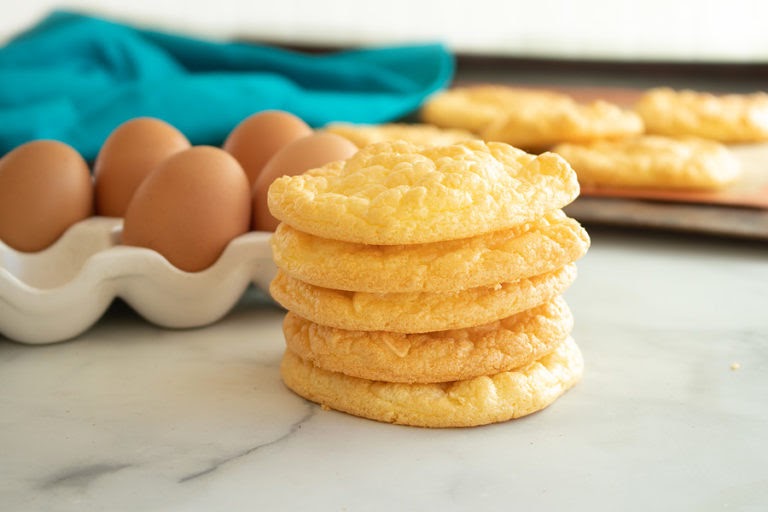 When you need a pita or sandwich bread, cloud bread offers a low-carb substitute for all your favorite lunch recipes. Add your choice of cold cuts, lettuce, and mayo or mustard. Pile up some bacon and avocado. Make an open-faced brunch sandwich with eggs and ham.
At just 35 calories and less than half a carb per piece, the possibilities are endless and guilt-free!
2. Ultimate Bell Pepper Sandwich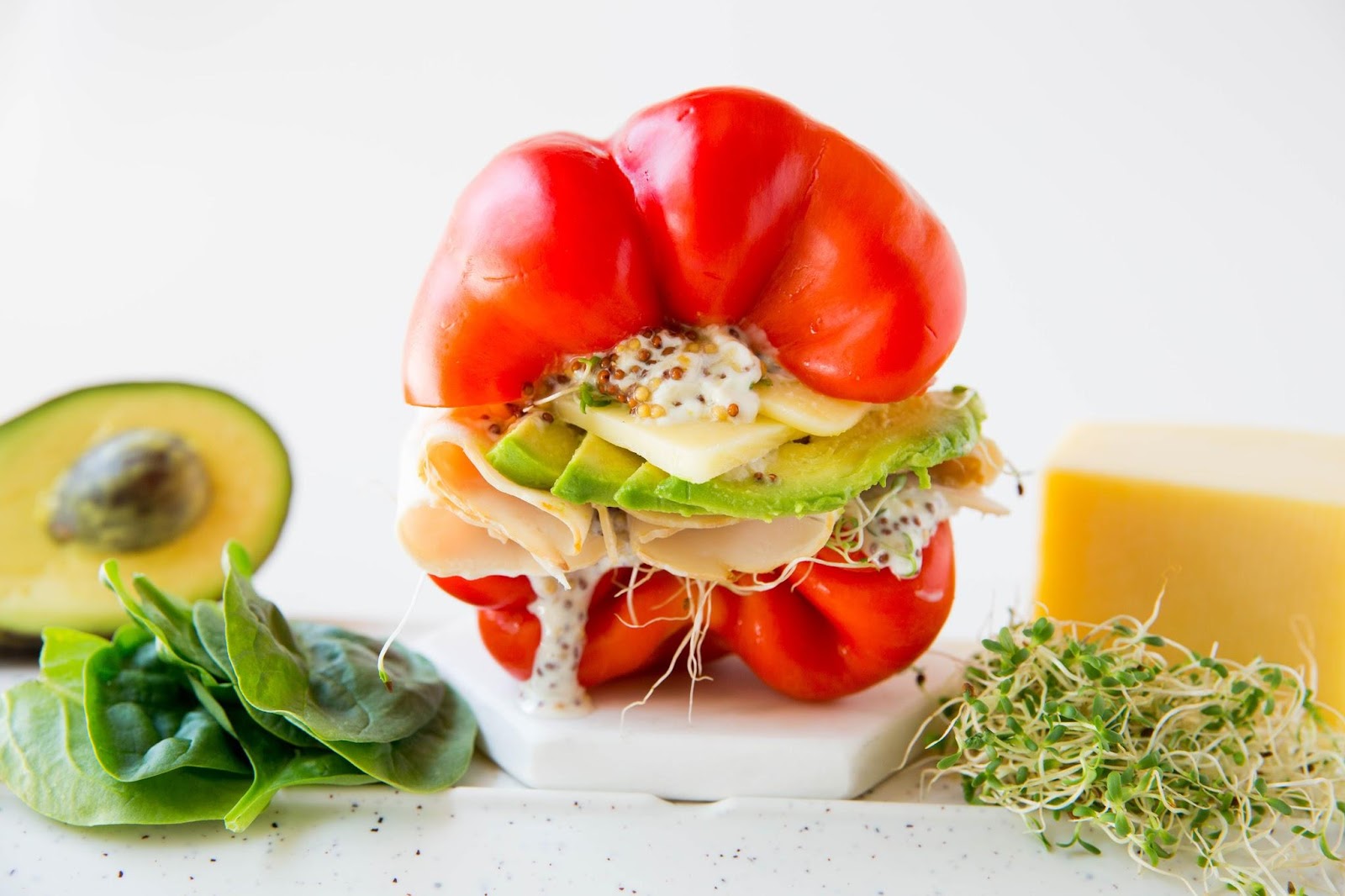 For a refreshing take on stuffed peppers, this ultimate bell pepper sandwich will have all your coworkers drooling. Replace your crusty sandwich bread with crunchy raw veggies like red peppers, and you'll add antioxidants and vitamin C to your diet without carbs or gluten.
This light, satisfying, healthy recipe calls for smoked turkey breast, avocado, raw cheddar cheese, sprouts, and spinach. But you could easily switch it up with Mediterranean flavors (think: chicken, mozzarella cheese, and pesto) or fake a banh mi with pork, cilantro, and sriracha.
As pictured, this recipe is under 200 calories and five grams of net carbs, while packing 20 grams of protein, 20 grams of healthy fats, and nearly six grams of satiating fiber.
3. Easy Keto Chicken Salad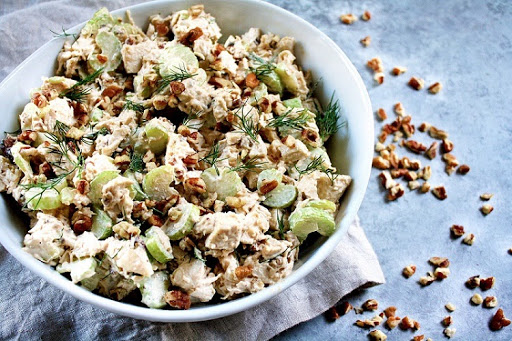 There are several reasons our easy keto chicken salad remains one of our top-rated recipes. First, this recipe makes six servings, more than enough for weekday lunches. And you can slash your meal prep time by using rotisserie chicken instead of baking chicken breasts from scratch.
It also contains two of the best foods for weight loss: celery and pecans. You can switch these up to keep boredom at bay by experimenting with additions like walnuts, almonds, cucumber, or hemp seeds. You can even swap tuna for chicken.
A one-cup serving as pictured only costs 279 calories for 19 grams of healthy fats, 25 grams of protein, and less than one gram of net carbs.
Enjoy with lettuce wraps, on keto cloud bread, or over a salad.
4. Crispy Keto Fried Chicken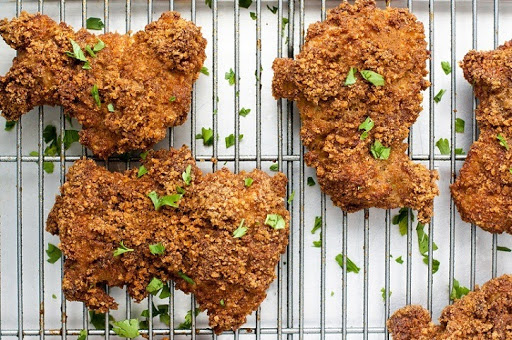 Nothing beats crispy, crunchy fried chicken, and it's even more tempting when you're short on time and find yourself ordering takeout for lunch. So give in to your cravings with this keto fried chicken recipe.
Besides being low in carbs and gluten-free, you'll also find a secret ingredient beneficial for your weight loss efforts: cayenne pepper. The capsaicin in cayenne pepper may boost your metabolism, which is why it also made our list of the best foods for weight loss[*].
This recipe delivers over 41 grams of protein and 23 grams of healthy fats for less than one net carb per serving. Winner, winner chicken dinner!
5. Simple Shrimp Ceviche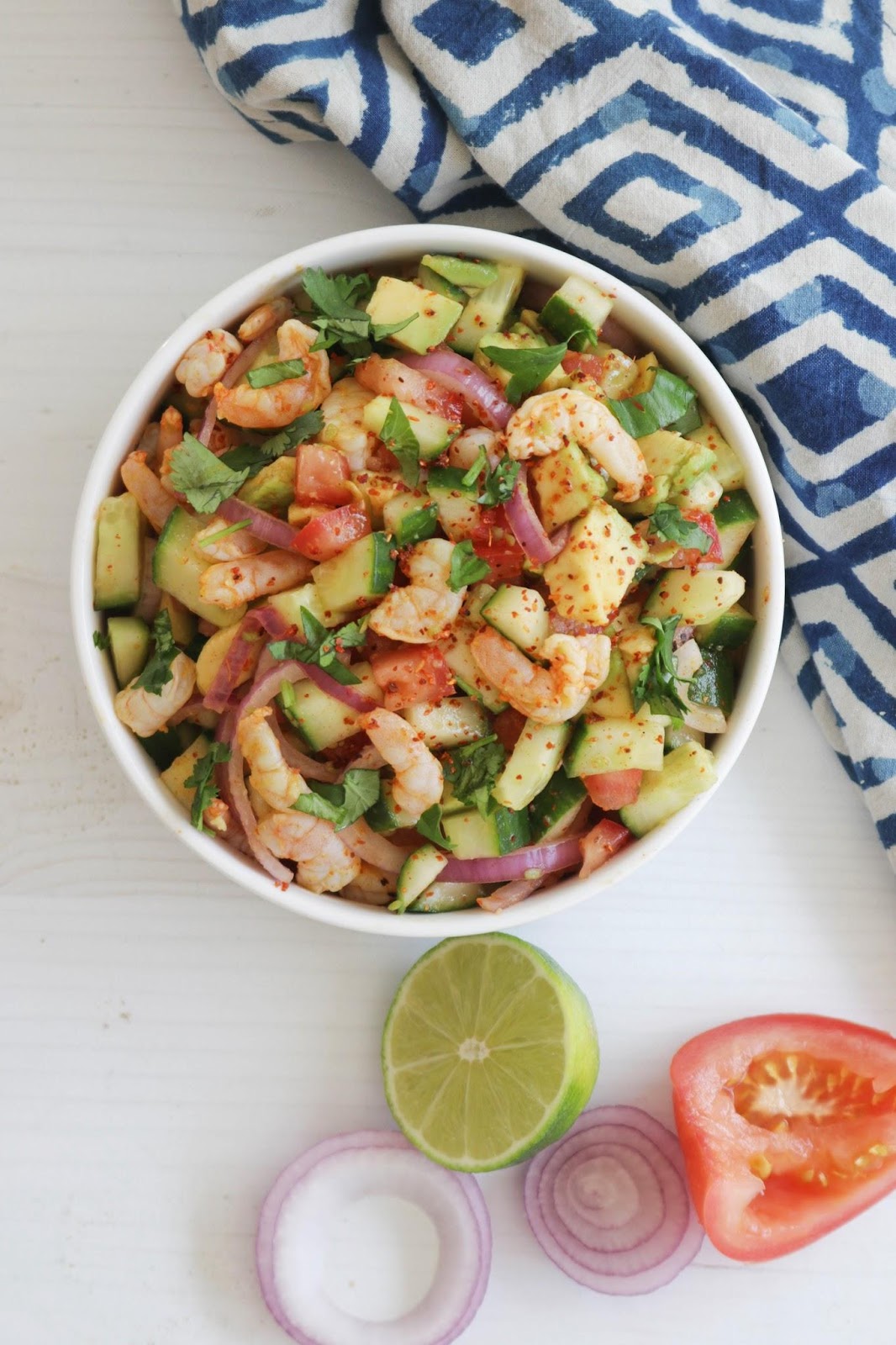 Ceviche is a cold seafood-based dish with Mexican, Caribbean, and South American variations. Despite hundreds of ceviche recipes, the main components always include a fresh, acidic marinade, seafood (like shrimp, octopus, or white fish), and pops of bright color from veggies such as cucumber, red onion, avocado, and tomato.
This light keto shrimp ceviche is sure to be the bright spot in your day. It's bursting with flavor, protein, and healthy fats to support your weight loss goals. A serving is just 143 calories for 29 grams of protein and four net carbs.
Dinner
These easy recipes take the groan and guesswork out of what's for dinner. Plus, one serving of any of these dinner recipes will be under 350 calories, making them perfect for low-calorie meal plans:
1. Simple Keto Meatballs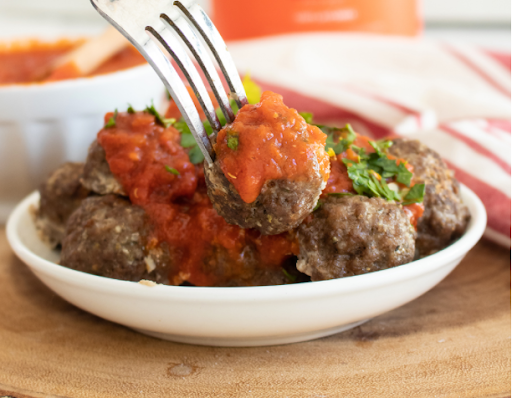 Our recipe for simple keto meatballs is one of the most popular dinner choices. With just five core ingredients and four steps to follow, you can make this dish after work and still have energy to binge-watch your fave series.
You'll have eight to 10 meatballs ready to go in just 25 minutes. Each Italian-style meatball clocks in at 153 calories, 11 grams of fat, 12 grams of protein, and less than one carb.
This meatball recipe also includes four variations to swap flavors and keep your palate guessing. If you want Asian-style meatballs, for example, just toss your 'balls in this garlic sesame keto vinaigrette and pair with cauliflower rice, stir-fry veggies, or shirataki noodles.
2. Instant Pot Pork Chops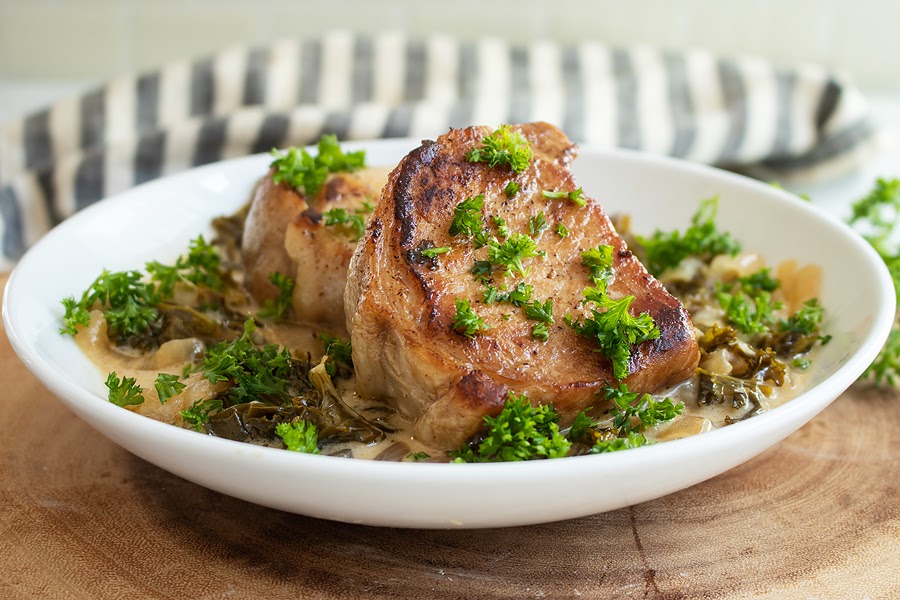 Pork chops are juicy, tender, and full of flavor when cooked properly (read: not overcooked). Plus, each chop is loaded with 25 grams of protein and only 289 calories when prepared.
So this recipe for Instant Pot pork chops will make you a forever fan. And if you don't have a pressure cooker, you can also make them in a slow cooker.
Pair these boneless pork chops with green beans, broccoli, or creamy garlic mashed cauliflower "potatoes" for an easy weeknight meal.
3. Delightful Keto Chicken Cordon Bleu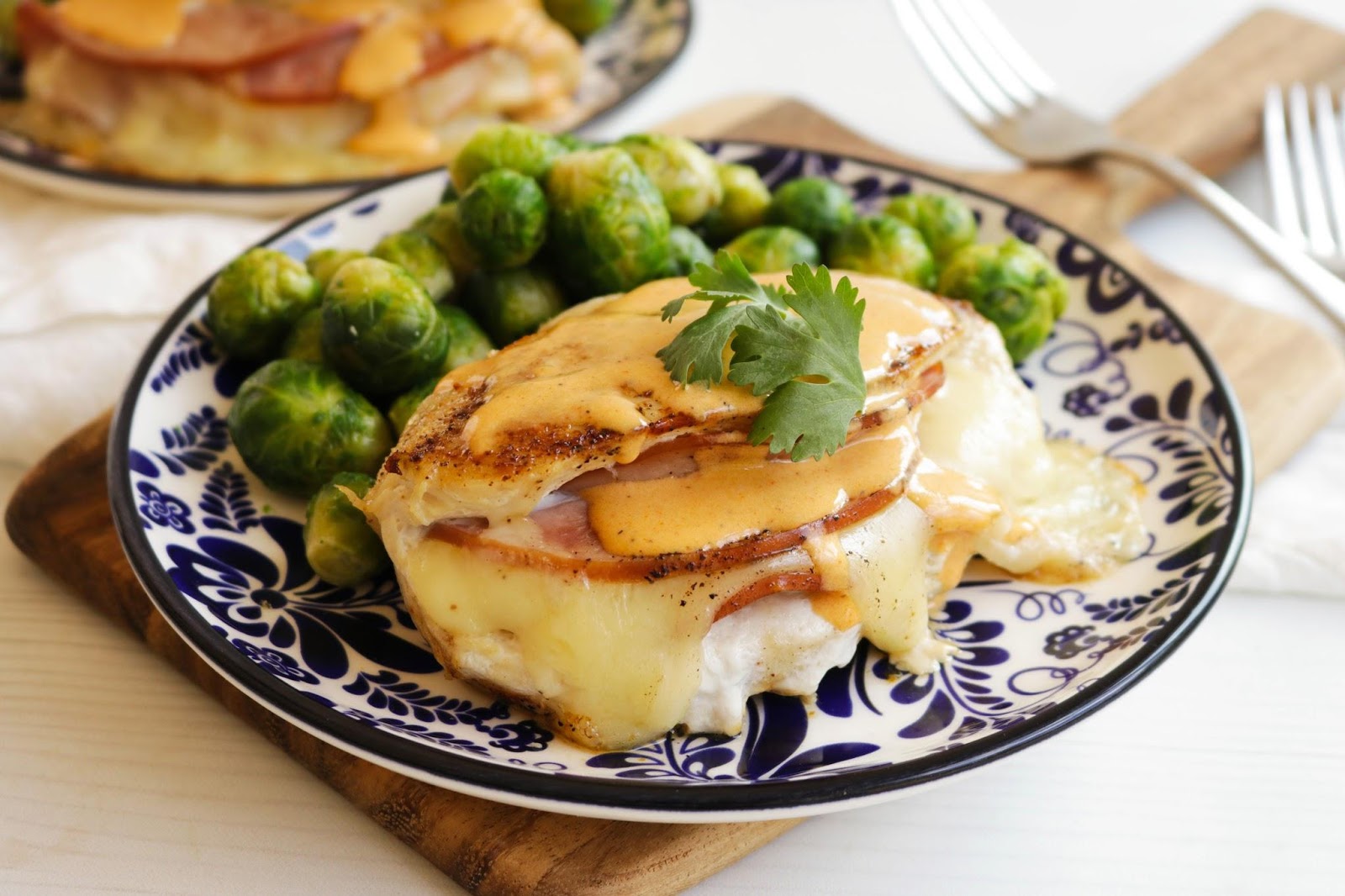 This recipe for creamy, decadent keto chicken cordon bleu delivers a major wow factor for minimal prep time (just 25 minutes!).
While traditional cordon bleu involves chicken stuffed with ham and cheese, the rich sauce usually contains flour. So this recipe subs in coconut cream, which is thicker than coconut milk, to add that same luxurious feel.
One serving of this classic-gone-low-carb-recipe serves up 37 grams of protein and 19 grams of fat for 331 calories and two carbs.
4. Easy Sheet Pan Sausage and Peppers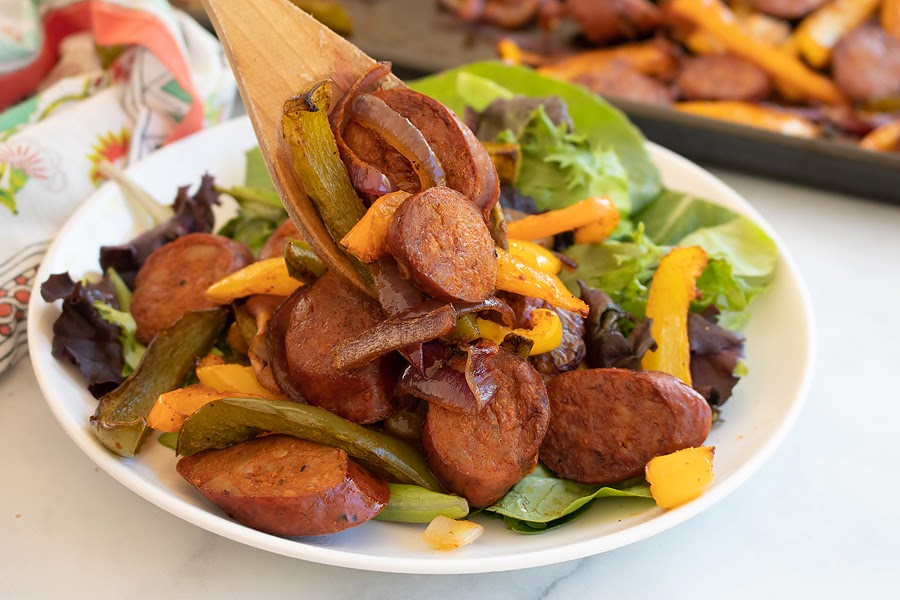 For the ultimate quick-and-easy weeknight meal, break out this recipe for sheet pan sausage and peppers. Start roasting your veggies first, then add your sliced sausage to the sheet pan to finish cooking together. You'll have dinner on the table in 20 minutes.
Drizzle on some extra virgin olive oil or sprinkle on some parmesan to finish (and impress!). This one-pan meal delivers 27 grams of protein and 15 grams of fat per serving for just 281 calories and five net carbs.
5. Gluten-Free Low-Carb Chili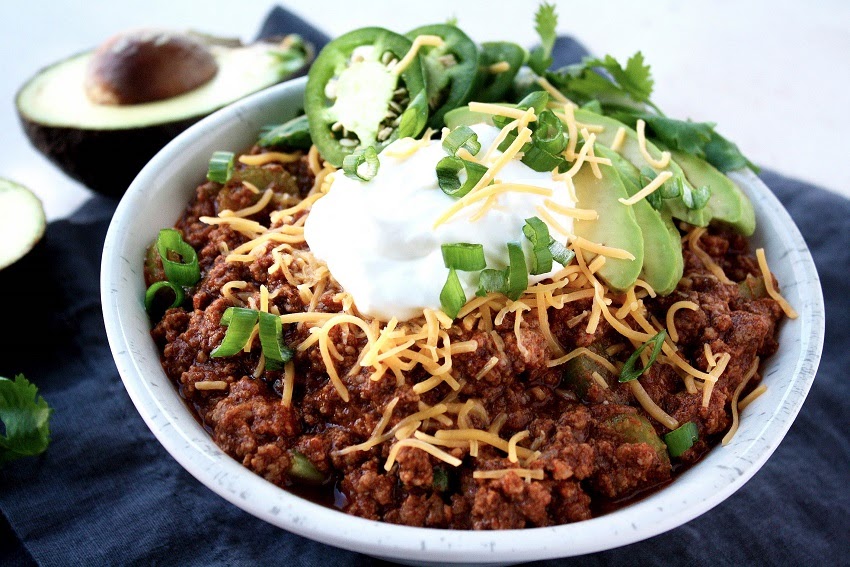 Skip the black beans, brown rice, and tortillas without missing out on taco night with this recipe for low-carb chili.
Using nutrient-dense ingredients like grass-fed beef and bone broth allows you to savor all the same flavors you love (cumin, chipotle, and garlic for the win!), while keeping your carb count low. Top with a dollop of sour cream, diced avocado, and a sprinkle of cheese.
This recipe takes just 30 minutes to simmer on the stovetop, but it's also one of the best keto Crockpot meals if you're busy during the week. One cup of this chili contains over 34 grams of protein, 23 grams of fat, and just over five net carbs.
6. Creamy Tuscan Garlic Butter Shrimp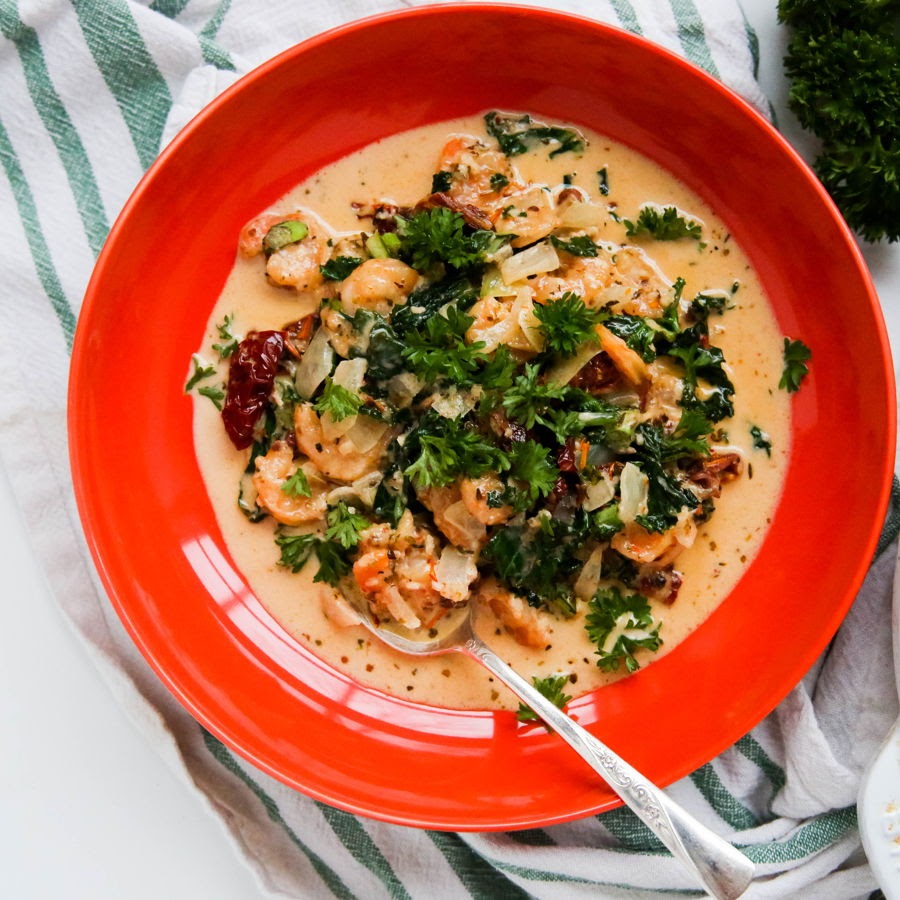 If you're craving Italian comfort food, this garlic butter shrimp recipe hits the spot. Although it's typically served with pasta, you can devour this healthy meal on its own or add it to a bed of zucchini noodles.
One small bowl clocks in almost 28 grams of protein, 16 grams of fat, and just 2.3 net carbs for 334 calories.
7. Easy, Low-Carb, Keto Crack Slaw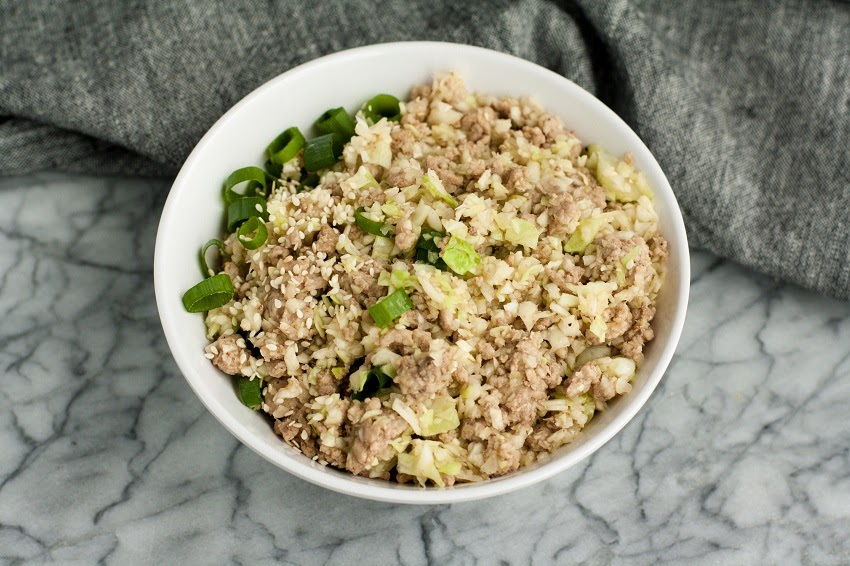 Keto crack slaw is one of the most popular dishes in the keto, paleo, and Whole30 communities. It's best described as stir-fry-meets-slaw and tastes like an eggroll in a bowl. Plus, it takes just 20 minutes.
You'll find plenty of cruciferous veggies, 26 grams of protein thanks to the ground pork, and a yummy Asian-style sauce made with garlic, coconut aminos, and sesame oil to satisfy your takeout cravings. Bonus: One serving is only 212 calories!
You can also modify this recipe to add more spice (like a dash of sriracha) or incorporate other flavors you're missing on keto. For a take on pad Thai, add some no-sugar-added peanut butter to the sauce, bean sprouts, a scrambled egg, and a squirt of lime to capture some of that essence.
8. 30-Minute Keto Parmesan Chicken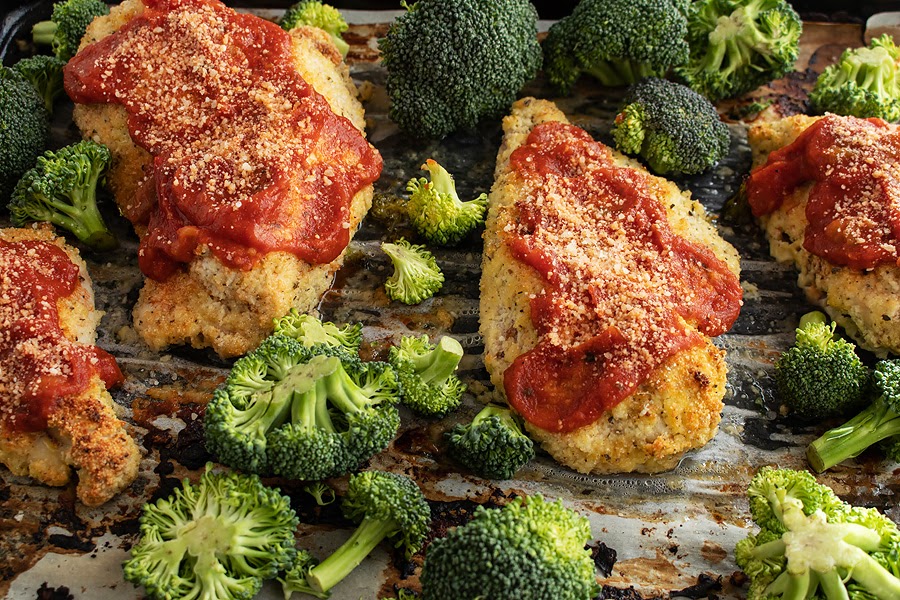 This keto parmesan chicken has everything you love above chicken parm minus the high-carb breadcrumbs and sugary tomato sauce. Plus, you can make this healthy meal entirely on a sheet pan.
These crispy chicken breasts only take 30 minutes and pair well with roasted veggies of your choice. One breast all dressed up boasts 33 grams of protein, 14 grams of fat, and just 273 calories.
9. Weeknight Keto Beef Stew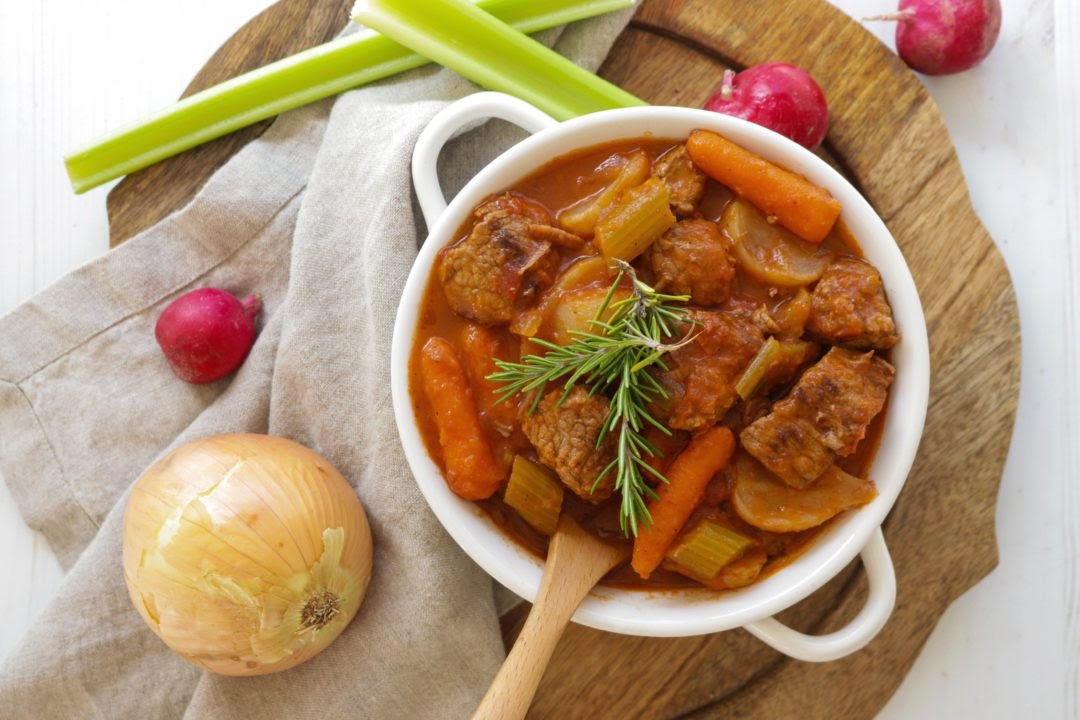 When you're craving rich, low-carb comfort food, this keto beef stew will satisfy your entire family. And you can make a batch of six servings all in one go.
Each bowl contains filling, healthy ingredients (like grass-fed beef, celery, radish, and bone broth), 24 grams of protein, and 16 grams of healthy fats. Not too shabby for 275 calories!
10. Keto Garlic and Herb Pork Loin Roast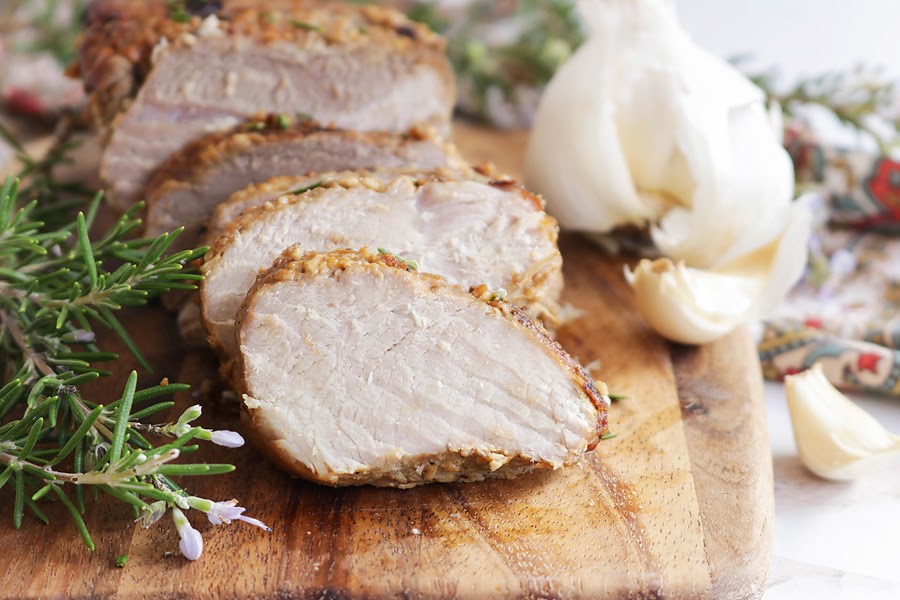 This delicious three-pound pork loin roast recipe makes enough to feed everyone at the dinner table or give you plenty of leftovers to eat for lunch during the week. It's juicy, savory, and packed with aromas from garlic, dijon mustard, and rosemary.
But here's the best part: Two slices serve up a whopping 34 grams of protein for just 202 calories and one carb!
Don't be tempted to pair this pork loin with high-carb whole grains, quinoa, or lentils. Use this ultra-low net carb count to save room for dessert!
Desserts
You can buy keto desserts or make loads to satisfy a sweet tooth and ward off sugar cravings. But fat bombs make the best choice when you're also trying to lose weight.
These tiny morsels pack just the right amount of sweetness and healthy, satiating fats to end your meals with a smile. A serving of any of the fat bomb recipes below are under 100 calories each (seriously!):
1. Birthday Cake Fat Bombs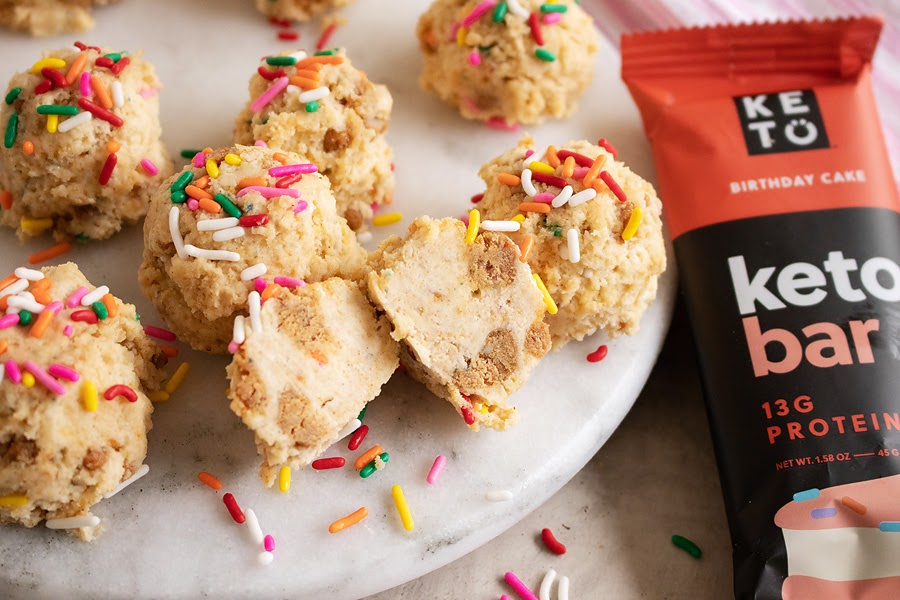 Make every day feel like your birthday with these birthday cake fat bombs! This recipe makes 12 edible cake batter balls with a variety of healthy fats to increase satiety and prevent overeating. One birthday cake fat bomb delivers eight grams of fat, three grams of protein, and just one net carb.
2. Peaches and Cream Fat Bombs
These flavorful peaches and cream fat bombs combine the freshness of peaches with creamy, healthy fats found in grass-fed butter and cream cheese. This nut-free and sugar-free recipe is also perfect for people with nut allergies.
Making a batch of 24 takes just 10 minutes. And each peaches and cream fat bomb clocks in at 43 calories and less than one net carb.
3. Low Carb Pumpkin Cheesecake Balls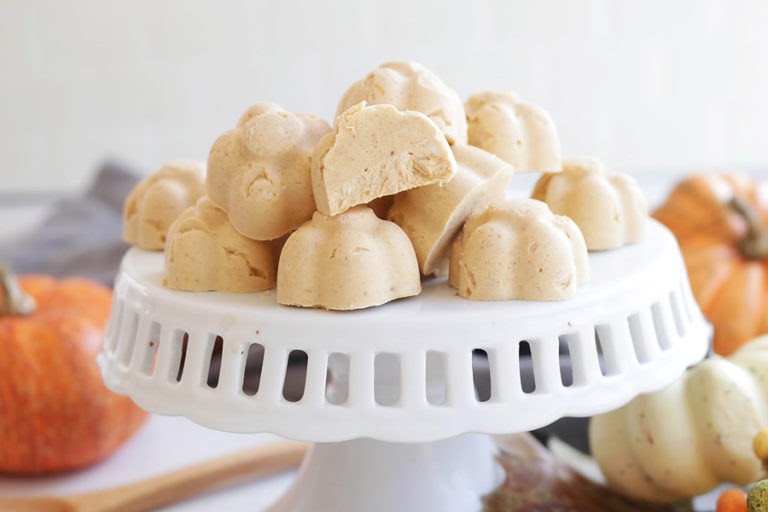 Why wait for pumpkin spice-everything season when you want warm flavors of pumpkin or sweet potato pie in your tummy now? Our no-bake, sugar-free, and gluten-free low-carb pumpkin cheesecake balls will help you scratch that itch without kicking you out of ketosis.
One pumpkin cheesecake bomb will only set you back 62 calories and one net carb. #SoWorthIt.
4. Keto MCT Matcha Fat Bombs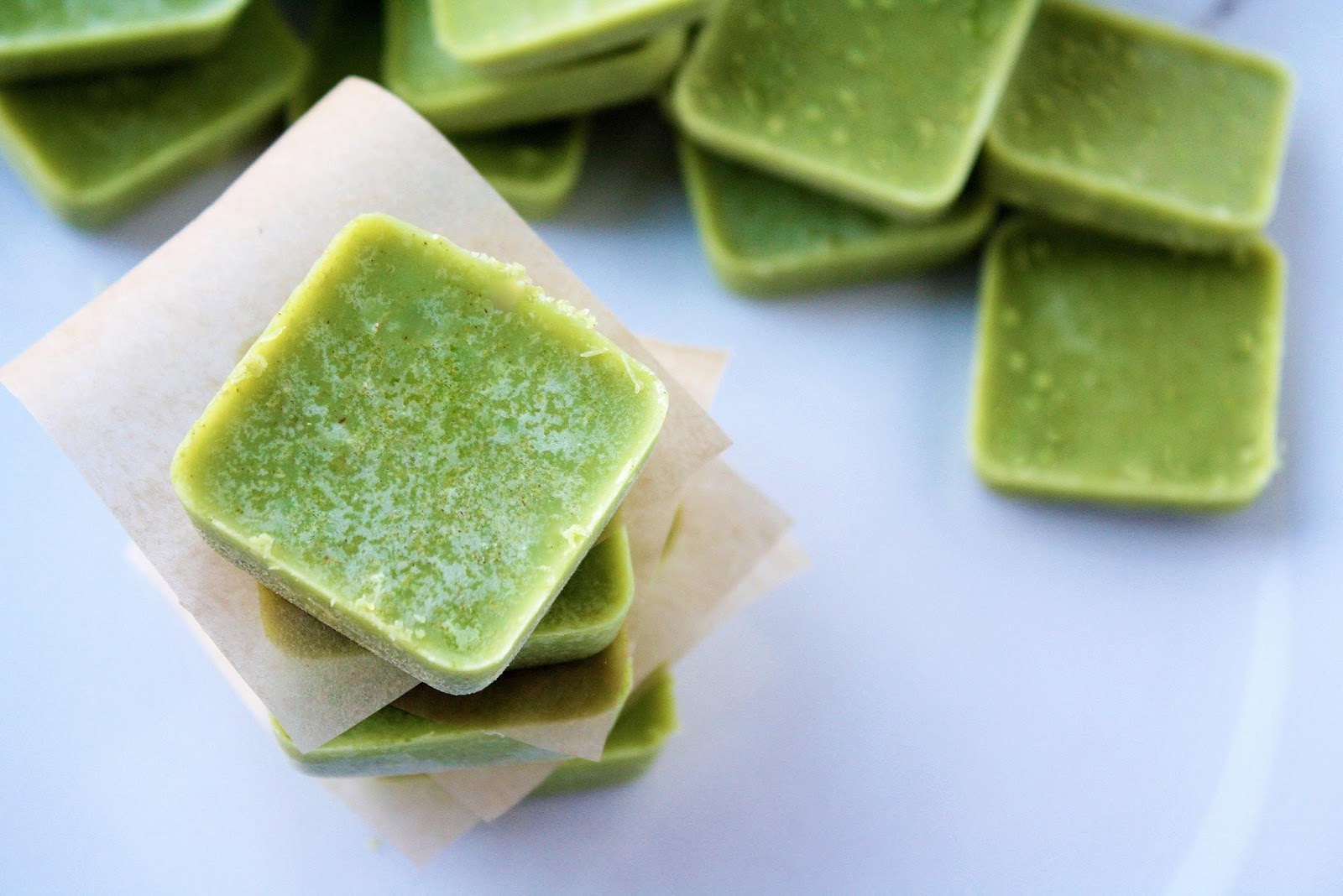 Love the flavor and health benefits of matcha, but need more ways to use it? Prepare to be obsessed with these keto MCT matcha fat bombs. They'll keep your sweet tooth in check and give you a boost of energy, thanks to the MCT oil powder.
Pack one in your lunchbox for a quick pick-me-up midday. One MCT matcha fat bomb boasts 7.5 grams of satiating, healthy fats for just 65 calories and less than half a carb.
5. Easy Peanut Butter and Jelly Bites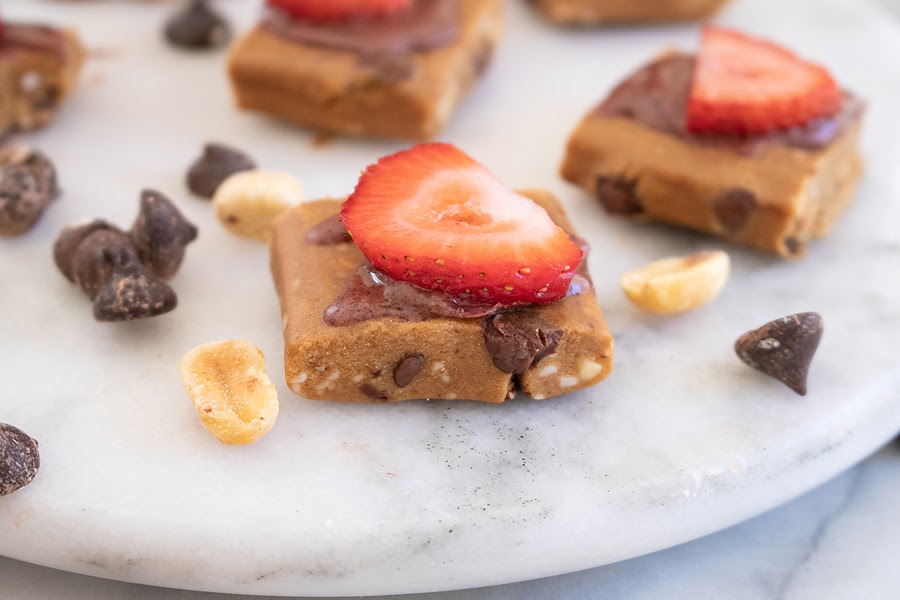 It's been a long day at work. You managed to cook a keto-friendly dinner (go, you!), and now you're looking for something sweet.
These nostalgic, delicious peanut butter and jelly bites may be the easiest dessert you can whip up without spending too much brainpower or time in the kitchen.
One bite clocks in six grams of fat, three grams of protein, and two net carbs for 75 calories.
The Takeaway
A ketogenic diet is ideal if weight loss is your goal. When your body reaches ketosis, it will start burning your stored fat for fuel, making it easy to shed pounds and achieve your desired body composition.
But to get there, you'll need to cut your carb intake, ditch sugar, and feed your body the healthy fats and satiating protein it needs. Do this while creating a calorie deficit, and you'll never feel hungry (or hangry!), build lean muscle, and find more energy to tackle your workouts.
Add these healthy recipes for weight loss to your meal plans, and you'll have no trouble accomplishing your goals and slimming down to a better, healthier version of your awesome self. With so many low-calorie choices, the hardest part will be deciding what to make first.