This roundup of dairy-free keto recipes gives you tasty low-carb options for breakfast, mains, side dishes, and dessert.
Are you tired of scouring the internet for dairy-free keto recipes every week?
Wondering if it's even possible to reach ketosis when you've been told to eliminate dairy products?
Since a ketogenic diet leans so heavily on cream, grass-fed butter, and cheese, going dairy-free may feel like an impossible task.
But fear not, lactose-intolerant or dairy-averse friend.
You can get into ketosis and reach your health and weight loss goals without ever eating dairy products again. 
This resource has everything you need to keep your keto meal plans stacked with dairy-free recipes. You'll find easy, tasty options for breakfast, mains, sides, and even dessert.
If you're still on the fence about going dairy-free, this first section can help you decide if it's right.
And if you already know dairy-free is the way to be, you can skip ahead to the free recipes now.
Should You Go Dairy-Free on a Keto Diet?
Though dairy is safe on keto, up to 65% of the population has a hard time digesting it[*].
Many say eating dairy leaves them with unwanted symptoms such as:
Bloating

Gas

Diarrhea

Abdominal cramps

Nausea

Vomiting
Even if you don't experience those annoyances, there are two more reasons to consider testing out a dairy-free keto diet:
First, you're trying to lose weight but can't.
Dairy is amazing for adding creamy, rich flavor and a dose of healthy fats to your meals and snacks.
However, it also dumps extra calories and maybe even too much fat into your daily macros if you're not careful.
This could be one culprit behind why you're not losing weight on keto. You may even find that eliminating dairy helps you break through a plateau.
Second, you're dealing with hormonal imbalances or hormonal sensitivities. 
As Emily pointed out in this guide, dairy contains a mix of naturally occurring hormones and those artificially added in.
But no matter which form, they can still impact your endocrine system and your crucial balance of hormones.
Out-of-whack hormones can lead to symptoms such as fatigue, increased hunger, struggling to lose weight, mood swings, and so much more.
One body of research showed consuming dairy containing insulin-like growth factor hormones and estrogen could contribute to developing prostate, breast, or endometrial tumors[*].
These reasons convince many to consider going dairy-free permanently or at least try a test run to see if dairy is an issue.
If you're one of them, these 40+ dairy-free keto recipes can help make your transition or trial period easy and delicious.
8 Dairy-Free Ways to Start Your Day
Add these keto breakfast recipes to your rotation and you'll forget you've already started your dairy-free transition:
#1. Creamy Dairy-Free Snickerdoodle Coffee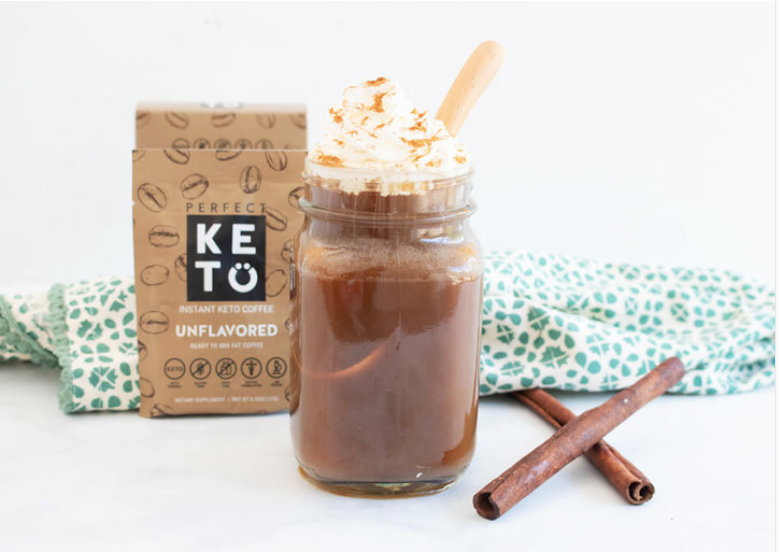 This creamy, dairy-free snickerdoodle coffee will replace your milky, sweet latte in the morning or afternoon.
It uses coconut cream, cinnamon, and monk fruit sweetener instead of sugar. 
You can find monk fruit sweetener at the grocery store and online at Amazon. You could also use stevia, another commonly used sugar-free sweetener on keto. 
Give this keto Vietnamese iced coffee recipe a go too. Or try this matcha latte if coffee isn't your thing. Both are dairy-free and delicious.
#2. Creamy Chocolate Nut Smoothie Bowl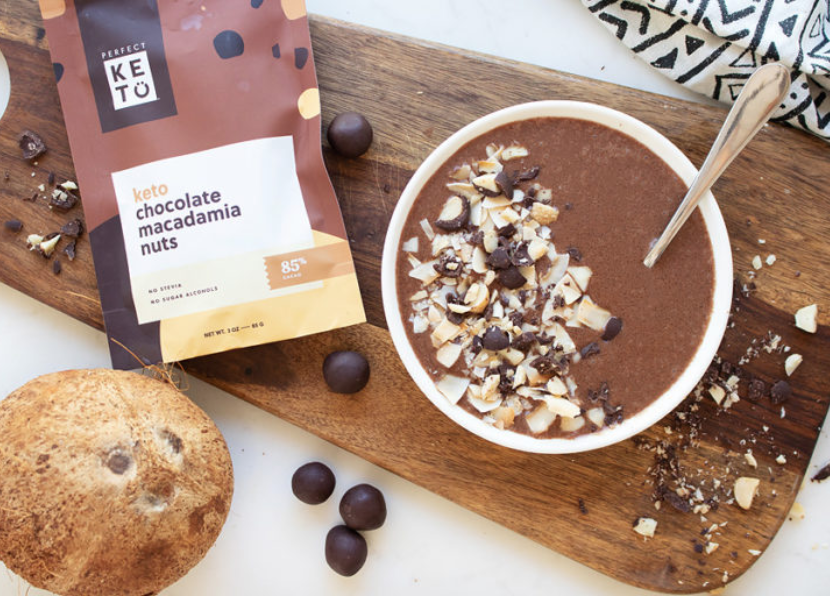 To replace high-sugar acai bowls, this dairy-free creamy chocolate nut smoothie bowl delivers.
Chocolate collagen and chocolate-covered macadamia nuts are the two secret ingredients that make this bowl decadent and filling.
#3. Raspberry Chia Pudding with Chocolate Almond Crunch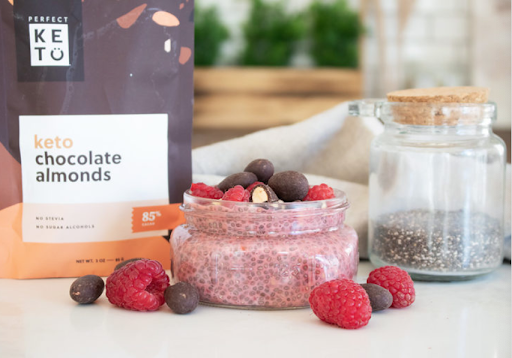 Make this raspberry chia pudding ahead of time and you can grab it on-the-go before you leave for work. This filling egg-free breakfast takes just 5 minutes to prep.
You can also substitute blueberries or blackberries for raspberries to shop what's in season or on sale.
#4. Dairy-Free Keto Quiche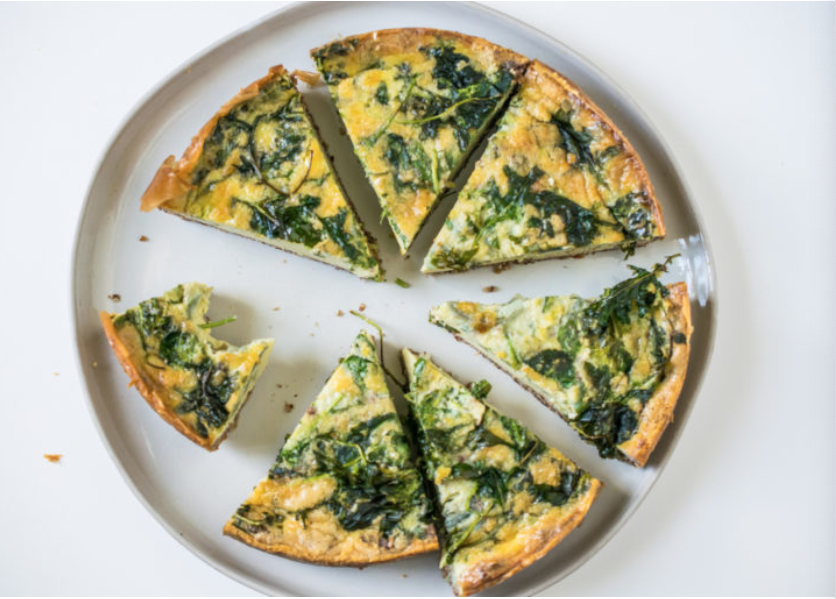 This recipe for dairy-free keto quiche with a flaky crust only tastes like cheating.
With coconut oil, full-fat coconut milk, eggs, and veggies, one or two servings is totally doable on your low-carb diet. 
#5. Low-Carb Breakfast Casserole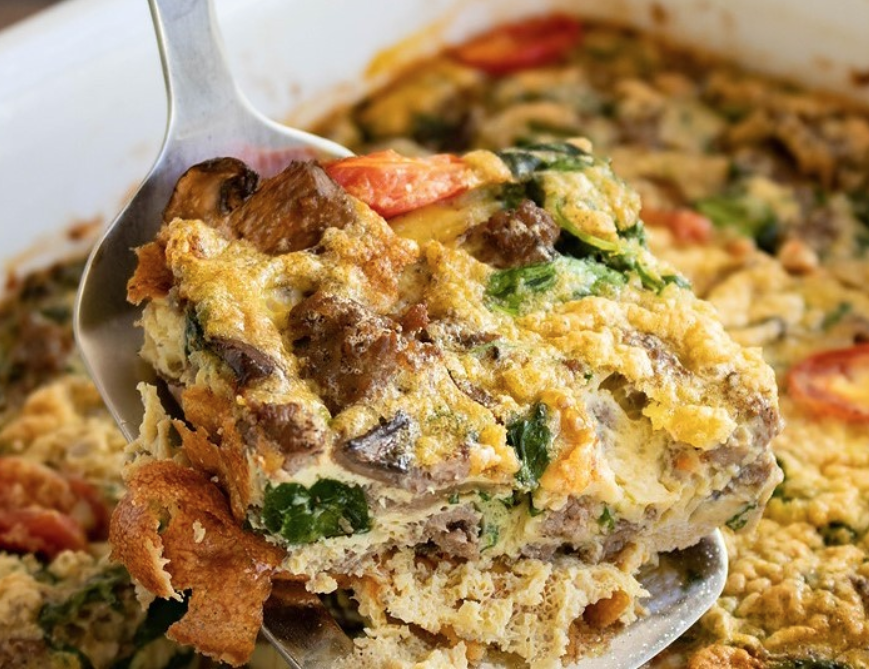 If you want a savory dairy-free breakfast with protein, fiber, and micronutrients from whole, real foods, this low-carb breakfast casserole fits the bill.
#6. Decadent Double Chocolate Low-Carb High-Protein Muffin Recipe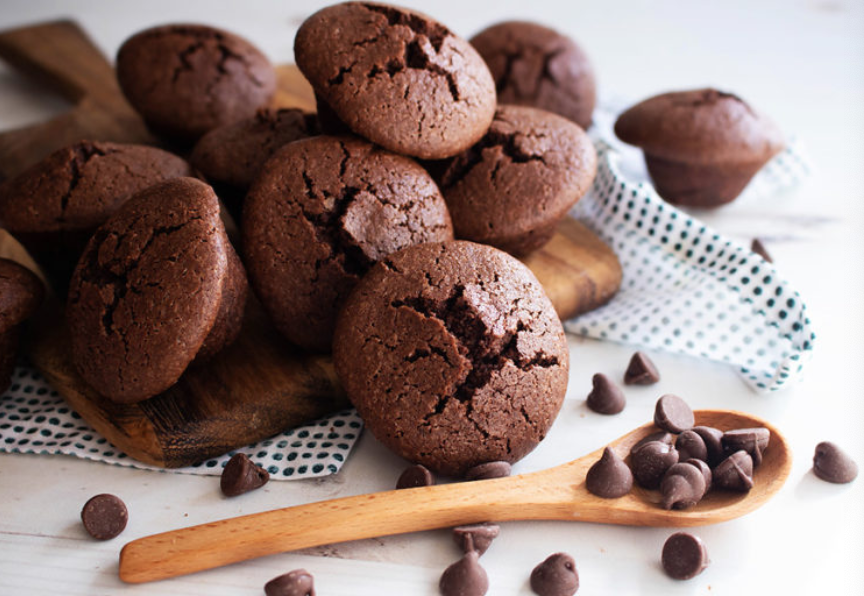 These decadent double chocolate muffins with stevia-sweetened chocolate chips pair well with your dairy-free keto coffee.
Unlike the high-carb coffee shop version, these are packed with 12g of protein and 18g of healthy fats each.
#7. Low-Carb Dairy-Free Keto Pancakes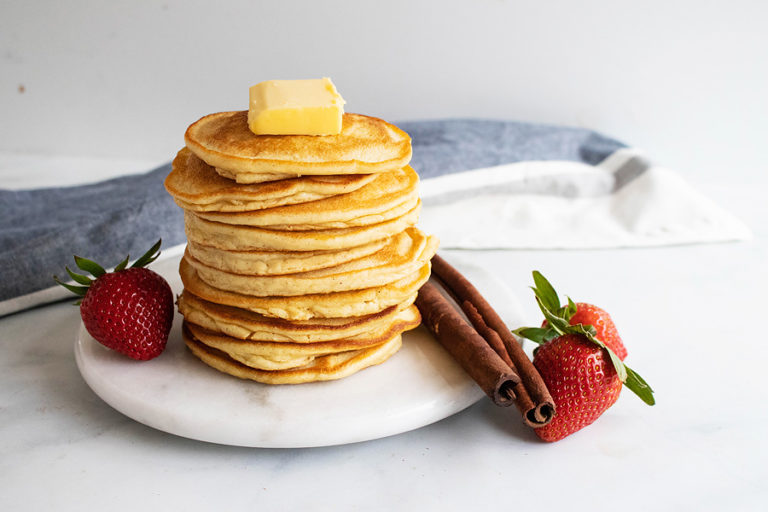 Use this low-carb, keto-friendly recipe anytime you want pancakes for breakfast. They're not only dairy-free but sugar and gluten-free too.
#8. Superfood Pumpkin Waffles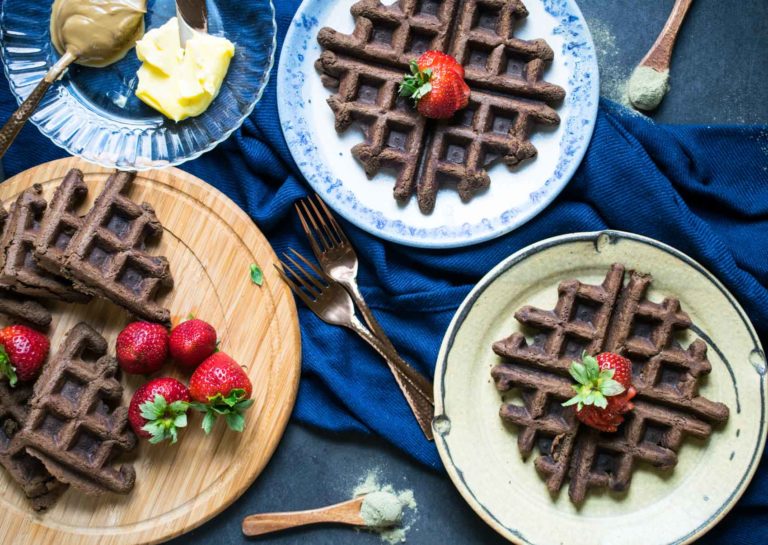 Most keto waffle recipes or trendy "chaffles" require cheese.
But these superstar pumpkin waffles contain healthy microgreens, cacao powder, pumpkin puree and pumpkin spice, and coconut milk. 
It's decadence worthy of a weekend brunch in ketosis.
10 Dairy-Free Keto Recipes for Lunch and Dinner
Whip out your shopping list and start adding the ingredients you need to make these dairy-free keto recipes this week:
#1. Easy Keto Chicken Salad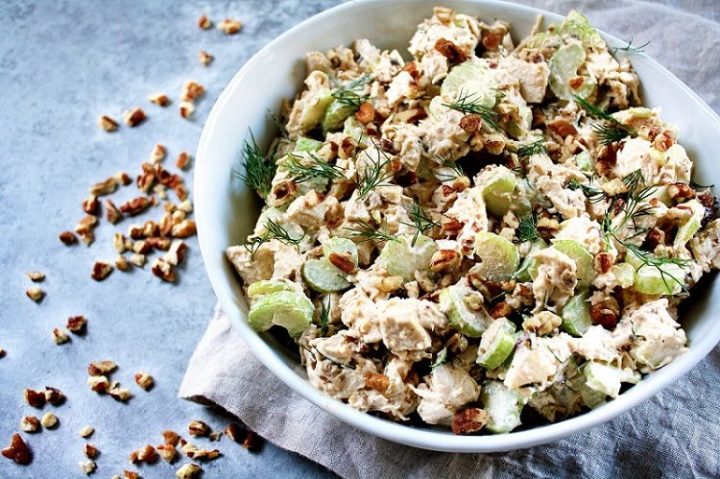 This low-carb keto chicken salad recipe contains almost 25g of protein and 20g of healthy fats. Omit the pecans and it can also be nut-free (though no less tasty).
#2. Creamy Keto Chicken Soup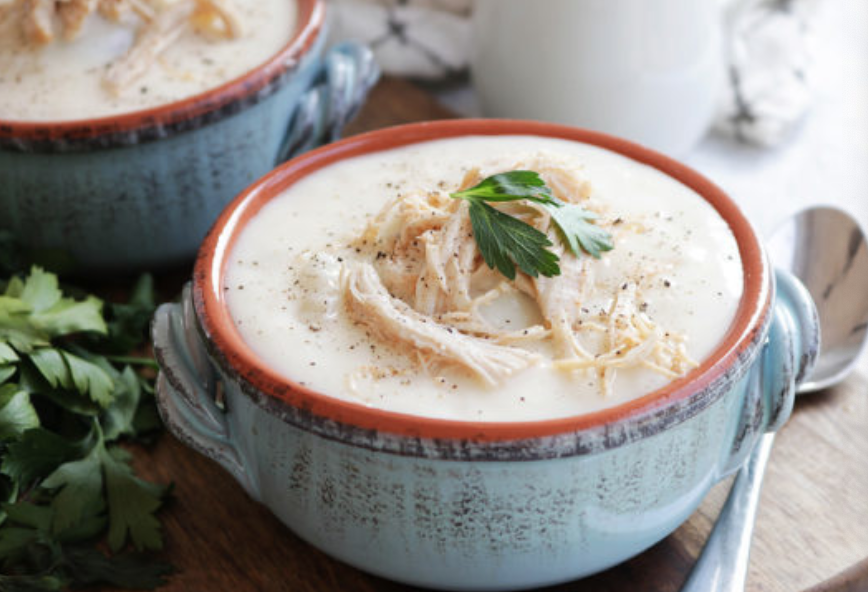 This keto chicken soup recipe achieves the same creamy texture of one that's dairy-based by substituting coconut cream.
If you want to avoid all types of cream, you can opt for this soothing dairy-free broth-based keto chicken soup instead.
#3. Creamy Garlicky Chicken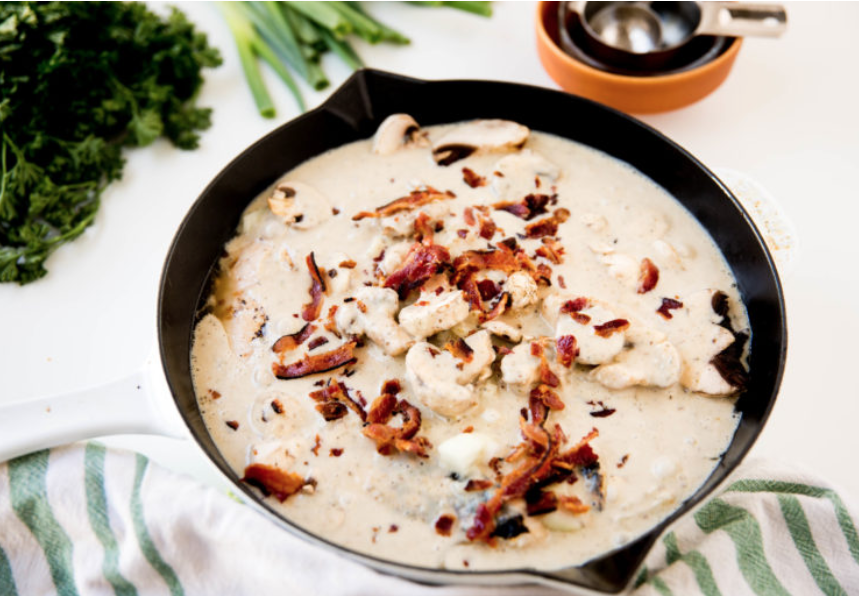 This garlicky chicken recipe proves you don't have to give up creamy sauces just because you're dairy-free and following a keto diet.
#4. Keto Chicken Hemp Heart Tenders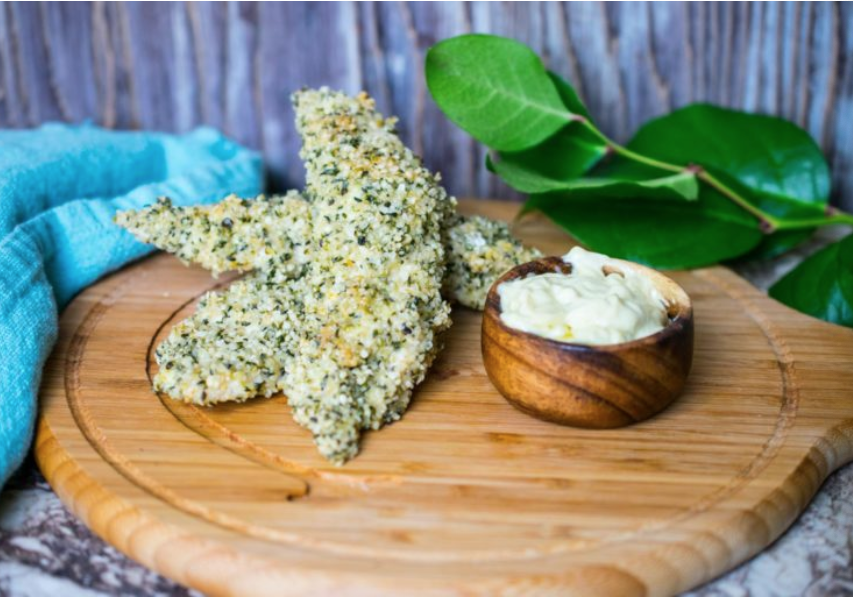 Craving chicken tenders in keto? No problem!
This dairy-free keto recipe coats cut-up chicken breasts (or chunks of chicken thighs) in a breadcrumb-free hemp heart crust.
They pair well with loaded keto coleslaw — just make sure to leave out the cheddar to keep it dairy-free.
#5. Simple Shrimp Ceviche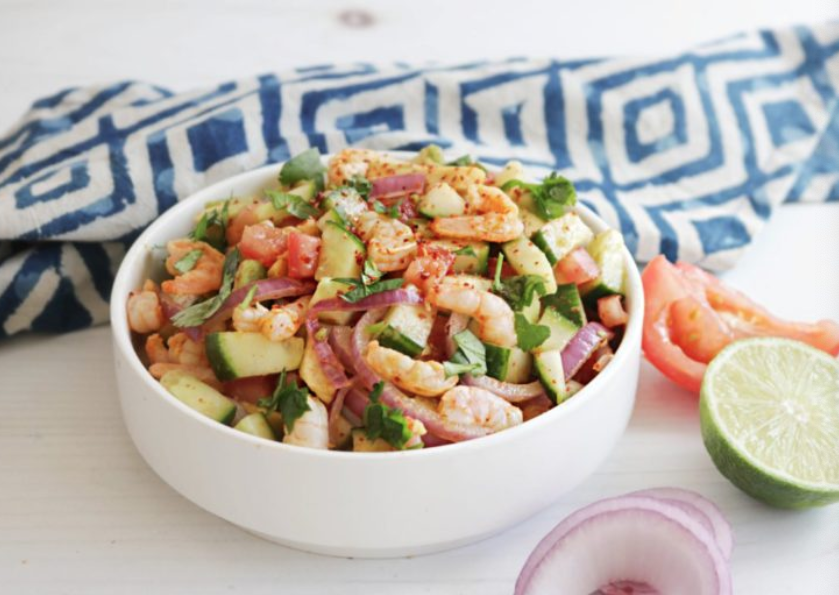 This simple shrimp ceviche makes an excellent dairy-free dish that's light and filling. Enjoy as-is or toss it over a salad for extra fiber.
#6. The Ultimate Keto Garlic and Herb Pork Loin Roast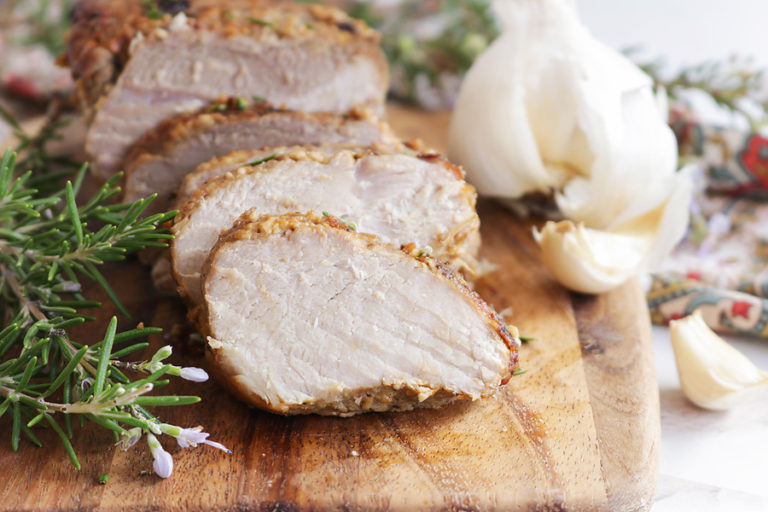 Pork loin is one of the most awesome and affordable cuts of meat for keto dieters. And this dairy-free dinner recipe teaches you how to cook and flavor your roast to perfection.
#7. Simple Keto Stir Fry with Cabbage Noodles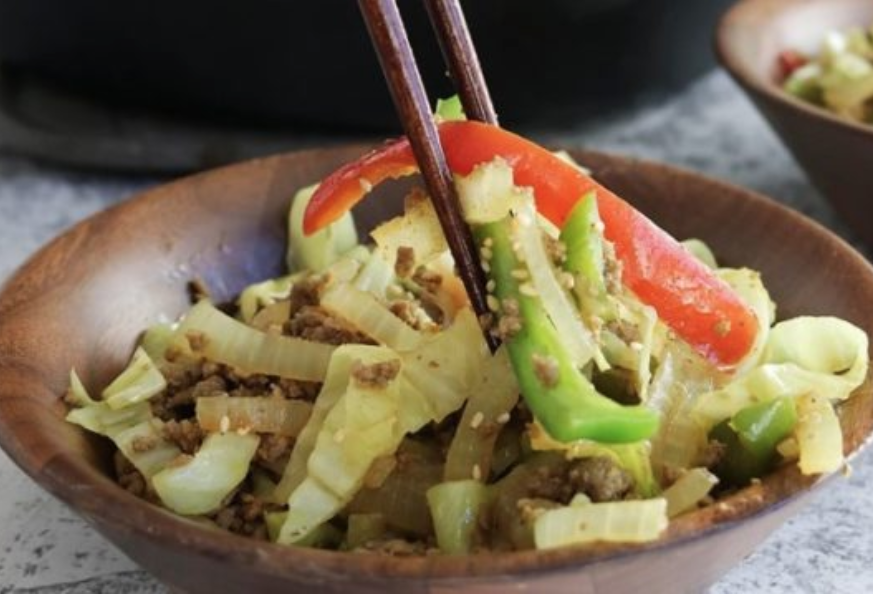 Meals with Asian-inspired flavors are a no-brainer for dairy-free living since Western staples like butter and American or cream cheese aren't traditional.
Give the cabbage noodles in this easy keto stir fry recipe a chance. Or sub them out for zero-carb shirataki noodles.
And check out this roundup of low-carb Thai recipes for more ideas later!
#8. Spicy Korean BBQ Lettuce Wraps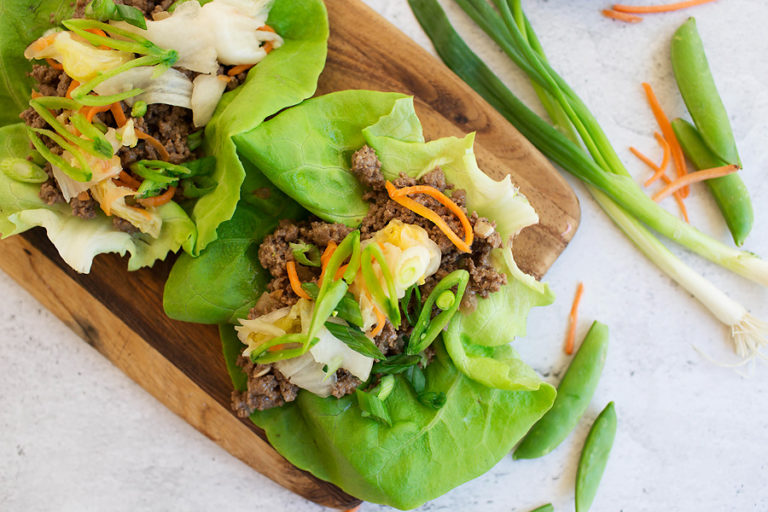 These spicy Korean BBQ lettuce wraps provide the best route for cheeseless taco night.
They're also an ideal way to use up your ground meat other than making meatballs or hamburgers.
#9. Delicious Low-Carb Keto Meatloaf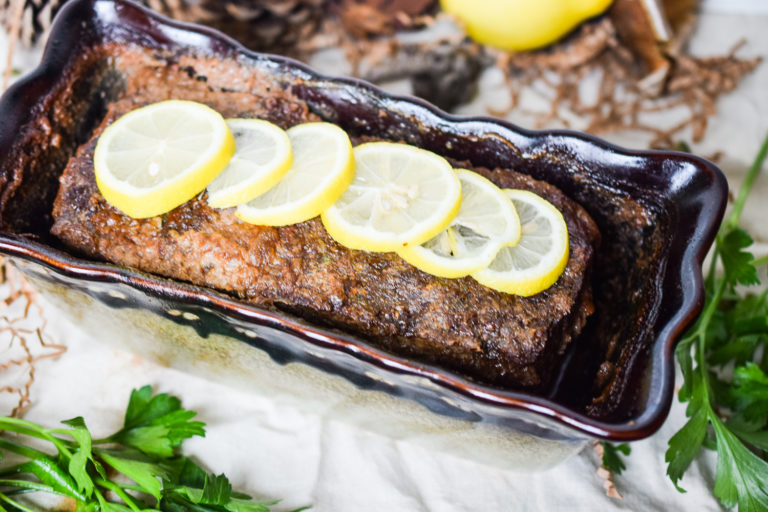 You don't need breadcrumbs or dairy to make a killer keto meatloaf.
This low-carb recipe recreates this classic dish and gives you plenty of leftovers without sabotaging your ketosis goals. 
#10. Keto Gyro with Creamy Tzatziki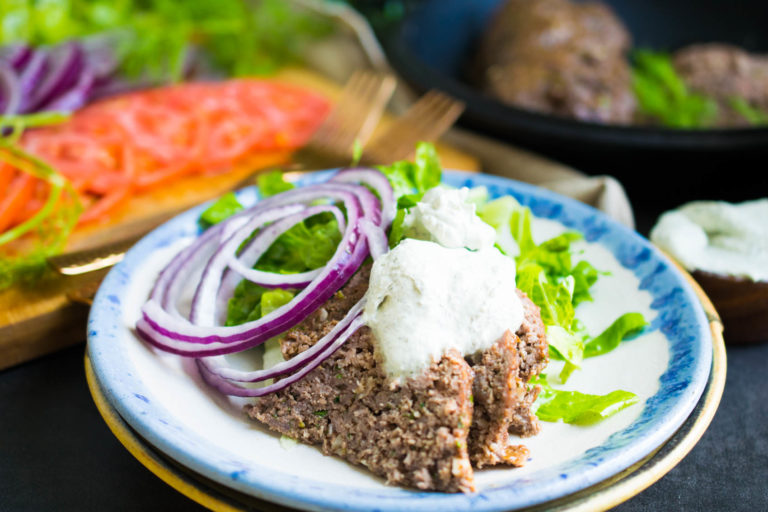 This keto-friendly gyro recipe swaps the dairy in traditional tzatziki for coconut milk. And you can serve it with keto bread like dairy-free naan. 
7 Keto Side Dishes and Starters Sans Butter, Cream, and Cheese
These dairy-free keto recipes for appetizers and side dishes will get your party started or complement your meal like they were meant to be:
#1. Low-Carb Cauliflower Hummus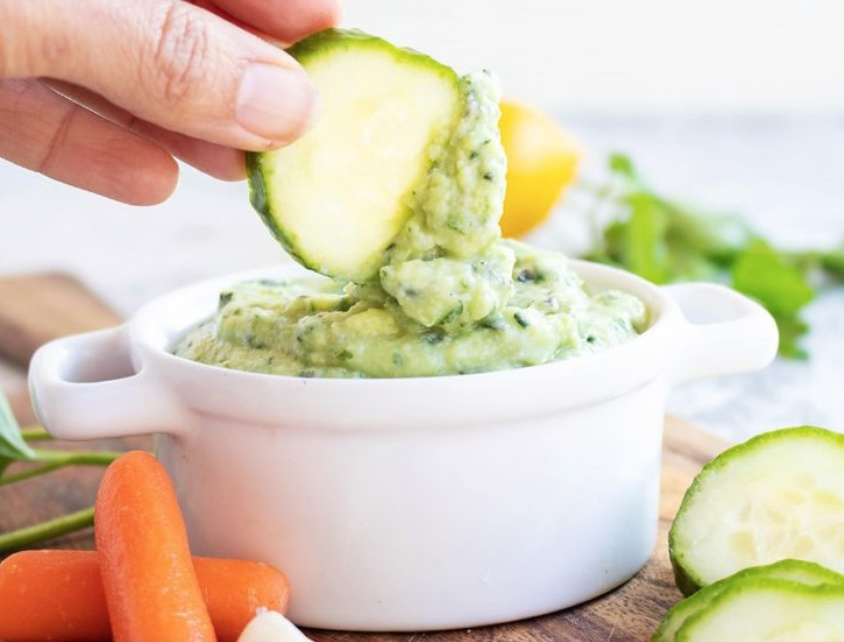 Skip traditional high-carb hummus for this low-carb, dairy-free cauliflower hummus recipe.
Homemade guacamole is another easy dairy-free dip option that also works well.
#2. Low-Carb Romesco With Cabbage Noodles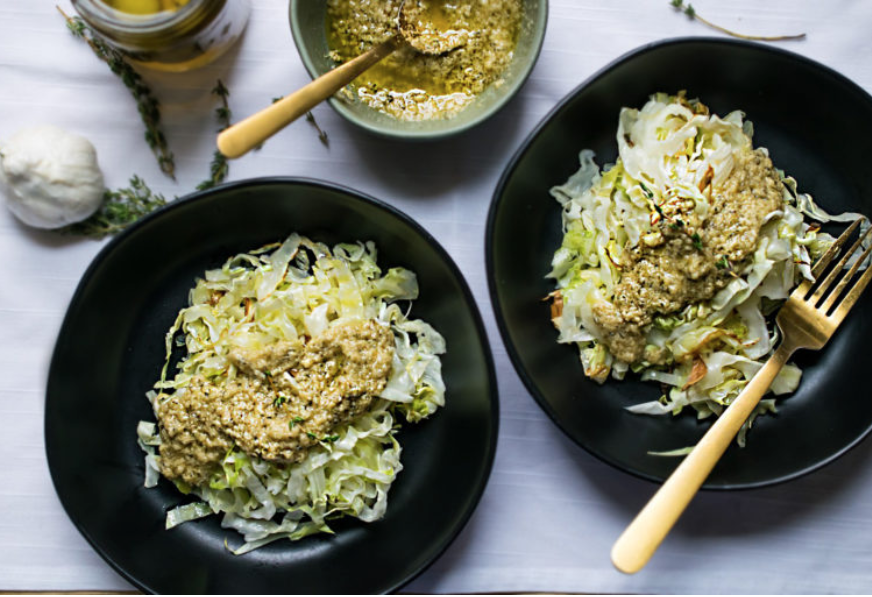 Cabbage noodles make an excellent stand-in when you're bored of zucchini noodles or spaghetti squash on a ketogenic diet. 
This low-carb version of noodles with classic romesco sauce will become an easy favorite.
#3. Grilled Asparagus With Perfect Keto Lemon Herb Vinaigrette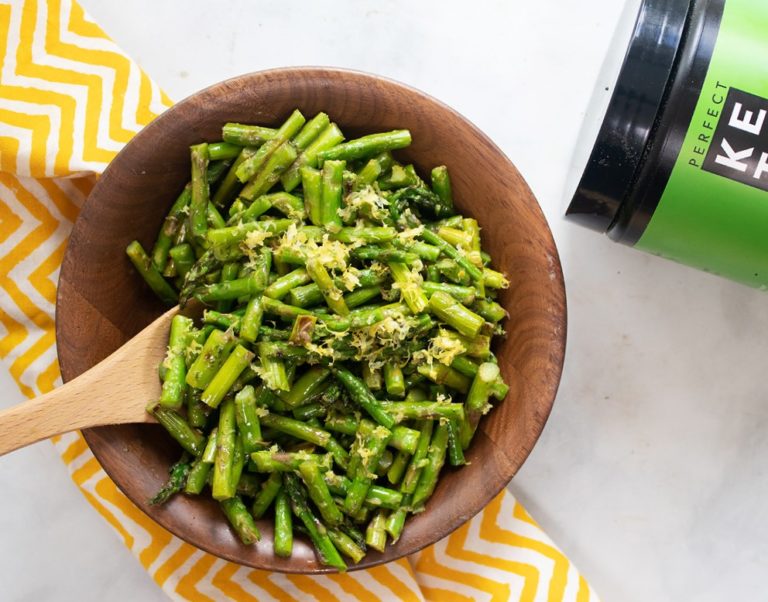 Jazz up your boring grilled asparagus with a keto lemon vinaigrette dressing made with extra virgin olive oil and lemon juice. 
#4. The Best Keto Avocado Deviled Eggs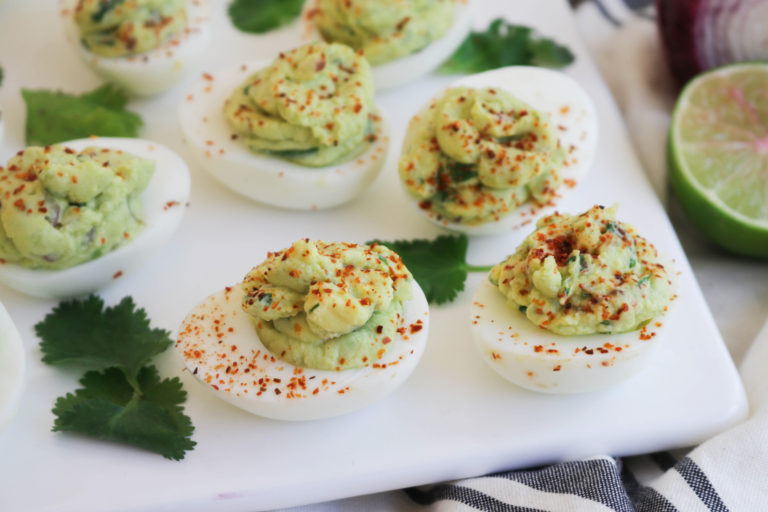 Though mayo is dairy-free, this recipe for the best keto deviled eggs replaces it with healthy fats from avocados.
#5. Crispy Kale Chips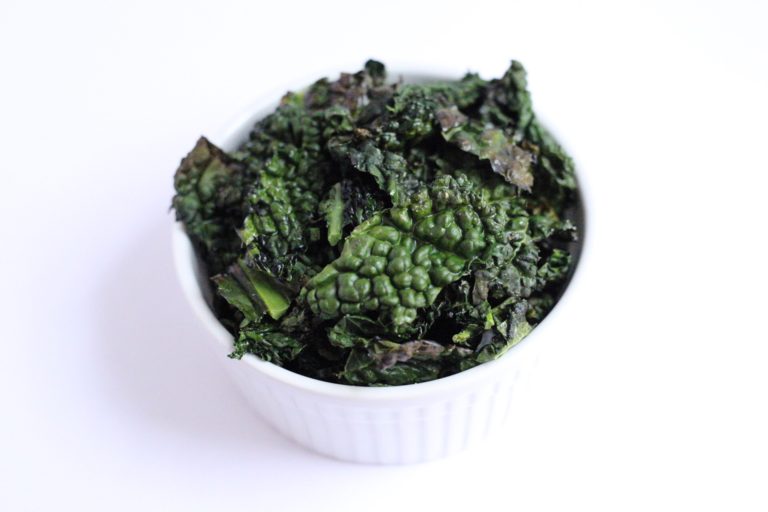 When other low-carb dieters are snacking on cheese, you can nosh on these crispy kale chips to stay in ketosis.
#6. Creamy Celeriac Mash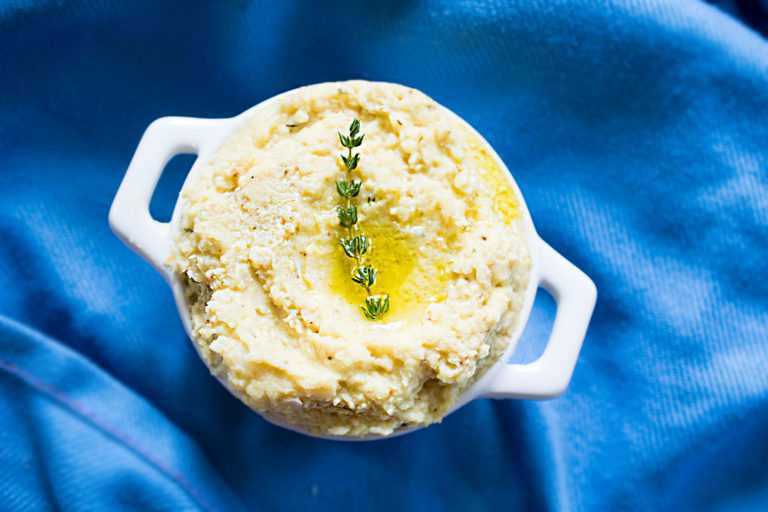 Most mashed cauliflower recipes rely on heavy cream, butter, ghee, or cheese for the creamy consistency. 
But this low-carb cauliflower and celeriac mash calls for avocado or olive oil, coconut cream, and inflammation crushing bone broth instead.
#7. Baked Keto Everything Fries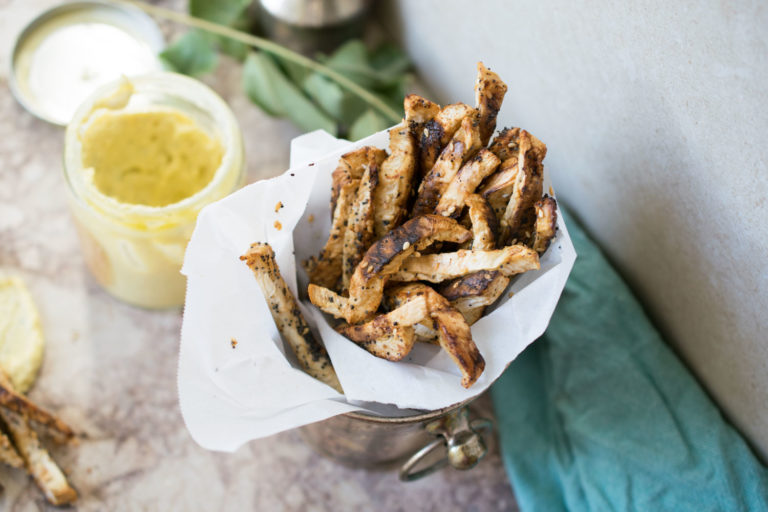 Replace high-carb french fries with these baked celeriac keto fries dusted in Everything Bagel seasoning when cravings strike.
12 Decadent Dairy-Free Desserts To Satisfy All Sweet Cravings
Dealing with dessert cravings in keto can be a challenge. But finding a yummy, low-carb, dairy-free dessert is like winning the lottery.
So take a minute to soak up all the sweet recipes in this section that fit your macros and your dairy-less needs:
#1. Cafe Latte Gummies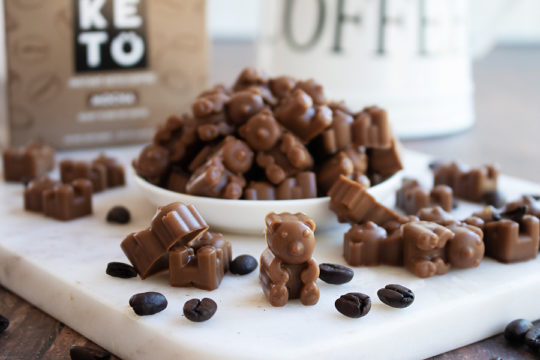 Snag these adorable and satisfying cafe latte gummies anytime you need a quick pick-me-up. 
They're not only keto-friendly and dairy-free but also paleo, gluten-free, and sugar-free. They also contain a bit of caffeine. How many gummies can boast all that?
#2. Easy Chocolate-Dipped Nut Butter Popsicles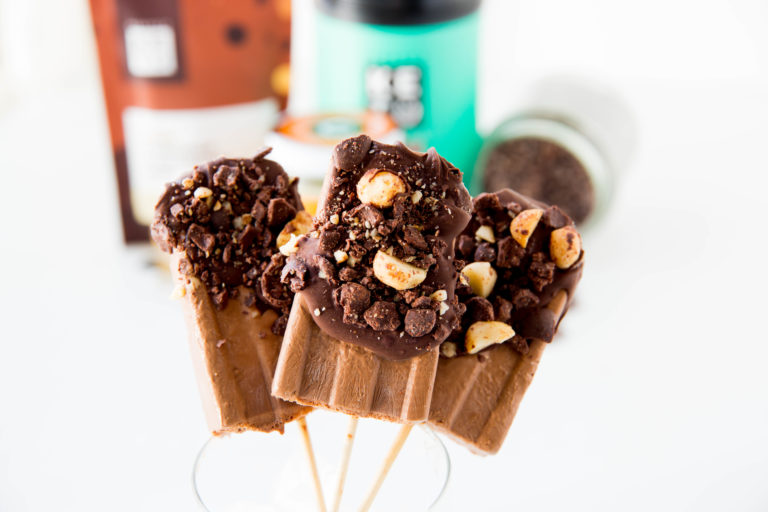 For a decadent treat that helps you cool off with a dose of nutrients, try these gluten- and dairy-free chocolate-dipped nut butter popsicles.
#3. Keto Buckeyes: Chocolate Nut Candies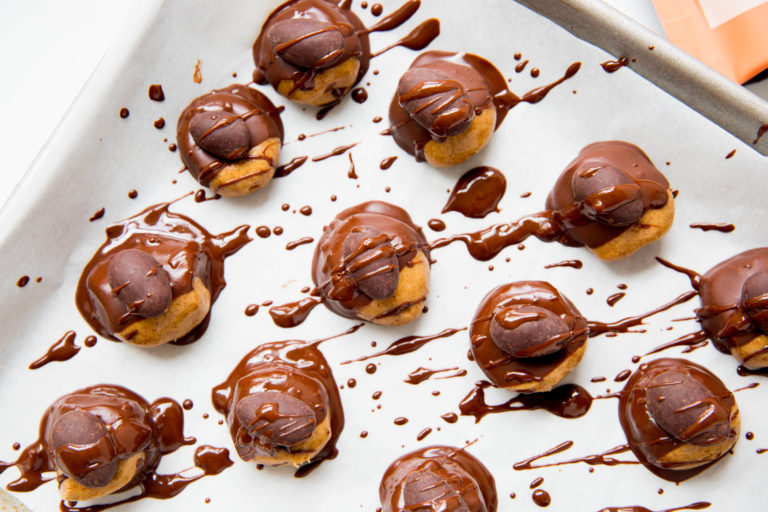 Do you have almond butter, coconut or almond flour, coconut oil, and keto-friendly chocolate chips in your pantry?
Because if you do, get ready to make these easy sugar- and dairy-free keto buckeyes today.
#4. Easy Keto Chocolate Bark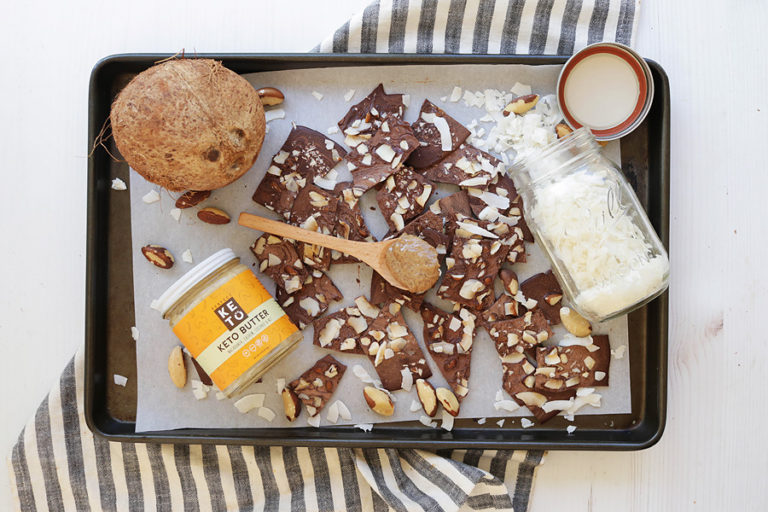 Making keto chocolate bark quickly and simply satisfies sweet cravings while staying dairy-free in ketosis.
These two delicious keto chocolate bark recipes are loaded with healthy toppings and crunchiness:
Almond Joy Keto Bark

(pictured)
#5. Keto Crunch Bar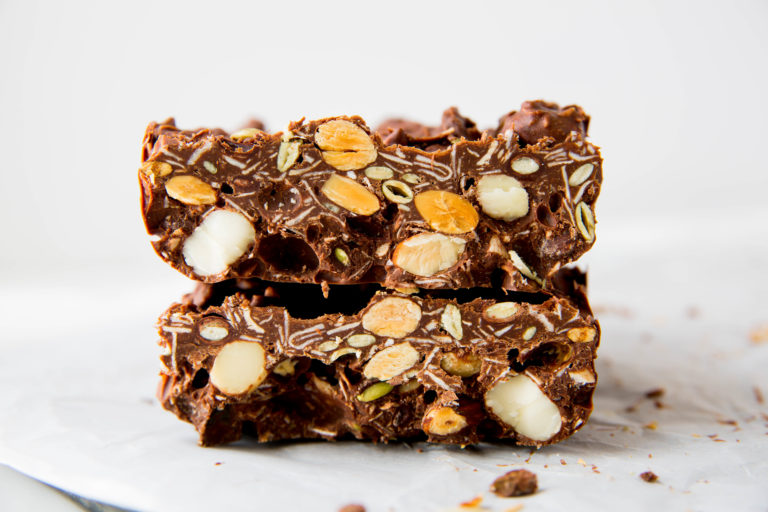 For even more crunch, whip up these filling keto chocolate bars. They're gluten-free, grain-free, sugar-free, dairy-free, vegan, and paleo, on top of being keto-approved.
#6. Dairy-Free Fat Bombs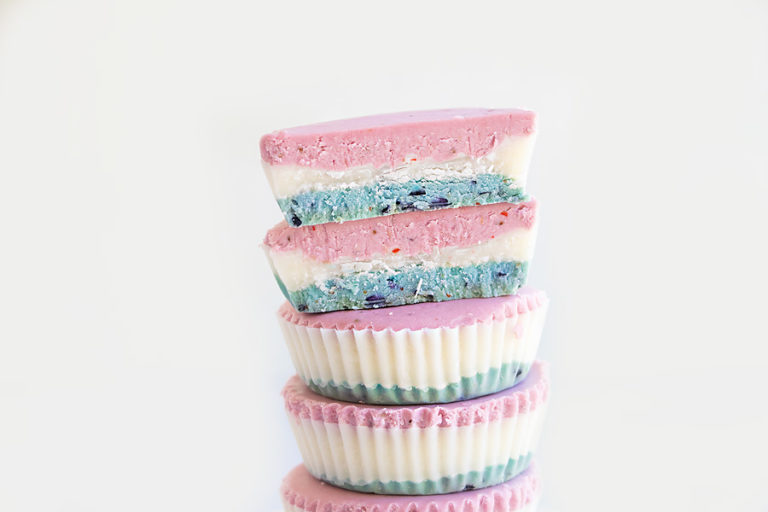 Fat bombs make a deliciously satisfying way to settle a sweet tooth without sending your blood sugar through the roof.
However, not all fat bombs are dairy-free.
But these three dairy-free fat bombs are safe:
Red, White, and Blue Keto Fat Bombs

(pictured)
#7. Tart and Sweet Sugar-Free Keto Lemon Bars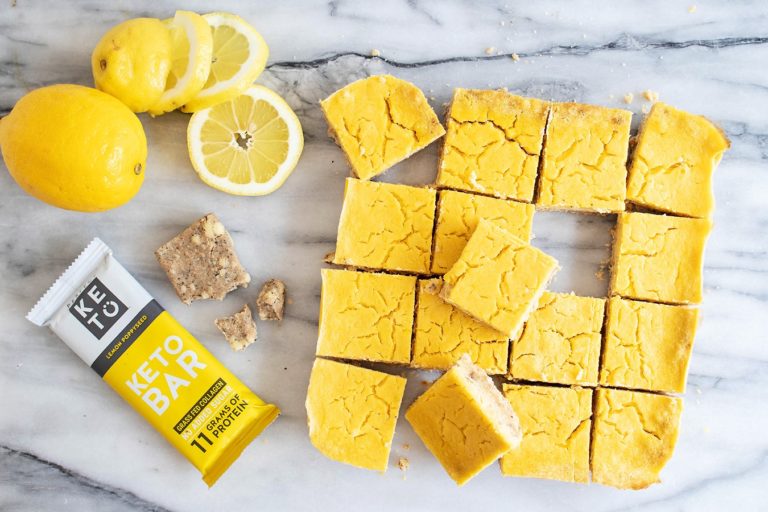 These mouthwatering sugar-free and dairy-free lemon bars rival any traditional recipe and please a crowd.
#8. Easy and Delicious Keto Fudge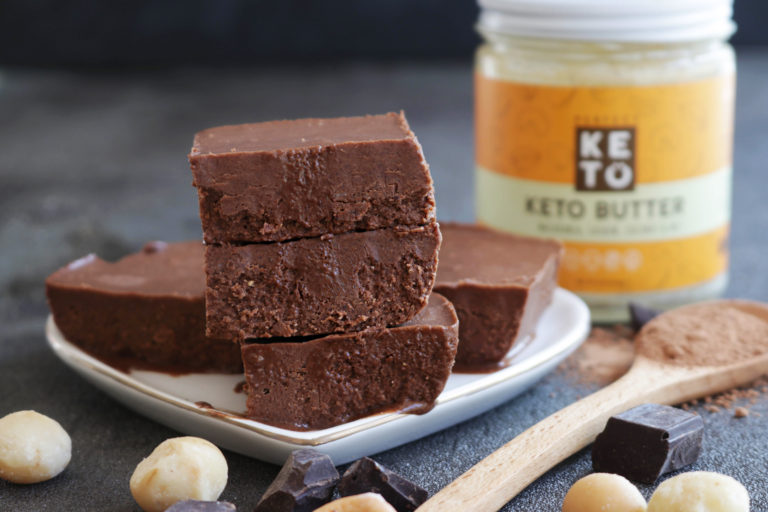 This recipe shows you can make decadent keto fudge without sugar or dairy. And it also includes tweaks for making different flavors like peppermint and pecan.
#9. Sugar-Free Keto Avocado Brownies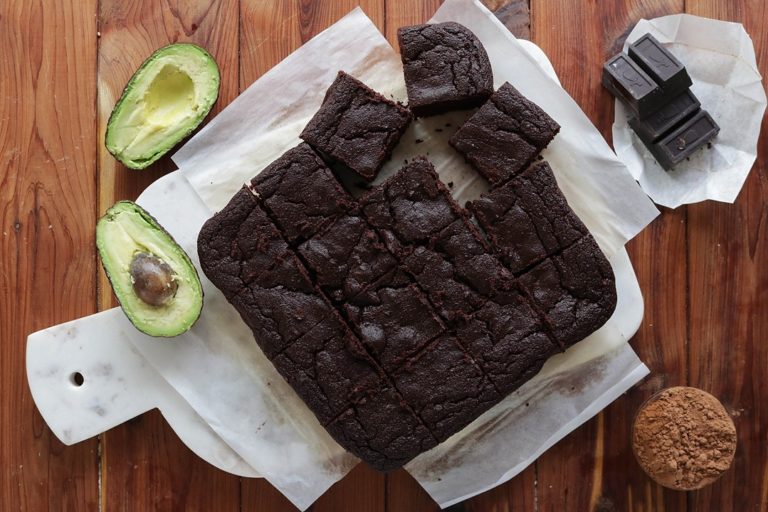 This sugar-free brownie recipe trades avocados and coconut oil for dairy and swaps monk fruit sweetener for sugar. Considering the fiber per serving (almost 7g!), these may be the most keto-friendly brownies in existence.
#10. Fudgy Flourless Chocolate Cake: Sugar-Free & Keto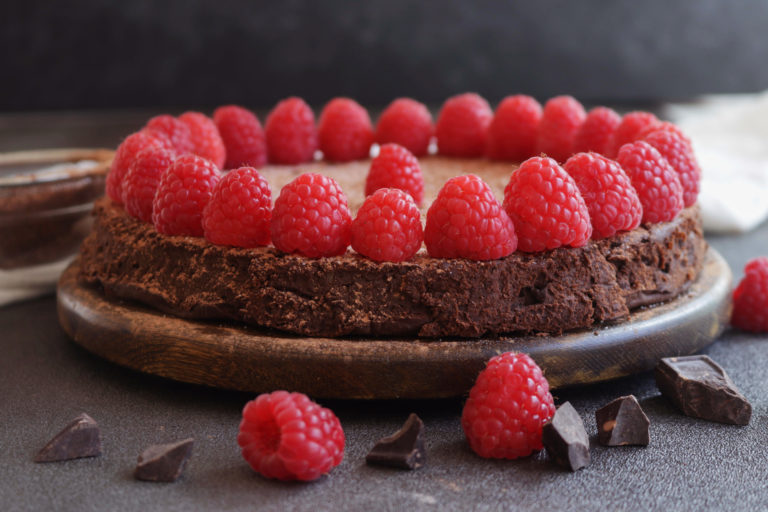 While coconut flour and almond flour are great low-carb flour alternatives, this fudgy chocolate cake shows you don't even need them.
This creamy sugar-free, gluten-free, and dairy-free chocolate cake will impress you and those not following keto all the same.
#11. Creamy Keto Hot Chocolate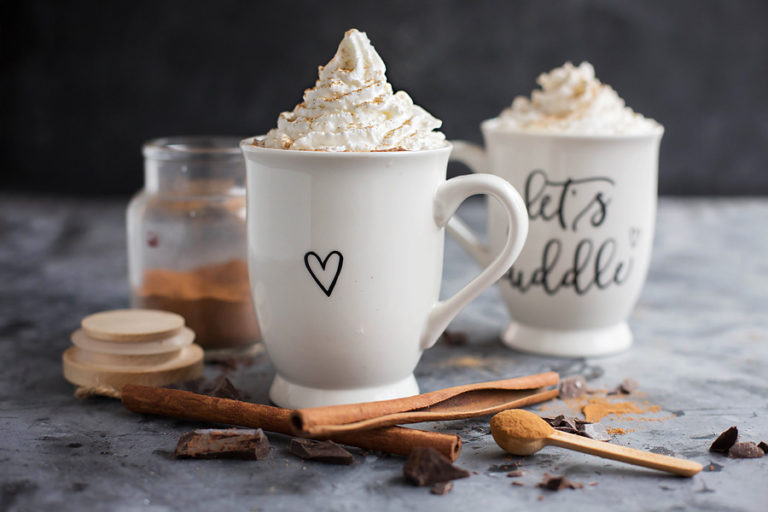 Bet you never thought you'd be able to find hot chocolate that isn't loaded with sugar or dairy, right?
This keto hot chocolate shatters store-bought mixes and you can cuddle up with a mug in less than five minutes. Then top it with coconut-based whipped cream for the full experience.
Check out this pumpkin spice hot chocolate recipe that's both sugar- and dairy-free too.
#12. Rich and Satisfying Chocolate Caramel Keto Milkshake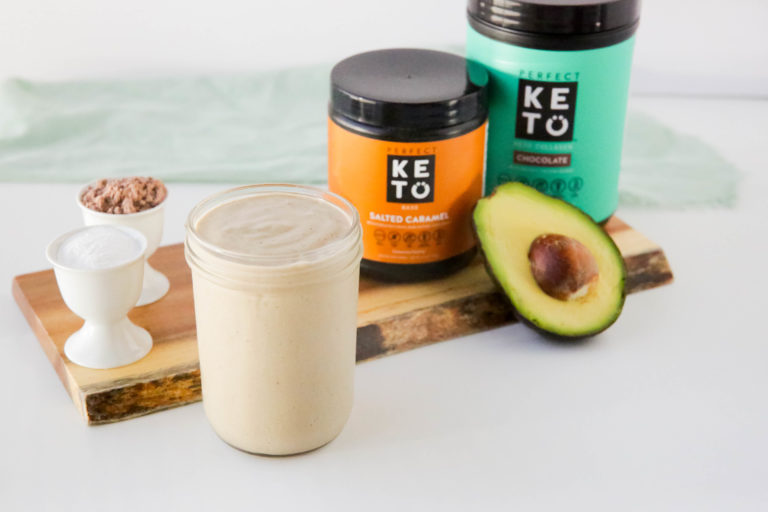 Most milkshakes are definitely off-limits on keto.
But this rich and satisfying chocolate caramel keto milkshake is anything like most options.
Exogenous ketones, avocado, cauliflower rice, collagen, and coconut milk combine to create a filling, creamy milkshake bursting with nutrients.
Each serving is just 1.7g of net carbs, which is literally nothing compared to a regular milkshake. 
5 *Bonus* Recipes to Help You Phase Out Dairy 
These bonus recipes may not be meals, sides, or snacks on their own, but they can replace foods with dairy on a keto diet:
Try Out These Dairy-Free Keto Recipes Today
With over 40 dairy-free recipes in this resource, you now have a free keto meal plan that eliminates cream, cheese, and butter from your life.
Plus, the variety and flexibility will help you maintain low-carb living for the long haul so you're never bored or eating the same meals.
Experiment with a few recipes or grab your Instant Pot or slow cooker to breeze through cooking without breaking a sweat.
We'd love to hear how these recipes turn out! So tag @perfectketo on Instagram and hashtag your edible creations with #perfectketo to share them.